Over the last 10 years of developing farming chains and observing strict requirements, farmers who have earned annual incomes of billions of dong have been increasingly using digital technology.
Nguyen Van Phuc, a farmer with the Suoi Thong Cooperative, which produces safe vegetables in Lam Dong province, begins his working day not by watering or fertilizing plants, but by checking and updating data on his smartphone.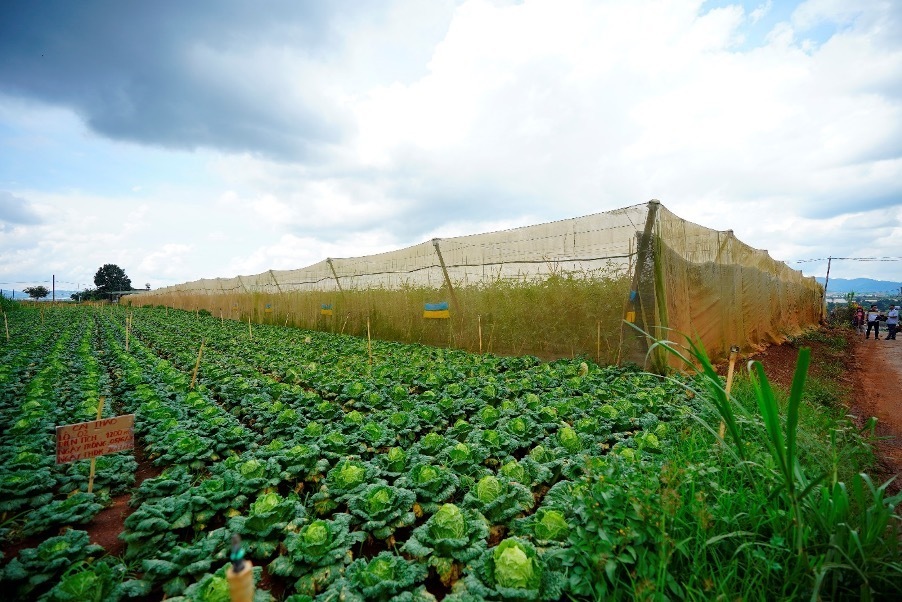 Pointing to the smartphone, Phuc said it "determines the fate of many farmers" .
Farmers have been taking part in the MM Mega Market's production chain for the last 10 years, and have used electronic diaries to control the production process with their smartphones since 2018.
All the information related to cultivation, from water, fertilizer and weather conditions to the health of crops and harvesting predictions, is updated regularly and sent to the control center.
"We faced some difficulties in the first days. But now Suoi Thong's farmers can master the technology, and use smartphones and computers in cultivation," he said.
Vo Van Tuan, an engineer in charge of managing the production chain, said an e-diary not only helps save time, but also makes it easier to work with farmers. To date, 60 percent of farmers have used e-diaries on computers and smartphones. This allows both farms and collectors to find information about the quality of products.
The figures updated by farmers are integrated into QR Codes which are placed on every product when it hits the, supermarket shelves. The QR Code includes the production date and harvesting date, and provides all necessary information.
Also succeeding in applying digital technology into production is Nguyen Dong Hai, the owner of VietFarm in Da Lat City, who runs a large-scale startup in agricultural production.
The entire farming process at VietFarm is completely automated and controlled with IT apps, following Global GAP, the highest agricultural production standard.
There are chips attached to plants that help control humidity and the nutritients and health of plants. When the plants need more nutrients or water, the chips send an alert and the automatic irrigation system works without human intervention.
The information about the cultivation process is updated on Hai's smartphone and computer. He can control the growth process of the plants, no matter where he is.
Asked about his income, Phuc said his family's 1.5 hectare farm can bring VND1.6-2 billion a year in revenue, and VND800 million in profit. The 25 households in Suoi Thong Cooperative all have income of at least VND1 billion a year.
Hai of VietFarm said the investment rate is relatively high, VND4 billion for every hectare, and capital can be recovered after five years. The revenue of the farm is VND60 billion a year.
Tam An

The agricultural production area of the winter crop in northern provinces was expected to increase by 20 per cent to meet the increasing demand from China, said Minister of Agriculture and Rural Development Nguyen Xuan Cuong.

Vietnam needs policies to promote mechanical engineering in agriculture to increase added value and quality for the farming sector, experts have said.