Dung, the owner of a hotel, said he has a "treasure" hidden at the bottom of the pond which yields about VND34 billion a year.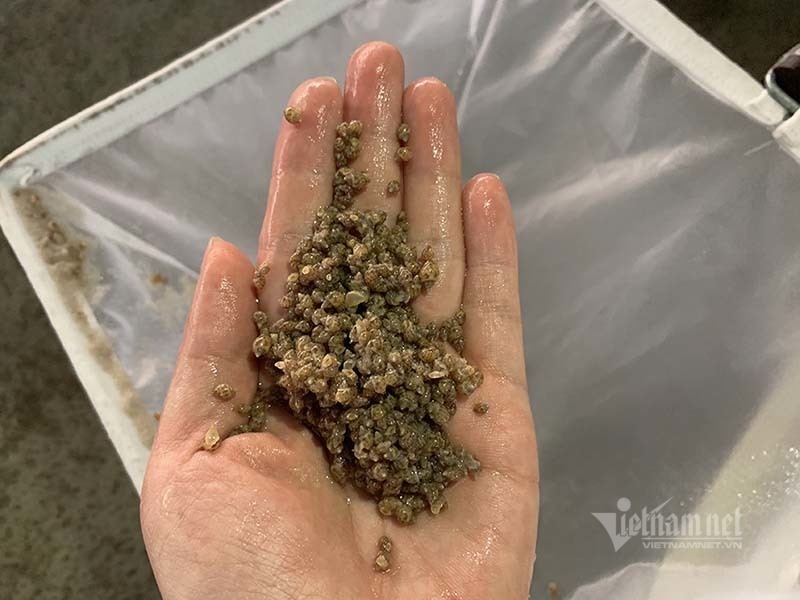 Leading reporters to his closed snail farming area in Cua Tung Town in Quang Tri recently, Phan Van Dung pointed to the pond divided into cells amid a sand field. He said this was just one of his five sweet snail (Babylonia areolata) farms.
He pointed out a cell lined with black canvas, where snails were about to be harvested in several days.
"The price has reached a record high of VND360,000 per kilogram, twice as high as last year. I believe I can earn big money this year," he said.
In 2005, he built a small hotel with 20 rooms which became the major source of income of his family. Now he earns money from both the hotel and snail farming, but the farming brings much higher revenue.
At first, he hatched shrimp, but he failed many times over five years. In 2016, he decided to breed snails, which he believed would bring high profit and low risks, after half a year of learning farming techniques in the south.
The main feed for snail is fresh shrimp and fish. As his farm is next to the sea, he also buys pompano to feed snails because it is cheap.
He harvested the first crop after 7-8 months and earned a lot from it. The snail price fluctuates between VND170,000 and 400,000 per kilogram.
Dung now runs five snail farms with total surface area of 18 hectares with output of 200 tons per annum. He never takes a loss with snail farming.
The snails sales to Chinese merchants and domestic sales bring total turnover of VND34 billion and profit of VND17 billion.
After showing reporters the ponds containing hundreds of tons of snails, Dung walked to an area with square water tanks and an oxygen conductor system.
The entire area, about one hectare, is used to produce snail breeders, and is divided into different compartments for parent snails to lay spawn and for a spawn hatchery. There is also a compartment to raise snails until they are standard size (40,000-50,000 snails per kilogram) and brought to ponds.
When he began farming snails, he had to buy breeders from other localities at high prices, so the profit was not high. In 2019, he decided to set up a breeder production area to establish a closed snail production line. 
Tam Anh - Anh Duc
The Vietnamese government holds high hope for a green and safe agricultural sector that could be a driving force for growth just like the manufacturing and processing sector.
President of Vietnam Soil Science Association Vu Nang Dung spoke about an alarming situation facing farming land in Vietnam.