The purchase prices of solar power will be set through auction, instead of using a common price for the entire country, or different prices for different thermal radiation zones, according to officials.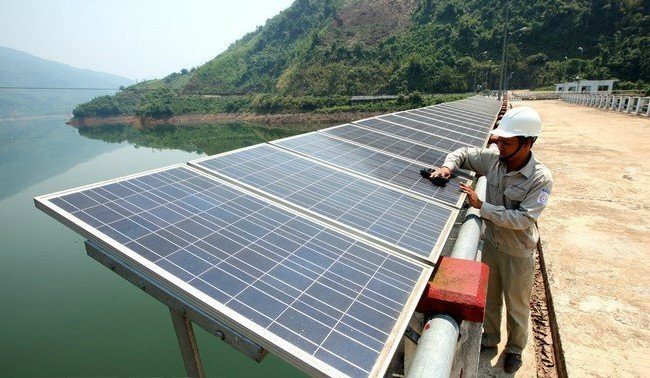 A worker is cleaning solar panels in this file photo. Solar power purchase prices are to be set through auction
On November 22, the Government Office announced the results of a meeting of the Government on solar power prices, in which the prime minister assigned the Ministry of Industry and Trade to coordinate with the Ministry of Finance and Vietnam Electricity Group (EVN) to work out a plan to conduct auctions to set the solar power purchase prices. The plan is to be submitted to the prime minister before December 15.
It was noted that prices of solar power generated from early-bird projects applying the feed-in tariff rate will be kept unchanged, the local media reported.
As for rooftop solar power projects, the Government assigned the Ministry of Industry and Trade to set a fixed solar power price. The ministry had earlier set the price at 9.35 U.S. cents per kWh, applicable until end-2021.
The ministry will also cooperate with agencies to report to the Government on a list of solar power projects whose investors have signed purchase contracts with EVN, and take responsibility before the prime minister for the accuracy of the list.
The Government asked the agencies to prevent the development of too many solar power projects in a single locality, as they might hinder the operation of the national grid.
It was also noted that the Ministry of Industry and Trade must take steps to remove shortcomings in the planning of solar power projects, preventing corruption and group interest in the management of these projects. Investors are also banned from using outdated technologies, which poses a high risk to the environment.
The ministry was also assigned to coordinate with the relevant ministries and agencies to accelerate progress in the construction of power transmission line projects. SGT

The tardiness in upgrading electricity transmission networks is expected to cause big losses to solar power plants in Ninh Thuan.

The country's feed-in tariff has supported a boom for Vietnam's solar sector, but now the Ministry of Industry and Trade proposes a rate reduction in order avoid solar projects becoming a victim of their own success.