Vietnam is seeking for opportunities to grow its fintech market from FDI, and South Korea is by far one of the most promising strategic partners to boost fintech innovation thanks to its large number of commercial banks operating in Vietnam.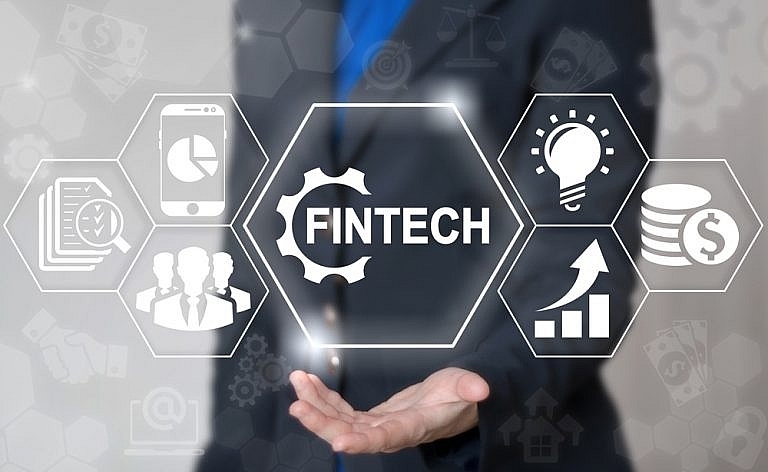 Fintech, the future of Vietnam's cashless economy
As innovation continues to boom, Vietnam is one of the top destinations for fintech investors thanks to its young and tech-savvy population, large number of smartphone users, and high-speed internet connection, said Nguyen Kim Anh, Deputy Governor of the State Bank of Vietnam.
According to Solidiance consulting group, the Vietnamese fintech market hit $4.4 billion in 2017 and is expected to reach $7.8 billion in 2020. With an attempt to move away from cash-based transactions, the government has revealed a proposal of reducing cash payments in shopping malls, grocery stores, and business transactions to less than 10 per cent by 2020.
On the push side, capital investment in Vietnam is pouring in and the market is bolstered by substantial government support for innovation. On the pull side, the demand is being driven by under-served small- and medium-sized enterprises and tech-savvy, often unbanked, consumers keen to access financial services via their mobile phones. This means that much potential would be unlocked down the road.
Recently, Vietnam and South Korea's flourishing relations have advanced the economic development of two countries in general and skyrocketed the progress of banking-finance services in particular. Anh shared his expectation of governors and businessmen from Vietnam and South Korea shaking hands to accelerate fintech in these two burgeoning markets.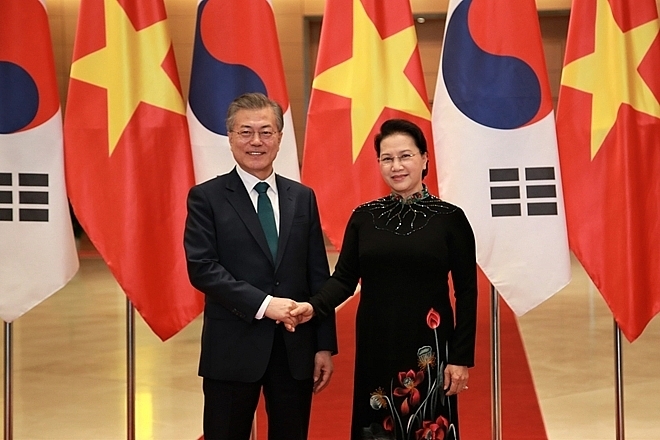 NA Chairwoman Nguyen Thi Kim Ngan met South Korean President Moon Jae In in Hanoi
According to Ha Huy Tuan, vice chairman of National Financial Supervisory Commission of Vietnam, the Vietnamese government seeks to spur economic growth, restructure the banking system, enhance operational efficiency, and utilise fintech applications via FDI, especially from long-time partner South Korea. Tuan also expressed his gratitude for these bilateral relations and expressed hope that the two nations will continue seeing progress in every aspect of political, economic, and cultural exchange.
Despite "a positive outlook on Vietnam's potentials in fintech and economic co-operation with South Korea" lauded by Korean Ambassador to Vietnam Kim Do Hyon, another industry insider warned of challenges remaining in the building of a transparent and effective legal framework for FDI. Therefore, mergers and acquisitions (M&A) could be a safe channel as recent years have witnessed an increasing trend of South Korean conglomerates entering the market via M&A deals.
These transactions are attractive as they provide easier access, existing customer base, as well as the tangible and intangible assets of purchased companies. Co-operation could also narrow the credit gap by facilitating opportunities to millions of customers who want to access small business loans or consumer credit easily.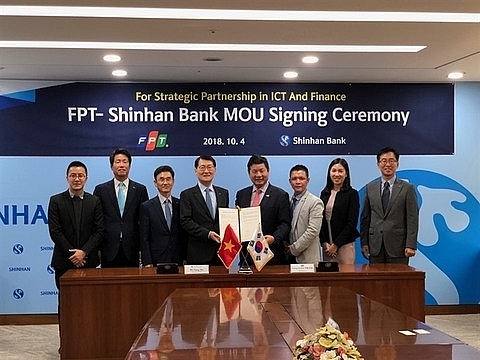 FPT and Shinhan Bank will develop fintech and digital banking services together
The case of CJ Group from South Korea buying 49 per cent of Ho Chi Minh City-based food processor Cau Tre JSC and Minh Dat Food Company or Lotte Card wholly acquiring Techcom Finance are all good examples of this, Bae Young Geun, legal advisor of the South Korean embassy in Vietnam, stated.
FPT, one of the leading technology firms in Vietnam, has signed an agreement with Shinhan Bank to leverage the banking system in the context of the Fourth Industrial Revolution and create digital transformation solutions. And with the market becoming more competitive and demanding, Vietnam sure seems to have a bright future in the fintech industry, with many promising M&A deals down the road. VIR
Luu Huong