Financiers from South Korea are taking over Vietnam's securities firms at a breakneck pace, as part of their quest to gain ­access to the fast-growing ­financial market in the ­country.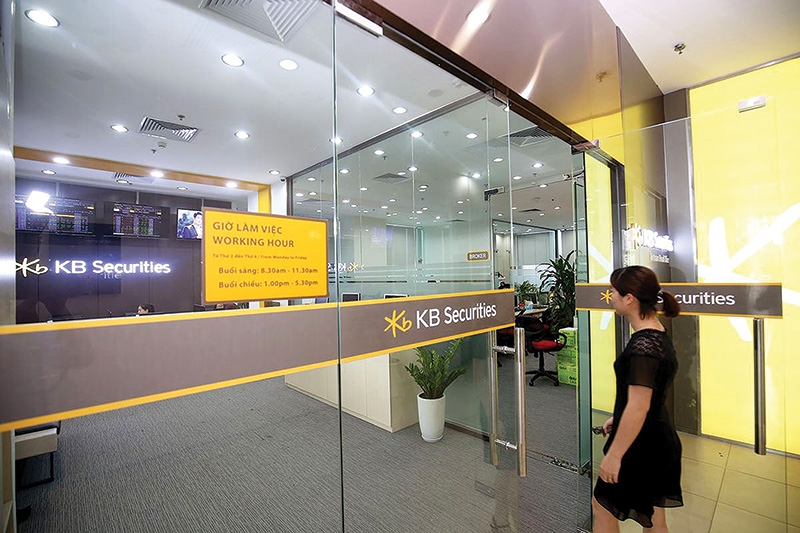 Experienced South Korean investors can bring that wealth of knowledge to Vietnamese counterparts Photo: Le Toan
For the past year, South Korean securities companies have been competing with each other to buy out Vietnamese brokerage houses. Last month, Hanwha Investment & Securities Co., Ltd., part of the Hanwha conglomerate, took over HFT Securities Corporation, a tiny brokerage listed on the Unlisted Public Company Market (UPCoM).
Similar to many other mergers and acquisitions (M&A) deals among Vietnamese brokerage houses, Hanwha decided to take over HFT when the company was struggling financially, with major losses and dismal business efficiency.
In the first quarter of 2019, HFT only recorded VND304 million ($13,200) of after-tax profit, 75 per cent lower than the previous year. Despite this profit, the ­company still held VND13.5 billion ($587,000) of accumulated losses.
The takeover of HFT took place quickly, even though the two sides had no previous ties. Right after the deal, Hanwha immediately assigned its own people to HFT's Board of Directors.
Following the buyout, Hanwha also approved plans to increase the financial health of HFT. In particular, HFT's charter capital will be increased six-fold to VND615 billion ($26.7 ­million), with cash injections taking place until the end of August. The brokerage is also aiming to sign up for proprietary trading and securities underwriting.
This deal is the latest instalment in M&A deals between South Korean investors and Vietnamese securities firms, which often involve the South Korean side using their brand name for the joint entity.
Previous examples include KB Securities Vietnam (KBSV) which was set up following the acquisition of Maritime Securities Ltd. by KB Financial Group in early 2018. Fellow financier Shinhan Bank also bought Nam An Securities Corporation to establish Shinhan Securities Vietnam, while CBV Securities Corporation was founded after Woori Bank took over Bien Viet Securities JSC.
Post M&A, investors from South Korea have pumped fresh capital into these businesses in the hopes of restructuring the fledgling company they just bought. In some cases, the amount of capital pumped into these firms was even higher than the funds used for M&A deal.
This was the case for Mirae Asset Vietnam, which issued bonds in two private placements for four South Korean investors. Altogether, they poured in VND247 billion ($10.74 million) of new capital for Mirae.
A similar situation took place at KBSV. Soon after the deal with Maritime Securities was finalised, KB Financial Group raised charter capital there to VND1.1 trillion ($47.8 million) in December 2018. Another capital injection took place in the first quarter of this year when KBSV received VND1.67 trillion ($72.6 million).
"There is a clear interest of South Korean investors in Vietnam's securities firms. That sense of excitement was palpable at Vietnam's investment promotion forums in Japan and South Korea," said Vu Thi Chan Phuong, vice chairwoman of Vietnam's State Securities Commission (SSC).
Various reasons have been put forward for the steady capital inflows from South Korea to the local securities brokerage sector – all via major M&A deals rather than organic growth.
First of all, the pressure to restructure Vietnam's securities firms is mounting – especially as the SSC recently took away the business certificate of several smaller firms. Struggling and little-known brokerages make for an easy target for major buyers from overseas thanks to their reasonably priced offers.
Moreover, South Korea and Vietnam share similarities in geography, culture, and securities trading, making it much easier for them to join Vietnam's securities brokerage sector – especially compared to European or American markets.
South Korean buyers are also flooding to Vietnam to serve their corporate clients who come to Vietnam in search of a big consumption and export market. As foreign companies set up shop in Vietnam, they are likely to require services in securities brokerage.
"South Korean investors have significant experience in brokerage, having introduced many financial products in their own markets. They can help Vietnamese counterparts get used to trading these products, ensuring the financial ­capacity to do so and introducing them to the global client networks," said economist Nguyen Tri Hieu.
It is no accident that struggling Vietnamese brokerages, following a takeover by South Korean parties, have grown big enough to join the derivatives or covered warrants markets.
Another factor comes from regulatory pressures – Vietnam has made it clear that it would not allow any new brokerage firm in the country, which is aimed at preventing another bubble akin to the one in 2008. This restriction means that M&A is the only way to go for South Korean investors who want to enter Vietnam's securities brokerage sector, and reasonable fees only add to the appeal.
In fact, securities are only one part of the South Korean financiers' bigger efforts to boost their presence in Vietnam's ­financial market. In the past few years, major conglomerates from South Korea have purchased significant shares in Vietnamese banks such as KEB Hana Bank and BIDV, or ­insurance companies like Hyundai Marine Fire Insurance and VietinBank Insurance. VIR
Phuong Nguyen