More and more businesses and organisations in southern Vietnam are focusing on cybersecurity, but there are still limitations such as inadequate procedures and visibility of risks,
 according to a report tabled at Vietnam Information Security Day in HCM City on Thursday (November 21).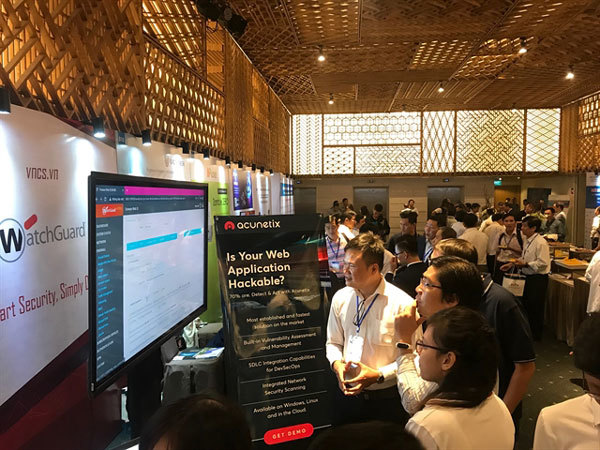 An exhibition on information security solutions and other technologies being held at an event to mark Vietnam Information Security Day in HCM City on Thursday (November 21).

Trinh Ngoc Minh, deputy chairman of the Vietnam Information Security Association's southern branch, said a higher percentage of surveyed businesses and organisations are seeking outside professional experts compared to last year -- up from 69 per cent to 84 per cent -- while around 42 per cent utilise both their own workforce and outside help.
Organised crime is the biggest threat to cybersecurity (56 per cent) followed by hacking and industrial espionage, and the report described this as surprising since last year's report had said businesses were most worried about former and current employees.
Network segmentation, firewall and online anti-virus programmes are the three most used security measures.
Only around 33 per cent use cloud systems compared to last year's 50 per cent.
The report speculated that the reason for the drop could be a shortage of trustworthy solutions and regulations regarding information stored internally.
Businesses are also not focusing enough on visibility in the context of information security. Not many pay attention to log systems and analysis, 24 per cent of businesses said they are unsure if they could detect attacks and 34 per cent said they lack the ability to do so.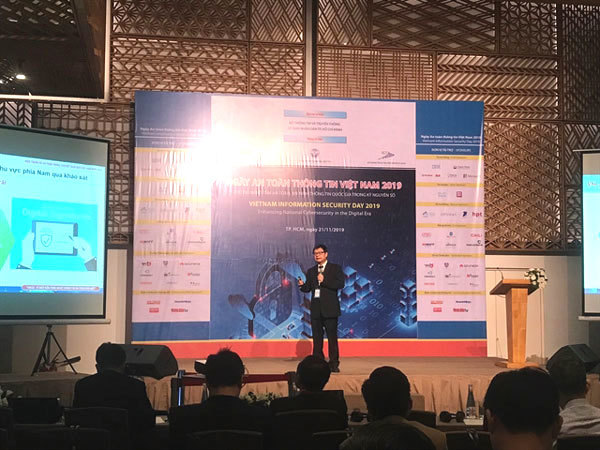 A report on cybersecurity in southern Vietnam's being tabled at Vietnam Information Security Day in HCM City on Thursday (November 21). — VNS Photos Viet Dung

Most of the respondents lack procedures to deal with incidents or their staff are ignorant of the procedures.
Cyber-security drills to evaluate readiness and skill training are rarely done, and many businesses are unaware of international and Vietnamese cybersecurity standards.
Businesses need to invest adequately in cybersecurity and consider using domestic tools together with foreign solutions to be more self-sufficient in terms of technology.
Vietnam Information Security Day was organised by the association and the city Department of Information and Communications.
It also featured an exhibition on information technology and security products, technology demonstrations and conferences to discuss how to improve cybersecurity.
The national report will be released in Hanoi on November 29.

The annual Viet Nam Information Security Day will be organised on November 21, the Viet Nam Information Security Association and the HCM City Department of Information and Communication have announced.  

There has been an increasing number of cyber attacks recently in Vietnam aiming at both state units and private organizations to steal sensitive information. 

Cyberattacks are increasingly complicated and dangerous with an increasing number of attacks, requiring a comprehensive security solution encompassing regulations, technology, and human resources.
VNS