Vietnam's Sovico Group and Samsung SDS, the software arm of South Korean conglomerate Samsung, yesterday announced their strategic partnership on digital transformation and joint business opportunities in the coming months.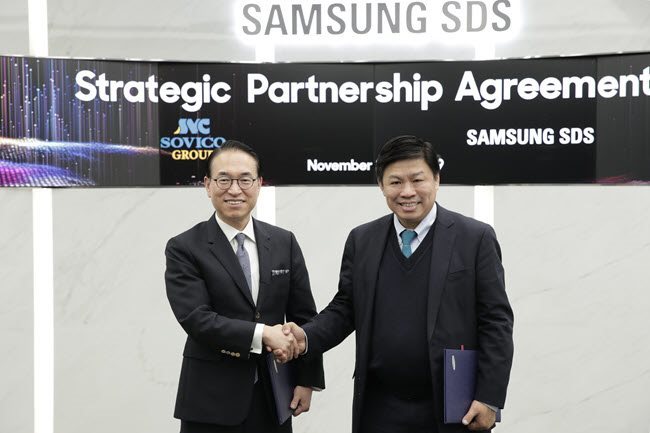 Senior representatives of Sovico Group and Samsung SDS shake hands at a signing ceremony on the comprehensive strategic partnership between the two firms 

The signing of the memorandum of understanding was conducted during the official visit of Prime Minister Nguyen Xuan Phuc to South Korea last week.
Under the deal, the two firms will cooperate in logistics, digital banking technology, aviation, smart city consultancy, IT solutions for business, and much more.
The partnership is expected to uphold the market leading positions of Sovico Group and Samsung SDS.
In particular, Samsung SDS' know-how and technological platforms will enhance significantly Sovico Group's existing digital services as well as bring further benefits to the two companies' customers and enable both sides to develop joint business opportunities.
Addressing the signing ceremony, WP Hong, president and CEO of Samsung SDS, said: "It is our great honor to partner with Sovico Group. Samsung SDS is dedicated to supporting Sovico Group's digital innovation and we believe this partnership will help us further expand our presence in Vietnam."
According to Nguyen Thanh Hung, chairman of the Founder Council of Sovico Group, the cooperation with Samsung SDS will contribute to significant growth for the two companies and allow them to offer more products and services.
 

Samsung would continue to increase investment in R&D and supporting industries in Vietnam and seeks more support from the Vietnamese government, said Lee Jae-young, vice chairman of Samsung.
Around 50% of Samsung's smartphones and tablets are produced in Vietnam and exported to 128 countries and territories.