Sustainable infrastructure investments are becoming the norm and enabling stable economic and social growth in Vietnam, Nirukt Sapru, CEO, Vietnam and ASEAN & South Asia Cluster Markets at Standard Chartered Bank.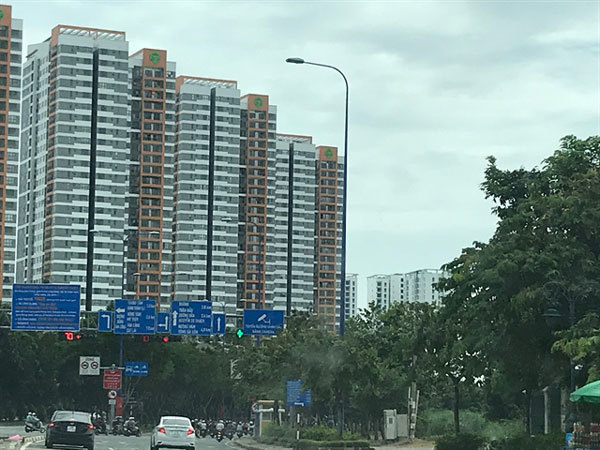 Infrastructure in HCM City's District 2. VNS Photo Gia Loc
Water, energy, transport and digital infrastructure are key sectors that are immediate priorities, he said.
Sustained availability of clean water, for example, is a concern in the Mekong Basin, he said, adding that financing opportunities exist in water management infrastructure.
The Vietnamese government targets all residents in urban areas to have access to 120 litres of clean water per person per day by 2025, according to Sapru.
"Nearly US$3.3 billion for infrastructure improvement and $6.9 billion for urban waste water treatment plants will be required," he said. "Financing for water resource management is insufficient. High levels of government subsidies are required, which increases the cost of such projects and reduces financing opportunities."
In the transport sector, 29 rail projects are in the pipeline. Roads are the dominant means for freight transport, but there is limited capacity in the country, as well as a lack of sustainable financing for such projects, according to the CEO.
Ports are mainly owned and operated by the Government, with port expansions in the north and south being promoted.
He said the Government could encourage private financing of ports by providing support infrastructure.
"We need to think beyond traditional financing for such sustainable infrastructure investment. Clear and consistent policy and regulations are critical to enabling investment infrastructure," he added.
Dr Ngo Viet Nam Son, president of NgoViet Architects & Planners, said the Government should call on private investment in the development of smart cities.
Speaking about the construction sector, Philippe Richart, general director of INSEE Vietnam, said: "The industry along the entire value chain has vast potential for improving productivity and efficiency thanks to digitalisation and new construction techniques."
Construction is a key industry around the world and a growing and dynamic sector, especially in Asia. Around $10 trillion a year is spent on buildings or infrastructure which are the backbone of the global economy.
However, while other sectors have undergone tremendous changes over the last few decades, through improved process and product innovations, productivity in construction has barely increased at all. This not only represents a lost opportunity for the industry but also a cost for the world economy, according to a press release from organiser INSEE Vietnam.
The Large Infrastructure Project Conference 2019 "Rethinking Construction" was organised by INSEE Vietnam, an affiliate of Jardines, in partnership with SIKA, DOKA and LILAMA, and in association with the Vietnam Institute of Building Materials, Vietnam Green Building Council, the British Business Association and the Hong Kong Business Association.
At the conference, government authorities, representatives of construction industries, developers, designers, contractors and suppliers shared new ideas about how to build better cities.

The HCM City Department of Planning and Architecture, after collecting feedback from local authorities, plans to ask the city People's Committee to approve the zoning plan for the HCM City Northwestern Urban Area.

HCM City requires huge investment in infrastructure, and authorities have solicited investment of more than US$40 billion in the five-year period until 2020.

Foreign investors are getting access to various master plans and priority infrastructure projects and hearing directly from policymakers and authorities at the Infrastructure Vietnam Summit that opened on July 25 in HCMC.  
VNS