Ten Ren, a Taiwanese tea brand, will halt its operations on the local market from August 15, closing 23 stores in HCMC and Bien Hoa from July 15.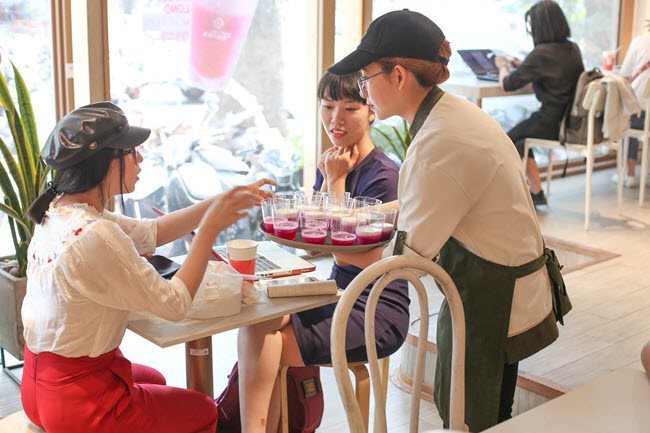 A Ten Ren employee serves drinks to two customers at a Ten Ren tea outlet. The Taiwanese tea brand will shut down its business in Vietnam on August 15 – PHOTO: COURTESY OF TEN REN VIETNAM
Ten Ren's business model has not met local demand, resulting in the business' shutdown, according to a representative of VN Coffee Tea Service Trading Corporation, also known as The Coffee House, which is the exclusive franchisee of Ten Ren in Vietnam.
The franchisee decided to cease Ten Ren's operations and will work out more appropriate strategies for its business in the field going forward.
The representative told Tuoi Tre newspaper that the firm wants to heavily focus on developing its The Coffee House chain. Also, all employees working for Ten Ren will be trained for re-employment at The Coffee House stores.
The chain offers an app-based membership program for Ten Ren's customers, and all personnel and business partners of Ten Ren will receive support in transferring to The Coffee House chain.
Entering the local market in November 2017, the Taiwanese Ten Ren's tea was franchised to The Coffee House when the local bubble tea market was booming.
Right after the launch, several major outlets of The Coffee House that were generating high profits were switched to Ten Ren stores, demonstrating the franchisee's great determination to boost the growth of the tea brand in Vietnam.
The tea brand's main business is selling bubble tea, packaged tea and ready-to-drink tea, but in Vietnam, the brand focused on its bubble tea.
The Coffee House earlier was set to open 40 Ten Ren tea outlets by the end of last year. However, only 23 outlets were launched as of the closure date. SGT

June is season of lotus, which is popular with its innocent beauty and fragrance though rises from mud. 

Shan tuyet tea in Yen Bai Province's Suoi Giang Commune is well known across Vietnam for its pleasant flavour and fragrance.