After the departure of Uber, the e-hailing market is now the playing field of four big players, each of which has its own advantage and approach.
In late March 2018, the duel between Uber and Grab endef. At that moment, the story of the market was just about motorbike and car hailing.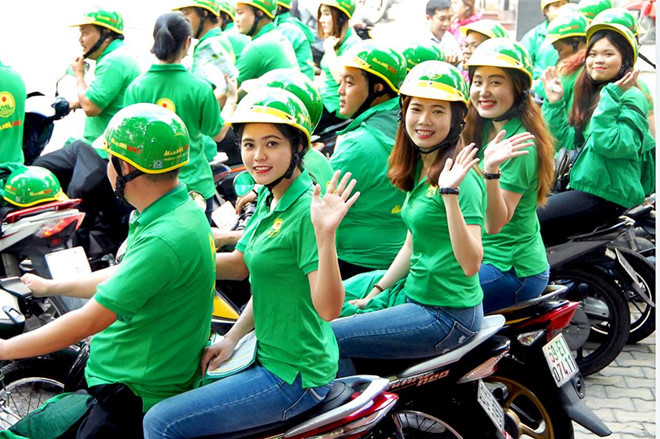 Just one year later, the market has become the battlefield of the 'big four' – Grab, Be, Go-Viet and Fast-Go.
In Hanoi and HCMC, people easily meet e-hailing firms' drivers in green, yellow and red uniforms. In the context of the stiff competition among e-hailing apps, one driver can work for more than one e-hailing app.
"Last week, a taxi driver came to meet me in Be's yellow hat, gave me a Grab green helmet and used the yewllow raincoat of Go-Viet," said Minh Khang, who called a taxi from Tan Son Nhat Airport to district 8.
Technology apps now not only compete in e-hailing, but also in many other fields, including food delivery and e-wallet.
Technology apps now not only compete in e-hailing, but also in many other fields, including food delivery and e-wallet.
Grab launched food delivery service one year ago and it has been expanding the business, with the service available in 15 cities/provinces. GrabFood recently stated that the number of orders had increased by 250 times daily by mid-May compared with the end of June 2018.
A survey by Kantar in April 2019 found that 81 percent of users in Hanoi and HCMC chose GrabFood as the most popularly used brand. The proportion was 48 percent in October 2018.
The heavy investment by Grab in GrabFood resulted in an eventful year for the food ordering market. Lala gave up the game. Now has bought grabfood.vn domain name, while Vietnammm runs SEO (search engine optimization) tool.
After launching food delivery market, Grab joined hands with Moca to develop e-wallet, starting the race of developing 'super-apps' in Vietnam.
Grab has also cooperated with VinID to delivery goods, like Now's shopping service. However, Grab's rivals avoid using the concept 'super-app' which Grab uses.
Just coming out six months ago, Be regularly reminds people of its presence. Unlike other apps, Be registered its business as a 'carrier utilizing technology'. It is the only app which launched both car and motorbike e-hailing services on the same day in Hanoi and HCMC.
Avoiding the competition in the food ordering market, Be has decided to jump into the finance service market with beFinancial, considering this its 'trump card' for this year.
Minh Ha 

Ride-hailing apps have been expanding their market share, attracting more customers and becoming more ambitious in the e-payment field.

Heated debate is continuing around the proposal to regulate ride-hailing firms as taxi companies, due to concerns that it will dampen Vietnam's Industry 4.0 efforts.