Vietnam's rice export price is always low compared with other countries because consumer confidence in Vietnam's rice quality is not high, experts say.
Branding

According to Le Van Banh, former head of the Mekong Delta Rice Institute, Vietnam has many good rice varieties and some of them are even better than the high-quality rice of its rivals.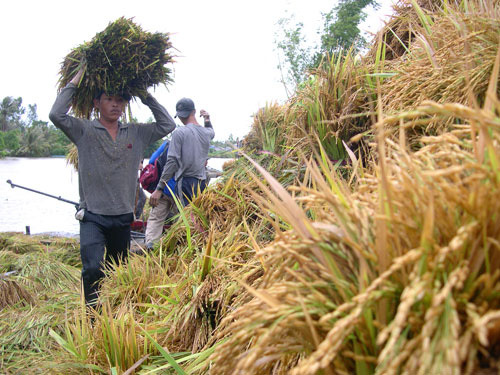 However, Vietnamese farmers try to have 3-4 crops a year, therefore, the quality is not high. In contrast, Thailand only has 1-2 crops a year.

Thailand has loyal markets and the world's consumers have confidence in its quality, so the country's exports can go for better price.

"It is necessary to develop rice brands, including national brands, local brands and enterprises' brands. And when we have brands, we have to protect them," Banh said. "It is also necessary to provide high-quality products to win consumers' confidence."

Commercialization

Banh noted that it is not easy to commercialize good rice varieties to build up brands, because one enterprise can produce a certain amount of products.

Vietnam's rice export price is always low compared with other countries because consumer confidence in Vietnam's rice quality is not high, experts say.
ST24 and ST25 are considered the best rice varieties. However, it is difficult to highly commercialize the varieties because the enterprise can put out 1,000 tons each crop. If selling the varieties rampantly and farming rice in an uncontrolled way, the purity will decrease, or the rice quality will decrease. 

Banh said it is necessary to re-organize the production to be able to replicate good varieties, commercialize them and ensure purity.

Meanwhile, an analyst commented that it would be better for Vietnam to create different varieties that suit different markets. Northeast Asian consumers favor long-grain rice, Middle East's people prefer dry rice, while West European and American like fragrant rice.

Ho Quang Cua, the creator of ST25, the best rice variety in the world in 2019, also said it is difficult to commercialize products. His enterprise once tried to create large amounts of seed rice to provide to the market, but it took a big loss.

"We produced 2,000 tons of seed rice this year, but 1,200 tons were not sold, " Cua said.

Management

Cua, who is also the creator of ST 24, said though ST 24 was recognized as one of three best varieties in 2017, only in March 2019 was it recognized by the Ministry of Agriculture and Rural Development (MARD) as the official variety for use in Vietnam.

Cua said it takes time and requires complicated procedures to register rice varieties.

Loose management is cited as a major barrier to building Vietnam's rice brand.

Just a short time after ST25 was recognized as the world's best rice variety, counterfeit ST 25 began appearing in the domestic market.
Kim Chi 
There's been a drop in temperature the past few days, and that means autumn is here. But did you know this is also the time of desserts made from rice?

At the end of September and early October, in Bac Yen district, Son La province, the golden terraced rice fields on the hillsides create a charming scenery.