What does Adayroi.com's demise mean to other players in online retail?
On December 17 Vingroup pulled the plug on its e-commerce platform, Adayroi.com. Vietnam's largest private firm by market value said it shut down its retail unit because it wanted to concentrate on the technology and industrial sectors.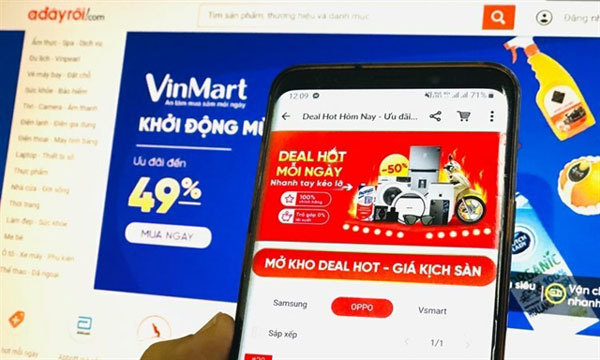 Screenshot from Adayroi.com website
Adayroi.com, which began operating in August 2014, has been merged with tech app unit VinID, while electronics retailer VinPro has been liquidated.
The merger between Adayroi and VinID would help digitise consumer behaviours and create a customer-centric platform that forecasts and meets their demand for the highest quality, Vingroup said.
Vingroup is not the first retailer to pull out of the Vietnamese e-commerce market.
In March 2019 Thailand's Central Group closed Robins Vietnam online fashion store, which it had launched in 2017 after merging with Rocket Internet's Zorora.vn.
E-commerce website Vui Vui (vuivui.com) belonging to retailer Thế Giới Di Động (Mobile World Group-MWG) closed last November after nearly two years of operation.
At the event to launch the website two years ago, MWG chairman Nguyen Duc Tai had expected vuivui.com to earn higher revenues than its sister chains thegioididong.com and dienmayxanh.com over the next five years.
However, its revenues fell short of expectations. In 2017 they were only VND73 billion (US$3.1 million), a mere 0.1 per cent of MWG's revenues that year.
The closing of many online retail websites by both foreign and domestic companies has shown that despite having key advantages like market size of US$13 billion by 2020 and an annual growth rate of 30 per cent, Vietnam's e-commerce market remains highly competitive even for giant players like Vingroup.
Matthew Heller, director of Google-Channel Sales South East Asia and India, told the E-commerce Day 2019 seminar organised by Novaon Internet Corporation and Google that e-commerce in Vietnam has been growing at a dizzying rate of more than 43 per cent per year.
The ratio of e-commerce revenues to overall retail sales would increase from 3 per cent in 2018 to more than 10 per cent in 2025, he said.
According to the E-Business Index 2019 report drafted by the Vietnam E-Commerce Association, the scale of Vietnam's e-commerce market in 2018 was US$9 billion. The report also forecast the compound average growth rate (CAGR) of 2015-2018 period was 25 percent and the market would reach $33 billion in 2025.
It expects Vietnam to have Southeast Asia's third-largest e-commerce market by 2025 behind only Indonesia with $100 billion and Thailand with $43 billion.
But analysts said despite the boom businesses face many challenges to just stay afloat, like difficulties with regard to designing and building websites, advertising techniques and policies, expanding sales channels, and outlining sales management strategies.
Additionally, the average size of an e-commerce company in Vietnam is quite small at just around 10 orders per day and an average order value of VND200,000 ($8.60). Consequently, their average monthly income is very modest at VND40-60 million.
Because they remain so small, solutions are needed to help them overcome difficulties to grow and tap the great potential of the market, they said.
iPrince Group and Annie released a report titled Southeast Asian E-Commerce Ranking & Trends, which said in the third quarter Shopee and Lazada continued to compete for the lead in Southeast Asia, with a strong emphasis on mobile e-commerce.
Adayroi.com ranked ninth with annual visits numbering only around 6.41 million, much lower than the figures of the other players.
Shopee has 34.5 million visits, Sen Đỏ has 30.9 million and Thế Giới Di Động, 29.3 million.
Analysts said Vietnam's e-commerce industry has in recent years achieved rapid growth, which has attracted both domestic and foreign businesses in great numbers, sparking intense competition.
But the resulting competition causes periodic shakeouts.
In fact, many famous brands have had to withdraw from the market, Beyeu.com, Deca, Foodpanda, Lingo, Robins, and Adayroi.
Beyeu was an e-commerce website for baby and family products backed by Project Lana. In November 2015, before pulling out, Beyeu's administrators wrote its epitaph with a word of wisdom and a word of warning: "E-commerce requires lots of money. Many companies will decide to stop burning money. Good luck to the rest who are still trying."
Those words sparked a heated debate on a Vietnam startup forum called Luanch on why some businesses failed.
The first reason many suggested was lack of deep pockets, which causes e-commerce retailers to run out of money before their business actually shows positive signs.
The second was a highly competitive market. The e-commerce market in Vietnam is getting too crowded with a large number of strong foreign and domestic brands such as Lazada, Shopee, Sendo, and Tiki.
The third was Vietnamese enterprises' lack of experience in e-commerce and inefficiency in the logistics sector, which means high operation costs and low profits.
The fourth is e-commerce platforms' failure to make proper preparations to take on a large field. A bigger market means bigger rewards but also higher risk.
Most successful websites thus have to constantly pump funds into them.
Sen Đỏ is a typical example. Its CEO, Tran Hai Linh, said the company has just tied up US$61 million in series C financing, the company's largest funding round to date. It had raised $51 million in series B funding in August 2018.
According to KrAsia, Sen Đỏ this time got two new players, EV Growth of Indonesia and Kasikornbank of Thailand, to join the roster of existing investors: SBI Group, Beenos, SoftBank Ventures Asia, and Daiwa PI Partners.
Tiki is being funded to the tune of thousands of billions of dong by VNG, JD.com from China and STIC from South Korea. It is making preparations for series D financing, which is expected to be $100 million.
Alibaba has already injected $4 billion into Lazada with the ambition of dominating the Southeast Asian e-commerce market, including Vietnam.
Shopee does not want to play second fiddle. In March this year its parent company, Sea of Singapore, announced plans to issue shares to raise $1.5 billion to invest in it.
Considering these enormous cash injections, analysts said Adayroi.com's shutdown is understandable since it had not invested anything like its rivals.
According to a report by securities brokerage VNDirect, the accumulated losses of Lazada, Shopee and Tiki in the period from 2015 to 2018 are worth VND9.4 trillion ($4.09 million).
The report also said that an e-commerce business would likely make a loss of around VND142 billion a year to gain a 1 per cent market share.
Experts explained this by saying that Vietnam's fledgeling e-commerce industry requires big investments in technology platforms, advertising, warehousing, and development of human resources.
But even these are not enough, they said, adding that in addition retail websites must have comprehensive long-term strategies to beat their rivals. VNS
Thien Ly

Successfully calling for capital from international investors, e-commerce firms are nevertheless taking losses.

Fluctuations seen in third quarter, with Sendo recording remarkable growth, iPrice Group study reveals.

E-commerce in Viet Nam is growing, however many individuals and businesses are taking advantage of online platforms to sell poor quality and fake goods, harming customers and causing lost tax revenues.