In March 2020, there were only three flights in the skies of Vietnam. In July and August 2021, there were no flights at all.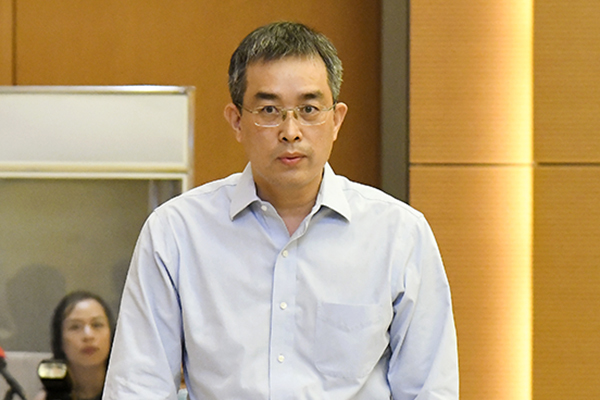 Chairman of Vietnam Airlines Dang Ngoc Hoa.
At a seminar on Monday (September 27), Chairman of Vietnam Airlines Dang Ngoc Hoa said that in the period 2010-2019, the number of passengers traveling by air rose 4 times, from 20 million to 80 million. But in 2020 and January-August 2021, the number of international visitors to Vietnam was only 1.3% compared to that of 2019, mainly repatriates and a number of foreign experts. The number of domestic tourists in this period decreased by 80% compared to the same period of 2019.
"We had at one time only one flight from Hanoi to HCM City to pick up people to go to Hanoi. Most of the flights mainly transported more than 11,000 doctors and nurses across the country, and carried for free 250,000 tons of medical equipment to HCM City," said Mr. Hoa.
Due to to the ongoing Covid-19 pandemic, 44 airlines around the world have gone bankrupt or are under bankruptcy protection. As for Vietnam Airlines, the government provided a support package of VND 12,000 billion in 2020.
In 2021 the situation got much worse for air carriers. In the first half of the year, Vietnam Airlines lost VND 7,000 billion. Other domestic airlines also suffered losses.
Regarding the recent proposal to impose floor airfares, Hoa said that in 2020 and 2021, the airfares dropped by 40% compared to 2018 and 2019. Currently, all airlines are unable to fly.
"All airlines of Vietnam have 250 aircraft parking at all airports. There is no parking space left at present," he said.
He said that the imposition of floor airfares would affect people's travel, but if any airline goes bankrupt, it will also affect social resources. Many countries have applied floor airfares, such as China and India.
However, Dr. Nguyen Sy Dung, former Deputy Chairman of the Office of the National Assembly, said the application of the floor airfares is unfair. Although the policy has not been issued, Dung said that if the airfares of a 3-star airline are equal to that of a 5 star one, who would buy tickets for the 3-star airline?
Thu Hang

If a proposed airfare scheme is applied, the fees will make it impossible for low-income earners to travel by air.