While observers believe that it's the right time to pour money into resort real estate, they also warn of the hot development of the market segment.
According to DKRA Vietnam, in Q1, two new projects were introduced, providing 188 beachfront villas, or 31 percent of the previous quarter. The consumption level was 42 percent of the new supply. Primary supplies were mostly in Binh Thuan and Ba Ria-Vung Tau provinces.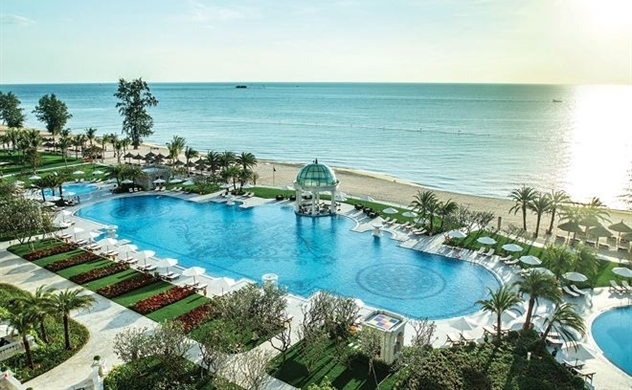 In condotel market segment, two new projects were put up for sale in Q1, which provided 1,751 condotels to the market, a sharp 12-fold increase over the previous quarter. Primary supplies were mostly in Khanh Hoa province and Da Nang.
DKRA Vietnam commented that the figures showed the recovery of the condotel market after one year of quiet. It predicted that condotel and resorts would continue rising in Q2, especially in Da Nang, Khanh Hoa and Phu Quoc.
Observers believe that now is the time to pour money into tourism real estate projects because of the tourism boom.

Observers believe that now is the time to pour money into tourism real estate projects because of the tourism boom.
Reports from VNAT all show the strong rise of Vietnam's tourism in recent years with the annual growth rate of 30-40 percent, making the country one of the world's fastest growing tourism markets. It is expected that Vietnam will receive 18 million foreign travelers in 2019.
Han Manh Tien, Chair of Vietnam Association of Corporate Governors, commented that tourism real estate in Vietnam will see a boom with high interest from both Vietnamese and foreign investors.
Ha Van SIeu, deputy general director of VNA, said the sharp increase in the number of travelers recently has spurred investments in resorts, hotels and condotels in large tourism centers.
Hanoi, HCMC, Ha Long City, Da Nang, Quy Nhon, Nha Trang, Phu Quoc Island and Da Lat have witnessed higher investment as they have seen the sharpest growth rates in tourism.
Pham Tien Dung, head of Economica Vietnam, also confirmed the prosperity of the tourism real estate market.
Economica Vietnam sent questionnaires to over 100 leading real estate firms, which said the tourism and resort real estate markets were bringing high profits.
However, analysts have also warned of the high risks that investors and consumers may face.
Tien pointed out that Decree 20/2017, which imposes a ceiling on loan costs, will be a barrier to realtors.
The new regulation will restrict investors from using financial leverage, which will force investors to scale down the investment. Tourism real estate projects require huge long-term capital. Another problem is the lack of a legal framework for condotels, a new type of real estate product.
RELATED NEWS
Will flow of FDI capital lead to a real estate bubble?
Three leading trends in Vietnam's real estate market
Xuan Nam