The number of trade remedy cases initiated by foreign countries and territories against Vietnamese exported goods is increasing rapidly, according to Le Trieu Dung, director of the Trade Remedies Authority of Vietnam.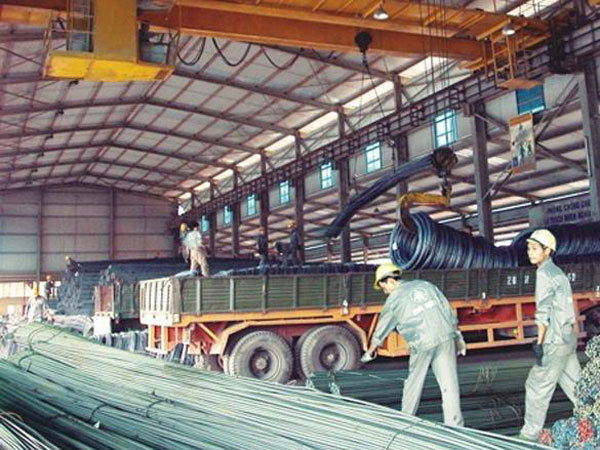 Workers loading coils on trucks at a steel mill in northern Vietnam. Vietnamese steel has faced numerous trade remedy cases in the past few years — Photo baodautu.vn
The total number of cases was about 20 cases before 2005, but now has increased to 208 cases.
Being investigated by foreign countries and applied trade remedies will have a negative impact on enterprises as well as the domestic manufacturing industry.
Moreover, if exported goods are subject to a high level of trade remedy tax, it will reduce competitive advantage, leading to the loss of the export market.
Vietnam has signed, implemented and is negotiating 17 FTAs, of which 14 ​​have been put into practice. The Regional Comprehensive Economic Partnership (RCEP) Agreement will be added early next year.
This means for the import of a wide variety of goods it will be more convenient to enter Vietnam, and import taxes are also gradually being reduced depending on commitments in each FTA.
Dung said that trade defence tools were considered a "lifesaver" to protect the domestic manufacturing industry against acts of unfair competition of imported goods, such as dumping or receiving governmental subsidies.
In order to avoid damage from trade remedies for export goods, Dung said that in addition to active work by the management agency, the proactive response of enterprises would be decisive.
In order to help businesses deal with trade remedy cases, Dung said that the Trade Remedies Authority had always maintained communication channels with trade remedy investigation agencies in many countries, as well as overseas Vietnamese representative agencies, associations and businesses to promptly update cases.
In addition, the authority has supported Vietnamese enterprises to express their views against unfounded arguments, violating WTO regulations of plaintiffs or foreign investigation agencies; as well as provide accurate, complete and timely information on the basis of the investigation agency's requests to the Government.
Currently, the authority is implementing an early warning system for many industries and products at risk of being subject to trade remedy lawsuits in different markets.
To avoid the risks of trade remedy lawsuits, Dung pointed out that businesses needed to improve their response capacity.
He also emphasised that businesses must understand the rules of the game and strictly comply with WTO regulations.
Source: Vietnam News 

Vietnam is currently facing 208 trade remedy lawsuits, and this figure is expected to increase sharply in the coming time, causing the market share of Vietnamese goods to be at risk of shrinking in many export markets.