Traditional taxi operators proposed to liquidate contracts with their taxi drivers in order to switch to the ride-hailing service model using electronic contracts to seize the advantages offered by this model.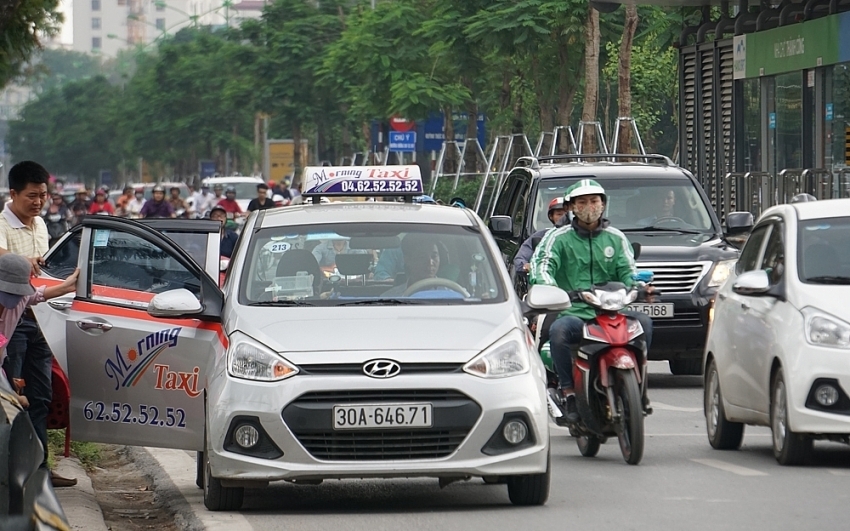 Traditional taxi operators are vying for the advantages their ride-hailing rivals are enjoying
The Hanoi Taxi Association has submitted the two documents to the authorities to seek to provide ride-hailing services for cars under nine seats to enjoy tax benefits.
According to the association, the implementation of Decision No.24/QD-BGTVT on the pilot scheme for ride-hailing services in the past three years caused unfair competition with technology firms in terms of tax obligations and the insurance policy for drivers.
Besides, the draft decrees to replace Decree No.86/2014/ND-CP setting out conditions for the transportation business laid out plans to manage ride-hailing vehicles under nine seats via electronic contracts that drew widescale approval.
These electronic contracts offer massive incentives to tech firms which are not available for traditional taxi operators.
For example, Grab pays 2 per cent corporate income tax on its revenue, while taxi firms pay up to 25 per cent of their profit.
Besides, ride-hailing vehicles can operate on numerous inner-city streets which are banned for traditional taxis at peak hours.
Furthermore, traditional taxi operators have to sign labour contracts and pay insurance after their drivers.
Along the proposal to switch the operation model, the association also asked the authorities to guide traditional taxi operators on means to change their operation model.
Most recently, the prime minister has asked the MoT to reconsider its requirement for ride-hailing cars under nine seats to install a light box on top, as well as other unnecessary business conditions for ride-hailing vehicles under nine seats.
According to the prime minister, information technology should be used to manage the transport network, instead of brute-forcing traditional management methods.
Previously, the MoT has included this proposal in its numerous reiterations of the draft decrees to replace Decree No.86/2014/ND-CP setting out conditions for the transportation business. The latest draft decree was submitted last month.
The MoT said the installation of such boxes for app-based ride-hailing vehicles would enable the better management of transport businesses, help customers identify ride-hailing cars on the street, and differentiate between a transport service provider and a supplier of other services.
It would also prevent private vehicles from providing transport services illegally, causing difficulties for traffic police in inspecting, controlling, and organising urban traffic, the ministry argued. VIR
Ha Vy

Vietnam was named among the top 10 countries and territories with the cheapest taxi fares in the world in a recent report from Taxi2Airport, a cab-hailing system operating in 130 countries and territories.  

The Ministry of Finance makes a careful study of tax laws to collect taxes from electronic contract-based vehicles to avoid evasion and ensure a level playing field for ride-hailing and traditional taxi firms.