The management board of Tran Anh Digital World JSC has approved a plan to terminate all its branches, which will be carried by the company's chairman, ndh.vn reported.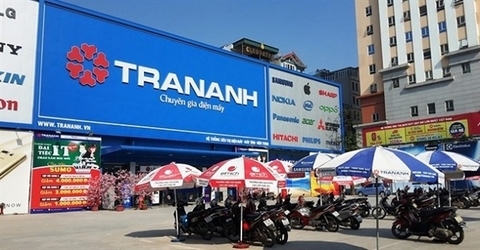 A Tran Anh Digital World store. The company was acquired by Mobile World Investment Corporation in January 2018. — Photo 24h.com.vn
According to the resolution of the company's 2019 annual shareholders' meeting, general director and legal representative Vo Ha Trung Tin resigned and Dang Hoang Anh Chien was appointed the new general director.
Tran Anh Digital was acquired by Mobile World Investment Corporation in January 2018, one of the biggest acquisition deals last year. At the time of the purchase, Tran Anh was a big electronics retailer with 34 markets nationwide.
In July, Mobile World Investment owned 99.3 per cent of the company's capital and Tran Anh became a trademark of Dien May Xanh, an electronics store chain of Mobile World Investment.
From October 2018, the company terminated its business activity on Facebook and its official website has been transferred to the homepage of Dien May Xanh.
After being acquired, Tran Anh Digital continued to incur losses but its losses decreased from VND63 billion (US$2.7 million) in 2017 to more than VND4 billion from April-December 2018, according to the company's audited financial statement.
It sold all assets and inventories to Mobile World Investment and only leased its retail space, offices and brand name.
In 2019, the company will continue leasing retail space, co-operate with Mobile World and other third parties and franchise its Tran Anh brand name to collect rental fees.
It has set a goal to have net revenue of VND150 billion and pre-tax profit of VND6 billion by the end of this year. —VNS