Minister of Transport Nguyen Van The has asked cities and provinces to create favorable conditions for the transport of goods amid social distancing regulations in many localities.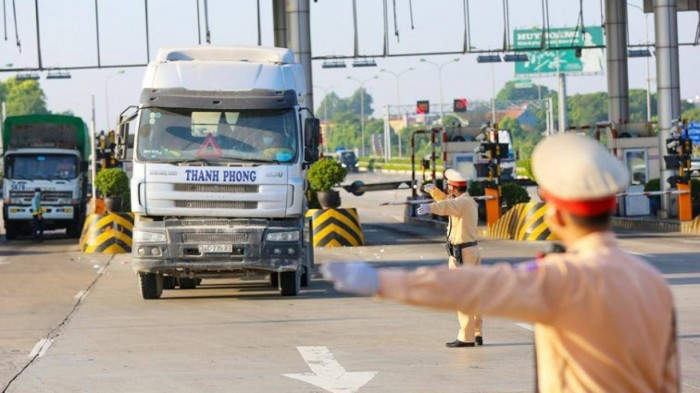 On August 25 at an online meeting, the Ministry of Transport (MOT), Ministry of Agriculture and Rural Development (MARD), and people's committees of cities and provinces discussed solutions to facilitate goods circulation and farm produce transport while observing regulations on Covid-19 prevention and control.
Phung Duc Tien, Deputy Minister of MARD, said some localities set specific regulations of their own, causing problems for goods transport, especially farm produce.
Tien said the farm produce output is plentiful now, but a shortage will occur if goods become stuck.
Some farm produce production chains have been disrupted, while the 'three on-the-site' production model is also facing a lot of difficulties.
Many slaughterhouses have had workers wilt Covid, which forced them to suspend production. In southern provinces now applying the Prime Minister Directive 16, traditional markets have closed their doors.
Meanwhile, input material prices, such as animal feed, fertilizer and veterinary medicine, are increasing. Logistics fees have also increased, while empty containers are seriously lacking. All these factors have led to difficulties in agriculture production.
Farm produce is seasonal. If it cannot be consumed within a proper time, it the quality will decrease, which will affect the added value chain.
At present, circulation on national highway and provincial roads, in general, is smooth. However, it is difficult to circulate goods on district roads, and inter-district and inter-commune roads.
In the last three days, in the provinces of Nghe An, Ha Tinh and Can Tho, though drivers showed QR Code identification and negative testing certificates, they were still not allowed to enter the localities.
An enterprise which provides packaging for eggs could not enter Can Tho City for the last two days, leading to an egg shortage to the HCM City market. Vehicles carrying agricultural materials have complained about deadlock, which has led to the lack of input materials for production. Meanwhile, demand for products remains very high.
Some localities require vehicle drivers to show negative PCR tests within 48 hours, which is not in line with Ministry of Health guidance.
Tran Duy Dong from the Ministry of Investment and Trade agrees that it is illogical to require drivers to have negative PCR testing results within 48 hours, or require them to have rapid tests even though they have valid testing result certificates when going through An Giang, Tra Vinh and Bac Lieu.
MOT stressed that all products need to be considered 'essentials' now, except for prohibited goods. 
Vu Diep

The domination of foreign ocean carriers and intermediate parties has been causing chaos in seaborne-freight costs, driving exporters and manufacturers into deadlock.

The Ministry of Transport has issued a decision on scrapping the general aviation business licence No. 01/2018/BGTVT-VT granted to Globaltrans Air Service JSC.