US restrictions on Huawei will not likely affect Vietnam's smartphone market as well as the domestic mobile phone retailers.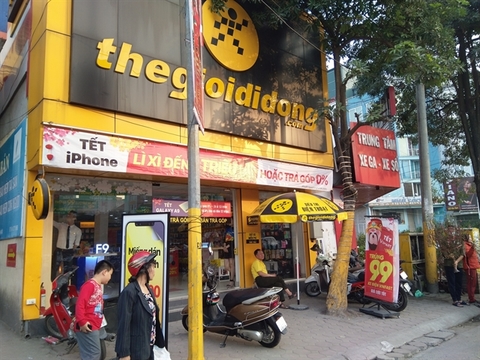 A The gioi di dong store in Hanoi. Sales of Huawei smartphones account for just 4-6 per cent of the chain's total sales. 
US restrictions on Huawei are unlikely to affect the Vietnamese smartphone market or phone retailers.
According to the latest market strategy report by the VNDirect Securities Co, Huawei's smartphone market share in Vietnam was only 4 per cent and worth VND2.65 trillion (roughly US$114 million) last year.
Besides, though Huawei was the world's second largest seller last year, the brand is not too strong in Vietnam and there are many substitutes in the mid-range price category such as Oppo, Xiaomi and Nokia, it said.
The market is dominated by Samsung, Oppo and Apple with respective shares of 41.1 per cent, 22.7 per cent and 8.6 per cent. Another Chinese brand, Xiaomi, had a 6 per cent share, it showed.
On May 15, the US Commerce Department placed Huawei and its 70 affiliates on a trade blacklist, making it harder for the Chinese telecom giant to buy parts and components from US companies.
A study by GCS-CIMB predicts this ban would drive down Huawei's smartphone sales in international markets by 40 per cent year-on-year in 2019, while sales of Oppo and Xiaomi would surge 60 per cent and 43 per cent.
In Vietnam, VNDirect expects an insignificant effect on FPT Retail and The Gioi Di Dong (Mobile World), the two retailers distributing Huawei.
For them, sales of Huawei smartphones account for just 4-6 per cent of total sales. But both retailers face inventory risk and have ongoing contracts for installment payment of Huawei products.
VNDirect mentioned two possible scenarios: Huawei and its partners would share costs and liquidate the inventories by reducing prices and promotions or Huawei would buy back the stocks from partners like Samsung did with Galaxy Note 7 after the battery incident.
Both FPT Retail and Mobile World are awaiting discussion with Huawei for optimal solution.
In the unlikely case that Huawei does not support its partners, the latter would have to make provision for its current stocks of Huawei's products.
The provision is expected to be VND110 billion for Mobile World and VND40 billion for FPT Retail, or 3.8 per cent and 11.5 per cent of their net profits in 2018, according to VNDirect's estimates.
Meanwhile, Digiworld is likely to benefit from this incident, since its main products are Nokia and Xiaomi, and any decline in Huawei sales would boost sales of those two brands. — VNS

Huawei phones hold a modest market share due to poor product designs and marketing as well as plain features compared to other brands such as Oppo or Samsung.
Chinese technology firm Huawei Vietnam has said it will continue to build a "safe and sustainable software ecosystem" to provide the best experience for all users globally.  

Vietnam, listed among the easy-to-conquer markets for Huawei, has also become tougher amid calls for boycott of Huawei all over the world.