US companies have an interest in Vietnam's continued success and the American Chamber of Commerce in Hanoi (AmCham) continues to support the government's efforts to grow the private sector, said AmCham Chair Natasha Ansell.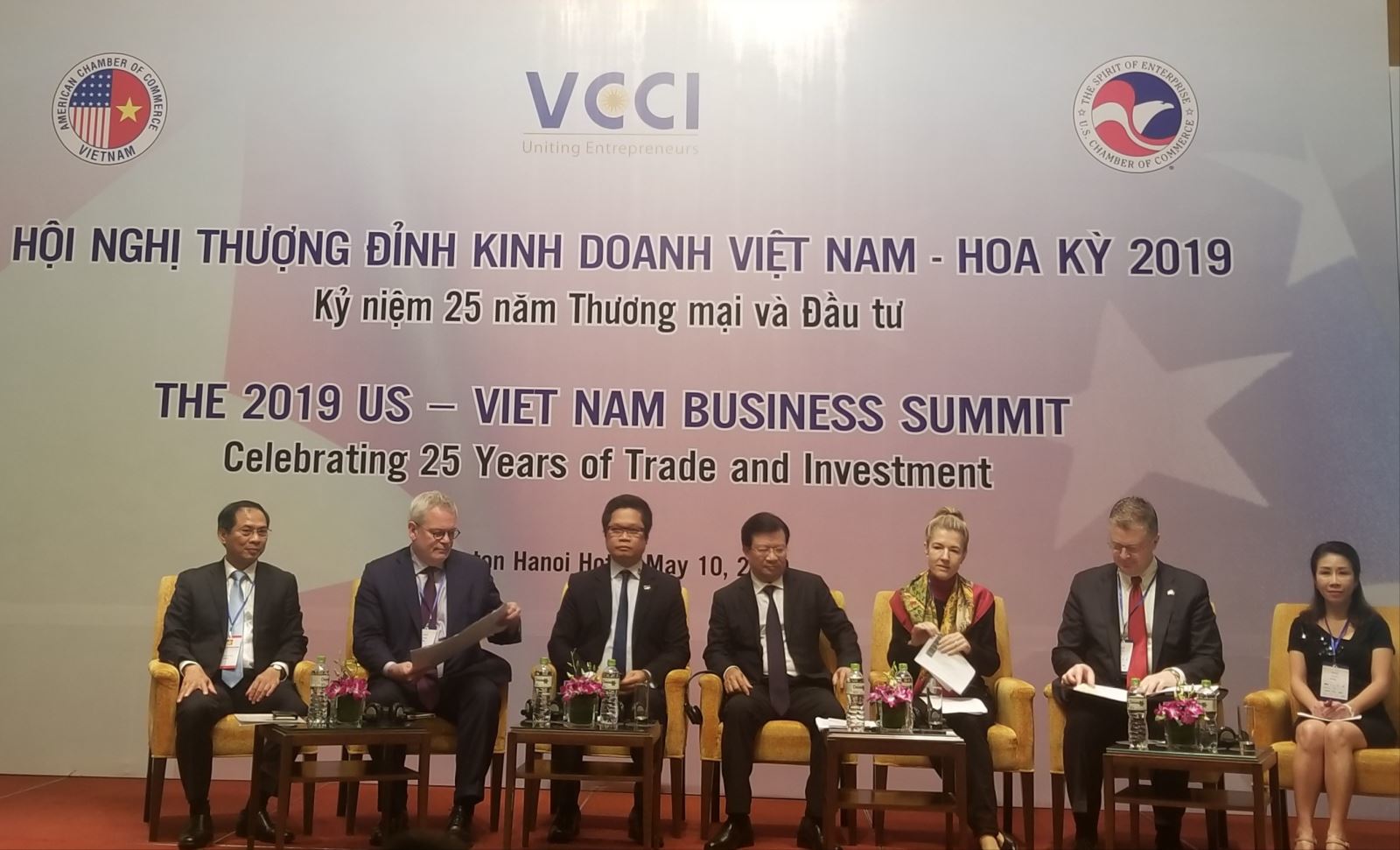 Overview of the conference.
"US companies have invested billions of dollars here, integrating Vietnam into the global supply chain, creating quality jobs for Vietnamese workers, and opening new market for US goods and services," said Ansell at a conference discussing the future of the Vietnam-US commercial relationship held on May 10.

"Most importantly, our companies understand the link between business and society and do their best to conduct business in a way that creates both long-term economic and social value," she added.
The conference, titled "The 2019 US – Vietnam Business Summit: Celebrating 25 years of trade and investment", was jointly hosted by AmCham, the US Chamber of Commerce, and the Vietnam Chamber of Commerce and Industry (VCCI).
Over 250 government and industry leaders from both countries attended the event to build on the current positive momentum in bilateral economic relationship and to address the many areas where inconsistencies, inefficiencies, and unfair practices persist.
Attractive investment destination
Attending the event, Deputy Prime Minister Trinh Dinh Dung said the US – Vietnam relations have grown comprehensively in all spheres, referring Prime Minister Nguyen Xuan Phuc being the first ASEAN leader to visit the US after President Donald Trump took office.

Meanwhile, Trump was also the first US president to visit Vietnam twice during one presidential term.
"Vietnam considers the US top priority partner and expects to further this relation, focusing on trade, economy and investment," Dung added.
As of present, the US is one of Vietnam's largest trading partners, with bilateral trade value reaching US$60 billion in 2018, a 130-fold increase from US$450 million in 1004. Notably, US exports to Vietnam increased 40% in 2018.
"At a time of growing global uncertainties, Vietnam remains steadfast on integrating into global economy, particularly through the finalization of the EU – Vietnam Free Trade Agreement (EVFTA) and the conclusion of the Comprehensive and Progressive Trans – Pacific Partnership (CPTPP)," Dung continued.
With a population of over 90 million, of which the majority is at young age, coupled with the government's strong reform effort and improved status in the global community, Vietnam continues to be an attractive investment destination for foreign investors, Dung stressed.
Dung emphasized the government's top agenda of building a facilitating state with greater transparency and integrity, focusing on serving enterprises and citizens.
"The government would do its utmost to create favorable conditions for foreign enterprises, especially US companies, to commit long-term business in Vietnam," he added.
Sharing the same view, Charles Freeman, senior vice president for Asia at the USCC, said "our members are very focused on Vietnam, and are optimistic about the potential for growth in this market."
"We continue to believe that the long-term goal for the US and Vietnam should be to have a free trade agreement between them," Freeman said.
Chairman of VCCI Vu Tien Loc said sustainable development, reform and integration are the most important keywords in Vietnam's development strategy.
"Vietnam is now aiming for a higher quality and more sustainable structure for investment and trade. On the journey to achieve this goal, the US is one of the most important partners of Vietnam.
Vietnamese and US businesses are joining hands to implement potential projects in the fields of manufacturing, processing, green energy, aviation, digital technology, medical innovation and many other fields," Loc added.
"In the investment and trading cooperation between Vietnam and the US, large corporations in the global value chains play the leading role, but there are also very important roles of the micro, small and medium sized enterprises (MSMEs), and start-ups," Loc continued.
"Hopefully, with the close cooperation with US businesses, Vietnam will not only have factories, but will also have an Asian "Silicon Valley" to help shape innovation of the future for Vietnam economy."
According to Loc, Vietnam supports initiatives to upgrade a free trade framework between the two countries that benefits both sides, saying he expects the relations would continue to grow and prosper. Hanoitimes
Nguyen Tung