Vietnamese farmers often call on consumers to 'rescue' farm produce when there is an oversupply and sales are slow. But the use of e-commerce platforms has changed that.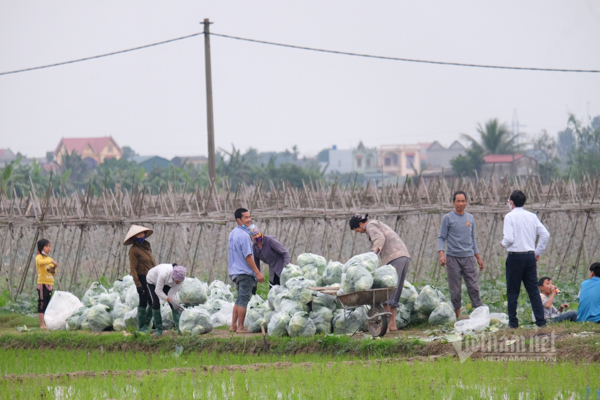 Earning his living by cultivating vegetables for many years, Do Van Chung in Gia Loc district in Hai Duong province complained that he has never met such difficulties before.
In previous years, he harvested 4 tons of cabbage and earned VND14-16 million from two sao (1 sao = 360m2) of cultivation area. But he cannot find buyers and is not sure if he can earn VND2 million from each sao.
Phung Danh Ut, the owner of a melon field used with greenhouse technology, also complained that trucks have not come to collect produce for the last two weeks and the price has plunged from VND35,000 per kilogram to VND11,000.
Chung and Ut, who have been living on agricultural production for many years, have become 'as clumsy as bears' as goods circulation is stuck.
To solve the problem, Hai Duong provincial authorities decided to utilize IT to boost the distribution of products.
Some groups have been set up on Zalo, including Doanh nghiep nong nghiep Hai Duong (Hai Duong agriculture companies), Nong nghiep Hai Duong vuot qua dai dich (Hai Duong's agriculture overcomes the pandemic) and Tong hop nhu cau (demand summary).
Leaders of appropriate agencies are also members of the groups, helping connect businesses in Hai Duong province and other provinces, and helping farmers join production, supply and transportation chains.
"We connect businesspeople by using the commune's electronic information portal and Zalo and invite them to come to Hai Duong to collect farm produce," said Nguyen Tien Thanh, deputy chair of Pham Tran commune.
"Approximately 800 tons of farm produce were marketed during the social distancing time. About 300 tons of cabbage remains unsold," he said.
Meanwhile, Do Van Sang, deputy chair of Gia Loc district, said 10,000 tons of vegetables and 200 tons of poultry meat have been sold.
Thanks to the activities connected by technology, Hai Duong's farm produce has been carried to Hanoi and other localities for sale.
There are other methods that can help 'rescue' their farm produce more effectively – e-commerce platforms.
Voso.vn of Viettel Post and Postmart.vn of Vietnam Post in recent years have helped local farm specialties approach millions of consumers throughout the country.
Viettel Post uses a smart logistics system which delivers vegetables directly to consumers within a short time after harvesting to ensure the freshness of produce. 
Binh Minh - Trong Dat

Innovation in Vietnam's e-commerce industry this year will focus primarily on payments, logistics, and digital technology.

The Vietnamese e-commerce market is forecast to continue to boom in 2021, with revenue surpassing last year's figure.