With Vietnam boosting the inoculation of vaccines for people and support for enterprises to revitalise business and production activities, upcoming updated economic recovery scenarios will make it more favourable for macro monitoring.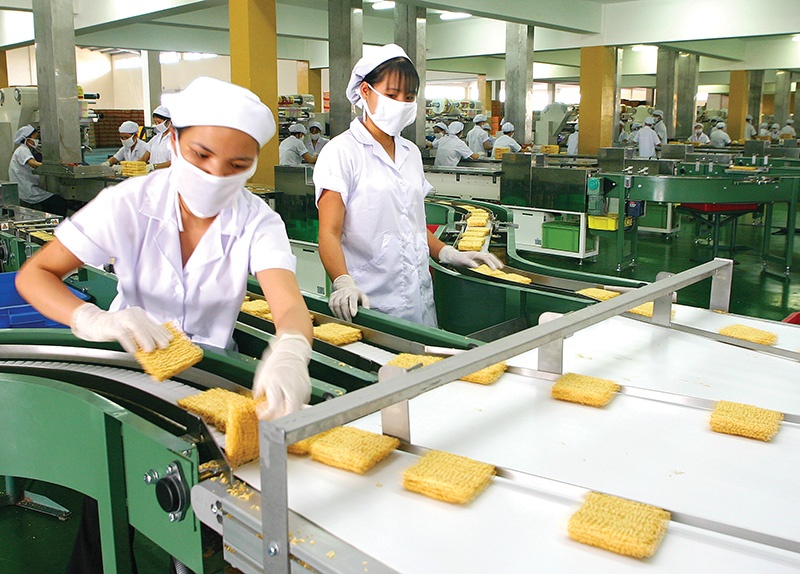 As more people get vaccinated, the chances for factories to work near full capacity increases. Photo: Le Toan
Over the past three weeks Nguyen Thu Ha, a nurse from a healthcare centre in Hanoi's Ba Dinh district, had to come to the office very early and then ride on her motorcycle to several vaccination spots nearby.
"Normally, we have to administer 150 doses a day, but the number has been increased to over 500 doses a day. We begin the work at 7.30am and finish at about 9-10pm without any pause, except for a few minutes for lunch," Ha told VIR. "All medical staff in Hanoi's clinics and hospitals have been mobilised to focus on vaccinations as soon as possible and everything has been going very smoothly."
On September 6, Hanoi's government ordered that all efforts must be made to control the pandemic before September 15 through the testing of the entire population at least once to gradually restore the economy. The city was estimated to have vaccinated 100 per cent of all adults in Hanoi by the set date.
Nationwide, more than 25 million first doses and over seven million second doses were administered as of late last week.
"Boosting inoculation is the most effective solution for economic recovery and revitalisation of all business and production activities, as well as people's lives which are now in difficulties," said Prime Minister Pham Minh Chinh. "We need to create new momentum for economic recovery, with enterprises longing for reopening of the economy and with the acceleration of inoculations."
Updated growth scenarios
Currently, the General Statistics Office (GSO) under the Ministry of Planning and Investment (MPI) is watching the economy's developments before making accurate forecasts for economic growth for the third quarter of the year, whose growth rates in the first and second quarters were 4.48 and 6.61 per cent, respectively. The rate stood at 5.64 per cent in the first half of 2021.
It is expected that in October, a new economic recovery scenario will be released by the MPI. It will be submitted the government. Over a week ago, PM Chinh ordered a new economic recovery scenario in the current situation as vaccines have reached a large part of the population.
Last week, MPI Minister Nguyen Chi Dung forecast that if COVID-19 is put under good control in September, the country's GDP growth may reach 3.5-4 per cent in the whole year.
The minister held that although the predicted result is lower than the set target of 6.5 per cent by the government and about 6 per cent by the National Assembly, it requires greater efforts of the whole political system and localities.
In Vietnam's conditions, each percentage of growth represents around 400,000 new jobs.
Dang Duc Anh, vice director of the MPI's Central Institute for Economic Development, told VIR that under his own estimation, the economy will likely grow about 2.5-2.6 per cent in the third quarter.
"The prolonged social distancing in the southern region, especially in Ho Chi Minh, and the provinces of Binh Duong and Dong Nai which are among Vietnam's largest industrial production hubs, has almost frozen all business and production activities of enterprises in the third quarter," said Anh. "All activities can resume when people are fully vaccinated. Hanoi is now also under social distancing, which affects its business performance."
Hanoi and the three other localities create over 45 per cent of Vietnam's GDP on average.
Over two months ago, the MPI released two growth scenarios based on the economy's positive developments in the first half of this year.
In the first scenario, in order for the economy hit a growth rate of 6 per cent, the third and fourth quarters must grow 6.2 and 6.5 per cent, respectively. In the second scenario, the economy could expand 6.5 per cent this year if the growth rates reach 7 and 7.5 per cent in the third and fourth quarters, respectively.
However, Anh said, "The target of about 6 per cent for the whole year will be infeasible as the current economic conditions and momentum are extremely difficult."
The Vietnam Institute for Economic and Policy Research also enacted its projection, saying that in a baseline scenario, if the pandemic is controlled at the end of the third quarter, the whole year will see a growth rate of 4.5-5.1 per cent.
Meanwhile in an unfavourable scenario, if the pandemic fails to be curbed and all economic activities fail to resume their normal operation by the fourth quarter of this year, the economy will be able to expand 3.5-4 per cent only.
Standard Chartered Bank has also revised its GDP growth forecasts down for Vietnam to 4.7 from 6.5 per cent for 2021, and to 7 from 7.3 per cent for 2022 due to softening economic indicators and the worsening pandemic. The bank anticipates a further downgrade and an interest rate cut by the State Bank of Vietnam. It sees a rebound in the fourth quarter and expects trade data to remain supported by improving global trade. Softer economic growth is expected in the third quarter. According to the bank, the situation will likely continue to dampen inward investment for the rest of 2021 and may create further uncertainties in tourism.
"We remain bullish on Vietnam's economic prospects over the medium and long term," said Tim Leelahaphan, economist for Thailand and Vietnam at Standard Chartered.
Global analyst FocusEconomics also said that the recent surge in daily cases represents a key downside risk to the outlook. "Our panellists expect Vietnam's GDP to expand by 5.8 per cent in 2021, down 0.6 percentage points from last month's forecast, and 6.8 per cent in 2022."
According to FocusEconomics, after GDP growth accelerated in the second quarter, clocking the fastest rate of expansion since the fourth quarter of 2019, conditions appear less encouraging in the third quarter.
Bigger support to businesses
This week the National Assembly Standing Committee will decide on a resolution on some tax-related exemption and reduction solutions for enterprises and people negatively impacted by COVID-19.
Under a draft proposal made by the government and discussed last week by the committee, four solutions for those affected by the pandemic. It includes continuously extending the deadline for paying tax and land rent in 2021; reducing environmental protection tax on jet fuel in 2021; reducing import tax rates for many groups of goods; and decreasing the collection of 30 types of fees for the whole year.
These solutions would be expected to support businesses and people with a total value of around $5.16 billion. Of that, the extended amount of tax and land rent would be roughly $5.02 billion and the rest would be from exempted or reduced taxes and fees. In addition, the state budget has used $1.13 billion for different supportive policies.
Minister of Finance Ho Duc Phoc said many solutions have already been implemented. The total amount of tax and budget revenue that had been extended, exempted and reduced according to the policies issued in 2020 has reached $5.64 billion.
On September 9, the government also promulgated Resolution No.105/NQ-CP on supporting enterprises, cooperatives, and business households amid the pandemic. The government required the Ministry of Finance to implement policies on the relaxation and reduction of taxes, fees, charges, and land rentals and to implement preferential tax policies for imported goods to finance COVID-19 prevention and control.
Meanwhile the Ministry of Labour, Invalids, and Social Affairs was asked to ease regulations on grant and extension of work permits for foreigners in Vietnam.
It is expected that by late 2021, the resolution will benefit about one million enterprises, cooperatives, and business households.
According to the GSO, since July, the number of businesses affected by the pandemic and kicked out of the market has been bigger than the number of newly-established enterprises. Specifically, the respective numbers were 79,700 and 75,800 as of late July, and 85,500 and 81,600 as of late last month. Nearly one third (24,000 or 28.1 per cent) of this figure comes from Ho Chi Minh City, up 6.6 per cent on-year.
On average, about 11,400 enterprises left the market every month in the first seven months of the year, and nearly 10,700 businesses suffered from the same fate every month in the first eight months.
Source: VIR

Protecting lives and maintaining economic growth in a careful balancing act, the government's pace of economic reopening will define Vietnam's economic outlook and foreign investment prospects.