Prime Minister Nguyen Xuan Phuc has approved Van Don District in the northern province of Quang Ninh as a multisectoral sea economic zone and entertainment hub that will include a casino.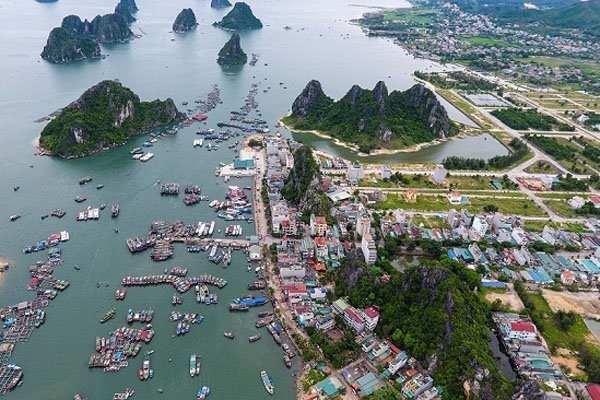 An aerial photo shows Cai Rong Port in Van Don District, Quang Ninh Province. Van Don has been approved to develop into an entertainment hub with a casino – PHOTO: VGP
The Government leader has approved a comprehensive plan on the Van Don economic zone's development until 2040. Accordingly, the district will also be a high-end sea and island tourism area and a green, modern and smart urban area with an important position in the nation's security and defense strategy.
By 2030, Van Don is forecast to have a population of some 140,000-200,000 and will need some 5,500 hectares of land to build functional areas. By 2040, its population may rise to 300,000-500,000 and the land area needed will be 12,050 hectares.
The prime minister has also assigned the Quang Ninh government to coordinate with the Ministry of Construction to review and adjust the plan if needed and develop policies and financial and human resources for technical infrastructure projects in the province.
In 2016, the Government asked the relevant ministries and agencies to develop Van Don into a special economic-administrative zone.
As a result, multiple enterprises announced plans to invest in large projects in the district, sending the prices of real estate products surging. However, in 2018, the National Assembly suspended the consideration of a draft law on special administrative and economic zones, causing the local property market to cool.
Sungroup had earlier been chosen as the investor for a casino project in the district, but the project has yet to be executed.
According to the Quang Ninh government, from 2007 to 2020, more than VND8 trillion would be spent on the Van Don economic zone, including over VND1.6 trillion being sourced from the State budget and VND6.4 trillion from the province's budget. SGT

The Vietnamese Government has decided to establish a management unit for the Van Don Economic Zone, located in the northern coastal province of Quang Ninh.  

Local authorities in Quang Ninh province are preparing adequate facilities at Van Don airport ahead of the arrival Vietnamese nationals from areas in China hit by the novel coronavirus (nCoV).