The Vietnam Chamber of Commerce and Industry has objected to the State Bank of Vietnam's (SBV's) proposal that an individual must not conduct transactions worth more than VND20 million per day through e-wallets.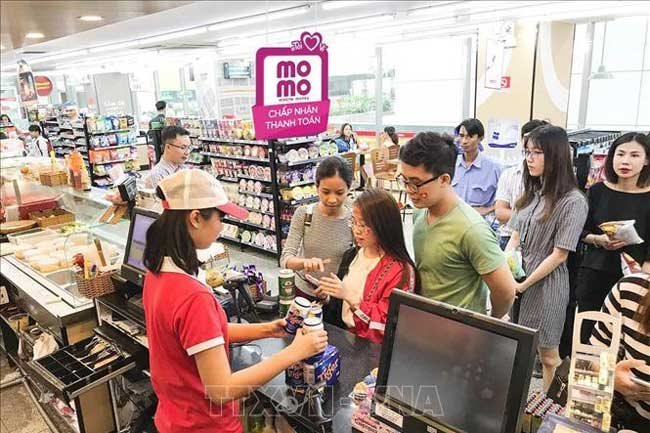 Customers make payments via e-wallets at a local store. VCCI has objected to the daily transaction limit for individual e-wallets at VND20 million -
According to VCCI's comments on a draft circular amending and supplementing Circular 39/2014, guiding the use of intermediary payment services prepared by the central bank, the prices of many kinds of goods and services, such as electronic devices, mobile phones, laptops, air tickets, hotel rooms and tours, are higher than VND20 million.
The proposal would force ewallet users to open two or more accounts, which is costly and inappropriate with the development of the digital economy.
The draft circular also sets a daily transaction limit of VND100 million and a monthly transaction limit of VND500 million for e-wallets opened by organizations.
According to VCCI, the low daily transaction limit would also hinder enterprises' business activities and cannot meet customers' demands.
Customers should be allowed to choose transaction limits suited to their needs, VCCI proposed.
In addition, the regulation that each customer can only open one ewallet per service provider is unreasonable. Customers can themselves assess the necessity of opening two or more e-wallets.
Under prevailing regulations on intermediary payments, customers are not restricted to holding more accounts at a bank.
Therefore, the chamber suggested abolishing the regulation.
Pham Tien Dung, director of the SBV's Payment Department, told Nguoi Lao Dong newspaper that SBV is considering the elimination of the regulation which requires customers not to conduct transactions valued at more than VND20 million per day on e-wallets. However, the monthly transaction limit of VND100 million for individual e-wallets is necessary.
Further, the regulation that individuals and organizations wishing to open ewallet accounts must provide sufficient information is crucial to help prevent the use of e-wallets for illegal purposes, Dung added. SGT