As many as 18 domestic and foreign venture funds attending the Vietnam Venture Summit 2019, which opened in Hanoi yesterday, have committed a total of US$425 million for Vietnamese startups over the next three years.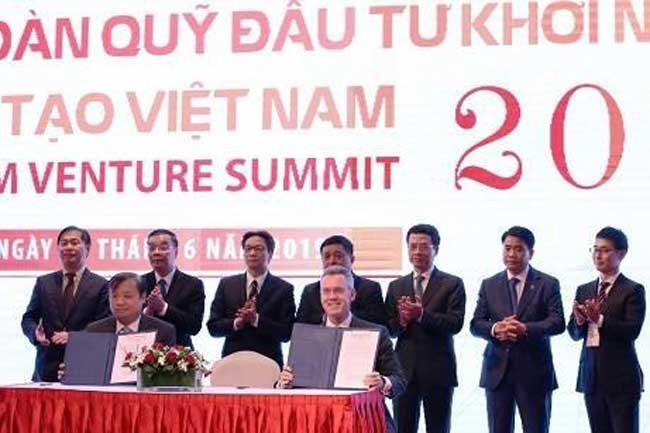 An investment deal is made at theVietnam Venture Summit 2019. Venture funds have pledged US$425 million for Vietnamese startups - PHOTO: MINISTRY OF SCIENCE AND TECHNOLOGY
Some notable deals included South Korea-based DT&I investment fund's investment of US$1.4 million in Propzy, the provider of an app that allows users to find and rent or buy properties, in the second quarter of this year, according to a report on the VnEconomy news site.
Meanwhile, VinaCapital agreed to sign a strategic cooperation agreement with two Korean funds to pour US$100 million into Vietnamese startups in the next three years.
A representative of the European Chamber of Commerce in Vietnam also introduced a European Union investment fund worth three billion euros (US$3.4 billion) for startups.
According to an annual report on the startup movement by the Topica Founder Institute, 92 projects by Vietnamese startups received total investment of some US$889 million last year, tripling that in 2017 and six times higher than the investment in 2016.
Local startups are expected to attract US$205 million this year, US$320 million in 2020 and US$440 million in 2021, according to the report, which also showed that the number of Vietnamese startups has reached some 3,000, well above the 400 seen in 2012.
According to the Ministry of Planning and Investment, Vietnam currently has more than 40 venture funds, doubling the number in 2015.
Many large Vietnamese firms have also invested heavily in the startup ecosystem, such as FPT, Viettel, Vingroup and CMC.
Further, the country is now home to over 40 startup incubators and 60 co-working facilities.
However, the local startup ecosystem is relatively young and not closely connected compared with those in regional countries.
Factors that contribute to the success of startups, including infrastructure, institutions, policies, finance, investment, markets and culture, must continue to be improved.
The Vietnam Venture Summit 2019, which lasts until June 12, is aimed at introducing Vietnam's business environment and innovative startup ecosystem to attract investors.
The summit attracted more than 100 domestic and foreign investment funds, including Softbank Vision Fund, CyberAgent Ventures, Mekong Capital, 500 Startups Vietnam, DT&I, IDG Ventures Vietnam and VinaCapital Ventures.
Representatives of large international groups such as Google, Visa, BCG Digital Ventures, One Championship and Lotte also took part in the event. SGT

The Vietnam Venture Summit 2019, the first of its kind, will take place in Hanoi on June 10, providing a dialogue platform between the Vietnamese government and major international venture funds.  

Minister of Planning and Investment Nguyen Chi Dung has pledged to consistently facilitate capital inflows into the country's innovation ecosystem.