The website and facebook page of Vien Thong A has officially been renamed to VinPro, Vingroup's retail brand for high-tech products.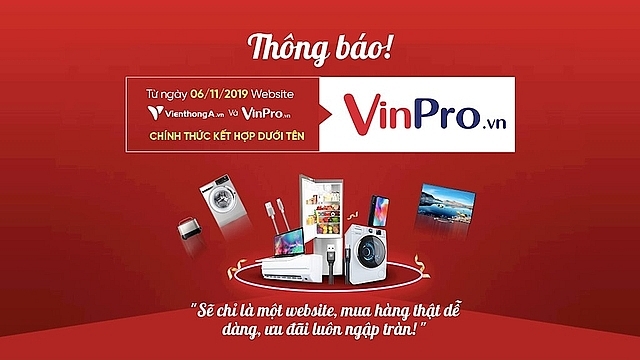 Vien Thong A will be slowly assimilated into the VinPro chain

g
Recently, the fan page of Vien Thong A that is followed by 150,000 users has been renamed to VinPro,with its online product catalogue extended with electronics, smartphones, tablets, laptops, and home appliances. Earlier, users were redirected to Vinpro.vn when visiting Vienthonga.com.
At present, most Vien Thong A stores retain their brand name, but they will be added to the VinPro system in the time coming. A few stores already switched hands and were repurposed by Vingroup, including the one on Ho Xuan Huong Street (Ho Chi Minh City's District 3) which became a Vsmart customer care centre.
Vien Thong A is the most veteran technology retailer in Ho Chi Minh City, operating for 22years before being fully acquired by Vingroup a year ago.
In last July, VinPro launched nine stores combining the electronics and supermarket models, offering reasonably-priced genuine goods to customers, especially women, who rarely visit electronics stores.
The gradual assimilation into the Vin-system had been arranged when Vingroup acquired Vien Thong A in last September. The VinPro model is very similar to the mini supermarket models that Mobile World (thegioididong) developed successfully at its Dien May Xanh chainin the past three years. VIR
Nguyen Huong

VinSmart Research and Manufacture JSC, a member of Vingroup, has announced a cooperation agreement with Google to produce smart TVs under Vietnamese brands, meeting international standards, to serve the domestic and global markets.

Chairman of Vingroup Pham Nhat Vuong has been named among the top 50 theme park influencers in the world for his innovation and creativity in the global theme park industry in 2019.