Vietnam is now in a position to attract even more investors and promote mutual prosperity with the US, despite the uncertainties caused by the US-China trade conflict, a US official said at a trade forum last week.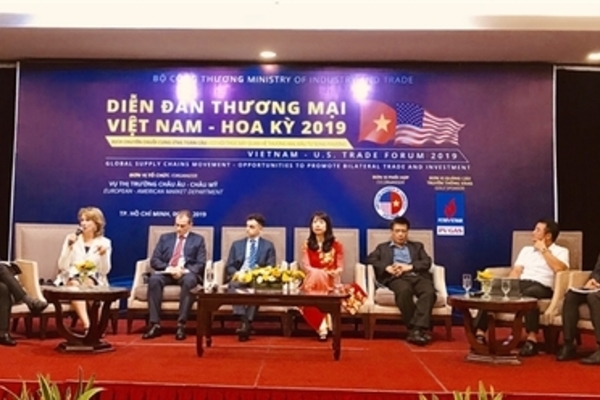 Speakers at a panel discussion at the Viet Nam-US Trade Forum held on Friday by the Ministry of Industry and Trade in HCM City.
Mary Tarnowka, executive director of AmCham Viet Nam in HCM City, said: "The US-China trade conflict and resultant uncertainty have the potential to create opportunities for Viet Nam and AmCham Viet Nam since firms look to diversify their supply chains to destinations such as Viet Nam."
"It will also create additional challenges," said Tarnowka, who is also the US consul general in HCM City. "The escalating trade conflict between China and the US affects AmCham Viet Nam's members, including big, medium and small ones, in several ways."
Change is happening in the global economy, and US businesses and other AmCham Viet Nam members are affected, she said. "The change comes from uncertainty in the global marketplace. No one knows the duration or full impact of the US-China trade war."
"We do know the tariffs are affecting American businesses in China, as well as US businesses trading with China. It is clear these trade sanctions will continue for the short term with no known end in sight."
President Trump and US policymakers have put other trading partners on notice, including Viet Nam. They want reduced trade deficits, elimination of trade barriers, and improved market access for US goods, services, agricultural products and intellectual property.
"Many of our AmCham members have already changed short- and long-term business strategies as they have diversified their supply chains, and increased production and sourcing from Viet Nam while decreasing reliance on China and taking advantage of Viet Nam's relatively low wages and network of Free Trade Agreements (FTAs)," she said.
"Ongoing trade tensions have highlighted concern on concentrating production in China, and we at AmCham have seen increased interest by US companies looking to accelerate supply chain diversification by shifting additional production to, or investing, in Viet Nam."
However, there are significant capacity constraints on logistics, infrastructure, real estate and labour shortages, among other challenges, according to the director.
Commercially viable public-private partnerships (PPPs) will be key to enabling world-class private investment in infrastructure projects.
Sustainable growth in Viet Nam will hinge on investments in port infrastructure, airport facilities, roads and public transportation to support increased movement of people and goods in Viet Nam.
The energy sector is another key field where US firms are eager to partner with Viet Nam to provide energy infrastructure and promote clean energy and sustainable economic growth.
Challenges
Labour costs in Viet Nam have recently outpaced productivity gains, impacting Viet Nam's competitive position, according to Tarnowka.
Though Viet Nam's exports to the US are growing rapidly, the country mainly ships raw or sub-contracted products with low value addition, other speakers said.
"The country has achieved high volume of exports but a very modest value of exports," Do Thang Hai, deputy minister of Industry and Trade, said at the forum.
Vietnamese firms should think about exporting value-added products, not just raw material exports, especially at a time when trade protection is increasing globally, he said.
Hai said the big challenge for Vietnamese exporters is the US's imposition of strict import regulations. In addition to federal laws, each state has different rules and regulations.
"Protectionism through new regulations and standards for quality, food safety and origin of products, especially for agro-forestry and fisheries products, is also increasing."
Chu Thang Trung, deputy director of the Ministry of Industry and Trade's Trade Remedies Authority, said the number of anti-dumping and anti-subsidy lawsuits by the US had already doubled under the new Government there.
"Not only products with high export volume, but even minor items face these lawsuits," he said.
Truong Dinh Hoe, general secretary of the Viet Nam Association of Seafood Exporters and Producers (VASEP), said the US annually imported around 600,000 tonnes of shrimps, or 80-90 per cent of its domestic demand, with imports from Viet Nam just accounting for 10 per cent of imports.
"But trade protection has increased in recent years, causing challenges to seafood exporters to the US," he said.
Recommendations
Mary Tarnowka, executive director of AmCham Viet Nam in HCM City, at a booth displaying Vietnamese farm produce during the Viet Nam-US Trade Forum held yesterday in HCM City. — VNS Photo Bo Xuan Hiep
Tarnowka recommended a fair, transparent, predictable regulatory environment in line with Viet Nam's FTAs and international commitments, including tax policy, to attract new investment but to also grow the investment that is already here.
"Administrative and regulatory reform is the most cost-efficient means for stimulating and sustaining economic growth and promoting transparency, and it is entirely within Viet Nam's control, independent of external market forces," she said.
"Maintaining a free and open digital economy will also be key to maintaining Viet Nam's competitiveness and promoting innovation," she added.
The digital economy significantly reduces costs, provides products and services to a broader range of consumers, and increases access to newer and bigger markets. And a big part of Viet Nam's dynamism is the innovation that takes place on social media, according to the director.
As manufacturing and supply chains are relocated across the region, the development of Vietnamese SMEs and their increased participation in global supply chains becomes vital.
Hai said trade between the two countries had risen from a modest US$220 million in 1994 (the year the US lifted its economic embargo against Viet Nam) to $58.8 billion last year.
The figure reached $35.4 billion in the first six months of the year. "The US has been the leading trade partner for Viet Nam in the last 10 years," he said.
Viet Nam had joined global supply chains, causing the country to leap from 12th place in 2018 to ninth place in early 2019 as one of the largest exporters to the US, he said.
The country had also become the 27th largest market and the 16th largest trading partner of the US, he added.
The trade forum attracted more than 300 delegates, including government officials, local leaders, and Vietnamese and US business executives.
Themed "Global Supply Chain Movement – Opportunities to Promote Bilateral Trade and Investment", it was organised by the Ministry of Industry and Trade. — VNS
Bo Xuan Hiep