Vietnam Singapore Technologies Engineering Aerospace (VSTEA), a joint venture between Vietnam Airlines Engineering Company (VAECO) and ST Engineering Aerospace, was introduced in Hanoi on Thursday.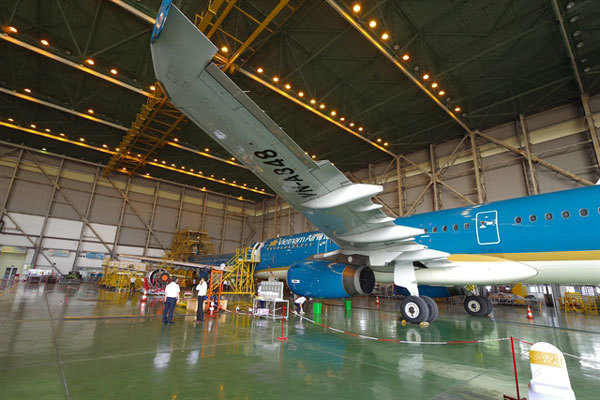 A corner of aircraft maintenance and repair centre of the Vietnam Airlines Engineering Company (VAECO). — Photo Vietnam Airlines
The establishment of VSTEA is under a deal between VAECO and ST Engineering Aerospace signed in April last year, marking the first and only joint venture of aircraft components maintenance and repair company in Vietnam to date.
VSTEA will provide aircraft components maintenance and repair services to domestic and international airlines, including services for A320 family and some equipment for common aircraft such as Boeing 787, Airbus A350, A320, A321 and ATR 72, and support technical issues such as electrical components, electronics, wheels, brakes and safety equipment.
CEO of Vietnam Airlines Duong Tri Thanh said ST Engineering Aerospace is one of the world's largest aircraft maintenance groups.
"We believe this deal will bring tremendous benefits to both sides in a potential aviation market like Vietnam, starting the next promising co-operation period of the two sides," he said.
Lim Serh Ghee, President of ST Engineering Aerospace, said Asia is a key area contributing to the growth of the global civil aviation industry.
He said his company is delighted to be working with Vietnam Airlines to establish the first maintenance and repair facility in Southeast Asia outside Singapore. He said the collaboration would help the new joint venture company provide world-class repair and maintenance services, ensuring absolute safety for airlines.
VSTEA has modern equipment to operate aircraft maintenance and repair the Vietnam Airlines' facilities at Noi Bai and Tan Son Nhat international airports.
The aviation market of Vietnam and Asia - Pacific with forecast of the fastest growth rate in the world is expected create positive motivation for aircraft maintenance and repair industry in the region.
VNS