The total overdue debt incurred by Vietnam Airlines (VNA) has reached VND11.338 trillion. The airline still cannot pay for aircraft leasing, fuel, engine repair and flight services to its foreign partners.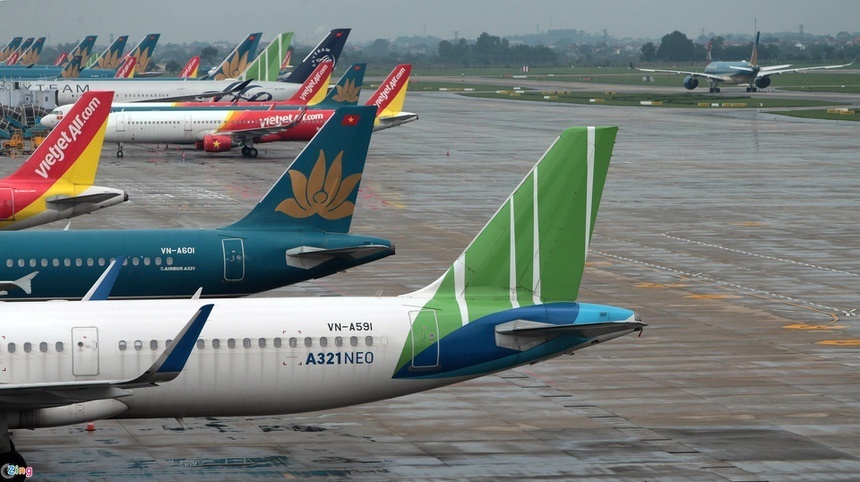 In a Resolution on the approval of the plan to issue additional shares to existing shareholders, Vietnam Airlines' management board said that after completing the issuance, the additional charter capital will be added to working capital to run production and business activities, and improve short-term solvency, which has been affected by the Covid-19 pandemic.
The amount of capital raised through this method has been VND8 trillion and most of it will be used to pay debts, including VND2.05 trillion in matured debts to credit institutions, VND3.95 trillion in overdue debt and matured debts to partners and suppliers, and VND2 trillion for working capital to ensure solvency and maintain production and business activities, such as paying workers, taxes and other items.
VNA reported that in Q1 2020, its overdue debts at commercial banks reached VND2.5 trillion.
Vietnam Airlines also gave details about the overdue debt of VND13.338 trillion to partners and suppliers as of June 30, 2021.
The biggest debt is VND7.099 trillion in aircraft leasing to 12 partners, including Jackson Square Aviation Ireland Limited (JSA), BBAM, DAE, ACG, CLOVE, CAVIC, VALC and ALC.
There is debt of VND4.021 trillion in fuel, engine repair and maintenance, material and equipment to many foreign and domestic partners, including Air France, KLM Engineering and Maintenance and Rolls Royce Plc. The remaining debt, VND1.847 trillion, is in flight and aviation services to domestic partners, including VATM, VAECO, ACV and others.
Meanwhile, the debt VNA needs to pay to banks in 2021 is VND2.053 trillion in total, including Vietcombank (VND738 billion with the interest rate of 4.2 percent and VND390 billion with the interest rate of 3.5 percent), BIDV (VND236 billion, 4.6 percent), SeABank (VND400 billion, 4.8 percent) and financial institutions such as JP Morgan, Citibank and ING.
In order to mobilize VND8 trillion, VNA will sell 800 million shares at the price of VND10,000 per share. The existing shareholders will have the right to buy 56.4 shares to be issued for every 100 shares they hold.
In H1, VNA (holding company), estimated the loss of VND9.823 trillion and the combined loss of VND10.788 trillion.
Because of the severe impact of Covid-19, the national flag air carrier has predicted a total combined loss of VND14.526 trillion this year, an increase of 30 percent over 2020. The combined revenue is predicted to decrease by 11.6 percent to VND37.4 trillion.
A report released in mid-June showed that Vietcombank is the biggest creditor of airlines, with VND7.5 trillion provided to VNA. 
Duy Anh

While a special travel pass and financial bailouts are expected to help airlines in Vietnam come back from the brink, questions over their feasibility remain.