At the General Meeting of shareholders held on Wednesday morning, Vietnam Airlines JSC (HVN) approved a plan of raising VND8 trillion (US$346.2 million) through share issuance.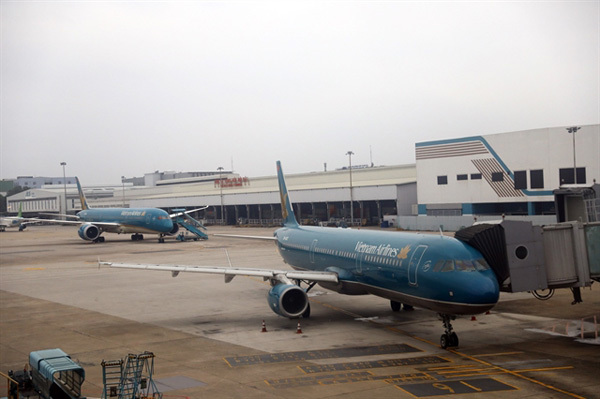 Vietnam Airlines planes at Da Nang Airport. VNS/VNA Photo Huy Hung
The issuance rate is 56.4 per cent. 
These shares are common stocks and shareholders can transfer them freely. Accordingly, existing shareholders can transfer their stock purchase rights to local individual or institutional investors. The right can only be transferred once during the given period. And subsidiaries are forbidden to buy shares or invest in the holding company.
Issuance procedures are expected to be completed in the second half of 2021, said Tran Thanh Hien, chief accountant of Vietnam Airlines. With the current progress, funds raised from the issuance will arrive in the third quarter to maintain business activities. 
The national flag carrier also prioritises disbursing the refinancing loans worth VND4 trillion to pay for part of its outstanding debts, due debts, as well as current liabilities and long-term liabilities. 
In 2021, due to the complexity of COVID-19, Vietnam Airlines set a target of nearly VND37.4 trillion in consolidated revenue, equivalent to 88.4 per cent of that of last year. 
Le Hong Ha, General Director of Vietnam Airlines, said that to achieve this target, the air carrier will focus on operating flights safely, as well as preventing the pandemic. At the same time, it will carry out inclusive restructuring and digital transformation.  
The company also seeks support from its counterparts to reduce prices, delay payment, and cut costs to minimise losses in business results. It expects to save more than VND6.8 trillion in 2021 through these strategies. 
At the meeting, the representative from Vietnam Airlines said that the carrier is reviewing its external investments, including divestment in some portfolios to have more capital for its own businesses. 
This year, the carrier plans to sell six old ATR-72 aircraft and replace them with jet planes to strengthen competitiveness in niche markets.
Last year, it recorded consolidated revenue of nearly VND42.3 trillion, surpassing its expectations. The consolidated losses were also lower than its origin plan. 
On the stock market, HVN shares has kept falling since the beginning of April. The shares closed Wednesday at VND25,000 per share, up 0.59 per cent, but they had lost nearly 24 per cent since April and 10 per cent compared to earlier this year.
Source: Vietnam News

Many businesses want to list on international stock exchanges to mobilize large sources of capital.