Vietnam was among the top ten investors in Cambodia as of 2018, with US$3 billion registered in more than 200 projects, according to data released at a press briefing yesterday in Can Tho City.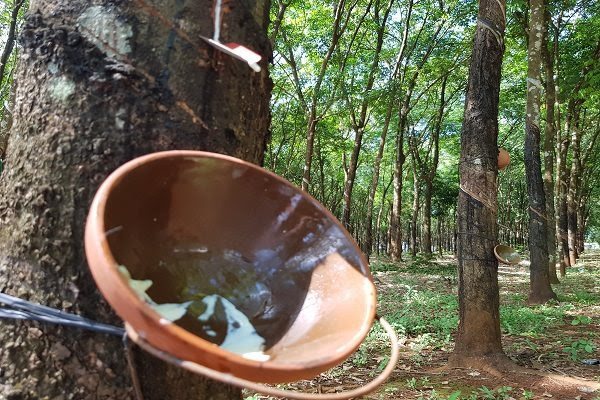 File photo of natural rubber being extracted from a tree. Vietnamese businessman Doan Nguyen Duc, chairman of Hoang Anh Gia Lai Group, has made large investments in the rubber industry in Cambodia
In particular, Vietnam has invested in agriculture, finance-banking and forestry across 25 Cambodian provinces and cities, said a representative of the Vietnam Chamber of Commerce and Industry's Can Tho branch (VCCI Can Tho) at a press briefing to introduce "Vietnam-Cambodia Business Forum" and "Caravan – A Journey Connecting Vietnamese and Cambodian Businessmen".
With many advantages of the long borderline and multiple international border gates, Vietnam has a significant potential to boost border trade cooperation with Cambodia.
The Mekong Delta alone has four provinces, including Long An, Dong Thap, An Giang, and Kien Giang, sharing the border with Cambodia, allowing Vietnam to establish collaboration in trade, agriculture, tourism, as well as information and technology with Cambodia, according to the VCCI Can Tho representative.
The "Vietnam-Cambodia Business Forum" and  "Caravan – A Journey Connecting Vietnamese and Cambodian Businessmen" are scheduled to take place from December 5 to 8 in Cambodia, in a bid to create opportunities for entrepreneurs from the two countries to meet and discuss further cooperation, while promoting economic, trade and investment cooperation between Vietnam and Cambodia.
The Caravan event is expected to attract 200 participants from 20 Vietnamese provinces and cities.
 
Trung Chanh

Foreign investment in Cambodia has increased rapidly over the past years and Vietnam is among thethree largest investors in the country.

Experts believe that in the immediate time, Laos and Cambodia will not be rivals on the same par with Vietnam.