Japan's Watabe Wedding Corporate recently signed an agreement with Empire Group Vietnam to organise wedding ceremonies for 1,000 Japanese couples in the latter's Cocobay Complex in Da Nang in the next three years.
 The figure is expected to increase to 16,000 in the next 10 years.
This year, Watabe has already organised 120 weddings at Empire Group's properties.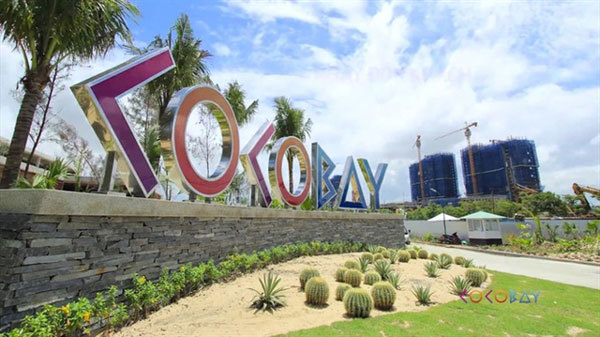 A view of Cocobay Complex in Da Nang. —Photo viettimes
Why is one of Japan's leading providers of marriage services tying up with Empire Group?
The latter's properties like Coco Ocean Resort with Park Regis and Leisure Inn hotels, and Coco Skyline Resort with Golden Tulip and Coco Ocean Spa Resort offer a number of advantages.
The Empire Group's properties are mostly situated between Hoi An and Da Nang along private and pristine beaches that also offer guests direct access to a dining and retail strip.
Major tourist attractions there include the cities of Hoi An and Da Nang, the Marble Mountains and Ba Na Hills.
But arguably an even more important reason Empire Group has been able to attract Watabe Group is that its properties are managed by world leading hotel management groups.
Empire has an agreement with Japan's Seibu Holdings which allows its Coco Ocean Resort and three GB buildings to carry the Park Regis and Leisure Inn brands.
It has got France's hotel leading group Lourve to manage its Coco Skyline Resort under the Golden TulipBrand and two other buildings under the Campanile Brand.
Louvre Hotels Group is a major player in the global hospitality industry, with a portfolio that now includes more than 1,500 hotels in 54 countries.
Robert Mcintosh, executive director responsible for CBRE Hotels in Asia Pacific told Đầu tư Chứng khoán (Investment & Securities) newspaper that in recent years, Vietnam has witnessed the expansion of many famous hotel brands like Marriott International, Hilton Worldwide, Wyndham Hotel Group, InterContinental Hotels Group and Accor Hotels in addition to Seibu's Staywell and Louvre.
The trend is expected to continue, he said.
Da Nang and then Ha Long cities are considered the most attractive destinations for foreign hotel management groups, he said.
The investment potential of Vietnam's hospitality and tourism sector remains great, especially for investors seeking long-term growth, he said.
Other analysts concurred, pointing out the country's tourism industry has recently seen rapid growth, and the development of the hospitality sector is a concomitant.
In the first nine months of this year, international visitor numbers reached nearly 13 million, a 28.2 per cent increase year-on-year, and tourism revenues were estimated at VND384 billion (US$16.3 million), a 31 per cent increase.
The tourism services sector has also registered strong growth.
The hotel industry has seen a boom in supply since 2015, with the five-star segment achieving the highest growth as the number of rooms doubled from 24,212 to 52,213 now.
The number of four-star rooms also increased sharply from 27,379 to 39,023.
By June 2018, nearly 2,000 international travel agencies and over 25,600 accommodation facilities with a total of 508,000 rooms were available across the country. Three- to five-star hotels offered 101,400 rooms. Over 21,000 tour guides have been licensed, and tourism provides an income to some 2.5 million people.
The rapid expansion of the high-end hotel segment but without the availability of management experience in the country means international hotel management companies are the only option, and most hotel and resort investors prefer to have leading names.
Nguyen Viet Thung, vice chairman of TMS Group, said that tie-ups with foreign hotel management brands offer a lot of benefits like prestige, global brands and management skills.
Foreign hotel managers and operators are in turn partial to Vietnam and like to work in the country because of its culture, beautiful landscapes and comfortable geographic location.
But in fact, it is not easy to invite those professional hotel managers to participate in management of hotel projects.
That is a good thing since, professionally, famous brands have stringent requirements of tourism properties in terms of location, construction quality, services, and legal and environmental factors, as Empire Group chairman Nguyen Duc Thanh pointed out.
They fiercely protect their prestige, he said.
Some analysts pointed to the fact that foreign hotel management companies often refuse to accept offers from Vietnamese hotels claiming the market is not attractive, owners are inexperienced and hotel designs are unsuitable for their brands' requirements.
Is it a good time to buy gold?
On November 10, the buying and selling prices of SJC gold were VND41.26 million and VND41.56 million per tael of 37.5 grammes.
At Doji, they were VND41.35 and 41.55 million.
Market observers said prices dropped by almost VND600,000 on November 7 and have remained there though the fall was not as sharp as in the global market.
The corresponding global fall was $60 per ounce, or 3 per cent, to $1,440, the biggest single-day drop in the last two years.
The sharp decrease in prices could see individual investors buy gold in the hope to making a quick profit since prices always goes up at the end of the year.
What do experts think?
They attributed the price fall to positive information about the China-US trade war.
On November 7, the two countries agreed to remove the additional tariffs imposed recently in phases once their leaders sign an interim deal towards ending the costly trade war.
British broadsheet The Guardian said the prospect of an agreement sent stock markets soaring to all-time highs and prompted the International Monetary Fund to say a deal easing trade tensions between the US and China could persuade its officials to revise upward forecasts for global growth next year.
But some experts said that it is not easy to make short-term profits on gold now because the trade war is unpredictable and would not cease immediately.
Dr Phan Dung Khanh of Bizlight Business School said gold prices would possibly fall further to $1,400 by the year end, which would push down Vietnamese prices to VND39-40 million.
Short-term gold traders should be cautious, he warned.

International hotel management brands are increasing their presence in Vietnam to benefit from the potential the country possesses in resort real estate.

More luxury hotels have arisen in anticipation of a tourism boom, and their owners are spending big money to hire foreign managers.

The hotel room redundancy is deepening in various parts of the country, especially Nha Trang City in Khanh Hoa Province, despite, paradoxically, a steep rise in international visitor arrivals in the past few years.
Thien Ly
VNS