New interest rate level forecast in Q2 2021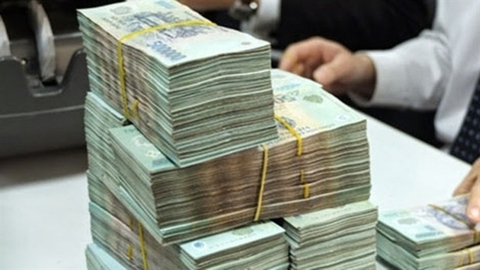 Many commercial banks have increased deposit interest rates since the beginning of March.— Photo cafef.vn
 
 
 
After staying at a low level last year, deposit and lending interest rates will probably increase in the second quarter of this year as credit demand is high again when the COVID-19 pandemic is controlled and the economy rebounds further, according to experts.
According to the State Bank of Viet Nam, interest rates on the interbank market and individual deposits are rising again. The average interbank interest rate inched slightly from 0.02-0.03 per cent last month to 0.26 per cent per year for overnight loans and 0.44 per cent for one-week loans. The average rate for nine-month loans in the interbank market reached 3.64 per cent per year.
Since the beginning of March, deposit interest rates have also been adjusted upwards by many banks, with some even raising the 12-month deposits to more than 6 per cent per year.
Specifically, at Techcombank, the one-month savings interest rate for regular customers has increased from 2.75 per cent per year to 3.1 per cent per year and the rate applied to priority customers has also risen from 2.9-3.1 per cent per year to 3.2-3.4 per cent per year. For six-month deposits, the rates for regular and priority customers have also been adjusted up to 4.4-4.7 per cent per year and 4.5-4.8 per cent per year, respectively.
Similarly, BIDV has also applied new deposit rates for individual customers. For the 3-month term, the interest rate has increased slightly to 3.4 per cent per year and 4.0 per cent per year for six-month deposits.
For three-month deposits, Viet Capital Bank's deposit interest rate is currently 3.8 per cent per year and 5.7 per cent per year for six-month deposits.
The online deposits for 12- and 24-month deposits at Sacombank and SCB are 5.9 per cent and 6.5 per cent, respectively. Banks such as ACB, VPBank, TPBank, and HDBank also apply a 12-month online deposit rate of more than 6 per cent per year.
Bao Viet Securities Company forecast deposit interest rates may increase in the context that the COVID-19 pandemic is controlled, the vaccination programme is about to be deployed and inflation is likely to increase again.
SSI Securities Company predicted after remaining stable in the first quarter and early in the second quarter this year, deposit and loan interest rates would inch up from the end of Q2 2021 when economic activities increase, pushing credit demand up.
According to banking expert Nguyen Tri Hieu, though data on credit growth in the first quarter of this year has not been released, some bank leaders revealed bank profits have grown positively since the first months of the year when production and business activities have been gradually recovering.
Despite the large demand for loans, banks are still very cautious about the impact of the pandemic on the economy in general. However, if the pandemic is controlled and the demand for loans increases rapidly, it is likely that interest rates will be adjusted up, Hieu.
Vietnam, US target sustainable trade ties
Vietnamese and US agencies will continue their coordination in order to maintain trade ties between the two countries, towards harmonious, sustainable, and mutually beneficial trade balance.
The consensus was reached during recent phone talks between Tran Tuan Anh, Chairman of the Party Central Committee's Economic Commission, Minister of Industry and Trade and Chairman of the Vietnam-US Trade and Investment Framework Agreement (TIFA) Council, and US Trade Representative Katherine Tai.
The two sides shared the view that after more than 25 years of the normalisation of the bilateral relations, thanks to efforts of the two countries' leaders, the close and effective collaboration between the Vietnamese Ministry of Industry and Trade (MoIT) and the Office of US Trade Representative, in their capacity as co-chairs of the TIFA Council, as well as partnerships between other ministries, agencies and businesses, the economic and trade ties have reaped practical outcomes.
The Vietnam-US relationship has experienced strong development across spheres, Anh said, expressing his belief that the bilateral relationship will remain stable in the time ahead, and be driven by the economic and trade ties.
For her part, Tai lauded results of policy dialogues between the two countries through the TIFA, saying the two sides could seek satisfactory solutions to many economic and commercial issues for a short period of time, contributing to enhancing the two-way trade.
According to the MoIT, trade between Vietnam and the US hit a record of 90.8 billion USD last year, and they are working hard to raise the figure to 100 billion USD this year.
Over the past five years, Vietnam's export revenue to the US surged 230 percent, while its import value was up more than 175 percent.
The US has become Vietnam's biggest buyer and the Southeast Asian nation has emerged as the 10th largest trade partner of the US./.
Vietnamese manufacturing sector grows stronger
The Vietnamese manufacturing sector grew steadily at the end of the first quarter, with increases in output, new orders and exports recorded, according to a report released by IHS Markit today, April 1.
The sector saw stronger rises in employment and purchasing activity in March, while business confidence surged to a 20-month high.
On a less positive note, disruption to supply chains led to strengthening inflationary pressures. Input costs and output prices rose at the fastest rates in just over three and four years, respectively.
The Vietnam Manufacturing Purchasing Managers' Index (PMI) rose to 53.6 in March, up from 51.6 in February, signaling a vast improvement in the health of the manufacturing sector. Business conditions strengthened to the greatest extent in 27 months.
Signs of improving customer demand and success in keeping the Covid-19 pandemic under control supported rises in new orders and output last month.
New business increased for the seventh straight month, and at the fastest pace since July 2019. In some cases, clients had expanded their order sizes over the month. There were also signs of improvement in international demand conditions, leading to the greatest increase in new business from abroad since November 2018.
Production rose at a much faster pace than in February, with the rate of growth hitting a 20-month high.
Higher new orders and expanded production requirements encouraged Vietnamese manufacturers to increase their staffing levels and purchasing activity in March.
Employment rose at a modest pace, but was the strongest since June 2019. Similarly, input buying increased to the greatest extent in 20 months.
Difficulties sourcing raw materials remained, with suppliers' delivery times continuing to lengthen. Issues with the importing of items, material shortages and a lack of shipping containers all contributed to longer lead times.
Stocks of finished goods also rose due to a combination of higher production and issues with the delivery of orders.
Shortages of raw materials, often due to the Covid-19 pandemic, led to a sharp and accelerated increase in input costs in March.
Output prices, meanwhile, increased at the sharpest pace in just over four years as manufacturers passed on higher input costs to their customers.
"The Vietnamese manufacturing sector saw growth step up a level in March, with production rising at the fastest pace in 20 months, according to the latest PMI data. Based on the historical relationship between the PMI and official numbers, the latest figures suggest manufacturing production saw double-digit growth year-on-year in the first quarter," said Andrew Harker, economics director at IHS Markit.
"Particularly encouraging in the latest set of figures was the strength in export orders as international demand shows signs of improvement. Hopes that these trends will continue and that the pandemic will come to an end supported the greatest business confidence since mid-2019. The sector therefore looks well set to make further progress in the second quarter," Harker added.
Magnetic stripe bank cards phased out 
Chip cards are expected to help reduce risks of card-related crimes and increase payment safety.
Vietnamese banks stop issuing magnetic stripe cards from March 31 and replace those with chip-based card, according to a State Bank of Vietnam (SBV) draft circular.
The circular provides a roadmap according to which, by late 2021, all banks have to migrate to chip-based cards. Currently, they are issuing both chip-based and magnetic stripe cards.
Chip cards are expected to help reduce risks of card-related crimes and increase payment safety.
Before the transition, only international debit and credit cards in Vietnam were chip-based while domestic cards used the decades-old magnetic stripe technology, which is more vulnerable to identity theft.
Seven banks including Vietcombank, BIDV, VietinBank, Agribank, TPBank, Sacombank and ABBank, have already joined the switch. These banks combined issue 70% of total cards in the market.
Earlier, the central bank had proposed that all active ATM cards must be chip-based by December 31, 2021, advancing the deadline to dump magnetic striped cards by nine months.
According to SBV, the move is aimed at encouraging local banks to issue chip cards as soon as possible and arrange resources to support customers to convert their cards from magnetic to chip-based to prevent an interruption to their use of ATM cards.
"The newly-issued circular will help prevent banks from issuing magnetic cards and alters the government's plan for migrating to chip cards from 2021," stated the SBV.
The SBV also extended the deadline for ATM and point-of-sales (POS) in Vietnam to accept chip cards in payment, which is in line with the current digitalization process at banks.
As of the end of 2020, Vietnam has around 94 million bank cards in circulation, in which the majority are magnetic stripe cards, according to SBV's statistics.
According to banks, issuing a chip card can cost some US$1.50-2.50, meaning they will have to spend between US$105 million and US$175 million for the transition, in addition to the cost of upgrading ATMs and core banking systems.
Under the Vietnamese government's strategy, by the end of 2025, at least 80% of adults in Vietnam would have bank accounts and the number of non-cash transactions will expand by 20-25% annually.
Businesses told to quickly embrace digital transformation
Digital transformation is an imperative need for businesses to recover from the effects of the Covid-19 pandemic and improve their competitiveness, experts have said.
The Ministry of Planning and Investment last year launched the Digital Transformation Programme for Businesses for 2021-25 to support enterprises, Nguyen Thi Le Quyen of the ministry's department of enterprise development said.
Speaking at a seminar in HCM City this week, she said it was aimed at improving their competitiveness and production capacity.
One of its goals was to increase their awareness and understanding of the importance of digital transformation to their sustainability, she said.
It would benefit at least 100,000 businesses by enabling them to assess their digital transformation readiness and providing training and consultancy, she said.
A network of experts including from 100 organisations to provide advice on and solutions for digital transformation would be established under the programme, she said.
The high rate of cash payments, high cost of digital transformation, underdeveloped information and communication technology infrastructure, and lack of human resources were major hurdles to digital transformation, she added.
Vu Tuan Anh, deputy director of DR. SME Restructuring – Digital Transformation Co. Ltd., said managements' awareness and determination played a decisive role in digital transformation.
Businesses should set up a committee just to advise and provide solutions for digital transformation, he added.
Nguyen Tuan, deputy director of the HCM City Investment and Trade Promotion Centre, said last year the National Digital Transformation Programme for 2021-25 was rolled out with a focus on developing e-governance, a digital economy and digital society.
It is an excellent time for businesses and others to take advantage of this initiative to embrace digital transformation, according to Tuan.
Digital transformation is an inevitable global trend that businesses need to embrace quickly to catch up with the rapid changes in technology and develop sustainably. 
Violations in e-commerce environment keep increasing
There are more and more violations in e-commerce activities, with counterfeit goods, contraband goods and those infringing intellectual property rights all problems, experts have said.
The warning was relayed at a seminar on online dispute settlement held by the Viet Nam International Arbitration Centre in Ha Noi on Tuesday.
The Viet Nam E-Commerce Association reported the country's e-commerce grew 15 per cent last year, reaching a scale of more than US$13 billion.
It is forecast that the industry will continue to grow steadily this year and could achieve the highest growth rate in Southeast Asia by 2025 at 34 per cent.
However, violations in the e-commerce environment are increasingly complex, especially involving counterfeit and contraband goods, and those infringing intellectual property rights on exchanges and social networks.
Tran Van Trong, chief of office of the Viet Nam E-commerce Association, said foreign businesses saw Viet Nam as a potential market for e-commerce development, with the advantage of a young, dynamic and adaptable population.
Along with that, there are advantages for telecommunications infrastructure to catch up with trends and favourable policy environment, he added.
However, traditional commerce or e-commerce always have conflicts, disputes and fraud. Due to the characteristics of the online environment which was fast, widespread and with rapid access to consumers, the electronic environment was riskier, he noted.
To resolve consumer trade disputes, the Viet Nam International Arbitration Center introduced MedUp, an online mediation platform, at the event.
MedUp would be very effective in reducing time and costs for businesses, the State and the people to make the business environment healthier, said Nguyen Thi Mai, deputy director of Justice Support Department, Ministry of Justice. 
CPTPP – a booster to Vietnam – Canada trade
Preferential tariff treatment under the Comprehensive and Progressive Agreement for Trans-Pacific Partnership (CPTPP) has brought in robust results to the trade in goods between Vietnam and Canada, according to insiders.
The trade pact was clinched in March 2018 by 11 countries: Australia, Brunei, Canada, Chile, Japan, Malaysia, Mexico, New Zealand, Peru, Singapore and Vietnam. It came into effect in Canada in December 2018 and Vietnam in January 2019.
With the deal, Vietnam and Canada have seen substantial growth in their trade in the past two years.
According to the General Department of Customs, Vietnam shipped more than 4.36 billion USD worth of exports to Canada in 2020, up 11.47 percent from a year ago, and 44.69 percent from 2018.
Despite formidable challenges brought by COVID-19, exports to Canada surged 14.8 percent to 663.45 million USD during January-February of 2021. The figure even rose 78.67 percent as compared to the same time in 2018.
Specifically, garment and textiles brought home over 98.82 million USD, up 33.9 percent from two years ago; footwear nearly 56.35 million USD (up 57.73 percent); transport vehicles and spare parts 53.47 million USD (up 46.47 percent); machines, equipment and other parts 40.89 million USD (up 319.8 percent); fruit and vegetables nearly 4.3 million USD (up 22.48 percent); and rubber 3.27 million USD (up 227 percent).
Meanwhile, the nation splashed out 104.7 million USD on Canadian imports, including wood and wooden products, wheat, pharmaceutical products, animal feed, automobiles, computers, and electronic products, among others.
Insiders said that CPTPP left an imprint in the trade exchange between the two nations, and without COVID-19, the trade pact could have brought more benefits to the bilateral trade ties.
Australian Ambassador to Vietnam Deborah Paul said at a recent conference that CPTPP has improved the accessibility for trade and service activities between the two nations consolidated a common set of rules, reduced costs for trade activities, and helped better competitive edge of Vietnamese and Canadian products in both markets.
CPTPP establishes duty-free access for trade in goods between the two countries, while helping Vietnamese consumers purchase high-quality products from Canada at reasonable prices.
President of the Vietnam Chamber of Commerce and Industry (VCCI) Vu Tien Loc described Vietnam-Canada trade ties as one of the most successful models brought by CPTPP thanks to sustained efforts made by businesses of both countries in setting up market development rules.
The two nations have seen remarkable achievements in their import-export activities, and the trade pact plays an important role, Loc said.
Canada has abolished 94 percent of tax lines for Vietnamese exports, while the Southeast Asian country has removed nearly 66 percent of tax lines for imports from Canada. Additionally, non-tariff barriers have been improved in a transparent manner, facilitating trade flows between the two nations.
Experts said that Vietnamese firms should capitalise on tax preferences under CPTPP to boost exports to the American country.
Vietnam has huge advantages to sell products in Canada, where an increasing number of Asians are residing. Besides, the Southeast Asian country's key products are favoured by Canadian consumers such as telephones, furniture, footwear, tea, coffee, and tropical fruits.
With CPTPP, Vietnamese products will gain price competitive edge; however, local firms need to pay due attention to improve product quality so as to establish stable foothold in this potential market./.
Vietnam continues to represent safe and attractive destination for investors
Following a series of recent projects worth billions of US$ pouring into the nation, the Vietnamese market remains both a safe and attractive destination for foreign financiers, according to data released by the Foreign Investment Agency.
Foreign investment in the country has rebounded in recent times, with the Mekong Delta province of Long An being officially granted the investment registration certificate for LNG Long An I and II Gas Power Project after receiving investment from VinaCapital GS Energy Pte Ltd of Singapore.
The project features a capacity of 3,000 MW, including two combined cycle gas turbine plants that possess a capacity of 1,500 MW each, with registered investment capital totaling a figure of US$3.1 billion.
This comes after a sum of US$1.31 billion was previously invested in the O Mon II thermal power plant by a group of Japanese financiers.
According to data released by the Foreign Investment Agency under the Ministry of Planning and Investment, since March 20 the country has attracted US$10.13 billion worth of foreign direct investment, representing an annual increase of 18.5%.
Furthermore, newly-registered capital and additional increased capital has recorded sharp rises of 30.6% and 97.5% to US$7.2 billion and US$2.1 billion, respectively, after witnessing consecutive drops during the course of the initial two months of the year.
Foreign investment disbursement during the first quarter of the year reached US$4.1 billion, up 6.5% in comparison to last year's corresponding period, thereby signaling that local foreign investment remains on a positive growth trend.
Do Nhat Hoang, director of the Foreign Investment Agency, said foreign-invested enterprises (FIEs) continues to enjoy a recovery whilst maintaining their numerous production and business activities in the post-novel coronavirus (COVID-19) period. Indeed, Vietnam remains a safe and attractive destination that continues to enjoy foreign investors pouring capital into large-scale projects throughout the country.
Hoang noted that the quality of FDI inflows has enjoyed significant improvement, with a growing trend of foreign tech giants injecting capital into the country since the beginning of the year.
Local economists have stated that, aside from two separate billion-dollar projects in the country since the beginning of the year, there remains a number of large-scale projects which will receive foreign investment moving forward.
AT&S Company of Austria has recently unveiled that the firm is seeking a location for investment into a hi-tech project in Vietnam, with total investment capital reaching EUR1.5 billion.
The company's representatives said it will have the final decision on whether or not to establish a Vietnamese factory until mid-April. Elsewhere, Taiwanese electronics giant Foxconn have also revealed that, alongside injecting an additional US$700 million into the country this year, they is poised to intensify investment into the nation in the time ahead.
Quang Ninh hosts series of events to revive tourism market
The northern province of Quang Ninh has initiated plans to organise a total of 30 events in an effort to stimulate domestic tourism demand whilst reviving the local tourism market following the novel coronavirus (COVID-19) epidemic being brought under control.
This move will see a series of activities organised during the course of the Ha Long Cultural Tourism Week 2021, including a carnival in the form of the Ha Long Art Program 2021, the summer Ha Long - Quang Ninh programme, street art performances, and light festivals, which will boost the city's image after over a year of being negatively impacted by the epidemic.
Quang Ninh has set a target of welcoming approximately 10 million domestic tourists during the course of the year, with promotional schemes being put in place throughout the year at a range of major tourism sites, including Ha Long, Co To, Mong Cai, and Dong Trieu.
Furthermore, a wide range of traditional cultural festivals are due to be held, such as the Bach Dang festival at the Xa Tac temple and an exhibition showcasing Vietnamese treasures in an effort to entice tourists in the near future.
Pham Ngoc Thuy, director of the Quang Ninh Department of Tourism, said that the locality will strive to promote a range of advantages in terms of local transport infrastructure toward strengthening connectivity with regional localities and the country's major tourist hubs, adding that the province plans to welcome between 2.5 million and 2.7 million visitors this year.
Moreover, the locality will also offer free discounts on sightseeing tickets to Yen Tu, Ha Long Bay, and the Quang Ninh museum for the duration of the year, with COVID-19 preventive measures being kept in place at tourist sites.
Global tourism-heavy economies search for solutions
While vaccine visas may open the doors to international travelling again, financing and the acceptance of such an initiative by countries around the world are two important factors in Vietnam's implementation. 

The Spanish government has been working hard to find ways to open up international travel as soon as possible, with Spanish Ambassador to Vietnam María del Pilar Méndez Jiménez saying many Spaniards are homesick after a year away.
Data provided by Ambassador Jiménez shows that tourists to Spain amounted to about 84 million a year before the pandemic, around twice the population of the country. She believed that vaccine visa can help Spain recover its economy and re-establish a safe tourism industry.
More and more governments are supporting the idea of vaccine visas, allowing vaccinated people to not have to be tested or undergo quarantine. Therefore, it is not surprising that the strongest supporters for vaccine visa are countries whose economies are heavily dependent on tourism, including Spain and Greece.
In Vietnam, the government is preparing initial steps for the application of vaccine visas so as to create conditions for those who have been vaccinated abroad to enter the country. The Vietnamese government has also assigned the Ministry of Health and other ministries to prepare the infrastructure to apply vaccine visas, including a software system and a database to confirm information of vaccinated persons.
Such visas could relieve difficulties for economic development, especially the tourism industry. But up to this point, Vietnam has not made any changes in measures to prevent and control the pandemic. Among the recent batches of people entering Vietnam, at least one already had a vaccine visa. However, such visitors still have to comply with the 14-day isolation policy and two tests according to current regulations.
Open doors for international trade are the desire of businesses and people, but experts said that vaccine visas can only be effective if the pandemic is controlled at a near global level and that Vietnam's testing system must be in sync with other countries.
Economist Nguyen Tri Hieu noticed, "the probability for further outbreaks caused by foreign visitors is low because vaccinated people have the ability to slow the path of the virus in their body."
Hieu believed that Vietnam allowing foreigners to enter the country will be advantageous in many aspects. Firstly, the country still relies on foreign direct investment. Secondly, the tourism industry remains heavily affected if foreigners cannot enter Vietnam. Thirdly, vaccine visas will also be good for aviation.
However, issuance also means that large funding is crucial. Hieu called this "the price to pay" for the long-term benefits to the Vietnamese economy.
Hieu further believed that it is "not too unbearable for the economy, although COVID-19 has made the budget revenue in 2020 plummet", reaching only 96.35 per cent of the plan, according to the State Treasury of Vietnam data.
Moreover, Hieu suggested that Vietnam can charge a fee for vaccine visa, as well as for Vietnamese travelling or investing abroad, with a fee of "$50 per visa being reasonable".
The government may also charge foreigners coming to Vietnam, including those who want to come for investment and tourism.
Currently, Vietnam is working with other countries on the acceptance of vaccine visas through various means. However, the global acceptance of the Vietnamese vaccine visa, Hieu said, "will not be easy."
According to him, Vietnam's healthcare system is not considered advanced and developed enough yet, while the value of vaccine visas depends on the development of the healthcare sector. Therefore, the effectiveness of the initiative still depends on the international relations of Vietnam.
"The European Parliament is considering before making a final decision," Giorgio Aliberti, EU Ambassador to Vietnam, told VIR on March 23 when talking about potential "green passports".
The ambassador did not comment further on the global acceptance of the Vietnamese vaccine visa, but said that the EU has been using a multilateral mechanism to handle global problems when considering the COVID-19 vaccine as an effective response to the pandemic as well as future strains of SARS-CoV-2.
Aliberti stated that the EU's position is "to prioritise the safety of the vaccine for humans".
United States sets sights on Vietnamese investment
US capital inflows to Vietnam are expected to grow this year following the high hopes set on vaccination and upcoming direct flights between both countries. 
In January, Intel Corporation announced a further $475 million in Intel Products Vietnam (IPV). This new investment comes in addition to Intel's $1 billion investment to build a state-of-the-art chip assembly and test manufacturing facility in Saigon Hi-Tech Park (SHTP), that was first announced in 2006. This takes Intel's total investment in its Vietnam facility to $1.5 billion.
"As of the end of 2020, Intel Products Vietnam has shipped more than two billion units to customers worldwide. We're very proud of this milestone, which shows both how important IPV is to helping Intel meet the needs of its customers all around the world, and why we continue to invest in our facilities and team here in Vietnam," said Kim Huat Ooi, vice president of manufacturing and operations and general manager of IPV.
Last year, despite the impact of the pandemic, IPV posted a record export turnover of $13.1 billion, accounting for 70 per cent of SHTP's export value. The additional investment of $475 million helped enhance manufacturing of Intel's 5G products, Intel® Core™ processors with Intel® Hybrid Technology and 10th Gen Intel Core processors.
"The implementation of new technologies aims to serve the production, assembly, and testing of Intel products, thereby expanding the portfolio of our made-in-Vietnam products," Ooi said.
With a total capital of $1.5 billion, IPV is the largest assembly and test manufacturing facility in the Intel assembly and test network. It has more than 2,700 employees and serves customers around the world. IPV is one of 10 manufacturing sites that Intel has globally and remains the largest US high-tech investment in Vietnam.
According to a VIR source, Intel is likely to announce another investment this year within the framework of its activities to celebrate its 15th anniversary in Vietnam.
Commenting on the expansion of US investors, Mary Tarnowka, executive director of the American Chamber of Commerce Vietnam (AmCham) said at a recent investment conference in Ho Chi Minh City that Vietnam is one of the only countries in the world that experienced positive growth in 2020, and where American companies like Intel and First Solar could operate continuously. AmCham members are immensely grateful and support through contributions of medical equipment, and fully-equipped ambulances.
"Now, we would like to ensure equitable access to vaccines for foreigners in Vietnam, while expediting travel procedures for foreign residents to travel and return with streamlined testing, renewal of visas, and residence cards; as well as facilitating entry of foreign investors, technical experts, and as vaccinations roll out," Tarnowka said.
"We strongly recommend Vietnam to provide and facilitate a streamlined process, with shortened quarantine period for short-term business travellers to consider investment opportunities, conclude deals, and sign contracts."
The prospects of US investments in Vietnam seem bright thanks to Vietnam Airlines' latest plans to open a direct flight from Vietnam to the US this year, which will facilitate more American investors to grab new opportunities in the post-pandemic era.
According to the AmCham representative, US technology companies and startups are eager to invest in Vietnam, as well as partner with domestic companies, to drive the next generation of economic growth, including fintech, AI, and other technologies.
These companies are well-positioned to help build clean energy and smart city infrastructure facilities needed for sustainable growth, as well as expanding supply chains in Vietnam.
As of February, the US is Vietnam's 11th-largest investor with the total investment capital of $9.53 billion across 1,083 projects, according to the Ministry of Planning and Investment. Major US corporations such as Apple, Intel, Universal Alloy Corporation, Ford, and Key Tronic EMS have already ramped up production lines in Vietnam.
Local consideration required in Vietnam's energy advance
Solar power farms have been emerging across the nation, offering tremendous advantages for those who can utilise them on their farmland, as well as contributing to a more sustainable energy footprint that counteracts climate change. However, some of the large solar projects are leaving expelled farmers without compensation and a dire outlook for their future. 

Individuals, families, and businesses are utilising huge solar panels in order to make long-term savings
In Vinh Hau A commune of the Mekong Delta province of Bac Lieu's Hoa Binh district, the shrimp farm of Long Manh Co., Ltd. is one of the largest and most successful farms in the district. Covering an area of four hectares, the farm utilises solar panels on its rooftops and the shrimp ponds, which have been generating additional benefits for the company.
When Long Van Nghia, the owner of the farm, heard about renewable energy which has become popular in the province over the last few years, he installed a small solar rooftop unit with a capacity of 25kW for trial in early 2020.
"The rooftop unit helped me to save around $260 from my power bill. Instead of paying $950-1,100 every month, I have spent only $700-870 for my electricity since then," said Nghia.
Realising this benefit, Nghia decided to expand his solar generation. "Covering an area of 2ha, the total capacity of my solar units amounts to 2MW now. Now, I don't have to pay for my electricity at all and instead, I'm earning around $26,000 every month," he added.
Long Manh's farm has been developed since 2016 and achieves an annual output of 75-80 tonnes of shrimp. However, of the 4ha, only around 6,000 square metres account for actual shrimp ponds, while the remainder is used for secondary ponds and other auxiliary facilities.
Since it takes a lot of power to operate a shrimp farm, with such costs amounting to around 10 per cent of the total costs, Nghia decided to upgrade the farm to a high-tech agricultural one by utilising solar power. He invested around $1.43 million to improve his farm, with almost $435,000 going solely into the 2ha of solar rooftop units.
"I'm using these huge solar panels on the ponds for water and other purposes, and in addition to the produced electricity, these units also regulate the temperature and reduce the farm's greenhouse gas emissions," Nghia said, explaining the benefits of his solar rooftop units and emphasising that his investment should be paid back within 5-6 years.
In other provinces of the Mekong Delta like An Giang and Hau Giang, and Can Tho city, more high-tech agricultural farms are emerging, including those for dairy, basa fish, and other plants and husbandry. By switching to reliable solar power generation, these farmers worry less about the performance of their agricultural production.
Minister of Agricultural and Rural Development Nguyen Xuan Cuong said such models are following the concept of the circular economy, without wasting any resources. As a result, regional value chains have improved significantly.
"Such projects not only generate hundreds of millions of VND for every hectare of land but also represent huge values on arid lands, which can support the combat of climate change and the sustainable development of agricultural production," the minister said.
However, solar power projects are not brightening every aspect of the locals' lives and can push some into serious problems. As large solar power farms are placed across the nation, some lose all their land and thus their livelihoods.
Tran Van Tu, a resident of Phuoc The commune of the south-central province of Binh Thuan's Tuy Phong district, and his wife felt free and happy after they received financial compensation for their land. However, the money has been burned quickly and now there is no way of recovering it.
"We received about $52,000 for our 2ha of agricultural land in 2019, where we used to raise pigs and cows. Without any land for cultivation or husbandry, we feel worried for our lives, as the rest of the compensation is nearly used up," said Tu.
According to a report by non-profit organisation Oxfam, 16,600MW of renewable energy has already been installed across Vietnam, covering an area of nearly 17,000ha of what was previously farmland and forests.
"These figures will increase sharply to up to 36,000ha by 2030 and 206,000ha by 2050 based on the planned capacity in the third draft of the National Power Development Plan 8," said Nguyen Ngoc Huy, senior consultant of Oxfam Vietnam.
As thousands of hectares of agricultural land have been reassigned for energy generation, huge solar panels and wind turbines cover the previous agricultural land. That means millions of residents and farmers have already or will become unemployed, without any means to generate a stable income from agricultural lands.
Even though numerous companies have been hiring local employees to work on their solar and wind farms for decent salaries of around $260-650 per month, including for works such as washing the photovoltaic plates, repairing the installations, and securing the premises, there is no official report on previous farmers' lives and whether these have been employed.
It also remains unclear how many people are currently working in renewable energy plants, and how many of the previous farmers found new jobs or remain unemployed.
In the case of a solar farm run by Trung Nam Group in the south-central province of Ninh Thuan's Thuan Bac district, which is located on an area of 990ha, only 45 workers have been employed to clean the panels every evening.
In addition to the precarious employment situation of expelled farmers, renewable energy projects have caused several lawsuits in the localities, mostly related to compensation, land disputes, and clearance.
For instance, although the 40.8-ha VSP Binh Thuan II solar plant by VSP Binh Thuan II Solar Power JSC has already been put into operation, numerous locals have yet to receive compensation for their land.
In early 2018, farmer Pham Van Lai and his family in Binh Thuan's Tuy Phong district were informed of the acquisition of their land to develop the VSP Binh Thuan II project in Vinh Hao commune. After only receiving meagre compensation, Lai filed complaints to local authorities and the government's inspection office but nothing has been done since. On January 6, Binh Thuan People's Committee made a written request to the district-level People's Committee to ask for resolving the lawsuit, but the man has received no feedback.
"The representative of the company came and talked with me once only to ask me to withdraw the complaints. I refused and the company continued building the solar farm on my land without my permission or compensating me," explained Lai.
Thus, he and his family are now left without any land and any income, while still waiting for compensation.
Despite the obvious advantages that solar power projects can offer Vietnam's development, cases like Lai's showcase that such projects can cause lasting problems for those who are asked to leave their land.
Higher development standards to perpetuate investor interest
Despite a range of newly-established industrial zones being added to the market, many others have been delayed for a long time and are at the verge of being revoked due to the weakness of their developers. 

Several industrial zones (IZs) across Vietnam stand under-occupied and under-utilised, such as Du Long and Phuoc Nam IZ located in Ninh Thuan province, Cai Lan IZ in Quang Ninh province and Trung Thanh IZ in Thai Nguyen province.
The lack of tenants in many of the country's newer IZs is caused by slapdash development to capitalise on Vietnam's much-improved global trade position, said Nguyen Tran Nam, chairman of the Vietnam Real Estate Association (VNREA). He explained that localities and developers heedlessly racing to construct IZs have often forgotten to carefully study their location or create unique advantages for tenants.
Coupled with the general trend of rising rents for industrial property, subpar IZs which are far removed from key transport infrastructure or were designed with weak internal infrastructure are drawing little attention from investors.
At the same time, authorities have been taking more stringent action regarding the many IZs that have been delayed for years due to weak developers or a bad location.
For instance, Chairman of Quang Nam People's Committee Le Tri Thanh has warned Tam Anh 1 IZ invested by Chu Lai Float Glass JSC to have the project revoked if they cannot prove their capacity to continue implementation. The project was supposed to be put into operation in the first quarter of 2020 but to this day remains in the stage of land clearance and compensation. Unless material progress is reported soon, the chairman said, Tam Anh 1 IZ would be handed over to a new investor.
Also, at the end of 2020, Thai Binh province suggested reducing the area of two IZs which were unable to attract investors. The two 200-hectare projects are Phuc Khanh IZ and Song Tra IZ and would be reduced to 159 and 150 hectares, respectively.
According to Nguyen Tran Nam from the VNREA, some of these IZs are failing entirely due to the incapability of the developers. "Currently, industrial parks are doing brisk business due to the gold rush of foreign investors flocking to Vietnam. When supply is far below demand, there can be no other reasons for their failure," Nam said.
He added that industrial property will see a great deal of business in Vietnam as the country had recently expanded its multi-national trade agreements with some of the largest deals in history. However, he added that many industrial zones are of a small scale with un-finished infrastructure, making it difficult to attract strategic enterprises and supportive manufacturers.
"To solve this problem the government must be very careful in choosing investors and developers who are capable of financing their projects, from land compensation to implementation," Nam said.
Reviewing the land fund reserved for the construction of IZs to the end of 2020, the Ministry of Natural Resources and Environment said that industrial projects were implemented on 20,500ha less land area than planned.
Before that, to receive the relocation wave of manufacturing companies to Vietnam, in July 2020, the government had permitted to add more than 10,800ha of land to the IZ development fund.
According to the Ministry of Planning and Investment, at the end of 2020, there were 373 IZs set up nationwide with the total land area of 114,400ha, accounting for 56.9 per cent of the total allocated for industrial property development. These included 280 zones already in operation and 93 others under construction.
Skyrocketing rents threaten long-term investment appeal
Figures from the Housing and Real Estate Market Management Agency under the Ministry of Construction show a clear upward trend in industrial land rents since the beginning of the year, continuing rampant rises over the past years. 

While the average land lease has increased by a healthy 15-20 per cent against levels reported five years ago, rates at industrial zones (IZs) have seen runaway growth to reach levels that have a significant deteriorating impact on the country's investment appeal.
In Tay Ninh for instance, land rent charged by IZ operators has risen 200 per cent since 2019 while in Long An province they went up to 1.5-2.5 times the 2015 rates. In Dong Nai province, land price and infrastructure costs in IZs increased by 30-50 per cent compared to five years ago.
Figures from Savills Vietnam showed sudden growth spurts in lease enquiries for land, factory, and warehousing at IZs near major cities due to buoyant demand.
Rising rents have been a cause for concern among investors and tenants in IZs and are emerging as a major deal-breaker for new tenants.
John Campbell, manager of Industrial Services in Ho Chi Minh City at Savills Vietnam said, "in some provinces, rising prices will affect occupancy rates. If they go too far above average, they will become a major concern for higher value investors in electronics and high-tech industries."
"However, there are a further 561 IZs in planning or development," he noted. "When their supply starts coming online, it will be interesting to see how that helps the law and land lease prices. But for now, occupancy in the key provinces is high, which means that any remaining land there will almost inevitably be priced higher."
Indeed, there is a strong pipeline of industrial land in the next five years in Vietnam, with developers rushing to meet the market demand.
According to the announcement of the Department of Economic Zones Management under the Ministry of Planning and Investment, a master plan for 561 upcoming IZ projects has been approved with an area of over 201,000 hectares to be released on the market in the next five years.
Of this, 259 zones (86,500ha – 43 per cent of the total area to be added) have not been established yet.
However, many of the newly-established IZs remain devoid of tenants or are operating with very low occupancy rates, due to substandard development and the recent hikes in rent.
Provinces have spotted the issue of IZ rental rates reaching levels that are discouraging investors, essentially holding up the waves the frenzied IZ development is meant to ride. To alleviate troubles, most localities are rolling out newer, stronger incentives to retain their investor-friendly disposition, instead of reining in rents running amok.
"We cannot directly interfere with land rental rates but we can negotiate and offer investors better benefits," an official from Long An province told VIR, adding that as long as conditions for profitability are sufficient, the higher rental rates should not be a deal-breaker for investors.
Indeed, the regulations on IZ land give sufficient freedom for operators to adjust rent charges and only regulate the price of empty land to be leased out to developers. The framework of these prices is set by the government for each region, depending on the land type. These minimum-maximum rates are applicable for a duration of five years – with the intention of stabilising the market – and each province can select an appropriate range within this allocation to fit their development plans.
Indeed, the land rental rate of empty land has increased by an average 15-20 per cent during 2020, in accordance with Decree No.96/2019/ND-CP dated December 2019, but the healthy increase for empty land provided little hold on developed IZ land.
This leaves little chance for local authorities but to offer stronger incentives to maintain investor demand and promote more compact industries.
Quach Van An, director of the Ca Mau Investment Promotion and Enterprise Support Centre, said many investors visit him to complain about the rent hikes.
"We are trying to incentivise investment in clean, high technologies. These fields do not require much land and are in line with the government's broader orientations on investment," he said.
Meanwhile, Ho Chi Minh City, the industrial heart of southern Vietnam, is working to lure giant manufacturers to its high-tech park through incentives on land rent and tax exemption, as well as by simplifying procedures and accelerating land clearance.
"The municipal authorities are offering special incentives for technology firms and each 'eagle' coming to Vietnam will help lure a flock of others," explained Le Hoang Chau, chairman of the Ho Chi Minh City Real Estate Association.
The official from Long An added, "It is not easy at all for developers to choose a site with good infrastructure system and reasonable rent, but with the enthusiasm of local authorities we are sure that investors will be just as satisfied as the many others who came before them," he continued.
Cities and provinces are in a balancing act trying to ensure adequate room for IZ developers while keeping Vietnam the place to be for incoming investors. While policy-makers appear confident of the incentives they offer, it opens the doors for the inviolate raising of rental rates that could destabilise Vietnam's investment appeal on the long term. Indeed, low occupancy rates at newly-established IZs already suggest that restraining rents might be necessary.
Vietnamese products confidently conquer fastidious markets
Not only keeping their growth rate at an impressive level, thanks to improved quality, Vietnamese goods have also continued to conquer demanding markets.
Following organic fresh milk and soya bean milk, Vietnam Dairy Products JSC, Vinamilk, exported the first batch of UHT fresh milk with bird's nest to Singapore. According to their product distribution partner in Singapore, the potential of this product is huge because there is currently no product similar to it on the market.
In addition to the special taste of fresh milk combined with bird's nest, this premium nutritional product has a great advantage in the Singaporean market.
Representative of the distribution company in Singapore, Ivan Tan said that people in Singapore have a high standard of living and are willing to pay for high-quality and healthy products. In particular, as the pandemic develops, Singaporeans are looking for healthier lifestyles and tend to buy more imported products as they are currently restricted from traveling.
Earlier, Vinamilk's organic fresh milk product was first exported to Singapore in 2019, one of the most demanding markets in Southeast Asia in terms of import standards and consumer tastes.
It was followed by the successful export of milk made with nuts, including walnuts, almonds and red beans, to the country. Vinamilk is one of several pioneer enterprises to invest in the technology needed to produce high-quality products to export to demanding markets.
Deputy Director of the Import-Export Department under the Ministry of Industry and Trade Tran Thanh Hai said that Vietnamese goods exports have not only increased their presence in established markets, but also now feature in new markets with great potential and have effectively taken advantage of free trade agreements (FTAs).
Accordingly, Vietnam's exported goods have reached most markets in the world with many products gradually gaining a firm foothold and improving their competitiveness in markets with high requirements regarding product quality such as the EU, Japan, the US, Australia, Singapore, the UK, and others.
After the signing of the EU-Vietnam Free Trade Agreement (EVFTA), Vietnamese exports to that market have continuously seen growth. Vietnam's export revenue to the EU reached US$6.3 billion in the first two months of this year, up 22.7% over the same period last year.
Although the EU is a fastidious market, Vietnamese enterprises have quickly penetrated the market and taken advantage of opportunities from the EVFTA, leading to a trade surplus of US$4 billion in the first two months of this year, up 36.3% over the same period last year.
Items which saw the highest level of export growth to the EU include raw plastics, rubber products, computers, electronic products and components, iron and steel, chemicals, seafood, vegetables, and rice.
Recently, the Food Industry Affairs Bureau (FIAB) under the Ministry of Agriculture, Forestry and Fisheries of Japan announced that Luc Ngan lychee in Vietnam's Bac Giang province now has its geographical indications (GI) protected in Japan. Luc Ngan lychee has now acquired GI protection in Japan, a prestigious certification that facilitates the consumption of the product in demanding markets. Along with the GI protection in Europe after the EVFTA came into effect in 2020, more opportunities have opened up for the Luc Ngan lychee to increase its exports in the 2021 season.
According to the Ministry of Industry and Trade, the fact that Vietnam can take advantage of opportunities to export goods to fastidious markets is good news, but these markets also require very high quality goods.
For example, the EVFTA's tariff commitments are implemented based on a roadmap. Therefore, import tariffs on Vietnamese goods to the EU market will be more preferential in the long term, but there cannot be a tax reduction shock or a remarkable growth in export turnover in the short term.
Moreover, in order to fully and effectively implement the rules of origin in EVFTA, the business community also needs time to adapt and transform their production processes, especially in terms of raw material supply.
In addition, technical barriers to imported goods from the EU side are very tight, particularly for agricultural products. Most of our country's agricultural products such as tea and vegetables still face barriers due to a lack of uniformity in each shipment and inadequacies in the harvest and preservation of products.
Vietnamese exporters also encounter many potential legal risks in the US market, especially trade remedy measures, because the US side often adjusts their trade policies for each period depending on each partner.
The Japanese market is very fond of Vietnamese agricultural products but consumers demand very high standards in terms of food hygiene and safety.
Therefore, Vietnamese businesses have no choice but to learn about these markets, including consumer tastes, regulations and standards on export rules, food safety and hygiene in order to increase their quality standards and conquer these markets.
In addition, it is necessary to build sustainable linkage chains from production to consumption to easily apply technology to production and speed up the quantity and control the quality of exported products.
The Ministry of Industry and Trade will also continue to promote the implementation of training programmes and disseminate information on the origin of goods and market access conditions to enterprises. In particular, training forms will be diversified with the application of online training to reach out to a larger number of enterprises.
Adoption of high technologies needs promoting for sustainable agriculture
Aquaculture is more and more developing and plays an important role in the world. The global aquaculture production is currently above 82 million tons. Of which, Vietnam has more than 4.2 million tons, standing in fourth place in the world, and the Mekong Delta accounts for about 70 percent of the total farming area and production of the country.
On March 30, the conference "Sustainable development of the Mekong Delta - agriculture, aquaculture, and environment under climate change" was held at Can Tho University, with the attendance of Mr. Shimizu Akira, Chief Representative of the Japan International Cooperation Agency (JICA) Vietnam Office, and leaders of institutions and provinces in the Mekong Delta.
At the conference, the presentations of scientists evaluated the impacts and proposed solutions to help the agriculture and fisheries sector adapt to climate change. Accordingly, the rainy season in the Mekong Delta is expected to shorten, whereas the dry season will last longer, aggravating the shortage of fresh water, and increasing saltwater intrusion.
According to Professor Ishimatsu Atsushi, JICA's Academic Advisor, the Mekong Delta is one of the most vulnerable deltas to climate change in the world. To develop sustainable agriculture and fisheries, a new approach is required in the spirit of Resolution No.120. It is essential to promote integrated planning, application of information technology, and support for the participation of relevant parties. Particularly, it requires a detailed assessment of climate change in the future, thereby, proposing suitable models for changing conditions in the spirit of following the will of nature.
Scientists also said that the Mekong Delta needs to shift from concentrating on the production of rice only to diversified agriculture, linking to market, quantity, and quality, especially the application of high technologies associated with the value chain; respecting the laws of nature, choosing a natural, environmentally friendly, and sustainable adaptation model.
Prof. Dr. Ha Thanh Toan, Principal of Can Tho University, said that Resolution No.120 of the Government outlined the importance of the region in agricultural and fishery production, food security assurance, and its significant contribution to the country's total export value. At the same time, it also raised the challenges that the Mekong Delta has to face as this region is sensitive to changes in nature.
To solve those challenges, contributing to the sustainable and prosperous development of the Mekong Delta, it needs to proactively adapt to climate change, promote its potentials and strengths, convert challenges into opportunities for development, ensure a stable and well-off life for local people, as well as preserve the unique traditional cultural values of the region. Particularly, proper investment in the development and application of science and technology plays a significant role.
At the end of 2020, non-performing loans (NPL) in commercial banks were at a very low level. Now, many banks have also finished settling bad debts at the Vietnam Asset Management Company (VAMC). However, behind the facade of an optimistic scenario, banks are still reeling under the burden of bad debts.
In a recent report, VAMC said that the volume of buying debts by special bonds has shown a gradual decline. Accumulated since its inception until the end of 31 December 2020, VAMC has used special bonds to buy bad debts of about VND 374,000 bn on principal balance sheet. By 2020, VAMC had set a maximum target of buying debts with special bonds of VND 15,000 bn, but only achieved at reaching VND 14,700 bn.
By the end of 2020, there were 21 Credit Institutions paying special bonds at VAMC. Currently, VAMC is also managing bad debts of 18 Credit Institutions with around VND 91,700 bn of special bond par value. This result means that many Credit Institutions have sufficient financial capacity to self-handle bad debts as NPL quality has improved compared to previous years, reflecting the declining need to deposit difficult-to-deal with debts into VAMC.
At the same time, the ratio of bad debts or total outstanding loans in 2020 of commercial banks were also kept at low level. Among 25 commercial banks that have announced bad debt figures in the consolidated financial statements, six banks have recorded bad debt ratios of less than 1%, including Techcombank, Vietcombank, ACB, BacABank, VietinBank, and NamABank; 14 commercial banks were with bad debt ratio below 2%; 3 banks had bad debt ratio below 3%, with ABBank at 2.09%, PGBank at 2.44%, and Eximbank at 2.52%. Only two banks with bad debt above 3% are VPBank with 3.41% and KienlongBank with 5.42%. General statistics show that bad debt of the whole system in 2020 was controlled below 2%. This is certainly an impressive result.
The situation will be more optimistic when most Credit Institutions have settled VAMC special bonds, and at the same time bad debts at banks are controlled at low level. However, behind the above optimistic situation, banks have not been able to relieve the burden related to bad debt problems.
In recent years, many Credit Institutions have sold debts to VAMC. After selling debts, the banks have to make a provision of 20% per year, which is the basis for them to complete the special bond settlement at VAMC as announced. Now, banks receive a large amount of assets, and continue to worry about debt collection. This is difficult, time-consuming and costly, because a series of mortgaged real estate assets worth billions cannot find buyers although banks have organized auctions repeatedly.
A large amount of real estate along with machinery, equipment, and several factories have made banks block large chunks of assets. According to Dr. Tran Du Lich, a member of the National Financial Monetary Policy Advisory Council, legal procedures related to mortgage, asset valuation, consensus of property owner, as well as legal procedures in buying and selling, have caused buyers to be cautious about collaterals issued by banks. Moreover, collaterals have been known to be overvalued for loans, hence liquidation is not simple.
Dr. Nguyen Tri Hieu, an expert in banking and finance, said that assets mortgaged by banks are of great value, and not everyone can afford to buy them back. Moreover, many unsuitable products are problematic when selling and banks have to struggle to so, which makes recovery of old debts much more difficult.
A backlog of old debts has not been handled efficiently, and now new difficulties have also arisen. New difficulties relate to the NPL ratio in 2020 being at a low level, but debt Group 4 and Group 5 were on strong increase.
At Techcombank, the bank with the lowest NPL ratio in the system in 2020, the total bad debt ratio decreased by 58%, to VND 1,295 bn, and the NPL ratio was only 0.47%. However, in terms of absolute value, Group 4 debt increased by 75%, reaching nearly VND 534 bn.
NamABank is also in the group of banks with bad debt ratio below 1% after total bad debts decreased by 44% to VND 744 bn, but Group 5 debt increased by 77% compared to the beginning of the year, at nearly VND 468 bn. The bank's accrued interest will also increase by 100% in 2020, at VND 2,632 bn.
Group 5 debt at BIDV increased by more than VND 5,000 bn, to VND 16,525 bn, equivalent to an increase of 46% compared to the beginning of the year. MB's total bad debt was nearly VND 3,248 bn, of which Group 5 debt increased by 124%, accounting for VND 1,384 bn.
Another phenomenon is the remarkable debt at Group 2 at the end of 2020 at some banks which increased dramatically. Specifically, OCB increased by 118%, VIB by 76%, and Vietcombank by 70%. This is also a matter of concern because if customers continue to be unable to repay their debts, these debts will jump from Group 2 to bad debt groups.
In 2020, banks set up a huge fund for risk reserve. This move was made to cope with the bad debt problems. According to some forecasts, the cost of setting up risk provision in 2020 was partly used by banks to write off bad debts in the fourth quarter of 2020, in order to reduce the bad debt ratio for the whole year.
The authorities allow banks keeping the debt groups to support customers affected by the Covid-19 pandemic. VND 355,000 bn of debt was rescheduled according to Circular 01/2020/TT-NHNN in 2020 accounting for about 4% of the total outstanding loans in the economy. Therefore, if only 50% of restructured debts became bad debts, the NPL ratio of the whole system would increase to 4%.
Right now, an early provisioning is one solution to reduce pressure from potential difficulties and challenges in the future, which is a common move made by many banks. However, this solution creates another problem when banks will find it difficult to lower lending interest rates. In general, part of the cost of handling bad debts eventually falls on borrowers.
Hong Kong firm invests in photovoltaic cell technology project in Quang Ninh
Jinko Solar Technology Ltd of Hong Kong on March 31 was granted a licence for investing in a photovoltaic cell technology project worth 500 million USD in the northern coastal province of Quang Ninh.
Accordingly, the Jinko Solar PV Vietnam project will cover an area of 32.6 ha in Song Khoai economic zone. It is a project in the field of processing and manufacturing and in the list of supporting industrial products prioritised for development of the locality.
This is the first investment project in the economic zone in Quang Yen coastal town. It is in line with the goal of developing Quang Ninh into a modern industrial and service locality and one of the dynamic and comprehensive development centres in the northern region.
As scheduled, the project will officially become operational in late October this year. It is expected to earn nearly 1.3 billion USD in annual revenue and create over 2,000 jobs for labourers.
Quang Ninh has planned to focus on developing green, clean and environmentally friendly industries, and increase the proportion of processing, manufacturing, high-tech and smart industries in the 2020-2025 period.
Jinko Solar is one of the largest and most advanced manufacturers of solar panels in the world, holding 12.6 percent of the global market share./.
First-ever digital timestamping service launched in Vietnam
SAVIS Technology Group, one of Vietnam's top 10 tech firms, launched TrustCA Timestamp Signing, the first and only digital timestamping service in the country so far, in a Hanoi ceremony on March 31.
As the digital economy is defined to be a driving force of growth in Vietnam in the next five years, it is important to develop digital tools, including digital signature, to facilitate people's participation in the digital economy.
Integrated with the Long-term Validation (LTV) and Long-term Archive and Notary Services (LTANS), TrustCA Timestamp Signing provides e-documents with complete protection against forgeries and frauds in digital transactions and ensures their legal validity and trustworthiness in a certain period of time.
Speaking at the event, Nguyen Thien Nghia, Deputy Director of the National Electronic Authentication Centre (NEAC), said the TrustCA Timestamp service fully complies with Vietnam's current regulations and satisfies standards set by the US and EU.
The service is expected to lay a basic foundation for the digital transformation ecosystem in all areas, such as e-healthcare, online public service delivery, e-learning, e-finance, and e-banking.
The Ministry of Health's information technology department and SAVIS took the occasion to sign an agreement for the latter to provide timestamping service in healthcare./.
Vietnam reports 14 more imported COVID-19 cases
Vietnam recorded 14 new COVID-19 cases, all imported, in the past 12 hours to 6pm on April 1, the Ministry of Health said.
All of the patients are Vietnamese citizens who were put under quarantine right after their arrival in Ca Mau, Kien Giang and Ben Tre provinces.
The new patients brought the total of infections in Vietnam to 2,617, including 1,603 domestically-transmitted cases.
According to the Ministry of Health's Medical Service Administration, a total of 2,359 patients have been cured to date, while the death toll was still kept at 35.
Among active patients undergoing treatment at medical establishments, 18 tested negative to coronavirus SARS-CoV-2 once, 15 twice and 37 thrice.
As many as 37,008 people who had close contact with COVID-19 patients or entered Vietnam from pandemic regions are currently quarantined, including 506 in hospitals, 19,093 in state-designated establishments and 17,409 at their residences.
To live safely with the pandemic, the Ministry of Health advised people to remain proactive in pandemic prevention and control by continuing to wear face masks when going out, disinfecting frequently, maintaining a safe distance, refraining from mass gatherings, and making medical declarations./.
Top Thai Brands exhibition opens in Ha Noi
Thai products and services are being showcased to local customers at the Top Thai Brands Hanoi 2021 event, which began in the capital on Thursday.
The four-day event is hosted by the Department of International Trade Promotion under the Ministry of Commerce of Thailand, Office of Commercial Affairs under the Royal Thai Embassy in Ha Noi, in co-operation with the Viet Nam National Trade Fair and Advertising and the Ministry of Industry and Trade of Viet Nam.
At the Ha Noi International Exhibition Centre, as many as 31 online booths are in place to connect Thai exporters to Vietnamese importers to promote trade between Thailand and Viet Nam.
There are also 60 on-site booths of Vietnamese importers and agents who import Thai products, displaying and selling a number of categories of quality products from Thailand, including food and beverages, household products, textile and garment, jewellery, health and beauty products, decorative items and souvenir, travel services and more.
Special activities include the Songkran Festival, Thailand Photoshoot, Thai Boxing, Thai food tasting and Thai dancing performance.
This year's event takes place amid the 45th anniversary of the establishment of Thailand-Viet Nam diplomatic relations, said Morakot Janemathukorn, Thailand Provisional Representative in Viet Nam.
Top Thai Brands promotes and introduces good quality Thai products and services at preferential prices to Vietnamese people, she said.
Although the COVID-19 pandemic made it difficult for Thai businesses to come to Viet Nam, they still showed their desire to bring the best Thai products and services to the Vietnamese people, she said.
Top Thai Brands Hanoi 2021 expects to reboot the business connection between Vietnamese importers and Thai exporters, contributing to trade relations between Viet Nam and Thailand and strengthening trade co-operation within ASEAN countries. 
Source: VNA/VNS/VOV/VIR/SGT/Nhan Dan/Hanoitimes