Fitch Ratings upgrades Vietnam's outlook to "positive"
Fitch Ratings has revised Vietnam's outlook to "positive" from "stable" and affirmed the long-term foreign-currency issuer default rating at "BB".
The Ministry of Finance (MoF) said the credit rating agency's upgrade of Vietnam's outlook reflects the growth resilience of the country, which was among the few economies in the Asia Pacific region and the "BB" rating category to maintain positive growth in 2020, at 2.91 percent.
Fitch Ratings recognised Vietnam's fiscal and government debt achievements, its successes in bringing the coronavirus outbreak swiftly under control, strong policy support and export demand, along with continued strengthening of external finances due to persistent current account surpluses and rising international reserves.
It forecast GDP growth of about 7 percent in 2021 and 2022, in line with a broader global economic recovery sustaining export growth and a gradual normalisation of domestic economic activity based on its expectation of continued success by the authorities in containing domestic coronavirus infections.
The agency noted Vietnam's efforts to maintain macro-economic economic stability, sustain high growth, reduce the GDP per capita gap vis-à-vis the country's peers, and further improve public finances, for example, through sustainable fiscal consolidation and debt stabilisation over the medium term are among factors that could, individually or collectively, lead to positive rating action.
Apart from Moody's Investors Service recently raising the outlook for Vietnam to "positive" from "negative" – an unprecedented move in its ranking globally since the start of the COVID-19 pandemic, Fitch Ratings' upgrade of Vietnam's outlook demonstrates credit rating organisations' belief in the Government's effective policies, strong growth prospects, and increasingly solid fiscal space, according to the MoF.
The MoF attributed the improvement in the country's credit outlook to the actively implemented macro-economic stabilisation measures, the enhanced financial – banking system, along with ministries and sectors' efforts to share updated information with Fitch Ratings./.
Ceremony announces establishment of new economic zone in Kien Giang
A ceremony was held in Ha Tien city in the Mekong Delta province of Kien Giang on April 2 to announce the establishment of the Ha Tien Border-Gate Economic Zone, the province's only economic zone.
Established under a decision from Prime Minister Nguyen Xuan Phuc on August 5, 2020, the 1,600-ha economic zone spans five communes - Phao Dai, Dong Ho, To Chau, Binh San, and My Duc.
It consists of seven areas, including duty-free, tourism, administrative, residential areas, an industrial park, and the Ha Tien International Border Gate, which leads to the Prek Chak International Border Gate on the Cambodian side, and service areas.
Speaking at the event, Chairman of the Ha Tien city's People's Committee Le Quoc Anh said he expects the new economic zone will increase the city's attractiveness among both domestic and foreign investors and fuel the development of industry, services, tourism, and infrastructure in surrounding areas.
It should pave the way for the expansion of the population along the shared border with Cambodia, in order to foster economic, cultural, and defence-security exchanges between the two countries and boost Ha Tien's economic growth, he said.
Investors will be given exemptions from import duties and reductions on a number of taxes and fees, for example land lease and land use fees and corporate taxes, when setting up base at the Ha Tien Border-Gate Economic Zone.
The economic zone has so far attracted 35 projects worth close to 4.4 trillion VND (191.5 million USD) in total./.
Vietnam on good economic recovery: Wall Street Journal
The Vietnamese economy is growing again on the back of a strong rise in exports, Wall Street Journal reported.
First-quarter gross domestic product (GDP) picked up 4.48 percent year-on-year, and the recovery is being driven by a surge in goods and services sold abroad, which rose almost 20 percent from last year's figure.
Sales to the US specifically are surging even faster, with no sign of a slowdown on the horizon, it said.
In the 12 months through January, the US's imports from Vietnam accounted for 29 percent of the Southeast Asian country's total exports, far higher than the roughly 20 percent average before 2019.
Wall Street Journal stated that Vietnam emerged as a big winner from the shift in global supply chains, saying some of those gains may not be repeatable, but the US share of Vietnam's exports will remain high for some time.
If the US's economy grows 6.5 percent as forecast by the Organisation for Economic Cooperation and Development (OECD), the North American nation's import demand will be strong, and it will keep the business brisk for export-focused Vietnamese companies.
The US newspaper also hailed Vietnam's control of the COVID-19 pandemic among the most impressive in the world, particularly given the country's income bracket.
"Huge exposure to international commerce would be damaging during a more normal recession, but in this one it has provided crucial economic ballast. Other countries in the region will likely have to wait far longer to fully recover economic losses incurred during the pandemic," it said./.
 Export orders for wood products soar as industry understands power of internet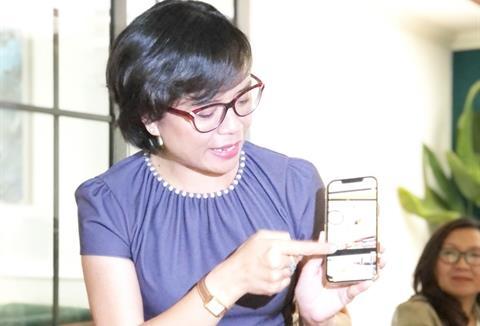 Pham Thi Hong Quang, general director of Viet Source Handicraft Co., Ltd, introduces her virtual showroom on the HOPE platform. Effectively exploiting online marketing and sales channels has contributed to help Vietnamese wood processing firms receive abundant export orders despite Covid-19. 
 
 
 
 Having received an order worth US$920,000 to export kitchen products and household appliances to South Korea soon after the Lunar New Year, Duc Thanh Wood Processing Joint Stock Company is optimistic about its export revenues and profits this year.
Nguyen Ha Ngoc Diep, its deputy general director, said, "This year, we have set an export target of $17 million, up 15 per cent from 2020, but we already achieved nearly 50 per cent of it by the end of February,."
Tran Lam Son, deputy general director of Thien Minh Production-Trading and Export and Import Co., Ltd., said his company has export orders for until the end of May.
Nguyen Van Sang, CEO of Furnist Furniture Company, said: "We have orders for until the middle of the year, and 30 per cent higher than in the same period last year.
"Orders for furniture exports have risen significantly this year, especially from the US. Besides, we have also focused on developing new models and looking for new markets."
The company's furniture exports last year were worth $5 million, he added.
Nguyen Chanh Phuong, deputy chairman of the Handicraft and Wood Industry Association of HCM City, said despite the impacts of the Covid-19 pandemic wood and forestry product exports increased by 16.4 per cent last year to $13.17 billion, and they are expected to top $14 billion this year.
According to the Vietnam Administration of Forestry, exports were estimated to be $3.94 billion in the first quarter of this year, with the US, Japan, China, the EU, and South Korea being the biggest markets.
Many wood processing companies have invested in production technology, improved product quality, effectively exploit online marketing and sales channels so they still received abundant export orders despite Covid-19, Phuong said.
HAWA launched HOPE (HAWA Online Platform for Exhibition) last year to connect furniture suppliers with global buyers at a time when many trade fairs and exhibitions were postponed or cancelled due to Covid, he said.
It offers 3D images of showrooms, factories and workshops, a 3D product catalogue, social apps to enable 24/7 interaction between exhibitors and visitors, digital marketing, life events, and others.
Diep said: "As people were stuck at home due to the pandemic, the demand for home furniture increased, as did the number of customers shopping online."
"Many large foreign buyers have increased sourcing from Vietnamese firms due to the US-China trade war and confidence in the quality of Vietnamese products," she said.
Thanks to this and getting on board HOPE, her company has found many new customers, she said.
Pham Thi Hong Quang, general director of Viet Source Handicraft Co., Ltd, said investing in online channels is very important.
Online marketing helps prevent spending hundreds of thousands of dollars a year to take part in fairs and exhibitions in other countries and offers great efficiency, she said.
Her company enjoyed a 40 per cent rise in sales last year thanks to transforming its marketing methods and proactively changing production to meet the requirements of purchasing systems, she said, adding that it expected to sustain that growth this year and find many new customers on HOPE.
Son, who is also a member of HAWA's executive board, said: "Three years ago, when international buyers visited furniture producing countries in Asia, they chose to visit China first and then Viet Nam.
"But now they do opposite and come to Viet Nam first."
He explained that it is because Vietnamese firms have made great strides in terms of design and sales methods by actively marketing their products.
"The global furniture and wooden products market is worth $400-500 billion annually, but Viet Nam has a very modest market share, and so opportunities to boost exports are aplenty," he said.
Duong Thi Minh Tue, a member of the HAWA executive board, said, "To sustain exports, firms must routinely make efforts to retain customers and look for new markets."
March and April are the peak order period and major furniture fairs are held in Asia, but the pandemic has caused them to be cancelled, and businesses need to make the most of trade promotion channels, both online to offline, to reach buyers, she added.
GI registration boosts exports of Vietnamese products: Ministry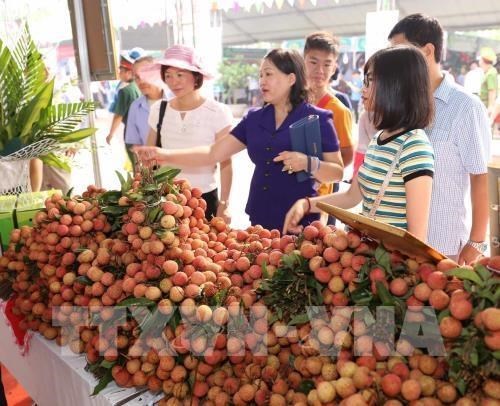 Consumers buy Luc Ngan lychee at a pavilion (Illustrative photo: VNA)

Geographical indication (GI) registration has an important role in helping Vietnamese products enter the global market, heard a regular press conference of the Ministry of Science and Technology (MoST) held in Hanoi on March 31.
Nguyen Van Bay, Deputy Director General of the ministry's Intellectual Property Office of Vietnam, said Luc Ngan lychee of the northern province of Bac Giang is the first Vietnamese product to obtain its GI protected in Japan, after years of efforts made by relevant agencies.
Japan's issuance of the GI certification affirmed the quality of the Vietnamese fruit in the Japanese market, opening up opportunities for the export and consumption of Vietnam lychee in other markets.
The fruit had previously successfully protected its trademark in China, the Republic of Korea, Singapore, Australia, Laos, and Cambodia. It is currently consumed in several countries globally.
Vietnam has to date granted nearly 11,800 protection certificates, including 869 patents and 403 industrial design patents. Some 8,320 certificates of trademark registration of national brands have been issued, along with 2,132 of international ones./.
Remittances to HCM City up 10 percent in Q1
Overseas remittances to Ho Chi Minh City rose 10 percent year-on-year to 1.45 billion USD in the first quarter of 2021, according to the municipal Committee for Overseas Vietnamese Affairs.
The city received 6.1 billion USD in remittances last year, up 15 percent against 2019. This not only provided funding for local production and business but also added to the city's foreign reserves.
There are currently some 2 million residents in HCM City living overseas.
The exchange rate between the VND and the US dollar has been stable in recent times, so recipients tend to sell them to credit institutions.
Several banks use remittance payment technology and offer services to change foreign currencies into VND for savings at a high interest rate.
Over recent years, remittances have come not only in the form of savings but also in securities, real estate, share purchases, or business establishment.
Banks have also enhanced the use of technology and offered promotions to attract more customers. For example, Sacombank has cooperated with partners in the US, Australia, Europe, Japan, and Taiwan (China), and adopted API technology allowing quick payments around the clock. Recipients can receive their remittances in no more than a minute./.
Q1 growth in Quang Ninh doubles national average
Hit hard by a resurgence of COVID-19 in the first quarter, the northern province of Quang Ninh nonetheless posted gross regional domestic product (GRDP) growth of 9.02 percent, or double the national average, data shows.
This gives the province second place in terms of GRDP growth in the northern key economic region, following the neighbouring city of Hai Phong.
The main growth driver in the first three months was the processing and manufacturing sector, which increased 35.6 percent compared to 20.8 percent in the same period last year.
That contributed to a record industrial growth of 8.73 percent in January-March.
Meanwhile, stable growth in agriculture, forestry, and fisheries made up for contractions in other sectors, including tourism, which nosedived almost 50 percent in visitor number and revenue during the period.
Quang Ninh managed to contain the COVID-19 outbreak in the shortest possible time. Within only a week from the first local infection being reported in late January, it had completely brought the situation under control, thus minimising the socio-economic impact and stabilising production and business.
Secretary of the provincial Party Committee Nguyen Xuan Ky said the achievements in Q1 are a major source of encouragement for Quang Ninh to achieve the twin targets of fighting COVID-19 and boosting socio-economic development to post double-digit GRDP growth this year./.
Investment in HCM City's industrial, processing zones up
Total new and additional investment capital in Ho Chi Minh City's industrial and processing zones reached 224.61 million USD in the first quarter of this year, an increase of 66.34 percent year-on-year and representing 40.84 percent of the annual plan.
Head of the management board of the HCM City Export Processing and Industrial Zones Authority (Hepza) Ly Quoc Hung said 119.21 million USD of the figure was foreign investment, up 80.67 percent year-on-year. 
The remaining 105.4 million USD was from domestic enterprises, up 52.66 percent.
He said a majority of domestic and foreign enterprises have adopted modern technology to improve management and production towards boosting workplace productivity and product quality to meet the stringent demands of customers.
As the city's 2021 goal is to build an urban administration and improve the business climate, Hepza has come up with a plan to improve State management efficiency and step up administrative reform. 
The board will hold dialogue in the second quarter between municipal authorities and enterprises in Hepza to tackle their difficulties and boost production and trade. 
It also plans to hold dialogue between departments, sectors, and businesses regarding investment, taxation, and customs, as well as a conference to link banks and enterprises. 
Investment will focus on four key industries with high technological content, fewer workers, supporting other industries, and services in support of industrial production. 
It will also work with relevant agencies to prevent COVID-19 and popularise the Labour Code 2019 and guiding decrees./.
German newspaper highlights Vietnamese market's prospects
German's DVZ e-newspaper has run a story by Claudius Semmann highlighting Vietnam's success in controlling the COVID-19 pandemic and secure economic development, maintaining its bright outlook amid the global crisis.

The article noted that Vietnam has been very successful in dealing with the pandemic and has already developed into a popular production base.
It cited data from the International Monetary Fund (IMF) showing that the economy grew by 2.9 percent, one of the highest rates in the world. Domestic activity had recovered early. There was also a robust export trend, especially in the high-tech area, it added.
According to the Transport Intelligence (TI) market researchers, Vietnam benefits from the free trade agreements with the EU and the UK as well as the Comprehensive and Progressive Agreement for Trans-Pacific Partnership (CPTPP).
The article also cited current analysis by the international credit insurer Atradius indicating that Vietnam is also one of the markets in which German exporters have good prospects of generating additional sales in the second coronavirus year./.
BAT's 2020 ESG Report raises bar for environmental actions
BAT has upped its carbon neutrality target to scope 3, the highest level in the Greenhouse Gas Protocol Corporate Standard, by 2050 from its earlier target of scope 1 and scope 2 by 2030 as part of its evolved strategy to deliver "A Better Tomorrow."
This is one of the many ambitious new environment targets highlighted in the company's recently released 2020 environmental, social and governance (ESG) report.
The new commitment, which aims to cut emissions across the company's value chain, is built on BAT's existing efforts to engage with suppliers on climate change and support contracted farmers in adopting less carbon-intensive farming techniques.
Jack Bowles, BAT's chief executive, said: "We are at a pivotal moment in our transformation and are committed to building the enterprise of the future. This report gives a transparent account of our progress and our heightened ambition.
"We continue to drive for excellence across all areas of ESG and we're proud to announce our new commitment of expanding our carbon neutrality target to include scope 3 emissions by 2050."
In addition to the carbon neutrality target, BAT has also advanced other targets related to water consumption, renewable energy and waste to landfill.
Having achieved its water recycling target ahead of time, it has announced it will set the bar higher and increase the volume of water recycled to 30 per cent by 2025.
By 2025 BAT also aims to have 100 per cent of all manufacturing sites certified by the Alliance for Water Stewardship (AWS). This respected independent audit certification will help validate its water stewardship.
Furthermore, the report targets making 100 per cent of operation sites zero waste to landfill by 2025.
The company said the purpose of the ESG report is to reduce the health impact of its business by offering less risky products to the consumer.
"Our ESG report outlines how we are delivering against our purpose and putting sustainability at the front and centre of our business," the company said.
"It provides detailed information about our policies, management approach, performance and targets for all our environmenal, social and governmance priorities."
BAT has been on a sustainability journey for more than 20 years.
The latest ESG report also shows how the company has delivered significant progress since then.
It increased consumers of non-combustible products by three million to 13.5 million by year-end 2020.
The use of renewable energy increased to 26 per cent, a 10 percentage point increase from the previous year, meaning a more than 30 per cent reduction in overall carbon emissions.
The use of water declined by nearly 11 per cent from 2019.
More than 38,000 human rights training sessions with more than 390,000 attendees were organised across its supply chain.
It was notable that in 2020 female representation in management roles reached 38 per cent.
The efforts of the company in achieving evnironmental goals are evident in the many markets it which it operates.
For instance, the company uses a range of alternative and more sustainable fuels including sugarcane bagasse briquettes in Kenya, jutesticks, rice husk briquettes and other agricultural waste in Bangladesh, candle nut shells in Indonesia, and rice paddy husk in Sri Lanka and Việt Nam.
In Viet Nam, the company's afforestation programme has seen more than 26 million saplings planted on more than 11,300 hectares of land since 2002.
Meanwhile, the BAT-Vinataba Joint Venture Company in Dong Nai Province has for the last six years pursued initiatives to utilise or reuse scrap, which has had a positive impact on the environment.
The company has implemented energy efficiency management programmes and used advanced German dust filter and deodorising technologies to manage the odours and dust released into the environment.
Besides, the company uses rainwater and processes wastewater to standard A levels before releasing it into the environment. The result is that annual water use has decreased from 2.2 cubic metres per tonne of product to 1.82cu.m.
By September 2020, with its relentless efforts to overcome all challenges, the factory had made significant strides in achieving environmental protection, ensuring absolutely no waste was buried. All the waste is sorted at source and sent to waste treatment plants.
"BAT is on track to build 'A Better Tomorrow' for all, from enabling consumer choice and encouraging consumers to switch to scientifically-substantiated reduced-risk products, protecting the environment, respecting human rights, and investing in talent," Bowles said.
"Ultimately our ambition is to reduce the health impact of our business and to deliver a positive environmental and social impact."
BAT's sustainability efforts and commitment to high standards have received notable independent recognition.
These include inclusion in the Dow Jones Sustainability Indices for 19 consecutive years, a MSCI rating of BBB and CDP A List status.
Recently Refinitive, a global provider of financial market data and a subsidiary of the London Stock Exchange Group, named BAT as the third highest ESG-rated FTSE 100 company.
Thriving equity market helps boost business transparency
The development of the equity market will help promote the transparency and corporate governance of listed companies, especially public companies with State capital, an official has said.
The statement was made by Dang Quyet Tien, director of the finance ministry's Corporate Finance Department, during a recent seminar in Hanoi.
"This will help boost the volume of transactions in the stock market, increasing the liquidity for State shareholders," Tien said.
"There is a problem that has persisted for many years in most State-owned enterprises, which is the ineffectiveness in the management and use of State capital," he said.
"The development of the equity market would help State-owned enterprises be less dependent on bank credit loans, diversifying forms of capital mobilisation."
The Vietnamese stock market has seen remarkable development since its inception, but the rate of capital mobilisation via this market was still very low, said Nguyen Tu Anh, director of the General Economic Department under the Central Economic Committee.
"The diversification of products on the market is still poor, resulting in high volatility. At present, idle capital in the economy is quite large, the deposit interest rates of banks have decreased and the interest rates of Government bonds have dropped deeply, which are very favourable conditions to develop the stock market," he said.
"Over the past 20 years, Vietnam's stock market has made great progress, promoting its role as a capital mobilisation channel for the medium and long term. However, more efforts are still needed to achieve the upcoming development goals," said Ta Thanh Binh, Director of Securities Market Development Department under the State Securities Commission.
"The status upgrade of the stock market needs efforts not only from the securities industry and the stock market regulators but also from the public enterprises themselves. This will be achieved only when the businesses prove their transparency, complying with the discipline of information disclosure, following international accounting standards (IFRS)," she said.
The new era required efforts to improve corporate governance, the professionalism of the investor community and the ability of regulators to operate the market, said Can Van Luc, senior advisor of the Bank for Investment and Development of Vietnam (BIDV).
"People and technology are two decisive elements for the future development of Vietnam's capital market," he said.
Before the inception of the stock market, businesses were totally dependent on banks regarding capital, said Nguyen Duc Hau, Deputy General Director of HAPACO Group, the first enterprise in the north listed on the stock market of Vietnam.
"Since the opening of the stock market, HAPACO and many other businesses have raised hundreds of trillion Vietnamese dong from public investors, thereby expanding investment, having new shareholders, partners and wide-scale markets," he said.
"We began as a small company, with equity capital of only 10.8 billion VND at the time of equitisation, but now HAPACO has an equity of more than 1 trillion VND," he said.
"The 4.0 era will change the way that investment banks, securities companies and investment funds interact with customers," said Pham Tien Dung, Research Director of Bao Viet Securities Joint Stock Company.
"Robots will do a lot of computing work instead of humans in the future. The rise of automation in the financial industry has changed the speed and form of the stock market," Dung said.
"The segments of retirement insurance, health insurance and property management will witness a great development in Vietnam's capital market in the new decade," he said.
After more than 20 years of establishment, the structure of the capital market has been clearly shaped, consisting of two main components, namely the stock market and the medium and long-term credit market.
In 2000, the market capitalisation of the stock market was only 986 billion VND, equivalent to 0.28 percent of GDP, and after two decades, its capitalisation has soared to an equivalent to 83 percent of GDP./.
HCM City turns screws on marine economy
Marine economy and urban areas would be a new development engine of Ho Chi Minh City, experts have said.
Many scientists at a workshop in HCM City on March 30 suggested the southern metropolis identify its development model as well as how to connect with other localities for mutual development, towards sustainability.
They emphasised the need to devise regional institutions and conduct regional coordination as best as possible.
Vo Van Hoan, Vice Chairman of the municipal People's Committee, said HCM City should become a service centre with international competitiveness, looking towards new economic models such as green marine economy.
A strategy is needed to spur the development of the local sea-based economy and urban area chain, making them connected regionally and globally, he said.
Shifting the marine economic model in the coastal district of Can Gio towards ecological environment conservation and humanity would be a breakthrough of the city, according to the official.
There is an evitable need for HCM City to turn itself into a hub of finance and commercial services of regional and international standards, he said.
Dr. Nguyen Duc Hien, deputy head of the Party Central Committee's Economic Commission, said Vietnam has a coastline of more than 3,600km, covering 28 out of 63 cities and provinces.
The coastal localities make up 58.2 percent of national FDI, 36.6 percent of the country's export-import value and 58 percent of total enterprises in Vietnam, he said, stressing their important role in national economic development.
HCM City has proven its locomotive role in this regard for many years, he said./.
Bamboo Airways ranked first for punctuality among local airlines in Q1
The Civil Aviation Authority of Vietnam (CAAV) has released a report which details the operation of flights on time (OTP) as well as delayed and cancelled flights nationwide during the opening quarter of the year.
The report states that Bamboo Airways leads the industry for punctuality, with the initial three months of the year seeing the budget airline have a punctuality rate of 96.7%.
Following Bamboo Airways in second and third places were Vietnam Airlines and VietJet Air, who recorded average OTP rates at 96.6% and 94%, respectively.  
The overall punctuality rate of the entire industry during the same period reached 95.56%.
These figures indicate that some airlines have seen improvements in terms of boosting their punctuality rate, thereby meeting the various travel demands of passengers during peak periods, especially around the Lunar New Year festival.
As the leading local airline for punctuality, Bamboo Airways has initiated plans to open additional routes to better meet passengers' travel demands in the near future. This includes running flights from Ho Chi Minh City to destinations such as Con Dao, Hue, and Chu Lai, as well as from Can Tho to Hai Phong, Da Nang, and Quy Nhon, whilst reopening the Ho Chi Minh City to Van Don route.
In order to prepare for the upcoming April 30 to May 1 holiday period, Bamboo Airways is scheduled to increase its transportation capacity by 12% to 15%, thereby helping it boost the development of the local tourism industry following a hiatus caused by the impact of the novel coronavirus (COVID-19) pandemic.
Vietnam increases car imports from RoK
Vietnam imported a total of 328 completely built-up (CBU) cars from the Republic of Korea (RoK) during the opening two months of the year, representing a 13-fold increase compared to the same period from last year, according to the General Department of Vietnam Customs.
The department stated that Vietnamese exports to the RoK recorded an annual surge of 7.3% to US$3.16 billion during the reviewed period, thereby accounting for 6.5% of total turnover.
Most notably, the country spent US$8.4 billion on imports, representing an increase of 6.7% compared to the year previously and accounting for 17.8% of Vietnamese import turnover.
During the opening two months of the year, three groups of products from the RoK recorded import turnover of over US$1 billion, including computers, electronic products and components, phones and components and equipment.
The number of CBU cars imported from the RoK witnessed a 13-fold increase to 328 compared to only 23 units during the first two months of the previous year.
Major Vietnamese export groups to the RoK included computers, electronic products and components, phones and components and equipment.
Vietnam also exported other goods such as garments, timber and wood products, footwear, and seafood to the RoK.
Vietnam continues to represent safe and attractive destination for investors
Following a series of recent projects worth billions of US$ pouring into the nation, the Vietnamese market remains both a safe and attractive destination for foreign financiers, according to data released by the Foreign Investment Agency.
Foreign investment in the country has rebounded in recent times, with the Mekong Delta province of Long An being officially granted the investment registration certificate for LNG Long An I and II Gas Power Project after receiving investment from VinaCapital GS Energy Pte Ltd of Singapore.
The project features a capacity of 3,000 MW, including two combined cycle gas turbine plants that possess a capacity of 1,500 MW each, with registered investment capital totaling a figure of US$3.1 billion.
This comes after a sum of US$1.31 billion was previously invested in the O Mon II thermal power plant by a group of Japanese financiers.
According to data released by the Foreign Investment Agency under the Ministry of Planning and Investment, since March 20 the country has attracted US$10.13 billion worth of foreign direct investment, representing an annual increase of 18.5%.
Furthermore, newly-registered capital and additional increased capital has recorded sharp rises of 30.6% and 97.5% to US$7.2 billion and US$2.1 billion, respectively, after witnessing consecutive drops during the course of the initial two months of the year.
Foreign investment disbursement during the first quarter of the year reached US$4.1 billion, up 6.5% in comparison to last year's corresponding period, thereby signaling that local foreign investment remains on a positive growth trend.
Do Nhat Hoang, director of the Foreign Investment Agency, said foreign-invested enterprises (FIEs) continues to enjoy a recovery whilst maintaining their numerous production and business activities in the post-novel coronavirus (COVID-19) period. Indeed, Vietnam remains a safe and attractive destination that continues to enjoy foreign investors pouring capital into large-scale projects throughout the country.
Hoang noted that the quality of FDI inflows has enjoyed significant improvement, with a growing trend of foreign tech giants injecting capital into the country since the beginning of the year.
Local economists have stated that, aside from two separate billion-dollar projects in the country since the beginning of the year, there remains a number of large-scale projects which will receive foreign investment moving forward.
AT&S Company of Austria has recently unveiled that the firm is seeking a location for investment into a hi-tech project in Vietnam, with total investment capital reaching EUR1.5 billion.
The company's representatives said it will have the final decision on whether or not to establish a Vietnamese factory until mid-April. Elsewhere, Taiwanese electronics giant Foxconn have also revealed that, alongside injecting an additional US$700 million into the country this year, they is poised to intensify investment into the nation in the time ahead.
Vietnamese market continues to soar in global supply chains amid favourable conditions
News publication Counterpoint Technology Market Research of Hong Kong (China) has run an article which highlights the rise of Vietnam's position within global supply chains due to favourable conditions.
The article outlines how the Vietnamese electronics manufacturing services (EMS) market is set to grow at a CAGR of 5% between 2020 and 2026.
As the world is currently in an era of protectionism where issues relating to the novel coronavirus (COVID-19) are still being felt by many economies globally, the nation is striving to become one of the prime locations for export manufacturers.
According to figures released by Vietnam's General Statistics Office (GSO), the country's consumer electronics sector recorded its highest ever production of 369.6 million units in October, 2020, followed by the electronic components sector which was able to produce a total of 325.7 million units.
Given exponential growth witnessed in the manufacturing sector, coupled with growing domestic demand and exports, primarily in relation to electronics and automobiles, the EMS business is projected to scale new heights moving forward.
Many global OEMs and EMS providers such as Samsung, LG, and Foxconn, who are Apple's contract manufacturer, are now investing in the production of printed circuit boards, camera modules, printers, servers, phones, networking equipment, televisions, and other electronics equipment in the nation.
Samsung, which in 2020 held approximately 70% of the handset market share in the country, also represents one of the largest FDI players locally, with the nation hosting one of Samsung's largest smartphone production bases outside of the Republic of Korea.
Moving ahead to 2022, Samsung is projected to complete construction on its US$220-million Vietnamese research and development centre.
The article also states that there are a range of factors which make Vietnam a favourable destination for manufacturers, including the constant improvement in investment and business policies, Vietnamese participation in bilateral and multilateral free trade agreements, increased FDI, and geographical proximity to China.
Pegatron has made roughly US$1 billion worth of investment in its Vietnamese plant which will be rolled out over three phases and will specifically target investments in computing, communications, and consumer electronics facilities by 2027.
Furthermore, Foxconn is also moving some parts of its iPad and MacBook assemblies to the country from China, with this occurring amid increasing tensions between the United States and the northern neighbour, as the firm seeks to reduce risk for its production. In addition, it has also been awarded a license to develop a US$270-million plant that will produce laptops and tablets within the nation.
Moreover, Google is also keen to move production of its smartphone brand Pixel for the US market to the country. Indeed, it is also likely that the company may end up moving its hardware production to Vietnam, with similar plans underway at companies such as Samsung, Intel, and Microsoft.
Xiaomi is also aiming to take advantage of local factors such as cheap labour and other favourable market conditions, with the company most recently opening its first phone assembly factory in the nation.
The article concludes by stating that the country is known for its comprehensive and five-year to ten-year strategies, including 'Made in Vietnam 2025: Industrial Policy and Strategy 2025' and 'Vision for 2035'. These policies have not only helped to change the Vietnamese growth story which started 30 years ago, but have also facilitated absorption of industry from China, including numerous shifts triggered by trade wars.
Differences of Vietnam's supply chain analysed
The website Vietnam Briefing run by Dezan Shira & Associates on March 30 posted an article spotlighting Vietnam's integration into the global value chains (GVCs) and the differences between the supply chain of Vietnam and those of other countries, as well as an overview of the country's electronics sector.
The article noted that Vietnam has had increasing and steady economic growth of between 6 and 7 percent in the last decade. Its international trade and foreign direct investment (FDI) inflows have been growing and Vietnam has been outpacing its regional peers in this respect. Vietnam is mostly open to investment across sectors. Despite the pandemic, Vietnam is one of the few countries to report positive GDP growth of 2.91 percent in 2020.
Vietnam is a party to several free trade agreements (FTAs) which are push factors that can help it further integrate into GVCs. The ratification of the EU-Vietnam FTA and the upcoming UKVFTA and RCEP will help further its economy propelling its GDP growth, it said.
The article added that the government has launched several incentives to attract investment and encourage Vietnamese businesses to become a part of GVCs. For example, electronic components are entitled to an import tax of 0 percent, while are there additional incentives in income tax for hi-tech projects and investment in industrial zones. Additional incentives in the form of labor and technology policies are also provided by the government.
The government also supports R&D and the development of advanced IT systems as well as the manufacturing of ICT products. This will be a key theme as Vietnam gets more involved in IoT and 5G communications, according to the article.
With proactive participation in GVCs, Vietnam has steadily grown into a prominent manufacturer and exporter for electronics, ranking 12th in the world and third in ASEAN as an exporter for electronics in 2019, it noted.
It held that the electronics industry can be grouped by Harmonized System (HS) codes in three groups. These include finished products that consist of 3Cs – computer, communication and consumer electronics, subassemblies and components which include electronics components. In 2019, the total export value reached 2.5 trillion USD in 2019.
According to the article, Vietnam had strong growth of around 20 percent for electronic finished products surpassing Thailand and just behind the Republic of Korea in export assemblies in 2019.
Vietnam joined GVCs in the late 2000s and is considered a global tier-2 supplier for 3C products. The top importers for electronics were China, the US, followed by Hong Kong.
The 3Cs finished products group dominates the Vietnamese electronic industry, with communications equipment and consumer electronics leading. While 3Cs dominate Vietnam's electronics, Vietnam's role in the global electronics value chains is limited to be an integrator of components, it said.
GVCs can be broken down further into three parts, upstream, midstream, and downstream activities. Vietnam is mainly integrated in the midstream part with lower value add. These include subassemblies, such as displays and special parts, and finished products such as consumer electronics, communications, and computers. Vietnam is also involved in upstream activities but predominantly in low-value added products such as plastic, glass, and packaging.
The article pointed out that Vietnam still needs to do more to integrate into GVCs and faces several challenges in logistics and infrastructure. There is a gap between raw materials and finished goods. The logistics industry is highly fragmented with more than 3,000 logistic companies. These consist of small and medium enterprises providing low-value services. Goods in Vietnam have to go through many intermediaries from raw materials to delivery, increasing transaction costs. In addition, the connection between different modes of transport is weak as well.
Vietnam also lacks the production scale and human infrastructure thus making moving up the value chain challenging, it said, adding that Vietnam's labor force is also another challenge./.
Vietnamese firms in Cambodia strive to overcome difficulties amid pandemic
Amid the COVID-19 pandemic, many Vietnamese enterprises in Cambodia have tried their best to stand firm and have worked towards developing their business in the "new normal".
In the country since 2011, MBBank and Metfone, a subsidiary of Viettel, have made an imprint in Cambodia's finance and banking, and telecommunications sectors. Of particular note, they have also set up strategic cooperation arrangements with partners based on their strengths and experience.
According to MBBank Director in Cambodia Trinh Duc Cuong, though COVID-19 has left a mark on Cambodia's economy, Vietnamese enterprises in various fields have returned to the market with higher levels of investment and professionalism compared to a decade ago.
Meanwhile, Metfone Director Phung Van Cuong said the company can achieve its challenging growth target of 7-8 percent this year.
COVID-19 has resulted in travel restrictions, unemployment, and business downsizing, but there will be strong growth in demand for information and communications through technologies and social networks, Cuong stressed, describing this as a valuable opportunity for Metfone, which has large network coverage in Cambodia's rural and urban areas.
At a ceremony to mark the 10th anniversary of strategic cooperation between Metfone and MBBank on April 1, Phung Van Cuong said COVID-19 is an opportunity for Cambodia's digital transformation as it forces people to become accustomed to online shopping rather than shopping at a bricks-and-mortar stores.
MBBank has given top priority to supporting Vietnamese companies conduct business in Cambodia, and has helped Metfone access capital to improve its services and consolidate its position as a leading telecommunications provider in the Cambodian market.
COVID-19 has encouraged Vietnamese companies to adjust their products and services, making them more suitable with customer needs.
According to the Vietnam trade office in Cambodia, two-way trade topped more than 1.33 billion USD in the first two months of this year, up 64 percent year-on-year./.
Hanoi identifies key tourism products to stimulate domestic travel
The Hanoi Department of Tourism has identified seven groups of tourism products to attract visitors to the capital as the latest resurgence of COVID-19 has been largely brought under control.
Heritage tourism will develop and perfect new tourism products for the Imperial Citadel of Thang Long, the Hoa Lo Prison relic site, the Temple of Literature, and Duong Lam Ancient Village, along with places of worship such as Huong Pagoda, the Tan Vien Son Thanh Temple complex, the Co Loa relic site, and Soc Temple.
Sightseeing, recreation, ecological, and craft village tourism will continue to be developed in localities with the necessary advantages, including the outlying districts of Ba Vi, Soc Son, Thuong Tin, and Dan Phuong, so as to diversify products and meet visitor demand.
Culinary tourism will be promoted in inner districts like Hoan Kiem, Tay Ho, Long Bien, and Bac Tu Liem, home to typical Hanoi dishes.
A greater selection of souvenirs for tourists will be developed, while more showrooms of products in the "One Commune, One Product" programme will be opened to encourage spending.
New products will be also offered for those who wish to experience high-end hotels and entertainment services at four- and five-star hotels.
Tourism products and services associated with the night-time economy will also be promoted, centring on Hoan Kiem district.
Local authorities will also facilitate adventure sports tourism and new entertainment activities such as hot air ballooning, mountaineering, and mountain biking at Ba Vi National Park.
Director of the Hanoi Department of Tourism Dang Huong Giang said Vietnam's borders have been closed to international tourists since April last year. The number of foreign arrivals in Hanoi during this period was insignificant, and were mostly in Vietnam for work.
The resurgence of COVID-19 in late January discouraged many domestic travellers from visiting the capital, she said, adding that it welcomed just 1.93 million domestic visitors and earned some 5.4 trillion VND (234 million USD) in revenue during the first quarter, down 33.4 percent and 65.6 percent, respectively, year-on-year.
Hanoi will adopt various measures to attract 13.16-19.04 million tourist arrivals this year and will also make preparations for when Vietnam reopens its borders to international travellers, Giang said./.
Hanoi determined to implement socio-economic development solutions
Hanoi continues to affirm its place as one of Vietnam's economic growth drivers.
According to the municipal People's Committee, its GDP growth is estimated at 5.17 percent for the first quarter of 2021, compared to 4.13 percent in the same period last year and higher than the country's average.
In the context of the global economy facing a range of difficulties, Hanoi remains determined to step up business and production and has carried out measures towards this end.
Its agro-forestry-fishery sector grew 2.51 percent year-on-year in the first quarter. Weather conditions were favourable for agricultural production in the opening months of the year. Cattle and poultry husbandry developed stably, with the African swine fever brought under control.
The industrial and construction sector grew 7.99 percent, compared to 5.59 percent in the first quarter of 2020.
The service sector saw year-on-year growth of 4.54 percent, driven by the finance-banking-insurance sector (7.43 percent), real estate (7.6 percent), and wholesale and retail (6.77 percent). Several sectors posted contractions, however, including artistic and entertainment activities (15.94 percent), administrative and support services (7.3 percent), and accommodation and catering (6.36 percent).
The city's total State budget collections were estimated at 72.8 trillion VND (3.15 million USD), equal to 28.9 percent of the target set for 2021 and up 1 percent year-on-year.
The municipal People's Committee attributed the positive results to the joint efforts and high consensus of the entire political system, the business community, and local people.
It also acknowledged that growth was lower than expectations, and that the transportation, tourism, services, and education and training sectors are still facing challenges from COVID-19.
To achieve the socio-economic development targets set for 2021, the committee asked departments and sectors to continue strengthening pandemic prevention and control measures, doing their best to prevent the pandemic from spreading in the community, keeping a close watch on developments, and making full preparations for all possible scenarios.
The capital will maintain efforts to improve its business and investment environment, administrative reform, and competitiveness, while firmly carrying out activities in support of production and business, encouraging the application of advanced technologies and developing supporting industries and digital transformation.
It will focus on stepping up public investment disbursement and implementation, mobilising private investment in development, helping investors deal with difficulties, and speeding up the process of licensing and implementing projects.
The agricultural sector was advised to keep a close watch on weather developments, step up measures in African swine fever and avian flu A/H5N6 prevention and control, speed up crop restructuring, and expand the application of high technologies.
Hanoi will pay attention to developing production infrastructure and calling on businesses and investors to pour capital into industrial zones, industrial clusters, and hi-tech parks, and at the same time develop the domestic market in line with the "Vietnamese people prioritise using Vietnamese products" campaign and implement consumer stimulus plans and promotional programmes.
Attention will also be paid to building and implementing tourism recovery scenarios, stimulating and developing domestic tourism, introducing creative and attractive new tourism products, and intensifying communications to attract more visitors.
At the same time, departments and sectors are requested to increase the material and spiritual lives of local people, ensure social welfare, care for contributors to the revolution, address unemployment, and boost sustainable poverty reduction.
Along with the implementation of the "all people are united to build new-style rural areas and civilised urban areas" campaign, the capital will also make efforts to ensure social safety and order and prevent fires and explosions./.
HCM City's major industries regain growth momentum
The index of industrial production (IIP) of major industries in Ho Chi Minh City increased 7.5 percent year-on-year in the first quarter of this year, 3.7 percentage points higher than the sector's overall growth.
Such figures reflect the fact that COVID-19 has been contained in the city and an optimal business and production environment created for enterprises.
Nguyen Nguyen Phuong, head of the bureau of planning and finance under the municipal Department of Industry and Trade, said the city's IIP in March jumped 29.4 percent month-on-month and 2.2 percent year-on-year.
The index rose 3.8 percent year-on-year in the first quarter.
Among major industries, increases were seen in electronics production, of 24.7 percent; food, foodstuff, and beverage processing 14.5 percent; and mechanics 1.8 percent. Only pharmaceutical chemistry-rubber-plastics posted a year-on-year decline, of 3.9 percent.
Between January and March, businesses in the southern metropolis exported 10.73 billion USD worth of goods, an increase of 2.2 percent year-on-year, while imports were valued at about 13.63 billion USD, up 17.7 percent.
To facilitate the operations of enterprises, the city has adopted a host of mechanisms and policies, helping them revamp machinery, equipment, and technology, train personnel, and expand markets.
It has also worked to create opportunities for enterprises to attract investment from domestic and foreign economic sectors.
According to Bui Ta Hoang Vu, Director of the municipal Department of Industry and Trade, in the second quarter, HCM City will roll out plans on the implementation of approved projects and programmes, including a project on e-commerce development, one on logistics development, and another on export development by 2025 with a vision towards 2030.
It will also carry out multiple activities in support of major industries as well as those boasting great potential, he said./.
Public, private sectors partner to boost sustainable peppercorn industry
A memorandum of understanding has been signed among the Plant Protection Department under the Ministry of Agriculture and Rural Development, the Sustainable Trade Initiative (IDH), and the Sustainable Spices Initiative (SSI) with a view to promoting sustainable peppercorn production and trading.
Accordingly, the relevant parties pledged to coordinate in promoting sustainable peppercorn production and trading until 2025.
The Plant Protection Department will step up policy completion and capacity building in the management and responsible use of crop protection chemicals, facilitate the connectivity in safe production, the monitoring of food safety, and peppercorn origin tracing so as to expand farming and meet safe and sustainable production requirements.
The SSI is responsible for working with the European Spice Association and the American Spice Trade Association on their markets' quality requirements and attracting investment from its member companies to sustainable production in value chains in Vietnam.
Meanwhile, IDH will provide advice and financial support and coordinate assistance from international organisations for this public-private partnership (PPP).
Nguyen Quy Duong, Deputy Director of the Plant Protection Department, told the signing ceremony on March 30 that Vietnam is the world's largest peppercorn producer and exporter. Its peppercorn accounts for some 60 percent of the total volume traded globally.
However, the country's peppercorn industry is facing major challenges like low prices, unsustainability, and failure to meet the increasingly stringent requirements of importing markets, he acknowledged.
Enhancing PPPs is an appropriate solution to this problem, he said, stressing that the State will create a favourable policy environment for the private sector to seek markets, ensure sustainable production, and meet importers' standards.
Duong expressed his belief that the newly inked memorandum will become a considerable driver for the industry to achieve sustainability./.
Exports to the US keep rising considerably in Q1
Despite the negative impact of the COVID-19 pandemic, Vietnamese exports to the United States kept rising considerably in the first quarter of the year and is showing no signs of a slowdown in the short-term.

The US represented Vietnam's largest export market in the first quarter, consuming US$21.2 billion worth of goods, representing a year-on-year increase of 32.8%, according to the General Statistics Office of Vietnam.
The Wall Street Journal reported recently Vietnamese exports to the US are likely rising even faster, with no sign of a slowdown on the horison.
Import-export data from both sides show in 12 months through January 2021, Vietnamese goods shipped to the US made up approximately 29% of the Asian country's total exports, far higher than the roughly 20% average before 2019.
Vietnam emerged as a big winner from the China-US trade war. Some supply chains reoriented away from China, and the country also was a logical docking station for multistage "transshipments" to avoid American tariffs, the Wall Street Journal said.
Through the good prospect may not last long. the Wall Street Journal noted the fiscal splurge in Washington, it is likely that the US share of Vietnam's exports will remain high for some time. The 6.5% growth rate forecast by the Organization for Economic Cooperation and Development is expected to keep US import demand strong and business brisk for export-focused Vietnamese companies.
The paper also stated Vietnam is poised to be one of the most clear-cut international beneficiaries of the US stimulus package.
Source: VNA/VNS/VOV/VIR/SGT/Nhan Dan/Hanoitimes