Shares recover on large-cap stocks
Shares recovered in the last trading session of the week on improved liquidity as cash flow came back to support large-cap stocks.
The benchmark VN-Index on the Ho Chi Minh Stock Exchange (HoSE) increased by 0.3 per cent, to 1,357.05 points. The market breadth was neutral as 205 stocks climbed while 166 declined.
The southern index had decreased by 0.35 per cent, to close Thursday at 1,353.05 points.
More than 744 million shares were traded on the southern exchange, worth VND24.6 trillion (US$1 billion).
The VN30-Index, which tracks the 30 biggest stocks in market capitalisation on the southern market, gained 0.49 per cent to 1,484.25 points.
Of the VN30 basket, 12 stocks jumped while 15 slid, and three stayed unchanged.
The most notable gainers in the VN-30 basket were Khang Dien House (KDH), rising 3 per cent, VPBank (VPB), Vinhomes (VHM) and SSI Securities Inc (SSI) all gaining 2 per cent, the Viet Nam Rubber Group (GVR) and FPT Corporation (FPT) gaining more than 1 per cent.
In contrast, PetroVietnam Gas JSC (GAS), Bao Viet Holdings (BVH) and Phat Dat Real Estate (PDR) all dropped more than 1 per cent.
If in the morning session, most banking stocks lost ground, they reversed to rebound towards the end of the afternoon session as the demand increased strongly, with gainers such as Techcombank (TCB), Military Bank (MBB), Asia Commercial Bank (ACB), Sacombank (STB) and Lien Viet Post Bank (LPB).
Fertiliser and shipping and seaport stocks also outperformed.
Notably, Petro Viet Nam Ca Mau Fertiliser JSC (DCM) and Petrovietnam Fertilizer & Chemicals Corporation (DPM) reached the ceiling prices.
In the shipping and seaport group, Southern Logistics JSC (STG) and Viet Nam Ocean Shipping (VOS) both hit the ceiling prices, Tan Cang Logistic JSC (TCL) increased by 1.8 per cent, Gemadept Corporation (GMD) rose by 4 per cent.
On a sector basis, 16 out of 25 sector indices on the market made gains, including real estate, securities, IT, retail, healthcare, banking, rubber production, seafood production, logistics, construction and construction materials.
The losers were wholesale, insurance, oil and gas, and agriculture.
The HNX-Index on the Ha Noi Stock Exchange (HNX) also rose 0.79 per cent to 336.96 points.
The index had lost 0.36 per cent to close Thursday at 334.33 points.
More than 152 million shares were traded on the northern exchange, worth VND3.6 trillion. 
Vietnam urged to fine-tune legal system to attract greater FDI from Europe
Vietnam must pay closer attention to legal transparency and stability whilst striving to improve the quality of the local workforce, to seize upon opportunities to attract additional FDI inflows from Europe.
This statement was made by Nguyen Van Toan, vice president of the Vietnam Association of Foreign Invested Enterprises (VAFIE).
Despite the fact that several European enterprises recently came to Vietnam to conduct surveys about the local business climate, FDI inflows from Europe continue to remain modest, Toan told Cong Thuong (Commerce) newspaper.  
According to data released by the Foreign Investment Agency under the Ministry of Planning and Investment, the Republic of Korea, Japan, and Singapore represent the three largest investors in Vietnam, pouring in over US$72 billion, US$63 billion, and US$62.2 billion, respectively.
However, FDI inflows from various European countries into the nation over recent years have been underwhelming.
Currently, the Netherlands makes up the largest investor among European member states with 626 projects capitalised at more than US$10 billion, ranking 10th out of 140 countries and territories injecting money into Vietnam.
It was followed by the United Kingdom with 424 worth over US$5 billion, France with 628 projects capitalised at US$3.6 billion, and Germany with US$2.3 billion.
Overall, European firms have invested in 18 out of 21 major Vietnamese industries, mostly through small-scale projects.
In his role as vice president of VAFIE, Toan revealed that European businesses pay close attention to consistent policies, legal stability, and intellectual property when making decisions on investment in large or high-tech projects.
If these matters addressed, FDI inflows from Europe will be increased considerably in the coming time, he said.
Toan added that the recent enforcement of the EU-Vietnam Free Trade Agreement (EVFTA) and the pending EU-Vietnam Investment Protection Agreement (EVIPA) is likely to provide a solid foundation in which international legal support can protect the interests of European enterprises when doing business in Vietnam.
Vietnam spends US$2 billion on car imports in seven months
Vietnam imported 95,525 completely built-up (CBU) vehicles valued at US$2.13 billion during the opening seven months of the year, according to the General Department of Vietnam Customs.
This information represents a surge of 111% in volume and 107% in value compared to the same period from last year.
July alone saw the country import 14,407 CBU cars of all kinds worth approximately US$291 million.
Thailand, Indonesia, and China made up the top suppliers of imported cars to Vietnam, with the total volume reaching 1,000 units.
Thailand alone led the way with 7,008 cars worth roughly US$132.8 million, raising the total number of its cars imported into Vietnam over seven months to 47,493 valued at US$890.7 million.
Vietnam also imported CBU vehicles from other markets, including Japan, the Republic of Korea, the United States, and Germany.
Meanwhile, CBU imported cars from China had an average price of US$37,263 a unit, double that of Thailand and triple that of Indonesia.
This increase in the price of vehicles from the Chinese market can largely be attributed to the fact that vehicles imported from the neighbouring country are specialised cars and trucks, while Thailand and Indonesia primarily focus on passenger cars and pickup trucks.
Enterprises allowed to decide production models during pandemic
The Ministry of Health has allowed enterprises to decide their production and business models during the Covid-19 pandemic, making the stay-at-work mode optional.
The ministry on August 12 sent a document on Covid-19 infection prevention and control at production and business units to localities, the local media reported.
Accordingly, enterprises can take the initiative to deploy anti-pandemic measures while maintaining their normal operations.
The ministry asked the governments of cities and provinces to instruct enterprises to develop anti-pandemic plans in line with the situation in their localities and the directives of the national steering committee for Covid-19 infection prevention and control and the Ministry of Health.
Local authorities must also inspect and supervise the development of the plan and its implementation but must avoid an overlap in inspection.
The city/provincial Departments of Health must conduct regular testing for at least 20% of workers of enterprises reporting no Covid cases and at least half of the employees of firms which have had Covid cases.
According to the Ministry of Health, some northern provinces, such as Bac Giang and Bac Ninh, have successfully applied the stay-at-work mode. However, the mode has not proved effective in some southern provinces.
At a press briefing after the regular Cabinet meeting on August 11, Deputy Minister of Industry and Trade Do Thang Hai also admitted that the solution was not effective in the south and should be applied for a short period only.
In addition, the number of workers in industrial parks in Bac Ninh and Bac Giang is not too high, while enterprises in the south have thousands to tens of thousands of workers each. They come from many other parts of the country, so it is hard to ask them to stay at their factories after work for a long time.
Moreover, the cost of letting workers stay at factories after work is high, so some enterprises can afford seven to 20 days.
Therefore, many enterprises have proposed allowing workers to travel between work and home.
Global demand geared up to rise
Despite massive challenges, Vietnam's trade landscape is slowly gaining momentum thanks to a bit-by-bit recovery in local production and gradual reopening of many foreign markets, promising a brighter export-import picture for the country until the year's end.

FIEs have enjoyed a trade surplus of $15.1 billion in 2021 so far, to the end of July. Photo: Le Toan
A fortnight ago Nguyen Duc Hung, director of locally-owned electronics producer Duc Hung JSC based in the northern province of Vinh Phuc, held online meetings with four partners from South Korea and Japan to negotiate new export orders. His company will supply them with electronics items, with a total value of nearly $10 million for the fourth quarter of this year.
"We earned an export turnover of about $11 million in the first seven months of 2021, up from $10 billion in the corresponding period last year," Hung said. "Our exports were boosted during the first quarter. However, since April the exports have slowed down due to COVID-19. But we expect that with new orders we will be able to increase shipments thanks to South Korea and Japan gradually reopening their markets to import activities."
In the last four years, the firm has been centring on manufacturing and exporting LED products, besides its traditional items like lighting equipment and electric lights for motorbikes.
The company has also imported electronic items from foreign markets for its production. The import turnover since early this year has climbed about 5 per cent on-year. "It is expected that if COVID-19 is brought under control in the foreign markets in the third or fourth quarter, the firm's export and import turnover will ascend 5 and 6 per cent in 2021, respectively," Hung said.
Hung's company has contributed to an expansion in the electronics industry's performance in the first seven months of 2021, when the industry's export-import turnover hit $27.4 billion and $39.4 billion, up 16.5 and 20.3 per cent on-year, respectively.
South Korea's Samsung holds more than 90 per cent of Vietnam's total electronics export turnover in the period.
The Ministry of Industry and Trade (MoIT) reported that while many items witnessed a slash in export-import turnover in the first seven months, electronics is among several key export items with an on-year rise in export turnover in the period, such as rubber ($1.5 billion, up 73.6 per cent), machinery and equipment ($19.7 billion, 55.4 per cent), textiles and garments ($18.6 billion, 14.1 per cent), footwear ($12.1 billion, 27.7 per cent), wood and wooden products ($9.5 billion, 53.7 per cent), and transport means and components ($6.5 billion, 48.5 per cent).
In the first seven months of this year, Vietnam's total export turnover hit $185.33 billion, up 25.5 per cent on-year, with local businesses raking in $48.52 billion – up 14.6 per cent on-year and accounting for 26.2 per cent of the country's total export turnover; and foreign-invested enterprises (FIEs) fetching $136.81 billion including crude oil exports, up 29.9 per cent on-year, and holding 73.8 per cent of total export revenue.
Meanwhile, the total import turnover sat at over $188 billion, an on-year expansion of 35.3 per cent, with domestic enterprises earning $66.31 billion, up 29.8 per cent as compared to the same period last year, and FIEs harvesting $121.72 billion, an on-year rise of 38.5 per cent.
Thus in the first seven months of this year, Vietnam saw a trade deficit of $2.7 billion, in which local enterprises witnessed a shortfall of $17.8 billion while FIEs enjoyed a trade surplus of $15.1 billion, including crude oil exports.
"In general, Vietnam's seven-month export picture remains optimistic. However, the export growth is showing a signal of slowdown due to COVID-19 hurting performance of enterprises," said an MoIT report released last week. "It is expected that in the coming time, growth of exports and imports will largely depend on how Vietnam can well control the pandemic and boost vaccination."
The MoIT forecasted that the world's demands for goods will continue staying at a high level because many nations are increasing their vaccinations drives and reopening their markets, which "will raise their demands for textiles and garments, footwear, wooden products, and electronics items from Vietnam."
Moreover, many economies have also been expanding stimulus packages via direct support for their citizens, accordingly boosting consumption of goods including those imported from Vietnam.
The International Monetary Fund late last month estimated that the global economic growth rate will be 6 per cent this year. Meanwhile, according to the World Bank's latest report on the global economic outlook released in June, the world's economy will climb 5.6 per cent in 2021, instead of the previous forecast of 4.1 per cent made in January. The reason is that many nations have been increasing their vaccine programmes and stimulus packages.
In addition, the MoIT also said that Vietnam and its partner nations are actively implementing commitments under inked free trade agreements, which will help boost Vietnam's exports into these nations with preferential tariffs.
The MoIT forecast that this year, the total export turnover will be $308 billion, up 9 per cent on-year, and the total import turnover will be $306 billion, up 16.5 per cent on-year, meaning a trade surplus of about $2 billion.
Pandemic measures placing strain on inflation goals
Although Vietnam plans to keep inflation below 4 per cent in 2021, it remains a significant challenge as the government juggles the fight against the pandemic and socioeconomic development.

According to the General Statistics Office (GSO), the consumer price index (CPI) in the first seven months of 2021 rose by 1.64 per cent over the same period last year, the lowest increase since 2016.
The CPI in July only increased by 0.62 per cent on-month, showing that the waves of people hoarding goods did not have much impact on this important index. In consumer goods and services, seven out of groups increased their prices, while three groups saw price decreases, and one remained stable compared to the previous month.
The slow increase in Vietnam's CPI is directly attributable to the prices of petrol following global prices. The GSO's report showed that the traffic group had the highest price increase in July with 2.36 per cent, causing the general CPI to increase by 0.23 percentage points.
Core inflation, which is the change in the costs of goods and services but does not include those from the food and energy sectors, in July and the first seven months of 2021 compared to the same period last year were the lowest since 2011, and decreased by 0.06 per cent in July compared to the previous month thanks to price stabilisation solutions in the whole market. On average, core inflation climbed 0.89 per cent over the same period in 2020 in the first seven months of 2021, lower than the overall average CPI, which increased by 1.64 per cent.
Meanwhile, the foreign currency reserves of the State Bank of Vietnam still ensure to meet the needs of importing enterprises, also affecting the price of gold which averaged at $1,803 per ounce, down 1.78 per cent in June
Price pressure is growing throughout Vietnam's economy as businesses struggle more to meet consumer demand amid shortages in raw materials and labour. In addition, limited transport capabilities due to anti-pandemic measures in some localities, together with higher input costs, are also causing issues for businesses trying to maintain production and exports.
Consumer demand will likely increase when Vietnam's ongoing vaccination programme makes further significant progress, and restrictions on travel are eased, along with government support packages.
GDP growth in the first half of the year reached 5.64 per cent. Standard Chartered Bank predicted that the economy may recover slightly in 2021. However, food prices increased after cooling down last year, an opposite trend compared to the previous year, paired with recent low core inflation rate. Standard Chartered warned that rising food prices are a risk that could put pressure on inflation because the food group accounts for nearly 40 per cent of the goods in the CPI baskets.
Pham The Anh, chief economist of the Vietnam Institute for Economic and Policy Research, found that inflationary pressure is increasing, especially in recent months when the consumer market was recovering.
According to Anh, pressure on inflation may come from strong money supply growth. In the last 10 years, the growth rate of cash and credit supply remained very high compared to regional countries, similar to the growth of the economy.
The recovery of consumer demand may increase inflationary pressure into 2022, said Anh. "This recovery comes from two main factors. Firstly, price appreciation of real estate and stocks may spread to consumer prices, especially post-pandemic. Secondly, recovery of the global economy will cause price hikes for all kinds of raw materials, higher than the average level of 2020," he explained.
Vietnamese coconut conquering Belgian market
Canned pure fresh coconut water Cocoxim of Ben Tre Import-Export Joint Stock Company (Betrimex) has become popular among consumers in Belgium for several years. This product is imported directly from Vietnam by the Belgian start-up company South Export Alliance and distributed in Belgium, France and the Czech Republic.

Since the EU-Vietnam Free Trade Agreement took effect, with preferential tariffs offered to Vietnamese agricultural products imported into the EU, South Export Alliance has had favourable conditions to expand its business.
EVFTA has opened new opportunities for South Export Alliance that also sells Cocoxim to France and the Czech Republic.
Vietnamese agricultural products have affirmed its foothold in the EU - a vivid illustration for Vietnam's ability to produce high-quality goods./.
Vingroup tests self-driving electric vehicle in Nha Trang
Conglomerate Vingroup recently posted a video on the trial run of its level 4 self-driving electric cars on Hon Tre island, Nha Trang city, the south central province of Khanh Hoa, which is developed by the Vingroup Big Data Institute (VinBigdata) Research Institute.
The vehicle features a map with high resolution for areas of up to 10 sq.km and optimal positioning for navigation with an error of only 5cm in the active area.
It applies artificial intelligence (AI) combining data collected from two lidars and six 102-degree wide-angle cameras.
The solution is capable of identifying obstacles on the road such as pedestrians, vehicles, and traffic signs with a high rate of accuracy.
Meanwhile, the vehicle has the ability to automatically decelerate from a distance of 30 m or change lanes from a distance of 10 m when detecting immobile obstacles.
The average speed can be up to a maximum of 30 km per hour, which is an impressive speed for electric passenger vehicles with a large payload of up to 23 seats.
Automatic parking feature is also integrated into the smart vehicle.
Vingroup said this is one of VinBigdata's latest research outcomes, making it the next Vietnamese firm to develop a level 4 self-driving electric vehicle.
In March, Phenikaa Group, a multi-sectoral corporation, introduced its prototype of a level-4 autonomous vehicle, the first smart self-driving vehicle in Vietnam./.
Oil and gas companies post mixed business results despite higher oil prices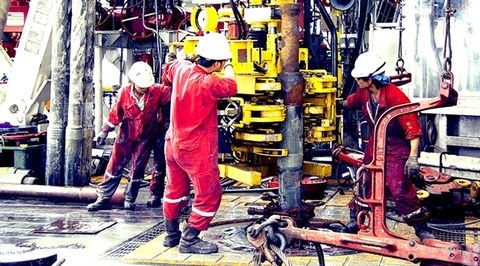 Workers of PetroVietnam Drilling & Well Services Corporation (PVD) operating a drilling rig. — Photo pvdrilling.com.vn
Oil prices have continuously increased since the beginning of the year on the production cut agreement of OPEC+ and the global recovery in fuel demand. This has been reflected in the market price of oil and gas stocks, however not all businesses benefited.
In the international market, oil prices had risen more than 47 per cent in the first half of the year, resulting in higher prices of refined products. In June, Brent crude even broke over US$76 per barrel over rising concerns of a supply shortage. OPEC and its allies, led by Russia, then agreed to loosen production caps starting in July.
From the end of 2020 to the first quarter of 2021, oil demand in the Asia-Pacific region hit a peak on COVID-19 control measures. However, the outbreak since the beginning of the second quarter of the year has affected oil demand in this region.
Mixed results
Despite the higher oil price, not all oil and gas enterprises in Viet Nam benefited, the latest report of Viet Dragon Securities Corporation (VDSC) said.
Of which, for upstream companies, business results were not very positive in the first six months of the year due to the impact of COVID-19 and the stagnation of domestic oil and gas projects.
PetroVietnam Drilling & Well Services Corporation (PVD), which operates in the upstream sector, involving oil and gas exploitation, providing most of the drilling services at Petrolimex's oil fields and also participating in international activities, reported a drop of 47 per cent year-on-year in net revenue to over VND1.66 trillion in the first half of the year.
The big fall in revenue along with large provision costs caused PVD to record a net loss of VND95 billion.
Similarly, PetroVietnam Technical Services Corporation (PVS)'s net revenue also declined by 35 per cent to nearly VND5.7 trillion during the period, resulting in a fall of 16 per cent over last year in profit after tax to VND347 billion.
Even in the same upstream sector, PVS will be less affected by oil prices than PVD because of its diversity in operations including ships, ports, floating warehouses and petroleum engineering.
However, the bright oil price outlook due to the supply-demand gap has helped the prices of PVD and PVS shares increase significantly.
On the Ho Chi Minh Stock Exchange (HoSE), PVS shares had risen 53.2 per cent in the first six months of the year, while PVD shares climbed 27.2 per cent.
Meanwhile, for the midstream and downstream sector, companies witnessed positive business results, boosted by sustainable rallies of oil prices which translated into higher selling prices or improved gross profit margins.
Accordingly, PetroVietnam Gas JSC (PVGas, GAS) finished the first six months with net revenue of VND40.27 trillion and profit after tax of nearly VND4.4 trillion, up 23.2 per cent and 4.1 per cent respectively.
PVGas operates in the midstream sector, specialising in gas collection and redistribution to other firms in the market. Particularly in the second quarter, the sharp increase in oil prices boosted the company's revenue by 45 per cent, while gross profit climbed 57.5 per cent year-on-year.
In the same segment, Petrovietnam Transportation Corporation (PV Trans, PVT) also earned VND256.5 billion in profit after tax in the second quarter, up more than 8 per cent.
PV Trans said that the gain was driven by higher freight rates, new ships, cost savings and asset liquidations.
In the first half of the year, PV Trans recorded net revenue of more than VND3.58 trillion, up 5.5 per cent, with profit after tax rising 30 per cent to VND439 billion.
Binh Son Refining and Petrochemical Company Limited (BRS), the unit that manages and operates production and business activities of Dung Quat Oil Refinery, posted significant growth on high oil prices.
As it had to continuously produce and process products, Binh Son Refinery always has to maintain a quantity of crude oil and it takes time to process crude oil to products for sale.
In the first six months, Binh Son Refinery's net revenue reached over VND48.9 trillion, up 54 per cent over last year. Its profit after tax was VND3.58 trillion during the period, compared to a loss of more than VND4.23 billion in the same period last year. Accordingly, the company has achieved 53 per cent of the output plan, 70 per cent of the revenue plan, and quadrupled the profit plan.
PetroVietnam Oil Corporation (PV OIL, OIL) which is also in the downstream sector, recorded an increase of 15 per cent year-on-year in net revenue in the second quarter of 2021 to VND13.4 trillion. Deducting expenses, PV OIL's after-tax profit was nearly VND272 billion, up 45 per cent.
As of June 30, the company's net revenue reached nearly VND25.2 billion, down 14 per cent over last year. But it posted a net profit of VND359 billion, while it lost VND241 billion in the same period last year.
In its explanation, the company stated that the high profit was due to the fluctuations of gasoline prices in the international market, with the average Brent crude oil prices surging 133 per cent year-on-year in the second quarter of 2021, from $29.56 per barrel to $68.97.
Kien Giang develops marine aquaculture towards sustainable development
The Mekong Delta province of Kien Giang will develop sea aquaculture, focusing on breeding fish in floating cages and bivalve mollusc farming effectively and safely, thereby contributing to enhancing agricultural economic growth in the context of the COVID-19 pandemic, according to the provincial Department of Agriculture and Rural Development.
The province's number of fish cages at sea will rise to 5,500 with an expected output of 5,200 tonnes in the remaining months of the year.
The bivalve mollusc farming area will cover 25,560 hectares and is hoped to produce nearly 75,000 tones while clam breeding area will account for 250 ha with an projected output of 150,000 pearls, the department said.
Regarding fish cage farming at sea, the province will raise fish in a concentrated area and promote sustainable production linkages in the communes of Hon Nghe (Kien Luong district), Lai Son (Kien Hai district), Tien Hai (Ha Tien city) and Ganh Dau (Phu Quoc city) with such species as grouper, pompano and snapper.
It will also breed bivalve molluscs in coastal areas in the districts of Kien Luong, Hon Dat, An Bien, and An Minh with species like sea mussels and blood cockle, while raising clams for pearls in Phu Quoc.
To achieve the goal, relevant agencies were assigned to coordinate with districts and cities which engage in marine aquaculture to provide training and disseminate information relating to regulations on licensing marine aquaculture and issuance of identification codes for cage farming to residents. They would also receive and processe applications for licences for marine aquaculture, field trip surveys, and allocation of marine areas for aquaculture.
Organisations and households who take part in marine aquaculture will undergo training and be supplied with technical guidances on the fish cage and bivalve molluscs farming. A network of environmental monitoring and disease prevention and control relating to marine aquaculture will be built within areas approved by competent agencies.
Fish breeders will receive support in the application of scientific and technological advances with such new materials as plastic cage structures or lighting on rafts with solar energy./.
Measures sought to promote cooperation between Japan's Niigata, Vietnamese localities
Vietnamese Ambassador to Japan Vu Hong Nam has paid a working visit to Niigata to seek measures to foster economic partnership between the Japanese prefecture and Vietnamese localities.
During the August 10 visit, Ambassador Nam had a meeting with Niigata Governor Hideyo Hanazumi, during which the Vietnamese diplomat expressed his hope that COVID-19 will be controlled soon, so that businesses of both sides can promote their cooperation activities.
Hideyo Hanazumi said that the Niigata administration and other localities highly value the Vietnamese Embassy's role in connecting firms of Niigata and Vietnam, and pledged to create optimal conditions for improving investment efficiency of Niigata businesses in Vietnam.
At a talk with leaders of Sanjo city of Niigata and a number of local firms investing in Vietnam, Nam said that Vietnamese consumers are interested in steel products of Japan, expressing his hope that the city will continue to support businesses investing in Vietnam, especially in overcoming the pandemic.
Sanjo Mayor Ryo Takizawa said that the city is pleased to become the major unit to implement cooperation projects using the Japanese government's ODA in Ba Ria-Vung Tau province through the Japan International Cooperation Agency (JICA).
Takizawa said that the Sanjor Chamber of Commerce and Industry signed a cooperation document on human resources training with the Ba Ria-Vung Tau Department of Industry and Trade in 2017.
Local firms in Sanjo spoke highly of online exchange events between business communities of Sanjo and Ba Ria-Vung Tau in May.
The embassy is working with relevant agencies to report the difficulties facing Niigata firms in cooperating with Vietnam, especially those caused by COVID-19, to the Prime Minister, thus seeking timely solutions, Ambassador Nam told Vietnam News Agency correspondents in Tokyo after the visit.
As part of the trip, Ambassador Nam visited a number of economic and cultural facilities of Niigata./.
Anti-pandemic efforts should be made alongside EVFTA enforcement
The EU-Vietnam Free Trade Agreement (EVFTA) is becoming more important than ever, especially when the national vaccination campaign is being launched to bring the COVID-19 pandemic under control and move towards economic recovery.

To effectively implement the EVFTA, various ministries, sectors, and localities, as well as businesses, should stay united in the process for mutual benefits.
One year on from its official enforcement, the EVFTA has brought about a range of positive impacts to boost export activities, especially in the context that the national economy is facing a range of difficulties caused by the COVID-19 pandemic.
According to data provided by the Ministry of Industry and Trade, two-way trade turnover between Vietnam and the EU reached US$27.67 billion during the first half of the year, marking a rise of 18.4% over the same period from last year. Of the figure, the turnover of Vietnamese exports to the EU hit US$19.4 billion, representing a rise of 18.3%.
Luong Hoang Thai, head of the Multilateral Trade Policy Department under the Ministry of Industry and Trade, stated that the EVFTA offers many opportunities for the country to expand exports, attract greater investment, and become more deeply involved in the global value chain.
Key Vietnamese key products such as footwear, garments and textiles, along with agro-forestry products such as rice and rubber products, still maintain their performance and have made good use of this agreement, he added.
Despite these positives, preferential commitments are not utilised to their full potential as enterprises are not particularly interested in learning about and taking advantage of the various opportunities that the trade deal presents. In addition, publicity activities to promote the agreement have yet to achieve the results as expected.
One of the primary reasons why the utilisation of the EVFTA has not gone as expected is due to the complicated nature of developments regarding the COVID-19 pandemic spreading on a global scale, a factor that has negatively impacted both the world and Vietnamese economy.
Furthermore, the forecasting, attention, and proper assessment of the impact scope of FTA integration, along with the implementation of some agencies and localities, reveals some limitations and are not conducted in a systematic and timely manner.
Alain Cany, president of the European Chamber of Commerce in Vietnam (EuroCham), said that currently, countries around the world are mainly focusing all of their resources on fighting the COVID-19 pandemic. The EVFTA will therefore not be successful without a concerted effort between the Government and the private business community.
Moving forward, the pandemic situation is likely to develop in a prolonged and complicated manner, with social distancing measures still being enforced, thereby seriously reducing the resources of enterprises. This will have an impact on technology innovation, product quality improvement, and labour productivity, therefore making it more difficult to make effective use of EVFTA commitments.
Amid this context, many experts believe that, in order to effectively implement the EVFTA, various ministries, sectors, and localities, as well as businesses, should  stay united in the process for the purpose of mutual benefits.
Moreover, it remains necessary to outline a more favourable mechanism for businesses in terms of accessing credit in order to improve their ability to take advantage of the opportunities from FTAs.
Drastic measures applied to ensure fast customs clearance amid COVID-19

Numerous solutions have been rolled out to deal with the congestion at seaports and make customs clearance process faster amid the impact of the COVID-19 pandemic, according to the General Department of Vietnam Customs.
Right after receiving reports on the congestion of shipments in Cat Lai port, the agency issued Official Letter No. 3847/TCHQ-GSQL directing the Customs Department of HCM City and the Saigon Newport Corporation to apply temporary customs clearance procedures during COVID-19 pandemic to ease congestion.
Under the document, imported goods kept in Cat Lai port are to be transported to other ports in HCM City and other localities  to free up space for newly arriving goods.
Vice Director of the General Department of Vietnam Customs Mai Xuan Thanh directed relevant agencies to intensify coordination to reduce the congestion in the port, with working teams set up to connect the agencies.
Alongside, the general department has promptly built a draft circular on customs supervision in case imported goods at seaports in localities applying social distancing measures have to be moved to other seaports.
The application of social distancing measures due to complicated COVID-19 developments in HCM City and 18 southern localities has affected the transport of goods out of a number of seaports, especially Cat Lai.
In order to ensure fast customs clearance, the general department directed the Customs Departments of Hanoi and HCM City to require the Customs Sub-Departments in Noi Bai and Tan Son Nhat International Airports to create favourable for customs clearance process for medical supplies, medicine, vaccine and bioproducts serving COVID-19 testing.
Arising problems have been reported to the general departments quickly via Zalo and email for timely settlement.
Port backlogs force alternative actions
With unreceived containers piling up and hampering the work of much-reduced personnel, Cat Lai Port in Ho Chi Minh City has thrown in the towel and requested that importers readjust the shipping routes to alternative destinations.
A key international seaport of the Southern Key Economic Region, Cat Lai Port temporarily suspended receiving imported goods from enterprises that are suspending operations due to COVID-19 as well as goods that occupy large yard space. Shipping lines and agents have been directed to adjust the destination of their shipments to Tan Cang-Cai Mep International Port, Tan Cang-Cai Mep Thi Vai Port, or Tan Cang Hiep Phuoc Port and inland container depots.
According to the Ministry of Industry and Trade, Cat Lai Port made the announcement after reaching its full capacity to clear up its immense backlog amid a critical shortage of workers as due to sporadic F0 and F1 cases, port personnel has been slashed by half.
Prior to the suspension, cargo capacity has dropped from 13-14 to 5-7 containers a day due to the congestion and freight transport businesses have been complaining of traffic jams outside the port that makes it impossible to deliver and pick up goods on their contracted times.
In a July market update, Maersk said that due to the escalating situation, containers are only allowed to gate-in 72 hours prior to the estimated departure time of the vessel, often resulting in workloads exceeding trucking capacity. At certain checkpoints, drivers are required to present a negative COVID-19 certificate, racking up costs and waiting times.
Meanwhile, a customer notice by SEKO Logistics also warned of delays in releasing import shipments at Cat Lai and Cai Mep ports because many factories have had to temporarily close and are unable to receive their shipments. This has led to a lack of empty containers to be reused for exports. Trucks moving in and out of lockdown areas also need to strictly follow government health rules and drivers need to show negative test results from the past three or seven days, depending on whether they get a fast test or a PCR test.
Commenting on the current situation, Jan Segers, Vietnam country manager at Noatum Logistics, told VIR, "For the moment, imports due to dock at Cat Lai have been rescheduled to to other ports and inland container depots. Containers for export can still be delivered to Cat Lai. There may be some delays due to checkpoints and road blocks, but all exports can be arranged. We cannot tell if the delays of ocean vessels are due to delays at previous ports – which is the reason most shipping lines cited – or if it is due to reduced productivity in undermanned Vietnamese ports."
Over the past few days, businesses have been rushing to find alternative ports for their imported goods after Cat Lai Port announced to temporarily stop receiving imported containers.
A representative of one furniture chain said that the company was waiting for several containers to dock at the port when they received the news. The announcement forced the company to transfer the containers to other ports, affecting delivery and production schedule as well as incurring additional costs for transport and storage.
Another company from the southern province of Binh Duong currently has nearly 60 import containers at Cat Lai Port which they cannot move due to a shortage of drivers amid the pandemic.
According to Stephen Olson, research fellow at the Hinrich Foundation, disruptions at major ports are inevitable amid the spike in COVID-19 infections. While the local authorities and businesses are taking the steps they find necessary to ensure public safety, there will undoubtedly be significant and unavoidable economic costs. Even when infection rates start to ease, it will take quite some time to clear up the backlogs.
"Businesses will have no choice but to try their best to adjust to the port disruptions," he said. "Some companies are beginning to increasingly rely on air freight but obviously that is an expensive option that will not always be feasible. These headaches will be compounded for labour-intensive industries which are finding their workforces disrupted by the pandemic and lockdown restrictions. Companies might also struggle to find available warehouses to store their products which cannot be shipped at the present time. The labour and port disruptions will have a ripple effect across the business environment."
Continent's automobile production stutters yet again
Automakers are being forced to suspend production and suffer from sales dips again due to pandemic disruptions across Asia.

The Delta variant of the coronavirus is hitting several countries hard on the continent, with high infection levels forcing Honda, Toyota, and Suzuki to halt their operations because of a shortage of parts.
Honda suspended operations of three facilities in China's Wuhan city last week and has yet to announce a time to resume, with workers unable to travel to work due to area blockades. Last year Honda operations were suspended for 76 days in Wuhan due to the original outbreak.
The carmaker last month was also forced to close one of its Japanese plants while it has also just resumed three facilities in Vietnam in early August after a three-day suspension.
Another competitor, Toyota, announced that it will suspend three assembly lines in Japan for several days in August due to supply chain disruptions caused by the spread of infections in Vietnam.
The latest suspensions will affect the production of around 5,000 vehicles, bringing the total production cut to about 8,000 vehicles following Toyota's earlier announcement that a line would be suspended due to issues in Vietnam, as reported by Japan Times.
Three Toyota assembly plants in Thailand have also been recently shuttered after local suppliers stopped making parts due to surging infections. The three plants are Toyota's key factories in Southeast Asia, and can produce a total of about 750,000 passenger cars and commercial vehicles annually.
This is not the first time that carmakers have suspended work at facilities because of supply chain disruption. In this sector, just one missing part can lead to shutting down an entire production line, and the damaging ripple effect of a material or parts shortage quickly spreads throughout the supply chain.
Ford and General Motors paused assembly lines where they have failed to secure chipsets to power their cars' onboard computers, in which GM cut production by 278,000 units through May, and Ford had to reduce global production by 50 per cent in the second quarter. Other automakers are in the same boat.
The analysis warned that it takes time for semiconductor chips or auto parts to increase in output, while carmakers cannot easily replace any particular part of a car.
According to Goldman Sachs estimates, as the demand for chips continues to exceed supply, the auto industry is forecast to be the biggest loser in 2021, with up to $20 billion wiped off global carmakers' operating profit this year.
"The virus is an issue that has the potential to affect all Toyota locations and we are continuously working to further enhance our communication and health checks with staff at all locations," noted a Toyota statement released last week. "Toyota is actively implementing measures to prevent the further spread of the virus and remain committed to providing timely updates as the situation requires."
The situation is still unpredictable due to expansion of COVID-19 in emerging countries, semiconductor shortages, and soaring material prices, according to the statement.
In Vietnam, car dealers have complained that not much revenue has been recorded for July and some dealers have suffered from zero sales. They do not see much chance of an obvious recovery in August.
Hirai Shinji, chief representative of the Japan Trade Promotion Organization in Ho Chi Minh City, said Japanese companies are ready to cooperate with the Vietnamese government to contain the pandemic and to fully and strictly comply with the regulations.
"It seems very challenging for Japanese companies to comply with the unprecedented three-on-spot plan, but one company after another has been doing its best, supported by instruction of the local authorities, to realise the dual goal of achieving socioeconomic development as well as containing the pandemic. In addition, Japanese companies have been helping each other through sharing the experiences with each other," Shinji said.
"Some employees are prepared to work, eat, and stay in the factory, but others are not because they have to take care of their own families," he added. "Even if the companies can secure a certain amount of workers and can continue operations, the amount of production would not be enough to meet the large demand by the manufacturers, but it is better to actually continue operation than to completely disrupt the global supply chain."
Barriers to lending rates and VAT refunds in BOT projects soon to be resolved
Investors of build-operate-transfer projects are expected to rejoice over upcoming solutions related to issues surrounding lending rates and VAT refunds in August, enabling them to make the next steps.

The Government Office on August 11 issued Document No.5503/VPCP-KTTH on the direction of Deputy Prime Minister Le Minh Khai about solving the problems and barriers related to lending rates and refunds of VAT for BOT projects.
The move follows the urge of the Vietnamese Association of Road Systems Investors (VARSI) on these issues.
Accordingly, the DPM asked the Ministry of Finance to work with relevant agencies to soon consider the proposal of the VARSI and come up with solutions for these problems, before replying to the association and reporting to the prime minister about the results within August.
Build-operate-transfer (BOT) – a type of public-private partnership – is the most popular model in Vietnam. However, banks still hesitate to lend to BOT initiatives for fear of capital increase, long investments, and high risks.
Previously, a number of BOT transport initiatives have hit the rocks, including Dau Giay-Phan Thiet Expressway – the first pilot transport project in this format, despite the strong interest of international investors.
Meanwhile, other BOT initiatives were credit stuck, such as at Huu Nghi-Chi Lang, Van Don-Mong Cai, and Trung Luong-My Thuan. Many of them halted construction for a number of years due to loan access problems.
State-owned lenders maintain positive run
Four state-owned commercial banks in Vietnam have revealed their upbeat business performance and are fully committed to deploying all resources possible to ease the current economic stress, thereby reflecting their influence on the country's financial landscape.

The latest financial statements of four state-owned joint-stock lenders showed that they continued to maintain their profit growth rate at 24-82 per cent in H1 2021, a relatively good figure given the market turbulence.
Regarding pre-tax profit growth rate, BIDV led the pack with a rise of 82 per cent, Vietcombank came last in the "big four" group with a profit growth rate of only 24 per cent.
BIDV's profit increased sharply by 86.3 per cent thanks to its tough approach on handling non-performing loans while taking advantage of cheap mobilised capital and expanding revenue from a variety of banking services. Moreover, BIDV and Agribank spent a larger number on risk provision compared to VietinBank and Vietcombank.
However, in terms of absolute numbers, the individual commercial banking arm of Vietcombank (compared to its group scale) is the largest beneficiary, with VND13.57 trillion ($590 million) in pre-tax profit.
VietinBank, Agribank, and BIDV ranked second, third, and fourth respectively, while BIDV's individual banking unit recorded VND7.581 billion ($379.1 million). Overall, BIDV ranks sixth in terms of profit in the whole banking system in Vietnam. BIDV is also one of the least efficient lenders in terms of return on assets ratio.
Among the big four, Agribank and BIDV are the leaders in terms of credit market share. However, in terms of total assets, Agribank is currently the largest bank in the system thanks to its largest customer deposits pie. VietinBank and Vietcombank ranked third and fourth, respectively.
According to Mirae Asset Securities, the bank credit to the private sector as per cent of GDP remained at approximately 140 per cent, said to be a warning level of the economy's high dependence on credit. However, GDP growth will slow down in H2 due to the impact of more widely applied social distancing measures, especially in key major cities. Thus, credit growth for the whole industry in 2021 is predicted to be in the range of 9–10 per cent, higher than the SBV's expected growth rate in the worst-case scenario of 7–8 per cent.
Asset quality is not expected to see significant changes, as banks are still allowed to restructure debts for customers affected by the ongoing pandemic until the end of 2021.
"The banking sector is still a bright spot in terms of profitability amid the pandemic, with sector profits generally expected to maintain double-digit growth in 2021, thanks to positive business results in H1," Mirae Asset Securities noted. "With banks starting to cut interest rates to support customers in the last five months of 2021, as requested by the State Bank of Vietnam, we expect to see strong divergence between banks, with small and medium-sized commercial banks with good asset quality forecast to have more impressive profit growth."
Among the four state-owned banks, BIDV's asset quality is predicted to be significantly improved. Due to the low Tier 1 ratio, more capital would have been useful and the capital calls will enable the bank to lower the average funding cost. Additionally, BIDV is among the most active issuers in the primary bond market, and its relatively high long-term debt also facilitates low funding cost visibility.
Notwithstanding, the four state-owned banks are facing fierce competition from both private lenders and foreign banks. Emerging bad debts due to the prolonged pandemic could also hurt banks' benefits. Given their state root, their significant task at the moment is to support vulnerable government-prioritised sectors, which will consequently impede their revenue from lower lending yields.
VietinBank said that it is expected that the total amount of the bank's income reduction to assist customers affected by COVID-19 this year could be more than VND6 trillion ($260.9 million).
BIDV also said that this bank has lowered its income by VND2.5 trillion ($108.7 million) in H1 to support customers by a number of relief measures, such as interest rate reduction. In the second half of the year, BIDV plans to continue to support customers facing difficulties due to the impact of the pandemic, with a total support resource of up to VND3.6 trillion ($156.5 million).
"BIDV is committed to address the much-needed multifaceted demands of businesses across all sectors and contribute to the spectacular growth story of Vietnam's economy. We are also rolling out relief measures such as rates reduction and debt rescheduling as the crisis continues to take its toll on the country," a representative of BIDV told VIR.
Some major foreign investors are also looking for further collaboration with state-owned banks. Mizuho Bank, the largest strategic foreign investor holding more than a 15 per cent stake in Vietcombank, is closely monitoring the latest initiatives from state equitisation.
"We would like to focus on business opportunities through mergers and acquisitions. We are also capturing the latest trends in the banking sector through Vietcombank, which we invest in," explained Motokatsu Ban, manager and head of Japanese Corporate Department No.2 at Mizuho Bank Vietnam in Hanoi.
Vietravel Airlines seeks PM's support
Vietravel Airlines has written to the prime minister, proposing borrowing VND1 trillion with low interest rates, at 4%-5% per year, within five years to survive during the pandemic and resume its operations once the pandemic is brought under control.
Vietravel Airlines Chairman Nguyen Quoc Ky said Vietravel Airlines, like other tourism and aviation enterprises, had been hit hard by the pandemic and needed support to survive and develop.
Tourism and aviation firms have been affected by the pandemic but their bank loans are subject to annual interest rates of 5.5%-9%.
The Government should issue support policies for all aviation enterprises, Ky noted.
Besides offering preferential loans, he suggested extending the loan payment deadlines, supporting laborers, increasing access to Covid-19 vaccines and gradually reopening the tourism market.
The Government and the National Assembly should reduce the value added tax to 5% and the corporate income tax to 16% for three years.
In reality, many banks have committed to lowering their lending rates but only some have fulfilled their commitments. The policy to reduce land rentals has yet to be employed due to the lack of instructions.
Ky added that the implementation of support packages should involve the participation of enterprises to increase their effectiveness. Enterprises paying the social and health insurance premiums of their employees can help hand over the Government support directly to the laborers.
To resume tourism activities, Ky said the Covid-19 vaccine passport program should be piloted in Phu Quoc, Hoi An, Nha Trang, Quy Nhon, Hue, Van Don and Halong. He also proposed vaccinating the employees of tourism and aviation firms.
Nguyen Thi Khanh, chairwoman of the HCMC Tourism Association, said the current pandemic wave had frozen tourism activities in the city.
To resume these activities, enterprises need capital and vaccines. However, the proportion of tourism staff vaccinated against Covid-19 remains small.
Domestic trading floor for agricultural products should be established soon
Congestion of goods circulation in many localities has been disrupting domestic logistics chains, as well as the export to foreign countries. How to deal with this problem has become more urgent than ever.
There are no official statistics, but besides major trading floors in Vietnam, such as Lazada and Sendo, most supermarkets, trade centers, and even manufacturers open websites to sell goods.
In particular, in the context that people have to implement social distancing under Directive No.16, the volume of goods traded at supermarkets and commercial centers has increased drastically. The demand for online shopping during the pandemic has been too high that many supermarkets and large trade centers could not timely fulfill orders for people. Therefore, many spontaneous sales pages have been active trading channels during this time.
However, consumers have been warned about the quality of goods on these spontaneous sales pages. It is no coincidence that on some sales groups, which attract hundreds of thousands of people, there are constantly reports to denounce Facebook account holders for selling low-quality products or receiving money transfers and then disappeared.
Recently, at a talk show within the framework of the Vietnam Agriculture Digital Transformation Forum 2021 and the Virtual Reality Agriculture Exhibition, leaders of many local agricultural sectors said that difficult transportation and supply of goods had been negatively affecting manufacturers, especially farmers because agricultural products must be harvested in time. Overmatured agricultural products not only cost farmers more money for raising and growing but also make the quality worse.
At present, in many localities, agricultural, aquatic, and seafood products are in the harvest season, and farmers are longing to sell their produce. In this context, one of the solutions that can help remove obstacles in goods circulation, allowing buyers and sellers to learn to buy or sell better, is the Ministry of Industry and Trade to build an e-commerce trading floor for Vietnamese agricultural products.
Mr. Chu Tien Dung, Deputy Director of the Global Logistics Management Institute, suggested that the e-commerce platform must meet all three factors of purchase, transportation, and payment. The State manages this trading floor while creating a full, transparent legal corridor for enterprises and households to conduct transactions through the floor.
Currently, many ministries and sectors have been developing the e-commerce trading floors, taking into account the global connection factor. However, they seem to have not paid much attention to e-commerce transactions for the domestic market. This should be adjusted because, with more than 100 million people, this is an attractive large-scale market for enterprises. In addition, for enterprises and farmers to be able to connect to buy or sell their agricultural products on the e-commerce platform, the authorities need to do better at market orientation, thereby clearly defining production and farming standards. Only then, agricultural products are eligible to participate in the online market. For instance, as for lychee, right from the stage of cultivation, farmers have been guided to standardize the VietGAP or GlobalGAP standards, so they are able to not only sell their produce at high prices in the domestic market but also export well.
According to many experts, only by developing well in both domestic and foreign markets, production and business activities of Vietnam's agricultural, aquatic, and seafood industries can develop sustainably.
SBV requests banks to ensure capital for temporary stockpiling of paddy
The Governor of the State Bank of Vietnam (SBV) Nguyen Thi Hong, on August 10, sent an official dispatch requesting commercial banks to fully and timely meet capital needs and expand the credit limit granted to traders and enterprises so that they have enough capital to purchase paddy for temporary stockpiling and improve the area and quality of warehouses, preservation, and processing of paddy and rice, contributing to minimizing traffic congestion and the current paddy backlog in the Mekong Delta.
Commercial banks should promote reform, simplify internal processes and procedures, shorten loan approval time. At the same time, they should diversify appropriate credit products, proactively work directly with traders and enterprises to have solutions to remove difficulties, and create favorable conditions for enterprises and traders to access capital for the purchase and temporary storage of paddy. The lending must ensure current credit principles, cash flow management, and debt recovery.
Along with that, banks continue to deploy solutions to remove difficulties for customers, including traders, enterprises, and rice producers and traders, affected by the Covid-19 pandemic, such as restructuring the repayment term, keeping the debt group unchanged, exempting and reducing interest, and fees, and lending new loans to restore production and business.
The Governor of the SBV also requested its branches in provinces and cities in the Mekong Delta to direct the branches of commercial banks in the area to implement the above instructions, closely monitor developments, market situation, and loans given to purchase and temporarily store paddy by local commercial banks to promptly report to the People's Committees of provinces and cities and the Governor on solutions to overcome difficulties and obstacles in the implementation process.
Engineering construction corporation partners with Japanese firm
The Civil Engineering Construction Corporation No. 4 (CIENCO4) on August 13 announced that it has partnered with Japan's G.K World Business Investment to set up the CIENCO4 Japan Bridge (C4JB).
A representative of the corporation said the C4JB will start by contributing capital and offering more engineering construction services.
The newly-established company has an initial capital investment of 12.3 billion VND (540,000 USD), with G.K World Business Investment and CIENCO4 each holding 49.67 percent of its shares.
CIENCO4 has been the constructor of major infrastructure projects of Vietnam, including the Cam Lo-La Son and Phan Thiet-Dau Giay sections of the North-South Expressway, along with the My Thuan-Can Tho and Noi Bai-Lao Cai expressways.
Hanoi's website on OCOP programme debuts
A website featuring One Commune, One Product (OCOP) products of Hanoi has been launched, announced the city's Coordination Office for New-style Rural Area Building on August 12.
The site https://nongthonmoihanoi.gov.vn/ aims to further promote the city's OCOP programme to domestic and foreign consumers.
After two years of assessment and classification, Hanoi has a total of 1,054 products receiving at least three-star ratings produced by 74 firms, 82 cooperatives, and 99 household businesses which create jobs for over 5,000 rural workers.
Four-star products account for a lion's share of 69.36 percent with 731, while 306 are rated three stars.
The majority of the OCOP products (65.56 percent) are foods while souvenirs, furniture and décor products account for 28.37 percent of the total. The remainders are beverages, herbal medicine, fabrics and apparel.
Products that have received recognition will be reviewed regularly.
The first-ever livestream promoting products of Hanoi's OCOP programme was held early June by the Hanoi Coordination Office for New-style Rural Area Building together with the ASEAN Digital Conversion Research Institute (ASEAN Academy).
This event aimed to support stakeholders in the production, sale and marketing of OCOP products through digital technologies and e-commerce platforms, especially against the backdrop of COVID-19.
The Hanoi Department of Industry and Trade will organise five Vietnamese Goods Weeks in Hanoi this year to stimulate domestic demand and increase total retail sales, thereby helping businesses and farmers consume products.
Specifically, the five weeks will have a scale of about 100 standard booths each week.
Notably, Hanoi will support 50 percent of booth costs for participating units with a maximum of two booths per unit; similar support will be provided to each locality. In which, the city will pay attention to support localities and businesses of Hanoi and other localities in consuming agricultural products, aquatic products, and fruit, which face difficulties in consumption due to the impact of the COVID-19 pandemic.
At the same time, it will also strengthen communication and promotion, create the best conditions for businesses to reach consumers and expand the market.
In 2020, 14 OCOP showrooms were put into operation in the capital city.
Hanoi targets building new-style rural areas in all districts and communes, 40 percent of enhanced-criteria rural communes, and 20 percent of model rural communes, while turning five suburban districts into urban districts.
The OCOP was initiated by the Ministry of Agriculture and Rural Development in 2008, based on Japan's "One Village, One Product" and Thailand's "One Town, One Product" programmes. It is an economic development programme for rural areas and focuses on increasing internal power and values, and is also to help with the national target programme on new-style rural area building.
Hanoi's six districts have been recognised as new-style rural areas by the Prime Minister, together with 355 communes, or 92.9 percent of the total, and 13 others that meet enhanced criteria for new-style rural area development.
Vietnam verified, rated, and recognised a total of 3,200 products as OCOP goods last year, 800 higher than planned, according to the Ministry of Agriculture and Rural Development.
The national OCOP council is reviewing 43 products for five-star ratings, the ministry said.
OCOP products are made from a combination of local resources, traditional culture, and advanced technology, which facilitates the development of diverse products with better quality and packaging, and the ability to trace product origin.
The programme has provided farmers with the chance to come together to form cooperatives, which now account for 38 percent of 1,400 OCOP producers nationwide. The establishment of these cooperatives has allowed farmers to create products with better quality, design, and packaging as well as higher standards, and made products more relevant to market demand./.
Concerted efforts needed to ease barriers to Vietnam-China agricultural trade
Deputy Minister of Agriculture and Rural Development Phung Duc Tien has asked for concerted efforts by Vietnamese authorities and Chinese diplomats to remove barriers to Vietnam's agricultural exports to China during a virtual meeting.
The meeting was held among the Ministry of Agriculture and Rural Development, leaders of four northern provinces of Lang Son, Quang Ninh, Lao Cai and Cao Bang which border China, and the Embassy of China in Vietnam on August 11.
Tien requested his ministry's units to regularly get updates from the Chinese side as the neighbouring country plans to apply a number of new policies for agro-forestry-fishery products originated from Vietnam.
He urged domestic agri-businesses and cooperatives to boost exports of goods to China via official channels and strictly comply with requirements from Chinese importers.
The official called for collective efforts from ministries, agencies, and local administrations of Vietnam and the Chinese Embassy to bring down barriers to bilateral trade, saying "we must thoroughly prepare from granting cultivation area codes, sanitary and phytosanitary measures (SPS), farming process, to packaging and transport."
"To do so, we have no choice but to keep in touch with each other," he noted.
Vietnam now has nine products exported to China via official channels, including dragon fruit, watermelon, lychee, longan, banana, mango, jackfruit, rambutan and mangosteen. The Ministry of Agriculture and Rural Development (MARD) is seeking authorisation for eight more agricultural products to be shipped to China via official channels. The ministry expects the current COVID-19 outbreak is soon stamped out so the two sides can ink a protocol on this matter.
Given that road and waterway transport restrictions have been put in place to prevent the spread of the virus, To Ngoc Son, Deputy Director General of the Ministry of Industry and Trade (MoIT)'s Asia-Africa Market Department, suggested Vietnamese exporters shift to railway transport.
A train can carry dozens of containers, meaning the same number of vehicles on road can be reduced, he said.
The MoIT is developing a quarantine protocol for rail transport based on those for road and waterway, Son said, adding that if problems of track gauge incompatibility and refrigerated containers are solved, this will be a game changer for trade between Vietnam and China.
Vice Chairman of the Lang Son People's Committee Luong Trong Quynh voiced concerns over slow customs clearance at border gates, causing long queues of loaded container trucks. Some container trucks had even been in line near the border gates for up to a week, severely affecting quality of agriculture products, he said.
Agreeing with Quynh, Vice Chairman of the Quang Ninh People's Committee Bui Van Khang added that China tightening rules on cross-border trade has also led to delays in customs clearance for Vietnamese farm produce shipments.
Khang proposed the MARD adopt policies facilitating exports under contracts to reduce dependence on cross-border trade. He also unveiled that Quang Ninh is considering opening more warehouses and container yards and building an agricultural trade centre enabling long storage of fresh food.
The province also plans to upgrade its border gates and build more ports and expressways, he said.
Data from the MARD shows that Vietnam's import and export value of agricultural, forestry and fisheries products reached 53.2 billion USD in the first seven months of 2021, of which exports stood at 28.6 billion USD, up 26.7 percent from the same period last year.
The country's trade of the products with China rose by 38.8 percent year on year to 8.67 billion USD in the first half of the year, with exports hitting over 6.17 billion USD, up 35.8 percent.
The strongest growth was seen in shipment of cattle feed (124.3 percent), followed by cashew nut (85.3 percent), and rubber (82.4 percent)./.
Source: VNA/VNS/VOV/VIR/SGT/SGGP/Nhan Dan/Hanoitimes 

COVID-19 deals blow to automobile sales in July