EVN to stop buying output from new rooftop solar power projects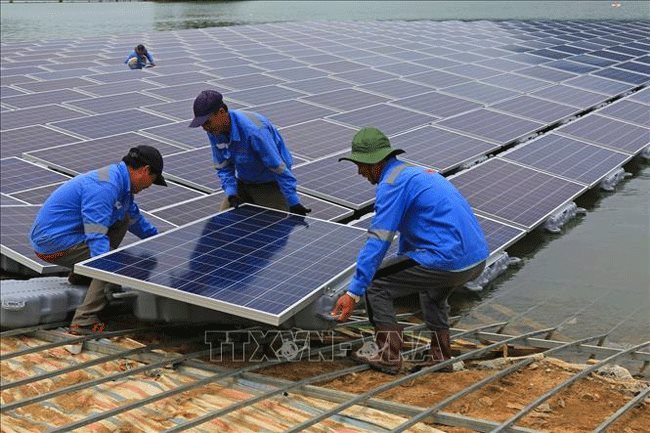 Workers install solar panels for a project in Binh Thuan Province. EVN will stop buying output from rooftop solar power projects developed after December 31 - PHOTO: VNA


The Vietnam Electricity Group (EVN) on December 26 announced that it would stop purchasing electricity from rooftop solar power projects developed after December 31 until the prime minister issues a new decision.
According to EVN, the prime minister's Decision 13/2020/QD-TTg on mechanisms to promote the development of solar power in Vietnam will become invalid after December 31 and a new decision has yet to be issued, the local media reported.
Power companies under EVN will make a list of rooftop solar power projects which will be put into commercial operation by December 31.
As for projects wherein part of them will be operated by December 31, power companies will sign agreements with the investors of these projects to determine the scale and capacity of the operated portion.
At present, the Electricity and Renewable Energy Department under the Ministry of Industry and Trade is coordinating with consulting agencies to study the model and scale of rooftop solar power projects and the price of electricity generated from these projects. In the first quarter of next year, the department will propose draft policies to encourage the development of rooftop solar power in the next periods so that the Ministry of Industry and Trade can submit them to the prime minister for approval.
As of December 25, 83,000 rooftop solar power projects with a total capacity of nearly 4,700 megawatt peak have been connected to the national grid. More than 1.13 billion of kilowatt hours of electricity has been generated from rooftop solar power projects, contributing to ensuring sufficient power for the country.
Foreign arrivals to Vietnam plummet 79 percent in 2020
Vietnam welcomed only 3.8 million foreign arrivals in 2020, down 78.7 percent from last year, as a result of the serious impact of the COVID-19 pandemic on the tourism industry, according to the General Statistics Office.

Over 96 percent came to the country in the first quarter, before social distancing measures were imposed.
As the country has yet to reopen to international tourists, most foreign arrivals since the second quarter have been experts and skilled personnel working in projects in the country.
For the year as a whole, foreign visitors coming by air accounted for 80.3 percent of the total, down 78.6 percent against 2019, by road down 81.9 percent, and by sea down 45.2 percent.
The Vietnam National Administration of Tourism said the country holds many advantages from bringing COVID-19 under control quickly. Domestic travel stimulus programmes have been widely promoted to realise the twin targets of fighting the outbreak and recovering the economy.
Online tourism marketing and communications increased due to the pandemic, it noted, adding that it will boost investment in e-marketing and cooperation with major tech firms around the world to apply the most modern technologies in the tourism sector.
Education still on plate for investors
In spite of the fierce competition, foreign investors are paying attention to Vietnam's education sector, especially in regards to foreign language centres along with stake contributions and purchase deals at schools. 

Yola Education JSC from Singapore spent nearly $130,000 establishing a foreign language centre in the southern province of Binh Duong in October after opening another one in the Mekong Delta province of Hau Giang at the same ballpark figure the previous month.
Ngo Thuy Ngoc Tu, co-founder of Yola Education, said that demand for learning English continues to grow, creating a more appetising sector for many investors. "Thus, our expansion in a number of language centres is understandable," said Tu.
Previously, private investor Kim Ju Hee also established the Saegam South Korean language centre in Thu Duc district of Ho Chi Minh City.
Between January and September, local authorities granted licences for approximately 30 language centres for overseas individuals or companies.
The merger and acquisition (M&A) market in this area is also dynamic, and since August 2018 when Decree No.86/2018/ND-CP on foreign cooperation and investment in education came into effect, overseas investment capital has been maintained in the sector in a stable manner.
According to statistics published by FiinGroup, in the first three quarters of this year, despite being impacted by the COVID-19 pandemic, investment capital in education hit $78.9 million, exceeding the figure of the same period last year of $64.6 million.
Investment via the share contribution and purchase model has increased year-on-year. Notably, FiinGroup says the ratio of investment capital via M&A deals increased from 20.3 per cent in the late five months of 2018 to 46.9 per cent in 2019 and 65 per cent in the first nine months this year.
This growth comes from the increasing demand in the market. The wave of relocating facilities of foreign investors to Vietnam will likely see a steady rise in people attempting to move to the country once borders reopen. A majority of these people will bring their families to the country, thus the demand for education is one of their leading concerns. In addition, the increase in the demand to study a foreign language before going overseas is a factor for the growth of language and education training facilities.
Statistics published by the Ministry of Education and Training showed that the number of Vietnamese student overseas has doubled within nearly 10 years, from 98,000 in the 2010-2011 period to 190,000 as of July this year.
"This contributed a large part to the consecutive increase of English language centres and education facilities because parents expect their children to have a good English base before going overseas," Le Xuan Dong, head of market research and consulting services at FiinGroup told VIR.
However, along with new investment inflow, the market also sees numerous challenges. In July, Myanmar Strategic Holdings completed the purchase of Wall Street English Vietnam (WSE Vietnam) for $6 million. According to Dong, the founder of WSE Vietnam poured tens of million of dollars into the system and then sold for a low price.
"The founder decided to rush from the market due to the fierce competition in not only the quality of syllabuses but also the tuition and promotion programme," Dong said.
Egroup, one of Vietnam's largest companies operating in the education sector, is elsewhere scratching its head over its investment in popular English language centre group Apax English. Egroup continues to oversee a weak performance in Apax Holdings Investment JSC, in which the group holds 71.4 per cent.
According to a VIR source Apax, which runs around 130 Apax English centres across the country, is facing difficulties to maintain existing centre volume, and is even struggling to pay its staff full wages.
Among M&A deals in education, one notable deal in the past decade saw domestic investors buying out international education groups. In 2013, Ismart Education and EQuest Academy took over International American Education (IAE) from Singaporean group Blackhorse Asset Management.
At the time of the deal, IAE managing director Dam Quang Minh said that when foreign investors run into trouble, domestic investors with deep knowledge in the education sector and strong determination should pounce to grab the opportunities.
According to Dong of FiinGroup, M&A will help investors reduce initial costs and the waiting time for licensing procedures, which often take so much time. In addition, they save time in establishing staff members and take over the available facility to expand operations.
"However, unlike other sectors in which the quality is evaluated by tangible products, in the education sector, the quality of facilities is evaluated based on learners' progress. Thus, investors still can face risky M&A deals if they select partners that do not comply with regulations, or carelessly select teachers and syllabus," Dong said.
RCEP to promote investment inflows from Japan to Vietnam
Once the Regional Comprehensive Economic Partnership (RCEP) comes into effect, it will contribute to promoting trade liberalisation and investment capital inflows from Japan to Vietnam.
This was announced by Japanese Ambassador to Vietnam Yamada Takio at the working session with VietinBank's chairman of the Board of Directors Le Duc Tho on December 25. The working session is a part of the investment promotion programme to attract Japanese investors to the country.
According to Yamada Takia, Vietnam has numerous convenient conditions to help the government and businesses of the two countries solidify close cooperation and investment ties. These advantages are a favourable investment environment, opening policies, stability in economic growth, and success in controlling the COVID-19 pandemic.
The ambassador also mentioned the important role of RCEP in promoting Japanese investment in Vietnam. He also said that the meeting with VietinBank leaders creates more opportunities for the co-operation between the two countries' enterprise communities in the financial and banking sector.
Regarding Tho, he said that VietinBank and MUFG Bank from Japan established the comprehensive and strategic co-operation with the aim to become the bridge to support the bilateral investment and trade activities between Vietnam and Japan.
According to Tho, during the past time, the government issued numerous policies to attract foreign-invested capital, including focusing on completing and expanding the industrial park system, building a planning to develop renewable energy to ensure energy security. Thus, VietinBank and MUFG Bank selected key sectors namely M&A and infrastructure development to issue financial support for Japanese investors, who are interested in investing in Vietnam.
Previously in mid-November, ministers from 15 countries spanning the Asia-Pacific region on November 15 signed the Regional Comprehensive Economic Partnership (RCEP) Agreement after eight years of talks.
The trade pact involves 10 ASEAN member nations – Brunei, Cambodia, Indonesia, Laos, Malaysia, Myanmar, the Philippines, Singapore, Thailand, and Vietnam – and the bloc's partners – Australia, China, Japan, the Republic of Korea, and New Zealand. Together, they account for around 30 per cent of the globe's GDP and population.
The agreement is expected to create the world's largest free trade area and numerous new supply chains, and make significant contributions to regional economic recovery post COVID-19.
HCMC focusing on developing renewable energy
 
Being one of the fastest growing cities in Vietnam, Ho Chi Minh City (HCMC) has a dense population, and thus an extremely high energy demand. As energy depletion is serious in the country, HCMC has actively tried to promote alternative energy sources while encouraging energy conservation in the community.
HCMC has a high and stable average monthly sunshine time of 100-300 hours. This makes it an ideal location to develop rooftop solar energy.
Statistics from the World Bank reveal that the rooftop solar energy potential of HCMC reaches around 6,300MW, larger than the current energy harnessing capacity of the city by 1.4 times. The installation of rooftop solar panels is not only effective in answering the needs of local residents but also useful in protecting the environment via the reduction of CO2 emission and thermal radiation.
In the period from 2013-2019, the installation of rooftop solar panels saw a significant increase citywide, particularly after the supporting policy issued by the Government. They are now spotted in both private houses and large business buildings.
In general, since the beginning of 2020, there have been over 6,400 solar panel systems developed citywide, having a capacity of 158.4MWp, accounting for 10.549 percent of the goal assigned by Vietnam Electricity. The revenues created from this amount has reached VND112.56 billion (approx. US$4.9 million).
It is estimated that in December 2020, the total capacity will be 241.13MWp.
Ms. Nguyen Thi Kim Anh from Tan Binh District shared that her household mounted 12 solar panels with the cost of VND70 million ($3,000), and has been able to save VND900,000 ($39) per month on her electricity bill. More importantly, this energy source is extremely stable, and even surplus for selling.
It seems solar energy development is a correct choice of HCMC.
Lately, the municipal authorities have focused on constructing waste-to-energy plants to turn garbage into power via incinerators.
At the moment, there are many projects to build factories to process solid waste and generate energy in turn. For example, Go Cat Trash-to-energy Plant has 3 generators to harness 2.4MW per day by creating 410m3 gas via high-density polyethylene material (HDPE). The total investment capital is around VND242 billion ($10.5 million).
Other to-be waste-to-energy plants are LFG Da Phuoc Power Plant, with a capacity of 12.36MW, built by Vietnam Waste Solutions (VWS); the 40MW power plant of Vietstar Jsc.; the 40MW power plant of Tam Sinh Nghia Co.; the 48MW power plant of TASCO. They are to be in operation in 2022-2023.
Vietnam Electricity – HCMC is now preparing to construct 110kV Phuoc Hiep – Cu Chi Electrical Substation to process the energy production from those new power plants.
Director of the HCMC Department of Natural Resources and Environment Nguyen Toan Thang shared that the city aims at decreasing the volume of household solid waste via sanitary landfill technologies as well as modern methods to harness energy from this trash, in accordance with the Government's instruction.
This department is also cooperating with VWS to adjust treatment technologies to better cope with the current situation in HCMC. Firstly, VWS is going to directly install 70 mobile gas burners onto gas collection pipes on landfills to reduce greenhouse gas release.
In addition, HCMC is attracting investment in two trash-to-energy projects with a capacity of 1,000 tonnes per day per project, using the Public-Private-Partnership (PPP) model.
CPTPP – a booster for Vietnamese exports to Latin America
Vietnam boasts huge potential to increase shipments to Mexico, Peru and Chile – the three Latin American nations having high tariff-reduction commitments under the Comprehensive and Progressive Agreement for Trans-Pacific Partnership (CPTPP).
According to the Ministry of Industry and Trade's European – American Market Department, after one year the pact took effect, trade in goods between Vietnam and the countries topped 5.12 billion USD, with Vietnamese shipments hitting 4.11 billion USD, up 26.76 percent against the same time in 2018.
Deputy head of the European-American Market Department Vo Hong Anh said Vietnam enjoyed a trade surplus of 3 billion USD with the three nations, with export growth of 26.3 percent in Mexico, 20.3 percent in Peru, and 36.4 percent in Chile.
This year, Vietnam gained 3.74 billion USD from shipments to the three nations during January-October, a year-on-year surge of 4.6 percent, despite pandemic.
Exports of Vietnam's strength are garment and textiles, footwear, seafood, furniture, telephones and parts.
Among the 11 members of the CPTPP, the three nations have high commitments to cut tariffs for Vietnamese products, with Chile pledging to remove up to 95 percent of duties on Vietnamese goods, while Peru and Mexico reduce tariffs on 80 percent and 77 percent of Vietnamese products.
With such favourable conditions, Vietnamese products have huge opportunities to penetrate into the markets.
Vietnamese commercial counsellor in Mexico Luu Van Khang described Mexico as a promising market for Vietnamese seafood since frozen fish and shrimp will enjoy zero-percent tariff from the third year after CPTPP takes effect. Meanwhile, Mexico spends some 351 million USD on frozen fish every year.
Vietnamese exporters should pay attention to listing a suitable price for the Mexican market, which has large population and strong consumption, he recommended.
For Peru, Vietnamese commercial counsellor in Brazil Le Hong Quang suggested businesses grasp opportunities from the trade deal to enhance shipments to the market, where 75 percent of importers and exporters are small and medium-sized enterprises.
Along with the free trade agreement signed with Chile in 2011, CPTPP creates more opportunities for Vietnamese firms to boost shipments to the nation./.
UK newspaper spotlights Vietnam's emergence in global supply chain
Multinationals are looking to set up their bases in Vietnam despite various challenges that the country poses as a manufacturing destination, according to the Financial Times in the UK.
The newspaper cited Michael Kokalari, chief economist of VinaCapital in Ho Chi Minh City, as saying that more and more foreign companies are moving their production activities to Vietnam, and one prominent example is Apple, which began mass production of some of its AirPods wireless earbuds in Vietnam in the second quarter of this year when most of the world was in lockdown to contain the spread of COVID-19.
According to Financial Times, Vietnam's labour markets are not as deep as China's. Industrial park space is in brisk demand, especially around HCM City, where the bulk of Vietnam's clothing, furniture and other exporters are based.
The city's Tan Son Nhat International Airport has long operated at well over capacity. Meanwhile, Long Thanh airport is being built, but it is scheduled to be ready only in 2025. Many of the components used to manufacture high-value products in Vietnam, from microchips to smartphones, are still sourced from China, the Republic of Korea, Taiwan or elsewhere.
The newspaper, however, noted businesspeople say the Vietnamese market is adjusting to all these difficulties, even amid the pandemic. Many projects to construct industrial parks are on their way. For example, GLP, Asia's biggest warehouse operator, is developing projects in Hanoi and HCM City, and plans to invest 1.5 billion USD over three years as it promotes its business in Vietnam.
The Financial Times also took note of Vietnam's big numbers which remain robust, pointing out that despite the pandemic, foreign direct investment disbursements are down only 2 percent to 17.2 billion USD in the year to November.
The Vietnamese economy is on track to grow by 2.4 percent this year, becoming one of the fastest growing economies in the worlds. The Vietnamese Government is targeting growth of 6.5 percent next year./.
HCM City's 2020 economic growth at 1.39 percent
HCM City's gross regional domestic product (GRDP) hit 1.37 quadrillion VND (59.4 billion USD at current exchange rate) in 2020, a year-on-year increase of 1.39 percent.
Speaking at a press conference on December 29, Vice Chairwoman of the municipal People's Committee Phan Thi Thang highlighted the prominent achievements in socio-economic development during the year despite the difficulties from COVID-19, especially in administrative reform and improving the investment and business environment.
According to the municipal Statistics Department, local enterprises earned 40.2 billion USD from exports (including crude oil) during the year; 1.3 percent higher than in the same period last year.
HCM City has five commodity groups with export value exceeding 1 billion USD, which also account for 83.5 percent of its total export turnover, led by the group of computers, electronic products and components, with 17.8 billion USD.
It was followed by textiles (4.3 billion USD), footwear (2.2 billion USD), and machinery, equipment, tools and spare parts (2.2 billion USD). "Other commodities" stood at 6.9 billion USD.
China, the US, and Japan remained the largest importers of goods from HCM City. Exports to China reached 10.5 billion USD, accounting for 26.2 percent of the total and up 23.7 percent year-on-year.
Enterprises in HCM City spent over 43.3 billion USD on imports, down 1.6 percent compared to 2019.
According to the General Director of the municipal Statistics Department Huynh Van Hung, total retail sales of consumer goods and services in the city during 2020 reached 1.2 quadrillion VND, down 1.3 percent year-on-year.
HCM City welcomed 1.3 million international visitors and 15 million domestic tourists in the year, down 84.8 percent and 54.2 percent compared to 2019./.
Thai Vietjet to launch semi-commercial flights from HCM City to Bangkok starting January 2021
Thai Vietjet, a subsidiary of Vietnamese budget airline Vietjet Air, has confirmed its operation of weekly semi-commercial flights from Ho Chi Minh City to Bangkok every Friday starting January 8, 2021, with the hope to gradually recover the travel and trade between the two countries after a long suspension since March this year due to the COVID-19 pandemic.
The flights are expected to provide convenient and valued choices for passengers returning home during the travel restricted period.
Passengers, either Thai citizens or foreigners, who travel from Ho Chi Minh City to Bangkok are advised to visit skyfun.vietjetair.com to search for and book needed flights. Travel instructions, including required documents and quarantine conditions by Thai authorities, are also provided in simplified version during the booking process. For more information regarding the travel regulations in Thailand, passengers may contact consular.hom@mfa.go.th and LINE Official account @rtcg.hcmc
In addition, those who want to travel from Bangkok to Ho Chi Minh City, may contact Thai Vietjet's helpdesk at group.bkk@vietjetair.com for further information and guidance. Passengers are required to prepare and complete all needed documents prior to departure to Vietnam, before taking standard quarantine upon arrival.
Da Nang's economy hit hard by COVID-19
Da Nang's gross regional domestic product (GRDP) has been estimated to be down 9.77 percent this year to about 100 trillion VND compared to 2019 due to COVID-19, a press conference held on December 29 to announce the central city's socio-economic figures for 2020 heard.
Tran Van Vu, head of the city's statistics office, said the two waves of the pandemic in March and July negatively impacted all socio-economic aspects in Da Nang. Production and business activities were halted during most of the third quarter, inflicting severe difficulties on the lives of local people.
The service sector, which accounts for about 65 percent of the city's economy, bore the brunt of the pandemic, with sub-sectors like lodging and food services as well as postal and delivery services recording annual declines of 37.33 percent and 18.32 percent, respectively.
Meanwhile, the value added of the industrial and construction sector dived 12.23 percent; 3 trillion VND lower than in 2019. The agro-forestry-fishery sector, by contrast, managed to maintain growth at approximately 2.4 percent year-on-year.
Vu predicted that as the economy relies largely on services and has its industrial sector heavily depending on imported materials, it is likely to be further plagued by the pandemic next year.
He suggested a number of measures to ease the difficulties, like supporting companies in export promotions, recovering tourism, implementing safe credit growth solutions, and attracting investment serving industrial restructuring./.
Vietsovpetro surpasses yearly oil and gas production target
The Vietnam – Russia oil and gas joint venture Vietsovpetro has reported that its oil and gas output in 2020 is likely to reach 3.42 million tonnes, surpassing the set target by nearly 300,000 tonnes.
Vietsovpetro General Director Nguyen Quynh Lam said that the joint venture completed its oil production target one month earlier than the plan, while the natural gas output target was also fulfilled 44 days ahead of schedule.
Regarding the search and exploration work, Vietsovpetro has finished construction of six wells.
As part of solutions to difficulties posed by the COVID-19 pandemic, the company has made efforts to cut production cost and spending. As a result, it has reduced spending by over 105 million USD, and its production costs decreased by 17 percent compared to the plan.
In 2020, the joint venture's oil sales reached only about 1.11 billion USD, equal to 81.1 percent of the plan. It contributed nearly 745 million USD to the State budget.
Its revenue from outside services and other activities totaled over 213 million USD, while after tax profit hit more than 49 million USD.
Vietsovpetro plans to exploit 2.999 million tonnes of oil and condensate, and contributed 519.4 million USD to the State budget in 2021, along with 157 million USD in profit in the year./.
Malaysia: Palm oil goes down from eight-year high
Palm oil retreated from an eight-year high on concerns that shipments from second-biggest grower Malaysia may dwindle next month amid weaker demand from China, reported the Bloomberg.
The tropical oil reversed morning gains to fall by 1.5 percent, snapping a three-day rally that powered futures on December 24 to their highest level since April 2012. It is still up 16 percent so far this year.
Although Malaysian exports in December could climb to 1.6 million tonnes, the stronger shipments, as well as a likely reduction in production and stockpiles, are mostly priced in, said Anilkumar Bagani, research head at the Mumbai-based Sunvin Group.
Indonesia's move to raise its export tax on crude palm oil for January may underpin the market, Bagani added.
Malaysia's palm oil exports jumped 17 percent from a month earlier to 1.34 million tonnes during December 1-25, according to cargo surveyor AmSpec Agri./.
Garment-textile sector targets 38-39 billion USD in 2021 export revenue
Vietnam's garment-textile export turnover is projected at 38-39 billion USD in 2021, Le Tien Truong, Chairman of the Vietnam National Textile and Garment Group (Vinatex) said on December 29.
Speaking at an online conference between the Government and localities, Truong suggested cutting long-term interest rates, elaborating that garment-textile firms would find it hard to access loans after a year of low business efficiency.
Enterprises hope for specific policies to be adopted by the Government to assist the support industry in the sector, he added.
According to Truong, localities have supported the sustainable and clean production of the garment-textile industry which, he said, must follow global rules set for the supply chain.
Under the Government management, the sector has reduced non-production costs, especially those for logistics services through the national logistics network, and other non-tariff costs.
The Ministry of Industry and Trade has also helped businesses optimise new-generation free trade agreements (FTAs) through the issuance of guidance and the launch of a portal on those deals.
Vietnam has signed a total of 17 new-generation FTAs, he said, stressing that a number of countries like Japan have reached up to four pacts with Vietnam.
In 2020, Vietnam is the only among the world's top five garment-textile exporters not to have to cease production.
Although Vietnam's garment-textile export reached only 35 billion USD against the 39 billion USD recorded last year, the result is still remarkable given the global demand dropping over 22 percent.
Truong highlighted comprehensive solutions adopted by the sector since the beginning of this year when the supply chain was disrupted, saying it has worked hard to ensure jobs for more than 4 million workhands.
Vinatex is the only that does not need to take any allowances for employees to maintain its position in the supply chain, he said./.
Cambodia's rubber exports up 22 percent
Cambodia exported over 285,589 tonnes of dry rubber from January to November, up 22 percent year on year, according to latest figures released by the country's General Department of Rubber.
With an average price of 1,341 USD per tonne, Cambodia earned 383 million USD, a rise of 23 percent against the same period last year.
The Southeast Asian nation mainly ships dry rubber to Malaysia, Vietnam, Singapore and China.
Data showed that Cambodia zoned off nearly 401,700 ha for rubber planting and production, 72 percent of which has been covered.
In 2019, the country raked in 377 million USD from exporting 282,000 tonnes of dry rubber, a respective year on year increase of 31.8 percent and 30 percent./.
Bamboo industry has huge growth potential
Demand for bamboo products is rising globally, offering Vietnam the opportunity to foster the industry.
Bamboo consumption is 400 – 500 million culms for various purposes annually, including making products for export.
With more than 720 handicraft villages that make bamboo products and over 1,000 bamboo and rattan production and trading establishments and companies, Vietnam is currently the fourth largest exporter of bamboo and rattan after China, the EU and Indonesia.
"The world has shifted to products made from regenerative and environment-friendly materials from timber, plastic and steel," said Vo Tan Thanh, director of the Vietnam Chamber of Commerce and Industry (VCCI)'s HCM City office.
Bamboo not only has high economic value but also helps cover bare land and hills to prevent erosion and protect watershed forests and contributes to poverty reduction, Thanh said at the seminar 'Green Steel – Potential in the Domestic and Export Markets' held last week in HCM City.
Pham Quoc Khanh, chairman of the Minh Thang Ecology Wood Bamboo Joint Stock Company, said: "Vietnam has an enormous natural source of bamboo."
The global trade in 2018-19 was worth nearly 70 billion USD, and "Demand for bamboo products is increasing rapidly, offering a great opportunity for Vietnam's bamboo industry," Khanh said.
According to Khanh, with annual exports of 250 million USD, the bamboo industry has attracted more attention and investment. However, it faces a number of difficulties that affect its competitiveness, including lack of reliable supply of bamboo, backward equipment and technologies, lack of manpower, poor design, and lack of copyrights for its products.
"Businesses have also faced difficulty finding outlets for their products due to a lack of human resources for marketing, market research and promotion," he said.
They therefore export their products mainly through intermediaries or produce for foreign brands.
With the use of modern technology, bamboo is no longer used only to make household products and handicrafts, but also industrial items.
Nguyen Trong Nghia, founder of the BWG Mai Chau JS Company, said industrial products made from bamboo are quite new in Vietnam, but are very popular in developed countries, especially the EU.
Due to their hardness, scratch- heat- and water-proof qualities and great stability in all weather conditions, bamboo is used to make mats, curtains and paper and has replaced wood in making partitions, walls, flooring, scaffolding, and furniture for houses, resorts, restaurants, airports, swimming pools, and churches, he said.
Delegates said bamboo products have the advantage of being safe, environment-friendly, durability, and reasonable prices.
Leading bamboo product producers have displayed a wide range of products, and attracted a large number of visitors at the event.
Organised by VCCI, Vietbuild Home 2020 International Exhibition organisation committee and the Advocacy Committee for the establishment of the Vietnam Bamboo Association as part of the Vietbuild Home expo being held at the SECC in District 7 from December 26 to 30, the event offers an opportunity for producers of bamboo products to meet potential buyers and solution providers.
It is part of promotional efforts under the EU-funded 'Inclusive and sustainable clam and bamboo value chains development in Vietnam's project carried out by Oxfam, ICAFIS and the VCCI in 2018-22./.
Cambodia starts crude oil production in southwestern waters
Cambodia has begun extracting crude oil from fields in its waters off the southwestern coast of Sihanoukville, Prime Minister Hun Sen said on December 29.
PM Hun Sen announced the news on social media, hailing the first extraction of crude oil "a new achievement for Cambodia's economy".
Meanwhile, Singapore's KrisEnergy Ltd, which has joined hands with the Cambodian government in the project, said the concession started production on December 28 and would progress in phases once new wells were commissioned and completed.
Kelvin Tang, chief executive of KrisEnergy's Cambodian operations, called the event "an important strategic milestone" for the company.
The Gulf of Thailand boasts significant oil deposits, with Chevron first finding proven reserves off Cambodia in 2005.
But production stalled as the Cambodian government and the US giant failed to reach a revenue-sharing agreement, leading the firm to sell its stake to KrisEnergy in 2014 for 65 million USD.
Cambodia and KrisEnergy signed a pact in 2017 to develop 3,083 sq km of the basin in the Gulf of Thailand known as Block A.
KrisEnergy currently holds a 95 percent stake of the block where the oil was taken from, while the government holds the rest.
The company expects a peak production rate of 7,500 barrels a day from the initial phase.
Cambodia hopes to earn at least 500 million USD in royalties and taxes from the first phase of the project./.
Malaysia collects over 100 million USD of digital service tax
The Malaysian government has so far collected 428.07 million RM (105 million USD) from digital service providers since the start of the enforcement of the Digital Services Tax early this year, said Deputy Finance Minister Abd Rahim Bakri.
He said the tax was imposed on, among others, Netflix, Amazon, advertisements on social media platforms such as Facebook and Instagram, as well as applications and games on smartphones.
This is a new source of revenue for the country and will be enhanced in the future, he said at the debate on the Service Tax (Amendment) Bill 2020 on December 29.
The official added that this collection is imposed on not only local but also foreign digital service providers./.
Vietnam, Ukraine strive for 1 billion USD in bilateral trade
Vietnamese Ambassador to Ukraine Nguyen Hong Thach and Ukrainian Deputy Minister for Economic Development, Trade and Agriculture Taras Kachka agreed to make greater efforts to push bilateral trade to 1 billion USD within the next three years.
At their working session on December 28, Thach and Kachka, who is also chairman of the Ukrainian subcommittee of the Vietnam-Ukraine intergovernmental committee for cooperation in economy-trade and science-technology, discussed the preparations for the 15th meeting of the committee, which is scheduled to take place virtually in late January 2021.
Thach stressed that despite difficulties caused by the COVID-19 pandemic, bilateral trade grew more than 12 percent in first nine months of 2020 to reach 300 million USD.
However, he said there remained huge potential for bilateral cooperation, particularly in the fields of science and technology.
As Ukraine is working to boost economic diplomacy and expand its cooperation to Asia, the ambassador is confident that economic and trade ties will become the most important aspect in the bilateral relationship.
The diplomat affirmed that the embassy is always willing to work with the Ukrainian side to remove obstacles in cooperation.
Both officials agreed to speed up the establishment of Vietnam House in Kyiv and of Ukraine House in Hanoi to introduce the countries' products and foster economic and trade partnerships between their enterprises.
Kachka said Ukraine boasts scientific and technological advances with high quality and lower costs, adding that together with the recent establishment of the Ministry for Strategic Industries, will create favourable conditions for bilateral collaboration in the field.
At the upcoming 15th meeting of the intergovernmental committee, Ukraine will prioritise dialogue on plant quarantine targeting farm produce and the possibility for negotiations on a free trade agreement between the two nations.
Both officials said they were optimistic about the future prospect of the Vietnam-Ukraine economic and commercial cooperation./.
Chemical industry urged to go green
The chemical industry in Vietnam has been facing a number of environmental and social challenges, which require new pathways in development, production, and consumption to ensure sustainable development.
Chemical industrial manufacturers have been urged to raise awareness and initiatives for Corporate Social Responsibility (CSR) related to green chemistry (GC).
It resulted from the 'Green Chemistry (GC) and Corporate Social Responsibility (CSR)' workshop that was recently co-organised by the United Nations Development Programme (UNDP) and Vietnam Chemicals Agency of the Ministry of Industry and Trade (MOIT) together with the Northern Vietnam Paint and Printing Ink Club.
Research shows that waste prevention is better and costs less than the treatment or disposal of waste after it has been created. The more waste companies generate the more costs they have to bear to deal with the environmental, social, and community health consequences.
Using a GC approach in production and business also sees companies take on more social responsibility.
CSR can be shown in ensuring a safe working environment and equity for women and men on all levels as well as promoting working opportunities with privacy and safety for employees.
It needs to provide high-quality products made from safe, non-toxic materials at a reasonable price, and conduct research and product development to commercialise innovative and useful products.
Head of the Climate Change and Environment Unit at UNDP Vietnam Dao Xuan Lai said: "Green chemistry is an inevitable trend being promoted on a global scale, which helps us to avoid past mistakes such as the invention and use of DDT or the production and use of chemicals containing dioxin, mercury, CFCs, and the like."
"As Vietnam integrates quickly with the market, and with the regional and global economy via bilateral and multilateral free trade agreements, corporations and enterprises need to use the GC approach so that they and their products are better equipped when joining global supply chains.
"This benefits their long-term development and growth, and at the same time ensures sustainable development for Vietnam and reduces the stress on our planet."
Within the framework of the GC project, funded by UNDP and MOIT, initial solutions are being implemented with Vietnamese enterprises, including pilots with Plato Vietnam JSC (electroplating) and Nishu Paint Vietnam to reduce 3,472kg of persistent organic pollutants (POPs) and 923 cubic metres of carbon emission per year.
The workshop also aimed to collect comments on the need for training to raise awareness and the application of green chemistry in paint and printing enterprises, as well as share some current situations, solutions, technology, and practices on waste treatment in small and medium-sized paint enterprises.
"For consumers to have access to green products, we need green materials, green manufacturing, and green construction," said Dang Anh Tu, CEO of Nishu Paint Vietnam, one of the two enterprises performing the GC demonstration activities.
"When, and only when, we are aware that green chemistry helps us to protect our health can we produce sustainable green products."
Tu said that by applying green chemistry, Nishu has saved considerable costs: in particular, the highest monthly electricity bill that this enterprise has ever paid has not exceeded 50 million VND (2,100 USD).
According to Chu Van Nguyen, vice president of the Vietnam Responsible Care Council (VRCC) of Chemical Enterprises, the implementation of CSR activities requires many efforts and the voluntary commitment of the leaders and employees of the company, as well as support from other enterprises in the industry. These voluntary CSR activities bring companies not only profits, but also trust from the market and the community.
The workshop was one of the activities under the project 'Application of green chemistry in Vietnam to support green growth and reduction in the use and release of POPs/harmful chemicals', supported by the Global Environment Facility (GEF) and UNDP.
The main objective of the project is to create a favourable environment for introducing GC and GC application to the production industry in Vietnam and reduce the use and release of chemicals controlled under the Stockholm and Minamata Conventions./.
Source: VNA/VNN/VNS/SGGP/VOV/NDO/Dtinews/SGT/VIR