Vietnam needs over US$128 billion for power investment next 10 years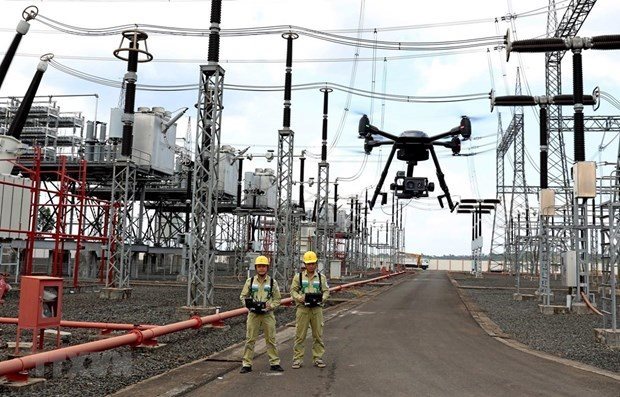 A drone is used to inspect a power transmission system in Vietnam. The country will need an estimated US$128.3 billion for developing the power system in the next decade 


The total amount of investment for developing the power system in Vietnam in the next decade is an estimated US$128.3 billion, with US$95.4 billion needed for investing in electricity generation and the remaining for the power grid, as unveiled in a draft zoning plan for developing the national power system in the 2021-2030 period, with a vision toward 2045.
The Institute of Energy, under the Ministry of Industry and Trade, on February 22 continued to collect feedback over the plan from the relevant agencies.
According to the plan, during the 10-year period, Vietnam will need to pour some US$12.8 billion on average into the power sector per year. The total investment for the following 15 years from 2031 to 2045 will be some US$192 billion, including some US$140 billion for power sources and US$52 billion for the grid.
The draft zoning plan also revealed that Vietnam will continue to import electricity from China, Laos and Cambodia in the next 10 years.
The State-run Vietnam Electricity Group is purchasing electricity from China through two 220kV power lines, with 1.5 billion kWh of power being bought annually during the 2016-2020 period. This northern neighboring market can sell up to 3,000 MW of electricity or more to Vietnam from now until 2030.
Petrol prices rise under latest adjustment
The Ministries of Industry and Trade and Finance revised petrol prices upwards as of 3pm on February 25, marking the first increase since the traditional Lunar New Year (Tet) holiday.
The retail price of E5RON92 bio-fuel rose nearly 700 VND to 17,031 VND (0.74 USD) per litre at a maximum, while that of RON 95 increased over 700 VND to 18,084 VND per litre.
Diesel 0.05S and kerosene, meanwhile, are now no more than 13,843 VND and 12,610 VND per litre, up by around 800 VND and 700 VND, respectively.
According to the two ministries, the prices of petrol and oil in the global market have been rising strongly for 15 days, hence the adjustment.
The two review fuel prices every 15 days to ensure domestic prices are in keeping with the global market./.
Aquatic product exports forecast to reach $9.4 billion in 2021
Vietnam's aquatic product exports are expected to rake in 9.4 billion USD this year, a surge from 8.5 billion USD in 2020, driven by a strong rebound in demand of export markets and the support of free trade agreements, according to the Vietnam Association of Seafood Producers and Exporters (VASEP).
Analysts of FPT Securities JSC (FPTS) predicted Vietnam to continue increasing shrimp output in 2021, reaching 730,000 tonnes, up 4 percent year-on-year.
Stable supply will be an advantage for Vietnamese shrimp exporters to expand their market shares in export markets.
The prices of exported shrimps are also forecast to rise slightly by 5 percent to an average of 9.6 USD per kg, according to an FPTS report.
Meanwhile, experts from BIDV Securities Company said that it is difficult for Vietnam's shrimp sector to enjoy high export growth in 2021, as the production of competitive countries such as India and Ecuador begin strong recovery, especially when the two countries' shrimp prices are 10-15 percent lower than that of Vietnam.
However, the shipment of shrimps to the EU, which accounts for 21 percent of Vietnam's total shrimp export turnover, is expected to be supported by the EU-Vietnam Free Trade Agreement (EVFTA).
The tariffs imposed on frozen shrimps were slashed to zero percent immediately after the EVFTA became effective on August 1, 2020, while those on processed shrimps will reduce to zero percent from January 1, 2027.
The output of Vietnam's tra fish is also forecast to maintain uptrend this year.
FPTS expects that the export will bounce back thanks to increasing demand of Vietnam's main importers such as China, the US, and the EU.
Vietnamese businesses' efforts to focus on value added processed products which meet all requirements on food safety and origin traceability of products will be paid off, with the export value of processed tra fish to surge in 2021./.
HCM City to focus on developing industrial, trade sectors
The HCM City People's Committee set targets and approved operational orientations and solutions for this year for its industrial and trade sectors at a meeting on Monday.
They include 5 per cent growth in industrial production, with its four key industries (food processing, pharmaceutical chemicals-rubber-plastic, mechanical engineering, and electronics) growing by at least 6.7 per cent.
The targets for growth in retail sales of goods and services and exports are 10 per cent, Bui Ta Hoang Vu, director of the city Department of Industry and Trade, said.
Non-financial targets include improvements in administrative procedures for businesses and the public, he said.
His department would adopt comprehensive solutions to achieve the targets, help revive the city's economic growth and create a major transformation in its economic structure so that the services sector accounts for over 60 per cent of the economy.
It would envisage and carry out solutions that enable the city to maintain its leading role in the country in terms of the economy and innovation, he said.
With respect to administrative reforms, it would enhance the use of IT in administration, he said.
Phan Thi Thang, vice chairwoman of the city People's Committee, hailed the achievements of the industrial sector in 2020, saying it had greatly contributed to the city's achievement of its dual goals of fighting the Covid-19 pandemic but also sustaining socio-economic growth.
She urged the department to speedily achieve administrative reforms and implement two promotion programmes that would attract local and foreign tourists and make HCM City a major shopping centre in the country.
The city would prioritise easing administrative procedures to facilitate businesses' functioning, she added. 
Enterprises change to deal with the prolonged pandemic
As the COVID-19 pandemic continues to disrupt global activities, some industries and businesses have applied technology and new working practice to limit its influence.
Nguyen Duc Thuan, chairman of the Viet Nam Leather, Footwear and Handbag Association (Lefaso), said his company had been forced to adapt to new methods.
"As the Government has accelerated the industrial revolution 4.0, the leather, shoe and handbag industry has applied flexible methods to update its production, sales and export in the new situation.
"We have built a new online 3D design and trade interface for samples, which was made by Vietnamese designers, researchers and developers.
"It has not only helped the industry to get new orders but also created an opportunity to prove to major brands in the world that Viet Nam has the capacity to comprehensively design and develop global supply chains."
Last year, he said, the fashion industry completed 90 per cent of their plan thanks to Government's efforts controlling the pandemic, the many free trade agreements (FTAs) that were signed such as EVFTA, RCEP and UKVFTA and also the efforts of each business in changing themselves.
According to Lefaso, the total export turnover of the leather, shoe and handbag industry in 2020 reached about US$19.5 billion, down 11 per cent from 2019 and the export turnover returned to the levels of 2018.
The US and EU markets, which account for 70 per cent of the total export volume of the industry were the markets most affected by the pandemic.
The leader of Lefaso said in the new context, buyers changed ordering method so the suppliers like Viet Nam were forced to change their capacity to meet production and delivery needs. Local producers suffered from more severe conditions such as 30 per cent shorter delivery time, lower on-board delivery (FOB) prices and better supply chain transparency.
Adapting to the news changes, at this time of the year, Thuan said the industry was seeing good signs with many businesses receiving orders for this year and the industry aimed to achieve an export turnover of more than $20 billion to offset the losses caused by the pandemic.
As for the textile and garment industry, Le Tien Truong, chairman of Viet Nam National Textile and Garment Group (Vinatex), said: "The supply chain and operation modes are rearranged in the post-COVID period of 2021-2023.
"It is expected that until the middle or the end of 2023, the textile market will return to the threshold of 2019."
Truong said in the period "the characteristics of the market and the competition are completely different" as the digital transformation and the application of IoT would be the necessary conditions in businesses as online methods increased strongly with the support of remote size testing technology and many applications on smartphones.
Truong said: "The competitive advantage of traditional and large enterprises is in danger of being erased after a period of suspension due to the interrupted chain in the pandemic, competitors will start at the same line at a new starting point."
According to Truong, Vinatex is determined to digitally transform their entire operating process including production management, inventory and logistics. At the same time, it has also improved production capacity under OEM model and training and retraining workforce in new conditions, especially ensuring financial safety for long-term development.
Nguyen Tuan Linh, director of Mr Linh Adventure Travel, said that tourism revenue last year decreased by 90 per cent compared to 2019.
Linh said many tourism firms had taken the time to rebuild their system and develop a new form of business. Linh said his firm was working with the idea to build an app providing a travel guide for foreign visitors to Viet Nam called Vietnamguide.travel, in order to provide information to foreigners before travelling to Viet Nam.
Linh said the app was currently being built and expected to be available to the market in the second quarter of this year.
Hau Giang plans $99.5m spending on industrial, logistics development in 2021
Setting up an industrial park and a logistics centre this year is part of a development plan for 2021-25 that Hau Giang Province in the Cuu Long (Mekong) Delta has just unveiled.
The plan seeks to maximise the province's potential and available resources and develop manufacturing, logistics, trading, and, especially, agricultural and aquatic processing.
The plan is focused on building comprehensive infrastructure for industrial parks and clusters, and soliciting investment in environmental treatment projects, projects that use advanced and environment-friendly technologies, processing vegetables and fruits, manufacturing, and energy.
It envisages establishing an industrial park and making zoning plans for industrial parks for completing procedures for setting them up, including for the establishment of two new industrial clusters and expanding one, all this year.
It also aims to efficiently implement national and local trade promotion programmes simultaneously.
A number of renewable energy projects and projects in industrial parks and clusters are expected to start construction this year.
With respect to logistics, the province plans to complete waterway and road transport infrastructure with high connectivity to meet cargo transportation needs and focus on developing supply chains for certain products, making them a driving force for socio-economic development.
It will build a logistics centre and spend the entire amount earmarked for waterway and road transport development projects this year.
The plan is expected to cost VND2.29 trillion (US$99.5 million) this year, with the central and local governments providing VND 353.1 billion and VND 58.4 billion, and enterprises the rest.
Viet Nam imposes anti-dumping tax on sugar imported from Thailand
The Ministry of Trade and Industry has decided to levy a temporary anti-dumping tax of 44.88 per cent on unrefined sugar and 33.88 per cent on refined sugar imported from Thailand.
The taxation on sugar cane imported from Thailand is an opportunity to revive the domestic sugar industry. This is also considered an important decision to help the sugar industry overcome a very difficult period.
This tax rate will be regularly reviewed to ensure a fair, competitive environment if there is a strong shift from importing refined and white sugar to importing raw sugar in order to avoid anti-dumping tax and anti-subsidy at a higher level.
The decision comes after the Ministry of Trade in September initiated an anti-dumping and anti-subsidy investigation for imported sugar from Thailand on the basis of the documents requested by the Viet Nam Sugar and Sugarcane Association (VSSA) and domestic sugar producers.
It later found that Thai businesses shipped nearly 1.3 million tonnes of subsidised sugar to Viet Nam last year, an increase of 330.4 per cent compared to the previous year.
The sharp increase in import volume caused serious damage to Viet Nam's sugar industry, forcing plenty of sugar processing mills to halt operations and lay off workers.
According to the ministry, as many as 3,300 workers have lost their jobs and more than 93,000 farmers have been affected by the inefficient operation of sugar mills.
The ATIGA (ASEAN Free Area Agreement), took effect from January 1, 2020, reducing the import tax on sugarcane from 80 per cent to 5 per cent on unprocessed sugar and white sugar. This has led to a massive import of sugar. According to the (VSSA, the total amount of sugar cane imported into Viet Nam has increased rapidly, reaching approximately 1.5 million tonnes, double the amount of sugar produced domestically. Of the volume, a considerable amount is imported from Thailand.
Nguyen Van Loc, the association's acting general secretary , said that the drought affected sugarcane productivity, in June the Thai Government had agreed to provide US$317 million to the Thai sugar industry. This funding is equivalent to about THB1,419 per tonne of sugarcane, helping the Thai sugarcane price remain at a very competitive level. Thai sugar cane is massively imported into Viet Nam, causing many difficulties for domestic sugar companies as well as for sugarcane farmers across the country. Previously, the production capacity of domestic sugar mills was about 1.5-1.6 million tonnes, so far it has fallen to half.
Loc adds that before ATIGA integration, Viet Nam had 41 sugar mills in the North, 300,000 ha of sugarcane and 300,000 farmers, but currently it has only 25 sugar mills in operation. However, many of these sugar mills are also in a state of "clinical death".
Loc further said that sugar mills under the VSSA were very happy with the decision to impose tax on sugarcane imported from Thailand by the Ministry of Industry and Trade.
He said that: "Many domestic sugar mills have actively invested in technology, built chains with farmers to produce competitive products. However, subsidy and dumping fraud have been found after the investigation, which is the reason why sugar enterprises are struggling."
Loc believed that the taxation is reasonable because now the domestic sugar price was approximately similar to the Thai sugar price. By doing so, Viet Nam's sugar industry is competitive with sugar imported from Thailand and other countries.
This decision will help create a fair environment and playing field, as well as stop the industry's slump. More importantly, it will help create sustainable livelihoods for sugarcane farmers in remote and border areas.
Taking advantage of this opportunity, sugar companies are also recommended to rebuild links with farmers, re-establishing quality raw material areas after a long hiatus due to a prolonged period of capacity reduction. However, the restoration of the sugarcane growing area cannot be completed in a short period of time. It will take at least three years, so businesses need to assist farmers in improving their lives to become more engaged with sugar cane.
Phan Van Chinh, an expert of the Ministry of Industry and Trade, recommended that sugar businesses need to make better use of byproducts of the sugarcane industry (cane tops, bagasse, filter mud and molasses). 
Viet Nam transitions from successful pandemic containment to strong economic recovery: AMRO
Viet Nam's gross domestic product (GDP) is expected to rebound to 7 per cent in 2021, riding on a recovery in external demand, a resilient domestic economy and increased production capacity, according to the preliminary assessment by the ASEAN+3 Macroeconomic Research Office (AMRO) after its virtual annual consultation with the Vietnamese authorities in the last two months.
Amid heightened uncertainty, continued policy support is essential to bolster the nascent economic recovery and facilitate the transition to the post-pandemic "new normal".
"Viet Nam's economic growth slowed to 2.9 per cent in 2020 due to the pandemic but is expected to rise to 7 per cent in 2021," said AMRO's lead specialist Dr. Seung Hyun Luke Hong.
"The rebound is expected to be underpinned by a recovery in external demand, a resilient domestic economy, capital inflows, and increased production capacity," Hong said.
After a disrupted second quarter, Viet Nam's economy started to pick up in the third quarter of 2020 thanks to the rebound in manufacturing activity, which was boosted by robust export growth. Meanwhile, domestic consumption also bounced back following the relaxation of mobility restrictions, along with the recovery benefited from acceleration in the disbursement of public investment.
However, the AMRO team also pointed out some risks and vulnerabilities for the rebound in 2021. They include uneven recovery of the global economy which may jeopardise the recovery in external demand, susceptible domestic demand to the risk of further waves of COVID-19 infection, impairment of the balance sheets of the business sector and the hit on unemployment and labour market.
On the financial front, there is a risk that a deterioration of the banking system's asset quality will erode its relatively thin capital buffers. Vulnerabilities may also emerge from the sizeable consumer loan segment and from a sharp rise in the holdings of corporate bonds by banks.
The team recommended the Vietnamese Government provide greater fiscal support through both revenue and expenditure measures to bolster the nascent economic recovery if the growth momentum were to weaken.
Targeted support to micro, small and medium enterprises and low-income households also needs to continue and be regularly reviewed for its relevance and effectiveness, it said.
Meanwhile, given the benign inflation outlook, it is essential that monetary policy remains supportive of economic recovery, keeping financing costs affordable for households and businesses. On the external front, with high uncertainties in the post-pandemic global recovery, the authorities should strengthen the external buffer through greater flexibility in the exchange rate.
Lastly, the team said it is essential to ensure continued support for long-term development issues, such as infrastructure development, human capital development, social safety net, and particularly public health, while carefully managing risks to long-term fiscal sustainability.
Increasing export value of livestock products
Vietnam's export value in terms of livestock products (pork, chicken, eggs, processed meat, sausages, and honey) reached approximately US$300 million in 2020, according to the Department of Livestock Production under the Ministry of Agriculture and Rural Development. This result remains modest compared to its potential, so how to increase the export value of livestock products remains a challenge for the industry.
Inadequacies
According to the Department of Livestock Production, Vietnam has about 520 million poultry, nearly 5.9 million cows and 27.3 million pigs. Despite the positive growth in the number of livestock and poultry, the export value of these products has yet to meet expectations.
According to experts, the most difficult standard for Vietnamese exporters to meet is livestock products must come from a disease-free area.
So far, Vietnam has only 32 disease-free sites including 31 district-level and one provincial-level site, alongside 138 commune-level disease-free sites and 1,662 farm-level disease-free sites.
There still remains many hidden epidemic risks, for example, from October 2020 to present, the Lumpy Skin Disease (LSD) on buffalos and cows has appeared for the first time. Meanwhile, Vietnam has small-scale and scattered animal husbandry with poor governance, resulting in a reduction in productivity and increases in production costs.
The control of diseases, food safety, and environmental factors still face many shortcomings, particularly in household farming and scattered slaughtering. Dangerous diseases such as African swine fever has not been controlled with a high potential risk of outbreaks on a large scale, leading to increasing input costs for livestock production.
Many livestock facilities have not treated waste properly, causing environmental pollution and a precious wasting organic fertilizer source for crops. In addition, the number of small, manual, and unsafe slaughterhouses is still higher than industrial variants.
Due to small-scale and scattered production, it is difficult to apply advanced technology in production while the management skill level in livestock farms is weak due to a lack of training facilities.
In particular, production costs are higher than other countries in the region and the world, making it difficult to compete with foreign products. The consumption of livestock products has to go through many intermediaries, pushing the selling price up while producers are often underpriced.
According to Acting Director of the Department of Livestock Production Nguyen Xuan Duong, the organisation of livestock production under value chains accounts for only a low proportion while a lot of livestock material, especially feed and veterinary medicine has to be imported in large quantities, resulting in a reduction in the added value of domestic production.
The forecasting for and estimation of the livestock market are still inadequate and the proportion livestock products exported is low compared to other agricultural products.
Director of the Department of Animal Health Pham Van Dong said that the State should invest in building livestock production areas ensuring disease safety and food safety to contribute to boosting the export of livestock products to other markets in accordance with the regulations of the World Organisation for Animal Health.
While developed countries mainly organise large-scale farms, small-scale livestock production still accounts for a large proportion of production in Vietnam, so it is necessary to divide livestock production into two groups to devise appropriate solutions and orientations.
Regarding household production, it is advisable to gradually switch to bio-safe breeding and the raising of indigenous pig specialties on the basis of promoting hybrid advantages, and making use of agricultural residue as well as boosting chain management.
Regarding industrial husbandry, it is necessary to improve the productivity and quality of the sow herd, and improve the raising process to lower product costs. It is also important to foster relationships with partners across the world regarding investment in science and technology to increase the added value of livestock products.
Vietnam should invest more in factories that produce and process safe livestock and poultry meat according to the 3F (feed-farm-food) standards.
Meanwhile, the relevant agencies need to regularly exchange information and foster market promotion. In the current context, enterprises should look to the production and export of processed products. Thus, they must make synchronous investment in cold-storage warehouses and modern production lines meeting international standards.
At the same time, it is necessary to restructure breeding and raising techniques in accordance with environmental protection standards.
To have more good-quality livestock products, capable of competing and exporting with a higher added value, we need to have specific planning, more realistic policies, and standard breeding processes in the future.
At the same time, it is necessary to invest in deep research to link production with the needs and requirements of each export market. The livestock sector should continue to expand and export products to markets with high levels of potential such as the Republic of Korea and the Philippines.
Rapid changes are needed to adapt to the increasing impact of climate change, complicated developments in diseases and incremental changes in science and technology.
If the above solutions are implemented well, the livestock industry will have the opportunity to continue to create products with competitive prices, high quality, and increased export value in the future.
Export of agricultural products of Covid-19-hit localities faces difficulties
Ministries, industries, and enterprises have been seeking ways to boost domestic consumption to solve difficulties in the consumption of agricultural products of farmers in Covid-19-hit areas. However, the export of agricultural products through Hai Phong Port still encounters problems.
On February 23, Masan Group said that the retail networks VinMart and VinMart+ of this group had been actively participating in supporting the consumption of safe agricultural products for farmers in Hai Duong Province. Currently, VinMart and VinMart+ in the North were selling some agricultural products of Hai Duong, such as tomatoes, kohlrabi, carrots, cabbage, and guava without profits with expected consumption of about 70 tons per week. In pandemic-hit areas, namely Hai Duong and Quang Ninh provinces, VinMart and Vinmart+ had been prioritizing the implementation of the price stabilization program, promotions, and discounts of up to 40 percent for fresh products and essential foods. Particularly, the price of frozen basa fish fillet fell as much as 39 percent to only VND59,900 per kilogram; frozen squid declined by 21 percent to only VND109,900 per 500 grams; white radish dropped by 31 percent to only VND8,900 per kilogram; tomatoes sank by 22 percent to only VND9,900 per kilogram.
According to Ms. Nguyen Thi Bich Van, Head of Communications at Central Retail Vietnam, currently, the Big C and Go! supermarket chains of the group are promoting the consumption of agricultural products to support farmers in Hai Duong Province to reduce economic losses. Big C and Go! supermarkets are applying a promotional program for agricultural products of Hai Duong from now until the end of the crop, with expected consumption of about 70 tons per week.
Ms. Nguyen Thi Kim Dung, Director of Co.op Mart Hanoi, said that from February 22 to now, besides selling at supermarkets in the area, Co.op Mart Hanoi had also organized more stalls to rescue agricultural products of Hai Duong at 10 points of sale of the Hanoi Cooperative Union. It is estimated that the supermarket will compensate the costs to sell about 200-300 tons of agricultural products to support Hai Duong Province.
On February 23, the Vietnam Red Cross Society (VRC) Central Committee launched the campaign "Together with farmers to consume agricultural products" to assist people in difficult circumstances because of the impacts of the Covid-19 pandemic. The campaign has been implemented in 13 provinces and cities affected by the Covid-19 pandemic and will last until mid-March, with the peak focusing from February 24 to March 5.
Ms. Tran Thi Phuong Lan, Acting Director of the Department of Industry and Trade of Hanoi, said that the department had connected 32 commercial enterprises, 34 markets in Hanoi with 59 production facilities to purchase agricultural products from Hai Duong. At the same time, the department coordinates with the Department of Transport and the Hanoi Municipal Police Department to facilitate vehicles transporting agricultural products of farmers in Covid-19-hit areas to the city for consumption. Up to now, the affiliated units under the department have purchased and consumed more than 400 tons of agricultural products.
It is recorded at the MM Mega Market Vietnam supermarket chain that the network has put on sale agricultural products of farmers in Hai Duong Province from February 22 in Hanoi, with a volume of about 5-6 tons per day and is expected to also sell them in Da Nang, Ho Chi Minh cities in the next 1-2 days. In HCMC and the Central Vietnam markets, it is expected that there will be two rescue shipments each week with a total volume of about 70 tons.
Suggesting Hai Phong City opening doors for agricultural exports
According to the Department of Agriculture and Rural Development of Hai Duong Province, although many localities have been actively supporting Hai Duong farmers to consume agricultural products in the domestic market, the province still has about 90,000 tons of onions, garlic, carrots, and leafy vegetables remained unsold because it is in the harvest time. For many years, agricultural products raised and grown in Hai Duong are under contracts between enterprises and farmers, mainly for export. It is expected that by the end of February, about 80 percent of agricultural products will be exported through Hai Phong Port to Japan, South Korea, Indonesia, and Thailand, according to the signed contracts and shipping schedules.
However, at present, agricultural products, foodstuffs, and raw materials for the production of enterprises in Hai Duong Province face difficulties in the stage of transporting and commuting from Hai Duong to Hai Phong Port. Specifically, although Hai Phong City has allowed goods from Hai Duong to be transported into Hai Phong from February 18, it requires strict conditions. For instance, drivers of vehicles transporting goods from Hai Duong must have negative test results for the SARS-CoV-2 virus in the last three days and have to stay under concentrated monitoring. Cargo trucks must have specific contracts and orders and be disinfected. These requirements have caused many cargo trucks from Hai Duong to Hai Phong to turn around.
From February 16 up to now, the competent authorities of Hai Duong Province have continuously sent dispatches to relevant ministries and agencies to request support. At the same time, the provincial People's Committee signed four official letters to Hai Phong City proposing it to create the best conditions for containers to carry goods, especially Hai Duong's agricultural products to Hai Phong Port for export. In particular, Hai Duong Province proposed that for goods carried by container trucks, the solution is to replace the trucks and drivers from Hai Duong with trucks and drivers from Hai Phong.
The dispatch sent by the Department of Transport of Hai Duong Province to the Ministry of Transport and the Directorate for Roads of Vietnam on February 22 also proposed a solution for trucks carrying agricultural products of Hai Duong. Accordingly, after disinfection, container trucks will go directly to the port for unloading goods, while drivers and co-drivers do not get off their trucks. After unloading, they will return to Hai Duong immediately.
Regarding this issue, the Ministry of Industry and Trade (MoIT) has sent a written dispatch to propose the Prime Minister to direct the Ministry of Health to provide unified guidance on the circulation of people, goods, and vehicles between pandemic-hit localities and other localities, avoiding the situation that each locality applies a different way as currently. At the same time, it should mobilize testing units to support Covid-19-hit provinces, ensuring maximum testing services for the needs of drivers and goods escorts in the shortest time, and lessening cargo traffic congestion. As for localities, the MoIT suggested that they should prioritize SARS-CoV-2 virus testing for drivers and goods escorts, at the same time, strictly comply with the Prime Minister's directive on the implementation of measures to support goods circulation, and not let the situation of freight ban take place in the area.
Mekong Delta provinces boost shrimp exports
The Department of Industry and Trade of Ca Mau Province on February 23 informed that the situation of shrimp processing and export in the area from the beginning of this year to now has been more optimistic with the shrimp processing and export output both increasing. 
Specifically, in the first two months of this year, shrimp processing output in Ca Mau Province was estimated at 26,600 tons, an increase of over 38 percent compared to the same period last year. By taking advantage of free trade agreements that Vietnam has signed with many countries, Ca Mau's shrimp export turnover from the beginning of this year to now is estimated at US$106 million, up 13 percent over the same period.
Similarly, the situation of shrimp processing and export in Bac Lieu, Kien Giang, and Soc Trang provinces has also got many positive signs. A shrimp exporter in Bac Lieu Province said that currently the EU market is very potential and has positive growth. The company had signed some orders with partners and was under negotiation to sign more. This year, the company would strongly aim at the EU market because the export prices in this market are fairly high.
Currently, the input source of raw shrimps in this region is quite stable, and the workforce meets the needs of production activities of enterprises. Besides, the Covid-19 pandemic situation in some countries in the world has changed positively, so it is forecasted that shrimp exports are confirmed to be improved by many provinces in the Mekong Delta.
Record-breaking remittances, other contributions by overseas Vietnamese
A whopping US$6.1 billion in remittances to HCMC last year, along with foreign direct investment (FDI) and other contributions are among expatriates' contributions keeping Vietnam's economy afloat, according to Mr. Peter Hong, standing vice chairman and secretary general of Business Associations of Overseas Vietnamese (BOAAV).
The record-high remittance exceeded experts' forecast and was a 12 percent increase from 2019's $5.5 billion, contributing to socio-economic development and effective results of the Covid-19 epidemic prevention.
Overseas Vietnamese within 2020 sent nearly VND80 billion (about US$3.4 million) in cash and commodities to aid epidemic prevention and flood relief during the year.
At the same time, HCMC greatly values the knowledge of diasporas and holds annual events to gather their opinions. The most successful conference was back in 2016 with 47 practical ideas that have been implemented since.
The Business Association of Overseas Vietnamese (BAOOV) and 38 member branches worldwide in the Covid-hit 2020 continued to promote Vietnamese goods and develop distribution channels abroad.
HCMC plans to make full use of press power to continue attracting talents from expatriates.
Vietnam Railways urged to complete auxiliary facilities of North-South railway route
The upgrade of the North-South railway, a core part of national transport system, is expected to improve the performance of Vietnam railway industry.
The Ministry of Transport has urged the Vietnam Railways (VNR) to complete upgrading auxiliary facilities of the Vietnamese North-South railway project by the end of this year.
According to Deputy Minister of Transport Nguyen Ngoc Dong, these facilities, with an investment of VND7 trillion (US$304.3 million) funded by the state budget, include the reapair of weak bridges along the railway route, the upgrading of essential infrastructure on the Hanoi-Vinh and Nha Trang-Ho Chi Minh City sections and the expansion of stations on Vinh-Nha Trang route.
Dong said as the North-South railway has been in operation for more than 100 years, its out-of-date infrastructure has prevented trains from running faster.
"The implementation of these projects has become urgent in order to ensure safety. The upgrade of the North-South railway is expected to improve short-distance cargo and passenger transport, then raise the industry's revenue," he added. 
The railway industry is forecast to continue facing challenging time in 2021. The Covid-19 pandemic has thwarted a plan to restore the railway sector as it outbroke at the peak traffic times in the summer and Tet holiday.  
In 2020, the VNR estimated a loss of VND3.2 trillion (US$139 million) in equity in its two subsidiaries, Hanoi Railway Transport and Saigon Railway Transport, due to the shortage of guests, according to VNR's Chairman Vu Anh Minh. 
A plan to restructure the VNR in terms of finance, investment, human resources and technology and services, which was submitted almost three years ago for approval, is still "pending", according to the VNR.
More than 50% of workers optimistic about Vietnam's economic prospects
Optimism about economic growth, however, is inversely proportional to respondents' working position.
A recent report from recruitment firm Navigos suggested more than 50% of workers are optimistic about Vietnam's economic prospects this year, while 31% say the economy will decline.
However, the report, which was conducted base on a survey on 6,000 employees from 35 working fields, suggested "optimism about economic growth is in inverse proportion to respondents' working position, i.e: the higher the respondents' position, the less optimistic."
Under the report, nearly 58% of fresh graduates are optimistic about Vietnam's economic stability or growth. The figures in Team Leader/Supervisor group and Heads/ Deputy Heads of department are 53% and 50% respectively.
At C-level, 51% think the economy will stabilize and grow, but nearly 35% say it will decline.
Meanwhile, the survey revealed 26% of employees experienced pay cuts from 10-50% compared to their salary before the Covid-19 pandemic, while 74% still enjoy the same income level.
The senior group, namely the Executive Board, C-level, is the most impacted by the pandemic. As such, 40% of respondents belonging to this group went through salary reduction at different rates. The group of Director/Associate Director is at the second place with 32% suffering pay cuts.
Navigos' research also pointed out the fact that only 30% of employees were satisfied with the current benefits, and 20% were dissatisfied with the current situation.
Looking forward in 2021, 61% of employees are expected to get a pay raise by 3-20%, and 10% to face salary reduction.
When asked whether candidates are looking for a new job or not, 52% of respondents said they would seek for a job in the next 3-6 months;13% would find a job within the next 12 months.
Given the current difficult economic situation, 13th-month salary is now at the first place among bonuses or benefits that employees receive as 82% of respondents voted for it, followed by health and medical care benefits and travel, meal and cell phone allowances at 51% and 31% respectively.
For employees, 74% of respondents said that the criterion 'salary, bonus and welfare' is the most important factor they consider when switching their jobs, followed by promotion opportunities and training and development opportunities at 37% and 34% respectively.
Vietnam 5G smartphones go on sales in US
A subsidiary of Vingroup has gradually materialized its goal of expanding business in the global market.
Three Vietnamese smartphone models produced by VinSmart, a subsidiary of the conglomerate Vingroup, has gone on sales at the wireless carrier AT&T's retail systems in the US. 
The latest models, named Maestro Plus, Motivate and Fusion Z, are sold at prices ranging from US$39 to US$89 in the US market. According to VinSmart's survey, American consumers are willing to pay for new-technology devices with diverse prices. 
Last October, Vingroup signed a contract to produce two million smartphones for AT&T. Earlier, its subsidiary exported the first batch of smartphones to the US as part of the plan to export 5G-enabled smartphones to the market this year. 
The Vietnamese company announced the establishment of a joint venture with automotive parts maker Magna International to manufacture electric motors last December. VinSmart planned to purchase South Korea's LG Electronics' smartphone business for its expansion as the tech company considered selling its manufacturing facilities in Vietnam and Brazil to expand its emerging sectors such as electric vehicle and vehicle component categories.  
However, the deal  recently collapsed mostly due to the price difference, according to KoreaTimes. "With Vingroup offering a lower price than expected, LG will move on to find another buyer," an official from LG was quoted as saying. "The company's smartphone production lines overseas such as in Vietnam and Brazil can be realigned to manufacture home appliances." 
VinSmart was at the fifth position with a 11% market share in terms of smartphone sale in the last quarter of 2020 in Vietnam, according to the latest report of the smartphone market in Q4 by Canlays, a Singaporean market share company.
Source: VNA/VNS/VOV/VIR/SGT/Nhan Dan/Hanoitimes