Retail sales and service revenue hit roughly US$156.09 billion in nine months
Vietnam's total retail sales of goods and revenue from consumer services topped roughly VND3.63 quadrillion (US$156.09 billion) in the first nine months of 2019, up 11.6% over the same period last year.
If the price factor was excluded, the purchasing power during the January-September period increased by 9.2%, higher than the 9.1% level recorded in the same period of 2018, according to the General Statistics Office.
Regarding September alone, retail sales of goods and service revenue were estimated at VND420.3 trillion (US$18.07 billion), up 1.7% against the previous month and up 12.7% year on year.
Retail sales of goods for the full nine-month period surged by 12.6% year on year, reaching VND2.76 quadrillion (US$118.68 billion), accounting for 76% of the total. Of which, purchases of educational and cultural products grew by 17.4% year on year, followed by food and foodstuff (up 15.4%), home appliances (up 13%), textiles and apparel (up 12%) and transportation (up 10.2%).
The localities with the highest purchasing power growth rates included Quang Ninh (19.7%), Binh Duong (17.6%), Thanh Hoa (15.1%), Hai Phong (14.9%), Da Nang (13.9%), Nghe An (13.8%), and Hanoi (12.7%).
The nine-month revenue from accommodation and catering services rose 9.6% year on year to VND434.7 trillion (US$18.69 billion), accounting for 12% of the total.
Travel sales in the period amounted to an estimate of VND33.5 trillion (US$1.44 billion), representing 0.9% of the total and climbing by 12% from a year ago.
Sales of other services were estimated at VND404.3 trillion (US$17.38 billion), taking up 11% of the total and representing an expansion of 7.3% compared to the same period in 2018.
Agoda: Young Vietnamese starting to travel
The number of Vietnamese travelers aged 25-34 has started to increase compared to the previous generation, a recent survey by global digital travel platform Agoda found.
The "Well Traveled Survey" reveals travel trend comparisons by gender and age for countries in Asia-Pacific, the Middle East, the UK, and the US.
It shows that about 30 per cent of Vietnamese have never traveled overseas, compared to a global rate of 18 per cent. Twenty-nine per cent of people in the UK, the US, the UAE, and Saudi Arabia have never been overseas.
Globally, 27 per cent of 18 to 24-year-olds have never traveled, with those from China, Vietnam and Indonesia standing at 49 per cent, 45 per cent and 37 per cent, respectively. However, in the 25-34 age group, where the global average is 19 per cent, Vietnam is pushed out of the bottom three by the US. Among 45-54 years old, 86 per cent have traveled abroad, while 81 per cent of the 25-34 age group have traveled to other countries.
While it seems that Gen Z and Millennials are yet to have the opportunity to travel as extensively abroad as other age groups, the gap between those who have never traveled internationally is shrinking fast. It will be exciting to see the potential cultural and socioeconomic gains once those from China, Vietnam and Indonesia start traveling more, according to Mr. Timothy Hughes, Vice President of Corporate Development at Agoda.
The survey also found that almost seven out of ten people have visited up to ten countries (68 per cent), with Middle Eastern travelers from the UAE (92 per cent) and Saudi Arabia (82 per cent) in the lead, followed by Thailand (76 per cent), Malaysia (75 per cent), and Japan (71 per cent). The UK has the largest proportion who have traveled to more than 31 destinations (5 per cent), followed by Australia (4 per cent), Thailand (3 per cent), and the US (2 per cent). In Asia-Pacific, more Malaysians have traveled to more than ten countries (11 per cent), than Thais (8 per cent), Indonesians (2 per cent), and Vietnamese (1 per cent).
More interestingly, there is no gender barrier in travel. Nineteen per cent of women have never traveled outside of their home country versus 17 per cent of men. Only the US, Vietnam and Indonesia showed significant differences in percentages of males and females traveling, with 66 per cent of females versus 76 per cent of males in the US having traveled internationally at least once, and 67 per cent of females and 74 per cent of males in Vietnam. There is an equal percentage of men and women in Vietnam that have been to six to ten countries (5 per cent). Indonesia bucks the trend, with 72 per cent of women having traveled internationally, compared to only 65 per cent of men.
Tourism search & payment card introduced
The Vietnam National Administration of Tourism (VNAT) and the Vietnam e-Commerce and Digital Economy Agency at the Ministry of Industry and Trade have launched a new card for tourists.
Known as the "Vietnamese card - One national card", it integrates multiple smart features in public services and social services. In terms of tourism, users can search for travel information such as tour operators, tour guides, and itineraries as well as send comments, feedback, and evaluations on tour quality.
The card also features functions such as local banks allowing users to pay online and withdraw cash from ATMs. Tourists can therefore easily book flights, trains, and tickets for tourism and entertainment services.
The card is issued to Vietnamese residents but foreigners can also register for one-time use.
The launch of the card is expected to reduce cash payments and promote cashless payments in the country. It will also help tourists avoid overcharging for certain services when paying by cash.
Its launch took place at a signing ceremony for a cooperative agreement on technology application and e-commerce to support tourism development, by VNAT and the Agency. The two sides will introduce solutions in technology application and e-payment for tourism services as well as support tourism enterprises to apply technology and e-commerce in their business.
In the 2015-2018 period, international tourists to Vietnam increased from 7.9 million to 15.5 million, for average growth of 25 per cent each year. Tourism contributes about 8.39 per cent to Vietnam's GDP, creating more than 1 million direct jobs and 2 million indirect jobs, according to VNAT.
Tourism plays an important role in stimulating cultural and natural potential and creating opportunities for the development of other sectors and different groups of people, according to the Deputy General Director of VNAT, Mr. Ha Van Sieu. In the context of Industry 4.0 having a major impact on almost all sectors, the application of advanced technology and e-commerce to support tourism development is an urgent requirement for comprehensive and sustainable development.
EVFTA to create opportunities for Vietnam and Germany
Vietnam's commitments under the EU-Vietnam Free Trade Agreement (EVFTA) offer a comprehensive, consistent, and stable legal base for Vietnam and the EU, particularly Germany, to step up co-operation.
The opportunities were discussed at a seminar on the economic relationship between Vietnam and Germany that was organised after the EVFTA and the accompanying investment protection agreement (EVIPA) were signed. The event was organised by the Friedrich Ebert Foundation and the Vietnam-Germany Friendship Association in Hanoi on September 26.
In the framework of the seminar, delegates provided an overview on the negotiations as well as the main contents of the free trade deal and its impact on the import-export turnover and GDP of Vietnam. Besides, delegates highlighted important issues for Vietnam to consider during the implementation of the agreement. Additionally, they provided an overview of the economic and trading relations of Vietnam and Germany.
According to Luong Hoang Thai, director of the Ministry of Industry and Trade's (MoIT) Multilateral Trade Policy Department, in case the EVFTA will enter into effect in 2020, Vietnam will begin seeing increasing import-export turnover to the EU and subsequently a boost to its GDP. Notably, the import turnover from EU is expected to increase by 15.28 per cent in 2020, 33.06 per cent in 2025, and 36.7 per cent in 2030. The figures for export turnover to the EU will be 20 per cent in 2020, 42.7 per cent in 2025, and 44.37 per cent in 2030. Furthermore, the GDP will see respective increases of 2.5, 4.6, and 4.3 per cent in these years.
"Leather will see the clearest changes with an average increase of 3.73 per cent in export turnover in these three years compared to 2018. The runner up will be textile and garment, while the aviation transport sector will also see an increase of 1.5 per cent by 2025," Thai said.
In June 2019, the two parties signed the EVFTA to eliminate almost 99 per cent of customs duties. Notably, 65 per cent of duties on EU exports to Vietnam will be eliminated while the remaining will be gradually phased out over a period of 10 years. 71 per cent of duties will be eliminated on Vietnamese exports to the EU, with the remaining eliminated over a period of seven years.
The EVFTA is a new-generation bilateral agreement with content on intellectual property rights, investment liberalisation, and sustainable development.
Germany is now the largest trade partner of Vietnam in the EU and Europe in general, with two-way trade recording impressive growth in recent years. Many German firms are now successfully operating in Vietnam while German investors are arriving in droves to develop artificial intelligence, digitalisation, and startups in Vietnam. Germany also affirmed that the country is willing to invite Vietnamese businesses to join Germany's small- and medium-sized enterprises renovation programme.
Vietcombank claims three Asiamoney awards
The Joint Stock Commercial Bank for Foreign Trade of Vietnam, more commonly known as Vietcombank, has become the only Vietnamese bank to be honoured across three categories by Asiamoney magazine in an awards ceremony which was recently held in Singapore.
The Asiamoney magazine awarded Vietcombank prizes for Best Domestic Bank, Best Bank for SMEs, and the Most Outstanding Company in Vietnam.
With this recognition, Vietcombank affirms its comprehensive and outstanding operational efficiency within the domestic market. The bank is now aiming to branch out and become one of the region's top 100 financial institutions, eventually reaching the world's top 300 by 2020.
vietcombank claims three asiamoney awards hinh 1
Vietcombank is honoured by three awards this year by Asiamoney magazine.
Asiamoney is a renowned magazine whose awards are prestigious in the sector, with Vietcombank being recognised by them for several consecutive years.
The awards are split into different categories, with each one being based on information from related agencies, research on banking methods, and interviews with customers.
The vote to select the best bank in each country is based on their outstanding performance, new products, fresh services, success in risk management, and sustainable development in the context of the global economy.
Vietnam's economy remains resilient amid weaker external environment
Vietnam's economy is forecast to maintain healthy growth in 2019 and 2020 at 6.8% and 6.7%, respectively, after growing robustly at 7.1% last year, the Asian Development Bank (ADB) said in an update of its annual economic publication launched on Wednesday.
In the Asian Development Outlook (ADO) 2019 Update, ADB noted that while Vietnam's gross domestic product growth moderated in the first half of 2019, it will remain resilient this year and next year despite a weaker external environment. Inflation forecasts are revised down to 3.0% from 3.5% for 2019 and 3.5% from 3.8% for 2020.
"Despite a slowdown in export growth due to the escalation of the trade conflict between the United States (US) and the People's Republic of China (PRC) and the consequent downturn in global trade, the economy remains healthy thanks to continued strength in domestic demand and sustained inflows of foreign direct investment,"said ADB Country Director for Vietnam, Eric Sidgwick. "Prospects fordomestic consumption continues to be positive, supported by rising incomes, buoyant employment, and moderate inflation."
The recent signing of a free trade agreement with the European Union promises to further open market access for trade and investment, as does the regional Comprehensive and Progressive Agreement for Trans-Pacific Partnership. A recent amendment to the Public Investment Law should improve public investment by accelerating processes, simplifying procedures, and enabling faster disbursement of public investment.
While retaining the growth outlook for Vietnam for this year and the next, the report highlighted significant risks to the forecast. Further escalation of the US–PRC trade tension and continuing global economic slow down could shrink global trade, which will adversely impact the country's trade performance and economic growth.
Rooftop solar photovoltaic system inaugurated in Da Nang
The project on "Development of Solar Energy in Da Nang" (DSED) on September 27 officially inaugurated the rooftop solar photovoltaic (PV) system in Vo Thi Sau Primary School in Da Nang city.
The event took place in the context of the European Union Climate Diplomacy Week 2019, which aimed to raise public awareness on the urgent needs addressing climate change.
The solar PV system in Vo Thi Sau Primary School is funded by the European Union (EU) within the framework of the DSED project and implemented by Danang Energy Conservation and Technology Consultant Centre.
The DSED project had selected four public facilities including Da Nang Hospital, Da Nang Oncology Hospital, Vo Thi Sau Primary School and Hoang Dieu Secondary School, to install pilot solar systems with a total installed capacity of 8.25kWp/system. Six households were also selected with a total installed capacity of 2.75 kWp/system.
All ten systems have been up and running since June 2019 and connected to the grid, providing a part of electricity consumption of those selected public facilities and households.
Addressing the ceremony, Head of Cooperation Section of EU Delegation to Vietnam, Koen Duchateau, stressed that, in the future, energy is expected to become the main source of Green House Gas (GHG) emissions in Vietnam, projections showing that by 2030, Vietnam's green house gas emissions could triple.
The EU is strongly committed to and supports sustainable energy development in Vietnam, by actions that will enhance energy efficiency, increase the share of renewable energies and ensure access for all to energy at affordable prices, especially for the most disadvantaged groups, he added.
The pilot installation of ten rooftop solar PV systems resulted in GHG emission reduction of 34.96 tons CO2/year with total installed capacity of 49.5 kWP. The total generation output is 72,270 kWh/year, in which total VND26 million is saved every year for each system (8.25 kWp) in public facilities, and VND8.6 million for each system (2.75 kWp) in households.
Speaking at the event, rector of Vo Thi Sau Primary School, Nguyen Thai Phong revealed that, "After three months of the pilot operation, the rooftop solar PV system has produced 3,561 kWh, which saved around 25 to 30% of the total power demand of our school. The system not only helps protecting the environment, but in the meantime saves cost of an average VND 2.2 million per month."
As the overall demand for electricity is increasing, promoting rooftop solar PV systems is considered as one of the solutions to ensure electricity cost saving through self-supply, reducing the pressure on the national power grid and environment protection.
Old is gold: once-shunned decrepit buildings find new commercial uses in Viet Nam's cities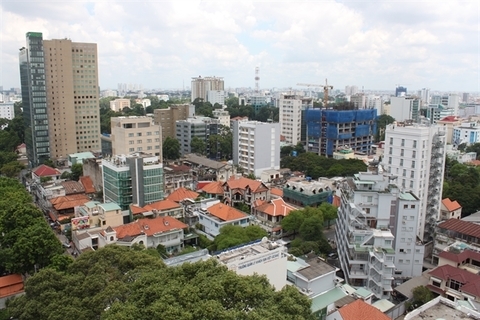 Going to old buildings to shop and have coffee and food has become popular with young people in major cities looking to find somewhere chic and attractive to relax.
A visit to an old apartment building means they can enjoy a whole day shopping, chatting at a beverage shop or getting their nails done.
Thu Trang, a young girl, says she loves going to such buildings.
"In one building I can enjoy everything. Furthermore, coming here will help me explore the typical old HCM City."
In HCM City and Ha Noi many old apartment and office buildings are becoming more attractive than ever because they are used as shops.
More and more small businesses are flocking to these places to open shops. In addition to low costs, these places also help them be unique to attract young customers.
The focus on such old buildings is not new.
Long-standing apartment buildings and mansions on main streets like Ton That Thiep and Nguyen Hue in HCM City have been enjoying steady traffic for many years thanks to charming coffee stores, cool bars and hip clothing brands.
Ha Noi, on the other hand, has always been famous for its old quarter, where the past and present meet to bring about great business.
What used to be shops of artisans and traders is now home to concept stores, hostels and restaurants, bustling with tourists and youngsters.
New trend, new opportunity
In its latest report, Jones Lang Lasalle (JLL) Vietnam said that in an increasingly tight real estate market more and more investors are finding value in adapting old buildings.
The pace of technological and social change around the world means more and more buildings are becoming obsolescent as consumer needs and demand shift, and in between the glossy new developments and protected historic buildings are many older, redundant buildings, it explained.
"Thoughtful reuse of these moribund assets offers a way for investors to enter the market and add value," JLL head of Asia Pacific research, Dr Megan Walters, said.
"Obsolescent buildings might be wrong for their current use, but might also be adaptable to something more suitable."
Thanks to its past, Viet Nam's large cities are filled with historic buildings and tiny alleyways that lead to more tiny alleyways, it said.
While the older generations used to line up for an opportunity to secure street-front real estate for retail purposes, young people are more into low-key properties, it said.
Both Ha Noi and HCM City are seeing a resurgence of historic buildings that would have been replaced by more modern properties by now, if not for the millennials, it said.
Non-retail businesses are not staying out of the retro wave, it said, pointing out Toong is known for transforming many old, underutilised buildings into contemporary co-working spaces, bringing modernity and tradition into the workplace.
Forgotten properties around the city are now busy again thanks to the presence of start-up companies with a young and hip workforce, though it is not as if any old building could be resurrected successfully, it said.
Walters says: "The most suitable buildings for adaptive reuse are those which are well-positioned, even if the site is not suited to the current use.
"Finding assets with 'good bones' and a layout which can be easily adapted to new use is also important.
"City authorities are likely to be amenable to plans which bring life, people and employment back to a building or a district."
Safety should also be a major consideration for businesses considering this type of property, it said.
Many historic properties are in various stages of disrepair and suffer from pests, mould and damp walls, and the absence of building management boards and safety regulations put these properties at great risk, it warned.
Caution should be taken before investing, it said.
Regardless, the trend is here to stay, for both retail and non-retail businesses, and investors prepared to think creatively could acquire such buildings while the price is still reasonable, it added.
Overlaps in legal system create difficulties for property businesses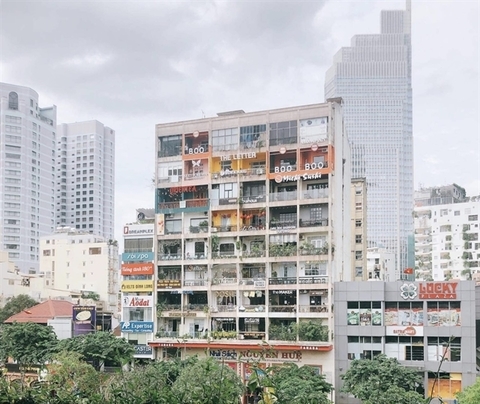 Overlapping legal documents are a major obstacle in need of removal to help construction and the development of housing projects.
Do Viet Chien, general secretary of the Viet Nam Real Estate Association, said enterprises face inconsistencies in regulations on investment procedures and approval of development projects between the Investment Law and Housing Law.
Therefore, it is necessary to unify procedures on approval of investment in housing and new urban development projects under the law on housing and new urban areas with procedures on granting investment registration certificates.
"The Construction Law is being revised according to three policy groups: reform and simplification of administrative procedures; simplification and abolishment of business conditions; and review of the legal system and synchronisation of laws," Hoang Hai, head of the Ministry of Construction's southern representative office, said.
The amended law is more open and in sync with international regulations, according to Hai. Viet Nam has combined procedures for design appraisal with construction licensing procedures for projects using capital from non-budget sources. This combination may lead to abolishment of the construction licence. This means simplifying licensing procedures.
Vo said the State should review any loopholes in the legal documents. Then, the State should issue a decree on supplementary regulations and submit it to the National Assembly Standing Committee for approval. This decree should focus on unifying regulations for an investment project.
"Ten years ago, the National Assembly had to amend and supplement a number of articles related to basic construction investment in 2003-05, including the Construction Law, the Bidding Law, the Enterprise Law, the Land Law and the Housing Law, to solve a number of conflicts," Vo said.
Today, there are more conflicts, including the 2014 Construction Law, the 2009 Urban Planning Law, the 2014 Housing Law, the 2014 Real Estate Business Law, the 2013 Bidding Law, the 2013 Land Law, the 2014 Law on Environmental Protection and the Civil Code 2015, according to Vo.
This leads to congested investment activities, interrupted production and service value chains, and a decline in real estate supply.
The main cause of the overlaps in the current legal system is the inefficient method of law building. The process of building and appraising laws, decrees and circulars does not take advantage of the opinions of legal experts. Therefore, it is difficult to find conflicts.
Since the beginning of 2019, the real estate market has shown signs of slowing down. The private real estate business sector is growing, but faces many challenges and risks that need to be removed for its healthy and sustainable development.
Many ministries, sectors and localities have solutions for real estate businesses but there are still many risks, especially in legal documents.
The legal document system for business activities is still unreasonable. According to a review by VCCI of a number of related laws in the real estate sector, such as the Housing Law and the Real Estate Business Law, there are up to 20 policy conflicts. Circulars in the real estate sector had overlaps and contradictions, Vu Tien Loc, chairman of Viet Nam Chamber of Commerce and Industry (VCCI), said at a conference held by the Business Forum Newspaper and the Press Center in HCM City.
Le Hoang Chau, chairman of the HCM City Real Estate Association, said the real estate market in HCM City faced difficulties due to policies. Projects had been halted because of overlaps in the laws. About 170 projects had been approved for investment but could not be implemented due to legal problems.
To develop a project, a business took a total of 10 years, including five years of site clearance, three years of preparing investment capital and two years of construction. So, the State should have policies to reduce those difficulties for property businesses.
Novaland pours $20 million into Azerai Can Tho Resort

Deutsche Investitions - Und Entwicklungsgesellscheft Mbh (DEG) will sponsor US$20 million in the Azerai Can Tho Resort, one of the first projects of the NovaWorld Mekong leisure and tourism complexes that Novaland Group will develop in the Mekong Delta region.
The signing ceremony between the two companies took placein HCM City on Thursday.
At the same time, DEG also signed a Memorandum of Understanding on the provision of travel quality standard consulting services for the NovaWorld brand.
Under the agreement, experts from DEG will provide business support services to Novaland, including facilitating expert advice for training professional human resources and orienting tosustainable hotel management standards.
They will also provide consultation onenvironmental issues and use ofavailable resources in parallel with ecological development so thatthe chain of NovaWorld complexes, such as NovaWorld Mekong, NovaWorld Phan Thiet and NovaWorld Ho Tram, will become destinations for domestic and foreign tourists.
Bui Xuan Huy, general director of Novaland Group, said: "We look forward to strengthening the co-operation with professional consultants to be able to develop NovaWorld Mekong in a sustainable way, contributing to both local tourism development and creating new jobs, helping to keep workers from leaving their fields and bringing high-level personnel to the Mekong Delta."
Overthe last 25 years, Novaland has becoe a leading prestigious real estate developer in Viet Nam, with more than40 diverse projects providing outstanding products to meet the increasing demand of customers, such as: townhouses, villas, shophouses, condominiums and 24/7 offices with a large land bank in key locations in HCM City and neighboring provinces, and over five hospitality-real estate projects in large cities and provinces.
According to its development strategy from 2019 to 2023, Novaland will implement phase two, focusing on core businesses in the middle – high segment. The accumulated and underdevelopedland bank of Novaland covers about 4,300ha for three key product lines, includinghousing projects in HCM City; satellite townships in Dong Nai Province; and tourism development projects of international standardsin cities with great tourism potential.
DEG is a 100 per cent-owned subsidiary of KFW, the largest state-owned bank of the Government of the Federal Republic of Germany, with a history of over 55 years. DEG specialises in providing finance, advice and support to private businesses operating in developing countries and emerging markets, funding private sector projects that make a positive contribution to sustainable growth and improve living conditions of local people.
Consumer price index to be controlled at low level of 3.3-3.5% in 2019

If there are no unexpected factors in the remaining months of the year, it is feasible to control the consumer price index (CPI) this year at a low level of 3.3-3.5 per cent, Deputy Prime Minister Vuong Dinh Hue said on Friday.
During a meeting of the Government's Steering Committee for Price Management to review the country's price management in the third quarter of 2019 held in Ha Noi, Hue said average consumer price index in the first nine months of 2019 was estimated to expand by some 2.52 per cent against the same period last year.
Hue, who is head of the committee, said the average CPI of 2.52 per cent in the first nine months of 2019 was the lowest level in the past three years. The rise in 2017 and 2018 was 3.79 per cent and 3.57 per cent, respectively.
The low monthly CPI rise in the third quarter has continued to ease authorities in controlling inflation for the whole year according to the targets set by the National Assembly, Hue said, adding the low hike would also be a condition for the Government to consider the price adjustment of some public services according to the Government's approved roadmap.
Nguyen Anh Tuan, Director of the Ministry of Finance's Price Management Department and head of the committee's assistant group, said during the first nine months of 2019, prices of goods and services rose significantly in February before inching down in March and June. The prices then gradually increased again from July to September.
Despite still rising, the monthly increasing rate of the CPI was low in the third quarter. The CPI in July expanded by only 0.18 per cent compared with June. The rate in August was 0.28 per cent and is estimated at some 0.4-0.6 per cent in September.
According to Tuan, the main reasons for reducing the pressure on the CPI were the decline in food prices due to the abundant domestic supply and the decrease in the demand for rice imports in the world market.
Besides, prices of petrol, oil and gas in the domestic market tended to decrease in the third quarter, contributing to easing the pressure on CPI.
In addition, Tuan said, the low CPI hike was also thanks to great efforts made by ministries and sectors in monitoring, evaluating and forecasting the movements of domestic and foreign market prices of essential commodities in order to have timely policy responses, contributing to stabilising market sentiment and controlling inflation.
The ministries and agencies were successful in proactively calculating and adjusting the prices of essential commodities according to the Government's roadmap and the Steering Committee's scenario set out for each quarter, Tuan said.
To continually better control inflation in the remaining months of the year, Deputy PM Hue required ministries and sectors to closely monitor supply and demand movements of goods and services, especially some essential goods, as well as proactively prepare commodity supply sources at the end of the year for holidays such as the New Year.
The Ministry of Industry and Trade must proactively distribute goods sources in the context of commercial competition among big countries. The ministry also has to take measures to boost exports and control imports to ensure not only the CPI target but also balance of payment, balance of capital and current account balance, Hue said.
Hue directed the State Bank of Viet Nam to continually manage the monetary policy actively and flexibly, and co-ordinate the fiscal policy with other macro policies to control core inflation at some 1.9 per cent.
He also instructed the management of prices of some essential commodities including electricity, requiring competent authorities to make public the input costs of electricity before November this year.
As for the price management next year, Hue said the Government would propose the National Assembly to control the CPI rise at 4 per cent.
Sustainable business capacity needed

Sustainable development is an urgent need for countries around the world. Viet Nam has made great efforts in this regard.
The policy of sustainable development had been consistent and integrated throughout all socio-economic development strategy programmes of Viet Nam, said Hoang Quang Phong, deputy chairman of the Viet Nam Chamber of Commerce and Industry (VCCI) at a conference held in Ha Noi on Friday.
The seminar aimed at providing Vietnamese businesses with solutions to reduce the demand for wildlife products, thereby raising the social responsibility of the business community in preserving nature.
This is also an opportunity to share experiences among domestic and foreign management consultants with businesses in search of new initiatives for business strategy planning and new corporate governance tools in finance, marketing, as well as human resource management.
According to the World Bank, in 2018, Viet Nam ranked 69th out of 190 countries and territories in its business environment and ranked 77th out of 140 countries in competitiveness.
In the same year, Viet Nam ranked 54th out of 160 countries in sustainable development, showing that the Southeast Asian country is trying to surpass other countries of the same regional development level.
Vietnamese enterprises are benefiting from the impressive economic development results achieved in previous years, meanwhile, taking advantage of the signed free trade agreements to achieve higher growth rates, with better competitiveness and greater sustainability.
The Government has launched many programmes to support businesses, encourage creative production models, build a healthy and transparent business environment, promote the development of quality human resources and energy projects, as well as building collaborative and interactive economic mechanisms. Thus, businesses and management agencies can participate in activities and jobs that contribute to preserving the environment.
Sarah Ferguson, head of TRAFFIC's Viet Nam office, said that in the context of deep integration and constant competition, businesses needed to create advantages and develop business capabilities. Entrepreneurs would succeed when building a business model that brings lasting value to the community, building a creative vision and business strategy, run by a team of dedicated, confident employees.
Sarah suggested that businesses become members of environmental and socially responsible associations. Business leaders and employees should sign a commitment not to buy, sell or participate in the trade of endangered, precious and rare wildlife, at the same time sharing information on animal and plant protection activities and encouraging friends, colleagues and family to join hands in this activity, she added.
Agricultural firms urged to innovate to compete internationally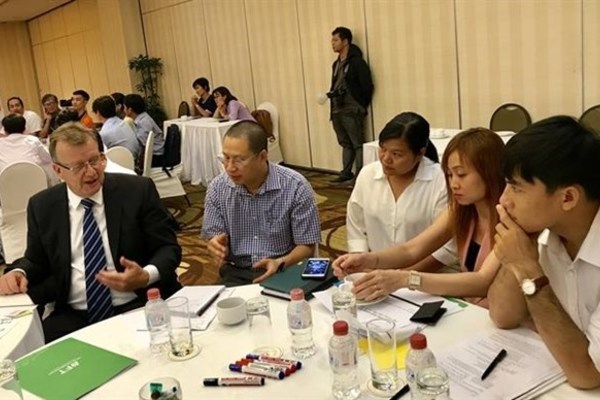 Agricultural businesses are facing increasing international competition and must use science, technology and innovation to improve their productivity and competitiveness, experts said at a workshop in Ho Chi Minh City on September 27.
David Monck, innovation facilitator at Australia's Commonwealth Scientific and Industrial Research Organisation (CSIRO), said that unlocking results from publicly funded research for innovation that delivers economic, social and environmental benefits was a challenge facing agricultural innovation systems around the world.
Speaking at the "Unlocking Innovations in Agriculture for the Private Sector" workshop, Monck said that publicly funded agriculture and food research outputs required "Science Commercialisation Partnership" approaches to fit the diverse nature of the agri-food industry.
These approaches ranged from traditional technology transfer models applied to agribusiness to more collaborative partnerships with a variety of agri-food industry and broader system actors. These approaches were being implemented globally with varying degrees of success in different contexts.
He said that it was important to determine what works for the agriculture and food sector in Vietnam and how to leverage it to enhance innovation capacity. "It is key to build an agricultural ecosystem applying a digital base to support the competitiveness of Vietnamese agriculture."
"The agriculture and food sector plays a critical role in achieving food and nutrition security, poverty reduction and environmental sustainability," he noted.
Shaun Fitzgerald, consul for economics and politics at the Australian Consulate in HCM City, said the workshop aimed to identify innovation challenges affecting the competitiveness of the agricultural industry.
Pham Duc Nghiem, Deputy Director for the National Agency for Technology, Entrepreneurship and Commercialisation Development (NATEC) under the Vietnamese Ministry of Science and Technology, said that opportunities for research to address these challenges would also be discussed.
Such opportunities would be explored in collaboration with appropriate research expertise to develop a solution for industry association members, he added.
Australia has a successful history of supporting public-private partnership models to enhance research activity in agriculture and increase business competitiveness. More than 3.3 billion AUS has been invested in agricultural innovation by public and private sectors.
Vietnam and Australia have been partners in innovation for more than 25 years, with research programmes spanning agriculture, water management, disaster resilience and space science.
One of these, Aus4Innovation, helps Vietnam develop a national innovation system and pilot new models in areas where Australia has experience and advantages.
The programme will support Vietnam's most important industries, including agriculture and production, as they modernise and embrace opportunities of the Industry 4.0 era that will ensure future productivity and prosperity for the country.
As part of the Aus4Innovation programme, the Science Commercialisation Partnership will support a number of innovation partnerships in agriculture and food. Aus4Innovation is delivered through Australia's Commonwealth Scientific and Industrial Research Organisation.
According to experts, the next wave of digital technologies has the potential to transform Vietnam into Asia's next high-performing economy and to raise living standards over the coming decades. But to sustain high growth, Vietnam will need to overcome substantial challenges. The workforce needs to upskill, especially as jobs become automated across agriculture and manufacturing sectors.
The event was held by the Association of Food Transparency, Australia's Commonwealth Scientific and Industrial Research Organisation and the Department of Foreign Affairs and Trade of Australia./.
Vietnam's nine-month GDP growth hits 9-year record high
Vietnam's GDP expanded 6.98 percent in the January-September period, the highest nine-month growth rate over the past nine years, said General Director of the General Statistics Office (GSO) Nguyen Bich Lam on September 28.
The third-quarter GDP grew by 7.31 percent year on year, higher than 6.82 percent of the first quarter and 6.73 percent of the second quarter, Lam told a press conference held in Hanoi by the GSO to announce the latest economic data.
In the first three quarters, industry and construction rose by 9.63 percent and services by 6.85 percent, contributing 52.6 percent and 42.6 percent to the country's GDP, respectively.
Agriculture, forestry and fishery expanded just 2.02 percent and contributed 4.8 percent to the GDP as the sector has been struggling to cope with impacts of climate change and African swine fever while major foreign buyers have set stricter import rules.
Agriculture has yet to rebound, inching up 0.74 percent year-on-year, lower than that of 2017 and 2018. Fishery was the sector's best performer which increased 6.12 percent while forestry grew by 3.98 percent.
The GSO leader said manufacturing and processing remained the main engine driving the industry sector as well as the entire economy, growing at 11.37 percent.
In the services industry, wholesale and retail posted the highest growth at 8.31 percent, followed by finance, banking and insurance segment (8.19 percent), transportation and logistics (7.82 percent), and information and communications (7.65 percent), he added.
Total nine-month retail sales of consumer goods exceeded 3.63 quadrillion VND (154.8 billion USD), a year-on-year increase of 11.6 percent, excluding inflation./.
SSI wins Asiamoney Best Southeast Asia Securities House Awards
SSI Securities Corporation received two Asiamoney Best Southeast Asia Securities House Awards from Asiamoney, a leading finance and investment magazine in the Asia-Pacific, at a ceremony in Singapore this week.
They were for "Best Securities House in Vietnam" and "Best Corporate & Investment Bank."
It was the third time the company has won the "Best Securities House in Vietnam".
SSI has been the leader in securities broking on the Ho Chi Minh Stock Exchange (HoSE) for the last five years.
In the second quarter of this year it continued to be largest player on both HoSE and the Hanoi Stock Exchange, with market shares of 13.15 percent and 11.11 percent.
At the awards ceremony, Nguyen Duy Linh, deputy managing director of retail brokerage at SSI, said: "By perseverance in vision and flexibility in strategy, SSI will continue to promote investment in people, products and services, trading systems, and networks."
Being one of the oldest companies operating in the Vietnam stock market, SSI has won a number of prestigious local and international honours like Asiamoney Brokers Poll, The Asset Triple A Country Awards, FinanceAsia Country Awards, Top 40 most valuable brands in Vietnam, Top 1000 corporate income tax paying enterprises, and 500 most profitable enterprises in Vietnam./.
Consumer price index expands 0.32 percent in September
The consumer price index (CPI) in September rose 0.32 percent over the previous month, said General Director of the General Statistics Office (GSO) Nguyen Bich Lam.
Lam said at a press conference on September 28 that the figurerepresents a 2.2 percent rise over the number in December 2018 and a 1.98 percent increase from the same month last year.
Averagely, in the first nine months of 2019, the CPI rose 2.5 percent year on year, the lowest level in the past three years, he added.
The rise in educational services, impacts from African swine fever and flooding in some localities, as well as the State Bank of Vietnam's efforts to keep flexible monetary policies and stable macro-economy are major factors pushingup the CPI in the month, he said.
Meanwhile, Do Thi Ngoc, head of the GSO's Price Statistics Department, explained that higher demand in the Lunar New Year in February this year led to an increase in prices of food and catering, transport and tourism services. Especially, a 4.21 percent rise in food price, including an 8.04 percent hike in pork price, pushed the CPI in January-September period up by about 0.34 percent.
At the same time, electricity price in the first nine months of this year rose 7.69 percent year on year, resulting in an additional 0.18 percent increase in the CPI.
Ngoc added that areas contributing to upturn in the CPI also included healthcare services, education, construction materials, and stationary.
On the contrary, factors that help slow down the CPI rise included petrol price, which has been reduced by 3.46 percent so far this year, helping to lower the CPI by 0.14 percent. Gas price in the first nine months of 2019 also dropped 5.97 percent.
Adjustments in tuition in Ho Chi Minh City's public education facilities in February this year also helped lower the CPI of the country by 0.03 percent, she added.
According the GSO General Director, general inflation in the first nine months of this year is higher than the core inflation (CPI excluding foodstuff, fresh food, energy, healthcare and education services). Core inflation in the period is about 1.91 percent, showing the stable management in currency policy./.
High-quality agricultural producers unable to sell to hotels, restaurants

Producers and suppliers of high-quality and safe agricultural produce and local specialities find it extremely difficult to sell to hotels and restaurants, a lucrative segment, authorities have said.
Nguyen Minh Toai, director of Can Tho City's Department of Industry and Trade, said his department made a lot of effort to connect producers and distributors of such produce with local hotels and restaurants, but to little effect.
At a meeting held on Thursday in HCM City, he said in many cases hotels and restaurants buy goods from large manufacturers and suppliers several times to get sale contracts and certificates of origin and quality and then buy fraudulently from traditional markets at lower prices.
Pham Khanh Phong Lan, head of the HCM City Food Safety Management Board, said this unethical behaviour was quite common.
Her officials had to use various measures to track the origin and quality of products when they inspect hotels and restaurants, she said.
Nguyen Thi Anh Hoa, deputy director of the city Department of Tourism, said there were 4,000 lodging facilities serving tourists, including nearly 150 three- to five-star hotels and thousands of restaurants and eateries.
"The demand for high-quality and safe agricultural produce and local specialities is huge.
"Government agencies need to strengthen oversight of safety and quality at hotels and restaurants to ensure high-quality products can access this market.
"Producers and suppliers need to establish close co-operation with hotels and restaurants and expand their sales to them."
Nguyen Huynh Trang, deputy director of the city Department of Industry and Trade, said an agreement was signed last year by her department, the Department of Tourism and the Food Safety Management Board to promote the consumption of high-quality and safe products at city hotels and restaurants.
"The agreement also expected to strengthen supervision and impose strict fines for violations.
"But owners of hotels and restaurants have a vital responsibility in providing safe products to users."
The Department of Tourism has issued certificates to 150 restaurants and eateries and 76 shopping stores whose standards are good enough to serve tourists. 
Dong Nai develops sustainable, green tourism
In recent years, Dong Nai's tourism industry has grown rapidly thanks to new and attractive products and destinations.
Dong Nai province has strong advantages in industry, FDI attraction, and new rural development. But the its tourism growth remains modest against its potential when compared to neighboring localities like Vung Tau, Binh Thuan, and Lam Dong. Promoting eco-tourism is identified as a way for the province to find a foothold on the tourist map.
Most of Dong Nai's tourist destinations are ecological site like Buu Long, Giang Dien Waterfall, Mo Stream, Cat Tien National Park, and Dong Nai nature and cultural reserve. A series of eco-tourism projects are under construction in the province.
Nguyen Ngoc Thien Ly, a tourist from Ho Chi Minh City, said she visited Dong Nai during the weekend because it is not too far and the local eco-tourism is interesting. "There aren't many ecological tourist areas in HCMC. Visiting Dong Nai, we can go sightseeing, take a river tour and try local food," Ly explained.
Dong Nai's tourism advantages include a convenient transportation network and life-line traffic routes such as Highway 1, Highway 20, Highway 51, and Ho Chi Minh City- Long Thanh – Dau Giay Expressway.
In the near future, the Long Thanh International Airport is expected to help Dong Nai attract more tourists.
Over the past 5 years, the local tourism sector grew 10.5% annually with annual revenue increasing 14.6%. Last year about 4 million tourists visited Dong Nai bringing in 86 million USD in turnover. In the first half of this year, the province welcomed 2.5 million visitors and is expected to receive more than 4 million this year.
Dong Nai currently has 21 tourist destinations serving different types of tourism - eco-tourism, sightseeing, entertainment complex, religion, and culture. But to make the local tourism grow further, the province needs to outline measures to resolve pending difficulties.
Nguyen Dang Ninh, Chairman of the Board of Members of Buu Long Investment and Development Company, said Dong Nai province has plenty of tourism potential but needs more incentives to attract more investment.
He told VOV "Businesses are much concerned about tax policies and land lease incentives. It's impossible to handle all these issues within a short period of time. It requires a long term direction. For example, if you invest 43,000 USD in tourism, it will take at least 2 to 3 years or even 5 to 7 years to get the return."
Dong Nai boasts great tourism potential with rich culture, history, and archaeological sites. It is also home to many ethnic minority groups. These are the advantages for Dong Nai to develop tourism in a sustainable manner.
Since 2017, it has promulgated a policy to turn tourism into a key economic sector in the provincial socio-economic development strategy.
Event seeks ways to better financial knowledge for individual investors
An event to raise investors' financial literacy was held by the HOSE and The Ho Chi Minh Stock Exchange (HoSE) and the Institute of Chartered Accountants in England and Wales (ICAEW) in Ho Chi Minh City on September 30.
The "Ring the Bell for Financial Literacy" event aims to respond to the World Investors Week 2019 (WIW) launched by the International Organisation of Securities Commissions (IOSCO) and the World Federation of Stock Exchanges (WFE) from September 30 - October 4.
Firstly launched by the IOSCO in 2017, the WIW is now responded by 87 countries and territories and international organisations around the world.
Nguyen Thi Viet Ha, a member of the Board of Directors of HOSE, said there are about 2 million accounts registered on the Vietnamese stock market. Most of those are owned by individual investors.
The number of investors or the public who have finance-related knowledge remains limited, she said, stressing the need to improve knowledge and skills for them, thus increasing the number of investors as well as their investment's efficiency in the market.
A seminar on the importance of financial knowledge training for investors was arranged within the framework of the event, during which participants shared their experience in this field and proposed measures for management and market operating agencies to better the work./.