Vietnam's mid-cap stocks become more attractive to investors: Dragon Capital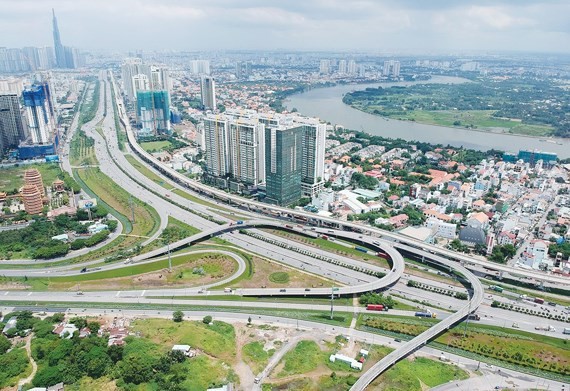 There is real value to be found in the mid- to small-cap selections in the benchmark VN- Index, many of which carry amazing growth stories, said Dragon Capital's executive.
HSBC revises up Vietnam's growth forecast for 2019 to 6.9%
Vietnam's biggest fund manager says a growing divergence between the valuations of larger-cap stocks and mid- and small-cap stocks has made the latter group more attractive, Bloomberg reported.
Vu Huu Dien, the Ho Chi Minh City-based deputy chief investment officer at Dragon Capital, told Bloomberg inflows from passive money have poured into large-cap stocks, driving up their valuations. The VN30 index, which tracks large caps, rose 6.8% in the third quarter and currently trades at 11.5 times forward earnings. The mid-cap VN70 index gained 2% and has a 7.9-time multiple, according to data compiled by Bloomberg.
"There is real value to be found in the mid- to small-cap selections in the VN-Index, many of which carry amazing growth stories," Dien was quoted by Bloomberg as saying. "This is where we are excited about investing in Vietnam." He didn't name companies or sectors.
The benchmark VN Index rose 4.9% in the third quarter, making it Southeast Asia's top performer as the country continues to be a beneficiary of supply chains shifting away from China amid its trade war with the US. The gauge is up about 12% this year.
Over the weekend, the government reported economic growth in the third quarter rose 7.31% from a year earlier, up from a revised 6.73% in the second quarter. Fitch Solutions on Tuesday revised its GDP forecast to 6.9% from 6.5% for 2019, citing support from growth in the construction and service sectors.
With all the key economic indicators remaining positive, "we are hopeful of a similarly encouraging trend in the last three months of this year," Dien said.
​Foreign investors have bought a net US$361 million of Vietnamese shares this year through the end of September, data compiled by Bloomberg shows.
Hau Giang proposes adding solar project to provincial power plan
The provincial government of Hau Giang has written to the Ministry of Industry and Trade, proposing adding the Vi Tan 3 solar power plant project to the province's power plan for the 2016-2025 period, with a vision toward 2035.
The provincial vice chairman, Nguyen Van Tuan, who signed the proposal, said that Hau Giang had asked the ministry to present the proposal to the Government for consideration, in line with the ministry's Circular No.16/2017 and Circular No.5/2019.
The Vi Tan 3 solar power project was funded by Renewable Energy Consulting and Investment Company, covering an area of 60 hectares with a total capacity of 50 megawatts. The VND840 billion project is expected to be operational in 20 years.
Besides this, it is projected to generate an output of 74 million kilowatts per hour once connected to the provincial power grid.
The solar plant is slated to be put into service in September 2021.
Earlier, the provincial government on December 17 last year issued an official correspondence, approving the investor's request to survey the solar project in Vi Tan Commune, Vi Thanh City.
Aside from Hau Giang, other provinces in the Mekong Delta have recently expressed interest in renewable energy projects for sustainable development in terms of the environment, economy and society.
The provincial governments of Tien Giang and Long An had proposed the Government shelve coal-fired thermal power projects and switch to the use of liquefied natural gas (LNG).
The Goverment previously also gave Bac Lieu Province the nod to suspend the Cai Cung coal-fueled thermal project and then to call for investors willing to use LNG.
Hoa Binh hydropower plant to be expanded in Q2 of 2020
The Hoa Binh hydro power plant expansion project is expected to start in the second quarter of 2020 and be completed in 2023, according to Vietnam Electricity (EVN).
The EVN Member Council has issued Decision No. 383/QD-EVN dated September 27, 2019 on the project investment with total capital exceeding 9.22 trillion VND (396.46 million USD), including 30 percent of reciprocal capital and 70 percent from commercial loans.
The project aims to raise the national power network's peak power and maximise utilisation of water discharged from the plant in the flood season for generating power.
In addition, it will help improve frequency modulation capability and stablise the frequency of the national electricity system and reduce the working intensity of available turbines of the plant, thus prolonging the life of equipment and saving maintenance and repair costs.
The plant expansion project will include two turbines with total capacity of 480MW and electricity output of about 488.3 million kWh per year.
According to EVN, the project was assigned and managed by the Hydropower Project Management Board No. 1, which has experience in operating major hydro projects such as Son La and Lai Chau.
Pham Hong Phuong, director of the board, said the board has focused on selecting the project's contractors to ensure the schedule, while coordinating with Hoa Binh province in compensation and land clearance work./.
Da Nang to host start-up innovation event
Leading speakers from home and abroad will address the fourth Da Nang Start-up Innovation Festival on November 1.
Vice director of the city's science and technology department Tran Van Hoang said at least 30 speakers and experts along with 2,000 businesses, students and investors will join the event.
Peter Vesterbacka is a global entrepreneur and brand communities creator from Finland; Dominic Mellor, the leader of the Mekong Business Initiative of the Asia Development Bank; Jan Lederman, President of Valhalla Private Capital, Canada; founder of Percent Silicon Valley Thach Le Anh; Shark Tank and director of Cyber Agent Investment Foundation Nguyen Manh Dung and other domestic and foreign speakers will all take part.
Hoang said activities including an exhibition of 70 business start-up projects, start-up pitching and business meetings will prelude the conference from October 28-31.
He said the city has established three private funds reserving for start-up projects since 2016.
This year's event will focus on start-up projects in fields of information technology, tourism and agriculture, aiming at promoting the city's innovative start-up ecology system for the future.
The city's business start-up ecosystem debuted in 2014 as a base for the younger generation to begin their careers. Three hundred start-up projects, of which 10 received funding from investors, were born from the ecosystem's co-working space.
In 2017, the Song Han Incubator Centre, which was seen as the first private sector incubator, was debuted as a consultancy for young people starting businesses.
The centre has supported 40 start-up projects in tourism in Da Nang and HCM City.
Last year, two projects received 7.7 billion VND (335,000 USD) from investors.
Da Nang has 18,000 businesses, 95 percent of which are small and medium-sized enterprises.
The city plans to support 200 projects and 80 start-up businesses, in which at least 20 percent of businesses will successfully call fund from investors, in 2020.
During the occasion of hosting the conference, Da Nang will debut its first Adventurous Fund in supporting start-up businesses./.
Expo-Russia Vietnam to take place in mid-November
The third Expo-Russia Vietnam 2019 will take place from November 14-16 at the Hanoi-based National Exhibition Construction Centre, the Vietnam Chamber of Commerce and Industry (VCCI) said at a press conference in the capital city on October 3.
According to the VCCI, the Vietnam-Russia Interregional Business Forum will also be held on this occasion.
The events aim to mark the 25th anniversary of the signing of the treaty on basic principles for the Vietnam-Russia bilateral friendship (June 16, 1994), and form part of activities within the Vietnam Year in Russia and Russia Year in Vietnam.

The biennial expo has been co-organised by the VCCI and Zarubezh Expo JSC of Russia since 2015, said Nguyen Tuan Hai, head of the VCCI's Foreign Relations Department.
Over the past years, Vietnam has attracted great attention from foreign businesses, including those from Russia, he said, adding that Russia now ranks 24th among 129 countries and territories investing in the Southeast Asian nation, with 123 projects valued at 932 million USD.
Meanwhile, Vietnam is running 22 projects worth nearly 3 billion USD in Russia. Vietnam is Russia's 23rd largest trade partners worldwide, the biggest in the Association of Southeast Asian Nations (ASEAN), and the sixth among members of the Asia-Pacific Economic Cooperation (APEC) forum.
Hai said after the EAEU-Vietnam Free Trade Agreement took effect on October 5, 2017, trade between Vietnam and Russia grows about 30 percent annually and is projected to reach 10 billion USD in 2020.
Alexander Kardo-Sysoev, deputy head of the Russia Trade Office in Vietnam, said the Expo-Russia Vietnam 2019 will see the participation of exporters in major areas like energy, mechanics, agriculture, transportation, media, chemical industry, medicine and pharmaceutical products./.
Vietnam's retail sales rise on strong consumer demand
Vietnam's total revenue from retail trade and services in the first nine months of this year reached 3.6 quadrillion VND (around 155.3 billion USD), 11.6 percent over the same period last year.
If the price factor was excluded, the total revenue rose by 9.2 percent year on year, higher than the rate of 9.1 percent recorded in the first nine months of 2018, according to the General Statistics Office (GSO).
According to GSO experts, high demand due to improved living standards had spurred consumption. An abundant supply of goods and guaranteed quality had also increased sales volume.
Thanks to increased purchasing power, the wholesale and retail sector together with the services sector contributed significantly to GDP growth of 6.98 percent in the first nine months of 2019, the highest level recorded since 2011.
According to the GSO, total revenue from retail trade and services in September was estimated at 420.3 trillion VND, up 1.7 percent month on month, and up 12.7 percent year on year.
For the third quarter of 2019, total revenue reached 1.2 quadrillion VND, up 3.5 percent compared to the previous quarter, and up 12.2 percent year on year.
Retail sales reached 2.8 quadrillion VND, accounting for 76 percent of the total revenue and up 12.6 percent over the same period last year.
Many industries enjoyed growth including cultural goods and education (17.4 percent); food and foodstuffs (15.4 percent); household appliances, tools, and equipment (13 percent); garments (12 percent); and transportation (10.2 percent).
Some localities increased the retail sales of goods such as: Quang Ninh (19.7 percent); Binh Duong (17.6 percent); Thanh Hoa (15.1 percent); Hai Phong (14.9 percent); Da Nang (13.9 percent); Nghe An (13.8 percent); and Hanoi (12.7 percent).
Revenue from accommodation and catering services was estimated at 434.7 trillion VND, accounting for 12 percent of the total and up 9.6 percent over the same period last year.
Revenue increased by 19.5 percent in Binh Dinh; 16.2 percent in Quang Binh; 15.9 percent in Hai Phong; 15.3 percent in Can Tho; 11.9 percent in Vinh Long; and 11.3 percent in Hanoi.
Estimated revenue from the tourism sector was 33.5 trillion VND, up 12 percent over the same period last year./.
Developer Festival in Danang to attract 800 participants
Drawing on Danang's vision to improve the adoption of new, innovative technologies locally, Developer Festival 2019 (DevFest 2019) for programmers and tech enthusiasts will kick off in Danang City on October 11, with over 800 participants and 30 speakers in attendance.
The three-day event, organized by Google Developers Group (GDG) Mien Trung, is expected to offer programmers, tech enthusiasts and students of technology and information technology the opportunity to network and exchange experiences on the new trends of technology.
At the festival, a Hackathon contest themed "Green Up! Your Code" will attract the participation of 100 software programmers grouped into 20 teams.
Apart from this, the event will feature various presentations on the latest technologies and tech updates.
Nguyen Thi Phuong Nhi, a founder of GDG Mien Trung, said that the fourth edition of the festival is aimed at developing mobile applications and websites supporting environmentally friendly activities and environmental protection, as well as contributing to addressing social issues.
"We believe that DevFest 2019 will see the introduction of several innovative ideas to build a green tech climate for the community and contribute to spreading the green living trend among residents, mainly the tech community," Nhi said.
Manufacturing growth slows down for second month
The local manufacturing sector saw its growth rate slow down for the second straight month in September, as new order growth, employment and other key factors continued their steady decline, according to a report released by IHS Markit and Nikkei today, October 1.
The Vietnam Manufacturing Purchasing Managers' Index (PMI) fell to 50.5 in September, signaling only a marginal improvement in business conditions, and the weakest since February 2016. The reading was down from 51.4 in August, falling for the second month in a row.
A slowdown in new order growth was registered at the end of the third quarter, with the latest modest increase the softest since August 2016. Weaker customer demand was mentioned by a number of respondents. This was also the case in international markets as new export orders rose at a slower pace.
Weaker growth of new business resulted in a slight fall in manufacturing production, the first since November 2017.
Staffing levels were also reduced at the end of the third quarter, ending a three-month sequence of job creation. Employee resignations were widely reported to have contributed to the fall.
Reduced operating capacity meant that firms were sometimes unable to complete orders during the month, leading to a modest increase in backlogs of work.
Meanwhile, business sentiment deteriorated for the second successive month in September.
While firms generally remained optimistic of a rise in production over the coming year, confidence was the lowest since August 2018 and the second weakest since future expectations data were added to the survey in April 2012. Concerns over market demand were behind the negative sentiment, according to respondents.
Lower output requirements discouraged input buying in the sector, with the rate of growth in purchasing activity slowing to near-stagnation. Stocks of both purchases and finished goods also increased marginally.
Andrew Harker, associate director at IHS Markit, said the initial signs of the slowdown noted last month had strengthened during September as demand waned again.
Manufacturers responded to softer inflows of new work by bringing the recent period of output growth to an end and showing a reluctance to take on extra staff and purchase inputs. Concerns about demand conditions were also evident in the relatively weak sentiment data.
"The latest PMI figures show that while the Vietnamese manufacturing sector has been one of the best performers globally in recent months, the slowdown in global trade flows amid trade tensions between the United States and China is starting to impact firms negatively as we enter the final quarter of 2019," Harker stated in the report.
Price reductions by some suppliers attempting to secure new business meant that the rate of input cost inflation remained muted in September. Input prices rose marginally, and at a much weaker pace than the series average.
A lack of pressure from input costs enabled manufacturers to offer price reductions to customers to stimulate demand. Output prices dropped for the tenth month running. Although the latest reduction was slight, it was the most marked since June.
Hanoi's Grade A office rents soar 7% y-o-y
Foreign direct investment in Vietnam and the undersupply of Grade A office space for lease in Hanoi have led to rental fees for high-end facilities rising by 7% over the past year.
The capital city, particularly inner-city areas, currently lacks sufficient Grade A office space for lease, Do Thi Thu Hang, director of research and consultancy at Savills Vietnam, told attendees at a meeting held on October 1 on the Hanoi office market.
As of the second quarter of the year, rental fees for both low- and high-end offices in Hanoi averaged US$42 per square meter per month, up 7% against last year.
The number of Grade A offices only covers 500,000 out of 1.8 million square meters of the total offices for rent in the city.
Some 9% of companies in the city need to lease large offices, covering over 1,000 square meters, but these units account for 53% of the city's total office area available for rent.
Due to the limited area, office tenants will struggle to find sufficient Grade A office space on a single floor of an office building, Hang added.
Office tenants in the city chiefly operate in the finance, insurance, information and communications technology and real estate sectors. Grade A offices also attract many foreign tenants.
In the coming days, the municipal office market is forecast to become busier, with office rents in general rising a mere 3%, Hang said.
The Capital Place office building, covering 94,000 square meters, is reaching completion and is scheduled for lease next year. In addition, another building, called Lotte Mall Ciputra, will offer 44,000 square meters of office space for rent in 2021.
Further, many Japanese and South Korean firms are seeking to invest in Grade A office projects in Hanoi after realizing the potential of the office space market.
Hang added that the city is facing an undersupply of Grade A properties, but local investors will find it difficult to join these projects. As up to 60% of Grade A office tenants are foreign firms and organizations, they require foreign standards to be met for their offices, which not many local investors can do.
Farm produce prices plunge
The prices of several agrofishery products, including rice, coffee, tra fish and pepper, have plunged, according to statistics from the Ministry of Agriculture and Rural Development.
The Farm Produce Processing and Market Development Department and the Institute of Policy and Strategy for Agriculture and Rural Development on October 1 released a report to announce the prices on the farm produce market in September, Sai Gon Giai Phong news site reported.
Accordingly, in September, the price of rice in the Mekong Delta region took a nosedive due to low export demand.
Facing the same fate, the price of coffee slumped as Brazil's currency, the real, has weakened, forcing the country to sell large amounts of coffee after each crop. As such, coffee inventories in some major markets are on the rise.
In addition, oversupply hit the price of tra fish in the Mekong Delta region. However, in September, shrimp prices bucked the falling trend, inching up against August.
The department noted in the report that over the past nine months, the market saw the prices of agricultural products fall sharply.
In particular, the decline in rice prices was attributable to weak demand, whereas pepper prices declined sharply due to global oversupply.
The agriculture sector had earlier suffered African swine fever outbreaks, resulting in a drop in live pig prices.
Besides this, tra fish prices plunged due to weak exports to foreign markets, mainly China, since early 2019, according to the report.
Despite declines in the prices of farm produce, the revenue from agricultural product exports in September amounted to an estimated US$3.5 billion, taking the total export value during the nine-month period to over US$32 billion, up 2.7% year-on-year.
Removal of technical barriers sends CBU auto imports skyrocketing
Vietnam spent US$260 million importing an estimated 13,000 completely-built-up (CBU) automobiles last month, up 38% in volume and 24% in value month-on-month. The massive influx of CBU automobiles into the country is attributable to the removal of technical barriers imposed on these imports.
The country recorded high sales of imported vehicles with up to nine seats, according to the General Department of Vietnam Customs.
During the first nine months of the year, some 109,000 cars worth US$2.4 billion were imported to Vietnam, up over 150% in both volume and value against last year's figure.
Some said it was inappropriate to compare the vehicle imports of 2018 and 2019 as the country had imposed tight controls over the import of CBU cars last year, while relaxing these requirements this year.
However, the import volume over the nine-month period this year is equivalent to or even higher than those of previous years with record imports.
In particular, data from the General Department of Vietnam Customs showed that the country imported 100,400 automobiles in 2015, 97,000 units in 2016 and 83,800 in 2017, all lower than the nine-month figure in 2019.
Meanwhile, a mere 51,000 cars with up to nine seats were shipped to the country in 2015, the year with the highest automobile import volume. Nearly 75% of the total volume of vehicles imported in the January-September period of 2019 are automobiles with fewer than nine seats.
According to the department, Thailand, Indonesia, Japan, China and Germany were the five main suppliers for the local automobile market, providing 97% of cars imported by Vietnam year to date.
With the upward trend in imports of CBU vehicles, industry experts forecast that this year's automobile import volume may reach 140,000 vehicles.
Startup journey focuses on tourism in nine provinces
StartUp Journey 2019 was officially launched in Hanoi on October 1, gathering 120 youngsters who are passionate in starting up a business in the field of tourism.
Under the theme "Why Vietnam?", the programme is expected to mobilise creative young entrepreneurs and students with start-up products and ideas in tourism and technology.
The journey officially takes place from October 10 to November 7, departing from An Giang province and passing through eight provinces and cities, Kien Giang, Ben Tre, Dak Lak, Binh Dinh, Hue, Ninh Binh, Yen Bai and Lao Cai.
Within the framework of StartUp Journey 2019, there will be a series of training programmes and competitions to test technology application skills in building online travel solutions and promoting tourism through field-trips to local tourist destinations for participants. In addition, a seminar on "Innovation to promote tourism" will also be held to summarise the knowledge collected from the above-mentioned activities.
At the end of the journey, participants will attend the Techfest 2019 – the biggest annual event for the innovative startup community in Vietnam – in Quang Ninh Province.
Nguyen Duc Tung, Director of the Supporting Centre for Youth's Startup (SYS Vietnam), said that StartUp Journey 2019 focuses on introducing experiences of each region's typical tourism environment to inspire participants to develop ideas and solutions in applying information technology in tourism, as well as developing tourism information system and applications associated with the digital Vietnamese knowledge system and the e-government.
StartUp Journey 2019 is co-organised by the SYS Vietnam (under the Vietnam Youth Federation Central Committee) and Sun Bright Communication JSC, under the sponsor of Habeco, Plaumai Eco, Nestle and Ruby's Midu, accompanied by famous travel brands such as NATEC, ISEV, Adam Store, Mi Quang Ech (Froggy noodle) Bep Trang, Mau restaurant, SRWatch, Sun Travel, MuaBanNhanh, KYC and Phuotluon.com.
Over US$1.56 billion poured into Mekong Delta in nine months
Provinces in the Mekong Delta region have attracted over US$1.56 billion worth of foreign direct investment (FDI) capital, including newly registered capital and supplemented capital, in the first nine months of 2019, according to the Ministry of Planning and Investment.
In the January-September period, 12 out of 13 provinces and cities in the Mekong Delta region (except for An Giang) reported additional FDI projects with total newly registered capital of over US$1.12 billion, equivalent to 75% of the newly registered capital in 2018.
The total FDI capital has been invested across 151 projects, an increase of 52 projects compared to the same period in 2018.
The Mekong Delta region has had 1,662 valid FDI projects so far, with registered capital total of over US$22.63 billion, accounting for 5.56% of the nation's total number of FDI projects and 6.32% of the nation's total registered capital.
Localities in the region have focused on improving transport infrastructure to call on more foreign investment over recent years. In particular, total State and local budget invested in this region is ranked third out of six economic regions nationwide in the past five years.
In the next five years, the Government is scheduled to invest in transport projects to boost links between regions and sub-regions in the Mekong Delta.
The Mekong Delta region is considered to have huge potential that has yet to be tapped. The region has the highest economic growth rate among other regions across the country in addition to a high provincial competitive index. The region also boasts an abundant labour source and high purchasing power only after Hanoi and Ho Chi Minh City. It is also the largest agricultural production and processing hub in Vietnam.
Fusion appoints new general manager in Da Nang
From Paris to Ho Chi Minh City and from waiter to general manager, Jérôme Taillard has joined the team at Fusion Suites Da Nang, heading operations as their newly-appointed General Manager.
Jérôme joins Fusion, which operates a portfolio of deluxe wellness-inspired resorts and hotels in Vietnam, at a time of continued expansion for the hospitality group. The company plans two further properties in 2019, adding to its current collection of two "all-suite" hotels and four "all-spa inclusive" resorts.
"Now is an exciting time to become part of Fusion's dedicated team as they place themselves as innovation leaders in Vietnam's growing wellness hospitality sector," said Jérôme. "The group already has a strong presence in Da Nang, and to join as they further cement their position here with the planned Fusion Resort & Villas Danang will be a rewarding challenge."
Approaching two decades of industry experience, Jérôme started his career in his home country of France with food and beverage positions before taking operational roles in China and then Vietnam, where he further developed his skills in pre-opening and opening of hotels. More recently, he has held general manager position at five-star hotels in Indonesia.
"I've spent a number of years in Vietnam previously, having managed hotels in Phu Quoc and Ho Chi Minh City, and fell in love with the charm of this dynamic and developing country," he explained. "My experience working closely with the local team to oversee multiple hotel departments, implement new brand standards, and develop and monitor growth strategies will take Fusion Suites Da Nang to a new level. I enjoy rolling up my sleeves and getting stuck in!"
As general manager, Jérôme takes responsibility for the hotel's day-to-day operations, managing a growing team of employees and ensuring customer satisfaction is prioritized. "Da Nang is increasing in importance for us as it becomes a leading destination for wellness vacations," said Atilla Erda, Chief Operating Officer of Fusion Hotel Group. "We are delighted with the talent and experience that Jérôme brings with him, and confident in his ability to continue the success of Fusion Suites Da Nang."
FE CREDIT posts improved earnings power and quality in 1H
FE CREDIT has announced continued growth momentum in the first half of 2019, along with strong growth in profitability - revealing much about the company's prospects in the years to come.
The loan book without institutional loans had grown 9.4 per cent at the end of the second quarter compared to the first quarter and by 26 per cent compared to the second quarter of 2018. Despite smaller growth in the loan book, corresponding revenue has increased 13 per cent, a double-digit increase compared to the first quarter and 41 per cent vs. the second quarter of 2018.
An increasingly better portfolio mix has helped bring non-performing loans (NPLs) to 5.4 per cent (under the Vietnam Accounting System standards), driven by improving credit quality. It demonstrates that the strategy of deepening existing customers' share of wallet is yielding results, in terms of improving portfolio asset quality with known customers.
There are three main growth engines that have laid the foundation of FE CREDIT's loan book growth in the quarter.
Firstly, cross-sell and Loans Top Up remain the largest contributors to FE CREDIT's total loan book. Thanks to its investment in big data analytics, the resultant ability to analyze and identify potential customers for targeted offers has led to cross sell / top up growth of 10 per cent compared to the first quarter of 2019 and 44 per cent vs. the second quarter of 2018, with such loans constituting 54 per cent of the total portfolio.
Secondly, FE CREDIT's new loan disbursements to new customers recorded growth of 9 per cent compared to the first quarter and 24 per cent vs. the second quarter of 2018, making it the second-largest contributor to the total loan book. This growth has been assisted by the fully automated lending platform $NAP, one of the most popular finance apps in Vietnam, which has garnered more than 1.4 million downloads.
Finally, as the standard of living is improving around Vietnam, the need for consumer durable loans and two-wheeler loans issued at the point-of-sale (POS) continues to grow steadily. FE CREDIT's total loans at POS make up 9 per cent of the total loan book and grew nearly 10 per cent vs. the first quarter. It has captured the increase in market demand by boosting strategic partnerships with leading retailers who make up the bulk of the home appliances and two-wheeler sales in Vietnam.
Besides these three pillars of FE CREDIT's loan book, credit cards also made a substantial contribution to the growth of ENR balances. Credit cards witnessed growth of 26 per cent in the second quarter compared to the first and over 102 per cent against the second quarter of 2018, with the total credit card base reaching over 1.7 million.
FE CREDIT's credit card business is one of the fastest growing in Vietnam in terms of size and volume. It currently makes up over 40 per cent of total net receivables. Credit cards offer a more engaged relationship with customers, since it is used for everyday lifestyle spends, and this engagement is evidenced by the fact that card spending doubled in the second quarter compared to the second quarter of 2018.
In the first phase of its journey, FE CREDIT's growth was largely driven by the expansion of its physical distribution. For the last two years, it has focused on digitization and gained tremendous success, which is evident in its business results.
In the next phase, FE CREDIT has a vision to be omnipresent across all consumer touch points with relevant offerings and an always-available revolving credit line. In order to deliver on this new vision, the company has tied up with many global leading fintech players and will enter into strategic partnerships to make credit available at customers' fingertips, on their mobile phones.
J.D. Power: Car dealers failing to meet timeline and cost expectations
An increasing percentage of customers are not having their needs met by motor car dealerships that are failing to meet the promised service time and expected service fees, according to the J.D. Power 2019 Vietnam Customer Service Index (CSI) Study released recently.
The study found that 9 per cent of customers, up from 6 per cent in 2018, indicated their total service time was more than what was initially promised. Customer satisfaction for such customers is 719 (on a 1,000-point scale), a decline of nine points from 2018.
Furthermore, the average service time increased to three hours from nearly 2.5 hours in 2018. Customer satisfaction for those whose service time is one hour or less is 41 points higher than those whose service took more than one hour.
"In order to provide a more accurate service time to the customer, a coordinated effort is required from each player," said Mr. Siros Satrabhaya, Regional Director for Thailand and Vietnam at J.D. Power. "It is important for service advisors to have visibility of the workshop schedule in advance while workshop controllers, technicians, and washing staff need to ensure their jobs are completed within the allocated time."
"As car wash and vacuum services become mandatory, this needs to be factored into the service time estimation given by the service advisor to deliver a positive customer experience."
A higher percentage of customers (15 per cent in 2019 vs. 10 per cent in 2018) indicated that service fees are much higher than expected. Customer satisfaction for those whose service fees are much higher than expected is 799, which is 21 points below the overall average satisfaction score.
Shorter paperwork time is preferred, with satisfaction 23 points higher than the average among customers whose paperwork process was finished within five minutes. The paperwork process during vehicle pickup takes 18 minutes on average.
Regarding variety of payment methods, only 27 per cent of all transactions are made via non-cash methods such as credit cards or mobile wallets. However, an increasing percentage of customers are showing a preference for these methods. Those who prefer to pay with a credit card is 51 per cent, up from 42 per cent in 2018, those who prefer a mobile app is 19 per cent, up from 11 per cent in 2018, and those who use membership points is 16 per cent, up from 10 per cent in 2018.
Text updates help drive satisfaction. For the 21 per cent of customers who receive service status updates through text messages or the manufacturer's app, satisfaction is 29 points higher than the average. Similarly, for the 22 per cent of customers who receive updates through email, satisfaction is 15 points higher than the average.
Ford ranks highest with a score of 832, performing well in two of the five factors: service initiation and vehicle pick-up. Mazda (824) ranks second and performs particularly well in-service quality. Mitsubishi and Toyota (823 each) rank third in a tie.
Now in its eleventh year, the study measures new-vehicle owner satisfaction with the after-sales service experience by examining dealership performance in five factors (in order of importance): service quality (24 per cent); service initiation (21 per cent); vehicle pick-up (20 per cent); service advisor (18 per cent); and service facility (17 per cent).
Tpcoms partners with global cloud computing firm VMware
TPCloud, the first and only Cloud infrastructure service in Vietnam, is certified by VMware, including Virtual Private Cloud, Dedicated Private Cloud, DRaaS, and VDI, and is expected to be released to the public in November. The Tien Phat Technology JSC (Tpcoms) and VMware signed a cooperation agreement on 3rd May, 2019 after a year of negotiation to pave the way for TPCloud.
Being a latecomer in Vietnam's cloud computing market, TPCloud has tried to find competitive strengths by strongly investing in technology and the perfection of products. TPCloud is not just a virtualization system of servers, it is an SDDC (Software-Defined Data Center) with a full set of components of traditional DC, including compute, storage, and networking with comprehensive cloud management.
What's more, in order to be a complete SDDC and verified by VMware, TPCloud should be equipped with hardware components, a technical support team, and data center infrastructure matching the global standards of VMware. It is also necessary to use other solutions in line with the requirements set out by ESXi, vCenter, NSX, vRealize Log Insight, vRealize Operation, Usage Meter, and vCloud Director. All system launching is carried out by VMware specialists transferring technology to TPCloud's engineering team.
Tpcoms is a professional provider of telecommunications and IT services. In Vietnam, it has been able to set up a huge network of customers who are using traditional telecommunications and IT services provided by Tpcoms. Those are the potential customers that Tpcoms can aim at when starting to promote the market campaign for cloud services.
US partner VMware is a leading company in providing cloud computing with advantages in technology and rich experience working with major corporations and companies such as AWS, Azure, IBM, and others.
Upon the cooperation coming fully into play, Tpcoms will become a strategic partner of VMware in Vietnam, supporting the provision of leading VMware products and services, and Tpcoms becomes the first cloud service provider in Vietnam obtaining VMware certification as a Professional Cloud Provider.
According to a representative from Tpcoms, being verified to use VMware technology helps TPCloud easily provide customers with a wide range of products, including public cloud, private cloud, hybrid cloud, and multi cloud for many different kinds of companies, from small and medium-sized enterprises (SMEs) to large-scale corporations. Combined with its long-term experience in providing connection infrastructure for large businesses throughout the country, TPCloud can become a breakthrough in the domestic cloud market.
As assessed by VMware, the cooperation with Tpcoms helps to set the foundations for VMware to realize initiatives to develop the service sector in ASEAN in general and Vietnam in particular. Thanks to the cooperation between VMware and Tpcoms, which has a profound understanding of Vietnam, the VMware cloud product will be provided to Vietnamese consumers through a professional business team, with customer support and technical assistance.
Wood and forestry exports hit close to US$8 bil in nine-month period
Vietnam's wood and forestry exports during the first nine months of the year enjoyed a surge of 18.1 per cent to US$7.932 billion, according to statistics released by the Vietnam Administration of Forestry.
In September alone, the country raked in an estimated US$890.8 million, up 22.7 per cent in comparison to the same period last year.
During the nine-month period, the nation exported wood and forestry products to 128 nations and territories worldwide.
Major export markets include the United States, Japan, China, the EU, and the Republic of Korea with turnover reaching US$6.93 billion, accounting for 87.4 per cent of the total turnover of forestry exports.
For consecutive years, wood and forestry exports have enjoyed double-digit growth, setting a new record each year. Indeed, 2018 saw the country bring in US$9.3 billion from the export of wood and forestry products, making Vietnam the sector's fifth largest exporter in the world.
Vietnam signed two important agreements with the EU on June 30, 2019, including the EU-Vietnam Free Trade Agreement (EVFTA) and the EU-Vietnam Investment Protection Agreement (EVIPA). In line with these two trade deals, approximately 99 per cent of tariff goods from both sides will be eliminated with tariffs on Vietnam's wood and forestry products being removed within seven years.
Previously, local wood and forestry processing firms had to obtain certificates issued by the Forest Stewardship Council (FSC) in order to gain access to the EU and other demanding markets.
Currently, the country is the 50th member of the Programme for the Endorsement of Forest Certification (PEFC) as of June 17, 2019. Furthermore, it is gearing up for the approval of the Vietnam Forest Certification Scheme Program (VFCS) under PEFC requirements by February 2020.
Certificates such as the VFCS/PEFC Chain of Custody certification (VFCS/PEFC-CoC) and VFCS/PEFC Forest Management certification (VFCS/PEFC-FM) are poised to boost the future export activities of forest owners and processing businesses in the international market.