CBU automobile imports surge in Jan-Aug
Vietnam imported nearly 95,930 completely-built-up (CBU) automobiles in the January-August period, tripling that in the same period last year, according to the General Department of Vietnam Customs.
These automobile imports were worth US$2.13 billion.
Of the total, there were nearly 71,100 passenger cars and 21,500 trucks, respectively quadrupling and more than doubling figures from the year prior.
Thailand remained Vietnam's largest supplier of automobiles in the eight-month period with over half of Vietnam's total imported cars in terms of both volume and value. Specifically, Thailand shipped 56,800 units, valued at US$1.1 billion, to Vietnam.
Indonesia was also a major exporter of automobiles to Vietnam with 28,200 units worth US$394 million.
According to the Vietnam Automobile Manufacturers Association, sales of imported CBU cars surged, while locally assembled cars found fewer buyers.
In the eight-month period, more than 119,700 locally assembled automobiles were sold, down 14% year-on-year, while 82,800 CBU cars found buyers, up 17%.
The trend is forecast to continue in the coming periods as the duty on CBU automobile imports from regional countries has been slashed to 0% and barriers hindering the import of vehicles, such as Decree 116 on automobile manufacture, assembly, import, maintenance and warranty services, have been removed.
Technology vital for sustainable agrifood in Vietnam
The quickest and most cost-effective way to ensure sustainable agriculture is by embracing advanced technology to improve product safety, traceability and performance, experts said at the "Vietnam-EU Forum on Sustainable Agriculture – Agriculture 4.0: Key to the European Market."
Vietnam is well placed in the agriculture sector due to its abundant natural resources and favorable climate. Labor in the agriculture, forestry and fisheries sector made up nearly 38% of the whole working population in 2018.
In the first eight months of this year, Vietnam's agro-forestry-aquatic exports earned US$26.6 billion according to the Ministry of Agriculture and Rural Development. The country is currently the European Union's second largest ASEAN trade partner.
However, according to Dr. Brian Hull, country managing director of ABB in Vietnam, local agricultural products are still facing many obstacles, especially in terms of technology, when it comes to satisfying strict international standards, leaving the country unable to achieve its full potential in terms of markets and pricing.
At the event, Nicolas Audier, chairman of EuroCham, stated that Vietnam's agricultural sector will become one of the biggest winners from the Europe–Vietnam Free Trade Agreement (EVFTA), as a reduction in tariffs will increase demand and boost exports to Europe's large, high-spending consumer market. However, the European Union has very high standards for food imports.
To cash in on opportunities, it is vital for the sector to embrace advanced technologies to produce safe, certified and traceable products to meet the needs of demanding consumer markets.
Vietnam's agriculture and food industry, in particular, are changing dramatically and are under constant pressure to adapt and evolve to meet the increasingly diverse demands in the market, especially highly demanding markets such as Europe, according to Hull of ABB.
"We are committed to a sustainable agrifood future, walking hand in hand with Vietnamese food manufacturers to help them improve product quality, enhance food safety and more efficiently use their production assets, through our digital solutions," added Hull.
Policy rate cut not a sign of monetary easing: experts
Though it is believed that the State Bank of Vietnam's (SBV) policy rate cut early this week might result in lower lending rates at local banks, some financial experts have said that a decline in the lending rate is unlikely for the rest of this year.
The central bank has announced the cut of several key policy rates by 25 basis points, starting from September 16, to support economic growth. These are the first rate cuts by the SBV since October 2017.
However, speaking to Tin Tuc website, banking expert Nguyen Tri Hieu stated that the central bank's move will only have an effect on the interbank market, where available funds are loaned and borrowed among banks.
Benefiting from the policy, local banks may use capital borrowed from the interbank market to lend to their clients---economic organizations and individuals. However, the policy will not influence lending rates significantly because there are no connections between the two lending markets.
Like previous policy rate cuts, the 25 basis point cut on the interbank market makes little sense to the market between banks and clients, where lending rates are now 9% to 11% per year.
Currently, banks are raising deposit rates to improve medium- to long-term capital mobilization, so they may not lower their lending rates. The central bank's monetary easing policy simply aims to support economic growth and exports, Hieu explained.
Meanwhile, Can Van Luc, a member of the National Financial and Monetary Policy Advisory Council, remarked that another policy rate cut is unlikely for the rest of this year, and that interest rates are not a bottleneck for the local economy at present.
Regarding the possibility of lending rate reductions at banks, Luc stated that the central bank's recent actions will not have a strong impact on the bank-client market. The policy rate cut will only affect the interbank market, banks with liquidity problems or those that have offered credit packages with refinanced capital.
Even if the central bank cuts policy rates further by one or two percentage points, the influence on the bank-client market will remain modest due to the lack of connections between the two lending markets. However, its recent move may at least keep lending rates unchanged, despite slight deposit rate increases of late.
To lower lending rates at banks, according to Luc, banks have to reduce deposit rates while maintaining the gap between the two rates at three percentage points. The condition for a deposit rate cut is that the Government must try to ease inflation.
"To offer lending rates of 9% per year to borrowers, banks must slash mobilization rates to some 6% and inflation should be kept at 4%. For lending rates of 5% per year, the two other figures must be 2% and 0%, respectively," the expert added.
According to Hieu, another condition is that banking operations should be healthy. However, this is a hard subject for the local economy now as local banks are still racking up large bad debts.
Investments of over VND3.7 trillion pledged for Nghe An
Some VND3.759 trillion has been pledged to finance five projects in Nghe An Province, it was reported during a conference on promoting investment for the north-central locality.
Further, the provincial government granted investment certificates for two projects and signed Memoranda of Understanding (MoUs) on investment for the remaining three projects during the event, held on September 20 in HCMC.
Those receiving certificates include Global Logistics and Warehouse Service Center's project of Global Logistics Service Company, which requires funding of VND107 billion in the Southeast Economic Zone. The other project, worth VND31 billion, is a multiplex cinema of CJ CGV Vietnam Company, which will be built in Hoa Sen shopping mall in Vinh City.
Notably, among the three remaining projects, an auto plant project in Tho Loc Industrial Zone is projected to cost an estimated VND2.9 trillion. This project belongs to automaker Quoc Dan, a subsidiary of auto distributor Menes.
Also, local tour firm Vietravel proposed a five-star hotel project in Vinh City, with a total investment of some VND500 billion.
Speaking at the conference, Thai Thanh Quy, chairman of the provincial government, said that Nghe An will assign provincial departments and agencies to carry out works related to the investment cooperation agreements following the event.
For projects having received investment certificates, the province pledged to hand over cleared land as soon as possible, and quickly remove obstacles faced by investors, once the project is underway.
Also, the provincial leader added that Nghe An will make efforts in all fields to become an industrial province and an attractive investment destination for both local and foreign investors. Additionally, it will create favorable conditions, such as offering preferential policies and streamlining administrative procedures for potential investors.
According to the chairman, the investment environment in Nghe An has been improved over the years, attracting many investors at home and abroad.
In the 2014-2018 period, the province recorded investment for 690 projects, with registered capital amounting to VND140 trillion, including 40 foreign-invested projects, with total funding exceeding VND9.5 trillion.
The province also saw a rising number of investors from HCMC. To date, up to 57 projects with these investors have been granted investment certificates, with total registered capital of nearly VND35 trillion.
VIO 2019 to center on fintech
The Vietnam ICT Outlook (VIO) 2019 seminar, which takes place in late October in HCMC, will highlight financial technology (fintech) applications, bringing together banks, fintech experts and State agencies.
The seminar, themed "Future of Fintech," is considered a major event for information and communication technology and is expected to connect firms active in the information technology (IT) sector with the business community, bank institutions and financial organizations as well as contribute to the development and application of technology.
The organizer noted that at the seminar, the participating experts and State agencies will share technology trends that strongly influence the economies on the global market and banks' and firms' business plans.
These technologies include fintech, artificial intelligence, blockchain, technology for information security and digital banking.
The two-day event will offer participants, mainly local firms, an opportunity to network and exchange experiences on the successful application of technology in foreign markets.
The State agencies and experts will supply information on the Ministry of Finance's and the State Bank of Vietnam's policies and supporting foundation within the framework of the seminar.
Also, firms in various fields will have a chance to present their suggestions and proposals to further develop their business operations at the event.
The VIO 2019 seminar is set to attract 3,000 visitors, 60% of whom will be representatives of firms and organizations operating in IT and finance and 15% will be representatives of State agencies.
The event will be co-organized by the HCMC Computer Association, Fintech Academy Singapore, the Vietnam Banks Association and the Institute for Development and Research in Banking Technology of Vietnam National University HCMC, on October 30 and 31.
Vietjet's ancillary revenue ranks among Top 12 airlines in the world
Vietjet's audited business results of H1/2019 showed the revenue of passenger transport stood at VND18,984 billion, a year-on-year increase of 17%.
Accordingly, ancillary revenue of passenger transport reached VND5,429 billion, up 43% year-on-year thanks mainly to the growth of international passenger transportation.
The proportion of ancillary revenue in total air transport revenue was 27%. The 2019 CarTrawler Ancillary Revenue YearBook (*), which comprises statistics from more than 100 airlines' audited financial statements, showed that Vietjet is ranked 12th in terms of ancillary revenue to total air transport revenue ratio.
According to the sustainable development model of low-cost carriers (LCCs), ancillary revenue is a decisive factor in the success of a carrier when its profit margin reaches over 90%.
Aiming to expand its service ecosystem and continue on a path of sustainable development, Vietjet has planned to provide ground services for itself at Noi Bai International Airport in Hanoi from 2020. This will bring benefits to both customers and the airline, including improvement of service quality and ancillary revenue.
Vietjet aims to be among the Top 5 airlines by ancillary revenue in the near future.
Binh Thuan approves new investments worth VND23 trillion
The south-central coastal province of Binh Thuan gave in-principle approvals to 10 projects worth some VND23 trillion (US$992 million) at an investment promotion conference in Phan Thiet City, the province's capital, on Sunday.
The province also signed memorandums of understanding on investment pledges for 14 projects worth US$19 billion and VND30.6 trillion (US$1.3 billion) in various sectors.
The Binh Thuan Investment Promotion Conference 2019 brought together some 400 delegates, including Government officials and representatives of local and foreign investors, reported the Vietnam News Agency.
The provincial chairman, Nguyen Ngoc Hai, said in his opening remarks that the province is located in an advantageous position since it is a gateway to the Southeast, Central Highlands and South Central regions and boasts a 200-kilometer-long coastline.
He noted that a number of key traffic infrastructure projects, especially a highway section linking the province's Nha Trang City and Dau Giay Town in Dong Nai Province, are being developed in the province. Earlier this year, the VND2.3-trillion Vinh Tan International Port was put into operation.
These factors made the province a promising destination with favorable conditions for investors to do business, he remarked.
At the conference, authorities called for investors to get involved in three key sectors: tourism, the processing and manufacturing industries and high-tech agriculture.
Phan Nguyen Hoang Tan, deputy director of the provincial Department of Planning and Investment, stressed that Binh Thuan authorities focus on investment in tourism service infrastructure to make it a national tourist destination.
Mui Ne in Phan Thiet City, one of Vietnam's most beautiful beach resort areas, was zoned as a national tourist destination last year, which enabled the province to attract major investors, according to Nguyen Lan Ngoc, deputy director of the provincial Culture, Sports and Tourism Department.
"They will make Mui Ne one of the leading destinations in the Asia Pacific region," he said.
Tan added that the provincial government would choose strategic investors with strong financial and investment capacity and experience in using advanced technology in projects, to make a positive impact on locals' lives and bolster socioeconomic growth in the province.
Therefore, Binh Thuan has called for luxury tourism projects, commercial projects and urban and residential areas. The projects should develop both tourism and the residential community, fostering the well-known tourism brand of "Ham Tien-Mui Ne."
For processing and manufacturing industries, Binh Thuan is in need of investment in the agricultural, forestry and aquatic sectors; mineral processing; the manufacturing and assembly of electronic equipment; and clean energy.
As Binh Thuan is designed to be a national energy center with a total capacity of over 12,000 megawatts by 2020, it aims to complete its infrastructure system quickly to catch the wave of international investments stemming from the ongoing U.S.-China trade war. It will prioritize investors that employ advanced and environmentally friendly technology.
In the field of agriculture, Binh Thuan has called for smart agricultural projects with the application of modern technology. At the same time, the province is building a value chain for cultivation and husbandry that meets international standards and adapts to climate change.
Enabling administration
Authorities in Binh Thuan Province should pay due attention to building an enabling administration that can address challenges facing both locals and investors, Deputy Prime Minister Truong Hoa Binh told the conference.
The senior Government leader urged the local authority to further build a conducive investment climate and outline attractive policies to attract more strategic investors, with the aim of creating a catalyst for local sustainable development.
To do so, according to Binh, strong planning management should be used in the three core sectors of clean energy, tourism, and high-tech agriculture. He noted that the provincial government should pay more attention to the development plans of coastal urban areas.
As the province has great potential for developing renewable energies, such as wind and solar power, and green tourism, it should work to attract key investments and diversify tourism with high-tech agriculture to create outstanding tourism products, he remarked.
He urged the province to make full use of its resources to accelerate and improve the quality of its economic growth, making it a well-developed locality in the south-central coastal area and the Central Highlands region.
The administrative system must be proactive, supportive and friendly to local residents and businesses, handle corruption strictly and make its policies transparent and interesting to investors, he urged.
He also expressed hope that investors will introduce long-term business strategies and exercise corporate social responsibility, such as protecting the environment and supporting the locals.
RCEP negotiations expected to conclude in early 2020
Bringing ASEAN member countries and six partner nations together for closer trade relations in pursuit of stronger growth, the final round of negotiations on the Regional Comprehensive Economic Partnership (RCEP) pact will conclude on September 27, according to Minister of Industry and Trade Tran Tuan Anh.
The 28th meeting of the trade negotiating committee on the RCEP pact to bridge the differences between the economies are running from September 19 to 27 in Danang City, the minister said, adding that the leaders of the 16 participating economies are scheduled to meet early next year to announce the formal conclusion of technical negotiations.
"There are still differences in goods and investment systems between some economies in the RCEP," Anh told a negotiation session today, September 23, explaining that among the partners joining the negotiation, some have signed free trade agreements (FTAs) with each other.
These partners have pledged to open up their goods markets and have offered services at various levels. As many member countries have yet to sign an FTA, it may be difficult to reach a consensus to open the market at a common level.
Besides this, the economic growth rates differ among the member countries, so at the negotiation sessions, the countries must seek effective solutions for bottlenecks and should balance the benefits for their economies.
As such, Anh stated, this meeting on the RCEP will lift technical barriers and narrow differences.
When put in place, the RCEP will create a market of some 3.5 billion consumers, with a gross domestic product (GDP) scale of US$49.5 trillion, accounting for 39% of the global GDP, the minister remarked.
"With commitments of openness to goods, services and investments and the simplification of customs procedures, as well as favorable conditions for origin requirements, the RCEP pact is expected to form the world's largest free trade zone, with value chains in the region and the global market," he said.
The zone will also promote economic growth for ASEAN countries, including Vietnam.
"As the host of the 28th meeting, Vietnam will strive to collaborate with its partners to fulfill the target and complete the signing of the pact in 2020," Anh noted.
ASEAN countries and six partners---China, South Korea, Japan, India, Australia and New Zealand---that have signed FTAs with the ASEAN, started negotiations on the RCEP on May 9, 2013.
The negotiations have so far resolved issues related to economic cooperation, small and medium enterprises, customs procedures and trade facilitation, Anh said.
Negotiations on financial and telecommunications services have recently been concluded.
Experts present solutions to restructure State enterprises
The Central Institute for Economic Management (CIEM) and a number of experts have presented their views on the role of the State economic sector and proposed solutions for the restructuring of State-owned firms by 2030 to improve socioeconomic growth, heard attendees at a conference today, September 23.
Speaking at the conference, within the framework of the "Australia supports Vietnam's economic reform" program (Aus4Refrom), to publish the results of research on the State economy and the restructuring of State-owned firms, CIEM Vice President Phan Duc Hieu stated that it is necessary to set out directions, goals and solutions for the restructuring of State-run enterprises in the next planning term.
Some 90% of 103 State-owned enterprises are expected to be transformed into joint stock companies by 2025, VietnamPlus news site reported, citing a report by CIEM.
According to the report, by 2030, three to five State firms will list on international stock exchanges and at least one firm will be ranked among the world's 500 largest firms.
At the conference aimed at presenting solutions to enhance the restructuring of State firms to build a plan for 10-year socioeconomic growth in the 2021-2030 period, experts also analyzed the restructuring of State firms in the 2011-2020 period.
Dr. Nguyen Dinh Cung, an economic expert and director of Aus4Reform, remarked that the restructuring of State-owned enterprises under the plan for socioeconomic growth needs more focus on key sectors and localities.
State firms should also operate in economic sectors that other economic groups have yet to consider and foster equitization activities, Cung noted, adding that it is necessary for State firms to separate the mission of production operations from the role of politics and public benefits.
Cung stressed that it is vital to separate the role of asset owners, State capital, the State management function and the function of business management at a State enterprise.
Setting up a specialized agency to act as representative of State ownership at State firms is necessary to ease the burden on ministries and local governments.
CIEM was appointed by the Ministry of Planning and Investment to conduct research activities to develop the plan, Hieu told the conference.
The purpose of the research was to summarize and assess the role of the State economy and the restructuring of State-owned enterprises between 2011 and 2020, Hieu said.
At the conference held by CIEM, Pham Duc Trung, head of the CIEM's Corporate Development and Reform Department, noted that the restructuring of State firms is aimed at streamlining the main role of the State economic sector, mainly through equitization and divestments.
From 2011 to 2020, the transfer of ownership rights in 750 State-owned enterprises through equitization will be completed.
The competent agencies transferred VND185 trillion from the equitization and divestments of State firms to the budget from 2016 to June this year, meeting 74% of the target.
However, State firms have faced many difficulties, including the low efficiency of State capital investment, job creation and budget collection.
Mekong Delta shuns coal-fired power plants
The Mekong Delta province of Tien Giang has endorsed the use of liquefied natural gas (LNG) for its thermal power plant project, in place of coal. Earlier, two other provinces in the delta, Long An and Bac Lieu, rejected coal-fired power plants over environmental concerns.
For the thermal power project at Tan Phuoc power center, the province will choose LNG as a better alternative for the environment, Doan Van Phuong, director of the Department of Industry and Trade in Tien Giang, told the Saigon Times on September 23.
The province had previously planned to develop a thermal power project but had yet to state whether coal or LNG would be used to fuel the facility. However, on learning that the operations of some coal-fired power plants across the country have created serious environmental pollution, the province decided to call for investors using LNG to power the station, he said.
There will be four power generators at Tan Phuoc power center, each with a capacity of 1,000 megawatts. The first generator is expected to be put into service in 2027, Phuong added.
According to the website of Power Engineering Consulting JSC 2 (PECC2), the State utility Vietnam Electricity Group (EVN) is the investor of the Tan Phuoc power center.
PECC2, a shareholding concern established by EVN, was assigned in August 2017 to propose an optimal input material for the project by analyzing, assessing and comparing coal and LNG in terms of environmental impact, energy security, generation costs and so on.
EVN's Power Generation Corporation 3 in a working session in 2016 with the provincial government proposed developing the Tan Phuoc power center to cover 420 hectares of land with an expanded capacity of 3,600 megawatts, using imported coal.
Le Minh Duc, director of the Department of Industry and Trade in Long An, previously said that the province had proposed the Government approve a switch from coal to LNG for the Long An power center and to increase the project's capacity, as coal-fired plants pollute the environment, said Duc.
Similarly, Bac Lieu received the green light from the Government to suspend the Cai Cung coal-fueled thermal power plant project and switch to calls for investors willing to use LNG.
Seminar on speeding up SMEs' growth to kick off next month
The Saigon Times Group will collaborate with Kizuna, a supplier of rental serviced factory solutions in Vietnam, to organize a seminar on October 3 to help small and medium enterprises (SMEs) gain a firm foothold and further develop their business in the local market.
The seminar, themed "Driving forces for the acceleration of SMEs active in the manufacturing sector in the digital era," is expected to provide an overall outlook on the growth of SMEs in the coming period. At the event, suggestions and proposals to support these enterprises will be presented.
Besides this, the seminar, which will be held at the HCMC Media Center at 255 Tran Hung Dao Street in District 1, will feature solutions associated with technology, capital and facilities for production, contributing to handling difficulties facing SMEs.
Although the Government, ministries and departments have launched a number of supporting programs for SMEs over the past few years, many firms have found it hard to keep up production and business activities and have faced financial difficulties.
As such, some of these firms have suffered heavy losses or have shut down, while others have missed several development opportunities due to bottlenecks.
The seminar promises to offer solutions to remove obstacles faced by SMEs enduring the challenges of the fourth industrial revolution.
Origin traceability regulations for foodstuff to come into force next month
Circular 25/2019 on the origin traceability of food products in fields under the management of the Ministry of Health will take effect on October 16.
The circular is aimed at strengthening customers' trust in food, protecting their health and ensuring information transparency across all processes, from production to distribution.
According to the Department of Food Safety, when food products sold in supermarkets meet VietGAP (Good Agricultural Practice), GlobalGAP, Aquaculture Stewardship Council and Hazard Analysis Critical Control Point standards, origin traceability will become more effective and develop into an essential trend.
The current trend is to apply information technology and electronic equipment to information updates, data management and origin traceability.
With origin traceability stamps placed on imported and exported products, customers need only use a QR code scanner app on their smartphones to check information on the products they buy.
In line with the circular, food production facilities and foodstuff processors will set up an origin traceability database to store information on batches of food products, origins of food products, materials, production processes and storage.
Besides this, the data must be stored for at least 12 months upon the expiry of the products. These facilities and food processors will be required to follow origin traceability regulations on receiving warnings from organizations, individuals or agencies.
Local bidding for North-South expy project slated for October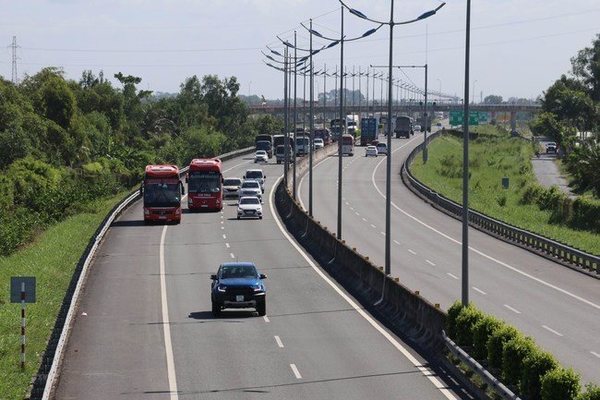 Vehicles travel on the HCMC-Trung Luong Expressway section, part of the North-South Expressway project. Local bidding documents for the project will be issued in October 
The Ministry of Transport will send out bidding documents exclusively to local investors and launch a preliminary bidding session next month for eight sections of the North-South Expressway project.
Nguyen Danh Huy, head of the Public-Private Partnership Department under the ministry, said on September 24 that the ministry will assess the bidding applications and select qualified investors in early 2020, reported the VnExpress news site.
Most of the requirements for domestic investors will remain unchanged, such as the investor's equity accounting for 20% of the project's capital. However, the ministry is collecting feedback on applying lower-level criteria in terms of investor qualifications and experience to local bidders, he added.
Commenting on local investors' ability, Huy said that some Vietnamese bidders have passed the international preliminary bidding process for the project. However, he has yet to make any assessment of the abilities of bidders in the upcoming session.
The ministry previously decided to retract the results of the international preliminary bidding process and switch to local bidding for the eight sections under the private-public partnership (PPP), to ensure national security.
This is good news for many local enterprises in the field as they will have more opportunities to join the project, said Tran Van The, vice chairman of HCMC-based Deo Ca Group. However, he added, new criteria on investor ability and experience will be a matter of concern among local investors.
Not many investors will be interested in the project if the requirements on financial capability for investors remain strict, he said.
Tran Chung, chairman of the Vietnam Association of Road Systems Investors (VARSI), said that the State should consider revising the requirements to attract more local investors.
Under the current conditions, financial capacity is the most weighted factor, accounting for 60% of the overall score, whereas experience and methods of execution make up 30% and 10%, respectively. These requirements had kept many interested investors away previously as they had been disqualified, the chairman said.
Meanwhile, some experts pointed out that local investors are fully capable of executing the eight PPP sections, given their strong technical construction skills and abilities.
According to Dang Van Dai, vice chairman of VARSI, the State would pay 30% of the total investment needed for the eight sections, while investors would provide 20% and the remainder would come from bank loans. With a capital requirement of 20%, local investors will be able to execute the subprojects.
As for technical issues, they have completed many major expressways, bridges and tunnels that have all met technical requirements, said Dai.
Traffic expert Nguyen Hong Thai said that the construction capacity of local contractors is good, adding that they would meet the requirements of the North-South Expressway project. Thai pointed out that their qualifications have been demonstrated through major projects such as the Deo Ca and Hai Van pass tunnels and other bridges.
The North-South Expressway project, with 11 sections put forth for bidding now, is among the country's top priorities for the 2017-2020 period. Three of them will receive public funding and the remaining eight sections will be built under the build-operate-transfer contract.
The project requires over VND100 trillion in investment, of which the State is expected to provide VND40.3 trillion for site clearance and resettlement.
Domestic engineering industry meets 32% of demand
While total demand for Vietnam's mechanical engineering market is estimated at US$310 billion in the 2019-2030 period, only 32% can be met domestically, so the country has to import large volumes of equipment and machinery, heard attendees at a conference on September 24.
At the conference on solutions to enhance the local mechanical engineering industry, Nguyen Chi Sang, general secretary of the Vietnam Association of Mechanical Industry, said that the industry might bring in tens of billions of U.S. dollars in profit over the next decade or two, particularly with investment in factories and major national projects.
Before 2003, hydromechanical products were imported from Russia, Ukraine and China, with prices averaging US$2,000 per ton, Sang said. "Once we can design and manufacture, production costs may drop to less than US$1,500 per ton," he added.
According to the calculations of agricultural experts, though the market size for agricultural equipment and machines is some US$500 million per year, the added value for farm produce and food products that utilize mechanization can reach US$5 billion per year.
The mechanical engineering industry now has some 21,000 firms, excluding foreign-invested ones. The number of mechanical firms with 500 workers or more is very small, at only 100 units, and most of these firms are small businesses.
Many attendees at the conference proposed the Government map out a specific strategy to secure markets for the domestic industry with its limited financial resources and technology and outdated management experience. In addition, attention should be given to infrastructure construction.
On hearing these comments, Prime Minister Nguyen Xuan Phuc pointed out that a resolution on solutions to the domestic mechanical engineering industry's development will be introduced.
Vietnam's mechanical industry mainly focuses on motorbikes and their parts, household equipment and automobiles and their parts. These subfields account for almost 70% of the total mechanical production value in the country.
Domestic firms are able to produce hydromechanical equipment for hydropower plants, steel rolling equipment and equipment for cement factories.
Besides this, there are nearly 40 automobile manufacturers and assemblers, with a combined capacity of over 680,000 automobiles per year. The localization rate of motorbikes is 85%-95%.
Regarding mechanical equipment for the oil industry, a self-elevating drilling rig, which may replace imported equipment, has been successfully manufactured in the country.
Japanese firms lead investors in Binh Duong with US$482 million
Major Japanese enterprises, including electronics firm Sharp and Nitto Denko, are developing a number of large-scale projects in Binh Duong Province, making Japan the province's top foreign investor with the most pledged capital, at US$482 million out of US$2.4 billion from 34 countries and territories, over the past nine months.
Speaking at a meeting between the Binh Duong government and foreign investors today, September 24, a representative of the provincial government noted that among the major projects funded by Japanese enterprises, a manufacturing plant project, with total pledged capital of US$135 million, will be developed by Sharp Manufacturing Vietnam Company.
Earlier, Sharp had written to Tokyo Stock Exchange stating its intention to build a factory in Vietnam and establish a subsidiary called Sharp Manufacturing Vietnam, which is aimed at managing the facility's operations.
Another Japanese firm, Nitto Denko, has also invested in Binh Duong Province through a project with capital pledges amounting to US$186.2 million.
The Binh Duong government confirmed that these investments from Japanese firms had made Japan the top foreign investor in the province over the January-September period, at US$482 million.
At the same time, as many as 34 countries and territories have injected capital into a number of projects in Binh Duong Province this year, with total capital pledges reaching US$2.4 billion, rocketing 81% year-on-year.
At the meeting, many foreign firms and the enterprise association pointed out some difficulties affecting local and international firms' operations in the province, including traffic, logistics, licensing procedures, import tariffs and manpower.
Addressing the event organized by the province, Binh Duong's Chairman Tran Thanh Liem pledged to continue enhancing administrative procedure reforms and create more favorable conditions for investors.
Liem noted that in the coming months, the province will focus on developing high-quality services to meet requirements for production and business activities to contribute to the economic growth of the province.
Action needed to reduce pollution from printing industry
Enterprises in the printing industry have discussed solutions, including a switch to plant-based, ecofriendly input materials, to reduce environmental pollution created by parts of the printing process.
The stages that exert a negative impact on the environment include gas emissions; the handling and disposal of hazardous materials and waste; and the management and use of energy, said Dr. Nguyen Long Giang from the Faculty of Graphic Arts and Media, under the HCMC University of Technical Education, at a conference in HCMC on September 19.
As for gas emissions that cause air pollution, Giang said that printing plants release Volatile Organic Compounds into the atmosphere when manufacturing solvents. These compounds easily turn into vapors or gases.
Hazardous waste such as solvent waste and photographic chemical waste from the printing process is one of the causes of global warming. Also, these chemical and solvent substances pose a high risk to the environment when they contaminate plants, water resources and farmland and harm agricultural products.
Giang suggested printing operators use paper and other raw materials from suppliers who meet requirements for environmental protection. For instance, reusable paper is recommended as it generates less carbon dioxide than other materials that are environmentally substandard.
Besides this, operators in the industry are advised to replace oil-based inks with plant-based ones. This could help reduce harm to the environment, he added.
Printing operators also need to upgrade their operating systems with advanced technology, such as Total Quality Management solutions, which are energy-efficient, save time and significantly reduce waste.
Meanwhile, Tony Tan, a technical expert with German firm Bottche, said that the entire operating system from printing materials and printers to printing staff should be replaced to cushion the adverse environmental effects created by the local printing industry.
Commenting on the benefits of environmentally friendly printing materials, Nguyen Quoc Khoa, a representative of Toan An Company, pointed out that many leading global technology suppliers have managed to eliminate or minimize the use of chemicals in the printing process.
According to a study by Kodak, the use of ecofriendly printing pallets in recent years has annually saved over 360 liters of water, 139 million kilowatt hours of electricity and more than 2.7 million liters of chemicals.
Vietnam should consider new model for growth and development: ex-official
Nguyen Si Dung, former deputy head of the National Assembly Office, has urged the adoption of the "enabling State" model of nurturing development and better serving the people to help Vietnam prosper, as it has done for other Asian countries, rather than the interventionist model currently in use, which works better for the United Kingdom and the United States due to differences in culture.
Dung was speaking at the Vietnam Reform and Development Forum 2019, under the theme "Vietnam – Aspiration for Prosperity: Priorities and Actions," held in Hanoi today, September 19.
With the abandonment of the centralized planning model, there are only two other models left for Vietnam: the enabling government and the interventionist government, according to the former official.
In the past, the enabling State models, such as those used by China, South Korea, Japan and Singapore, have been widely discussed in Vietnam. "However, we are acting according to the interventionist government models of the United Kingdom and the United States. Our State increasingly depicts an adjustment model," he said.
He noted that if Vietnam follows the interventionist State model, the country will fall into the middle income trap as the cultural characteristics of Vietnam are different from those of the United Kingdom and the United States.
Vietnam has already switched from a centrally planned economy to a market-oriented one, so the enabling State model is more appropriate as it is a transitional model, he explained.
"In this model, the role of the State in policy planning is crucial. China has followed this model, and its development is like a storm," he stated.
"Since Vietnam is a country with the cultural background of Northeast Asia, the enabling State model may be optimal for Vietnam," he stressed.
The Party and the State have set out on the path of industrializing the country and have recognized the market system, but it still attaches importance to the State's management role.
The choice of the enabling State, according to the ex-official, has brought about development and prosperity for many countries.
"This is undeniable. As local firms are facing difficulties in doing business, this may be a vital method and a more appropriate choice for our country," he added.
Escaping the middle income trap is already a major challenge for emerging economies, including Vietnam, not to mention materializing the desire for prosperity, stated Minister of Planning and Investment Nguyen Chi Dung.
He stressed that Vietnam could not achieve these targets without sustained efforts to change the old mindset, pursue innovation and reform systems and policies.
Along with global development trends, Vietnam has bolstered its economic development with innovation and has increasingly adopted technological advances from the Fourth Industrial Revolution in socioeconomic sectors and State governance.
As a low-middle income country, Vietnam is still facing a number of challenges, including low productivity and competitiveness, according to the minister.
He added that Vietnam's economy is driven by a market system where the remaining flaws need to be addressed to boost resource efficiency and ensure sustainable development.
Meanwhile, Ousmane Dione, World Bank Country Director for Vietnam, discussed two critical areas of reforms for Vietnam.
"As we look ahead to the next decade, I see opportunities, but I also see risks. We live in a volatile time, when borders have reappeared and trade tension is rising. At the same time, technological changes are occurring at an unprecedented pace: robotics and automation, 3D printing," remarked Dione.
He noted that these developments are particularly important for Vietnam, which has been relying heavily on global trade as an engine of growth.
Vietnam's economic model is also facing several domestic challenges, including a fast aging population, low capital formation and investment return, the degradation of its natural capital, human capital that needs to be enhanced and the likely decline in productivity gains, he added.
"While Vietnam has every potential to sustain its development success, bold reforms are required so that the country will be able to seize future opportunities and manage risks," he said.
With the rapidly evolving Fourth Industrial Revolution, there is significant room for Vietnam to improve its productivity by moving closer to the global technological frontier, he stressed.
Dione also urged the Government to find ways to modernize its market institutions and national governance. This will enable private sector firms, including domestic ones, to flourish and become the engine of growth.
Banks to guarantee funds for North-South expy project
Banks will fund the North-South Expressway project, under the build-operate-transfer (BOT) format, Dao Minh Tu, deputy governor of the State Bank of Vietnam (SBV), told a press briefing on October 1.
Besides this, Tu noted that the relevant ministries and departments should issue detailed policies on BOT projects to avoid losses and mistakes in the placement of stations.
Speaking at the press conference to announce the central bank's performance in the third quarter, Tu stated that the Government had decided to launch a bidding session for domestic investors to join the expressway project.
According to experts, bank loans will have to be discussed in detail when local investors get involved in the large-scale project, Tu remarked.
Tu pointed out that the bank loans needed for BOT traffic projects and expressways would reach trillions of Vietnamese dong.
Meanwhile, banks will find it hard to mobilize short-term funds and provide medium- and long-term loans in line with banking policies; each project often lasts for 10-15 years.
The capital for the Trung Luong-My Thuan Expressway project has been found, Tuoi Tre newspaper reported, citing Tu.
Banks should also offer loans for several BOT traffic projects in the northern region, such as the Chi Lang-Huu Nghi Expressway, which needs some VND8 trillion, according to Tu.
Speaking of interest rates, Tu said that from now until the year-end, lending interest rates will be kept unchanged.
The representative of SBV said the credit growth for 2019 will reach 14% as targeted. By September 24, Vietnam's credit had expanded 8.64% against the end of 2018.