HSBC Vietnam appoints new CEO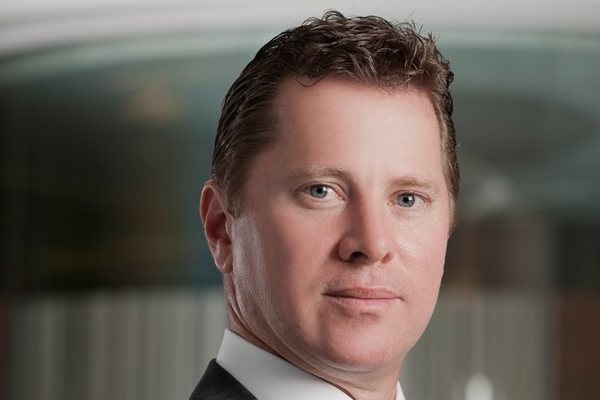 Newly appointed CEO of HSBC Vietnam Tim Evans - PHOTO: HSBC VIETNAM
HSBC Vietnam has appointed Tim Evans as its new chief executive officer (CEO), replacing Pham Hong Hai, who held the role for the last four and a half years.
Evans joined the HSBC Group 26 years ago. Before taking the helm at HSBC Vietnam, Evans served as HSBC's regional head of Commercial Banking, International Markets in Asia Pacific, covering Bangladesh, Mauritius, New Zealand, Maldives, Sri Lanka, Taiwan, Thailand and Vietnam.
He was formerly HSBC's regional head of Middle Market Enterprises in Asia Pacific, where he covered 19 markets; regional head of Global Trade and Receivables Finance; and chief operating officer of HSBC's Commercial Banking business in the Middle East and North Africa region, overseeing 10 countries.
"I am honored to have been appointed CEO of HSBC Vietnam at such a fascinating time in the country's development," noted Evans in a statement released today, September 16.
"As regional head of Commercial Banking, International Markets in Asia-Pacific, I have been closely monitoring Vietnam's growth in recent years and I'm incredibly excited to be here alongside our dedicated and talented HSBC Vietnam team.
"I would like to congratulate Pham Hong Hai for the incredible impact he had during his time as CEO of HSBC Vietnam," said Evans. "My commitment is to build on this platform for strong future growth and capitalize on HSBC's position as Vietnam's leading international bank, creating long-term value for our people and customers."
Pham Hong Hai will join HSBC Canada as country head of International Subsidiary Banking starting from September 16. In this role, Hai will stay connected with Asia and support HSBC's Asia-North America trade and investment corridor.
VN-Index rescuded in last mintues by Vinamilk, BIDV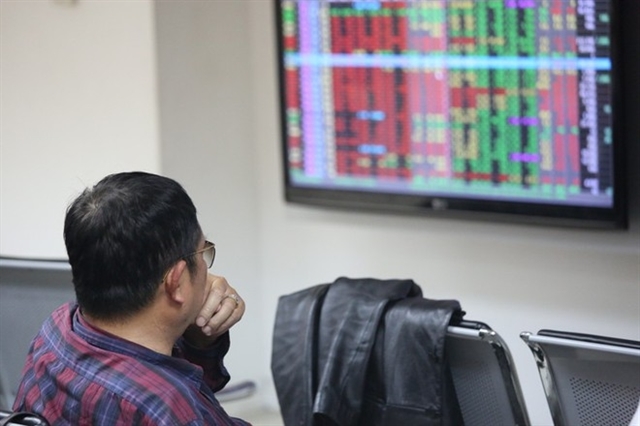 Recovery of heavyweight stocks in the final minutes of Thursday's session rescued the VN-Index from a fall after the southern market index sank in the red for most of trading time.
The VN-Index on the Hồ Chí Minh Stock Exchange inched up 0.13 per cent to close the session at 992.45 points.
Two biggest supporters included the Bank for Investment and Development of Vietnam (BID), of which share price increased by 2.6 per cent in the afternoon trade, and Vinamilk (VNM), which bounced back to growth, rising 1.6 per cent.
Some blue chips rose in the latter half of the sessions, including Vinhomes (VHM), Techcombank (TCB) and Phú Nhuận Jewelry (PNJ); or shifted from loss status to being flat such as Vietcombank (VCB), Vingroup (VIC), Vincom Retail (VRE), Vietinbank (CTG), FPT Corp (FPT) and Saigon Securities Inc (SSI).
Of the 30 largest shares by market value and liquidity, only 11 declined (down from 20 in the morning), 12 gained and seven closed unchanged.
Some continued downward such as PVGas (GAS), brewer Sabeco (SAB) and Hồ Chí Minh Development Bank (HDB), each falling more than 1 per cent, which weighed on the market.
According to Bảo Việt Securities Co (BVSC), sectors with expectantly positive profit in the third quarter such as banks, retail sales, real estate and electricity, natural rubber, would gain more attention in the short term.
"The index tends to establish a sideways channel between 998-1,004 points and 980-985 points, which is expected to last a short time for the market's accumulation," Trần Xuân Bách, a BVSC's stock analyst, wrote in the daily report.
"In the long term, we maintain our positive opinion that the market will soon break resistance zone 1,000-1,005 points and head toward stronger resistance."
Without the support of large caps, the HNX-Index on the Hà Nội Stock Exchange still inched down 0.05 per cent to close at 105.21 points.
Liquidity improved substantially with 214.7 million shares worth VNĐ6.7 trillion (US$287.8 million) traded in the two markets, up 6.6 per cent in volume but up 47.3 per cent in value compared to Wednesday's levels.
However, foreign investors have shown no signs of stopping their net selling. They were net sellers for the eighth consecutive session on the HCM City's exchange on Thursday, for total value of more than VNĐ1 trillion.
They net bought on the Hà Nội's bourse for small value of VNĐ4 billion.
Vietnam Airlines operates Boeing 787-10 Dreamliner on HCMC-Seoul route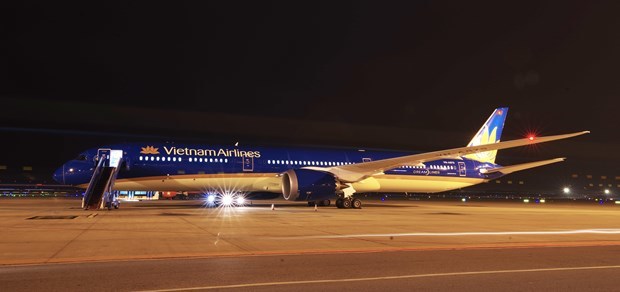 Vietnam Airlines' Boeing 787-10 Dreamliner (Photo: vietnamairlines.com)
The first Vietnam Airlines flight using Boeing 787-10 Dreamliner arrived in Seoul from Ho Chi Minh City on October 2, as part the carrier's effort to serve increasing travel demand between Vietnam and the Republic of Korea (RoK).
The aircraft landed at the Incheon International Airport with 264 passengers onboard.
Boeing 787-10 Dreamliner is the newest and longest member of the super-efficient 787 family; it can carry a maximum of 367 people.
Besides the HCM City – Seoul route, Vietnam Airlines has also used the plane on the HCM City – Busan route, with one flight per day for each route.
The carrier is among five Asian airlines that run both of the two most advanced Boeing aircraft – 787-9 and 787-10.
According to official statistics, in the first half of 2019, more than 2 million RoK holiday makers visited Vietnam, an annual increase of 21.3 percent. Meanwhile, the number of Vietnamese tourists to the RoK reached 277,000, up 31.2 percent on-year./.
Exchange rate management policy proves effective
The State Bank of Vietnam (SBV)'s exchange rate management policy has been appropriate and effective, creating benefits for the economy and confidence for the market.
Speaking at a press conference held in Hanoi on October 1 to review the performance of the banking industry in the third quarter of 2019, SBV Deputy Governor Dao Minh Tu said the assessment was made by members of the National Monetary Policies Council in its recent meeting.
While countries worldwide devalued or appreciated their currencies sharply, the SBV had kept the local currency relatively stable, with the management policy based on the overall balance of the economy such as import and export, public debt, balance of payments and current accounts, Tu said.
Reports from the SBV showed currently, the foreign exchange rate in the domestic market is relatively stable, increasing and decreasing slightly in comparison with the large fluctuations of currencies around the world.
Specifically, on the first two days of this week, the USD Index on the international market increased continuously to reach a two-year record high of 99.2 points. However, in the domestic market, the exchange rate at commercial banks only increased and decreased slightly.
According to the nine-month economic report by the General Statistics Office, despite big economic changes in many countries, including the US Federal Reserve (Fed)'s decision to cut interest rates by 0.25 percentage points in mid-September, the USD/VND exchange rate did not fluctuate significantly thanks to the SBV's flexible exchange rate management policy. Specifically, the dollar depreciated slightly by just 0.11 percent against the previous month, 0.49 percent against December 2018 and 0.39 percent against the same period in 2018.
As a result, the domestic market liquidity has been ensured while foreign currency transactions have been conducted promptly and smoothly. It has also helped the central bank net buy dollars to build up the nation's foreign reserves.
According to Tu, many people think that the VND needs to be devalued to support exports as they are slowing. However, Tu said, the slowdown is seen with all countries and it isn't feasible to use exchange rates as a tool to promote exports as import volume – mainly materials and equipment to produce goods for export – is also very large.
In the future, Tu said the SBV would conduct open market operations and regulate the credit institution's liquidity at a reasonable level to stabilise the monetary market.
It would also combine other monetary policy instruments and take flexible market interventions to stabilise the foreign exchange market, which would contribute to stabilising the macro-economy and supporting reasonable economic growth and build up the nation's foreign reserves when there are favourable conditions, Tu said./.
Alibaba breaks laws in 40 property projects: official
Laws related to land, construction and investment were violated at 40 property projects involving HCMC-based Alibaba Real Estate JSC and its subsidiaries, the Ministry of Construction told a press briefing in Hanoi on Monday.
The Ministry of Construction has taken responsibility for unlawful sales of land plots and improper advertising, said Nguyen Trong Ninh, head of the Housing and Real Estate Market Management Department.
Ninh was quoted by Tuoi Tre newspaper as saying that Alibaba's realty projects in some southern provinces are a blatant example of flouting Article 77 of the Law on the Real Estate Business. Also, the responsibilities of local governments are specified in Article 78 of the law.
According to Ninh, the execution of a property project has many stages and must comply with all regulations on land, investment, construction and urban planning.
He said that the ministry is responsible for overseeing the enforcement of the law during property trading while collaborating with provincial-level governments to scrutinize projects.
However, the main tasks are handled by local governments, including inspecting property projects; addressing violations; suspending, revoking and adjusting projects; and approving the sale of land lots in accordance with the law.
Regarding the murky projects of Alibaba, the official said that Prime Minister Nguyen Xuan Phuc has issued a directive on the adoption of solutions to stabilize the real estate market in case further unlawful projects emerge.
In July this year, the ministry also notified central-level cities and provinces that in many projects in several cities and provinces, the illicit transfer and trading of land lots has been detected while farming and non-farming land has been split into small plots for sale without going through the approval process.
The ministry asked local governments to update their own property markets; learn the causes of violations; address violations of regulations on realty trading, land and investment; and hold violators accountable for their illegal acts.
Local authorities were also told to publicize programs on housing and urban development, land planning and infrastructure investment so that the public would be aware of them, thereby avoiding scams.
Founded in May 2016, Alibaba Real Estate JSC whose executives – chairman Nguyen Thai Luyen, 34, and his younger brother, Nguyen Thai Linh, 30, acting as its general director – have been detained and charged with asset misappropriation.
A preliminary investigation showed Alibaba and its subsidiaries had bought up to 600 hectares of farmland, and later had other individuals setting up 40 phony property projects on them, including 29 in the southern province of Dong Nai, nine in neighboring Ba Ria-Vung Tau and two in Binh Thuan.
The company has yet to complete legal procedures for any of these projects, and local authorities have neither approved nor licensed them.
However, the company has posted many false advertisements, offering parcels of land from these projects for sale. As of late June this year, more than 6,700 land buyers had signed contracts with the company, with deposits amounting to more than VND2.65 trillion (US$114 million).
Korean firms seek business opportunities in Vietnam
Vietnam is an attractive destination for many Korean businesses, Choi Gangsun, Director of Gyeonggi high-tech park, said at a trade promotion workshop held in Ho Chi Minh City on October 3.
Choi said Vietnam has enjoyed high and stable economic growth for many years and the country boasts a young and dynamic population.
Cultural similarities between Vietnam and the Republic of Korea will make the bilateral cooperation much easier, he added.
Furthermore, the demand for information and technology products of Vietnam will increase, and this is the area that young Korean businesses want to promote collaboration in the coming time, according to Choi.
Chairman of Pacific Group Le Ngoc Anh Minh said trade promotion workshops between Vietnam and the RoK in the recent time have proved effective.
Through the sharing of information, many businesses could seek partners and establish long-term business ties, he added.
Minh said the RoK has strengths in technology and renewable energy, adding that his company is negotiating with Korean partners about bilateral cooperation and implementation of wind power projects in Vietnam./.
Vietnam welcomes 12.9 million foreign tourists in 9 months
Vietnam welcomed 12.9 million foreign visitors in the first nine months of 2019, a year-on-year rise of 10.8 percent, according to the General Statistics Office (GSO).
In September alone, the number of foreign holidaymakers to Vietnam was estimated at 1.56 million.
The office said the number of foreign arrivals from Asian nations saw the highest increase of 12.5 percent, followed by those from Africa, America and Europe with respective rises of 10.8 percent, 6.8 percent and 5.3 percent.
Vietnam's tourism sector aims to receive 17.5 – 18 million foreign tourists in 2019 and serve 85 million domestic visitors, raking in total revenue of 700 trillion VND (30.17 billion USD).
The Vietnam National Administration of Tourism under the Ministry of Culture, Sports and Tourism and the Department of E-commerce and Digital Economy under the Ministry of Industry and Trade have signed a cooperation agreement on applying advanced technologies and e-commerce to support the tourism sector's development.
At present, online platforms for travel booking such as Airbnb, Agoda, Booking are strongly developed.
The cooperation between the two agencies is expected to improve the competitiveness of domestic e-commerce trading floors, helping to better ensure interests of visitors when they use tourism services provided on online platforms./.
Local automobile sales see 20% growth
Stable economic development and population expansion in Vietnam are driving the growth of the local automobile market, as seen in the significant surge in car sales, at 202,567 units sold year-to-date, up 20% year-on-year.
Figures from the Vietnam Automobile Manufacturers Association (VAMA) show that automobile sales reached 21,483 units last month, down 19% against the previous month but up 4% against the same period a year earlier.
According to industry insiders, the sales decline results from consumption beliefs rather than market developments as much of last August fell in the seventh month of the lunar calendar, when people tend not to buy high-value products.
As VAMA data showed, more than 147,770 cars were sold in the eight-month period, increasing by 31% year-on-year and accounting for almost three-quarters of total automobile sales.
Meanwhile, commercial vehicles saw a 1.6% drop in the period to over 50,000 units and sales of specialized vehicles fell by 28% to nearly 3,800 units.
VAMA Chairman Toru Kinoshita noted that together with the stable economic development and population growth in Vietnam, the automobile market is expected to expand further, and cars will become more popular.
However, the sales of imported completely-built-up vehicles saw a 178% increase in the eight-month period to 82,823 units. Locally assembled automobiles suffered a 14% decline to 119,744 units.
This trend is forecast to continue in the coming months as import tariffs on automobiles from Thailand and Indonesia have dropped to 0%, making it hard for locally assembled cars to compete.
Automation software launched to help enterprises reduce errors
Japan-based NTT Data Group has rolled out automation software called OfficeRobot to help enterprises reduce errors in daily repetitive processes.
OfficeRobot is a Robotic Process Automation (RPA) solution, featuring an automated data entry process and creating scripts for computers.
Speaking at the workshop titled "Robotic Process Automation-Experience from Japan," a representative of NTT Data noted that OfficeRobot helps automate daily repetitive tasks for firms. The software can be applied in multiple fields, including communications, production, retail, finance and advertisement.
The representative pointed out that OfficeRobot was produced in Japan and its functions for the production process have undergone rigorous testing.
The software is expected to replace human employees, improve productivity and significantly contribute to the growth of firms.
NTT Data also announced plans to set up a center for technical support associated with the RPA solution in Vietnam. The center will also serve as a training facility for staff using RPA-related platforms.
Additional technical support centers will be established in the Asia-Pacific region to enhance knowledge exchange, strengthen support for technical services and technologies and train staff at enterprises in the region.
Remaining land plots in Thu Thiem to be auctioned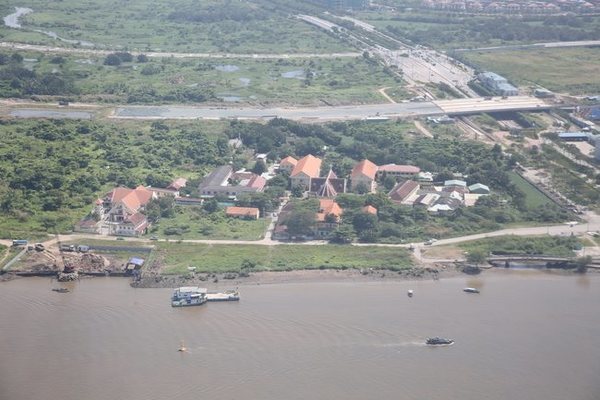 As many as 55 plots of land, covering nearly 794,000 square meters, in the Thu Thiem New Urban Area in District 2, HCMC, which are to be put up for auction are valued at an estimated VND22 trillion (US$948 million).
The Investment and Construction Authority for the Thu Thiem New Urban Area noted in a report to the HCMC government that these plots of land are divided into three categories based on the progress of land-use rights auctions and investor selection through bidding.
The first category includes 16 plots of land with a combined area of some 158,000 square meters. Site clearance has already been completed, and technical infrastructure facilities are being developed.
The agency stated that these plots will be available for the auction of their land use rights in the fourth quarter of this year. Some of them have been zoned for schools, trading and service centers and apartments, which are expected to bring in over VND4.7 trillion.
The second category covers a total area of 269,100 square meters with an estimated value of more than VND8.1 trillion. The plots of land will be subject to land-use rights sales and investor selection when the development of technical infrastructure is completed.
Zoned for a financial center, a performing arts center and hotels, among other things, these plots of land will be put up for auction next year.
The last category includes 23 plots of land spanning more than 365,000 square meters with estimated proceeds of over VND9 trillion. Site clearance has not been finished for this category.
Aside from the remaining land plots, the agency said the Thu Thiem New Urban Area has a total of 3,790 unused resettlement apartments that will be put up for sale for more than VND9.9 trillion (US$428 million).
The apartments are being developed by two property firms, with 2,220 units by Thuan Viet and the remainder by Duc Khai.
In May 2018, the Department of Construction pointed out that the redundancy of the large number of resettlement apartments had resulted from the relaxed compensation policy.
In the past, compensation for land taken from residents was based on State-fixed prices, which were always lower than market levels, so residents usually preferred ready-built resettlement apartments.
But now, land clearance compensation rates match market prices and the prices of resettlement apartments are higher than before. Affected people are more inclined to take the compensation money and look for homes they want.
Covering a total area of 657 hectares along the Saigon River in the eastern part of HCMC, the Thu Thiem Peninsula was originally expected to transform into a new commercial, financial, cultural and tourism hub, serving as an extension of the city's overcrowded central business district.
The project was not aimed at developing the real estate industry but was expected to focus on public facilities, such as a central square, a riverside park, a financial center and an international exhibition and convention center.
The city government has so far paid nearly VND17.5 trillion in compensation to all but four of the 14,357 households affected by the project and has recalled 715.97 hectares of land. Financial support for these residents is higher than that offered by other similar projects.
HDBank gains Basel II compliance ahead of schedule
Ho Chi Minh City Development Joint Stock Commercial Bank (HDBank) (Hose: HDB) has been authorized by the Governor of the State Bank of Vietnam (SBV) to implement Circular No. 41/2016/TT-NHNN stipulating capital adequacy ratios for banks and branches of foreign banks (the standardized approach to Basel II) from October 1, 2019.
The SBV Governor on September 12 approved HDBank's implementation of Basel II regulations from October 1, 2019. It demonstrates HDBank's conformity with the stringent risk management principles proposed by the SBV to maintain operational efficiency, prudence, sustainability and transparency.
With this approval, HDBank will officially implement Basel II for capital adequacy ratios ahead of its original deadline in late 2019.
Since 2015, HDBank had actively done research and collaborated with various reputable international consultancies to implement Basel II.
In addition, the bank maintained its regular participation in many SBV initiatives to apply and observe credit risk management measures while focusing on operational risk management across its network to ensure its sustainable and transparent growth.
Basel II is the second of the Basel Accords for risk management which Vietnamese commercial banks are aiming to gradually implement to enhance their risk management capability and improve their operational efficiency.
To gain the compliance status, banks are required to meet various rigorous criteria for capital, risk management system, and investment in technological infrastructure to comprehensively monitor all kinds of risks in their operations.
To generate robust and sustainable growth and secure an effective risk management system, HDBank has successfully maintained their superior asset quality for many consecutive years and has been acknowledged among the best banks in terms of risk management.
In addition, its ROA and ROE both reflect high profitability while its separate non-performing loan ratio is kept at 1%.
Development of renewable energy in need of green finance
Renewable energy has great potential for meeting the increasing electricity demand if the exploitation and development of renewable energy is supported with preferential policies and financial sources, said the Worldwide Fund for Nature (WWF) in Vietnam at a recent conference.
The switch to the use of 100% renewable energy by 2025 is feasible, Bnews news site reported, citing Simon James, Climate Change and Energy adviser at WWF.
In 2018, renewable energy projects with a combined output of some 3,460 megawatts (MW) were commissioned. Some 93 solar power plants and 54 wind power projects with a total capacity of over 10,000 MW were planned.
However, the hindrance to the renewable energy sector is capital. Investment requirements for renewable energy projects remain high, making it difficult for the sector to compete with fossil fuel-based power generation.
The shortage of skilled employees and poor power grid connections have also prevented the development of renewable energy projects.
To meet electricity demand, Vietnam needs some US$7.8-9.6 billion of investment per year from 2016 to 2030.
Speaking at the conference titled "Green Finance for Renewable Energy in Industries in Vietnam," James of WWF noted that the cost of renewable energy projects is in decline, so the construction of wind and solar power plants will be cheaper than that of coal-fired power facilities after 2020.
However, it is necessary to create sufficient motivation for investors in renewable energy projects through preferential policies for feed-in tariffs – referring to the price of electricity sold to the national grid -- and other incentives based on loans and land lease rates.
Sharing his experience in developing renewable energy and green finance in the ASEAN region, Marlon Joseph Apanada, managing director of Allotrope Partners, in the Philippines, stated that the outstanding loans of ASEAN Green Bonds totals US$1.6 billion.
The capital used for the energy sector accounts for 32% of the total.
Apanada pointed out that financial institutions in Southeast Asia are expected to join the green finance system to foster investment in renewable energy and cut funds to fossil fuel-fired power projects.
Building green finance systems will bridge the gap in the investment and development of renewable energy projects in Southeast Asia.
Boosting green finance will help speed up the process of building ecofriendly infrastructure projects, including renewable energy projects and effective energy-usage ones.
It will also help increase the issuance of green bonds and provide loans for the installation of rooftop solar power panels and for the development of energy-saving projects.
Nguyen Duy Thinh, a project consulting director at Solar ESCO JSC, remarked that many investment methods in the rooftop solar power field can be adopted to handle firms' financial problems.
Thinh took the direct investment method as an example, noting that firms will invest fully in the solar power system, with funding amounting to VND17-20 million per kilowatt peak. These firms will be allowed to use the solar power system as collateral, enjoying loans of 70% of the value of the system.
Southern Power Corporation and Vietnam Electricity Group's HCMC Power Corporation said that since early 2019, the number of customers installing rooftop solar power panels has increased.
However, many of them have complained that the new regulations on electricity purchase prices from electricity firms have yet to be issued.
HCMC urges PM to address problems with realty mortgages
The current regulations on real estate trading, especially on mortgaging apartments that will be built in the future, have had certain adverse effects on the legitimate rights and interests of homebuyers and developers, according to the HCMC government.
In a report to Prime Minister Nguyen Xuan Phuc, the city government highlighted a major obstacle to property trading, which may also affect social order.
The city said the prevailing regulations allow investors of housing projects to use land-use rights certificates and to-be-built homes as collateral to take out bank loans.
It added that many developers have mortgaged both certificates of land-use rights for their apartment construction projects and the apartment units they would build in the future. This means they have twice used their land-use rights as security for loans.
Developers should be entitled to mortgage either their projects or housing units only when relevant requirements are met, according to the city.
If apartments in certain projects are being mortgaged and their investors are in need of capital or intend to put their housing units up for sale or lease, they must liquidate their mortgage contracts or reduce the number of units earlier used as collateral for loans.
Also, developers should be required to seek a written confirmation from the local construction authority over whether their apartments are eligible for sale.
If investors, according to the city government, fail to repay their loans, the rights and interests of homebuyers would be put at risk.
Surprise rate cut, but further easing unlikely, says Capital Economics
The State Bank of Vietnam's (SBV's) decision to cut interest rates by 25 basis points is surprising, given that growth appears to be holding up well at the moment, according to Capital Economics.
The London-based think tank stated in its Emerging Asia Economics Update last week that given the decent outlook for the economy, it did not think the Vietnamese central bank would rush into cutting rates again soon.
The SBV's September 13 announcement that it would cut its benchmark refinancing rate from 6.25% to 6% from September 16 was unexpected, said the organization.
The earlier consensus was that rates would be left unchanged not just until the end of this year but also throughout 2020. The last time the SBV cut rates was in July 2017 when it reduced the refinancing rate by 25 basis points, it added.
The statement on the central bank's website gives little away. Other than noting that "the domestic macroeconomy has continued to be stable, the inflation has been controlled and the money and forex markets have developed stably," the SBV said but made no mention of its next likely move.
Although the economy is expected to perform strongly in the coming quarters, weaker global demand is likely to drag on exports over the next few months. With the U.S.-China trade war continuing, some investors have had to shift production to Vietnam to avoid tariffs, so the economy should continue to do well.
Capital Economics predicted the Vietnamese economy would grow by 7% both this year and next, which would make it one of the region's best performing economies.
The rate cut should at least guard against some of the downside risks facing the economy. The precarious fiscal position is a concern, and tighter fiscal policy is likely to hit growth over the coming year.
According to the organization, recent threats by U.S. President Donald Trump to impose tariffs on imports from Vietnam unless more is done to reduce Vietnam's bilateral trade surplus with the United States is a major concern.
It added that the central bank has little to worry about on the inflation front. The headline rate was just 2.3% year-on-year in August, which is low by historical standards.
Therefore, it expected inflation to remain subdued over the coming months. Inflation expectations remain well anchored, while transport price inflation should continue to drop back further into negative territory.
Vietnam's central bank rarely changes its policy rate. The September 16 cut was only the second interest rate revision in five years. "Given this and the fact that the economy should continue to hold up fairly well over the next year or so, the most likely outcome is that interest rates will be left unchanged until at least the end of next year," said Gareth Leather, senior Asia economist at Capital Economics.
Planned HRC steel import duty hike aborted
The Ministry of Finance, bowing to strong opposition from steelmakers and industry experts, has abandoned a planned increase of the Most Favored Nations import duty on hot-rolled coil (HRC) steel from 0% to 5%.
The ministry included the duty increase in a draft government decree to prevent the potential influx of steel from China given the ongoing trade conflict between China and the United States.
Vietnam imports over eight million tons of HRC steel annually and 40% of it comes from China. Without the import duty, the local steel market will encounter uncertainty due to the influx of Chinese HRC steel, according to the ministry.
Also, an increase in the Most Favored Nations duty on steel to 5% would potentially raise the State budget collection to over VND3 trillion. However, this would be offset by steelmakers sourcing steel supplies from South Korea and ASEAN countries that enjoy a 0% Vietnamese import tariff.
Responding to the proposal, the Vietnam Steel Association (VSA) had earlier petitioned the ministry to block the tax hike on the product, as it will create additional obstacles for local manufacturers of cold-rolled steel, galvanized sheet steel and steel rolls amid the hardships faced by the local steel sector.
The association explained that the steelmakers will face restricted steel supplies, while domestic production meets only 10%-13% of the market demand. Further, the tariff increase will result in higher prices for steel products, thus lowering the competitiveness of Vietnamese galvanized sheet steel, VSA said in the petition.
Therefore, the ministry's move to remove the proposal will avoid upsetting the business operations of the sector.
On behalf of VSA, chairman Nghiem Xuan Da praised the ministry's decision, stating that all VSA members were pleased with the decision in the context of the escalating trade tension and the rise of safeguard measures.
According to the VSA representative, HRC steel is an important input material for manufacturing a wide range of products in the industry.
VSA expects the Government to continue to support local steelmakers and protect local consumers' interests to maintain the sustainable development of the sector, said the chairman.
BOT Hanoi Highway to resume toll collection
HCMC departments, agencies and investors have been told to quickly address existing issues related to a build-operate-transfer (BOT) Hanoi Highway expansion project to make it possible to restart toll collection on the highway.
The HCMC Department of Transport was asked to complete site clearance in areas with an overlapping border between the BOT project, the Metro Line No.1 project and phase two of a water environment rehabilitation project, according to an announcement by the city's government office.
Meanwhile, the appraisal of site clearance costs in the neighboring province of Binh Duong was assigned to the HCMC Department of Natural Resources and Environment. The department was asked to ensure the appraisal is transparent to avoid further disputes regarding compensation policies.
District 9 is in charge of completing site clearance and encouraging local households and businesses to quickly hand over their land to the authorities to ensure the quick progress of the project. Also, the district government will be responsible for addressing feedback from local households.
The city government required the departments, agencies and district 9 authorities to team up with the project's investor to complete these works prior to September 30.
According to the HCMC Infrastructure Investment Company, the BOT expansion project's second phase requires funding of over VND5.7 trillion. The investment is expected to be recouped in 20 years through fee collections, which were supposed to start last year.
The expanded highway will run from Saigon Bridge to Dong Nai Bridge, covering 15.7 kilometers. The project includes the expansion of one road section and construction of two parallel roads to the highway.
The city started work on the project in April 2010 and has completed the 11.5-kilometer-long road section stretching from Saigon Bridge to an intersection leading to the Vietnam National University zone. The two parallel roads are still under construction
Earlier, the city suspended fee collection in January last year as it has recovered the investment for the existing Rach Chiec Bridge on the highway.
Half-done buildings in Vung Tau to be sold
A long-abandoned high-rise apartment project valued at VND1 trillion on Nguyen Thai Hoc Street in Vung Tau City is now being sold, heard attendees at a meeting chaired by Le Tuan Quoc, Ba Ria-Vung Tau Province's vice chairman.
Speaking at the meeting to present solutions for handling the HH1 apartment buildings, a representative of the Vietnamese-Russian joint venture Vietsovpetro, the main investor in the project, noted that the firm would return the project's land to the province and requested a refund of its investment in its construction.
According to the appraisal by Vietsovpetro, the total value of the partly-constructed project is US$43 million, or VND1 trillion, the local media reported.
The province's vice chairman, Quoc, agreed to the firm's proposal and tasked the Department of Finance with reappraising the property and informing the firm of the results.
Besides this, the Department of Natural Resources and Environment was assigned to put up for auction the land use rights and land-attached assets.
Quoc also asked Vietsovpetro to submit a written proposal agreeing to return the land to the province and asking for a refund of its investment value.
In addition, the firm was required to complete handover procedures in line with prevailing regulations.
Apart from this, a representative of Vung Tau City proposed the province consider allowing it to use the apartment buildings for resettlement in the city.
However, Quoc rejected the proposal as unfeasible.
The HH1 apartment building project covers 1.5 hectares of land in the center of Vung Tau City.
The project, with a total investment of VND1.6 trillion, features two 33-floor blocks, which can accommodate 2,200 people. The project, which was expected to provide 646 apartments, commenced construction in the first quarter of 2013 and was slated for completion in the fourth quarter of 2014.
The apartment building project was aimed at serving Russian employees at Vietsovpetro. When in place, these employees would move from their deteriorating condo buildings to the new ones in line with the urban development plan of the city.
Work on the project started in 2012, but in late 2015, when the 32nd floor was under construction, the project was halted due to financial difficulties. Vietsovpetro was no longer in need of the apartment building by then, so the project was abandoned.
Vietsovpetro stated that the firm had invested VND700 billion in the construction of the HH1 apartment buildings.
In late 2017, Vietsovpetro wrote to the Ba Ria-Vung Tau government proposing the province allow it to transfer the project to recover its capital.
Many potential investors showed interest in the project. However, Vietsovpetro has not yet announced its price.
Vinh Phuc: auto, motorcycle sales grow 19 percent
Sales of enterprises operating in automobile and motorbikes manufacturing and assembling in the northern province of Vinh Phuc were estimated to exceed 258 million USD since the beginning of 2019, a year-on-year increase of 19 percent.
Export of the products reached roughly 172 million USD, up 36 percent year on year.
The products included 220 units produced by Vietnam Daewoo Bus, 47 percent higher than the same period last year; and over 101,000 units by Piaggio Vietnam, 80 percent of which were exported while the remainder was distributed domestically.
Producers in the industry currently provide jobs for nearly 1,200 local workers.
The Vietnamese motorcycle market in 2018 broke its sales record set seven years ago with nearly 3.4 million units sold for a year-on-year increase of 3.5 percent.
According to the Vietnam Association of Motorcycle Manufacturers (VAMM), its five members – Honda, Piaggio, Suzuki, SYM and Yamaha – sold more than 282,000 vehicles per month on average.
Vinh Phuc-based Honda is currently manufacturing and distributing 24 motorcycle models, accounting for more than 70 percent of the market share nationwide./.
EVFTA provides Ben Tre with great chances to reach EU markets
With its strength in tourism and farm produce export, the Mekong Delta province of Ben Tre boast great potential to enjoy benefits from the EU-Vietnam Free Trade Agreement (EVFTA), said Deputy Foreign Minister Bui Thanh Son.
At a conference to discuss economic partnership between Ben Tre and Europe, Son said that Ben Tre is one of the localities with high development index, adding that Ben Tre ranked first in the Provincial Governance and Public Administration Performance Index (PAPI) and fourth in competitiveness index in 2018.
This is a foundation for the province to promote international economic integration in the future, he said.
Regarding the Vietnam-EU partnership, Son said that the EU is the fourth biggest trade partner and second largest export market of Vietnam. Two-way trade rose about 15-20 percent per year, while EU members' investment in Vietnam reached 25 billion USD with more than 2,200 projects.
The signing of the EVFTA and EU-Vietnam Investment Protection Agreement (EVIPA) is expected to open up great chances for the two sides to promote partnership, he stressed.
Meanwhile, Secretary of the Ben Tre Party Committee Phan Van Mai said that the province holds advantages in processing and exporting products from coconuts, fruits and seafood. Therefore, with the EVFTA, local products will have chances to access the promising EU market.
Mai affirmed that Ben Tre considers foreign-invested firms as an important economic sector and always works to protect the rights and interests of foreign investors.
The province prioritises environmental-friendly projects with high technology and added value and connection with the global production and supply chains, he said.
The official also expressed his hope that EU member countries would create favourable conditions for Ben Tre products to reach their markets. Ben Tre welcomes EU businesses to seek partnership opportunities in the province, he stated.
Jean Jacques Bouflet, Vice President of the European Chamber of Commerce in Vietnam (EuroCham), said that Vietnam should make more efforts to implement laws of the EU to ensure its products meet requirements in the market.
Vietnam and Ben Tre in particular should improve the legal environment to attract more European investors, while simplifying administrative procedures, he suggested.
EuroCham and its members are willing to share technical and business experiences with Ben Tre to help the province's products satisfy requirements in the EU markets.
On the occasion, Ben Tre also introduced to participating firms its five promising sectors – seafood, coconut processing, fruit, tourism and industry./.
Bac Ninh pushes economic ties with Russia
Secretary of northern Bac Ninh provincial Party Committee Nguyen Nhan Chien hosted a local reception on October 2 for a delegation from the Russia – Vietnam Friendship Association led by General Director of Russia's Yaroslav Region Export Support Centre Bagrova Natalia.
Chien expressed his wish that Russia and Bac Ninh would explore cooperation opportunities in fields other than economy, such as socio-culture, thus strengthening ties between Vietnam and Russia, and between Bac Ninh and Russia in particular.
Natalia, for her part, spoke highly of Bac Ninh's development over the past years, particularly incentives for Russian firms, including those from Yaroslav.
As Yaroslav is one of the 14 largest Russian industrial hubs, Russia is willing to share its experience in smart city development with Vietnam, she said.
The official hoped that more incentives will be provided for Russian enterprises in the near future, thus contributing to Bac Ninh's economic development.
Representatives from the two countries' firms raised questions about market and export-import tariff in Bac Ninh and Yaroslav.
As of the late 2018, Bac Ninh is home to 16 concentrated industrial parks with a total area of nearly 6,400ha and an occupancy rate of about 67 percent. The per capita gross domestic product in Bac Ninh neared 6,500 USD, ranking second nationwide. The State budget collection surpassed 22 trillion VND (956 million USD) in the first nine months of this year, over 6.7 trillion VND of which was from the foreign direct investment sector.
As of September 2019, Bac Ninh granted investment licenses to more than 1,400 projects worth upwards 18 billion USD. Foreign-invested projects are from 36 countries and territories, including the Republic of Korea, Singapore and Japan, mostly in manufacturing and processing.
In the near future, Bac Ninh plans to attract Russian investment to high-tech, education, health care and environment./.
Japan's Oji Group opens fifth factory in Vietnam
Japan's Oji Group on October 2 inaugurated a packaging paper factory at the Dong Van III industrial park in Duy Tien district, the northern province of Ha Nam.
Covering more than 60,000 sq.m, Ojitex Ha Nam, which is the fifth plant of the Japanese group in Vietnam, was built at a total cost of 35 million USD.
Speaking at the inauguration ceremony, Japanese Ambassador to Vietnam Kunio Umeda, said Oji Group has operated in Vietnam for 20 years. Its opening of five factories in Vietnam has demonstrated the group's strength as well as the favourable business environment in the host country.
Japan is running 90 projects in Ha Nam, he said, adding that Japanese firms have highly appreciated the local investment environment and more businesses plan to operate in the province in the time ahead.
The ambassador called on Ha Nam to further facilitate the operation of Japanese firms in the locality.
According to Nguyen Noi, deputy head of the Foreign Investment Department under the Ministry of Planning and Investment, Japan ranks second among 132 countries and territories investing in Vietnam.
Ha Nam and other Vietnamese localities wish to welcome Japanese investors, he said, pledging to help Oji Group implement its projects in Vietnam and Ha Nam in particular./.
Vietnam Customs, UK border force enhance cooperation
The General Department of Vietnam Customs and the UK Border Force (UKBF) will further their collaboration under a Memorandum of Understanding inked between the two sides in Hanoi on October 2.
Accordingly, they will work together in education and training, equipment provision, as well as exchange of expertise, experts and science and technology in the field of customs.
The event is expected to help tighten the cooperative ties between Vietnam and the UK in various sectors.
The Vietnamese customs and the UKBF are completing an agreement between the two governments on cooperation and administrative support in customs so as to carry out negotiations in the time ahead. Partners of the Vietnamese customs in the UK, including the UKBF and the HM Revenue and Customs (HMRC), will join hands to negotiate this important agreement.
Vietnam and the UK have enjoyed robust relations over the past years. They have witnessed sound developments in the bilateral cooperation in economy and trade, particularly after they inked the strategic partnership agreement in 2010.
Last year, two-way trade hit over 6.7 billion USD. In the first seven months of 2019, Vietnam exported 3.26 billion USD worth of products to the European country, up 2.95 percent from the same time last year.
As the UK is the third largest trade partner of Vietnam in Europe, the Vietnamese customs believe that cooperation in the field will make significant contributions to the collaborative ties in economy, trade as well as many other sectors.
The Vietnamese customs, the UKBF, and the HMRC have worked tirelessly to promote the customs relations towards more practical cooperation that brings efficiency to the customs management in each nation./.
Ha Nam holds investment promotion event in RoK
The northern province of Ha Nam held an investment promotion conference at the headquarters of the Korean Chamber of Commerce and Industry (KCCI) in Seoul, the Republic of Korea, on October 2.
Speaking at the event, Vice Secretary of the provincial Party Committee and Chairman of the provincial People's Council Pham Sy Loi said Ha Nam always considers investment cooperation as a crucial mission to bolster socio-economic development.
The province particularly needs investment in infrastructure development, support industry, hi-tech agriculture and industry, health care, education, tourism service and trading, Loi said.
He pledged to create an open and transparent investment environment and favourable conditions for RoK enterprises to operate effectively in the locality.
According to Vietnamese Deputy Ambassador to the RoK Tran Truong Thuy, the Vietnam-RoK relations have been developing rapidly in all aspects.
The RoK is the biggest foreign investor in Vietnam with total capital of 62.5 billion USD in 7,460 projects by the end of 2018, generating jobs for over 700,000 direct labourers and tens of thousands of indirect workers. RoK-run companies accounted for about 30 percent of Vietnam's total export turnover.
The country is Vietnam's second largest trade partner, with two-way trade hitting 65.7 billion USD in 2018. The two sides aim to lift their trade to 100 billion USD in 2020.
The RoK's strength in manufacturing makes it an ideal partner of Vietnam which wants to attract investment in industrialization and modernization, Thuy said, adding that the RoK technology in combination with Vietnam's young and dynamic labour force creates competitiveness of goods in the global value chain./.
Vietnamese firms to explore Bulgarian, Romanian markets
The Trade Promotion Agency (Vietrade) under the Ministry of Industry and Trade, together with its partners, will organise a business trip for 20 domestic companies to seek new opportunities in Bulgaria and Romania from October 3.
The enterprises operate in a wide range of areas including farm produce such as fruit, tea and coffee, seafood and dairy, besides mechanical equipment and plastics, handicrafts, energy, finance, banking and human resources.
The week-long trip aimed to better advertise Vietnamese enterprises and provide them with the latest market information so they could adopt effective business strategies to accelerate their exports, a representative from Vietrade said.
Currently, Romania is the largest market in southern Europe for Vietnamese goods, with a population of 21 million people. The country is regarded as a gateway to the EU with more than 500 million consumers thanks to its geographical position.
Trade relations between Vietnam and Romania have seen positive results in recent years. Last year, bilateral trade saw a slight increase of 6 percent to 218.3 million USD, with Vietnamese exports accounting for 150 million USD, up 23 percent year-on-year.
In the first quarter of 2019, bilateral trade turnover saw a significant rise of 37 percent to nearly 67 million USD, mainly due to Vietnamese exports which surged 60 percent year-on-year.
The same picture has also been seen in the two-way relationship between Vietnam and Bulgaria.
The nations' leaders had agreed to develop bilateral co-operation on the basis of taking advantage of the potential and strengths of the two countries. Under the deal, Vietnam could export a number of major products to Bulgaria. These goods would be processed at facilities located at Bulgarian ports and then exported to European markets and Balkan countries, the representative said.
After slumping nearly 19 percent to 89 million USD in 2018, trade value between Vietnam and Bulgaria rebounded in the first two months of 2019 with turnover of 15 million USD, up 26 percent year-on-year. Of the total, exports of Vietnamese goods reached 8.2 million USD, a hike of 87 percent./.
Vietnam, US establish comprehensive energy cooperation partnership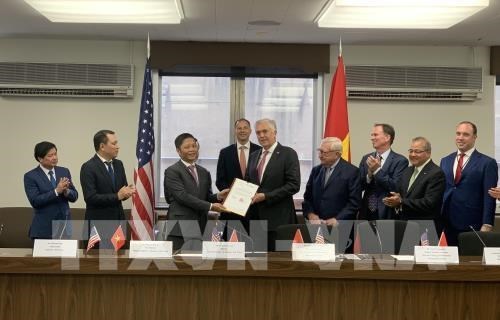 At the signing ceremony
Vietnam and the US have set up a comprehensive energy cooperation partnership under a memorandum of understanding (MoU) signed in Washington on September 30.
The document was inked by representatives of the Vietnamese Ministry of Industry and Trade (MoIT) and the US Department of State during a working trip to the US from September 30 to October 2 by a MoIT delegation.
The MoU is an important milestone in energy collaboration between the two countries, opening up a new page of more intensive and comprehensive cooperation.
The document covers various cooperation areas in the energy sector, ranging from energy security, energy market development and energy transformation to relevant regulations and policies, energy management and energy technology and infrastructure, including the role of public-private cooperation.
It establishes a clear collaboration framework and mechanism, thus facilitating specific partnerships between Vietnamese and US firms, towards the goal of sustainable energy development in Vietnam.
Both sides hoped that the document will create the foundation for the building of cooperation roadmaps in specific energy sectors.
In an interview granted to the Vietnam News Agency (VNA), MoIT Minister Tran Tuan Anh highlighted the significance of the MoU as Vietnam needs to advance the domestic energy sector to fuel its fast-growing economy.
Vietnam, therefore, would be a major market for US investors, he said, noting that the Southeast Asian country considers the US an important partner not only because of the growing bilateral trade ties but also because of the US's cutting-edge and environmentally-friendly technologies in energy and liquefied gas in particular.
Anh further explained that Vietnam is an energy importer and greatly relies on imported liquefied gas to ensure its energy security.
The signing of the MoU reflects joint efforts in outlining common goals and basic solutions to expand and deepen the mutually-beneficial cooperation between the two states, he said, adding that the document will create the most favourable conditions for businesses of both sides to exploit opportunities in the respective markets.
Francis R. Fannon, Assistant Secretary for the Bureau of Energy Resources at the US Department of State, said the MoU has created a clear and strong relationship.
The US regards this as the first step and looks forwards to the expansion of more cooperation areas in the future, he said.
According to Fannon, the US has programmes aiming to help foreign governments, including Vietnam, reach energy ambitions and people have many options on clean energy.
Such programmes have opened up opportunities for US private enterprises and improved their confidence in investing in Vietnam, he said.
Following the signing ceremony, Anh handed over a document of the MoIT to the US side, announcing that Vietnamese Prime Minister Nguyen Xuan Phuc has agreed to assign AES Corporation to be the major investor of the 5 billion USD Son My 2 Gas Power Plant under a BOT contract. Once operational, the plant will need to import nearly 2 billion USD worth of LNG from the US each year./.
World Bank signs $2.2m project to strengthen Viet Nam's banking sector

The World Bank (WB) and the State Bank of Viet Nam (SBV) on Tuesday signed a financing agreement for a grant worth US$2.2 million to implement a project aimed at strengthening the soundness and resilience of Viet Nam's banking sector.
Sponsored by the Swiss Government, the grand is designed to improve SBV's capacity in removing bottlenecks in the banking system.
Under the agreement, the WB will provide technical assistance to launch reforms set in the Restructuring Plan of the Financial System 2016-20 and the Development Strategy of Viet Nam Banking Sector to 2025.
At the ceremony, WB Country Director for Viet Nam Ousmane Dione said a sound banking system is of great significance to the sustainable economic development of a country.
By sharing experience in the development of the system, the WB could help the SBV to successfully launch its structural reforms, he added.
The WB will team up with the SBV to strengthen legal framework for the banking system, especially the Law on Credit Institutions and the National Assembly's Resolution No. 42/2017/QH14 on tackling bad debts.
The project will also look to enhance SBV's forecast and monitoring skills in line with global standards and practices, as well as develop bond market and raise the capacity of the Viet Nam Asset Management Company.
The grant is part of the $8-million project titled "Strengthening banking sector's soundness and development" managed by Switzerland's State Secretariat for Economic Affairs and the WB. 
Vietnam, Canada hold huge potential to cooperate in supporting industry
The Ministry of Industry and Trade (MoIT) in collaboration with the Vietnam Association for Supporting Industries (VASI) on October 2 organised a conference in Montreal, Canada, to seek business cooperation in supporting industry between Vietnam and Quebec province.
The Ministry of Industry and Trade (MoIT) in collaboration with the Vietnam Association for Supporting Industries (VASI) on October 2 organised a conference in Montreal, Canada, to seek business cooperation in supporting industry between Vietnam and Quebec province.
Experts said Vietnam has favourable conditions to develop supporting industry. Thanks to its sound business climate, the Southeast Asian country has become an attractive destination for foreign investors, including those from Canada.
They expressed firm belief that the thriving Vietnam-Canada comprehensive partnership, together with the Comprehensive and Progressive Agreement for Trans-Pacific Partnership (CPTPP), will lay a foundation for businesses of both nations to enhance cooperation in the field.
At the conference, Deputy Director General of the MoIT's Department of European-American Market Department Nguyen Hong Duong highlighted Vietnamese firms can capitalise on the Canadian market's strengths to develop supporting industry as the Canadian authorities have shown their increasing interest in the Vietnamese market. Besides, the bilateral free trade agreement will create a legal framework for business activities of enterprises in both nations, he added.
Canada also has well-developed technologies, the official said, stressing both nations can work together in the fields of automobile, garment and textile and food processing.
According to VASI Vice President Truong Thi Chi Binh, more Canadian firms have come to Vietnam to look for suppliers in the past two years. Although the amount of spare parts provided for the US is much higher than that for Canada, the types that Canadian firms need seem to be more suitable for Vietnam's production capacity.
Meanwhile, international trade consultant at Quebec Ministry of Economy and Innovation Daniel Dignard said Vietnam is a new and important market for Canadian enterprises.
Local firms have seen Vietnam as an attractive market, which has competitive edge in terms of market access and ability to join manufacturing value chain, he said, adding they feel upbeat about a stronger Vietnamese market in the time ahead.
Vietnam will continue to be a leading trade partner of Canada in the ASEAN bloc, and the fifth largest trade partner in Asia, just after Japan, China, the Republic of Korea, and China's Taiwan in 2019, according to experts. In the first seven months Vietnam exported 2.21 trillion USD worth of products to the American market, increasing 32.69 percent from the same time last year./.
Vietnam's economic growth, potential discussed in UK
The Vietnam-UK Network hosted a panel discussion and networking event named "Vietnam – a Story of Development, Opportunities and Potential" in London on October 2.
Themed "Supporting Women in Business and Promoting Trade and Investment," the event brought together a broad audience of both male and female professionals from all sectors, including trade, finance, entrepreneurs, start-ups, technology, media, arts, healthcare, education, governmental agencies, NGOs and think tanks from Vietnam and the UK.
The event allowed the audience to learn more about Vietnam, its journey in the past three decades, culture, social development, opportunities, challenges and potentials, while providing a platform for entrepreneurs from the two countries to promote direct trading and investment opportunities.
Speakers told the audience about Vietnam's remarkable development through vivid stories of the lives of Vietnamese women today.
Vietnam's economic growth has maintained high rates in years, making the country an appealing destination for foreign investors, including those from the UK.
Women in business is the Vietnam-UK Network's new topic of interest, through which it wants to gather British people who wish to contribute to developing friendship and economic cooperation with Vietnam, said Pham Bao Ha, head of the event's organising board.
The British government will accelerate support for businesses from the UK to invest in Vietnam in coming years, said Rachel Hill, Director of the Dragon Capital Markets (Europe).
There is an abundance of capital in the UK ready to finance the development of renewable energy, she said, adding that she expects the UK's capital will flow into this industry in Vietnam.
It will be a great opportunity for UK businesses as Vietnam is a good destination for all investors, she said.
When a foreign investor thinks about Southeast Asia, Vietnam tops most attractive regional destinations for Merger and Acquisition (M&A), particularly in green energy, said Andrew Huntley, Senior Managing Director at BDA Partners, a provider of advice on cross-border M&A in Asian countries like China, India, Japan and Vietnam.
Huntley said most of the M&A deals in Vietnam took place inside the country with few Vietnamese firms acquiring other businesses abroad. It will take more time for this to happen, he said.
He forecast that in the next few years, more major Vietnamese corporations, both state-owned and private, will involve in M&A deals overseas./.
Airbus introduces latest defense, space, security solutions in Hanoi
Highlighting Airbus' cutting-edge defense, space, communications and intelligence solutions at the inaugural Defense and Security Expo 2019 (DSE 2019), which began on October 2 in Hanoi, Airbus executives expressed enthusiasm over the opportunity to further strengthen the company's relationship with the country in each of these sectors, where many of its aircraft and solutions are already in service.
Visitors to the company's stand can get information on Airbus military aircraft, such as the new-generation A400M airlifter, and the transport and maritime patrol variants of the C295. They can learn more about the company's very-high resolution AstroBus-S Earth observation satellite as well as Airbus' defense intelligence portfolio and maritime security solutions.
Today, the Vietnam People's Air Force operates C295 and NC212i aircraft on transport missions. Airbus manufactured and launched VNREDSat-1, Vietnam's first Earth observation satellite, in May 2013. This helps Vietnam monitor and study the effects of climate change, predict and take action to prevent natural disasters and manage its natural resources.
"Airbus' presence at DSE Hanoi 2019 reflects our commitment to Vietnam. Our defense and space products are already in service in Vietnam, and we look forward to further supporting your future requirements," said Johan Pelissier, head of Airbus Defense and Space, Asia-Pacific.
"The A400M airlifter is ideal for countries that need to modernize their heavy transport fleets. The versatile C295 is in service in Vietnam for transport operations and is also the most capable solution for the maritime surveillance needs of countries with very long coastlines," Pelissier added.
The all-new A400M can fly twice as long as competing aircraft and carry twice as much. It is capable of transporting heavy and oversized cargo and can land on short, unpaved and soft runways with that load. It is used by the world's leading air forces and has proven its value in humanitarian missions around the world.
The popular C295 features a modern mission system and sensor suites. Its maintenance costs are three times lower than comparable platforms, and it is six times more fuel efficient than jet aircraft. Brazil, Chile, Oman and Portugal operate the maritime patrol and surveillance variants of the aircraft, which has also been ordered by Canada.
In the space sector, Airbus is working with several Vietnamese government agencies and educational institutions to understand the country's requirements and support the sector's development.
"We are already long-time partners in the space sector. Looking ahead, we can strengthen this close relationship by working together on projects related to Earth observation and satellite technology, in particular for remote sensing and intelligence applications," said Pelissier.