Bamboo Airways raises charter capital to $55.87 million
Bamboo Airways has officially received the Ministry of Transport's licence for its adjusted operations, including the rise in charter capital.
Under the revised licence, the carrier will be allowed to raise its charter capital from VND700 billion to VND1.3 trillion (USD55.87 million).
The airline will also expand its fleet to 30 from 10 aeroplanes by the first quarter of 2020.
Under the government's decision, VND1.3 trillion is the minimum capital for an airline to operate 30 aeroplanes on both local and international flights.
According to Vo Huy Cuong, deputy head of the Civil Aviation Administration of Vietnam (CAAV), Bamboo airways' human resource development and recruitment plans are feasible to ensure the operation of 30 aircraft.
Bamboo Airways plans to receive the first wide-body aircraft ordered from Boeing in the fourth quarter of 2020.
The firm has set a goal to increase the aeroplane number to 100 by 2024.
By 2023, airlines in Vietnam will operate 360-380 aeroplanes.
Ford Vietnam unveils MPV Tourneo

US car marker Ford has unveiled seven-seat multi-purpose vehicle Tourneo, which it produces at its plant in the northern province of Hai Duong.
It will come in two versions, Titanium and Trend, which are priced at VND1.069 billion (US$46,800) and VND999 million ($43,800), and in five colours, and will be available from October 14.
"Ford Vietnam decided to enter the MPV segment to offer a new option to customers in the high-end transportation sector like tourist companies, hotels and large families," Pham Van Dung, general director of Ford Vietnam, said.
The car would come equipped with many of Ford's smart and advanced technologies, he said.
Ford has achieved great success in the Vietnamese market in recent years.
It announced 91 per cent growth in second quarter sales to 7,960 unit. This pushed first half sales to 15,461 units, a 61 per cent year-on-year rise, the company said.
Gia Lai Electricity to trade 204 million shares on HOSE next week

The Ho Chi Minh Stock Exchange has approved the listing of nearly 204 million shares of Gia Lai Electricity Joint Stock Company under the code GEG.
The first trading day is September 19 at the reference price of VND27,490 (US$1.18) per share, slightly higher than its closing price of VND27,400 on the Unlisted Public Company Market (UPCoM) on Wednesday.
As of August 26, 2019, the company has four major shareholders with combined holding of 70.54 per cent of its charter capital. Ben Tre Aquaproduct Import and Export holds is the biggest stakeholder with 19.27 per cent; Thanh Thanh Cong Investment JSC owns 18.12 per cent; and other two foreign companies – AVH Pte Ltd, 19.16 per cent and IFC, 13.99 per cent.
Gia Lai Electricity posted positive business results in the first half of this year with revenues surging 126 per cent on-year to VND513.5 billion ($22 million) and net profit increasing 75.6 per cent to VND157 billion ($6.7 million).
The company currently owns 14 hydropower plants directly and indirectlywith a total operating capacity of 85.1MW in the Central and Central Highlands regions. Last year, it put into operation TTC Phong Dien solar power plant with capacity of 48MWp (kilowatt-peak) in Thua Thien-Hue Province and 69MWp Krong Pa solar power plant in Gia Lai Province.
Hong Leong and TPG acquire all Columbia Asia Hospitals in Viet Nam

All three hospitals and clinics of Columbia Asia Hospitals in Viet Nam are now owned by Malaysia-based Hong Leong Group and global alternative asset firm TPG.
According to news website theleader.vn, they are among 17 Columbia Asia hospitals and two clinics in Southeast Asia that have been acquired by Hong Leong and TPG under a share purchase agreement between the two sides. The deal is valued at some US$1.2 billion and is expected to close as soon as the end of the year.
Currently, Viet Nam has two Columbia Asia hospitals in HCM City and the southern province of Binh Duong, and one clinic also in HCM City. With a total capacity of 120 beds across these healthcare centres, the Columbia Asia hospital chain has been filling the daily needs of local patients, with services ranging from medical, critical care, diagnostic and surgical.
In Viet Nam, the healthcare sector has received a constant flow of investment in recent years.
Earlier this month, the Binh Thanh Import-Export Production and Trade JSC (Gilimex) has announced its injection of nearly VND12 billion ($520,000) into a subsidiary that is going to implement the Tan Binh Hospital project. Gilimex will hold a 98 per cent stake in the hospital while the remaining part will be contributed by two other investors.
The company also purchased some 50,000 shares or 1.02 per cent of the Trieu An Private Hospital JSC.
Last year, TMMC Healthcare Group, which operates four private hospitals in HCM City, Dong Thap, Da Nang and Nha Trang, received $25 million from VinaCapital's Vietnam Opportunity Fund (VOF) to fund its purchase of new equipment, hospital expansion and buyout of a new unit.
Viet Capital Bank submits profile to VSD

Ban Viet Bank (Viet Capital Bank) has registered with the Vietnam Securities Depository (VSD) to trade more than 317 million shares on the Unlisted Public Company Market (UPCoM).
The bank will trade its shares with code BVB. Its shares are deposited at VSD from September 16.
Viet Capital Bank has VND3.17 trillion (US$136.3 million) worth of charter capital. The trading of its shares on UPCoM is part of its plan set for 2019 by shareholders at the annual meeting.
In 2019, the bank targets to achieve VND205 billion worth of profit, up 76 per cent yearly.
It plans to increase mobilised capital by 24 per cent year on year to VND52.65 trillion this year. The figure includes VND41.87 trillion worth of capital raised from firms and people's savings.
Viet Capital Bank also eyes its lending volume up 15 per cent yearly to VND35 trillion and the bad debt ratio is expected to stay below 2 per cent.
In the first six months of the year, Viet Capital Bank earned VND48 billion worth of pre-tax profit. Total lending in the first half was up 21 per cent yearly to VND31 trillion and total raised capital gained 13 per cent yearly to VND34.3 trillion.
Ministries discuss measures to boost agricultural exports to China
Vietnam's Ministry of Industry and Trade (MOIT) and Ministry of Agricultural and Rural Development (MARD) on Friday held a meeting to discuss measures to increase agricultural exports to China following tightened policies from the neighbouring country.
Speaking at the meeting, MOIT's minister Tran Tuan Anh said that agricultural exports to China has fallen since the beginning of this year.
"This situation was caused by China's tightening policies on importing goods," the minister explained. "Vietnamese agricultural goods have been exported to China mostly by unofficial channels and are now facing lots of challenges as China tightens these channels.Anh also noted that Vietnam's farming products have yet to meet China's technical barriers and are therefore unable to penetrate further inland.
Sharing this view, MARD Minister Nguyen Xuan Cuong warned that if Vietnam cannot identify changes in the Chinese market, exports will be very low.
He noted that China has changed its policy to allow imports through official channels only, which Cuong said is reasonable since all consumers have the right to demand higher quality of imported products.
The agricultural minister underlined the need for Vietnam's management agencies to catch up with such changes in order to support exports.
With a population of 1.4 billion, China has been an important markets for many of Vietnam's agricultural commodities such as rubber, fruit and vegetables, rice, cassava, cashew nuts, seafood, tea and coffee, said Tran Thanh Hai, Deputy Head of the MARD's Export Department.
He noted that with the advantages of geographical proximity, product diversity and tariff cuts from the ASEAN-China Free Trade Agreement, there remains much room for Vietnam to increase its agricultural exports to China.
Novaland Real Estate Centre officially launched in Hanoi
As part of a series of activities to celebrate the 27th founding anniversary of Novaland Group, Novaland Real Estate Centre located at 63 - 65 Ngo Thi Nham Street, Hai Ba Trung District, Hanoi, has been officially opened.
The Novaland Real Estate Centre in Hanoi will serve as a bridge to promptly introduce to northern investors the Group's latest products and bring high-quality customer services in accordance with Novaland standards. This is also a place to help customers more conveniently access 'all-in-one' support services from Novaland such as after-sale service, rental-transfer service.
At the same time, on the occasion of the Group's birthday, Novaland introduces the "Gold Promotion Programme" with gifts of up to 2.7 gold taels and many other attractive offers. In particular, customers in the northern region will be entitled to the "Double" of the Gold Promotion programme with up to 5.4 gold taels at Novaland Hanoi Real Estate Centre from now until the end of September 30, 2019. The programme is applied in conjunction with the present incentive programmes of the projects currently being introduced in the market such as: The Grand Manhattan luxury apartment complex (District 1, Ho Chi Minh City), Aqua City (Dong Nai), NovaBeach Cam Ranh Resort & Villas (Khanh Hoa), NovaWorldPhanThiet (BinhThuan), NovaWorld Ho Tram (Ba Ria - Vung Tau).
On the journey of more than one-fourth century of establishment and development, Novaland now owns a portfolio of more than 40 housing projects in key locations of Ho Chi Minh City with a variety of products including apartments, villas, shophouses, offices.
According to the development strategy for the period of 2019 - 2023, Novaland continues to focus on the Group's key business which is real estate investment and development in the high-middle segment. The total accumulated land fund that is being currently researched and developed that Novaland owns is about 4,300 ha, for three key product lines, including: central real estate in Ho Chi Minh City, satellite city real estate in neighboring provinces of Ho Chi Minh City such as Dong Nai and hospitality real estate in areas with great tourism potential such as Can Tho, Ba Ria - Vung Tau, Phan Thiet - Binh Thuan, Cam Ranh - Khanh Hoa.
Novaland has also been expanding many other trading centres in areas that currently have development projects to create favorable conditions for its customers, including the Novaland Cam Ranh Real Estate Centre which just opened on August 31, located at Bai Dai, Cam Lam, Khanh Hoa; and the upcoming centres in Phan Thiet (Binh Thuan), Ho Tram (Ba Ria - Vung Tau), Dong Nai.
Vietnamese, Japanese firms interested in food product trading
The Japan External Trade Organisation (JETRO) organised a programme in Hanoi on September 13 to connect agro-aquatic and food product businesses of Vietnam and Japan.
At this event, JETRO focused on the products with high demand like aquatic products, functional food, processed food, food for children, and Wagyu (Japanese beef).
The programme attracted great attention from enterprises as seen through the number of participating firms exceeding expectation, according to JETRO.
Data of the Japanese Ministry of Finance show that the Northeast Asian nation's agro-forestry-fishery and food exports to Vietnam hit a record of 45.7 billion JPY (nearly 423.3 million USD) in 2018, up 15.9 percent year on year. Aquatic products made up the largest proportion of this revenue.
Meanwhile, aquatic and agricultural products are also among the main Vietnamese exports to Japan at present. They include shrimp, squid, octopus, tuna, crab, fruits, vegetables, peppercorn, cashew nut, coffee, rubber, and cassava.
Last year, Japan was one of the five biggest markets of Vietnam's agro-forestry-fishery items, according to the Vietnamese Ministry of Agriculture and Rural Development.
Phu Tho develops 50 products under OCOP programme
The northern province of Phu Tho will develop about 50 products under the local One Commune-One Product (OCOP) programme, according to the province's implementation plan for the programme until 2020.
Accordingly, Phu Tho aims to have at least five products to be ranked at provincial level and one at national level, along with at least 50 local economic establishments joining the OCOP programme.
This year, the province will invest in 23 key products, notably Doan Hung pomelo, high quality J02 rice, Hung Lo rice noodle, Y Son orange and green tea, among others.
It will continue to select at least 27 potential products to join the OCOP programme in 2020.
The province has mobilised 19 billion VND (about 820,000 USD) for the programme and set up a network to manage its implementation at all levels.
Phu Tho will work to raise public awareness of the programme and develop pilot models to assist with the development of value chains for target products in combination with local craft villages, while increasing trade promotion activities to boost the sale of local specialties in trade fairs at home and nationwide.
The province, known as Vietnam's ancestral land, is home to 75 recognised craft villages, while more 500 other villages engage in the production of certain products. However, the production scale is often small, and product supply is yet to meet market demand.
Additionally, Phu Tho will team up with other localities to boost consumption of its products and encourage the application of science-technology and intellectual property protection.
The OCOP was initiated by the Ministry of Agriculture and Rural Development in 2008, following the model of Japan's "One Village, One Product" (OVOP) drive and Thailand's "One Town, One Product" (OTOP). It is an economic development programme for rural areas focusing on increasing internal power and values, contributing to the implementation of the National Target Programme on New Rural Development for 2016-2020.
France-Vietnam waterway shipping route inaugurated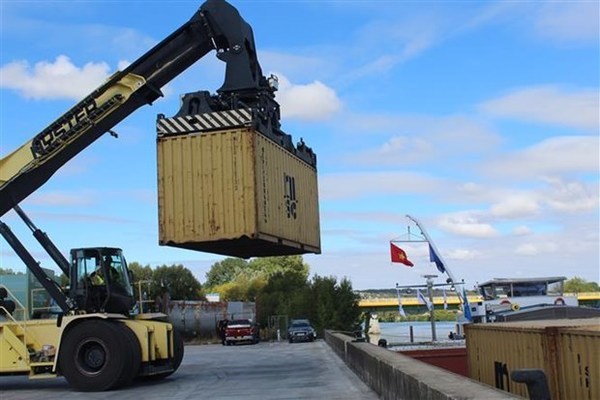 First containers are shipped from France to Vietnam via the new waterway shipping route
Nearly 600 tonnes of malt from France's central Bourgogne-Franche-Comte region will be shipped weekly to Vietnam via a new waterway route linking an inland port in the French department of Yonne with Cai Mep seaport in Ho Chi Minh City.
The route will create favourable conditions for trade ties between Bourgogne-Franche-Comte region and Vietnam, which is expected to thrive thanks to the European Union-Vietnam Free Trade Agreement (EVFTA) signed on June 30.
Since September, malt planted in Yonne will be transported to Vietnam to produce beer. The two sides recently inked a contract on shipping the first batch of 5,000 tonnes of malt to Vietnam.
Vietnamese Ambassador to France Nguyen Thiep stressed that the shipping route allows businesses to transport goods at a fast speed to the two seaports of Le Havre in France and Cai Mep in Vietnam.
The route is expected to lift trade relations between the two countries by 20 percent when the EVFTA takes effect, he added.
France's malt exports to Vietnam will increase to 250,000 tonnes next year, the diplomat noted, adding that Vietnam's staples will also be shipped to France via this route in the coming time if meeting European standards.
Potential for ornamental fish exports remains high
Many people may think breeding ornamental fish is a hobby, but the demand for the fish at home and abroad means it's a booming industry. In Ho Chi Minh City, the country's largest ornamental fish producer, the trade is being developed to boost the whole agricultural sector.
From initially a few local species, breeders in Ho Chi Minh City have developed more new hybrid ones with eye-catching appearance, meeting increasing demand from both local and foreign markets.
In 2018, Ho Chi Minh City led the nation in producing some 182 million ornamental fish. It earned 22.4 million USD from exporting more than 20 million fish.
Vietnamese ornamental fish are popular in many choosy markets such as the US, the EU, and the Middle-East, becoming a million-dollar urban agriculture sector.
Car maker Thaco steps up production
Truong Hai Auto Corporation (THACO) on September 14 inaugurated its upgraded and expanded Thaco KIA factory at the Tam Hiep Industrial Zone in the central province of Quang Nam.
Pham Van Tai, THACO General Director, said the project has been implemented for seven months, with technical support from experts of the Republic of Korea (RoK)'s Kia Motors Group.
Under the project, the factory has been equipped with cutting-edge technologies and its capacity has been increased from 20,000 to 50,000 vehicles per year, he said.
The factory covers a total area of 20 hectares, with accumulative investment amounting to 450 billion VND (19.35 million USD), Tai added.
THACO commits to making greater efforts in order to raise the localisation rate, meeting the demand for export to regional countries, he said.
Mu Cang Chai boosts Son Tra apple cultivation
Nam Khat commune, Mu Cang Chai district, Yen Bai province is home to more than 1,100 hectares of Son Tra trees. This tree variety provides high economic value to local people. The province is launching various methods to protect young trees from being cut down and boost Son Tra apple cultivation.
Forest rangers and forest owners are always on the lookout for potential threats to the Son Tra forest. The early harvest can lead to low production and loss in benefits to growers due to low prices.
Of all 1,100 hectares for son tra trees in Nam Khat commune, 500 hectares is in harvest. Thanks to growing Son Tra, many households have earned hundreds of million each year. In 2018 more than 650 tonnes of fruits were harvested and generated more than 279,500 USD in income for the whole commune.
Since local authorities implemented the development of Son Tra apple tree development scheme in 2016, Nam Khat commune has grown more than 467 hectares. This tree variety is becoming the potential economic spearhead of the province in general and Mu Cang Chai district in particular.
Nam Khat authorities are enhancing protection methods as well as improving the quality and quantity of son tra apple production. This will help improve the livelihood of local people and reduce poverty for the whole community.
Construction firms optimistic about business performance in Q3
About 22.7 percent of construction firms said they performed better in Quarter 3 while 40.9 percent said their business remained stable, according to the General Statistics Office (GSO).
Meanwhile, 36.4 percent of surveyed firms thought they had a more difficult period.
The result is based on a survey conducted by the GSO on 5,500 enterprises engaged in construction activities across the 63 cities and provinces nationwide.
According to the survey, 66 percent of state-run enterprises said their business situation during July-September was either better than or stable compared to the previous quarter.
The rate for the non-State sector was 63.3 percent and 64.6 percent among FDI companies.
The survey also indicated that 48.7 percent of the businesses said their total production costs remained stable or reduced, while 51.3 percent said their costs increased.
Regarding employment demand, 81.5 percent of the firms said their workforce remained unchanged or expanded, and 18.5 percent said they needed fewer employees.
In a bid to promote business activities in the end of the year, construction firms said competent authorities should shorten inspection time, and cut unnecessary administrative procedures that trouble the firms, including the number of monthly and quarterly reports.
Besides, they suggested more transparency in bidding process for projects funded by the State budget, and acceleration of capital disbursement for completed construction.
They recommended commercial banks reduce lending procedures, cut assessment time, and create more favourable conditions for businesses to get access to capital.
Hai Duong hopes to tap tourism potential of Thanh Mien district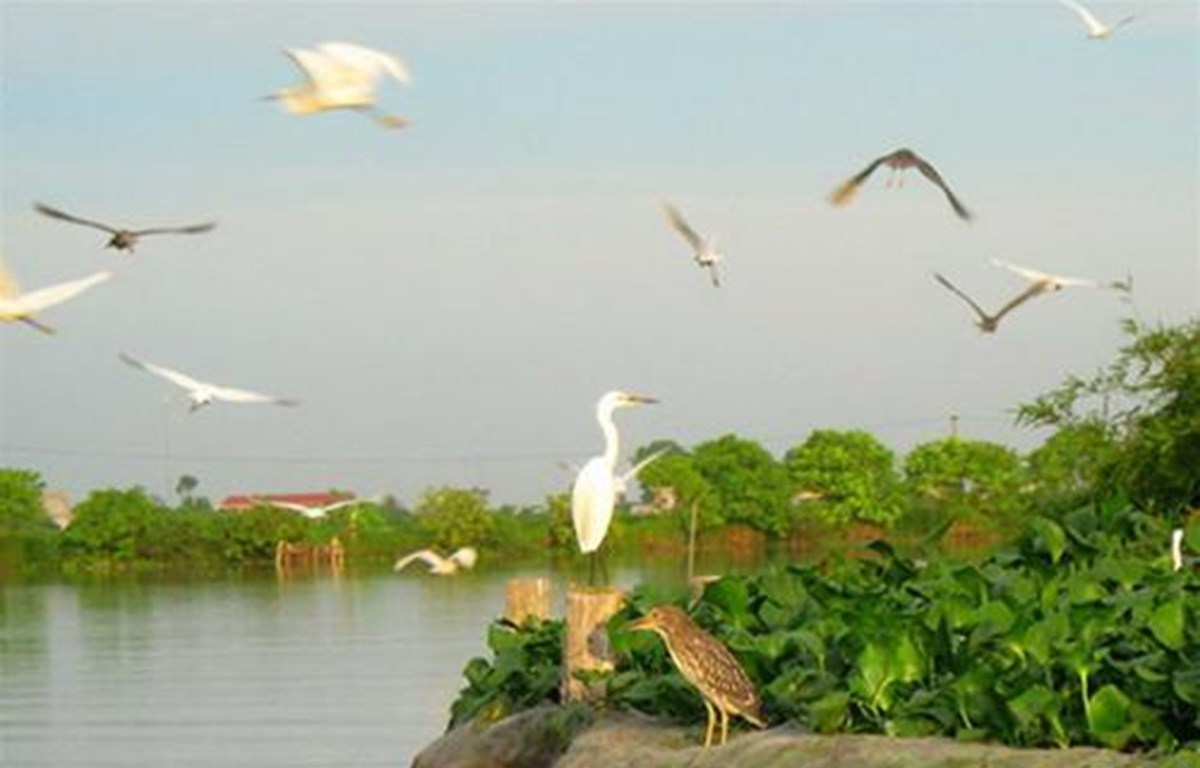 Stork Island - a popular destination in Thanh Mien district, Hai Duong province (Source: http://www.haiduong.gov.vn)
Located in the southwest of Hai Duong province, Thanh Mien district is bestowed with poetic and idyllic scenery typical of the Red River Delta, along with rich history and cultural traditions, as seen in the numerous cultural and historical sites in the district.
One of the most prestigious historical and cultural relics in Thanh Mien, and also in the northern province of Hai Duong, is the Dong Temple in Dong village, Thanh Tung commune, about 20km from Hai Duong city.
Built in the 16th century, the temple was first restored in the 18th century. Its special wooden structure includes sculptures of dragons and pearl patterns bearing typical engravings of the Hau Le (Latter Le) Dynasty (1428-1789).
Dong Temple was established to worship Nguyen Phuc and Do Uong – two famous honorable men of King Le Thanh Tong and the Phuc Mac reign in the 15th and 16th century, respectively.
To the left of the temple is a secret tunnel used as a shelter for Vietnamese soldiers during the resistance war against French.
The tunnel, built during the 1940s, is 3m deep, 8m wide and 25m in length.
The Dong village is also home to an important historical relic, which is the memorial site dedicated to Nguyen Luong Bang (1904-1979) who held the post as Vice President of Vietnam from 1969 to 1979.
Nguyen Luong Bang was born into a poor family with patriotic traditions in the Dong village. Throughout his life he used the alias Anh Ca, and Sao Do. He joined the Communist Party in October 1929. After the August Revolution, Nguyen Lương Bang held the post as General Director of the National Bank of Vietnam, the first ambassador of Vietnam to the Soviet Union (1953-1956), head of the Central Commission for Inspection, government (1956). In September 1969, he was elected Vice President of Vietnam.
The memorial site was built in his home village in 1996.
Some 16km from Dong Temple there is the Chi Lang Nam Stork Island, which is a recognized national relic site.
With a total area of over 31.6 ha, the Stork Island is located in the middle of An Duong Lake in Chi Lang Nam commune.
The island is home to about 170 flora and fauna species. From the ninth lunar month to the fourth lunar month of next year, thousands of storks, herons and other water birds flock to the island to search for food. It is estimated that around 16,000 storks and 6,000 herons are making their nests on the island.
The Stork Island has been designated as an eco-tourism destination. The best time to visit the site is between September and next year's April. At present, it already welcomes thousands of visitors a year.
Not far from the Stork Island there is the Hoi Yen village which is widely known for its dry rice noodle. Villagers began to make the product in late 18th century. Visitors can try their hand at making the noodle, from selecting the suitable rice, soaking and grinding rice, spreading the flour in a thin layer, laying the rice paper outside for drying to cutting the rice paper into thin strips.
The Stork Island and Hoi Yen village have been included in several tours taking visitors through many attractions in several districts of Hai Duong. One of which is the community-based tour starting from the Stork Island through Cho Giao (Giao Market), Mau Temple, local orchards and ending at the Hoi Yen rice noodle village.
Adding to the great potential, the expansion of the transport network in Hai Duong over the past recent years is opening up vast opportunities for Thanh Mien district to develop tourism, thus contributing to local social and economic development.
Conference promotes Hanoi's safe farm produce
The Hanoi Promotion Agency (HPA) and Japan's JICA Safe Crop project have organised a conference in Hanoi, aiming to seek ways to stimulate the consumption of Hanoi's safe agricultural products.
The on September 13 event is mean to connect producers and distributers at home, while offering them an opportunity to set up cooperative ties with Japanese businesses.
Nguyen Thi Mai Anh, HPA Deputy Director, said her agency has set forth a plan and implemented a range of trade promotion activities towards farm produce, including the organisation of weeks of Vietnamese goods at supermarkets in foreign countries like Japan, France, Thailand and the Republic of Korea, along with various fairs and conferences at home.
With the support of the JICA Safe Crop project, the agency has developed a website promoting Hanoi's safe farm produce, at nongsanantoan.gov.vn, she said, adding that nearly 300 agricultural producers, distributors and connectivity chains of Hanoi and other localities nationwide have accessed the website.
During the conference, Japanese enterprises shared experience in applying new technologies in agricultural production and Japan's solutions to develop sustainable and environmentally friendly agriculture.
Tra fish companies see stock prices plummet
Vietnam's tra fish (pangasius) industry has seen a plummet in stock prices due to falling tra fish prices and volatile export markets.
In July, tra fish export value decreased by 12.7 percent month-on-month and this was the 5th consecutive month seeing prices falling. In the first seven months of this year, total export value of tra fish dropped by 5.5 percent to 1.13 billion USD.
In 2018, the US made up more than 24 percent of Vietnam's tra fish export market, becoming the country's largest tra fish consumer with import value soaring 54.5 percent year-on-year. China was second with a growth rate in imports of 29 percent, accounting for 23.7 percent of Vietnam's tra fish market.
This year, the Vietnam Association of Seafood Exporters and Producers (VASEP) forecast that the US imposition of tariffs on Chinese tilapia would create opportunities for Vietnamese tra fish.
However, orders from the US plummeted. In July alone, tra fish exports to the US fell to 167.6 million USD, sending US to second position after China, with 168 million USD.
The Dong Thap province-based tra fish processor Vinh Hoan Company (VHC) saw both revenue and profit in the second quarter slumping, down 9.6 percent and 7 percent, respectively.
In July, VHC recorded a 23 percent decrease in tra fish export value over the same period last year, to 28 million USD. In seven months, VHC's exports dropped by 4.6 percent to 186 million USD. The US, VHC's main export market, saw tra fish value purchased from the company drop by 34 percent in seven months.
Falling exports caused VHC shares to fall. After reaching a peak of 107,700 VND (4.6 USD) per share at the end of 2018, VHC dropped sharply to hover around 80,000 VND per share in late August this year.
The Cuu Long Fish Joint Stock Company (ACL) recorded revenue falling 4 percent in the second quarter, reaching 373 billion VND. After-tax profit rose by 18 percent to 59 billion VND. Six-month revenue and profit still gained 13 percent and 50 percent to touch 817 billion VND and 113 billion VND, respectively.
Another tra fish exporter – I.D.I International Development & Investment Corporation – also witnessed a sharp decline in profits. Although 6-month revenue increased by 31 percent to 3.7 trillion VND, after-tax profit slumped by 29 percent to 226 billion VND.
On the stock market, IDI has lost 40 percent in the past year and is currently trading at 6,180 VND per share.
The Hung Vuong Corporation (HVG), one of the biggest seafood processors in Vietnam, and its affiliate Agifish (AGF) also faced difficulties when the US Department of Commerce announced its final decision of the DOC's 14th Period of Review on anti-dumping tariffs on Vietnam's tra fish batches imported into the country.
Under the decision, the official tariff on HVG's products is 3.87 USD per kg, compared to the preliminary level of zero US dollar per kg.
In the third quarter of fiscal year 2019 (April 1-June 30), HVG suffered a big loss of 129 billion VND, while revenue fell 64 percent to 527 billion VND.
In the first nine months of the fiscal year 2019 (October 1, 2018 to June 30, 2019), HVG lost nearly 257 billion VND.
Its affiliate company, Agifish (AGF), also saw 9-month revenue drop 41 percent to 639 billion VND, thereby suffering a loss of 118 billion VND.
In mid-April 2019, HVG hit its one-year peak of 8,500 VND per share, but then fell.
Also in mid-April, AGF hit a one-year peak of 6,900 VND per share.
Seminar aims to promote Vietnam-Russia trade ties
Businesses from Vietnam and Russia exchanged information and introduced their products at a seminar held in the Russian oblast of Ivanovo on September 12-13.
Vice Chairwoman of the Russia-Vietnam Friendship Association Regina Budarina hoped through the event, Russian and Vietnamese companies would sign contracts to help increase trade between the two countries to 10 billion USD in the near future.
She said the association wants to contribute to the development of bilateral economic and trade cooperation as well as connect Vietnamese firms with Russian partners.
As part of the trade promotion programme, Vietnamese businesses had an opportunity to visit production and processing facilities in Ivanovo and neighbouring areas to explore cooperation prospects.
Alexandra Zinovieva, director of the centre for supporting development and exports of businesses in Ivanovo, highlighted the sound traditional ties between Vietnam and Russia.
She said that Russian businesses in general and particularly enterprises in Ivanovo oblast want to cooperate with Vietnamese partners.
Customer experiences, convenience key in digital era
Businesses need to focus more on customer experiences and providing convenience to consumers in the digital era, experts said at a conference held in Ho Chi Minh City on September 13.
Nguyen Duong, founder of CEM Partner, which provides consultancy and training on customer experiences, said that before businesses decide on strategies and technologies, they should first identify what kind of experience they would like to deliver and what kind of information consumers need.
In addition, businesses should look at things from the point of view of customers, he added.
Many company departments tended to work separately from each other and dealt with customers in different ways, Duong explained.
Staff, for example, might keep customer information to themselves, as opposed to sharing it with other departments. This would create poor internal cooperation and troublesome procedures, leaving bad experiences for customers, he said.
To avoid this kind of fragmented management, company departments should work closely with each other to improve customer services.
In addition to making sure that their products and services work as promised, businesses should provide conveniences such as ease of access to their products and services, and leave consumers with positive experiences and memories.
At the conference, Nguyen Son Hai Dang, technical sales manager at IT consultancy InfoFabrica, introduced a Freshbots product, a codeless bot-building platform from Freshworks, a US customer engagement software company and a partner of InfoFabrica.
The Freshbots product creates chatbots that improve customer services such as answering frequently asked questions and assisting customers in buying products and services.
Vu Manh Cuong, IT director of agricultural corporation Wilmar CLV, said that businesses should avoid irrelevant landing pages, and annoying advertisements and cumbersome checkout processes in today's digital landscape.
More than half of Vietnam's population uses the internet and smartphones, with the trend expected to rise in the future.
The conference was held by CIO Vietnam, a community formed to promote learning and networking in the IT field, and the High Quality Vietnamese Product Business Association.
Agro-fishery firms target sustainable exports to China
A conference was held in Hanoi on September 13 to seek ways to boost sustainable exports of agricultural and aquatic products to China.
According to Deputy Director of the Agency of Foreign Trade under the Ministry of Industry and Trade (MoIT) Tran Thanh Hai, Vietnam's agro-aquatic product export turnover in the first eight months of 2019 was estimated at 16.6 billion USD, down 7.2 percent year-on-year.
Notably, export growth to China has slowed down significantly in the recent time due to China's intensifying implementation of regulations from mid-2018 on tracing the origin of products, inspecting the quarantine of plants and animals and the quality of imported agricultural and aquatic goods, Hai said.
He added that Vietnam will meet difficulties in exporting such products to China amid fluctuations of regional and global markets such as the decline in China's domestic demand and the impact of China-US trade conflict.
Moreover, China is strictly enforcing regulations on the import of agricultural and aquatic products on the land border areas through measures to strengthen supervision of traceability, packaging, and food safety and hygiene, Hai noted.
Minister of Industry and Trade Tran Tuan Anh said difficulties in exporting to China have existed for many years although ministries and businesses have made great efforts to resolve them. However, at this time, it must be changed because China has increasingly applied barriers and high and strict requirements related to product quality, food safety, traceability and brand building.
According to Minister of Agriculture and Rural Development Nguyen Xuan Cuong, China has applied one official trade form for exports and imports from June 1, rather than various forms of import and export, including border trade, which is the main way Vietnamese products reach China.
Besides, China also has had a change in management, in which all procedures of import and export will be solved by the General Department of Customs, Cuong said, adding that if businesses don't catch up and transform in time, they will be landed in an embarrassing situation.
Le Hoang Oanh, Director of the MoIT's Asia-Africa Market Department, recommended businesses focus on production according to plans, which must be based on demand, market capacity and season.
Besides, it was necessary to promote national trade promotion programmes in China, building distribution and consumption channels in the country, she added.
Oanh suggested focusing on official exports to cut legal risks as well as gradually building brands and improving quality, safety and product design, meeting requirements on packaging, labels, traceability, factory registration and growing areas.
Vietnam and China have signed the ASEAN-China Free Trade Agreement (ACFTA), which came into effect in 2010, with tariffs reduced to zero for 8,000 product lines. It has great potential for Vietnamese agricultural and aquatic products to be exported to China.
HCM City steps up investment ties with Cuba
Nguyen Thanh Phong, Chairman of the People's Committee of Ho Chi Minh City, and visiting Cuban Minister of Foreign Trade and Investment Rodrigo Malmierca Diaz discussed ways to promote investment ties between the Vietnamese southern metropolis and Cuba, during their meeting on September 13.
Phong rejoiced at the fruitful development of the Vietnam-Cuba special friendship, solidarity and comprehensive cooperation.
Vietnamese, including residents in HCM City, always treasure the deep sentiments and valuable support from Cuban people to Vietnam during the hard time, the official said.
He praised the initiative on organising the seminar on cooperation and business opportunities in Cuba that was held in HCM City earlier the same day, saying the event has helped local enterprises access information about the business environment in the Caribbean nation as well as its incentives for investors.
Phong used the occasion to call on the Cuban ministry to facilitate the investment of Vietnamese businesses, including those from HCM City.
The municipal leader expressed his hope for stronger cooperation between the two sides and pledged that the southern hub will make all-out efforts to promote the traditional friendship between Vietnam and Cuba.
For his part, the Cuban minister informed his host of the outcomes of the freshly-concluded 37th meeting of the Vietnam-Cuba Inter-Governmental Committee in Hanoi.
He said trade between Vietnam and Cuba expanded 25 percent over the past time, and Vietnam's investment projects in Cuba have been materialized, with two projects on agriculture and food processing making progress.
Cuban doctors have also been sent to Vietnam under their agreement, the minister added.
However, the results have yet to match potential of the two countries, he said, expressing hope that the bilateral economic links will further develop on par with their fruitful political relations.
Cuba commits to well implementing agreements signed with Vietnamese businesses, and wishes that more Cuban goods will be exported to the Southeast Asian nation to ensure the trade balance.
The minister lauded HCM City's dynamic development and suggested municipal leaders facilitate Cuban businesses' investment and technological transfer in the city's high-tech zone.
Cuba welcomes and will create the best possible conditions for enterprises from Vietnam and HCM City to attend the international trade fair to be held in the country in November, he stressed.
Mitsubishi Motors to assemble Xpander in VN

Mitsubishi Motors will begin assembling its new multi-purpose vehicle in Viet Nam next year.
The Xpander MPV will be built at the facility in Binh Duong Province, the Corporation's chairman Osamu Masuko said at the 25th anniversary ceremony of Mitsubishi Motors Vietnam held in HCM City last week.
By the end of May 8, 2019, some 9,904 Xpander units were imported to be sold to customers here.
The company will maintain the current two versions of AT and MT. However, only the AT version will be assembled in Viet Nam, while the MT version is still imported.
Mitsubishi Motors' plant in the southern province of Binh Duong currently has a capacity of only 10,000 vehicles per year and is assembling the Outlander version. Therefore, if it installs both versions, it may be difficult to quickly supply the market.
In order to convince the parent company to allow the assemble, the Vietnamese branch must ensure that it can sell at least 10,000 cars per year.
In the future, Xpander and other assembled vehicles will benefit from the revised Decree 125, exempting excise tax for domestic production.
Mitsubishi Motors has been doing business in Viet Nam since 1994, when Viet Nam's automobile industry first began. Mitsubishi Motors Vietnam quickly became an important part of Mitsubishi Motors Corporation, helping it grow in ASEAN and help the automotive market expand in Viet Nam.
Since the autumn of 2017, Mitsubishi Xpander has had strong sales in the Southeast Asian market. It was not until October 2018 this new crossover multi-purpose vehicle went on sale in Viet Nam.