Vietnam international agriculture fair opens in Hanoi
The Vietnam international agriculture fair, AgroViet 2019, opened in Hanoi on September 26, with the participation of about 200 domestic and international businesses.
Featuring 250 booths, the fair displays and introduces agricultural machineries and agricultural products that are regional specialties.
Organised by the Ministry of Agriculture and Rural Development (MARD), the fair aims to honour high-quality agricultural products, significantly contributing to improving the position of Vietnam's agricultural industry within the international arena.
According to Dao Van Ho, Director of the Centre for Trade Promotion of Agriculture, AgroViet 2019 is an opportunity for all businesses to promote their activities on exchanging experience, introducing new technological advances in agricultural production, promoting brands, honouring high quality agricultural, forestry and fishery products, and handicrafts.
AgroViet 2019, the 19th of its kind held in Vietnam, will run until September 29./.
Ha Noi hosts int'l agriculture trade fair

The 19th International Agriculture Trade Fair (AgroViet 2019) opened in the capital city on Thursday, drawing nearly 200 domestic and foreign exhibitors.
AgroViet – one of the biggest agriculture fairs in Viet Nam – is showcasing food processing machinery, agricultural machinery, veterinary medicine, and safe agro-forestry-fishery products.
Director of the Trade Promotion Centre of Agriculture Dao Van Ho said the expo aims to develop agricultural production in the era of Industry 4.0.
It also seeks to add value to the agricultural production chain towards the implementation of a project to speed up production mechanisation, along with the national target program on the development of new rural areas.
He described the event as a good opportunity for enterprises to promote their brands, introduce new products, especially hi-tech agricultural ones, share their experience and expand international co-operation. This helps enhance the competitiveness of agro-forestry-fishery products in both domestic and foreign markets.
The event, which runs until Sunday, will also help for provinces and cities to seek further investments in local agricultural development, and introduce both visitors and farmers to hi-tech agricultural products, as well as strengthening connectivity among businesses throughout the sector.
The previous edition in the central city of Da Nang attracted 180 domestic and foreign businesses.
The agro-forestry-fishery sector raked in US$3.64 billion from exports in August, raising the total value in the first eight months to $26.6 billion.
Key farm products brought in $12.4 billion, accounting for 46.7 per cent of the total export revenue, while key forestry products and seafood earned $7.08 billion and $5.52 billion, making up 27 per cent and 21 per cent of the total value, respectively. 
Vietnam focuses on fruit exports for higher value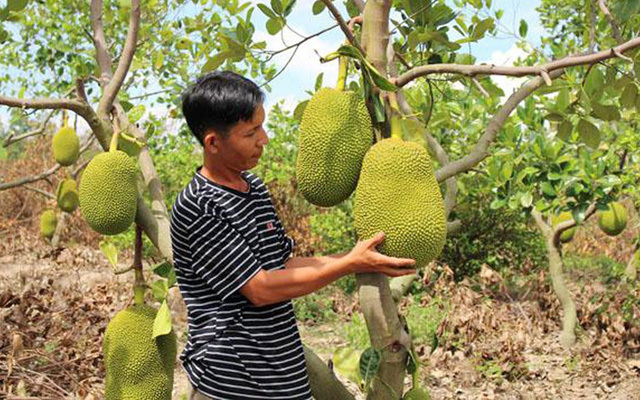 Vietnamese agriculture officials made fruit a key export product as it can bring eight or nine times more in value compare to rice production.
The Ministry of Agriculture and Rural Development (MARD) this year added fruit to its list of key export agricultural products along with seafood, rice, cashew nut, timber, furniture, coffee, rubber and pepper.
"Demand for fruits and vegetables on the world market increases by 3.6 per cent every year," a representative of MARD said.
"There is a big chance for Viet Nam to develop its fruit products to the world market," they added.
Currently, Vietnamese fruit is exported to 60 countries. Fruit export turnover hit US$3.5 billion in 2017 and is projected at $3.6 billion this year. According to the Food and Agriculture Organization of the United Nations (FAO), the world's market for vegetable and fruit has a growth rate of nearly 2.9 per cent in 2016-21.
Viet Nam's vegetables and fruits export value currently accounts for about 1 per cent of the global vegetables and fruits revenue ($270 billion), which shows the great potential of this sector that still has more room to develop.
"Spanning as much as 40 per cent of the rice planting area, vegetable and fruit growing areas bring export revenue much bigger than that of rice in Viet Nam," said Minister of Agriculture and Rural Development Nguyen Xuan Cuong earlier this year.
In the first seven months of 2019, the country exported more than four million tonnes of rice worth $1.73 billion, 14.3 per cent lower in value from the same period last year.
Cuong told local media the world's average global trade in rice is only about $35-36 billion per year while the value of fruits was $240 billion. With an average growth rate of 2-3 per cent in the next five years, fruit production could create profit eight or nine times higher than rice, he added.
According to Department of Crop Production, the south of Viet Nam has the biggest fruit planting area of 600,000ha and total productivity 6.6 million tonnes, accounting for 67 per cent of production nationwide.
Common fruits in the region are mango, banana, dragon fruit, durian, orange, grapefruit, longan, pineapple, rambutan, jackfruit, avocado and passion fruit.
Along with potential, MARD also sees challenge in cultivation. Currently, the region's fruit farming is small scale, with a lack of processed fruit and low adoption of international plantation standards.
Dang Phuc Nguyen, general secretary of Viet Nam Fruit and Vegetable Association, said as the fruit production hub of the south, fruit farmers in the Mekong Delta work separately, making it difficult for them to use machinery to boost production.
To change this, Nguyen said MARD development plans aim to transform 500,000ha of rice growing land to either fruit growing or aquaculture production.
The ministry also pointed out only 10 per cent of production area there is used for high quality products that meet Global Good Agriculture Practices (GlobalGAP) certificates, the international standard for exports to the demanding markets of Europe, the US, Japan and South Korea.
To improve the situation, MARD has urged local departments to encourage farmers to apply international standards to their plantations.
Nguyen Quoc Toan, director of the Agricultural Products Processing and Development Department, said that product branding was also an important issue.
Currently, only two products have national brands, rice and tea, so Vietnamese fruit products also need to get national brands soon.
To achieve this, the fruit and vegetable industry should pay attention to requirements of export markets, traceability, labels and packaging. In particular, it should pay attention to processed goods and increase enterprises' processing ability, as exporting fresh fruits face technical barriers while processed fruit products do not. Besides, processed products have higher added value.
Vietnam Green Building Week 2019 underway in Hanoi
The Vietnam Green Building Week 2019 is taking place in Hanoi from September 23 to 27 with a wide range of activities.
On September 26, real estate developer Capital House Group committed itself to the EDGE Champion programme of the International Finance Corporation (IFC), at a ceremony in the framework of the week.
The programme is for investors applying Excellent in Design For Greater Efficiencies (EDGE) solutions for at least 80 percent of their real estate projects.
Capital House pledged that all of its next projects will be designed according to green and sustainable standards of the IFC programme.
IFC and Capital House vowed to work together in activities related to green building, such as training, holding workshops and conducting research, thus contributing to the development of energy-saving industry and low-carbon reduction.
The same day, an exhibition on green buildings and an award ceremony to honour winners of a green architecture design contest for students were held, attracting over 100 outstanding projects selected from architecture training establishments nationwide.
The events encouraged youngsters to cultivate innovative ideas that contribute to the development of green buildings in Vietnam.
Another event during the green building week was a workshop on developing green high-rise residential buildings in urban areas.
The workshop gave an opportunity for Vietnam to learn from Singapore's experience about green buildings, materials and technologies./.
Advisory council recommends Gov't to remove growth bottlenecks
Some members of the national financial and monetary policy advisory council have pointed out certain problems in the economy, warning that failure to address them would not only make faster growth unachievable but also decelerate economic expansion.
At a meeting in Hanoi on September 25, the council said despite the growth slowdown in the global economy and big economies along with complex developments in the world's financial – monetary markets and trade, the Vietnamese economy has performed positively over the last nine months.
Economic indexes between January and August met targets, and the economy is on the way to attain the targeted GDP growth rate of 6.8 percent this year, driven by the recovery of the mining industry, the domestic consumption, the disbursement of foreign direct investment (FDI) capital and some new processing – manufacturing projects, which have made up for the showdown in mobile phone and component production, according to the advisory council.
Meanwhile, inflation is still kept under control as it grew only 2.57 percent in the eight months – a three-year low.
Besides, the council highlighted the high budget collection, the stock market's growth rate of over 10 percent from the end of 2018, and the corporate bond market reaching 586 trillion VND (25.1 billion USD, equivalent to 10.6 percent of the GDP) by the end of this year's second quarter.
Advisors also spoke highly of the Government's steering and coordination of the monetary, fiscal and other policies.
However, they pointed out that the capital absorption capacity of the economy remains weak due to institutional obstacles, which has led to the sluggishness in the allocation and disbursement of public investment capital and hampered enterprise development, investment and business climate improvement, and implementation of public-private partnership projects.
If the Government failed to remove those bottlenecks, it would be hard to achieve faster growth, or growth could even decelerate in the time ahead, they noted.
Some members voiced concern about the quality of foreign investment attraction, noting that the number of foreign invested projects in the last nine months has risen 26.4 percent year on year, but their registered capital dropped 22.3 percent.
They said the Government should not have regulations that limit the corporate bond market but step up business rating services, increase supervision to ensure the market's healthiness, and associate the issuance of Government and corporation bonds with the monetary policy.
Additionally, the Government should also keep diversifying export markets, the council said, underlining the need to boost the export of goods to China via official channels; perfect the standards relevant to the Vietnamese origin to fight tax evasion and trade fraud; actively work with other countries, particularly the US, to deal with trade-related issues; and not use price-related tools to support export.
Appreciating the opinions, Deputy Prime Minister Vuong Dinh Hue said they will help with the Government's socio-economic governance in the remaining months of 2019 to create a solid foundation for performing tasks next year./.
Vietnam Singapore Technologies Engineering Aerospace debuts
Vietnam Singapore Technologies Engineering Aerospace Co. Ltd. (VSTEA) officially made its debut on September 26, becoming the first joint venture of its kind in the Vietnamese aviation market.
The company was jointly established by Singapore Technologies Engineering Aerospace and Vietnam Airlines Engineering Company (VAECO) following a Memorandum of Understanding on cooperation signed between the two sides on April 26 last year.
Necessary infrastructure will be built to enable VSTEA to carry out component maintenance, repair and overhaul (MRO) services at Vietnam Airlines' existing maintenance facilities at Noi Bai International Airport in Hanoi and Tan Son Nhat International Airport in Ho Chi Minh City.
These facilities will be equipped to support such aircraft types as Airbus A320, Boeing 787 and ATR72 and offer MRO services on pneumatics, hydraulics, electrical components, wheels, brakes, and safety equipment.
General Director of Vietnam Airlines Duong Tri Thanh said the carrier believes the partnership will bring about win-win benefits in a potential aviation market and open up future cooperation for the two sides.
Lim Serh Ghee, President of Singapore Technologies Engineering Aerospace, said the company considers Asia a key destination and noted that its new joint venture will provide world-class MRO services, ensuring safe flight for airlines.
Vietnam Airlines is now operating 94 routes to 21 domestic and 29 international destinations with an average of 400 flights per day, connecting the world's major cities to travel destinations in Vietnam, Laos, Cambodia, and Myanmar.
Singapore Technologies Engineering Aerospace has a global network covering America, Asia-Pacific, and Europe, serving MRO requirements of more than 15,000 airplanes since 1990./.
UK fund fails to make exit from Gemadept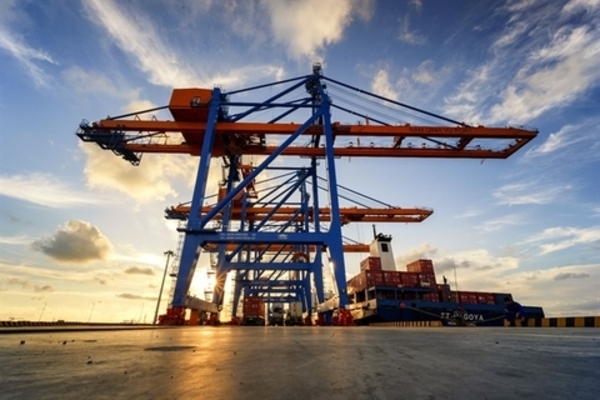 Gate-shaped cranes at Gemalink Deep-water Seaport in Ba Ria-Vung Tau Province's Thi Vai-Cai Mep port cluster. — Photo gemadept.com.vn
The UK-based Vietnam Investments (VI) Fund II LP has cut its holding in logistics firm Gemadept (HoSE: GMD) to 15.24 per cent from 19.55 per cent.
The UK fund sold only 12.8 million of the 58 million Gemadept shares it had on sale between August 23 and September 20.
Gemapdet said in a statement yesterday the share sale had failed because the price had not matched the fund's expectations.
VI Fund II remains a major shareholder in Gemadept, holding more than 45.2 million shares, equal to 15.24 per cent.
The foreign fund had previously transferred 29.7 million Gemadept shares to SSJ Consulting Vietnam Co Ltd from July 8 to August 2.
The London-based CDC Group, manager of VI Fund II, also saw its VI Fund I sell 2.45 million shares in Gemadept.
Gemadept shares on Tuesday were up 0.9 per cent to close at VND27,650 (US$1.19).
In the first six months of the year, Gemadept posted VND1.3 trillion ($56 million) in total revenue. The figure was almost unchanged from last year.
Its post-tax profit was down 78 per cent yearly to VND348 billion.
Vietnam-Korea businessmen and investment association debuts
The Vietnam-Korea Businessmen and Investment Association (VKBIA) officially made its debut in Seoul on September 25.
Addressing the launching ceremony, VKBIA Chairman Tran Hai Linh said members of the association will join hands and serve as a bridge to enhance relations between Vietnam and the Republic of Korea (RoK).
He highlighted the significance of the establishment of the association, saying that it will contribute to realizing the target of 100 billion USD in bilateral trade in 2020.
Linh hoped to get support from the Vietnamese Party, State and Government, as well as assistance from the RoK's authorities for the association's activities in the coming time.
Vietnamese Deputy Ambassador to the RoK Tran Truong Thuy said that VKBIA's formation offers a venue for the two countries' entrepreneurs to share experience and ideas, thus developing rapidly and sustainably their operations and promoting investment cooperation among them and expanding trade ties between Vietnam and the RoK.
At the event, VKBIA signed a cooperation agreement with the Vietnam Farms and Agricultural Enterprises Association (VFAEA)./
ASEAN trade mechanism needed to support firms overcome disputes

A mechanism indicating fair, transparent and objective rules for ASEAN economies and their enterprises is needed to resolve trade issues when products are exported between markets.
Nguyen Vu Kien, VCCI deputy director of the international relations department, said on Monday that ASEAN is a huge market and all member economies have opened their markets for each other to enter.
The bloc should develop a system that supports and consults enterprises and resolve disputes when selling products to other regional markets, he said.
That would ensure regional trade is transparent and fair while businesses would not have problems with local authorities regarding overseas operations, he added.
This would improve the trade environment and promote a healthy, positive business climate in the region, he said.
Introducing an ASEAN Portal funded by the European Union through ARISE Plus, Paul Mandl, head of the project, said that the ASSIST portal (assist.asean.org) provides information on legal regulations, criteria and measures to make their goods and services exporting process to the ASEAN market easier.
It also helps exporters react directly with authorities of ASEAN member countries and ask for consultations.
Paoplo R. Vergano, an expert from the ARISE Plus, said that the ASSIST will help businesses deal with issues related to tariff and non-tariff measures as well as investment in some areas, but it does not involve in the handling of disputes between employees and employers or complaints related to discrimination or cases settled by countries, as well as matters that are not relevant to trade, service and investment in ASEAN.
According to Nguyen Tuong, deputy secretary general of the Vietnam Logistics Business Association, ASSIST will make ways for transporters to overcome difficulties when they deal with the administrative procedures at border gates and customs offices.
Trade challenges need to be governed by an objective, transparent and fair regime so that the whole region's trade activities are proper, efficient and smooth, Tuong said.
The conference was held as a part of the Project 25 on "Promoting bilateral trade and investment between Viet Nam and key strategic partners". The conference was co-organised by the Vietnam Chamber of Commerce and Industry (VCCI), the Vietnam International Arbitration Centre (VIAC), the EU ARISE Plus and the Vietnam Logistics Business Association (VLA).
Central province approves three wind power projects

The People's Committee of Quang Tri Province has granted in-principle approval to three wind power projects with a combined investment capital of nearly VND5 trillion (US$215 million), online newspaper baodautu.vn reported.
The Phong Lieu wind power plant will cover 16.5ha in four communes of Huong Linh, Tan Thanh, Huong Tan and Huong Phung. Financed by the province-based Phong Lieu Wind Power JSC, the first plant costs more than VND1.5 trillion. It is slated for completion in 2021, providing 151 million kWh of electricity.
Another plant, invested by the Phong Nguyen Wind Power JSC in the central city of Da Nang, will span more than 16ha in two communes of Tan Thanh and Huong Phung. The plant, worth VND1.6 trillion, is expected to be operational in 2021.
Meanwhile, Phong Huy wind power plant costs more than VND1.6 trillion. Spanning 16ha in Tan Thanh and Huong Tan communes, the plant will provide 151 million kWh of electricity once operational in 2021.
The committee has asked the investors to implement their projects on time, while complying with regulations related to investment, land, taxes, construction and environmental protection.
Quang Tri has a great potential for wind energy and the province has been reforming administrative procedures and improving the investment environment to attract more investors to renewable energy projects in the locality.
It plans to become an energy hub for the central region. As of June, the province was home to 58 wind power projects.
Sembcorp Development CEO talks about investment environment in Vietnam
Vietnam is making a name for itself as a dynamic emerging country in Asia with political stability and a growing economy, Kelvin Teo, CEO of Sembcorp Development and Co-chairman of Vietnam-Singapore Industrial Park Group said in a recent interview with Vietnam News Agency (VNA).
He said Vietnam has done especially well in signing several important bilateral trade agreements (FTAs) that will increase its global integration and extend this advantage to foreign investors.
Vietnam's middle class is also growing, making the domestic market attractive for foreign goods, he added.
Sembcorp is jointly operating the VSIP brand of integrated townships and industrial parks across the country, with nine VSIP projects across the southern, central and northern economic zones of Vietnam, including two VSIP expansions in Binh Duong and Bac Ninh provinces, Kelvin Teo said.
The increase in FDI from the manufacturing sector has led to higher occupancy levels at the VSIPs; hence, the company has expanded in Binh Duong and Bac Ninh provinces, he told VNA, adding his company is in the process of reviewing master plans for approval before launching.
"We are exploring a new industrial park design which is more sustainable in the form of energy efficiency and smartness so as to help our industrial tenants operate more competitively," he said.
To do this, Sembcorp recently established a representative office in Hanoi to bring more urban development solutions to Vietnam, according to Kelvin Teo.
He said Sembcorp also has strength in energy, so there are a lot of opportunities to scale up in Vietnam and support the country's industrialisation.
The Singaporean business executive added that Sembcorp has admiration for the way the Vietnamese Government, both at the central and local levels, work with foreign investors to understand their needs and support their plans.
There have been completions to several provincial airports, major highways and bridges in the country. Such infrastructure completions are critical as they enable businesses and communities to capitalise on connectivity between cities and provinces, he said./.
Vietnam Airlines, Korean Air, China Airlines to foster cooperation
Vietnam Airlines, Korean Air and China Airlines will join hands to promote Vietnam's tourism and expand extensive cooperation in many areas.
Vietnam Airlines' representative said on September 23 that the partnership will help optimize benefits, incentives and service quality for passengers of the three airlines, while creating conditions for Vietnam Airlines to improve its competitiveness in the international market.
Under the cooperation programme, the three sides will focus on promoting trade and tourism in the RoK and Taiwan, participating in joint booths at major events, and introducing famous sea tourism destinations of Vietnam such as Ha Long, Nha Trang, and Phu Quoc, thereby attracting tourists from the Republic of Korea and Taiwan to explore the beauty of Vietnam.
The three firms are committed to coordinating in joint sale programmes, expanding joint venture cooperation on routes between Vietnam with the RoK and Taiwan; routes from Vietnam to the US and Canada transiting in Taiwan and vice versa.
Code-share flights to North America are an important premise for Vietnam Airlines to develop products that directly connect Vietnam and the US.
The carriers agreed to use each other's ground services, good services, and aircraft technology at the bases of each carrier. The three firms considered the possibility of elevating cooperation to a new, tighter form such as a joint venture in the near future./.
Vietnam's food processing, packaging sector thriving
Vietnam's food processing and packaging industry has expanded by 15-20 percent annually over the past several years and is likely to grow further in the coming years, according to the Association of Vietnam Retailers (AVR).
Food and drinks currently account for the highest proportion of monthly consumer spending in Vietnam, at about 35 percent of the total and the annual consumption of food and beverages is estimated to be equivalent to 15 percent of the country's GDP.
In 2018, the consumption of food and beverages grew by 18 percent, creating a major push for the food processing and packaging sector.
Meanwhile, IMS Health has placed Vietnam into the group of the top 17 pharmerging markets which account for a fast-rising share of global pharmaceutical sales with a market size of about 5.1 billion USD.
Vietnam will be among three countries reporting the highest growth in the pharmaceutical industry, expanding at an annual rate of 10 percent in average, according to Global Data.
In addition, supplementary food and cosmetics have also posted strong growth, making the packaging industry more promising./.
Novaland, foreign partners to develop tourism in Binh Thuan
Real estate developer Novaland Group signed strategic partnerships with The Professional Golfers' Association of America, International Management Group (IMG) and French multinational hospitality group Accor at an investment promotion conference of Binh Thuan province on September 22.
At the conference, entitled "Potential connection – sustainable growth," the south central province of Binh Thuan focused on directly encouraging strategic enterprises and investors with strong reputations and capability to invest in key projects with pervasive values. Calling for investment in infrastructure projects for nation-level sea tourism and sport centers was a top priority.
In line with the national tourism development strategy, as well as the second phase of the group's development strategy, Novaland has been gradually expanding leisure-tourism property products in tourism cities with great potential, such as Can Tho, Ba Ria – Vung Tau, Phan Thiet – Binh Thuan and Cam Ranh – Khanh Hoa. The group strives to cooperate with foreign and domestic consultants and professional operators to create "the perfect destinations" for tourists, with an aim to transform these destinations into tourism-leisure centers, contributing to Vietnam's mark on the world's tourism map.
In Binh Thuan, Novaland has introduced NovaWorld Phan Thiet entertainment and tourism complex with a scale of up to 1,000ha. The project, which includes second home products like townhouses, villas and shophouses, will build diverse, world-class amenities, including a 220ha sport complex with a 36-hole international standard golf course, a 25ha theme park and water park, a 16ha beach park, and a commercial center including a conference hall, food court and family entertainment area.
The deal between Novaland and The PGA of America aims to bring a new standard of Golf Academies & Golf course operational standards to Vietnam. The PGA and Novaland will work together to develop world class Golf Academies & Junior Golf programs aimed at producing the Champion Golfers of the future. The PGA of America will also endorse the exclusive branding of Novaland golf properties in Vietnam.
Novaland has also partnered with IMG – a leading global corporation specializing in sports, events, media and fashion - to bring a series of international golf tournaments featuring some of the world's best golfers right here in Binh Thuan.
Arjun Chowdri, Chief Innovation Officer of The PGA of America, said: "Vietnam is one of the fastest-growing golf tourism markets in the world, and we're seeing the game of golf utilized as a key vehicle for that growth. We are incredibly excited to partner with such a well-renowned company in Novaland that is committed to the development of the game and will help us position the PGA of America and PGA Professionals at the forefront of that growth."
CEO of Novaland Bui Xuan Huy said: "Novaland believes in Binh Thuan to attract many enterprises and will become a desirable tourist destination of both the region and the world."
In addition, Novaland also signed a cooperation agreement with Accor to manage a series of hotels with a scale of approximately 1,500 rooms located in hospitality properties invested by Novaland in Binh Thuan and Ba Ria Vung Tau. The hotel chain with the brands Novotel, Mövenpick, MGallery and Mercure will offer a comfortable resort experience to domestic and international travelers.
Through the last 27 years, Novaland has become the leading prestigious real estate developer in Vietnam, with over 40 diverse projects providing outstanding products to meet the increasing demand of customers, such as: residential, villas, shophouses and 24/7 offices with a large land bank in key locations in Ho Chi Minh City and neighboring provinces, and over five hospitality-real estate projects in large cities and provinces.
Novaland will implement phase 2 of its development strategy from 2019 -2023, focusing on core businesses in the middle – high segment. The accumulated and currently research and development land bank of Novaland covers about 4,300ha for three key product lines including: housing projects in Ho Chi Minh City; satellite urban areas in Dong Nai province; and tourism development projects of international standards in cities with great tourism potential./.
Amata Vietnam promotes investment in Vietnam
Amata VN, a subsidiary of Amata Corporation, is studying the feasibility of establishing a fourth industrial park in Vietnam's central province of Quang Tri.
According to Bangkok Post, Vietnam has become a hot investment destination in Southeast Asia, with Thai industrial developer Amata VN a major foreign player in the country.
Founded in 1994, Amata VN was the first foreign industrial developer in Vietnam, and it is developing three industrial parks in the country, namely Amata City Bien Hoa, Amata City Long Thanh, and Amata City Ha Long.
President and chief executive of Amata VN Somhatai Panichewa said the company is teaming up with Japanese and Singaporean companies to conduct a feasibility study requested by the Vietnamese Government which is calling on overseas firms to expand operation and bring new investment flow into the central region, especially Quang Tri, to connect the northern and southern regions.
Amata VN projects a new industrial estate based on a township concept, a combination of manufacturing, commercial and residential zones.
The project will be a green industrial estate in line with the Vietnamese Government's policy of eco-friendly industrial development.
Amata VN will increase its 2020 development budget for industrial estates in Vietnam from 3 billion baht (98.43 million USD) allocated for 2019.
The company plans to develop solar rooftops and wind farms in Vietnam to support power generation for clients in the three industrial estates./.
Hai Duong – spotlight of northern key economic region
With remarkable socio-economic achievements, Hai Duong province has become an economic spotlight in the Red River Delta and northern key economic region.
In the first half of this year, the provincial economy grew about 7.2 percent. The industry and construction sector expanded 10.1 percent, contributing 5.8 percentage points to the locality's gross regional domestic product (GRDP).
The service sector increased 6.5 percent, contributing 2 percentage points to the GRDP.
Turnovers from transportation and warehouse services went up 7.1 percent; retail, up 6.6 percent; and consumption services, up 7.8 percent, respectively.
However, agro-forestry-fishery decreased 4.9 percent and crop cultivation was down 4.3 percent.
Besides, foreign investment attraction in Hai Duong province saw an increase.
Statistics from the Ministry of Planning and Investment's Foreign Investment Agency show that the province lured 450 million USD in foreign direct investment (FDI) in the first half of this year, ranking 10th among the 46 localities that received FDI in the period.
Of the total, 326 million USD came from 38 newly licensed projects while the remainder was added to 14 projects already in operation.
As of June this year, Hai Duong was home to 438 foreign-invested projects with capital totalling more than 8.15 billion USD, retaining its position as one of the top ten localities in the country in terms of attracting foreign capital.
In early August, the provincial People's Committee granted in-principle approval for seven new projects valued at more than 267 billion VND (11.6 million USD) in total.
Among these projects are a 97 billion VND convention centre and office project, to be financed by the Phu Thai trade and investment company; a 50 billion VND project producing electronics components to be funded by the HTV investment and development company; and a petroleum trading project, to be developed by the Anh Khoi trade and service company at a cost of 36 billion VND.
Nguyen Van Dinh, General Secretary of the Vietnam National Real Estate Association, said investors are turning their eyes to markets with high growth rates like Hai Duong.
It is noteworthy that Prime Minister Nguyen Xuan Phuc issued a decision last May, recognising Hai Duong city as the first-tier city, which has also contributed to spurring the development of the local property market.
These above-mentioned factors have created a firm foundation for the development of the local real estate market, making it more attractive in the eyes of investors.
Given the shortage of luxurious property projects in Hai Duong, investors have poured capital into the segment.
The most outstanding project is Apec Mandala Wyndham Hai Duong of Apec Group that has invested in a series of luxurious projects in Mui Ne, Bac Ninh, Phu Yen, Hue and Lang Son.
Apec Mandala Wyndham Hai Duong is a complex of condotels, officetels and a five-star commercial centre, meeting demands for shopping, cuisines, entertainment and leisure of locals and holiday-makers.
Managed and operated by Wyndham Hotel Group – the world's largest hotel company - the project has been seen as an attractive investment opportunity in Hai Duong in 2019.
Other projects with schools, bars, clubs, commercial centres and shop-houses, and guaranteed security and safety will promises high-quality living standards for residents.
In order to lure more investment capital, the province should continue working on administrative reforms, especially in the fields of taxes, fees, land and social insurance, as well as reducing the burden on enterprises during inspections, experts said.
They also highlighted the need to improve business consultations and promote the role of provincial business associations to consolidate the trust of the business community, adding provincial leaders and localities need to hold more dialogues with business communities to solve pressing problems quickly./.
Vinh Phuc: Revenue of supporting-industry firms surges 8 percent
Electrical and electronic businesses in the supporting industry of the northern midland province of Vinh Phuc have gained over 2.58 billion USD in revenue so far this year, surging 8 percent from the same time last year.
In the period, the firms' export value was estimated to rise 5 percent year-on-year to over 2.22 billion USD.
Besides, they contributed more than 914 billion VND (39.4 million USD) to the state budget, up 10 percent as compared to the same period last.
Currently, the companies are creating jobs for nearly 50,000 labourers, or 2,500 higher than the end of last year.
From the outset of this year, the firms have promoted production, increased capital, and expanded business scale. Companies recording robust business achievements include Haesung Vina Co., Ltd, DST Vina Co., Ltd, and Sekonix Vina Co., Ltd./.
Quang Ninh welcomes many potential investors since beginning of year
The northern coastal province of Quang Ninh has welcomed a number of major investors, both domestic and overseas, who came to explore investment and partnership opportunities since the beginning of this year.
The success in catching the investors' intention is greatly attributable to efforts by the local Investment Promotion Agency (IPA).
To lure more large investors to Quang Ninh, the IPA has accelerated investment promotion programmes on an annual basis. Since the beginning of the year, the agency has received 24 delegations of investors to the province, an increase of nearly 37 percent from the same period last year. Most investors wanted to seek investment opportunities in tourism and services (33 percent), manufacturing and processing (12.5 percent), real estate (11 percent), and industry (7.8 percent).
In the first eight months of 2019, as many as 20 projects have got the province's approval for their chosen sites to develop 1/500-scaled detailed construction planning.
The agency has taken various measures to step up investment promotion, particularly developing investment database and issuing investment promotion documents and publications, said head of IPA Nguyen Doan Dinh Cuong. It also plans to update and amend documents and publications for promoting investment at key economic zones and build promotion documents for different industries, for example, tourism, resort property and logistics, he said.
Additionally, the province has promptly learned about recommendations and handled inquiries from businesses and investors to improve their satisfaction with local services. For instance, the IPA in August received an inquiry from Future Investment Medical JSC from the Czech Republic which hoped to construct a high-quality beer production facility in the province.
Shortly after receiving the proposal, the agency has actively worked with local authorities to provide the company with updated information on potential locations for the facility and supported it in conducting field surveys at seven locations in Dong Trieu town, Uong Bi city and Hoanh Bo district. After the field surveys, the foreign firm has shown interest in a site in Zone 1, Bac Son ward, Uong Bi city.
To help the Czech company soon start the project, the agency has cooperated with local departments and authorities to guide it in investment procedures. Notably, based on specific inquiries from the firm, the agency has informed relevant departments to together support it in completing the procedures.
Besides assisting investors in the province, the IPA has focused on accelerating investment promotion in other provinces and cities as well as overseas. The agency has not only introduced about local business climate, investment policies and opportunities but also established and maintained relationship with organisations and associations which can play a role in promoting domestic investment, as well as with local and international banks, intermediary financial institutions, and investment consulting companies.
Most recently, Quang Ninh attended a trade and investment promotion event in Japan held by the Ministry of Industry and Trade's Vietnam Trade Promotion Agency (Vietrade) on August 26 – 30. On the sidelines of the event, the province hosted a separate investment promotion programme targeting Japanese investors who showed interest in doing business in the province.
Vu Thi Kim Chi, IPA deputy head, said in the coming time, the agency will continue adopting innovative solutions in investment promotion. It also plans to give better on-the-spot support to major investors that are looking for investment opportunities in Quang Ninh.
She said the agency will focus attention on attract projects in tourism and services to increase the sector's proportion in the provincial economy. In addition, it will actively coordinate with organisations and cities and provinces both at home and overseas to implement regional investment promotion activities, creating greater communication effect for the province's investment potentials.
Quang Ninh is fast becoming an attractive destination for both tourists and investors, according to the Vietnam Association of Realtors.
The province has topped Vietnam's Provincial Competitiveness Index (PCI) out of 63 cities and provinces nationwide for two consecutive years in 2017 and 2018./.
Talent strategies key during integration
Talent development must be the top priority for enterprises to grow in the context of increased international integration, Mr. Simon Matthews, Country Manager of ManpowerGroup Vietnam, Thailand and Middle East, told a workshop held on September 17 in Hanoi. Organizations must have the right talent strategy to be successful, he said, of which the development of internal employees plays an important role.
ManpowerGroup Vietnam, in collaboration with the Vietnam Chamber of Commerce and Industry (VCCI), were the hosts of the "EU - Vietnam Free Trade Agreement (EVFTA): Opportunities and Challenges for the Vietnamese Workforce" workshop.
Over 100 representatives attended, from the WTO Integration Center under VCCI, the Department of Legal Affairs under the Ministry of Labor, Invalids and Social Affairs, the European Chamber of Commerce in Vietnam (EuroCham), NHO, GIZ, NGOs, and local and international associations and enterprises. The workshop aimed at increasing awareness among enterprises on the opportunities and challenges of the EVFTA's impact on Vietnam's workforce. Representatives also discussed the implications of Vietnam's revised Labor Code in the context of increased international integration and Industry 4.0.
By eliminating up to 99 per cent of export tariffs, the EVFTA will provide Vietnamese companies with competitive prices when they export goods to European markets. This is expected to bring tens of thousands of new job opportunities each year and raise incomes.
Industries set to benefit the most are manufacturing industries such as textiles, footwear, furniture and seafood. Businesses, however, are certain to face harsh competition in terms of workforce, especially the challenge of securing highly-skilled workers that can meet the increasingly stringent quality requirements of goods and services heading to Europe.
The EVFTA is a new-generation FTA, since one of its aims is to enforce labor and environmental standards. Vietnam and the EU have agreed upon a procedure from the ILO in 1998 to recognize and facilitate four basic labor standards (including freedom of association and the effective recognition of the right to collective bargaining, the elimination of all forms of forced or compulsory labor, the effective abolition of child labor, and the elimination of discrimination in respect of employment and occupation).
These commitments compel the Vietnamese Government to review policies and revise the Labor Code so as to make appropriate adjustments. This opens up opportunities as well as challenges to enterprises, as they have to change to meet the commitments. However, by complying with these commitments, Vietnam is also given an opportunity to develop a sustainable and well-balanced labor market, which provides both the local workforce and enterprises long-term benefits.
Experts said the opportunities that EVFTA presents to Vietnamese companies are significant, provided employers have the right workforce to maximize the opportunities. To achieve such potential, companies need to adjust their existing talent development strategy. According to the Humans Wanted, Robots Need You global research by ManpowerGroup, up to 84 per cent of companies worldwide will invest in training their employees in 2020. During the workshop, Mr. Matthews also gave practical guidance for employers to develop tomorrow's talent by Build, Buy, Borrow and Bridge, to ensure Vietnam's serious shortage of skilled workers is addressed.
HCM City's collective economic model achieves good results
Ho Chi Minh City has achieved positive results in the implementation of its collective economic model, with an increase in the number of cooperatives and their quality, according to the municipal People's Committee.
Cooperatives display their products on the sidelines of a meeting held in HCM City on September 24 to review 15 years of implementation of the Party Central Committee's resolution on continuing to reform, develop and improve the collective economy.
Speaking at a meeting on September 24 to review 15 years of implementing the Party Central Committee's resolution on continuing to reform, develop and improve the effectiveness of the collective economy, Le Thanh Liem, Vice Chairman of the municipal People's Committee, said the numbers of cooperative groups, cooperatives and unions of cooperatives have increased significantly over the past years to reach 2,097; 612; and 6 by the end of last year.
They operate in various sectors, including services and trading, transportation, environmental hygiene, agriculture, industry, craft, and credit, he said.
Over the last 15 years the city's collective economy has asserted its key role in socio-economic development, he said.
"The number of cooperatives and unions of co-operatives with working capital in the hundreds of billions and thousands of billions is rising. Many have expanded across the country and export their products to many markets."
However, there are still limitations in developing the collective economy, he said.
Most cooperatives are small with limited funds, lack business strategies, have poor management compared with other economic sectors, and are disadvantaged in the integrating economy, he said.
In the next decade the city would focus on developing the new-style cooperative model, he said.
In 2021-2030, HCM City targets the setting up of 300 cooperatives and five unions of co-operatives, he said.
The sector is expected to achieve annual growth of 7 percent, account for 0.6 percent of the city's economy, and create 30,000 jobs each year, he said.
To achieve these targets, the city will implement a number of measures such as increasing the capital of the City Cooperative Member Support Fund to 2 trillion VND (86 million USD) by 2030.
It will continue to connect credit organisations and cooperatives, provide training to cooperative managers and help promote their products and improve their technologies.
Nguyen Thien Nhan, Secretary of the HCM City Party Committee, said land and capital are two difficulties faced by cooperatives for a long time. These have not been resolved satisfactorily, making it hard for the collective economy to achieve a development breakthrough.
Therefore, departments and sectors need to advise the People's Committee and the Department of Planning and Investment to make five-year plans for collective economic development in each sector, including agriculture, transportation, environmental hygiene, credit funds, housing and others.
They should come up with solutions for difficulties faced by cooperatives related to the use of agricultural land and borrowing from banks for production, buying machinery and building facilities, he said.
Vietjet adds latest Airbus to fleet
Vietjet Air has just added the world's first 240-seat Airbus A321neo ACF (Airbus Cabin Flex) to its modern fleet.
The A321neo ACF has an innovative cabin structure that ensure standards in seating and provides the best flight experience.
According to Airbus, the A321neo ACF will be the basis for it to develop narrow-body aircraft on longer haul flights.
The A321neo ACF helps reduce fuel consumption by a minimum of 16 per cent and cuts noise and emissions by up to 75 per cent and 50 per cent, respectively.
Vietjet currently owns one of the world's newest and most modern fleets, with an average age of only 2.7 years and optimal operating costs, which helps bring more reasonable flying opportunities to passengers.
With 129 domestic and international routes, Vietjet currently operates a fleet with the world's top technical reliability, of 99.64 per cent.
Vietjet is the first airline in Vietnam to operate as a new-age airline offering flexible, cost-saving tickets and diverse services to meet passenger needs. It provides not only transport services but also uses the latest e-commerce technologies to offer various products and services.
It is a fully-fledged member of the International Air Transport Association (IATA) and has IATA Operational Safety Audit (IOSA) certification. It was named "Best Ultra Low-Cost Airline 2018 - 2019" and awarded the highest ranking for safety, with seven stars, in 2018 and 2019 by the world's only safety and product rating website, AirlineRatings.com. The carrier has also been listed as one of the world's 50 best airlines for healthy financing and operations, by Airfinance Journal in 2018.
Vietjet currently operates around 400 flights daily, carrying more than 80 million passengers to date, with 129 routes covering destinations around Vietnam and international destinations such as Japan, Hong Kong (China), Singapore, South Korea, Taiwan (China), China, Thailand, Myanmar, Malaysia, Indonesia, India and Cambodia.
Dak Lak seeks Russian investors in different sectors
The Central Highlands province of Dak Lak hopes to seek Russian partners in high-tech agriculture, post-harvest processing and tourism, said Chairman of the Provincial People's Committee Pham Ngoc Nghi on September 25.
Speaking at an investment promotion conference in Moscow, Nghi said that Dak Lak has been dubbed as Vietnam's coffee capital, and has favourable conditions for high-tech agriculture and processing industry.
Furthermore, the province boasts huge potential for tourism development, he said, noting that Dak Lak is one of the cradles of the cultural space of Gong of Tay Nguyen, which has been recognised by UNESCO as a masterpiece of the oral and intangible heritage of humanity.
Nghi called on the Vietnamese Embassy in Russia to facilitate connectivity between Dak Lak and Russian partners, contributing to the socio-economic development in the province.
Vietnamese Ambassador to Russia Ngo Duc Manh highlighted the development of the Vietnam-Russia relationship, and expressed his belief that with its great potential, Dak Lak will become an attractive investment destination for Russian firms.
Bui Van Hoa, Vice President of the Vietnamese Business Association in Russia, said key products of Dak Lak are sought-after in Russia, especially in the context that the country is facing embargoes imposed by western countries.
On this occasion, Dak Lak screened documentaries featuring the potential of the province and the Central Highlands, and introduced its specialties, such as coffee and other agricultural products.
Vietnam Solar Power Expo attract over 300 enterprises
The 2019 Vietnam International Solar Power Expo officially opened in Hanoi on September 25, attracting the participation of over 300 domestic and foreign enterprises.
The expo, which is one of renewable series events held by the Neoventure Group, featured 48 pavilions.
The event will offer an opportunity for enterprises to share experience and expand their business network in the field of solar power, which is growing rapidly in Vietnam.
According to To Ngoc Son, Deputy Director of the Department of Asia-Africa Markets, under the Ministry of Industry and Trade (MOIT), said that Vietnam has attracted great attention from many major businesses in the solar power industry aroundthe world.
Vietnam currently has 82 solar projects, with a total capacity of 4,460 MW, which have been connected to the national grid. In addition, around 13 projects, with a total capacity of 630MW, are expected to be put into operation in late 2019, he added.
Deputy Director Son also noted that the Government has issued many supportive policies to promote the development of the solar industry, aiming to turn solar power into a spearheadindustry.
A wide range of seminars, conferences and forums connecting projects, will also be held during the two-day event.