Stripe International acquires Vietnamese footwear brand Vascara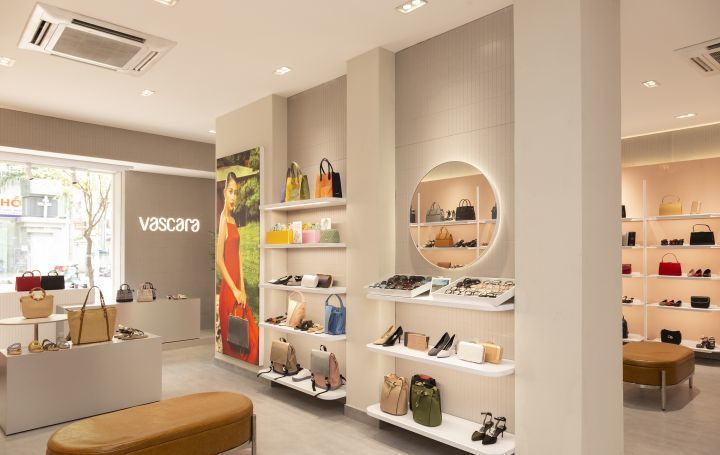 Japanese fashion company Stripe International has acquired Vietnamese company Global Fashion, which owns the women's footwear brand Vascara.
The value of the deal was not disclosed by either side.
Mr. Harigae Tsutomu, Chairman of Stripe Saigon, a subsidiary of Stripe International, said that the company sees the potential of Vietnam's fashion market, especially the footwear and bags segments, and believes Vascara has the potential to grow. "We believe that with our experience in many countries around the world, we can accompany the Vietnamese brand to grow and expand its store network," he said.
"Stripe International's experience will help us launch more high-quality product lines, expand faster, and help products reach more women in the country," said Ms. Le Canh Bich Hanh, CEO of Global Fashion. "With this milestone, we will officially change our brand identity through new store models. We want our customers to have a great experience when they enter the new space."
With the change in brand identity, a new logo design is consistent with the development trend of brands to avoid saturation of brand nuances. Instead of strong lines and a special commercial identity, the new store identity is also more feminine and harmonious with high-end fashion trends.
Vascara's network of stores has been doubling every year and stands at 134. It first launched in 2007, with 1.5 million purchases on its system last year.
Stripe International, founded in 1994, owns 20 brands. It focuses on fashion but has expanded into restaurants and hotels. With the acquisition of Vascara, the group's total number of stores has increased to over 1,400.
It came to Vietnam in 2017 and earlier acquired another fashion brand - NEM - which has 90 stores nationwide.
According to the Vietnam Leather, Footwear and Handbag Association (LEFASO), the leather and footwear sector has been growing at 9.7 per cent each year. Ninety per cent of the country's footwear products are exported. In recent years, demand for footwear in Vietnam was about 150 million pairs each year and is increasing.
Interest rates of G-bonds plunge in 10 years
Over the past 10 years, the interest rates of successfully-issued Government bonds (G-bonds) have decreased significantly, saving thousands of billions of VND for the State budget, contributing to regulate and stabilise the macroeconomy.
September 24 this year was an important milestone for the G-bond market, marking 10 years since its inception. The G-bond market has made impressive progress in terms of scale, becoming an effective capital raising channel for the State Budget and contributing significantly to the economic development of the country.
In the primary market, over 10 years, more than 1.8 quadrillion VND (77 billion USD) has been mobilised for the State Budget.
This figure corresponds to average annual mobilisation of more than 180 trillion VND, accounting for 10.6 percent of the total social investment capital in 2018, 31 percent of the State sector's total investment capital in 2018.
About 1,872 auctions were held with an average successful mobilisation ratio of 60-70 percent of the total bid volume.
The average annual interest rate of G-bonds has decreased by 4 to 6 percent per year for all maturities. In particular, there has been a sharp decline in 5-year terms, down from 10.49 percent per year in 2009 to 3.55 percent per year in 2019, and 10-year terms, down from 9.7 percent per year in 2009 to 4.35 percent per year in 2019.
In contrast to the decrease in interest rates, the maturities of bonds have increased.
So far, the State Treasury has successfully issued G-bonds with terms of up to 30 years.
Thanks to the diversity of maturities, investors have more options, which helps reduce the pressure to pay debts in the short term.
If in 2009, G-bonds were issued with only four maturities of 2, 3, 5 and 10 years, of which the maturities of 5-year and more accounted for only 15 percent of total issuance. In 2019, three more maturities of 15, 20 and 30 years were added, and the maturities of 10 years and more accounted for 90 percent of the total issuance.
In the secondary market, the number of G-bond transactions also increased. Bond liquidity in 2019 reached more than 9 trillion VND per session, nearly 24 times higher than in 2009.
The trading volume through repurchase agreements (repos) also grew strongly, accounting for 6.5 percent of the total trading value of the bond market in 2009 to 55 percent in 2019.
With the ever-improving market legal framework, over the past 10 years, the G-bond market has continuously welcomed new products on both primary and secondary markets, meeting the diverse investment needs of the market.
In the years 2013, 2014, 2018 and 2019, Vietnam's G-Bond Market was named one of the markets with the strongest growth rate in East Asia by the Asia Development Bank (ADB)./.
Further efforts needed to regain EC's "green card"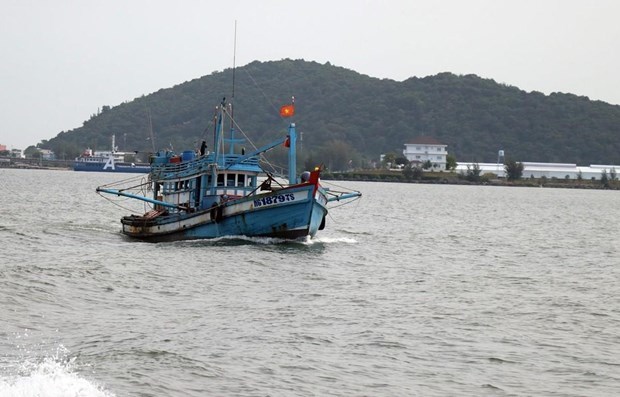 Vietnam's fishery sector expects to regain a "green card" from the European Commission (EC) after working tirelessly to fight illegal, unreported and unregulated (IUU) fishing, but much work needs to be done, especially fishing management and attitude of local fishermen.
The information was heard at a conference to review two-year implementation of the programme "Vietnam marine product companies commit to combating IUU fishing" held in Ho Chi Minh City on September 25.
Vice Chairwoman of the Vietnam Association of Seafood Exporters and Producers (VASEP) Nguyen Thi Thu Sac said despite concerted efforts of the Government, competent ministries and sectors as well as seafood enterprises, it is hard to identify the exact time when Vietnam regains the "green card".
Vietnam got the "yellow card" on September 23, 2017 as the country failed to demonstrate sufficient progress in the battle against IUU fishing. Earlier, the Government and the Ministry of Agriculture and Rural Development carried out a wide range of measures to better control fishing and prevent illegal actions.
To date, 62 seafood companies across the country have committed to joining national efforts by purchasing seafood from fishing vessels which have enough exploitation licenses, certificates by fishing ports and fishing journey diary.
Sac said the installation of GPS and monitoring devices for fishing vessels is a tough mission due to their high costs and poor awareness of local fishermen.
She suggested that the communication work on IUU fishing should be enhanced among fishermen, and proper punishments should be handed out to any violators.
Besides, related authorities should focus on improving oversight of fishing and upgrading national database on fishing vessels, fishing tools, fishing areas, ports, and fishing certificates.
According to VASEP Deputy Secretary General Nguyen Hoai Nam, seafood is among five key exports of Vietnam, with average export revenue of 7-8 billion USD per year in the past three years. The fishery sector not only creates jobs for nearly 5 million labourers but it also makes contributions to ensuring national security and defence.
The EU is the second largest importer of Vietnamese seafood, just behind the US, and accounts for 17 percent of the country's seafood shipments. After the "yellow card" was imposed on Vietnam in 2017, the country's seafood exports fell 6.5 percent to nearly 390 million USD in 2018 from 415 million USD in 2017, Nam said.
In the first eight months of 2019, shipments to the EU remain stagnant, standing at 251 million USD. The EU now drops to the 5th place in the list of Vietnamese top seafood importers.
Local businesses said the "yellow card" has created knock-on effects on exports as besides the EU, it results in a fall in shipments to the US and many other potential markets.
In fact, the "yellow card" has made EU customers to reduce or refuse to purchase Vietnamese seafood. Since the "yellow card" was announced, all of Vietnamese seafood containers have been kept at EU ports for origin examinations. Along with paying high costs for the containers at the ports, unlucky exporters may face another challenge – their products will be returned home./.
Hanoi rolls out red carpet for Russian businesses: official
Hanoi always welcomes Russian enterprises to establish business and investment partnerships with local firms, a municipal official said at a workshop in Moscow on September 25.
Le Hong Thang, Director of the Hanoi Department of Industry and Trade, said Hanoi is now home to 34 Russian projects with total registered capital of 85.3 million USD, along with 12 representative offices of Russian enterprises.
Hanoi's export revenue to Russia last year reached 147.5 million USD, up about 30 percent year-on-year. In the first eight months of this year, the trade value was about 113 million USD, he said.
Representatives of Russian localities, firms and banks expressed their wish to cooperate with their Vietnamese partners.
On this occasion, businesses from Hanoi such as Ha Tay Chemical Weave Company, Viet Food JSC (VietFoods) and VINFA Pharmaceutical JSC briefed the participants on their operations and potential for cooperation.
The workshop was jointly held by the Hanoi Promotion Agency, the Vietnamese Embassy in Russia, the Hanoi-Moscow Complex (Incentra) and the Vietnamese Business Association in Russia./.
Dak Lak woos Russian investors in different sectors
The Central Highlands province of Dak Lak hopes to seek Russian partners in high-tech agriculture, post-harvest processing and tourism, Chairman of the provincial People's Committee Pham Ngoc Nghi said on September 25.
Speaking at an investment promotion conference in Moscow, Nghi said Dak Lak has been dubbed as Vietnam's capital of coffee, and has favourable conditions for high-tech agriculture and processing industry.
Besides, the province boasts huge potential for tourism development, he said, noting that Dak Lak is one of the cradles of the cultural space of Gong of Tay Nguyen which has been recognised by the UNESCO as a masterpiece of the oral and intangible heritage of humanity.
Nghi called on the Vietnamese Embassy in Russia to facilitate connectivity between Dak Lak and Russian partners, contributing to the provincial socio-economic development.
Vietnamese Ambassador to Russia Ngo Duc Manh highlighted the development of the Vietnam-Russia relationship, and expressed his belief that with its great potential, Dak Lak will become an attractive investment destination of Russian firms.
Bui Van Hoa, Vice President of the Vietnamese Business Association in Russia, said key products of Dak Lak are sought-after in Russia, especially in the context that the country is facing embargoes imposed by western countries.
On this occasion, Dak Lak screened documentaries featuring potential of the province and the Central Highlands, and introduced its specialties like coffee and other agricultural products. /.
Mong Cai Border Gate Economic Zone – magnet for investments
More investment has been poured into Mong Cai Border Gate Economic Zone (EZ) in the northern province of Quang Ninh, which holds an important geo-political economic position.
The EZ, established in 2012, consists of the entire Mong Cai city along with nine communal-level localities of Hai Ha district. It has a total area of 121,197 hectares, including 66,197 hectares of land and 55,000 hectares of sea.
Mong Cai is among nine border gate EZs nationwide prioritised for investment during 2016-2020 with a view to driving dynamic and sustainable economic development in the province and the northern key economic zone as a whole.
Quang Ninh also considers Mong Cai one of the two economic hubs of the province.
During 2012-2018, the EZ received nearly 3.3 trillion VND (142 million USD, current exchange rate), with 689 billion USD from the central budget, more than 2.34 trillion VND from the provincial budget and the remainder from local budget, to complete urban and transport infrastructure, serving tourism and service development.
Local transport infrastructure has been developed synchronously. Construction of Van Don – Mong Cai Expressway kicked off on April 3 this year, and it will directly connect with the expressway traversing Hanoi, Hai Phong city and Quang Ninh's Ha Long and Van Don. The temporary road linking Mong Cai with Dongxing town of China has also been completed.
Meanwhile, key construction works have been completed and put into operation like a road linking National Road No.18 with Hai Ha port industrial park (the first phase), upgrade of Mong Cai International Border Gate, Bac Luan II bridge, provincial road No.335, and Sa Vi border information popularisation complex.
The Mong Cai Border Gate EZ is housing 31 foreign direct investment (FDI) projects which registered more than 1.6 billion USD in capital, and 74 domestic projects worth around 11.6 trillion VND. The most noticeable project is the 300-million USD yarn plant of Texhong Ngan Long Technique Science Co., Ltd, which creates jobs for more than 4,200 workers and generated 415 million USD in revenue last year.
The Mong Cai Border Gate EZ is also a concentration of labourers. Last year, there were nearly 76,000 labourers in the zone, compared to 2,300 in the Bac Phong Sinh Border Gate EZ and 4,500 in the Hoanh Mo – Dong Van Border Gate EZ, also in Quang Ninh province.
Thriving business operations at the EZ have made significant contributions to local socio-economic development. Since 2012, State budget collection in Mong Cai city has exceeded 10.2 trillion VND, import-export revenue is estimated at nearly 38.5 billion USD.
With these results, the Mong Cai Border Gate EZ is not only the busiest in Quang Ninh but has also helped the province rank first in terms of economic activities among the seven Vietnamese localities bordering China.
Aside from vibrant economic activities and good transport infrastructure, the EZ also boasts a lot of tourism potential. From 2010 to 2015, tourism revenue of Mong Cai city grew 3.7 percent annually to almost 2.88 trillion VND. The city also posted a surge in the number of tourist arrivals to 2.7 million last year.
The Mong Cai City People's Committee said in June that the administration of Quang Ninh province had given permission in principle to five big Vietnamese developers to make investment plans in the city. Among them, Vingroup proposed three projects, FLC group four and Sun Group one.
With strong moves by giant real estate developers, the land and house segments are also warming up. Many projects with completed infrastructure are recording strong sales like Kalong Riverside City or Green Park.
The local property market is benefiting from what is the busiest border gate EZ in the north of Vietnam in terms of trade, services and tourism./.
E-commerce to help businesses boost exports: workshop
Vietnamese businesses should make use of e-commerce to promote exports, heard a workshop held in Ho Chi Minh City on September 25.
Bui Thi Thanh An, deputy head of the Trade Promotion Agency of the Ministry of Industry and Trade, said the boom of the internet and electronic equipment has created huge opportunities for businesses to reach customers worldwide.
E-commerce has helped firms overcome geographical barriers to seek customers and reduce costs, the official said.
The agency is carrying out practical activities to support businesses to develop products, build brands and expand markets, including programmes to connect foreign business partners with domestic manufacturers and exporters, she added.
The workshop drew representatives of nearly 40 businesses from Singapore operating in the fields of food, packaging, retail, cosmetics, and household appliances as well as hundreds of Vietnamese firms.
It created an opportunity for businesses to seek partners and share effective online sale methods.
By 2022, e-commerce is forecast grow faster by six times than traditional one. Particularly, cross-border e-commerce is projected to increase to 3.3 trillion USD in the next two years./.
20th WKF highlights knowledge-based solutions to global uncertainties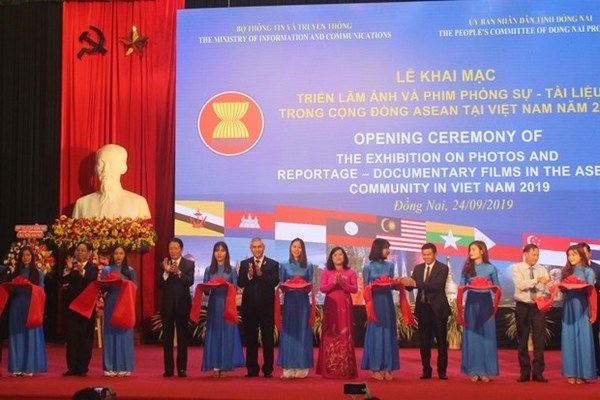 Chang Dae-whan, Founder of World Knowledge Forum and Chairman of the Maekyung Media Group, delivers an opening speech at the 20th World Knowledge Forum.
"We are now entering the Knowledge Revolution 5.0 era," Chang Dae-whan, Founder of World Knowledge Forum, has said, highlighting the significance of knowledge in decision-making amidst rapid changes of the human life.
In his opening speech at the 20th World Knowledge Forum on Wednesday morning, Chang, who is also the Chairman of South Korea's largest business media Maekyung Media Group, said that humanity has experienced four explosive knowledge expansions.
The first Knowledge Revolution started when the human evolved into homo sapiens, a period when humans first began to recognise and imagine, differentiating themselves from animals by thinking.
The second stage of Knowledge Revolution has manifested itself as the First Agricultural Revolution. Humans who relied on hunting and gathering began to settle and use various techniques to farm.
Knowledge Revolution 3.0 is the Scientific Revolution. With the emergence of modern science, major countries have entered the overseas market more freely.
Knowledge Revolution 4.0 is the Industrial Revolution with the development of steam engine, thanks to which, productivity expanded rapidly.
The are of Knowledge Revolution 5.0 is known as the technologies of the Fourth Industrial Revolution such as artificial intelligence, 5G, smart sensing are poised to dramatically change human life.
Besides opportunities brought by technological achievements, Chang stressed that many challenges lie ahead as the world is witnessing the trade war between two economc powers, US and China; the political crisis such as Brexit issue and Hong Kong protest; as well as adverse impacts of climate change.
Under the situation, he said that it's time for the countries to act toward globalisation goals and reconciliation for free trade and innovation. "We cannot succeed alone," Chang stressed.
He called for the increase in knowledge-sharing activities as knowledge is a decisive factor in information-based decision making process
Esko Aho, the 37th Prime Minister of Finland and Co-chair of the event, said since 2000s, the challenges have increased, not decreased. Major technological invention and innovation drive economic and social developments but there are more technological interruption without fundamental changes in economic, political and social policies as well.
Therefore, social and economic models should be revised in order to get full benefit of the technological advances, Aho said.
Wang Jia Rui, vice chairman of the Chinese People′s Political Consultative Conference and Chairman of China Soong Ching Ling Foundation, said that the world is going through transformation unseen in a century.
The most striking feature of the changes is uncertainty, he said, adding that the governments seem not being able to catch up with changes caused new technological evolution and industrial revolution.
To cope with the changes, countries need to understand the laws of history, identify the general trend of the world and share knowledge, he stressed.
He emphasised that countries need to focus on long-term goals by working together in an open and inclusive manner, finding common factors and common interest of each other in order to build mutual trust and co-exist.
The World Knowledge Forum, one of the Asia's largest annual business forum, takes place from Wednesday to Friday with the participation of 250 leaders from political, economic, business and technology sectors and 3,500 audiences.
The forum focuses on seven topics: Knowledge Revolution 5.0, New Leadership in the Age of Upheaval, Global Economy in Transition, The Future of Technology Innovation, Inside China & One Asia, Rebirth of Finance, Viva la Vida: Ways to Vivify Every Moment.
Hanoi greets over 4.7 million foreign visitors in nine months
Hanoi welcomed more than 4.7 million foreign tourists in the first nine months of 2019, a year-on-year increase of 10.1 percent, announced the municipal Department of Tourism on September 24.
The capital city hosted a total 21.5 million visitors in the period, up 9.5 percent against the same period last year and 74.46 percent of this year's plan. There were more than 16.8 million domestic holidaymakers, up 9.3 percent year-on-year.
Tourism revenue of the city reached 74.7 trillion VND (3.2 billion USD) in the nine months, up 30.9 percent and nearing 72 percent of the yearly plan.
Meanwhile, Hanoi's hotels recorded an estimated occupancy rate of 70.5 percent, up 6.2 percent, serving visitors mostly from the Republic of Korea, China and Japan.
Hanoi has been selected to compete for the title of World's Leading City Destination at the 2019 World Travel Awards (WTA).
The deadline for voting is October 20 at the WTA's website http://www.worldtravelawards.com/vote.
This year, Hanoi was again listed in various tourism rankings. Japan's All Nippon Airways included the city among the 26 best Asian cities for a combination of business and leisure. The capital city was ranked fourth among the 25 destinations in Asia and 15th among the 25 destinations in the world in 2019 by TripAdvisor. Most recently, it was named in the Cable News Network (CNN)'s list of the 17 best places in Asia.
The city is striving for 29 million tourists and 103 trillion VND in tourism revenue in 2019.
In the list of the top 100 city destinations 2018 released by Euromonitor International, Hanoi ranked fourth among capital cities in Southeast Asia in terms of foreign tourist numbers, following Bangkok (23.69 million), Singapore (18.55 million) and Kuala Lumpur (13.43 million).
To bolster tourism, Hanoi considers improving the quality of destinations and developing infrastructure and tourism products as important tasks.
The capital plans to attract investment to build shopping centres and accelerate major projects like the Kim Quy culture, tourism and entertainment park in Dong Anh district, the horse racing and entertainment complex in Soc Son district, and the Hanoi Museum. It will boost preservation projects at the Imperial Citadel of Thang Long, Bat Trang pottery village and Van Phuc silk village.
Efforts are also being made to develop 20 – 30 high-quality tourist sites across the city. Additionally, the values of local cultural heritages and traditional villages will be brought into play to turn them into attractive places of interest.
Hanoi is planning to augment preparations for upcoming big sports events such as Formula One racing and the 31st Southeast Asian Games to attract visitors.
Additionally, it will also make use of local culinary culture and promote MICE tourism as well as tourism products based on the strengths of its localities.
The Vietnamese capital is working to develop high-end accommodation facilities.
Director of the Tourism Department Tran DucHai said the municipal People's Committee has approved in principle 75 high-end accommodation projects with nearly 20,000 rooms. As of June this year, there were 3,499 accommodation establishments with 60,812 rooms in the city, including 67 hotels rated three to five stars with 10,004 rooms and seven condotel complexes rated four to five stars with 1,349 rooms.
Cooperation in tourism development is also a key task of the sector, he said, noting that his department is carrying out the promotion cooperation programme for 2019-2024 with TV channel CNN International.
It will also take part in meetings of the Council for Promotion of Tourism in Asia and cooperation activities of the Tourism Promotion Organisation for Asian-Pacific Cities.
Coordination with airlines, domestic and foreign media, embassies, international organisations and travel companies will be strengthened to hold trips for businesses and reporters from key markets, according to the Tourism Department./.
Infrastructure evolution on the road to success
The south-central province of Binh Thuan has been actively improving its infrastructure system in order to create more favourable conditions for attracting more investment.
After many years actively developing its transport system, the provincial Phan Thiet city and the town of Mui Ne are setting themselves up to become the leading hospitality markets in the region.
Constructing and expanding a range of transport ­projects has helped the province attract investors into property development, and entice international and domestic tourists.
Important infrastructure facilities such as Dau Giay-Phan Thiet Highway and Phan Thiet Airport are seeing good progress after initial lengthy delays.
The Ministry of Transport has announced the investment plan for the ­highway, which will begin construction in 2020 with ­investment capital of VND15 trillion ($652 ­million). This project will shorten the driving time from Ho Chi Minh City from four hours to two and a half hours.
The expressways from Nha Trang to Phan Thiet have been 50 per cent cleared and are expected to be started at the end of the year. When complete, they will help Phan Thiet become a hotspot of the triangle for tourism which includes Ho Chi Minh City, Phan Thiet, Dalat, and Nha Trang.
According to Adam Bury, senior vice president of ­Investment Sales Asia at JLL's Hotels & Hospitality Group, Phan Thiet has an increasingly ­developing transport system, and is now ­attracting a huge number of tourists. Meanwhile, Phan Thiet ­Airport is under the final planning stages and ­expected to be operational in 2022.
"The Vietnamese government has approved to build the airport with investment capital up to VND10 trillion ($435 million). It will be one of the three largest airports in the central region, after Cam Ranh and Danang," Bury said.
Expected to be under construction at the end of 2019, Phan Thiet Airport will have a capacity of two million passengers per year. It will provide direct flights to and from destinations, instead of transiting via Ho Chi Minh City as previously.
"When the road system and the incoming airport are finished, Phan Thiet will ­become one of the most ­attractive destinations for the whole tourism sector in ­Vietnam," Bury said. "I am absolutely confident in the potential and future of the tourism development of Phan Thiet city and Mui Ne town. There is still much room for development right here."
Phan Thiet-Mui Ne now has around 3,000 hotel rooms in the four- to five-star range, a modest number compared to Khanh Hoa (19,000 rooms), Quang Ninh (6,000 rooms), and Danang (17,500 rooms).
Last year, Binh Thuan province received 5.8 million tourists, with the city also named the third-largest coastal city of Vietnam in tourist numbers, just behind Nha Trang, and Danang.
The province as a whole expects that it will receive around nine million tourists annually by 2025.
Mavenir sees potential in 5G technology
Industry's only end-to-end cloud-native network software provider introduces opportunities for ASEAN countries with cloud-centric infrastructure across 5G solutions.
Mavenir, the industry's only end-to-end cloud-native network software provider, has introduced opportunities for ASEAN countries with its cloud-centric infrastructure across its 5G solutions, aimed at redefining the mobile network economics for Communications Service Providers (CSPs).
As the industry's only end to end 100 per cent software vendor, Mavenir is uniquely positioned to present a new network economic to their operators and service providers in ASEAN. Operators have to date been challenged by the fact that they have to buy via an appliance model, with specific pieces of proprietary hardware and software.
The main technology enabling the change is known as network functions virtualization infrastructure, where the cloud datacenter can deploy the software nodes on top. The cost per gigabits is decreased significantly, offering operators the necessary cost savings for the move to 5G.
"In the last five or ten years we have seen strong migration from rural-to-urban because cities have much better infrastructure, education, and more jobs - all the good things for a good life," said Mr. Sam Saba, VP and Head of APAC at Mavenir. "So, what we want to do is make sure that we give the same opportunities to people who live in rural areas as those who live in major cities. We started to do that with 4G LTE, providing many more benefits by being connected on mobile. Many people in rural areas may have bank accounts, but it can be costly and more expensive. Now with 5G, we see that we are able to build mobile networks to run more applications, not just Facebook, proving how helpful 5G technology can be in terms of different services. We see this has such huge potential, huge benefit, not just due to the technology itself but because of the benefits it offers in terms of improving people's lives especially of those living in rural areas across ASEAN countries."
From a 5G rollout perspective, Mavenir has its own virtualized radio solution, vRAN. Mavenir is part of the open RAN/X-RAN initiative and this is connected closely to the Facebook telecom infrastructure project.
According to Mr. John Baker, SVP, Business Development at Mavenir, the company conducted a study to identify a business case that works for 5G, and this proposes using 5G hotspots with no full region wide coverage. Mavenir believes that 5G needs to stand up by itself and be financially accountable from the start.
Mavenir has 2,498 staff in six continents and 190 staff and R&D centers in Asia-Pacific.
"We absolutely want to do business in Vietnam," Mr. Saba told VET. "We have an office in Singapore, Malaysia and Indonesia. We are interested in the Vietnam market and we will work with significant groups in the country. I personally see a lot of potential in Vietnam for both IT and 5G markets. I hope that we can have a presence there soon."
Vingroup unit licensed to offer e-wallet services
Vingroup's loyalty program VinID has been permitted to operate e-wallet services, furthering the private conglomerate's foray into cashless payment.
VinID acquired local payment firm People Care Jsc in May. It also owns People Care's e-wallet MonPay, and has replaced the management board of the payment firm with its own executives since the end of last year.
Vingroup established VinID in July last year with a charter capital of VND3 trillion ($129.4 million), in which Vingroup owns 80 percent.
The license for VinID Pay is among the 31 certifications that the central bank has issued for payment intermediary companies.
Economists have said that the potential for cashless payments in Vietnam is huge due to a growing middle class and rapidly improving telecom infrastructure. The government targets to make 90 percent of all transactions cashless by 2020.
However, for now, the reliance on cash remains huge. About 80 percent of Vietnamese prefer to use cash for daily transactions, according to the Ministry of Industry and Trade.
EY Vietnam: Enterprises must actively manage tax risks
Changes in the global business environment, together with newly-issued regulations and guidance on corporate tax obligations, have been substantially affecting many business activities in Vietnam. Companies need to properly invest the right resources in order to meet and comply with new regulations as well as to avoid tax risks, EY Vietnam experts told the 2019 Tax Symposium "How to better accommodate an increasingly stringent tax administration system driven by digitalization" co-organized by EY Vietnam and the Vietnam CFO Club on September 13 in Hanoi. The symposium attracted more than 400 participants from local and foreign businesses in Vietnam.
The tax environment has been affected by trade wars, political instability, volatility in the global economy, and rapid technological advancement. In the context of escalating trade conflicts around the world, countries are using tariffs as major weapons to reestablish trade fairness. However, they also create direct pressure on businesses and require they restructure their global value chain and supply chain.
In 2015, the OECD introduced its policy recommendations through the Base Erosion and Profit Shifting (BEPS) Inclusive Framework, with 15 actions. The BEPS attracted the participation of more than 100 countries and territories around the world, including Vietnam. All member countries must institutionalize the framework.
In addition, the rapid development of e-commerce and Industry 4.0 have brought new challenges to many economies in taxing the digitalized economy. On June 9, G20 ministers of finance and central bank governors agreed that a global system to tax internet-based giants is urgently in need.
On that basis, Vietnam's tax policies have seen remarkable changes, especially in tax administration reforms. The recent tax regulatory amendments aim at reducing tax compliance costs and increasing IT application for businesses to better comply with tax regulations.
The revised Tax Administration Law, passed by the National Assembly on June 13, will take effect from July 1, 2020. The law introduces new regimes on the implementation and management of taxes on the internet platform (e-tax). For the first time, the law sets regulations on e-invoices, which will be effective from July 1, 2022. It requires goods sellers and service providers to issue e-invoices to buyers. Sellers' computers for invoice calculation and e-invoices issuance, if used, must be registered and connected with the tax authorities' data system.
The law, for the first time, introduces tax administration rules for e-commerce activities. Foreign suppliers running e-commerce businesses but having no permanent establishment in Vietnam are obliged to register, declare, and pay taxes in the country. In addition, commercial banks are responsible for withholding and making tax payments on behalf of overseas businesses and individuals conducting e-commerce activities and deriving income from Vietnam.
Beside the tax policy changes and administration reforms, tax inspection and examination activities are also expected to be gradually more effective. The focuses of the State Inspectorate in the coming time are (1) inspecting businesses whose tax contribution is potentially significant, and (2) enhancing after-tax-return examinations, especially at businesses that have inter-company transactions and signs of transfer pricing issues.
"The inspection activities will be more effective with the aid of advanced technology," said Ms. Huong Vu, General Director, EY Consulting Vietnam. "As tax authorities' management has become more effective, businesses must be better compliant to avoid tax penalties and back taxes."
Participants at the symposium expressed many concerns about new regulatory compliance, especially e-invoicing, transfer pricing, and personal income tax. EY Vietnam experts structurally explained and addressed the knowledge and practical experience needed in dealing with corporate tax, tax risk management, and preparations for tax inspections.
The Tax Symposium 2019 is a major annual tax event of EY Vietnam. It provides businesses with more strategic and in-depth views in order to create opportunities for better tax planning and risk management, thus improving business performance.
Binh Duong attracts $2.4b in FDI

The southern province of Binh Duong reported an 81 per cent jump in foreign direct investment in the first nine months to US$2.42 billion.
Nguyen Thanh Truc, director of the provincial Department of Planning and Investment, said the investments are from 34 countries and territories.
"Binh Duong ranks second in attracting FDI in Viet Nam with more than 3,670 projects with total registered capital of over $34.7 billion."
Of the investments this year, $1.23 billion is in new 164 projects. In 2016, Binh Duong decided to revamp its development model, and has achieved a breakthrough in attracting investment.
"Strategies for becoming a smart city in recent years have achieved positive results. The Binh Duong smart region was in fact honoured in 2019 for having among the most outstanding strategies for a smart city in the world."
HAWAs annual furniture design contest announced

The Handicraft and Wood Industry Association of HCM City has announced the Hoa Mai (Apricot Blossom) furniture design competition for 2019-20.
The 17th annual contest is open to all.
HAWA will organise road shows to take the contest to colleges and universities to encourage students to take part.
The deadline for submitting entries is November 15.
The 20 best design ideas will be selected for the second round where contestants will get professional training and make samples, with the organiser providing VND3 million (US$129.3) for making each.
The jury will choose eight designers whose samples meet the contest criteria in terms of aestheticism, applicability, creativity, commercial viability and environment-friendliness, and award them prizes worth more than VND100 million ($4,306).
The awards ceremony will be held at the 2020 VIFA-EXPO to be held in HCM City next March.
Design plays a vital role in enhancing the competitiveness of the furniture industry, which seeks to become a global production hub, according to the organiser.
HAWA understands the importance of design to the furniture industry and so has been organising the design contest for many years, they said.
The annual event has so far attracted over 2,990 contestants who submitted 3,344 works.
More information about the competition is available at http://hoamaicompetition.hawa.vn.
VSIP, Becamex, Sembcorp launch sustainable smart energy solutions

Viet Nam-Singapore Industrial Park (VSIP), Becamex IDC Corporation and Sembcorp Smart Energy Solutions Vietnam signed an agreement on Tuesday to set up a joint venture to introduce a new generation of sustainable smart energy solutions.
They will launch a new service platform offering Becamex- and Sembcorp-owned multi-energy services and efficiency tools.
Industrial tenants will be offered renewable energy from solar systems installed on their factories.
Leveraging the wide network of industrial properties owned by Becamex and Sembcorp, more than 1,000 tenants could potentially be operating on green power, thereby supporting their environmental sustainability goals.
There will also be substantial cost savings in switching to renewable energy.
The solar energy systems will be backed by a high-tech digital platform that is connected to Sembcorps Solar Performance Monitoring Centre housed in Singapore.
Using real-time tracking devices, this centralised system remotely monitors the output of every rooftop solar system installed at various sites, enhancing oversight and enabling maintenance and troubleshooting teams to be swiftly dispatched when needed.
A small-scale rooftop solar farm has been built at VSIPs administrative office in Binh Duong Province, and there are plans to instal more at other VSIP office buildings.
Nguyen Van Hung, chairman of Becamex and co-chairman of VSIP Group, said: "We want to ensure that VSIP and Becamexs integrated developments continue to drive investments for the long term. Environmentally friendly features that enhance the sustainability of the projects will help maximise their value to the economy and provide the communities around us with a cleaner environment. On that front, we are happy to collaborate with Sembcorp, to bring such sustainable energy solutions to Viet Nam and our properties."
VSIP is one of the largest integrated townships ad industrial parks in Viet Nam.
Becamex is a leading name in the fields of development and construction of industrial parks, housing, urban areas, and transport infrastructure. 
m
Renewable power facilities should be built in localities where strong consumption exists and electricity transmission is direct to avoid power loss, business leaders said on Wednesday.
Rising demand for renewable energy in Viet Nam has sometimes overloaded the national power grid as power is connected to the grid but not distributed immediately to consumers.
Phan Ngoc Anh, Director of Alena Energy Co Ltd, said Viet Nam has its own 500kV grid but the expansion of the grid network cannot meet the development of renewable energy.
Renewable energy facilities are often built in areas where no industrial zones exist, which is a big source of output consumption, he said.
"Renewable energy sources, especially solar power, should focus on industrial hubs so power is consumed constantly," he told Viet Nam News at the Vietnam Solar Power Expo 2019.
In addition, the Government should construct the grid that connects power sources to the nearest consumers to make sure power is transmitted and used efficiently, he said.
"Power storage is not a usual thing for solar farms because of high expenses, which will affect the projects' operation."
Project developers and government agencies should think about how to maximise the use of renewable energies, not lower the prices to boost consumption, he suggested.
Sharing the view, Vu Thang, Vietnam Country Manager of Sungrow Power Supply Co Ltd, said investors must be smart when choosing the location of their projects.
Renewable energy projects should be executed in areas that are not too distant from consumers, he said, adding investors must be able to optimise their resources.
Regarding the feed-in-tariff (FiT) rate, which was 9.35 US cents as of June 30, 2019, both executives said the rate is quite attractive to investors because it ensures developers are profitable when building solar power projects in the country.
Bidding will make the price more beneficial to the national power group Electricity of Vietnam, given that the consumption of rooftop solar power is guaranteed for the next 20 years, Thang said.
The Government must improve the transparency of its power purchase power agreements (PPAs) and contract expirations so that renewable energy developers, mostly private firms, are able to implement their projects quickly, Anh said.
"Building a solar power plant is fast compared to the policy making process. If the policy making is slower than plant construction, the development of the industry will lag behind its potential," Anh said.
Viet Nam's renewable energy industry is increasingly getting more attractive to investors.
Vincent Chan, international sales' regional manager at Clenergy (Xiamen) Technology Co Ltd, is confident that there is still room for the growth of renewable energies in Viet Nam.
"The Vietnamese Government has done very well and it will continue having very good policies," he said.
What will benefit the industry is less taxes imposed on imported components and devices used for solar power development, which will encourage the growth of solar projects in Viet Nam and lower the cost of construction for the projects, he added.
To Ngoc Son, deputy director of Asia-Africa Markets Department at the Ministry of Industry and Trade, said at the two-day expo there are 82 solar power projects across the country with total capacity of 4,460MW, accounting for 10 per cent of total power production. Thirteen other projects are being completed and plan to begin operations in late 2019, adding 630MW to the country's total output.