Ho Chi Minh City to become economic, financial centre in Asia by 2045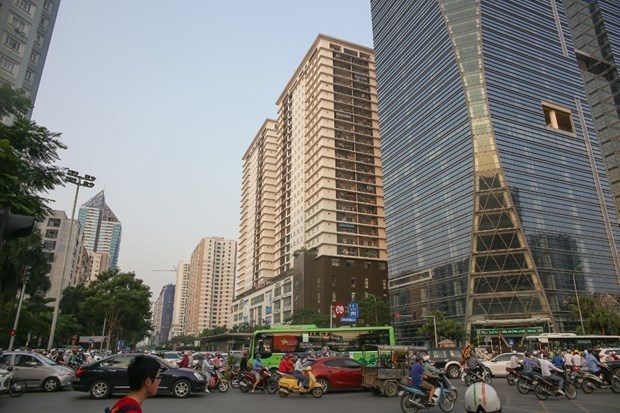 Buildings on a street in HCM City

Ho Chi Minh City is set to become a centre of economics and finance in Asia by 2045, boasting sustainable development and high living standards, a municipal official has said.
Nguyen Thanh Phong, Chairman of the municipal People's Committee, told the media that by 2025, the southern hub will become a smart urban area and a city of services, with a modern-oriented industry. It will maintain its role as the economic locomotive and growth driver of the southern key economic region and the country at large.
The city is also projected to take the lead in innovation and creation, with gross regional domestic product (GRDP) per capita to reach around 8,500 USD by 2025 and 13,000 USD by 2030, when the city is expected to become a centre of economics, finance, commerce, science-technology, and culture in Southeast Asia. GRDP per capita is then to reach 37,000 USD by 2045.
Phong said that the city has set 26 development criteria for the 2020-2025 period, covering five spheres, including a GRDP growth rate of around 8 percent and the contribution of the digital economy to GRDP to stand at 25 percent by 2025 and 40 percent by 2030.
To that end, it will focus on overhauling its growth model, spurring socio-economic development in tandem with economic development, and boosting scientific-technological development, innovation, and creation, he said./.
All flights from/to COVID-19-hit Quang Ninh province suspended
The Ministry of Transport has ordered the suspension of all passenger and cargo flights from/to the northern border province of Quang Ninh, where COVID-19 cases were recently detected in the community.
In addition, authorities of Quang Ninh and its neighbouring Hai Duong province are asked to decide on the halt, delay and adjustment of the frequency of intra- and inter-provincial passenger road transport in accordance with the real situation, except for official purposes and necessary cases.
The flow of private vehicles is also requested to be minimised, while the transportation of goods and materials must be maintained.
They are also ordered to re-schedule the frequency of waterway transport. Meanwhile, inter-provincial passenger trains will not stop at stations in the two provinces to prevent the spread of the coronavirus.
The order, however, does not apply to cargo transport trains.
The halt of flights and passenger trains to Quang Ninh started from 12 pm on January 28 until further notice.
After almost two months without any locally transmitted cases, a new surge of positive patients emerged in northern Vietnam on January 28.
Hai Duong's Chi Linh city, home to more than 200,000 people, has been locked down and flights in and out of Quang Ninh's Van Don International Airport were suspended.
To date, Vietnam has reported 1,651 infections, including 786 locally-transmitted cases.
Deeper integration into global value chain crucial: Minister
Deeper integration into the global value chain while developing an increasingly independent and self-controlled economy are both a requirement and a solution to help Vietnam overcome the challenges to realise its goal of rapid and sustainable development, according to Party Central Committee member and Minister of Industry and Trade Tran Tuan Anh.
Anh made the statement in his presentation at discussions on January 28 during the on-going 13th National Party Congress.
Placing emphasis on the importance of the industrial sector, he said it has been a driver for socio-economic development and the realisation of the country's industrialisation and modernisation.
Along with the achievements brought about by the "Doi Moi" (Renewal) policy, he highlighted several challenges in industrial development. The sector at present mainly engages in simple, low-added value processes such as assembling, a shortage of uniform development, and suffers from loose links in the sector itself and between different sectors.
The official emphasised the need to follow the Party's view that while outside resources are important, internal strength plays the decisive role. Therefore, it is necessary to sharpen the focus on promoting restructuring and improving the internal strength of the industrial sector, developing domestic enterprises and major firms in digital transition and high technology that can play a key role in spearhead sectors.
The allocation of resources for development should be carried out in an effective manner, he went on, while due attention should be given to promoting the role of the non-State economic sector, particularly private enterprises,in manufacturing, basic industries, services, wholesale and retail sales, and agricultural processing, among others.
Meanwhile, Y Thanh Ha Nie K'dam, alternate member of the Party Central Committee and Secretary of the Party Committee of the Central Enterprises' Bloc, recommended that the Party and State adopt several measures to complete mechanisms and policies to promote the sustainable development of State-owned enterprises, making contributions to ensuring the pivotal role of the State-run sector.
He also proposed setting up an organisation to take charge of the investment of State capital in State-owned firms./.
Ministry orders temporary close of Quang Ninh-based Van Don airport
The Ministry of Transport on January 28 decided to close down the Van Don international airport in the northern coastal province of Quang Ninh for 15 days after many locally-transmitted cases of COVID-19 was confirmed on the same day.
The closure will last from 12 pm on January 29 to 12 pm on February 13.
Earlier, in a bid to prevent the spread of the coronavirus SARS-CoV-2, the Northern Airport Authority imposed a 24-hour shutdown on the airport starting at 12 pm on January 28.
After two cases of community transmission were confirmed late on January 27, an additional 82 more COVID-19 cases were detected in the northern provinces of Hai Duong and Quang Ninh on the morning of January 28, including 11 in Quang Ninh./.
Diverse Vietnamese products sold in Australian supermarkets ahead of Tet
Many Vietnamese goods have found their way on to prominent shelves with special decorations in Woolworths supermarkets, one of the two major chains in Australia, ahead of the Lunar New Year (Tet) holiday.
Along with products that have become familiar to Australian customers such as instant coffee, canned coconut water, confectionary, cashew nuts, and rice noodles, this year Woolworths has also introduced pork floss, rock candy, and coconut caramel.
Vietnam's export of agricultural and food products to Australia has been rising in recent years. At Coles, the other major chain, Vietnamese seafood and processed food are always in stock and attract the attention of shoppers.
According to Nguyen Phu Hoa, head of the Vietnamese Trade Office in Australia, the country's total import volumes fell 6 percent year-on-year as of last November, but Vietnam's exports to the market rose 2.65 percent to over 3.62 billion USD.
Meanwhile, figures from the General Department of Vietnam Customs show that Vietnam-Australia trade in the month increased 3.94 percent year-on-year to 8.2 billion USD.
Hoa said that upturns were seen in the export revenue of many Vietnamese products in the Australian market last year, with a record 43.85 percent growth seen in fruit and vegetables, to over 64 million USD, followed by aquatic products with 9.88 percent, to 228.7 million USD.
The Trade Office will organise online trade fairs of Vietnamese products this year to promote exports.
On the occasion of the upcoming Tet holiday, the most important for Vietnamese people and which falls in mid-February, the office has supported the sale of Vietnamese products at local supermarkets and distribution networks to serve the Vietnamese community, while launching many promotional programmes to popularise Vietnamese products in the market, Hoa added./.
Footwear sector further penetrates global supply chain
Vietnam's footwear sector is now beginning to see positive signs after export revenue for footwear and handbags fell 11 percent year-on-year to 19.5 billion USD in 2020, making it one of the sectors hardest hit by COVID-19.
Vietnamese companies have proved their capacity in research and development (R&D) and design, according to Chairman of the Vietnam Leather, Footwear and Handbag Association (LEFASO) Nguyen Duc Thuan.
Signs show that Vietnam is further penetrating into the leather-footwear supply chain, he said, as the design and R&D processes rake in high added value for products.
The domestic supply of materials for the sector now represents 60 percent. Local businesses can take the initiative in producing soles and moulds, as well as packaging and labelling. This is attributable to their activeness in manufacturing materials locally, Thuan added.
In particular, the Gia Dinh Footwear JSC has set up industrial clusters to attract investment in material production and workshops serving the industry. Its CEO Nguyen Chi Trung said orders for the footwear sector have been on an upward trend since the end of 2020.
As order numbers have recovered and are even on the rise, all workers have been able to return to production.
Shortages are likely, though, as there will be high demand for workers in April and May, Trung said.
Other businesses in the sector are also hoping that 2021 will see a surge in both orders and revenue thanks to advantages held post-pandemic.
Of particular note, the EU-Vietnam Free Trade Agreement offers a major opportunity for Vietnam to bolster exports to the EU.
Footwear companies have been advised to pay due regard to sustainable development, most notably in environmental and labour issues, to devise suitable strategies.
Thuan noted that the sector has set a target of earning more than 20 billion USD in exports this year, to offset losses posted in 2020.
Though China still accounts for half of the global footwear production, Vietnam's exports to its northern neighbour surged 15 percent for the first time last year, he noted./.
Solar energy storage system offers low-cost solution for Vietnam
The Solar Storage System (ESS) offers a low-cost and low-emissions solution for peak-hour power supply, helping Vietnam pursue low emissions development and ensuring economic growth, according to an expert at a workshop held in Hanoi on January 27.
Mark Leslie, Managing Director of the Green Investment Group at Macquarie Capital, said the solution helps integrate solar power into the grid.
Energy storage is the capture of energy produced at one time for use at a later time, to reduce imbalances between demand and generation.
According to a representative from the Blueleaf Energy company - an organiser of the workshop - the solar energy storage system allows the use of low-cost solar power at noon to charge and then discharge during peak hours to meet peak loads.
Solar power sources are intermittent and fluctuate during the day, thus causing several issues for grid operation. The combination between the source and the energy storage system can lead to more stable performance.
Director Nguy Thi Khanh of the Green Innovation and Development Centre (GreenID) said the solar energy storage system will be a significant contributor to the economy, reducing expensive peak-hour generation costs and at the same time continuing to mobilise social participation in the development of the promising solar power market.
Vietnam needs to quickly adopt policies to promote the application of the energy storage solution in renewable energy plants or for the whole energy system to avoid wasting current social investment and make a transition to clean energy as fast as possible, Khanh stressed.
Electricity of Vietnam figures show that national electricity output generated from solar power in 2020 was 10.6 billion kWh, including 1.15 billion kWh from rooftop solar power, accounting for about 4.3 percent of the total output from the national electricity system.
According to Nguyen Duc Ninh, Director of the National Power Regulation Centre, last year the regulating agency cut 365 million kWh of unexploited solar power due to overloads in local networks, mainly in south-central provinces like Ninh Thuan and Binh Thuan./.
Exporters rejoice at surging tuna orders in January
Tuna exporters in the central provinces of Khanh Hoa, Binh Dinh and Phu Yen said the number of tuna orders from the US, Canada, Brazil and Columbia in January rose significantly as compared to the same time last year.
As orders increased by four to five times, tuna export prices also climb by up to 30 percent over the previous month.
Last year, Vietnamese tuna appeared ideally placed to take advantage of the EU-Vietnam Free Trade Agreement (EVFTA), with shipments rising 0.5 percent year-on-year to 126 million USD during January-November.
According to the Vietnam Association of Seafood Exporters and Producers (VASEP), tuna exports to Italy, Germany, and Spain rose 60 percent, 20 percent, and 41 percent, respectively.
Under the agreement, which came into effect on August 1, the EU has eliminated tariffs on fresh and frozen Vietnamese tuna, with 11,500 tonnes of canned tuna and 500 tonnes of canned fish balls benefiting from the exemption annually.
The bloc also removes tariffs on frozen tenderloin and fillets under a three-year roadmap, and on steamed tenderloin and fillets under a seven-year roadmap./.
Coal corporation speeds up implementation of key projects
The Vietnam National Coal - Mineral Industries Holding Corporation Limited (Vinacomin) is speeding up investments in key projects to ensure the corporation's sustainable development in 2021.
According to Vinacomin President and CEO Dang Thanh Hai, despite impact of the COVID-19 pandemic and natural disasters, Vinacomin achieved positive results.
Last year, Vinacomin produced 38.47 million tonnes of raw coal, imported 9.65 million tonnes, and sold 42 million tonnes.
Its 2020 turnover stood at 123.42 trillion VND (5.35 billion USD), exceeding the adjusted target by 1 percent and equivalent to 89 percent of the result recorded in 2019.
Profit was 2.6 trillion VND, reaching the target set and equivalent to half of 2019's figure.
Vinacomin contributed 19.5 trillion VND to the State budget during the year, surpassing the target by 2 percent.
The corporation also ensured employment and incomes for more than 96,000 employees.
This year, Vinacomin plans to reduce its coal imports in 2021 to 1.4 million tonnes.
It also targets posting 123.88 trillion VND (5.35 billion USD) in turnover and 3 trillion VND in profit, while maintaining wages and coal sales and exploitation at 2020 levels.
To that end, it has mapped out 12 specific solutions, focusing on developing mines with large output, market forecasting, and coal and mineral exploration.
The corporation will also push ahead with scientific-technological application, increase productivity, raise product quality, and seek new investment projects while not investing in external sectors./.
Experts forecast Vietnam's development path
On the occasion of the ongoing 13th National Party Congress, several experts have made assessments and forecasts on the forthcoming development path of Vietnam.
Gregory B.Poling, a senior fellow for Southeast Asia and director of the Asia Maritime Transparency Initiative at the Centre for Strategic and International Studies (CSIS), said that the 13th congress will review economic and diplomatic policies over the past decade and put forward adjustments for the next five years.
The general target continues to turn Vietnam into a high-income country in 2045, he stated, adding that Vietnam saw an average growth rate of 6 percent in the past five years and its economy grew by 2.9 percent last year, despite serious impacts of the COVID-19 pandemic.
According to him, the Vietnamese Government achieved a stunning success as it could control the pandemic and reduce its economic impacts.
Meanwhile, expert Le Hong Hiep from Singapore's Institute of Southeast Asian Studies stated that Vietnam will continue pursuing extensive economic integration, and expansion, multilateralisation and modernisation of international relations.
Having new competent and experienced leaders is essential for Vietnam to respond to future challenges such as maintaining economic growth in an instable context caused by the pandemic, anti-corruption work, and difficulties caused by increasing US-China trade tensions, he added./.
Electricity dispatch centre asks for better infrastructure
The National Load Dispatch Center (A0) has asked Vietnam Electricity (EVN) to equip it with better infrastructure for the operation of a future wholesale and retail electricity market with more renewable energy resources.
According to a representative of the centre, wind and solar power plants have been put into operation on a large scale but data on their scale and generating capacity is not yet accurate.
The representative added that rooftop solar power, with a capacity of up to 9,583 MWp, was affecting the load chart, making it tough to plan the power system operation as well as the market, especially due to the limitations of the transmission grid, particularly the 500kV / 220kV grid in the north.
The centre also said the operation processes of the hydroelectric plants with a capacity of more than 30 MW had shortcomings to fit with electricity market regulations.
As the future infrastructure will convert the transaction cycle from 60 minutes to 30 minutes, while the core software has reached its limit, the centre has asked EVN to soon install new tools.
Leaders of A0 also suggested the EVN consider offering supporting services for electricity loading and dispatch to develop the market.
It also asked EVN to approve its plan for upgrading and expanding the existing infrastructure systems such as SCADA / EMS to better collect metering data due to the sudden development of renewable energy for the wholesale electricity market and the growing requirements for energy security.
At the same time, it asked EVN to equip the Electricity Market Management System (MMS) system for after 2022 to ensure the infrastructure for the wholesale/retail electricity market with renewable energy.
The centre's representative said in 2021, it would set up better systems to improve the economic efficiency of the electricity system and minimise electricity costs for the country, adding it would develop the information technology infrastructure for the future for the wholesale electricity market.
The centre also planned to complete the project of upgrading the IT infrastructure to serve the competitive wholesale electricity market of Vietnam (VWEM) in 2020-2022 as well as apply open-ended technical innovations and scientific research.
The centre said it would improve the quality of short-term and long-term load forecasting for uncontrollable power sources including renewable energy, rooftop solar power and wind power sources.
With an increasingly large-scale power system and the development of renewable energy sources to replace fossil fuels, the centre said it would propose solutions to strengthen the legal framework for renewable energy sources.
The centre said it would research and install storage equipment to fit with the increase in renewable energy sources to meet local operational requirements and standards.
Regarding human resources, it would recruit new engineers and improve the existing ones with more quality training to meet the requirements of a wholesale electricity market.
According to the centre, there are 100 plants directly participating in the electricity market with a total installed capacity of 27,526 MW, accounting for 46.3 percent of total installed capacity of power plants controlled by the national dispatching level. In 2020, four new factories joined the market with a total capacity of 1,837 MW. The total cost for those plants was 122 trillion VND (5.3 billion USD).
Last year, the centre prepared to operate the wholesale electricity market including the calculation and announcement of market electricity price (CSMP), market capacity price (CCAN), total market price (CFMP), rate of electricity purchase and cost of purchasing electricity from some factories of power corporations.
It also helped compile five processes regulating the operation of the competitive wholesale electricity market and reported to the EVN on the electricity market operation in 2021-2030 in the EVN's Power Plan VIII.
The ENV is eyeing the operation of a competitive retail electricity market in 2021 after running a competitive wholesale market since 2019. The plans were specified in 2013, with the marketplace set to be developed in three distinct parts – the power generation market, the wholesale market and the retail market./.
Singapore: Manufacturing sector silver lining of 2020
Singapore's manufacturing sector was the silver lining of 2020, with the sector posting growth for the full year, according to data released by the Economic Development Board (EDB) on January 26.
The sector expanded 14.3 percent year on year last month. Excluding biomedical manufacturing, output grew 19.8 percent.
Overall, manufacturing output increased 7.3 percent last year, compared with 2019.
The chemicals cluster grew by 12.3 percent year on year last month, with all segments except petroleum recording output growth. But for the whole of last year, the chemicals cluster's output dipped by 1 percent compared with 2019.
The precision engineering cluster picked up 11 percent in December, with the machinery and systems segment growing 12.6 percent on the back of higher output of semiconductor equipment and measuring devices. Precision engineering output increased 10.6 percent for the year.
General manufacturing output also grew, by 5.9 percent, with increases in the food, beverages and tobacco segment, thanks to higher production of beverage products and milk powder. Overall, full-year output of the general manufacturing cluster fell 11.3 percent last year.
Meanwhile, biomedical manufacturing output fell by 13.2 percent last month. The medical technology segment grew 7.3 percent with higher export demand for medical devices. But the pharmaceuticals segment fell 22.8 percent, with lower production of biological products.
Overall, the biomedical manufacturing cluster's output still rose 23.7 percent last year compared with a year earlier.
With the COVID-19 pandemic, transport engineering output fell 31.5 percent year on year in December and 25.7 percent for last year.
The future remains bright for manufacturing, experts said.
UOB economist Barnabas Gan said on the back of an economic recovery in 2021 amid potentially higher oil prices, sectors which had previously seen a full-year contraction could revert to positive growth. These include transport engineering, general manufacturing and chemicals clusters./.
Vietnam concerned about Brazil's rules on aquatic imports
The Vietnam Sanitary and Phytosanitary Notification Authority and Enquiry Point (SPS Vietnam Office) has expressed the country's concern over Brazil's application of regulations that go beyond international practices on shrimp and tra fish imported from Vietnam.
SPS Vietnam has asked the country's permanent mission to the UN, the WTO, and other international organisations in Geneva to liaise with Brazil's permanent mission to the WTO to convey Vietnam's concern.
Deputy Director of SPS Vietnam Ngo Xuan Nam said the office proposed online bilateral meetings be held to discuss the issue and that necessary procedures be conducted to include Vietnam's concern on the agenda of the Committee on Sanitary and Phytosanitary Measures' March session.
Regarding Brazil's rules on fish and shrimp imports that do not match international practices, Ngo Hong Phong, Deputy Director of the National Agro-Forestry-Fisheries Quality Assurance Department at the Ministry of Agriculture and Rural Development, said Brazil is only permitting the use of phosphate food additives on the ice cover of aquatic products.
This regulation is not in line with standards issued by the UN's Codex Alimentarius Commission and international practices, he noted, adding that other markets such as the EU, the US, and Canada allow the use of phosphates for aquatic products at certain levels and do not limit the use to the ice cover, he noted.
To facilitate bilateral trade, the Vietnamese side has asked Brazil to reconsider and align its regulations on phosphate use with the Codex standards and international practices.
Truong Dinh Hoe, Secretary General of the Vietnam Association of Seafood Exporters and Producers (VASEP), said Vietnam's aquatic exports to Brazil topped 44 million USD in 2020, including 43 million USD from tra fish.
Though shipments to the South American country make up only a small proportion of Vietnam's aquatic exports, it is considered a market with much room left for promoting tra fish exports. Therefore, the removal of regulations that fall outside of international practices will help Vietnamese businesses tap further into the market, Hoe said.
January FDI tops 1.5 billion USD
Foreign investors had poured 1.51 billion USD into Vietnam as of January 20, a 4.1 percent increase over the same period last year, according to the Ministry of Planning and Investment (MPI).
Forty-seven new projects were granted investment registration certificates, a year-on-year decline of 81.8 percent, while the registered capital topped 1.3 billion USD, down 70.3 percent.
Forty-six existing projects registered to add capital totalling 472.2 million USD, up 41.4 percent year-on-year.
Meanwhile, capital contributions and shares purchases by foreign investors stood at 220.8 million USD, down 58.7 percent.
Foreign investors pumped capital into 14 sectors in the period, with processing and manufacturing holding the lead at nearly 1.54 billion USD, representing 76.4 percent of the total.
Real estate ranked second with nearly 179 million USD, followed by transportation and warehousing and agro-forestry-fisheries with 111.9 million USD and 60.4 million USD, respectively.
Singapore topped the list of the 33 countries and territories investing in Vietnam, with 680.7 million USD, accounting for 33.8 percent of the total.
China was second with 618 million USD, followed by Hong Kong (China) with 221.3 million USD./.
HCM City eyes 6.23 billion USD in post-COVID-19 tourism revenue in best-case scenario
Ho Chi Minh City aims to earn 144 trillion VND (over 6.23 billion USD) in revenue from tourism in the best-case scenario this year, heard a conference to review the local tourism industry's performance last year and chalk out key tasks for 2021 on January 27.
This year, the southern economic hub will provide support to revive tourism businesses post-COVID-19, intensify communication campaigns on promoting local destinations, carry out measure to stimulate travel demand and advance the use of digital technology in tourism. It also plans to develop more appealing and unique tourism products.
The city has built three scenarios for tourism growth in 2021. Under the best-case scenario in which the pandemic is brought well under control globally and Vietnam is able to resume international flights, HCM City would receive about 9 million foreign tourist arrivals.
Under the scenario in which the COVID-19 is under full control domestically, the city expects to welcome 33.5 million domestic visitors./.
Consumer price index rises 0.06 percent in January
The consumer price index (CPI) inched up 0.06 percent in January against December last year, and down 0.97 percent year-on-year, according to the General Statistics Office of Vietnam (GSO).
Head of the GSO's Price Statistics Department Do Thi Ngoc said the core inflation (CPI excluding food items, energy products and commodities under the State management like medical and educational services) in January rose by 0.49 percent year-on-year. This is the lowest increase in January in the past five years, she stressed.
The GSO said among 9 groups of products and services witnessing higher prices in the reviewed period, the group of transportation had the highest price hike of 2.29 percent, followed by the groups of restaurant and catering services (0.64 percent), garment, hat and footwear (0.44 percent), and education services (0.33 percent), beverage and tobacco (0.32 percent), and other goods and services (0.24 percent).
Meanwhile, two groups saw their prices decrease, including house and construction materials (down 2.31 percent) and post and telecommunication service (0.1 percent).
The GSO said the rise in January's CPI was fueled by a surge in the demand for goods to prepare for the Lunar New Year (Tet) festival, high prices of foods and foodstuff, and increase in gas prices to keep up with swings in the global market.
The gold price picked up 2.17 percent month-on-month in January, while the price of the US dollar decreased 0.16 percent./.
Vietnam's January exports up 50.5 percent year-on-year
Vietnam's goods exports valued at 27.7 billion USD, up 0.2 percent from the previous month and 50.5 percent from the same period last year, according to the latest data unveiled by the General Statistics Office of Vietnam (GSO).
The GSO largely attributed the sharp year-on-year increase to multinational electronics producer Samsung of the Republic of Korea (RoK) stepping up production and export of its new Galaxy S21 series.
In January, six items enjoyed export revenues exceeding the 1 billion USD benchmark, accounting for 67.3 percent of the total exports.
Best performers included the heavy industry and mining sector which earned 15.6 billion USD in export revenue, up 71.6 percent year-on-year; and the light industry and handicrafts earning 9.7 billion USD from export, up 32.3 percent.
Agriculture and forestry exported 1.8 billion USD worth of products this month, up 21.4 percent year-on-year; while fisheries earned 600 million USD, up 19.6 percent.
The US remained the largest importer of Vietnamese products in January, with a total of 7.5 billion USD worth of shipments, up 57.4 percent from a year earlier.
It was followed by China (5.8 billion USD, up 111.6 percent), the EU (2.8 billion USD, 14.8 percent), ASEAN (2.3 billion USD, 31.9 percent), and Japan (1.9 billion USD, 22,7 percent).
Vietnam's imports, meanwhile, stood at 26.4 billion USD in January, representing a fall of 5.4 percent compared to December but a growth of 41 percent from the same period last year. Four items reported import turnover of more than 1 billion USD, making up 50.6 percent of the total imports.
China remained Vietnam's biggest supplier of products, with turnover of 9.6 billion USD, 72.7 percent higher than the figure a year earlier.
It was followed by the RoK (5.1 billion USD, up 29.3 percent), ASEAN (3.4 billion USD, 63.3 percent), Japan (2 billion USD, 52.9 percent), and the EU (1.3 billion USD, 23.3 percent).
Vietnam enjoyed a trade surplus of 1.3 billion USD this month, with the domestic economic sector recording a trade deficit of 1.8 billion USD while the FDI sector (including crude oil) boasting a trade surplus of 3.1 billion USD.
The GSO also announced that total retail sales of goods and services in January rose by 3.7 percent month-on-month and 6.4 percent year-on-year to 479.9 trillion VND.
The number of foreign tourist arrivals totalled over 17,700, up 9 percent month-on-month and down 99.1 percent year-on-year./.
Japanese firms plan expansion in Vietnam this year: Navigos Search
Despite being heavily affected by the COVID-19 pandemic, Japanese manufacturers in Vietnam have officially returned to production and recruitment since the fourth quarter of last year, according to a report released by recruitment services provider Navigos Search earlier this week.
"There have been a number of electrical/electronic enterprises increasing their production to meet the market demand, and some in the furniture industry have doubled their yield compared to before the pandemic," Navigos Search said in its Report on Middle and Senior Recruitment Demands in Vietnam Market in Q4/2020 and Outlook for 2021.
According to Navigos Search's analysis, Japanese manufacturers in the electronic and automotive spare parts plan to expand in 2021.
In addition, many manufacturing enterprises from Europe, the US, China, and Japan are exploring the market to invest in factory construction and develop production and business activities in Vietnam, the southern market in particular.
Due to the land shortage in Ho Chi Minh City, it is expected that they will grow in new industrial zones in the southern provinces of Binh Duong, Long An, Dong Nai, and Can Tho city, it said.
In a conference between Japanese firms and the Vietnamese government last month, Japanese Ambassador to Vietnam Yamada Takio said 37 out of 82 Japanese firms receiving governmental subsidies to shift factories to Southeast Asian markets have opted for Vietnam.
Navigos Search added that there are also significant changes in recruitment demands in Japanese companies. For candidates who can speak Japanese only, both job opportunities and the salaries considerably drop in these companies.
As a result, English and Japanese are almost a prerequisite factor in recruitment in addition to the required professional requirements./.
Exporters urged to improve quality, follow rules of origin under UKVFTA
Vietnamese firms must improve product quality, strictly follow the rules of origin and ensure food safety to export goods to the UK under the recently signed UK-Vietnam Free Trade Agreement, speakers said at a seminar in Ho Chi Minh City on January 28.
Pham Binh An, Director of the HCM City International Integration Support Centre, said that under the UKVFTA, Vietnam would greatly benefit when exporting to the UK due to commitments to market opening and quotas for some of the country's most competitive exports like agricultural and aquatic products.
Amid the COVID-19 outbreak, the UK's demand for agricultural products, food, electronic products, personal protective equipment, and laboratory equipment has been increasing, and the trade deal will offer Vietnam the opportunity to export such products.
The UK market, however, is highly demanding about standards and quality requirements on imported products, forcing Vietnam to improve product quality and ensure consistency of products to conquer the choosy market.
The trade deal will also cause competitive pressure on the domestic economy, especially in sectors and industries in which the UK has strength such as financial services, pharmaceuticals and chemical industries.
Vu Viet Thanh, Director of the Europe and North America Market Department under the Ministry of Industry and Trade (MoIT), said that Vietnam exports phones and components, garments, footwear, fishery, wood and wooden products, computers and parts, cashews, coffee and pepper to the UK. It imports machinery, equipment, pharmaceuticals, steel and chemicals from the UK.
Trinh Thi Thu Hien, head of the Product Origin of the MoIT's Agency of Foreign Trade, urged Vietnamese exporters to enhance competitiveness of products, improve production and business capacity, and apply science-technology to increase value of their products.
They must also enhance supervision over the use of antibiotics in processing, and ensure food safety to meet requirements of the importers.
In addition, Vietnam must adhere to the Rules of Origin (RO) when exporting to the UK, especially because traceability regulations in the country have become increasingly strict.
Recently, the first 60 tonnes of jasmine rice were shipped to the UK under the UKVFTA.
Nguyen Son Tra, head of the WTO and trade negotiation division at the Ministry of Industry and Trade's multilateral trade policy department, said the trade pact took effect on December 31, 2020.
It was negotiated based on commitments made under the EU-Vietnam Free Trade Agreement (EVFTA) with necessary adjustments to ensure it conforms with the Vietnam-UK bilateral trade framework.
Under the UKVFTA, the UK has eliminated 65 percent of tariffs and will increase it to 99 percent within seven years. Vietnam has removed 48.5 percent of tariffs, and this will rise to 92 or 98 percent after six years.
As the trade deal inherits the EVFTA, it is set to create a comprehensive, long-term and stable economic and trade co-operation framework between the two countries, according to Tra.
The UK is the third largest trade partner of Vietnam in Europe.
According to the Vietnamese General Department of Customs, bilateral trade reached 6.6 billion USD in 2019, in which Vietnam's exports to the UK accounted for nearly 88 percent.
The two countries saw an average annual growth of 12.1 percent in import-export revenue during the 2011-2019 period, higher than Vietnam's average level of 10 percent./.
January foreign tourist arrivals up 9 pct. month-on-month
Vietnam welcomed 17,736 foreign visitors in January, a month-on-month increase of 9 percent but down 99.1 percent year-on-year, the General Statistics Office announced on January 29.
As Vietnam continues to impose COVID-19 prevention measures and has yet to open its border to international travel, the January figure primarily comprised foreign experts and technicians, along with truck drivers entering via land border gates.
Visitors from Asia accounted for the lion's share, of 89 percent.
Revenue from accommodation and catering services was estimated to have risen 2.7 percent against December while tourism revenue inched up 0.7 percent.
Amid the COVID-19 pandemic, the Ministry of Culture, Sports and Tourism ordered cities and provinces nationwide to bolster inspections of tourist destinations, accommodation establishments, and vehicles carrying passengers during and after the Lunar New Year (Tet) holiday.
Festivals must follow regulations and guidelines on COVID-19 prevention and control./.
Philippine economy shrinks at record amid COVID-19
The Philippines's gross domestic product (GDP) shrank 9.5 percent in 2020 due to severe impact caused by the COVID-19 pandemic, according to the Philippine Statistics Authority (PSA).
This is the sharpest since the PSA started collecting data on annual growth rates in 1947.
In 2019, the Philippine economy grew by 6 percent.
PSA's data shows that in the last quarter of 2020, the Southeast Asian country's GDP shrank by 8.3 percent year-on-year after a fall of 11.4 percent in the third quarter.
According to Philippine Acting Socioeconomic Planning Secretary Karl Kendrick Chua, the purchasing power in the country remained weak and this prevents private consumption from making a stronger comeback.
However, he is still optimistic about the economic outlook of the country in 2021, which is forecast to strongly recover before the end of the year when the government launches a large-scale COVID-19 vaccination programme.
The Philippines's GDP is predicted to expand between 6.5 to 7.5 percent in 2021./.
Thailand's 2021 growth outlook revised down to 2.8 percent
The Finance Ministry of Thailand has cut its 2021 economic growth forecast for the country to 2.8 percent from the 4.5 percent projected last October.
Kulaya Tantitemit, acting head of the Fiscal Policy Office (FPO), said while stimulus measures have been launched to prop up the economy and the export market is expected to rebound this year, the massive drop in foreign tourists has had the biggest impact on the economy.
The revision is in line with the projection that foreign tourist arrivals in Thailand this year will fall further to 5 million, compared with 8 million predicted earlier, leading to lower tourism revenue.
International tourism receipts are forecast at 260 billion THB in 2021, down from 330 billion THB (11 billion USD) expected earlier, according to the FPO.
Thailand's tourism sector has been hit hard by the COVID-19 fallout.
In 2019, Thailand welcomed 39.9 million foreign tourist arrivals who spent about 1.91 trillion THB, equivalent to nearly 11.3 percent of the GDP. However, the foreign visitor number plunged to 6.7 million in 2020.
The FPO also forecast exports will expand to 6.2 percent in 2021 based on an economic recovery for Thailand's major trading partners.
Earlier this month, the Monetary Policy Committee at the Bank of Thailand said the GDP growth could drop below the 3.2 percent baseline due to lower foreign arrivals. The Joint Standing Committee on Commerce, Industry and Banking forecast the Thai economy will grow by 1.5 - 3.5 percent this year if the government fails to control the new wave of COVID-19 in three months./.
Source: VNA/VNN/VNS/SGGP/VOV/NDO/Dtinews/SGT/VIR