Processing-manufacturing industry takes lead in FDI attraction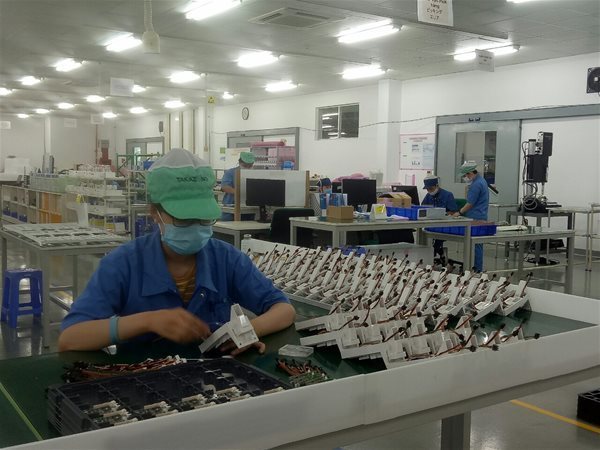 A woman works at a foreign-invested company. Vietnam has attracted US$15.27 billion of FDI since the beginning of this year


The processing and manufacturing industry took the lead in attracting foreign direct investment (FDI) in the first half of 2021, absorbing US$6.98 billion, or 45.7% of the country's total.
Data of the Foreign Investment Agency under the Ministry of Planning and Investment showed that Vietnam has attracted US$15.27 billion of FDI since the beginning of this year, equivalent to 97.4% of the same period last year.
Power production and distribution attracted the second largest amount of FDI with US$5.34 billion, accounting for 35% of the country's total. The real estate sector came third with US$1.15 billion.
Singapore and Japan are the biggest foreign investors of Vietnam. Singapore invested US$5.64 billion in Vietnam in the first half of 2021, increasing 3.6% year-on-year, while Japan invested US$2.44 billion, surging 66.8% year-on-year.
Since early this year, the country granted investment certificates to some high-value foreign-invested projects.
In March, the Mekong Delta province of Long An granted an investment certificate to Singapore's Long An I and II liquefied natural gas-fired power project worth over US$3.1 billion.
Some other large foreign-invested projects include South Korea's LG Display Haiphong project worth US$750 million and Singapore's Fukang Technology project worth US$293 million.
Do Nhat Hoang, chairman of the Foreign Investment Agency said these foreign-invested projects use modern technologies and focus on key sectors such as the processing and manufacturing industry and power production, highlighting the stability and reputation of Vietnam in attracting FDI.
The Ministry of Planning and Investment has abolished 58 administrative procedures on investment. It has also announced 65 new administrative procedures, which aim to create favorable conditions to attract investment from individuals and businesses.
Blue-chips boost shares, VN-Index reaches 1,400
The market rose strongly on Monday with the VN-Index reaching 1,400 points as investors poured money into blue-chip stocks.
On the Ho Chi Minh Stock Exchange (HoSE), the market benchmark VN-Index rose 1.13 per cent to 1,405.81 points. The market's breadth was positive as 157 stocks declined while 228 climbed.
Market liquidity stayed higher than the previous session with some 700 million shares traded on the southern market, worth over VND23.2 trillion (US$1 billion).
"VN-Index maintained its gaining momentum throughout Monday's session. The index climbed sharply, especially in the second half of the morning session," said financial news site vietstock.vn.
"In the afternoon, the rally narrowed slightly at the beginning, but buyers still poured cash in and helped the index gain more than 15 points and continue to reach a new high," it said.
The VN30-Index rose 1.41 per cent to close at 1,521.41 points. The gain was boosted by some large-cap stocks as 21 of the 30 biggest stocks in the VN30 basket rose, while six decreased.
In the VN-30 group, Tien Phong Bank (TPB) gained most with 5 per cent. Techcombank (TCB), Hoa Phat Group (HPG), Bank for Investment and Development of Vietnam (BID) and Vinhomes (VHM) all jumped more than 3 per cent.
Bao Viet Holdings (BVH), Thanh Thanh Cong – Bien Hoa JSC (SBT), Military Bank (MBB), Sacombank (STB), Masan Group (MSN) and HDBank (HDB) were among those that advanced above 2 per cent.
On the other side, Vingroup (VIC), Vinamilk (VNM), Phat Dat Real Estate (PDR), VPBank (VPB) and Vietjet Air (VJC) were among the losers of the group.
Construction materials, plastic and chemical manufacturing and insurance were the industries with growth of more than 2 per cent on the first day of the week.
Construction materials was led by Vicem Hai Van Cement Joint Stock Company (HVX) and Nam Kim Group (NKG). Pha Le Plastics Manufacturing and Technology Joint Stock Company (PLP) and An Phat Bioplastics JSC (AAA) also gained strongly.
Most of the insurance stocks increased. Post - Telecommunication Joint - Stock Insurance Corporation (PTI) led the group with more than 3 per cent, followed by Bao Viet Holdings (BVH), Petrolimex Insurance Corporation (PGI) and BIDV Insurance Corporation (BIC) with an increase of above 2 per cent.
On the Ha Noi Stock Exchange (HNX), the HNX Index gained 1.53 per cent to 323.10 points.
Nearly 130.5 million shares were traded on the northern exchange, worth VND3 trillion.
Dragon Capital funds buys 2.7 million shares of Dat Xanh Group
A group of investment funds run by Dragon Capital announced on Saturday it had successfully bought more than 2.71 million shares of Dat Xanh Group JSC (DXG).
DC Developing Market Strategies Public Ltd Co purchased 964,000 shares of DXG while Amersham Industries Ltd acquired 900,000. CTBC Vietnam Equity Fund and Norges Bank, respectively increased their ownership by 500,000 and more than 349,000 shares.
After the deals, the amount of shares held by Dragon Capital group was raised from nearly 71.8 million shares to approximately 74.5 million, equivalent to an increase in ownership rate from 13.85 per cent to 14.37 per cent.
The transaction took place on June 24, 2021, with a price of VND24,200 per share, Dragon Capital group spent nearly VND66 billion in the deals (US$2.9 million).
Regarding the ownership structure of the group members, currently Grinling International Ltd is holding the most with more than 19.1 million shares of DXG, equivalent to 3.69 per cent of capital. Norges Bank owns 16.3 million shares or 3.15 per cent capital and Vietnam Enterprise Investments holds 15.75 million shares or 3.04 per cent of capital.
On the stock market, DXG shares closed Friday at VND24,150 per share, down 16 per cent from the peak of VND28,900 per share set in early June, but still recording growth of 51 per cent than at the beginning of 2021.
LienVietPostBank to pay dividend in shares at rate 12%
The State Bank of Viet Nam has approved the 2020 dividend payout plan of Lien Viet Post Commercial Joint Stock Bank (LienVietPostBank or LPB), at the rate of 12 per cent in shares.
Under the plan, LienVietPostBank will issue nearly 129 million shares to pay dividends for 2020, equivalent to VND1.29 trillion (US$56 million).
The bank will continue to carry out tranches of capital raising to increase its charter capital to more than VND15.7 trillion, via private placement of 66.7 million shares to foreign investors, raising the maximum foreign ownership ratio in the bank to 9.99 per cent, issuing 265 million shares to existing shareholders, issuing 35 million shares under the employee stock ownership plan (ESOP).
LienVietPostBank sets a profit target of VND3.2 trillion this year, up 32 per cent compared to 2020. As of May 31, LienVietPostBank's pre-tax profit reached more than VND1.7 trillion, completing nearly 60 per cent of the yearly plan.
On the stock market, LPB shares have increased continuously in recent time, from about VND23,000 per share at the end of April, to over VND29,000 per share at present. 
International expo on support industries slated for October
The Viet Nam International Expo on Support Industries and Processing - Manufacturing (VIMEXPO 2021) is scheduled to take place from October 27-29 at the International Centre for Exhibition (ICE) in Ha Noi.
The upcoming event, which will be the second held under the Support Industry Development Programme, will comprise nearly 300 booths.
Hosted by the Industry Agency under the Ministry of Industry and Trade, VIMEXPO 2021 offers a chance for supporting industry enterprises to share experience, seek new partners and suppliers and learn of new technologies. The three-day expo hopes to welcome 20,000 visitors.
The previous edition comprised 250 booths from 170 enterprises on a display area of 5,000sq.m.
The Government has issued a resolution on measures to promote the development of support industries, which sets a target of Viet Nam producing highly-competitive support products that meet 45 per cent of domestic production and consumption demand by 2025 and 70 per cent by 2030.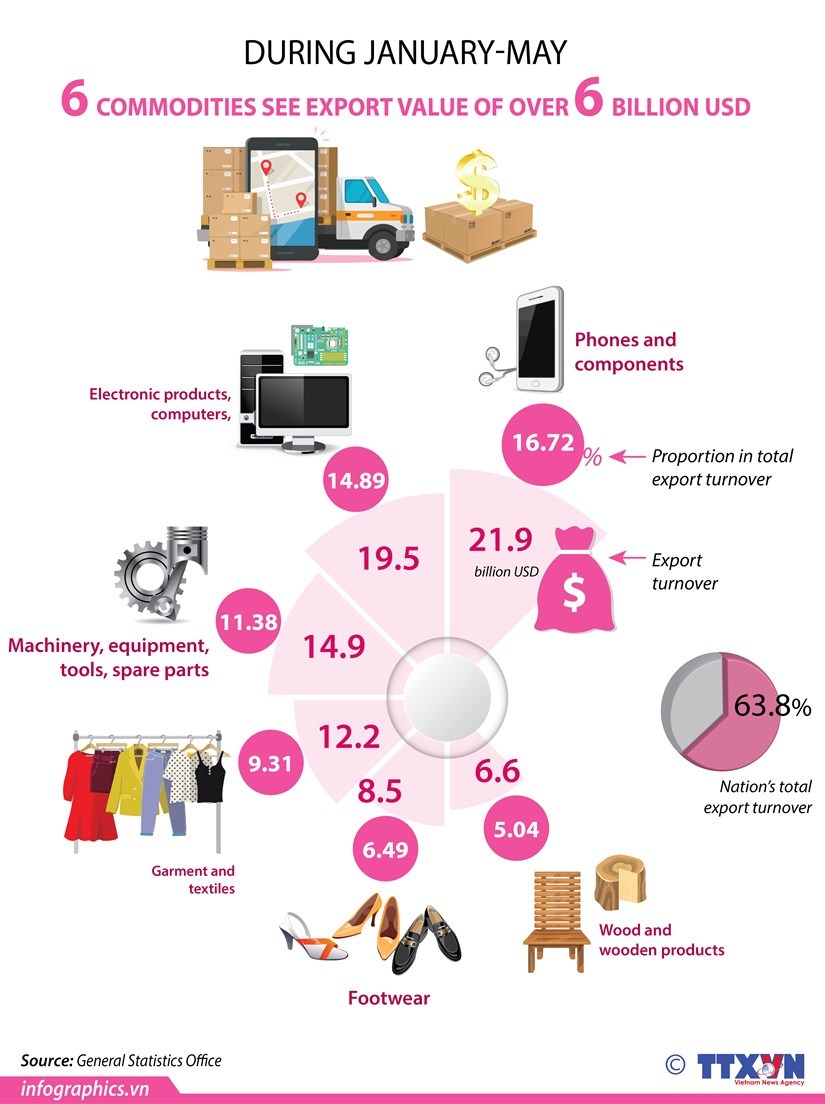 1.jpg
Danang offers low-interest loans to businesses
Enterprises that now borrow money from the Danang City Development Investment Fund (DDIF) will enjoy a very low interest rates.
The minimum lending rate at DDIF has been reduced to 6.5%, 7% and 7.5% for three investment groups.
The first priority group consists of projects in eight sectors--industry, high tech, travel, environment, energy, housing, agriculture, fishery, transportation, information technology and telecommunications.
The second group is for projects in four industries – education, healthcare and pharmaceutical, culture and sports and others such as infrastructure investment, business incubation, logistics, commerce, nursing and aged care. The third group comprises other priority projects.
Doan Ngoc Vui, DDIF's Deputy Director, said after the first session of the People's Council meeting that kicked off on June 25, the new policy will officially be introduced to businesses.
"A special feature of the policy that fewer businesses may pay attention to is that the interest rate is for medium- and long-term investment loans," said Vui, adding that interest rates for medium- and long-term loans at banks are usually higher than short-term ones. However, the fund offers long-term loans with interest rates that are lower than short-term ones by banks, aimed at supporting investors.
Vui also shared that banks usually give preferential interest rates to businesses for the first year and apply floating interest rates in the remaining years. However, at DDIF, the interest rates are almost stable during the loan period. Moreover, interest rates are reduced when the market rate falls to help businesses comfortably invest in their projects.
In addition, investment portfolios are also expanded.
Previously, businesses that wanted to borrow money from the fund were required to have infrastructure investment projects; meanwhile, equipment bought must be associated with such projects. Now, enterprises can borrow money to buy equipment for transportation, construction and production.
DDIF will also offer loans for investment projects in tourist areas, the night-time economy, tourism, and residential development among others.
According to DDIF, by the end of 2020, the total operating capital of the fund was VND1,643 billion, up eight times compared to the time of its establishment, of which equity capital is valued at VND1,147 billion, while the mobilized capital (ODA, concessional loans from two international financial institutions, the French Development Agency and the World Bank) accounts for the balance.
IFC partners with SeABank to lending SMEs in Vietnam
The International Finance Corporation (IFC) is providing a 40 million USD loan to the Southeast Asia Commercial Joint Stock Bank (SeABank) to support local businesses and help them make a resilient recovery after the COVID-19 pandemic, the member of the World Bank Group said on June 28.
The first phase of up to 150 million USD in financing, the funding package will help expand lending to small and medium enterprises (SMEs), especially women-owned businesses, increase access to climate finance and boost international trade opportunities.
The package will comprise up to 80 million USD from IFC's own account and 50 million USD to be mobilised from international lenders, in addition to a 20 million USD trade finance line. While the investment aims to increase SeABank's SME lending portfolio, at least 20 million USD will be earmarked for women-owned SMEs, with support from the Women Entrepreneurs Finance Initiative (We-Fi).
With a strategy to expand its reach to women-owned and -led small and medium enterprises (WSMEs), IFC's funding will help the bank triple its current WSME lending, accounting for about 25 percent of its total SME portfolio by 2024, IFC said in the statement.
Climate finance is a new area in Vietnam with a 753 billion USD climate investment opportunity between 2016 and 2030 as the country aims to reduce greenhouse-gas (GHG) emissions by 9 percent by 2030 to mitigate climate change impact. IFC is helping SeABank to support this country with 30 million USD to be allocated for climate-friendly projects. Further, IFC's support is expected to help SeABank build a 60 million USD climate-finance portfolio by 2024.
"IFC's long-term financing and technical advice will enable SeABank to focus on two strategic segments – WSMEs and climate financing – and position itself as a bank of choice for women-owned businesses and climate-friendly projects over the next five years," said Le Thu Thuy, General Director of SeABank.
Kyle Kelhofer, IFC Country Manager for Vietnam, Cambodia, and Laos, said: "IFC's new partnership with SeABank reaffirms IFC's commitment to support the continued development of a strong financial sector in Vietnam."
"Our investment in SeABank reiterates our confidence in the bank and its strategic direction to increase financing for SMEs and climate investments, furthering green and inclusive growth, and helping Vietnam build back better after the COVID-19 pandemic."/.
Can Tho records growth of 5.61 percent in H1
The Mekong Delta city of Can Tho posted a gross regional domestic product (GRDP) growth rate of 5.61 percent in the first half of 2021, as many sectors have gradually recovered, announced the municipal statistics office on June 28.
Head of the office Le Ngoc Bay said that it is a positive sign for the economy amid the ravages of the COVID-19 pandemic.
The services sector saw the highest expansion in the period by rising 6.64 percent and contributing 3.4 percentage points to the city's growth. Meanwhile, the industrial sector and construction increased by 5.69 percent, taxes on products 3.72 percent, and agro-forestry and fishery sector 1.82 percent.
To obtain a GRDP growth rate of between 7.5-8 percent in this year as targeted by a resolution of the city, Can Tho needs to implement concerted efforts in a swift and effective manner to facilitate production.
The city must continue carrying out preventive measures to curb the spread of COVID-19 in the community and foster economic development.
It is also asked to further reform administrative procedures to help local businesses access to incentives, thereby accelerating public investment disbursement in 2021, and removing bottlenecks for projects which are lagging behind, especially major ones./.
Careful consideration must be given to extending foreign ownership at petrol firms
Deputy Prime Minister Le Van Thanh has asked the Ministry of Industry and Trade to give careful consideration to the proposal of extending the amount of foreign ownership at petrol and oil business to 35 percent.
In the draft decree to amend to the Decree No 83/2014 concerning the petrol industry, the Ministry of Industry and Trade proposed the room for foreign ownership to be extended to 35 percent, which would enable foreign investors to participate more in the domestic retail petrol market.
Thanh stressed that petrol and oil were strategic but sensitive products and could have large impacts on the national energy security.
He asked the ministry to consider a number of aspects with comprehensive and objective analysis about opening more doors for foreign investors in the petrol and oil retail business.
Gains and losses in the short and long terms must be evaluated before a decision is made, Thanh stressed.
But the proposal has triggered some concerns.
Under the current regulations, enterprises with foreign investment were not allowed to import, export and distribute petrol and oil. This was to ensure that foreign investors would not have control over the petrol and oil market and affect the national energy security.
Idemitsu Q8 was the only foreign investor licensed to operate a petrol retail business in Vietnam. Foreign ownerships at petrol distributors Petrolimex and PVOil were now respectively 20 percent and 35 percent. However, foreign investors at these businesses must be approved and licensed by competent authorities to participate in the petrol retail market as special cases.
The Ministry of Industry and Trade said that opening more doors for foreign investors to participate in the petrol retail market would help promote the market's development.
Capping foreign ownership at 35 percent would help to maintain the dominant role of domestic enterprises while domestic firms would receive capital, technology and management strategy from foreign investors, the ministry said./.
Vietnamese companies struggling to overcome tough times
The COVID-19 pandemic has wreaked havoc on the global economy, forcing many enterprises to identify new strategies and adapt to the changing circumstances.

COVID-19 has caused massive disruptions to international trade and most enterprises have suffered as a result.
The difficulties have come in many forms, from a lack of raw materials to shrinking or disappearing markets for exports.
Many, though, have adapted their strategies to respond to the crisis while developing their business with a better vision./. 
An Giang advised to speed up digital transformation in agriculture
An Giang should work towards the target of digital transformation in agriculture, Minister of Agriculture and Rural Development Le Minh Hoan told leaders of the Mekong Delta province on June 28.
Minister Hoan said that the agricultural industry of An Giang in particular and the whole country in general is facing three challenges of climate change, market fluctuations and changes in consumer trends.
Therefore, it is time for An Giang to immediately embark on digital transformation in agriculture and rural areas and among farmers, which may start from the formation of codes of growing areas for the province's key agricultural products such as tra fish, rice, mango and vegetables, and consider this a revolution to change locals' thinking in agricultural production, he stressed.
Local authorities should step up the application of science and technology in agricultural production and pay more attention to market forecast, and development of both export and domestic markets, he added.
According to Vice Chairperson of the provincial People's Committee Tran Anh Thu, in the 2016-2020 period, An Giang focused on synchronously implementing many major programmes and projects such as restructuring the agricultural sector and shifting the crop structure from rice to vegetables and fruit trees, and developing the fisheries sector sustainably.
In the period, the sector's growth rate was averaged at 2.86 percent, the average agricultural production value reached 192 million VND (8,316 USD) per hectare in 2020, 72 million VND higher than that in 2015, and per capita income in rural areas hit 49 million VND a year./.
HCM City requires over 42 bln USD for transport infrastructure upgrades
The HCM City People's Committee has issued a plan to implement the city's transport infrastructure upgrade project in the 2021-2030 period, which will require investment of over 42.3 billion USD.
During the 2021-2025 period, the city will prioritise key and urgent projects, including the HCM City-Moc Bai Highway, Ring Roads No 2 and 3, National Highways No 1, No 22, No 50, and No 13, several elevated roads, main intersections and bridges in high-density urban areas.
The city has requested that sectors and localities develop specific programmes, plans, and projects on infrastructure development in the periods to ensure the effective implementation of the transport infrastructure upgrade project./. 
Vietnam wood exports to rise to new record level
Wood products exports are expected to rise to a record 15-16 billion USD this year despite the impacts of the COVID-19 pandemic.
They were worth 12.5 billion USD last year.
According to the General Department for Agricultural Products Processing and Market Development, in the first five months they were worth 6.6 billion USD, up 61.3 percent year-on-year.
Most companies have received orders for until the end of 2021, and they are 30 percent higher than in 2020.
The US is the largest market, accounting for 60.4 percent of all exports, followed by China with 9.9 percent, Japan with 9.5 percent, and the Republic of Korea with 5.7 percent.
Vietnam's wood products have achieved a solid foothold in many markets around the world, highly appreciated for their design and technology.
With the disruption of the supply chain due to the pandemic, the world's leading distributors tend to diversify and seek safer sources, and Vietnam needs to make use of this opportunity, analysts said.
But the Ministry of Industry and Trade also warned that the rapid growth in exports comes with a concomitant risk of anti-dumping and anti-subsidy threats.
Vietnam's wood industry is affected by trade tensions between major countries.
It has already faced anti-dumping lawsuits from the US and the Republic of Korea, especially for plywood-related commercial fraud and tax evasion. But plywood is not the only item facing a threat, the Ministry of Industry and Trade said.
Recently the US Trade Representative accused the Vietnamese timber industry of using illegal wood, and the risk of resultant trade restrictions is very high.
The Ministry of Agriculture and Rural Development has issued a decision on geographic origins and timber species risk categories. This plays an important role in controlling the legality of imported timber.
According to the foreign trade defence handling division at the Ministry of Industry and Trade's department of trade defence, Vietnam has faced a total of 199 cases so far, and in the last five years there have been 97 commercial defense investigations.
The most problematic markets are the US, India, Turkey, Australia, Canada, the EU and the Philippines, it said.
In 2020 alone, Vietnam faced a total of 37 cases related to tax evasion on plywood products and anti-dumping related to MDF wood.
To avoid anti-dumping and anti-tax evasion investigations, businesses need to have knowledge of trade defence and understand the true nature of this tool to make the right responses.
When exporting to a certain market, they should have information from importers, and as soon as information about anti-dumping investigations is known, businesses must respond.
The ministry has said it will issue warnings to support businesses.
It is also necessary to control exports to that market to ensure the lowest tax rate.
The Ministry of Industry and Trade also said the wood industry faces a severe shortage of human resources, especially tech-savvy workers while vocational training schools and universities find it very difficult to attract students./.
High-tech agriculture flourishing in Hà Nội
Hà Nội has developed its high-tech agricultural sector in recent years, with the cultivation, husbandry and aquaculture industries all reaping the rewards. 
The members of Vĩnh Thượng Agricultural Cooperative, in Sơn Công Commune, Ứng Hòa District, planted 5ha of safe vegetables four years ago.
Thanks to the successful use of high-tech farming practices, the co-operative has expanded its production area to 27ha.
Its vegetable production area has been certified as safe by the city Department of Agriculture and Rural Development.
The co-operative has successfully built a model to grow greenhouse vegetables with a scale of 5,000m2 that was designed synchronously and modernly with a full range of water rigs, automatic misting and biological fertilisers, without pesticides.
On average, it provides more than 10 tonnes of vegetables to the city market per day.
The high-tech melon growing model of Bùi Văn Chung's family in Hồng Quang Commune, Ứng Hòa District, is also highly appreciated by local authorities and residents.
He farms cantaloupe on an area of 6,200sq.m that uses a drip irrigation system and the whole process from planting to harvesting is managed and monitored by smartphones.
He said that the temperature and light control system has ensured the best conditions for the plants.
Thanks to the use of technology, Chung's cantaloupe is sold locally and exported. 
Deputy Director of the municipal Department of Agriculture and Rural Development Tạ Văn Tường said that the city has many farmers, businesses and co-operatives that have been investing in high-tech agriculture and are constantly looking for new technologies to use.
The city is home to 164 high-tech agricultural production models, of which 109 relate to crop production, 40 to livestock, and 15 to aquaculture, according to the department.
The value of high-tech agricultural products currently accounts for about 32 per cent of the city's total agricultural production value.
The high-tech agricultural production models, although small-scale, have high economic efficiency and are consistent with the reality of farming in the city, including using greenhouses with temperature and light control systems, using Israeli irrigation technology, probiotics, and high-quality varieties, and applying organic farming processes.
A highlight in husbandry was the installing of cages equipped with cooling mist systems, and automatic troughs for cows, pig and chickens, while in aquaculture the use of water fans and biological products in water resource treatment has been a revelation, according to Tường.
He said using technology in agriculture has increased product value, ensured food safety, and brought higher incomes to farmers.
Although the city has achieved positive results, the scale of high-tech agricultural production was still not commensurate with its potential, according to the Director of the city Agricultural Extension Centre Vũ Thị Hương.
She said applying high-tech equipment to farming has given a new impetus to the city's agricultural sector, however, the application was also facing challenges.
According to Hương, expanding high-tech agricultural models requires large-scale investment in infrastructure and technology.
Additionally, high-tech enterprises and farmers need to be more closely connected.
Tạ Văn Tường said the city's agriculture department should continue supporting localities and farmers to use technology to increase productivity and quality in the product preservation, processing and consumption steps.
The department will also open technological training courses to improve the skills of farmers.
It will continue researching and innovating technology, propose supportive policies on investment capital, complete the planning of concentrated high-tech agricultural areas, and develop agricultural production to suit the conditions of each region, said Tường. 
Vietnam's iron and steel exports to EU soar
Iron and steel exports to the European Union (EU) reached 713,000 tonnes in the first five months of this year, up five times year-on-year, reported the General Department of Customs.
The whole country exported 4.88 million tonnes of iron and steel with a value of 3.61 billion USD in the first five months of this year, a sharp increase of 61.6 percent in volume and 117 percent in value over the same period last year.
The EU, China, Cambodia, Malaysia and Mexico were the five largest import markets for Vietnamese iron and steel products.
Iron and steel exports have enjoyed many advantages as the demand for steel in many markets has increased strongly for many months, the Vietnam Steel Association (VSA) told Dau tu (Vietnam Investment Review) newspaper.
Exports to the EU have increased by five times over the same period amid the impact of the EU - Vietnam Free Trade Agreement (EVFTA), which has been in effect for nearly 10 months.
Many enterprises have taken advantage of opportunities to boost exports through trade facilitation.
The EU is known as a market that requires products to meet very high and strict standards. The sharp increase in exports partly shows Vietnamese enterprises have standardised production and satisfied the needs of consumers with high demands.
After only five months, Vietnamese steel exports to the EU have more than doubled compared to exports in the whole of last year.
Iron and steel exports reached 9.86 million tonnes, worth nearly 5.26 billion USD last year, but exports to the EU were only 309,000 tonnes, worth 235.5 million USD./.
Sơn La mangoes exported to Australia
Twenty-five tonnes of green-skinned mangoes from Mai Son district, Son La province have just been exported to the Australian market.
The export of the first batch of mangoes in this season to the Australian market affirms that Son La's mangoes are reputable and qualified to be exported to fastidious markets.
At the same time, it helps the province improve the reputation of mango quality, ensuring healthy competition in the market, protecting the legitimate interests of producers and consumers, creating a close connection and sustainable development for the Son La mango brand to become a national agricultural product brand.
The province currently has more than 19,000 hectares of mangoes, with output estimated at 65,000 tonnes. The harvest time is from May to August. 
Long An's economic growth ranks 3rd in Mekong Delta
Long An Province's economy in the first sixth months of the year saw positive development despite being hit hard by COVID-19, with its economic growth ranking third in the Mekong Delta, according to the provincial People's Committee.
Long An's economy grew by more than 6 per cent year-on-year, with commerce and services growing by more than 7 per cent. While the growth rate is relatively low and below expectations, it was still higher than the rate seen in the first half of 2020 (4.34 per cent).
The province's industrial production index grew by 7.5 per cent year-on-year.
Several industries are showing signs of recovery and seeing higher production output, such as electricity at nearly 15 per cent, and construction at 10.4 per cent.
As of June 20, Long An leads the country in terms of foreign direct investment attraction, receiving around US$3.57 billion of total registered investment, accounting for more than 23 per cent of the national total.
The province also certified 77 new domestic investment projects, worth a total of nearly VND5.6 trillion ($243.2 million).
According to the People's Committee, the pandemic is still affecting the province's supply chain and production expenses.
Businesses and local industries in Long An have been asked to continue focusing on economic development while fighting against the pandemic. Businesses should maintain their production activities, especially ones in industrial parks or key economic regions.
Long An is one of eight provinces and cities in the southern key economic zone. Its international port has a favourable location for trading with HCM City and other provinces in the Mekong Delta.
The province has 16 industrial parks with a total area of over 2,282ha and an average occupancy of 89.2 per cent. The parks house 796 foreign projects worth a total of $7.857 billion and 831 local projects worth VND92.32 trillion ($4.02 billion).
Long An also has 22 industrial clusters with 647 projects worth a total of VND16.128 trillion ($701.2 million).
Dong Nai reaches full-year FDI target by Q2
Dong Nai Province has attracted nearly US$715 million worth of foreign direct investment so far this year, already exceeding its full-year target of $700 million.
There were 27 new projects, while $485 million went into 53 existing ones.
Most of the new projects are in supporting industries with modern production lines and little manual labour.
Some of the larger ones include a manufacturing plant by Hansol Electronics Viet Nam Co Ltd ($100 million) and a coffee plant by Nestle Viet Nam ($132 million).
Foreign businesses in the province's industrial parks have been doing well this year, with revenues growing by 15 per cent year-on-year in the first five months.
Le Van Danh, deputy head of the Dong Nai Industrial Zone Authority, said FDI is up 15 per cent this year.
The province has been targeting around $1 billion a year for the past few years, but reduced it to $700 million this year due to the effect of the COVID-19 pandemic on the global economy, he said.
However, foreign companies have been increasing their investment and expanding, and his agency is working with many potential investors, he said.
It is likely that FDI would exceed $1 billion this year, he added.
To improve its business environment, the province has been simplifying administrative procedures and allowing online payment of tax and registration fees.
Trade facilitation events held in the last few years have helped foreign businesses increase domestic sales, according to Le Van Loc, deputy director of the provincial Department of Industry and Trade.
The pandemic has forced them to tweak business plans and network with domestic partners to buy some local supply chains and sell their products.
Industrial parks in Dong Nai are also taking stringent measures to prevent COVID while maintaining production, constantly monitoring workers' health and inspecting businesses.
The province has 32 industrial parks and over $27 billion worth of FDI from 41 countries and territories.
It is among the top provinces in Viet Nam in terms of exports and manufacturing.
In 2020 it ranked seventh in attracting FDI with $928 million. 
Source: VNA/VNS/VOV/VIR/SGT/Nhan Dan/Hanoitimes
HEPZA proposes 30 per cent slash on CIT to relieve burden on businesses