Demand for deposits soar as cashless payments become more popular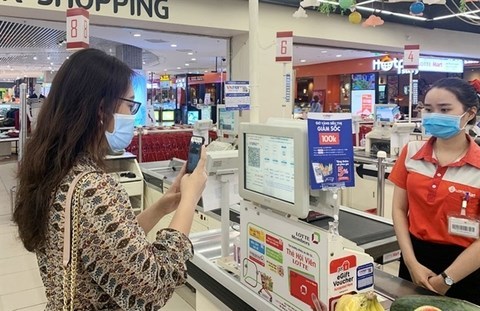 A consumer is making a payment via QR Code. 

Demand for deposits by individuals have increased significantly in recent months as people tended to switch to cashless payment methods, especially in the context of the COVID-19 pandemic.
Statistics of the State Bank of Vietnam showed that there were more than 104 million valid individual payment accounts at banks as of the end of March, with a total outstanding sum of more than 741.3 trillion VND (31.9 billion USD), representing a rise of 11.2 percent against the end of 2020.
Individual checkable deposits rose by three times during the past five years with a considerable increase since 2020.
Specifically, individual checkable deposits rose by 55 percent against the end of March 2020. In comparison, individual deposits, including both demand and time deposits, increased by more than 5.5 percent from the end of March 2020 to the end of February 2021.
The central bank said that the increase in demand deposits at banks was attributed to the results of the financial banking system's digital transformation process together with the development of e-banking, digital banking services, e-wallets as well as the promotion of a comprehensive digital finance ecosystem to create favourable conditions for citizens in conducting cashless payment.
The COVID-19 pandemic also pushed up demand for cashless payment and significantly contributed to changing the habit of using cash to cashless payment methods, the central bank said.
Statistics also showed that banking transactions conducted online increased by 5.9 percent in number and 28.4 percent in value in the first three months of this year over the same period last year.
Mobile banking transactions rose by 78 percent in number and 103 percent in value while via QR code by 83 percent and 146 percent, respectively.
Overall, cashless payment transactions jumped by 344.3 percent in number and 96.1 percent in value in 2020 against the previous year.
A recent survey by Visa also revealed strong increases in the use of e-wallets, contactless payment via cards and smartphones and QR Code. The year-on-year growth rate of the total e-commerce transaction value in the first quarter of 2021 rose by 5.5 times compared to the fourth quarter of 2020.
Notably, contactless card payments were used the most for food and catering services. Payments via QR Code strongly increased in the pandemic, especially in bill payment, retail shopping and at supermarkets.
According to Dang Tuyet Nhung, Visa's country manager for Vietnam and Laos, there was a significant change in the shopping and payment habits of Vietnamese consumers since the outbreak of the COVID-19 pandemic. Consumers were seeking safer and more convenient shopping experiences, she said.
It is security and convenience that are promoting the switching from cash to digital payment methods, she said.
Still, COVID-19 was an unexpected catalyst to make payment habits and behavior change faster. In the long term, Vietnam has set a goal of digitising the banking industry.
Under the banking digital transformation plan to 2025 with a vision to 2030, the central bank targeted that at least 50 percent of adults would use electronic payment services and at least 70 percent of transactions would be conducted via digital channels. By 2030, the percentages were expected to be at least 80 percent.
Deputy Governor of the State Bank of Vietnam Nguyen Kim Anh said that about 95 percent of credit institutions in Vietnam were implementing digital transformation strategies./.
Bloomberg: Vietnam's e-commerce growth potential alluring
Though Euromonitor International estimates e-commerce accounted for just 3 percent of Vietnam's retail market last year, the smallest among Southeast Asia's major economies, the potential for growth is alluring, the newswire bnnbloomberg.ca said on June 2.
According to a study by Google, Vietnam's digital economy is forecast to grow to 52 billion USD by 2025, an annual 29 percent increase from 2020, it said.
Startups backed by Warburg Pincus LLC and JD.com Inc., and regional players including Singapore's Sea Ltd.'s Shopee and even Amazon.com Inc. are also targeting the country's growing middle class. Between 2016 and the first half of 2020, investors funneled 1.9 billion USD into Vietnam's online sector, a study by Google, Temasek and Bain showed.
"Vietnam is at the beginning of becoming a digitalised society with a young population that loves technology," said Ralf Matthaes, Managing Director of Ho Chi Minh City-based Infocus Mekong Research. "So all these companies are tripping over themselves to offer these services."
The Vietnamese government targeted that online shopping will account for 10 percent of Vietnam's retail sales, and as much as 50 percent in Hanoi and Ho Chi Minh City by 2025. To create a more transparent modern economy, authorities want to increase cashless payment for public services and improve the regulatory framework for e-payment.
A consortium led by Alibaba Group Holding Ltd. and Baring Private Equity Asia is investing 400 million USD for a 5.5 percent stake in Vietnamese conglomerate Masan Group Corp.'s retail arm. As part of the deal announced May 18, Masan will team up with Lazada, Alibaba's Southeast Asia e-commerce unit. "The combination of Alibaba's online retail expertise, Lazada's e-commerce platform in Vietnam, and Masan's leading offline network will be a strong catalyst to modernise Vietnam's retail landscape," Kenny Ho, Alibaba's head of investment for Southeast Asia, said in a statement.
M-Service JSC, a Vietnamese startup that operates the MoMo payment app, in January raised more than 100 million USD from a group of investors including Warburg Pincus.
For the first time in their shopping lives, Vietnamese are being wooed with customer-first retail common in developed economies as dozens of e-commerce companies build loyalty among the nation's growing middle class.
Matthaes said the pandemic gave digital retail a boost with 30 percent more Vietnamese buying everything from food to electronics online last year.
Meanwhile, Managing Director of Warburg Pincus in Singapore Jeffrey Perlman said Vietnam's retail landscape is shifting faster than mature markets did.  Its move to modern retail skipped catalog shopping and stand-alone department stores as malls began sprouting largely over the past decade.
Tiki is the nation's largest homegrown e-commerce site among dozens of local online shopping platforms, including some operated by retailers that have set up their own websites.
According to Crunchbase, investors including Sumitomo Corp. and JD.com have backed the startup with 192.5 million USD.
Henry Low, a former Amazon and Coupang Corp. executive, expressed his hope that there will be more funding rounds and plan for an eventual initial public offering.
With about two million orders a month, Tiki is deploying artificial intelligence and robots capable of moving 800kg of products to speed things along./.
Bright prospects for fresh Vietnamese lychees in Australia
Australian importers and owners of supermarkets and grocery stores have said they believe Vietnamese lychees will gain much favour among Australian consumers this year and sell quickly thanks to their high quality.
According to the head of the Vietnamese Trade Office in Australia Nguyen Phu Hoa, Vietnam is now shipping its first two batches of fresh lychees to Australia. A 26-tonne batch is about to reach the country while a 14-tonne batch is being loaded into containers.
Over the next few days, the two batches will become available in many Australian states. Local exporters said these are just the initial batches to be exported early in the lychee harvest of 2020. In the main crop, the volume of Vietnamese lychee exported to Australia will increase sharply.
In order to introduce Vietnamese lychees in the country, the Vietnamese Trade Office has long held various promotional activities, including large-scale events.
In New South Wales, with the encouragement of the office, the Vietnamese Entrepreneurs' Association in Sydney has confirmed it will engage in promoting the fruit. Meanwhile, in Victoria, Chairman of the Vietnamese Business Association in Australia Tran Ba Phuc agreed to become involved in introducing the Vietnamese lychee trademark when the fruit is sold in Melbourne.
In South Australia and Western Australia, the 4wayfresh company is finalising preparations to distribute lychees as soon as they arrive in the country.
Hoa said that unlike most countries, there is competition in lychees in Australia as local farmers grow the fruit and Chinese imports are also sold.
He advised Vietnamese exporters to work harder to win market share.
In the first four months of 2021, Vietnam's fruit and vegetable exports to Australia increased 43.33 percent year-on-year to nearly 25 million USD.
Hoa said the rise in farm produce exports to Australia not only contributes to increasing Vietnam's export revenue but also helps affirm the trademarks of Vietnamese agricultural products./.
Tourism firms hang tight in COVID-19 tsunami
COVID-19 outbreaks since early 2020 are like tsunamis sinking tourism sector regardless of its effort to swim upward. Still, tourism firms have been trying to hang tight and wait for recuperation when the pandemic is eased globally.
 
Before the pandemic, this wharf welcomed dozens of boats full of both domestic and foreign tourist eagerly waiting for a leisure trip along Nhieu Loc – Thi Nghe canal. Now, though no tourists visiting, the boat owners set sail every day to keep their boats in function and ensure their staff not to forget professional skills.
Many firms have used this 'pandemic gap' as an opportunity to renovate. However, they did not expect that the gap period would be this long, making them unable to stick around without any revenue. Therefore, some of them have switched to another business models. Several hotels now lease their premises or provide serviced quarantine rooms for people entering Vietnam amid the pandemic.
It is difficult to tell an exact milestone when Vietnam can welcome back foreign tourists as before. Therefore, exploiting domestic market and developing new products in line with the new situation have given tourism firms more time and energy to fight the pandemic.
However, they could not fight this corona war alone. They are in need of supports from partners in the tourism value chain.
Domestic tourism firms have still proactively seeking for solutions in response to the unexpectedly long pandemic. Their resilience is expected to pay off with a massive bounce back once the pandemic is fully contained worldwide./.
Vietnamese lychees increase presence in Singapore
The early-ripening "u hong" lychees from Thanh Ha district, the northern province of Hai Duong – a lychee farming hub of Vietnam, hit the shelves of Singaporean supermarkets on June 3.
The fruit made a good impression in this market thanks to its quality and prices, the Vietnamese trade office in Singapore said.
The Vietnamese lychees will be sold at all the 230 FairPrice supermarkets this year, many more than last year when they were sold only at hypermarkets or major shopping malls of FairPrice.
From now to the end of the harvest season, Singapore will purchase at least one 40-foot container of lychees every week, and the export volume is expected to reach 100 tonnes by the end of July, according to the importer.
This year, the lychees from Vietnam are sold at higher prices, 105,000 VND (4.5 USD) per kg in the first week and about 120,000 VND per kg in the following weeks.
The Vietnamese trade office in Singapore noted that Singapore is a small market with a population of less than 6 million, but its people have high and stable demand for lychee which they considered it a fruit bringing about good luck and frequently present in important anniversaries and big parties.
Given this, the office has moved to promote Vietnamese lychees such as by making posters, posting articles about the fruit's history and benefits on its website, and inviting a Singaporean expert to persuade importers.
Every year, Singapore imports more than 2,000 tonnes of lychees from China, Vietnam, Thailand, and countries in the southern hemisphere like Australia, South Africa, Madagascar, and Mauritius. Without lychee cultivation, it still exports nearly 400 tonnes of lychees annually, both fresh and canned ones, equivalent to some 20 percent of its total import volume.
Singapore ships fresh lychees mostly to Malaysia, Indonesia, Brunei, and the Philippines and the canned fruit to ASEAN countries, South Asia, Maldives, Barbados, Fiji, Papua New Guinea, Kenya, Seychelles, and the ones bordering the Persian Gulf.
Tran Thu Quynh, head of the trade office, said this is a challenge and also an opportunity for Vietnamese lychees as both countries are members of many large free trade agreements like the Comprehensive and Progressive Agreement for Trans-Pacific Partnership (CPTPP) and the Regional Comprehensive Economic Partnership (RCEP).
Though the export value remains modest, authorities' efforts and businesses' resolve to explore foreign markets for the fruit have demonstrated the supply, post-harvest preservation, and logistics capacity of Vietnam, which is also the key for all commodities of the country to reach the world, she added./.
Vinh Long province tops 2020 open budget index rankings
The 2020 Provincial Open Budget Index (POBI) has the average score of 69.09 out of 100 points, up 3.54 points from the previous year, with the Mekong Delta province of Vinh Long topping the rankings.
Results of the 2020 POBI survey, conducted by the Budget Transparency, Accountability and Participation (BTAP) Alliance, the Vietnam Institute for Economic and Policy Research (VEPR), and the Centre for Development and Integration, were released via an online workshop on June 3.
The survey showed that last year, 27 provincial-level localities fully publicised documents and information about the State budget, three localities more than 2019.
Meanwhile, those publishing relatively sufficient information numbered 29, up two localities. The numbers of those with insufficient or little information stood at five and two, respectively declining four and one from 2019.
With 93.68 points, Vinh Long tops the 2020 rankings, followed by central Da Nang city (92.26 points) and southern Ba Ria-Vung Tau province (90.45 points). The worst performers are southern Binh Phuoc province (3.84 points) and the Central Highlands province of Dak Lak (23.41 points).
Former VEPR Director Nguyen Duc Thanh, a representative of the research group, said the POBI scores of localities were relatively low in the first years the survey was carried out, with the national average of 30 points, which meant almost no provinces and cities paid attention to budget transparency as regulated in the 2015 Law on State Budget.
However, strong improvements have been seen in the following years when they realised their positions in the rankings, he noted, adding the national POBI average surged to 50 points in 2018 and 65 points in 2019, indicating that localities have been aware of improving their budget transparency.
Though in 2020 - the fourth year of the POBI survey, the improvement of the POBI scores tended to stagnate, many provinces that used to have very low positions recorded considerable improvements while those with high scores and "traditional" budget transparency maintained their stable performance, according to Thanh.
The POBI survey helps localities and central agencies measure the transparency level in the State budget management. It also assists the country to have better financial and fiscal reforms, helping to achieve Goal 16 of the UN Sustainable Development Goals about transparency, accountability, and people's participation.
The 2020 survey was funded by Oxfam Vietnam and Konrad-Adenauer-Stiftung Vietnam./.
China to consider resumption of sweet potato, chili imports from Vietnam
China has agreed to consider resuming the importation of Vietnamese sweet potatoes and chilies, an online conference on June 3 heard.
Held by the Ministry of Agriculture and Rural Development (MARD), the conference aimed to address technical bottlenecks in order to boost farm produce consumption amid COVID-19.
Deputy Minister of Agriculture and Rural Development Tran Thanh Nam said the Chinese side cannot travel to conduct the necessary measures for signing an export protocol on certain agro products.
However, China has agreed to allow Vietnam's sweet potatoes to enter its market on the condition that all cultivation areas and packaging companies are inspected and apply technical measures to prevent the risk of the produce being infected by 10 harmful creatures, according to Deputy Director of MARD's Plant Protection Department Nguyen Thi Thu Huong.
The department will contact sweet potato growers in Vinh Long, Dak Lak, and Dak Nong provinces to compile technical dossiers, she added.
Regarding chili, China asked Vietnam to cease exports last year but the General Administration of Customs of China has now agreed on the temporary resumption of chili shipments from Vietnam while the Chinese side analyses the risks.
The Plant Protection Department will study suitable technical and phytosanitary measures and forward these to relevant Chinese agencies, as well as help localities set up disease-free cultivation areas, Huong noted.
Malaysia has also given green light to the import of Vietnamese chilies after a two-year suspension if certain conditions are met.
Localities need to closely work with the Plant Protection Department to complete technical dossiers, as export markets have specific requirements on the tight management of cultivation zones and packaging facilities, Nam emphasised./.
FDI in industrial parks, economic zones up over 10 pct. in first five months
Local industrial parks (IPs) and economic zones (EZs) attracted about 6.02 billion USD in both registered capital of 291 new foreign-invested projects and additional capital into existing ones in the first five months of 2021, an increase of about 10.3 percent year-on-year, the Ministry of Planning and Investment (MPI) has reported.
IPs and EZs also absorbed about 53.2 trillion VND (2.31 billion USD) of domestic investment, which was poured into 271 new projects and existing ones.
As of the end of May, IPs and EZs nationwide were home to about 10,853 valid foreign-invested projects with total registered capital of some 228.4 billion USD, 69.6 percent of which had been disbursed. The number of valid domestic projects stood at 10,186.
The investment proposals of 38 IP infrastructure construction projects have been approved by the Prime Minister, raising the number of established IPs to 394 on a total area of about 121,900 ha. Of these, 286 are operating on a total area of about 86,000 ha, including 57,300 ha of industrial area.
About 42,900 ha of land at IPs have been rented by businesses, with overall occupation rates reaching about 53 percent and 71.8 percent at larger IPs. IPs nationwide have created about 3.78 million direct jobs.
As of the end of May, 256 of the 286 operating IPs, or 89.5 percent, had launched standardised waste treatment plants with a total capacity of over 1.2 million cu m each day and night.
In order to increase the efficiency of businesses operating at IPs, the MPI has encouraged and supported them in selecting advanced technology and improving technology levels.
The ministry has reviewed standards and requirements in technology as well as social responsibility and environmental protection, while encouraging enterprises to link with each other to form supply chains.
As part of efforts to prevent the spread of COVID-19 at IPs, EZs, and processing zones, MPI has asked the People's Committees of centrally-run cities and provinces to direct the management boards of those facilities to strictly implement pandemic prevention and control measures.
Assessments on the risk of COVID-19 spreading in the workplace and workers' residential areas have also been made./.
HCM City's retail market vibrant despite COVID-19
Vietnam and Ho Chi Minh City in particular are considered to hold promise for retailers from home and abroad on the back of the large, young population and rising consumer price index amid the COVID-19 pandemic.
The municipal Statistics Office reported that the total retail sale of goods and services in the city reached over 456.1 trillion VND (19.8 billion USD) in the first five months of this year, up 8.9 percent year-on-year. The May figure topped 89.9 trillion VND, down 0.1 percent month-on-month but up 13.1 percent year-on-year.
Five-month trade revenue hit 255.5 trillion VND, up 9.5 percent compared to the same period last year. Accommodation and dining services earned more than 32.1 trillion VND, up 30.8 percent year-on-year.
Most notably, the city's retail market saw a number of merger and acquisitions, while retailers and companies are competing to win market share via opening new points of sale and marketing trademarks in residential areas.
Director of Commercial Leasing at Savills Vietnam Tu Thi Hong An said the retail real estate sector in HCM City is receiving foreign investment flows from new franchises in dining, fashion, and accessories.
She added that one day after a deal between Republic of Korea retailer E-mart and the Truong Hai Auto Corporation (THACO) was announced, Chinese giant Alibaba and Baring Private Equity Asia (BPEA) reached a deal to outlay 400 million USD on buying a 5.5 percent stake in The CrownX, an e-commerce platform owned by the Masan Group Corporation, to operate the VinMart and VinMart+ supermarket chains.
The deal is one of the largest for Alibaba in Southeast Asia since it bought Lazada in 2018 for 4 billion USD. It will give Alibaba and Lazada access a network of more than 2,000 outlets without having to spend time and money establishing a distribution network. Consumers will also see products sold in VinMart available on Lazada and can pick up orders from Lazada at VinMart./.
High demand for home workout equipment amid pandemic
The closure of gyms during Covid-19 has led to burgeoning sales of home fitness equipment. With more people now choosing to work out at home, shops are finding it hard to keep up with demand.
 
Physical activity can improve mental health, and choosing activities that are suitable to each individual bring the most benefits. Many people have therefore headed to gym equipment shops to buy equipment that best suits them.
Handy and portable equipment such as yoga mats, dumbbells and kettlebells, skipping ropes, and treadmills are most popular. More orders have been made compared to the time prior the resurgence of Covid-19.
Regular exercise accompanied by a healthy and balanced diet are essential in maintaining physical and mental health and well-being, especially in the Covid-19 time./.
Vietnamese goods introduced to Thai firms during trade exchange
 
     
Thursday, Jun 03, 2021 19:11
 
 
 
At the online trade exchange programme. — VNA/VNS Photo
 An online trade exchange programme between Viet Nam and Thailand on food and building and interior products was held on Wednesday to introduce local products to Thai firms and help domestic producers gain broader access to the market.
The exchange was held by the Trade Promotion Agency under the Ministry of Industry and Trade (MoIT) and Thailand's Central Group.
Addressing the exchange, the Vietnamese Trade Counsellor in Thailand Tran Thi Thanh My said this is the fifth time the programme has been held, aiming to facilitate Vietnamese products and businesses sending goods to the Thai market through Central Group's distribution network.
To ensure its effectiveness, she said, market research was conducted and businesses with products suitable for the Thai market were selected.
Emmanuel Francois Patrick Couronne, Director of Retail Purchasing at the Central Group, said the trade exchange helped the group meet reputable businesses and will lead to bringing more high-quality Vietnamese products to Thai consumers.
Held for the first time in 2016, the trade exchanges have been an effective bridge in sending Vietnamese goods to the Central Group and have opened up many business opportunities for local exporters.
Vietnamese agricultural products such as lychees, dragon fruit, coffee, cashew nuts, and dried fruit have been exported to Thailand and found favour among local consumers.
A programme to promote Vietnamese goods and cuisine, called 'Taste of Vietnam', is to be held in Udon Thani Province in northeastern Thailand on June 24-26, aimed at promoting Vietnamese products and creating opportunities for local suppliers to export goods to the market.
Ha Noi promotes consumption of farming products
 
     
Friday, Jun 04, 2021 07:44
 
 
 
Plums and mangoes that meet Vietnamese good agricultural practices (VietGAP) standards from Son La Province are packaged before delivery to Ha Noi. For Son La Province's fruits, Big C and GO! is promoting products on their website and online channels. — VNA/ VNS Photo An Dang
 Ha Noi's Department of Industry and Trade has implemented a series of solutions to promote consumption of agricultural products from COVID-hit localities.
Tran Thi Phuong Lan, the department's acting director, said the department would coordinate with those localities to create connections between local businesses and cooperatives with distributors, supermarkets, processing enterprises, fruit shops, and small traders in Ha Noi. This aims to enhance the consumption of local agricultural products in the Ha Noi market.
The capital city also prioritises supporting businesses in transporting and trading goods to create favourable conditions for the localities in selling the agriculture products in Ha Noi.
In addition, the department provides places for local businesses to sell agricultural products and fruits in Ha Noi during the harvest season.
The department also cooperates with the Trade Promotion Department of the Ministry of Industry and Trade to promote trading of goods on e-commerce sites, Lan said
Le Manh Phong, director of Big C in the North, said the Central Retail Group has implemented a programme selling goods from Bac Giang Province across the system of 18 Big C and GO! stores in the North since May 25. GO! and Big C are expected to sell hundreds of tons of agricultural products from Bac Giang under this programme.
For Son La Province's mango and longan, Big C and GO! is promoting products on their website and online channels such as Zalo or Sales App.
Nguyen Thi Kim Dung, director of Co.op Mart Supermarket, said from May 29, more than 50 tonnes of fresh lychees from Bac Giang and Hai Duong were sold in the Co. op Mart system in the North. In 2021, the Co.op Mart supermarket system expects to sell 400 tonnes of lychees and more than 500 tonnes if the COVID-19 pandemic is controlled well.
To support businesses in selling agricultural products of pandemic-hit localities, Lan also suggested those localities require businesses, cooperatives and households to ensure origin and quality of products and implement regulations on COVID-19 prevention.
Previously, Ha Noi supported localities in selling more than 130 tonnes of Chi Linh chicken (Hai Duong), 14,000 tonnes of vegetables, fruits and seafood from the provinces of Hai Duong, Quang Ninh, Ha Giang and Soc Trang.
According to the department, in the first five months of 2021, distribution channels, supermarkets, and food chains in Ha Noi sold 53,000 tonnes of agricultural products from other provinces and cities with a total value of VND680 billion.
EAEU-ASEAN Business Dialogue held within SPIEF-2021 framework
The Eurasian Economic Union (EAEU) – ASEAN Business Dialogue took place within the framework of the St. Petersburg International Economic Forum 2021 (SPIEF) on June 3 via both online and in-person formats under the chair of Chairman of the Russia-ASEAN Business Council Ivan Polyakov.
VNA Friday, June 04, 2021 10:42
RELATED NEWS
Vietnam removed from list of beneficiaries of EAEU tariff preferences under GSP
Monday, May 24, 2021 09:37
Vietnam fosters cooperation with EAEU to ensure food security
Wednesday, May 19, 2021 10:04
Ample room for Vietnam, Russia to forge trade ties: Seminar
Tuesday, May 18, 2021 20:33
ASEAN, Russia work to shore up supply chains
Friday, August 28, 2020 19:59
EAEU-ASEAN Business Dialogue held within SPIEF-2021 framework hinh anh 1
Illustrative image (Photo: VNA)
Moscow (VNA) – The Eurasian Economic Union (EAEU) – ASEAN Business Dialogue took place within the framework of the St. Petersburg International Economic Forum 2021 (SPIEF) on June 3 via both online and in-person formats under the chair of Chairman of the Russia-ASEAN Business Council Ivan Polyakov.
Assessing potential for cooperation between the two blocs, Sergey Glazyev, Member of the Board – Minister in charge of Integration and Macroeconomics of the Eurasian Economic Commission, said that ASEAN is a region with high economic growth and rapid development of science and technology, which brings about many new development opportunities.
He, therefore, proposed establishing a preferential trade area between the EAEU and ASEAN.
ASEAN Secretary-General Dato Lim Jock Hoi mentioned some trade figures between the two blocs such as two-way trade hitting 19.8 billion USD and EAEU investment in ASEAN reaching 68.5 million USD in 2019.
He suggested the two blocs intensify collaboration in digitalisation, sustainable development and green growth.
For his part, Russian Deputy Minister of Industry and Trade Alexey Gruzdev stressed the need for the two sides to diversify trade for sustainable development. He also proposed cooperating in automobile and aircraft manufacturing in a comprehensive manner combined with on-site assembly, and in health.
Indonesian Trade Minister Muhammad Lutfi affirmed that ASEAN is a market with great potential with 350 million people and a GDP of 3.3 trillion USD.
ASEAN wants to work with Russia in achieving breakthroughs in business and trade, he added.
SPIEF-2021 is taking place from June 2-5./.
Gia Lai approves 500MW solar power project
The Central Highlands province of Gia Lai has issued a decision approving the investment plan for the KN IaLy - Gia Lai solar power project, which has total investment of over 9.55 trillion VND (412.27 million USD).
VNA Friday, June 04, 2021 10:53
RELATED NEWS
Vietnam explodes in solar energy: BNN Bloomberg
Thursday, May 20, 2021 19:47
Coal, hydro power to give way to renewables
Sunday, May 16, 2021 09:54
Vietnam among top three leading Asia-Pacific nations in renewable energy shift
Tuesday, May 11, 2021 07:50
Overloaded renewable energy affects power system operation
Friday, May 07, 2021 17:06
Gia Lai approves 500MW solar power project hinh anh 1
Illustrative image (Source: VNA)
Gia Lai (VNA) – The Central Highlands province of Gia Lai has issued a decision approving the investment plan for the KN IaLy - Gia Lai solar power project, which has total investment of over 9.55 trillion VND (412.27 million USD).
The project covers 533 hectares of water surface of Ia Ly hydropower reservoir and 5 hectares of land in Ia Ly commune, Chu Pah district with careful design to avoid impacts on farming and tourism activities as well as local waterway traffic system and the operations of Ia Ly hydropower plant.
Work on the KN IaLy - Gia Lai solar power project, which has a designed capacity of 500MW, will begin in the second quarter in 2022 and is expected to be completed in the fourth quarter of 2023. Its operation duration is 50 years.
Gia Lai currently has two operating solar plants worth over 1.5 trillion VND with total capacity of 84MWp, along with two approved projects with total capacity of 74MWp. Additional five projects have also been added to the province's planning with combined capacity of 654MWp.
The provincial People's Committee has proposed adding 10 other solar power projects with total capacity of 1,125 MWp to the planning. Meanwhile, it has allowed the conducting of surveys for 25 projects with estimated capacity of 4,563MWp./.
ADB grants 116-mln-USD green loan to develop wind power farms in Vietnam
The Asian Development Bank (ADB) signed a 116-million-USD green loan with three Vietnamese firms to finance the construction and operation of three 48-megawatt (MW) wind farms, totaling 144 MW, in the central province of Quang Tri.
VNA Friday, June 04, 2021 11:01
RELATED NEWS
JICA provides 25 million USD for wind power project in Quang Tri
Friday, May 28, 2021 19:46
Eight wind power plants in Soc Trang to be finished by October
Friday, May 28, 2021 15:40
Floating LiDAR supplying contract signed for Thang Long Wind project
Friday, May 28, 2021 10:35
Renewable energy output up nearly 160 percent during Jan-Apr
Saturday, May 22, 2021 09:56
ADB grants 116-mln-USD green loan to develop wind power farms in Vietnam hinh anh 1
Trung Nam Wind Farm in the south-central province of Ninh Thuan. (Photo: VNA)
Hanoi (VNA) – The Asian Development Bank (ADB) signed a 116-million-USD green loan with three Vietnamese firms to finance the construction and operation of three 48-megawatt (MW) wind farms, totaling 144 MW, in the central province of Quang Tri.
The companies include Lien Lap Wind Power JSC (Lien Lap), Phong Huy Wind Power JSC (Phong Huy), and Phong Nguyen Wind Power JSC (Phong Nguyen).
The project will increase Vietnam's wind power capacity by 30 percent, helping the country meet the rapidly growing demand for energy.
It is ADB's first financing of a wind power project in Vietnam, and is certified by the Climate Bonds Initiative, which administers the international Climate Bond Standard and Certification Scheme.
"Lien Lap, Phong Huy, and Phong Nguyen will add to ADB's extensive experience in large-scale renewable energy projects in Vietnam, and underlines our commitment to helping the country map a clean energy future," said Jackie B. Surtani, ADB Private Sector Operations Department Infrastructure Finance Division Director for East Asia, Southeast Asia, and the Pacific.
"This is a milestone project which demonstrates how private financing can be effectively mobilized to develop wind power projects in Asia and the Pacific."
The project will generate an average of 422 gigawatt-hours of electricity and avoid an average of 162,430 tonnes of CO2 emissions annually. A gender action plan under the project will provide women from the local community with access to training on wind power operation and management./.
Masan Group to distribute over $47.7 million as advance dividend for 2021
Based on its excellent results for the first half of 2021, Masan Group Corporation has decided to distribute more than VND 1.1 trillion (over US$47.7 million) worth of profits in advance as dividends to shareholders for this year.
On May 31 it had announced it would make advance payment of the 2021 dividend at a rate of 10 per cent as approved by shareholders at the annual general meeting.
It will first pay 9.5 per cent with the record date and payment date decided by the board of directors based on cash flows and business plans.
The decision to advance dividend payment was made earlier this year. The company decided not to pay dividends for 2020 to focus resources on the consumer-retail segment, including accelerating building the Point of Life foundation to serve consumers' everyday needs, both offline or online.
Masan Group paid dividends of 10 per cent in 2019 and 30 per cent in 2016, including 11 per cent in cash and 19 per cent in stock.
The company currently has a charter capital of more than VND11.746 trillion ($509.26 million), equivalent to more than 1.17 billion outstanding shares. Each share will get VND950 in dividends, meaning the company will distribute a total of VND 1.1 trillion for the first advance dividend payment.
Recently Masan Group announced stake sales worth more than $810 million.
It included the sale of a 16.26 per cent stake in VinCommerce to SK Group (South Korea) for a total cash value of $410 million.
A consortium of investors, including Alibaba Group, bought a 5.5 per cent stake in The CrownX, Masan's integrated consumer retail arm that consolidates its interests in Masan Consumer Holdings (MCH) and VinCommerce (VCM), for a cash consideration of $400 million.
The transaction implied a valuation of $6.9 billion for The CrownX.
The company also revealed that another transaction worth $300-400 million is in the works and is expected to be completed this year.
Thus an estimated more than $1 billion will flow into Masan this year, ensuring its cash flows are abundant.
This could be the basis for Masan advancing the dividend payment to compensate for 2020 when shareholders did not get dividends.
The money flowing in from these transactions will also generally help improve its financial health.
At the end of last year its consolidated net debts were 4.6 times its earnings before interest, taxes, depreciation, and amortization (EBITDA) (excluding the consolidation of VinCommerce).
Masan seeks to bring this ratio down to 2.5-3 this year by reducing the debts of its subsidiaries and improving EBITDA across all business segments.
In the first quarter of the year revenues grew by 13.3 per cent to VND19.977 trillion ($869.09 million).
Revenues were up 18.8 per cent at Masan Consumer, 38.5 per cent at MEATLife and 178.2 per cent at Masan High-Tech Materials, making up for a decline in revenues at VinCommerce (VCM) due to the closure of 700 stores to improve profitability.
Masan's EBITDA margin was 15.7 per cent in Q1, 2021, compared to 11 per cent in Q1, 2020.
It improved to 1.8 per cent at VinCommerce, while remaining steady at Masan Consumer Holdings and Masan MEATLife. Masan High-Tech Materials saw lower EBIDTA as a result of the consolidation of H.C. Starck (HCS) and the lag effect of the recent price recovery which is expected to be realised in the following quarters.
On the stock market, the strategy of integrating VinCommerce with Masan's current business segments and, especially, information about M&A transactions with SK Group and Alibaba Group attracted particular interest in the MSN stock.
The average daily liquidity of the stock in the last two months exceeded two million shares.
Its price is currently hovering at around VND106,000, up 30 per cent since the beginning of the year.
But in an updated note, Viet Capital Securities Company has rerated the stock and set a fair value of VND142,000 for it.
This is based on the expectations of VinCommerce improving its profitability thanks to VCM's plans to cooperate with Phuc Long to open around 1,000 kiosks this year and increase its online sales through the proposed cooperation with Lazada as part of the deal between MSN and Alibaba Group.
MSN's valuation is also boosted by the cash flows from the transactions with SK Group and Alibaba Group, which will bring in around $650 million this year, and a 20 contribution from Techcombank, whose market capitalisation has increased by 60 per cent this year thanks to its positive business outlook. 
Ha Noi's export turnover up in five months despite COVID-19
The capital city exported US$5.89 billion worth of goods in the first five months of this year, up 8.1 per cent annually, reported the municipal People's Committee.
Almost all sectors recorded increases in export earnings, including mobile phones and spare parts at $147.2 million (2.1 times higher than that of the same period last year), footwear with $136.2 million (up 39.8 per cent), glass and its products with $167.5 million (up 29.8 per cent), machinery and equipment with $791.5 million (up 24.8 per cent), wood and wooden furniture with $273.9 million (up 24.6 per cent).
Only farm produce and petrol earned less with respective revenue of $315.2 million, down 7.1 per cent, and $231.5 million, down 38.2 per cent.
In May alone, the city's export turnover hit an estimated $1.252 billion, down 0.2 per cent month-on-month and up 2.5 per cent year-on-year.
Of which, $683 million was from domestic firms, down 0.1 per cent monthly and 14.5 per cent yearly. The remaining was from foreign-invested enterprises, representing a monthly decrease of 0.3 per cent and an annual increase of 34.5 per cent.
Soc Trang Province exports surge 23.5 per cent
Soc Trang Province's exports rose by 23.5 per cent year-on-year in the first five months to US$470 million.
Seafood and rice were the key exports and both saw high growth in shipments, especially to markets such as the US and Europe. Seafood shipments were up 43.53 per cent.
Footwear, textile and machinery exports saw slight increases.
Soc Trang Province has not been too badly affected by the COVID-19 pandemic, according to its People's Committee.
It has been creating a favourable environment for the seafood and rice sector to develop, such as by increasing shrimp farming areas and soliciting investment in processing. More and more farmers are adopting intensive shrimp farming models and modern technologies.
Processors are also having steady access to raw materials, and last year the province was quick in capitalising on the rising global demand for rice due to the pandemic, according to its Department of Industry and Trade.
The province targets exports of over $1 billion this year. Last year, its exports grew at a faster rate than any other Mekong Delta province's, reaching $990 million. 
Vietnam posts trade deficit over five-month period
The country recorded a trade deficit of US$369 million during the past five months of the year despite enjoying a trade surplus, according to data released by the General Department of Vietnam Customs.
In relation to the figure, the domestic economic sector recorded a trade deficit of US$12.74 billion, while the foreign-invested (FDI) sector, including crude oil, enjoyed a trade surplus of US$12.37 billion.
According to the figures, the nation's trade balance of goods throughout the reviewed period had a deficit of approximately US$370 million, although the country maintained a trade surplus of US$1.63 billion.
Information compiled by the General Statistics Office indicates that the production group was able to achieve a high proportion of 93.8% as import turnover climbed to US$123.15 billion, up 36.8% against the same period from last year.
Furthermore, the group of machinery and equipment, tools, means of transport and spare parts posted an import turnover of US$58.8 billion, an increase of 33% and accounting for 44.8% of the total, while imports of groups of raw materials, fuel and materials surged by 40.5% to US$64.35 billion, accounting for 49%.
Elsewhere, imports of consumer goods were estimated to stand at US$8.16 billion, a rise of 29.5% and accounting for 6.2%.
Economist Le Dinh An said that with regard to the structure of imports, this represents a positive sign for the national economy.  
This increase in terms of imports of production materials can also be attributed to a high trade surplus in recent times, An said, adding that the move has proved that industrial production have bounced back.
The nation witnessed the largest trade deficit with China during the course of the five-month period with US$23.2 billion, marking an annual rise of 87.3%
Industry experts believe that the trend of trade deficit will be not maintained for a long period of time due to the new wave of the COVID-19 pandemic hindering the development of the Vietnamese manufacturing sector, thereby leading to a decline in imports in general, including those from the Chinese market.
Source: VNA/VNS/VOV/VIR/SGT/Nhan Dan/Hanoitimes

Vietnam striving to enhance transparency in wood sector