HCM City actively supports development of key industrial products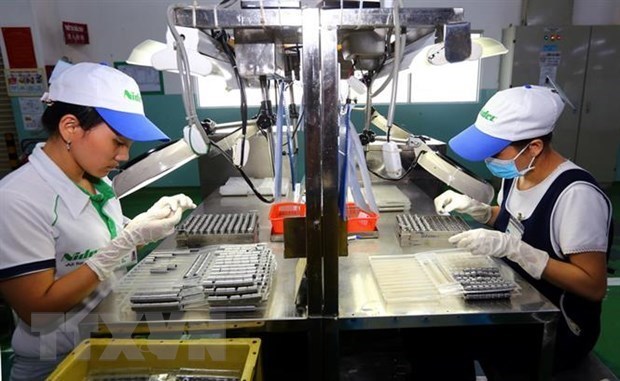 HCM City actively supports development of key industrial products. - Illustrative image (Photo: VNA)

Ho Chi Minh City's authorities have implemented out support programmes for enterprises and key industrial products in a bid to further promote its industrial development in the next five years.
Accordingly, the municipal authorities will enhance trade promotions and market development activities both at home and abroad in order to provide information and introduce industrial products to businesses and investors.
Local industrial enterprises will be provided with funds to conduct market surveys and join domestic and foreign trade fairs.
Attention will be paid to developing human resources for key industries, including building and implementing training programmes for technicians, and researching and supporting technical development for rubber and plastic industries.
Measures to stimulate investment such as introducing investment incentives, supporting production and make it easier for local businesses to access capital sources, will be also implemented.
At the same time, the local authorities will also focus on reviewing and prioritizing the arrangement of land plots in industrial parks for rubber and plastic projects.
A centre for research, development and manufacturing of hi-tech molds and high precision molds to meet domestic and export demand, will be established.
Additionally, a "Made by Vietnam" programmme will be carried out to support mechanical and automation businesses and products.
With these efforts, the local authorities expect to increase key industrial sectors' contributions to the city's gross regional domestic product (GRDP), and attract more capital flows from economic sectors at home and abroad.
The city aims to quickly and effectively develop food and foodstuff processing, and mechanical industries./.
Japan grants GI certification to Vietnamese lychee
The Japanese Ministry of Agriculture, Forestry and Fisheries (MAFF) has granted geographical indication (GI) certification to Luc Ngan lychee that originates from Bac Giang, a northern Vietnamese province, according to the Bac Giang Department of Science and Technology.
Luc Ngan lychee represents the first Vietnamese product to be granted geographical indication certification in Japan.
The product had previously successfully protected its trademark in China, the Republic of Korea, Singapore, Australia, Laos, and Cambodia. It is currently consumed in several countries globally.
The issuance of geographical indication certification looks set to create favourable conditions in which Luc Ngan lychee can start to make inroads into the Japanese market, along with others worldwide.
At present, Luc Ngan district is home to more than 15,000 hectares of lychee, mostly in Hong Giang, Tan Son, Quy Son, and Giap Son communes. In addition, several lychee growing areas fall in line with Global Good Agricultural Practices (GlobalGAP) and Vietnamese Good Agricultural Practices (VietGAP) to produce high-quality organic products that meet the various needs of domestic consumption and export.
The year ahead will continue to see Bac Giang direct the production of 19 codes of growing areas that were granted by Japan last year, while also increasing the total cultivation lychee area to the Japanese market to approximately 130 hectares.
Currently, the Plant Protection Department under the Ministry of Agriculture and Rural Development is in the process of evaluating and appraising the production procedures in order to grant area codes for lychees in the near future.
Vietrade, Alibaba.com partner to help firms with online export
The Vietnam Trade Promotion Agency (Vietrade) and Alibaba.com, the global business-to-business (B2B) e-commerce platform of the Alibaba Group, signed a memorandum of understanding (MoU) on supporting Vietnamese firms to boost online export and organised an international e-commerce conference in Hanoi on March 16.
Under the MoU, Alibaba.com pledged to provide technical assistance in digital transformation for trade promotion organisations and small- and medium-sized enterprises (SMEs) of Vietnam.
Meanwhile, Vietrade, an agency under the Ministry of Industry and Trade (MoIT), is committed to working with Alibaba.com to improve the digital transformation and e-commerce capacity of the targeted groups. They are set to continue organising a series of capacity building events to benefit more than 1,200 businesses nationwide in the next three years.
Besides, long-term cooperation plans related to digital transformation, business brand and product trademark building, awareness improvement, and advice provision for firms to operate on Alibaba.com will also be made and implemented concertedly.
Addressing the e-commerce conference - the first big event of Alibaba.com in Vietnam, Deputy Minister of Industry and Trade Do Thang Hai said e-commerce in Vietnam grew 18 percent in 2020 to reach 11.8 billion USD. Though the expansion was slower than forecast, Vietnam was still the only Southeast Asian nation to post a double-digit growth rate in e-commerce.
As the COVID-19 pandemic has seriously hampered global trading and supply chains, the MoIT has directed Vietrade to adjust many activities to the reality, including stepping up online trade promotion to help enterprises fuel export.
Hai held that Alibaba.com, one of the world's leading e-commerce platforms, is a potential market for Vietnamese businesses to boost sales to customers around the world.
Therefore, cooperating with such big partners as Alibaba.com to carry out trade promotion and export supporting solutions will bring about more chances for local firms to expand in foreign markets, he said.
The official added the MoIT welcomed Alibaba.com's decision to set up an office with Vietnamese staff in the country, which, he said, reflects the company's strong and long-term commitment here.
Zhang Kuo, General Manager of Alibaba.com, said the firm has continually developed partnerships with associations, business partners, and banks with a view to helping SMEs of Vietnam improve their digital capacity and operating, customer managing and order fulfilling skills.
Via the cooperation with partners in Vietnam and the world, Alibaba.com looks to achieve over 100 billion USD in gross merchandise value by 2024, assist more than 10 million SMEs around the globe, and have over 10,000 suppliers from Vietnam involved in B2B e-commerce activities on Alibaba.com.
With the commitment to supporting 10,000 SMEs of Vietnam in five years and promoting digital transformation, Alibaba.com will keep cooperating closely with local authorities to provide suitable and effective online services and solutions, he added./.
EC reviews possible extension of steel safeguard measure
The European Commission (EC) has announced the possible extension of safeguard measures applicable to imports of certain steel products, including some from Vietnam, according to the Trade Remedies Authority of Vietnam under the Ministry of Industry and Trade.
Earlier, on February 1, 2019, the EC imposed a definitive safeguard measure on certain steel products. The measure currently in force consists of a tariff rate quota, based on historical imports, applicable to 26 product categories. Where the relevant tariff-rate quota is exhausted, an additional duty of 25 percent is levied.
The safeguard measure was imposed for an initial period of three years, until June 30, 2021.
According to the EC's notice, it received a substantiated request by a number of member states to examine whether the current safeguard measure should be extended.
The request contains evidence suggesting that the safeguard measure continue to be necessary to prevent or remedy serious injury. The request argues that the risk of trade diversion continues and if the measure was lifted, the industry would face a flood of imports that would have a very negative impact on its economic performance.
Accordingly, the investigation will focus on its assessment, notably, on whether the safeguard measure continues to be necessary to prevent or remedy serious injury, whether there is evidence that union producers are adjusting and whether a prolongation would be in the union's interest. The investigation will also determine the appropriate duration of the extension (if any).
A determination was expected to be made by June 30 at the latest.
According to the Trade Remedies Authority of Vietnam, among Vietnam's steel products exported to the EU, four product categories are currently subject to the safeguard measure in the form of a tariff rate quota, including non-alloy and other alloy cold rolled sheets, organic coated sheets, stainless cold rolled sheets and strips and seamless tubes.
The Trade Remedies Authority of Vietnam urged relevant industry associations and manufacturers to make submissions to the EU as requested, adding that close watch would be kept on the investigation to provide updates and raise actions to protect the legitimate rights of Vietnam's steel industry.
According to the Vietnam Steel Association, Vietnam's steel export to the EU accounted for just around four percent of Vietnam's total steel exports in recent years.
Customs statistics showed that Vietnam exported 9.86 million tonnes of steel in 2020, worth around 5.26 billion USD./.
Vietnam, Germany bolster economic cooperation
A virtual conference on economic cooperation between Vietnam and Germany was held on March 15 under the sponsorship of Leipzig city, the Vietnamese Embassy in Germany, InvestRegion Leipzig and Deutsch-Vietnamesisches Haus e.V.
Speaking before an audience of over 120 participants, Vietnamese Ambassador Nguyen Minh Vu highlighted Vietnam's outstanding socio-economic development achievements in the past time, stating the Southeast Asian country has become a favourite destination for foreign investment shifting in the context of COVID-19 and fierce trade competition.
Besides abundant human resources and favourable mechanisms, Vietnam has high trade openness since it has joined a wide range of large free trade agreements such as EU-Vietnam Free Trade Agreement and Regional Comprehensive Economic Partnership (RCEP), and this will create favourable conditions for German firms to purchase Vietnamese goods and export their products to ASEAN member states as well as RCEP members like China, Japan, the Republic of Korea, Australia and New Zealand.
Speaking highly of the sweeping changes in Leipzig city, the Vietnamese diplomat said suitable socio-economic strategies have helped the city become an economic pillar of the central Germany.
With well-developed industry, infrastructure and science-technology, Leipzig is an ideal incubator for startups, he added.
He expressed his belief that the conference would offer opportunities for businesses of both sides to build practical cooperation for mutual benefits.
Meanwhile, Mayor of Leipzig city Burkhard Jung said he rejoiced at the sound relations between Leipzig and Ho Chi Minh City and Vietnam as a whole in recent years, hoping the EVFTA will strengthen the ties between the two sides.
Leipzig is the first Germany's city to open a representative office in Vietnam. It has a wide range of cooperative activities across economic, cultural and social aspects with Vietnam, and is housing a 3,500-strong Vietnamese community.
A round-table discussion was held within the conference, highlighting several issues that investors of both sides were interested in.
Last year, Vietnam became the largest trade partner of Germany in ASEAN and fifth largest in Asia. Meanwhile, Germany was the biggest trade partner of Vietnam in the EU, with two-way trade topping over 13 billion EUR (15.46 billion USD)./.
Ca Mau Gas-Power-Fertilizer Complex marks 10th anniversary
The Ca Mau Gas-Power-Fertilizer Complex, invested by the PetroVietnam Camau Fertilizer Joint Stock Company (PVCFC) has recorded strong growth over the past decade and become the leading fertilizer production hub of the country, heard a ceremony on March 16 to mark the 10th anniversary of the PVCFC.
Last year, the firm reeled in nearly 717 billion VND (30.95 million USD) in pre-tax profit, surpassing its target by 41 percent and representing a rise of 56 percent year on year.
For 10 years to February this year, the Ca Mau Gas-Power-Fertilizer Complex had earned nearly 245 trillion VND, and paid 16.5 trillion VND to the State budget, becoming the largest source of budget collection of Ca Mau.
So far, the PVCFC has generated nearly 57 trillion VND in revenue, with pre-tax profit of 6 trillion VND. It has exported 1.02 million tonnes of urea among total production of 7.31 million tonnes.
Addressing the ceremony, Chairman of the People's Committee of Ca Mau province Le Quan expressed his hope that the PVCFC will continue expanding its projects in Ca Mau, and turn the Ca Mau Gas-Power-Fertilizer complex into a major hub of the oil and gas industry.
Meanwhile, General Director of PVCFC Van Tien Thanh committed that along with the expansion of production and business, the firm will continue to engage in charity and social welfare activities in the locality, completing its tasks and contributing to promoting agricultural sustainability./.
Listed banks to pay high dividends
Some listed banks plan to pay surprisingly high dividend rates this year.
Bank for Investment and Development of Viet Nam (BID) plans to issue 207.3 million shares to pay 2019's dividend at the rate of 5.2 per cent.
It will also issue another 281.5 million shares to pay 2020's dividend at a rate of 7 per cent. The issuance time is scheduled for Q3 and Q4 this year, BID announced during its shareholders' meeting held last Friday.
Earlier this year, the bank used more than VND3.2 trillion (US$138.7 million) to pay dividend in cash at a rate of 8 per cent. The payout was made in early February.
Viet Nam Maritime Commercial Joint Stock Bank (MSB) plans to increase its charter capital from VND11.75 trillion to VND15.28 trillion via issuing shares to pay dividends.
This bank is expected to issue 352.5 million shares to pay dividends in 2020, equivalent to a maximum rate of 30 per cent.
MSB also said that it plans to pay 2021's dividend in 2022 at a minimum rate of 15 per cent.
Early this year, Viet Nam's Orient Commercial Joint Stock Bank (OCB) announced that it would pay 2020's dividend in shares at a rate of 25 per cent in order to increase charter capital.
Two large State-owned banks, Vietcombank (VCB) and VietinBank (CTG), may also pay dividends in shares this year after Decree 121/2020/ND-CP is amended, allowing State-owned joint stock banks to pay dividends in shares.
At the end of 2020, VietinBank consulted shareholders and approved a plan to increase its charter capital to nearly VND48 trillion through the issuance of more than 1 billion shares to pay dividends, at a rate of nearly 28.8 per cent.
Vietcombank paid cash dividend at a rate of 8 per cent in January 2021. This bank will submit to shareholders the plan to increase charter capital in 2021-2022, most likely to pay dividends in shares.
Shareholders of Saigon Hanoi Commercial Joint Stock Bank (SHB) plan to pay 2019's dividend at a rate of 10 per cent.
It has also submitted to shareholders the plan to pay 2020's dividend at a rate of 10.5 per cent. Thus, SHB shareholders can receive dividend at a rate of up to 20.5 per cent this year.
After completing the dividend payment, SHB's chartered capital will increase to nearly VND21.3 trillion, equivalent to an increase of 21 per cent compared to the current charter capital.
Raising charter capital is within SHB's development roadmap with the aim of improving financial capacity, investing in modern information technology systems and improving safety ratios according to Basel II standards.
SHB has managed to pay dividends regularly over the years, especially in the period when the bank had to put all its resources to handle the backlog of the merger with Habubank.
In the 2013-2016 period, the bank paid dividend at 7-8 per cent. For the 2017-2020 period, the rate was 10 per cent or more. In 2017 and 2018, it paid a dividend rate of 20.9 per cent. As for 2019 and 2020, it plans to pay dividend at a rate of 20.5 per cent, with payout to be conducted in 2021.
SHB targets profit this year to rise more than 70 per cent to reach VND5.8 trillion.
Banks often prioritise paying dividends in shares in recent years in order to supplement charter capital and serve business activities. Shares of banks have risen strongly in the past few years, making dividend payments in shares more favourable.
Due to the impact of the COVID-19 pandemic, the State Bank has asked commercial banks not to pay dividends in cash to reduce costs and to reserve money to support people and businesses affected by the crisis.
Electronics leads HCM City industrial revival
Electronics production in HCM City increased sharply in the first two months of the year thanks to efforts to stabilise export markets and foster manufacturing, according to the city Department of Industry and Trade.
Nguyen Thi Xuan Thuy, deputy director of the Industry Development Assistance Centre, said: "COVID-19 hit companies hard, especially in the electronics industry. They had to cut their payroll. So they tried to find new markets and new materials to cope up with the raw material shortage."
The industry's 32.4 percent growth helped increase growth for the city's four key industries by 7.8 percent, 1.8 percentage points up year-on-year.
The other three industries are estimated to have grown more modestly: pharmaceutical chemicals, rubber and plastic industry by 2 percent, food and beverages by 3.6 percent and the mechanical industry by 5.1 percent./.
Covid-19 pushes service providers to adapt, go digital
Switching to online delivery, expanding digital coverage and letting go of their once bustling and impressive but costly estates helped chain businesses in Ho Chi Minh City thrive amidst Covid-19 lockdowns.
Chairman of the Board of Directors at the domestically well-known Lua Viet Tourist Company, Nguyen Van My, has been delivering online orders by moped since August 2020.
"I'm not necessarily doing this because I'm broke; the company is still there", he laughed, adding that this was just one of his many endeavors besides starting his own side business. "It's also my way of demonstrating adaptability and perseverance to staff members during the new normal".
Lua Viet Tourist Company owns 7 branches but most of them are now closed since traveling is limited in many regions. "A big front-facing office would only matter to companies that want to uphold a certain image. I believe tourism, like many other fields, can even function from an apartment in a small alleyway", My continued.
Meanwhile, the Monkey In Black coffee chain which served as popular gathering venues for the youth across HCMC has been promoting their brand through existing delivery apps.
"We raised online sales by 300 percent in 6 months through platforms like GrabFood and Baemin", said the owner Tran Thanh Tung. He had shut down all the chain's locations but one to minimize overheads.
"Prioritizing take-aways might have been our biggest takeaway from this pandemic", commented the manager of a sushi place whose dwindling business was saved by "going digital" – promoting online sales, cutting overheads, and expanding the menu to other dishes besides sushi.
Thanks to great disease control and signs of economic recovery, Vietnamese people are now eager to travel again, prompting hospitality and food and beverage providers to make their moves. Advertisements and promotions for fast, affordable delivery from these services can be seen all over mobile apps and social media, displaying the inevitable trend for retails in the near future.
Debate over amendment of Circular 01
 In January 2021, the State Bank of Vietnam submitted a draft amendment to the Ministry of Finance for some changes to Circular 01/2020, asking credit institutions to restructure the time limit for debt payment, exemption, reducing of interest and fees, and keeping the debt group intact to support customers affected by the Covid-19 pandemic.  
The State Bank of Vietnam also proposed to extend the time to make provisions for commercial banks to follow the planned roadmap ending in 2024, which will help to reduce the pressure to increase provision costs and give banks time to handle bad debts.
In fact, the request to amend Circular 01 was done in May last year. However, until the beginning of this year, the State Bank of Vietnam had not made a clear move. It is possible that after the follow-up period, there were seen potential difficulties if there was no supportive solution.
For example, from the State Bank of Vietnam data, the ratio of bad debts and risk assets increased from 3% at the end of 2019 to 4.5% in the third quarter of 2020. By the end of 2020, 25 banks had announced bad debt data with a total debt of nearly VND 87,135 bn, up 4.31% compared to the beginning of the year. Of which, 17 banks had an average increase of 15% to 45% compared to the beginning of the year. This amount of bad debt was not included as potential bad debt in debts that are kept intact, rescheduling the repayment period to support customers affected by the Covid-19 pandemic, with a structured loan balance of nearly VND 335,000 bn.
However, bad debts are growing day by day, but Circular 01 allows bad debts and potential bad debts to be kept intact, and be covered up to become normal debts. In a way, banks are allowed to sweep them under the rug. In fact, when applying Circular 01, the pressure on banks decreased. The rescheduling of the debt repayment term, keeping the debt group, means that banks only need to set up general risk provisions for restructured debts at 0.75%. Thus, banks reduce the cost of setting up, and retain a portion of the reasonable profit that must be deducted from the cost of risk provision.
The fact that Circular 01 requires banks to conditionally implement business support programs has made data on restructured debts likely to become bad debts that are not specifically disclosed, pushing the pressure to deal with debts in the future.
Banks naturally agree with the provisions of rescheduling of debt structure in the draft amendment of Circular 01. According to some calculations, for every 1% of additional bad debt, the Capital Adequacy Ratio (CAR) will decrease by 40 to 80 basis points. Thus, if the debt structure is not continued, keeping the debt group intact will affect the banks' capital sources. Many economists have pointed out the dangerous point of bad debt from Circular 01, which is that if banks do not closely monitor, State Bank inspectors will not closely control bad debts of banks, and banks will easily fall into a condition of heavy damage due to bad debt. This is the risk for each bank and for the whole banking system.
Up until now, after nearly one year, the actual bad debt data of debts affected by the Covid-19 pandemic are still unknown, after the banking industry applied Circular 01. Thus, these debts have not been fully recognized and appropriated. While for the banking industry, forecasting the risk of increasing bad debts is extremely necessary. Therefore, a majority of opinions agreed to prolong the time to make provisions for banks according to the roadmap ending in 2024, helping the banking system to have conditions to both handle the bad debt problem but still perform the task of supporting the economy.
In contrast, the regulations to maintain the debt group and restructure the debts did not receive a high consensus. There are currently proposals that the banking industry needs to change the real debt group for restructured debts. Thus, although the current bad debt levels of banks are likely to worsen, the level of bad debts will be clearer, so that each bank will be able to find own solution.
Vietnam's fishery exports aim to be among world's top three by 2045
Vietnam has set the target of becoming one of the world's three leading fishery exporting countries by 2045, according to the Vietnam's Fishery Development Strategy until 2030, with a vision to 2045, as recently approved by the Prime Minister.
Under the Strategy, fishery production value is expected to grow by 3-4% per year by 2030. Vietnam is also striving to achieve total fishery output of 9.8 million tonnes and export revenue of US$14-US$16 billion per year.
The sector is anticipated to create jobs for more than 3.5 million people with average income equivalent to that of workers in other sectors.
Vietnam also aims to develop coastal fishing villages into communities imbued with their own cultural identity aligned with building new-style rural areas.
By 2045, the fishery sector is expected to become a modern and sustainable commercial economy with advanced management and technology capacity which will hold an important role in the national agricultural and marine economy.
Vietnam will look towards appropriate allocation of fishing quotas while reducing and eventually terminating fishing professions that invade or cause destruction to aquatic resources.
HCMC making efforts to revive Covid-19 hit tourism
At a meeting with leaders of HCMC People's Committee yesterday, businesses and agencies put forward many solutions to revive the tourism industry of the city which has been hard hit by the Covid-19 pandemic.   
Presiding a meeting between a mission team from the municipal People's Committee with the Department of Tourism upon the city's socio-economic development and budget revenue yesterday, Deputy Chairwoman of the People's Committee Phan Thi Thang listened to integrated solutions presented by leaders of enterprises and departments to breathe new life into the tourism sector.
According to Director of the Department of Industry and Trade Bui Ta Hoang Vu, the city should have a strategic plan for smart tourism. The Department has been launching two big promotion programs to encourage visitors to spend more as well as open more facilities for tourists' value-added tax refund.
Director Vu petitioned to connect localities and localities adding that HCMC authorities should have financial supports for small and medium enterprises to prop up them through present difficulties.
At the meeting, the Department of Transport informed that this year, there will be high-speed vessels from HCMC to Con Dao Island in the Southern Province of Ba Ria - Vung Tau.
Deputy director of Saigontourist Group Nguyen Dong Hoa said Saigontourist  understood that international visitors would not arrive in Vietnam this year amid Covid-19 spread; hence, it switched to taking care of domestic travelers. He petitioned for assistance for travel companies as it is forecast that 2021 will be a difficult year for the tourism sector as the Covid-19 pandemic has brought the travel industry to its knees.
Deputy Chairman of HCMC Tourism Association Lai Minh Duy said that holiday-makers in the Northern and Central regions are interested in sightseeing tours in the southern metropolis; accordingly, the city should pay attention to opening more tourist destinations to lure more visitors to the city. He thought cooperation between the Department of Industry and Trade and the Department of Tourism is needed to launch promotion programs.
Mr. Duy recalled prior periods during the SARS outbreak in 2003 and highly pathogenic avian influenza virus H5N1 in poultry. At that time, VAT was reduced to zero percent to encourage travel and consumption.
Similarly, at the moment, travel operators also need such supports to overcome difficulties.
The Department of Tourism's primary statistics shows that as of the middle of March, 2021, roughly 90 percent of small and medium inbound tour operators temporarily stopped their operation.
Meanwhile 10 percent and 40 percent of tour guides for international tours and domestic tours respectively still work in the sector. Freelance tour guides have been struggling to find ways to support their family; many of them started selling commodities online, insurance and property.
Director of the Department of Tourism Nguyen Thi Anh Hoa said that there should be measures to build a more resilient tourism economy including tax exemption and reduction as well as assist travel agents to access to preferential loans and lower interest rates.
VNG announces $6 million investment in Got It
VNG Corporation (VNG) has just announced its strategic investment of US$6 million in Got It, a premium digital gifting, loyalty and rewards voucher platform in Viet Nam.
While Got It has a proven track record for delivering quality products and possesses a strong vision and capability for growth in the local market, VNG's investment in the firm would open up enormous possibilities, not only in voucher technology but also in Artificial Intelligence and P2P (Person to Person) gifting in Viet Nam, according to VNG.
Established in 2015, Got It has built a reputation of trust and quality through developing a premium digital loyalty, rewards and gifting platform. With a client portfolio nearing 500 of the largest multinational and national companies across Viet Nam, it was also the only Vietnamese representative and recent winner of Startup-O's Asia All Stars Competition.
Established in 2014, VNG is the local leading tech firm with a diverse ecosystem of products serving the needs of 100 million customers in Viet Nam and many countries around the world.
From the deal, Got It and VNG are working to launch a fun, premium instant person to person (P2P) gifting solution. The Got It premium voucher offers instant choice at over 160 famous brands, spanning over 12,000 locations nationwide.
Along with matching values of people, innovation and integrity, Got It was expected to bring new opportunities for VNG to expand existing gifting services, Business to Business channels and Merchant networks, especially for its Zalo and ZaloPay users. VNG always seeks investments that bring users even more enjoyment and benefits and Got It is a perfect fit for this strategy.
Le Hong Minh, co-founder and CEO of VNG said: "After 17 years working in the Vietnamese technology industry, we increasingly feel that our mission is not only to focus on developing VNG ourselves but also to help other start-ups grow and thrive, establishing an ecosystem of Viet Nam technology companies. Since mid-2020, VNG has been pushing our strategy of finding potential start-ups for long-term investment and companionship."
At the same time, Bruce Moulin, Co-Founder and CEO of Got It, said: "It has been our goal to partner with VNG since we first launched Got It back in 2015. Our new partnership allows Got It access to exciting new technologies and many of the sharpest tech minds in the country."
Electronics lead HCM City industrial revival
Electronics production in HCM City increased sharply in the first two months of the year thanks to efforts to stabilise export markets and foster manufacturing, according to the city Department of Industry and Trade.
Nguyen Thi Xuan Thuy, deputy director of the Industry Development Assistance Centre, said: "COVID-19 hit companies hard, especially in the electronics industry. They had to cut their payroll. So they tried to find new markets and new materials to cope up with the raw material shortage."
The industry's 32.4 per cent growth helped increase growth for the city's four key industries by 7.8 per cent, 1.8 percentage points up year-on-year.
The other three industries are estimated to have grown more modestly: pharmaceutical chemicals, rubber and plastic industry by 2 per cent, food and beverages by 3.6 per cent and the mechanical industry by 5.1 per cent. 
Tuna fish catches continue to fall
After a 20-day trip to sea during Tet (Lunar New Year), most fishing boats in Khanh Hoa Province caught 15 units of tuna fish on average, down by almost half from a year earlier.
Some only managed five-seven units.
Tran Be, a boat captain, said he was lucky enough to break even after catching 26 units, or almost one tonne.
The trips last 18-28 days and cost an average of VND100-150 million (US$4,333-6,500) per boat, meaning 20-30 units of the fish need to be caught to break even.
As a result, only two or three out of 10 trips are profitable despite a surge in tuna prices.
Overexploitation, especially the catching of juvenile fish, has caused a decrease in fishing stocks, according to Vu Van Dap, chairman of the Viet Nam Tuna Association.
The country's tuna output had declined by 5 per cent last year to 17,000 tonnes.
Nguyen Thi Thu Thanh, director of Ben Vung Seafood Co, Ltd, said companies face a shortage of tuna for processing due to a strong fall in catches, and have no choice but to buy though the price of the fish has surged to US$5 per kilogramme from $3.5 last November.
Amid the pandemic, export orders from the US helped companies maintain production.
The shrinking tuna output has seen authorities restructure exploitation activities and improve product quality to get better prices.
Deputy Minister of Agriculture and Rural Development Phung Duc Tien said to sustainably develop the tuna sector, it is important to regulate the number of fishing boats and catch up with other countries in terms of technology instead of focusing too much on quantity. 
Ba Ria-Vung Tau to develop three new industrial zones
Southern Ba Ria-Vung Tau province is planning to develop three new industrial zones measuring 2,793ha in 2021-25.
Phu My will be 650ha, Dat Do will be 1,000ha and Xuyen Moc will be 1,143ha.
According to the Ba Ria-Vung Tau Management Board of Industrial Zones, they are being developed since there is much demand from foreign investors for leasing industrial land.
The three will take the number of IZs in the province to 17 with 9,000ha.
Investors from 28 countries and territories have invested in Ba Ria-Vung Tau, with Japan being the leader followed by the Republic of Korea and Singapore./.
Southern province speeds up work on roads to Cai Mep-Thi Vai port complex
The Ba Ria – Vung Tau People's Committee has told agencies to speed up work on crucial transport projects to facilitate connections to the Cai Mep-Thi Vai port complex in the province's Phu My Town.
The 9.7-km 991B Road from National Highway 51 downstream to the Cai Mep Port is one of the projects.
The 991B Road, with investment capital of 3.95 trillion VND (170.6 million USD) from provincial and central State budgets, is a major traffic route facilitating the transport of cargo to and from the Cai Mep-Thi Vai port complex. Road 991B is scheduled to be put into operation in 2024.
Another project, the Phuoc Hoa – Cai Mep road with a length of 4.4 km, is among the key road projects that will improve goods transport to the complex.
The project, with investment capital of 954 billion VND (41.1 million USD) funded from the provincial State budget, connects National Highway 51 with the inter-port road at the Cai Mep-Thi Vai port complex. It is scheduled to be completed this year.
The committee has also said that site clearance must be completed by the second quarter this year to pave way for construction of My Xuan – Thi Vai and Long Son – Cai Mep roads.
The 2.6-km My Xuan – Thi Vai road project, with investment capital of 407 billion VND (17.5 million USD) from the provincial State budget, is scheduled to be completed by 2023, and the 3.7-km Long Son – Cai Mep road project by 2025.
The Phuoc An bridge project, with investment capital of 4.8 trillion VND (207.2 million USD), is also among the key transport projects. The bridge crossing the Thi Vai River connects the inter-port road at the Cai Mep-Thi Vai port complex with a road leading to Phuoc An Port in Dong Nai province.
The final design for the bridge will be selected by the end of the first quarter this year.
Last year, the Cai Mep – Thi Vai port complex handled cargo amounting to 112.8 million tonnes, according to the provincial People's Committee.
In January the first phase of the Gemalink international port was completed and opened at Cai Mep-Thi Vai, with an annual capacity of 1.5 million twenty-foot equivalent unit (TEU) in the first phase, raising the port's annual capacity to 8.3 million TEUs.
Ba Ria – Vung Tau province aims to develop the port complex into an export and import gateway for the southern key economic region./.
Mekong district produces high-quality sweet potatoes for export
Dong Thap province's Chau Thanh district has expanded the cultivation of high-quality sweet potatoes for export and will develop processed sweet-potato products that meet the standards of the country's 'one commune – one product' (OCOP) programme.
The Mekong Delta district, which is the province's largest sweet potato producer, has developed cultivation models under good agricultural practice (GAP) standards.
In June last year, the district's Agriculture Service Centre launched a model to reduce production costs for 42 farmers in Tan Phu Commune. The farmers, who grew a total of 50ha of sweet potato, were instructed in proper techniques that help to reduce the use of input materials and increase yield and quality.
Phan Thanh Phương, one of the farmers in Tan Phu's Tan Thuan Hamlet, said the production cost of seeds, fertiliser and labour was about 22 million VND (950 USD) per hectare a crop, down 10 – 20 percent compared to traditional farming methods.
He was provided part of the production cost to buy high quality seeds and organic fertiliser, and prepare soil for sweet potato cultivation. He was also instructed in VietGAP techniques.
Phan Phi Hoang, a farmer in the same hamlet, said in the last sweet potato crop, the centre provided financial support to reduce production costs.
"After participating in the model, I know how to use organic fertiliser and apply biosafety," he said.
The centre's training courses on advanced techniques have helped farmers change outdated habits and switch to VietGAP farming techniques.
Trained farmers apply biosafety when choosing quality seeds, preparing land for cultivation, and preventing and controlling pests.
Chau Thanh has more than 3,400ha of sweet potato, accounting for 98 percent of the province's total sweet potato area, according to the province's Department of Agriculture and Rural Development.
Farmers in Chau Thanh plant various sweet potato varieties, with Japanese purple-flesh sweet potato variety accounting for more than 98 percent of the district's total area.
The district has established two co-operatives, two co-operative groups and two farmer clubhouses for growing and trading sweet potatoes. Participating farmers exchange information about production and markets. They are also provided advanced farming techniques that help increase quality and yield.
These groups have helped their members secure outlets through contracts.
Sweet potatoes in the district are mostly sold fresh and exported to Cambodia and China.
The district plans to manufacture high-quality sweet potato products that will be identified as OCOP products.
Huynh Thanh Hiep, director of the Nam Huy Dong Thap Co. Ltd in the district's Hoa Tan Commune, said his company and others are buying sweet potatoes in the district to manufacture dried sweet-potato products.
His company and others are producing high-quality sweet potato products to meet standards in the OCOP program. Besides dried sweet-potato products, sweet potatoes are also used to produce cakes, jam and other products.
Previously, the district's sweet potatoes were planted to sell fresh to consumers.
Sweet potato is one of five key products in the district's agriculture restructuring plan.
Vo Dinh Trọng, head of the district Bureau of Agriculture and Rural Development, said the district would develop value chains for sweet potato cultivation.
The district would also tighten the management of producing and trading sweet potato seed and build a collective brand name for the district's sweet potatoes, he said./.
SAV to promote experience sharing, training among State Audit Institutes
The State Audit Office of Vietnam (SAV) will continue promoting the sharing of experience and training among State Audit Institutes (SAIs), which is the top priority of the Asian Organisation of Supreme Audit Institutions (ASOSAI), during its final year as ASOSAI Chair in 2021, according to SAV Governor Ho Duc Phoc.
In an interview with the Vietnam News Agency, Phoc said the move aims to help SAIs make a timely response to constant changes in the public financial management environment.
The SAV is currently working with the ASOSAI's Capacity Development Committee (the Board of Audit of Japan) and its committees and working groups to share knowledge and good practice and bolster the role of the ASOSAI in supporting its members amid the COVID-19 pandemic, to build an organisation with professional and dynamic SAIs that are able to respond to challenges and emerging issues in the region and the world.
Regarding the audit of water resources in the Mekong River basin, Vietnam continued working with international experts to provide training and set up audit plans for SAIs in January-February. The SAIs will conduct independent audits in coordination with the SAV and with instructions from experts.
In the fourth quarter, the SAV will chair an international conference to share the results of the audit as well as good practice in environmental audits and the sustainable development goals (SDGs).
Due to the complex developments of the pandemic, the State Audit Office of Thailand has proposed holding the 15th ASOSAI Assembly online, with a theme of "ASOSAI and the new normal". The assembly will work on four aspects: strategic Government roles, the implementation of the SDGs, information technology (IT) application, and responding to emerging issues. These are the main pillars in the AOSAI's strategic plan for 2022-2027, which was prepared based on regional challenges and to meet the needs of ASOSAI members.
It will be a major challenge for the ASOSAI in general and the SAV in particular, as ASOSAI Chair for the 2018-2021 tenure, to ensure the success of the assembly. The SAV and other SAIs needs to make meticulous preparations for the event, both in content and technical infrastructure.
As ASOSAI Chair, the SAV has made significant contributions to its development. It has been acknowledged by regional and international SAIs and received major assistance from development partners to consolidate management skills and capacity, helping to build the ASOSAI into a professional and modern supreme audit organisation.
The SAV has developed auditing in certain new fields, including IT audits, environmental audits and natural resources audits, and build-operate-transfer (BOT) and build-transfer (BT) project audits, as well as audits on a number of major areas regarding land, education, and healthcare. It has made unceasing efforts to improve auditing capacity and efficiency through gaining experience from SAIs that have advanced skills in the audit of new areas.
It has seen breakthroughs in emerging fields over recent years and posted impressive achievements in environmental audits, management audits, and land and natural resource use audits.
Along with promoting the application of IT in its management and professional endeavours, the SAV has also installed new technologies to better conduct its activities.
Aware of the role technology plays in the sector's activities, the SAV has studied and integrated new technologies that yield fruitful results compared to traditional methods. It has access to advanced technologies pioneered by SAIs from the UK, Japan, and China, to improve professionalism and efficiency in auditing activities.
Applying IT in audits is a sustainable platform for the development of the SAV in the context of deep digital economic integration. The SAV has issued a strategy on developing its IT during 2019-2025 and vision to 2030, with a view to modernising its activities and enhancing advanced technologies in its operations, with focus sharpened on building its own digital infrastructure and deploying digital technologies, big data analytics, and artificial intelligence.
The ASOSAI was founded in 1979 and pursues a mission common among working groups of the International Organisations of Supreme Audit Institutions (INTOSAI), that "Professional supreme audit institutions promote good State governance", and with the core values of "Professionalism, Cooperation, Equality, Creativity".
Its goal is to promote mutual understanding and cooperation among member SAIs through the exchange of ideas and experience in public auditing, creating the conditions necessary for the training of State auditors to improve working quality and efficiency.
The SAV became a member in 1997. In its initial period of membership, it primarily sent auditors to attend training courses and workshops sponsored by the ASOSAI, to enhance professional capacity. Since 2010, the SAV has undertaken a more active role in the association's professional activities./.
Analysts call for easing gold policies, cite changed circumstances
With gold no longer being a speculative asset class or cash substitute, the Government should have a more reasonable policy for managing it, according to experts.
According to banking expert Dr Can Van Luc said gold cannot be considered speculative since the Government has put it under strict watch since 2014.
Domestic prices are usually VND5 million (US$216) per tael of 37.5gm higher than global prices, with the gap attributed to the limited supply of both jewellery and bars.
For many years the State Bank of Vietnam has not permitted the import of gold bars to produce jewellery and has a monopoly on bullion production and import-export.
So speculation has mostly died down.
He told Nguoi Lao Dong (The Labourer) newspaper: "However, in the long run authorities should have a solution to equalise domestic and international gold prices. Such a big difference can lead to speculation and smuggling of gold into the country."
According to economist Ngo Tri Long gold is no longer used to make payments like it used to be, and so if it is considered just a commodity, it is necessary to be globally connected, especially when Viet Nam is deeply integrating into the international market.
The country does not produce much gold, and so has to import, and authorities should soon ensure there is an increase in the supply for gold to bring down prices.
The Vietnam Gold Traders Association has petitioned the SBV to grant licences to businesses to produce and sell gold bullion.
On the afternoon of March 11 in HCM City, Saigon Jewelry Company bought gold at VND55.4 million ($2,390) per tael and sold it at VND55.8 million ($2,410).
Globally, the metal traded at $1,736 an ounce (or $2,091) per tael, making domestic prices by VND7 million per tael higher.
As pepper prices fall, experts urge farmers to go organic, join co-operatives
Pepper farmers in south-eastern provinces are being encouraged to switch to organic farming and join co-operative groups as more and more are struggling to earn a livelihood from the spice.
Pham Van Hai of Chau Duc District in Ba Ria-Vung Tau Province said until five years ago his family's two-odd hectares of pepper farm fetched hundreds of millions of dong every season.
But due to falling prices in recent years he has had to cut his farm to a third of its original size.
This year workers are especially hard to find since many have left for cities to work after Tet (Lunar New Year) holiday. This leads to higher costs for farmers as wages rise.
Quang Thanh Commune used to have the largest area under pepper in Chau Duc District at 890ha, but is now down to around 500ha as farmers have been switching to more profitable crops.
Ba Ria-Vung Tau has around 11,000ha under pepper, but the output has fallen by more than half this year.
Cam My District in Dong Nai Province, an important pepper growing area with nearly 7,000ha under the spice, is also seeing many farmers switch to other crops.
Truong Dinh Ba, chairman of the province's Lam San Commune Farmers Association, said pepper farmers are hesitant due to falling prices and those still growing are losing VND30,000 (US$1.29) per kilogramme.
Recently prices have been recovering, but according to Nguyen Nam Hai, chairman of the Viet Nam Pepper Association, demand remains modest and global prices have only increased slightly. The spike in domestic prices could be due to businesses speculating in the spice since output is down this year, he said.
Despite the difficulties, many farmers want to keep growing pepper, and have been changing their farming methods, focusing on organic rather than solely output, he said.
They are also working with the Lam San Co-operative to export their output, and so farmers in Lam San commune are not impacted heavily by the pandemic. Their entire output is bought by the co-operative at higher than market prices.
Ba said the province should expand this model.
Vo Van Phi, deputy chairman of the Dong Nai Province People's Committee, said the province has around 12,000ha under pepper, one of its key crops.
It would help the farmers by building supply chains for exports that meet VietGap standards and helping them overcome challenges and work towards sustainable farming, he added.
Lam Ngoc Nham, director of the Bau May Agriculutre - Commerce - Tourism JSC, said processing increases the value of pepper by more than 250 times.
Exports of the spice in the first two months of the year fell to 32,000 tonnes worth $93 million, a decrease of 0.9 per cent year-on-year. 
Southeastern tourism market remains stable
Tourism markets in the southeast region have remained dynamic thanks to appropriate changes to minimise losses amid the COVID-19 pandemic. Companies and local governments have focused on promoting domestic travel by creating new itineraries that include local attractions.
 
Tay Ninh province has worked with tourist companies by reducing electricity bills for accommodation, tourist procedure fees, and other services.
In  2020, Ba Den (Black Lady) Mountain (Tay Ninh) attracted 4.7 million guests, accounting for 87 percent compared to 2019.
Ba Ria - Vung Tau province welcomed 10.8 million guests in 2020, down 30 percent compared to 2019. The number of international tourists was 180,000, down by about 65 percent year on year.
In 2021, the southeast region plans to focus on linkage tours. Provinces will digitize tourism products and introduce local destinations via apps.
Revenue from national tourism in 2020 fell to 23 billion USD because of the pandemic and the number of international visitors dropped by 80 percent and domestic tourists by 50 percent./. 
Forum talks Viet Nam-Japan ties in sustainable energy development in GMS
A policy research forum was held in Ha Noi on Monday to look into the enhancement of Viet Nam-Japan co-operation for the sustainable energy development in the Greater Mekong Subregion (GMS) in the post-pandemic period.
The event looked at co-operation in energy development and issues affecting the building of sustainable energy policies in the GMS, while offering some policies to promote the two countries' co-operation and their contributions to sustainable energy development in the subregion.
Dr Tran Thi Hong Minh, Director of the Central Institute for Economic Management (CIEM), said the Vietnamese economy had been growing relatively fast, and economic growth would be an important target for the Party and Government in the coming decade.
That would lead to a huge demand for energy. To sustainably meet this need, the country was considering the development of different energy sources, without relying on fossil fuel or hydropower, she noted.
Viet Nam realised the importance of sustainable energy development in the GMS and frequently discussed this issue with other member countries, she said, highly valuing the participation and support from partners both inside and outside the subregion.
In recent years, ties among the GMS countries, comprising Myanmar, Laos, Thailand, Cambodia, Viet Nam, and China's Yunnan and Guangxi provinces, have increased substantially.
Together with the intensive integration in ASEAN and ASEAN Plus, the GMS nations have also issued many initiatives and boosted ties in numerous fields, from trade – investment to infrastructure development, energy, telecommunications, human resources development, and environmental protection, among which energy is an important area strongly linked with co-operation and development in other sectors, according to Minh.
She said that although the GMS countries were forecast to need more energy in the next decade, it would be hard for them to develop sustainably and effectively if their energy policies were built separately and inharmoniously.
They should enhance co-operation towards a sustainable and harmonious energy policy at the regional level, the CIEM director went on.
Fukunari Kimura from the Faculty of Economics at Japan's Keio University said the GMS was seen as the most successful subregion with fast economic growth and poverty reduction over the last three decades.
However, he noted, the development gap here remained wide, and sustainable development-related issues like water resources management and the environment had become urgent issues.
Nguyen Anh Duong, head of the CIEM Department for General Economic Issues and Integration Studies, pointed out the importance of ensuring energy security, noting that Viet Nam needs a more balanced energy structure, to facilitate the reasonable export and import of energy, and promote more substantive discussion on energy and sustainable development with other GMS nations.
At the forum, Minh said there remained much room for Japan to bolster energy co-operation with GMS countries, suggesting that besides taking part in suitable energy projects, Japan could also share experience in assessing projects' impacts and building plans and solutions to deal with risks.
With Japanese firms' increased presence in the GMS, a sustainable energy policy for this region would also benefit Japan, she added. 
Source: VNA/VNS/VOV/VIR/SGT/Nhan Dan/Hanoitimes