Animal feed prices rise sharply, farmers hit hard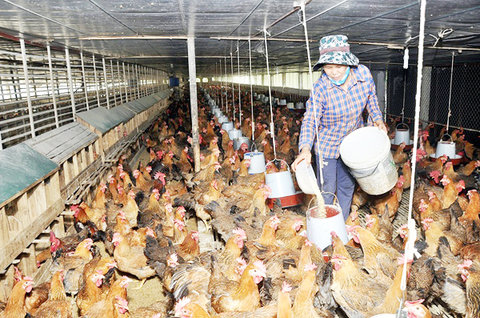 Poultry farmers have been hit hard by skyrocketing feed prices. 
 
 
 
The price of livestock fodder has risen by 15-30 per cent in the last five months because of higher prices of inputs, and many farmers are facing big losses as a result.
Tran Quang Trung, a pig farmer in Dong Nai Province's Thong Nhat District, said a 25kg bag of bran has increased from VND250,000 to VND290,000 (US$11-12.6) since October last year.
Prices of raw materials used for feed such as corn, rice bran, and fish flour are also continuing to rise.
But farmers cannot hike prices of poultry or cattle since they compete with cheap imported products.
In Dong Nai Province, the country's largest chicken producer, the price of chicken has fallen below production cost since feed prices have increased from VND20,000 per kilogramme to VND26,000, causing farmers an average loss of VND3,500 per kilogramme of meat.
Poultry and livestock farmers are suffering big losses, especially those with bank loans. Big farms that typically sell 10,000-20,000 chicken of Tam Hoang variety a day are losing VND30-40 million ($1300-1740) daily, according to the Dong Nai Animal Husbandry Association.
Pham Duc Binh, deputy chairman of the Viet Nam Animal Feed Association, said animal feed production is controlled by importers and foreign businesses, while all the maize used for the production of animal feed is imported.
Viet Nam only produces rice bran and cassava, and has failed to develop areas to grow feed inputs because of poor productivity, and the animal feed supply chain is not comprehensive, he added.
The dependence on imports, and the sharp increase in global prices of raw materials due to crop failures and China buying record quantities, means input prices have increased sharply.
The lack of empty containers, which are stuck in various ports around the world, to transport goods has increased the prices of imported raw materials further.
To minimise the monopoly of foreign enterprises and create competition, Binh said the State should plan raw material areas and offer preferential policies to domestic companies in terms of borrowing. 
Moody's changes Vietnam's outlook to positive
Moody's Investors Service (Moody's) has maintained the Government of Vietnam's long-term issuer and senior unsecured ratings at Ba3 and changed the outlook to positive from negative.
The drivers of the positive outlook include signs of improvements in fiscal strength and potential improvements in economic strength that may strengthen Vietnam's credit profile over time. Sustained fiscal consolidation has led to improvements in fiscal and debt metrics, which Moody's expects to be only briefly interrupted by the pandemic.
Moreover, Vietnam's economic strength may benefit from global shifts in production, trade and consumption following the coronavirus pandemic. Over time, indications of higher fiscal and economic strength may point to improving policy effectiveness, also putting upward pressure on Vietnam's credit profile.
The affirmation of the Ba3 rating is underpinned by ongoing credit strengths and weaknesses, including a large, diversified economy with high growth potential offering resilience to shocks, and increasing capacity in the domestic financial system to finance government borrowing at low costs.
Vietnam's local- and foreign-currency ceilings are unchanged at Baa3 and Ba2, respectively.
In its evaluation, Moody's also considered other factors such as the environment, society, air pollution, extreme weather conditions, which it held that Vietnam should give greater attention to.
Moody's raising of two positions in outlook prospect is an unprecedented move in its ranking globally since the start of the COVID-19 pandemic, which is a considerable recognition for Vietnam./.
Moody's upgrades unsecured ratings of 15 Vietnamese banks
Moody's Investors Service has affirmed the long-term local and foreign currency deposit ratings and senior unsecured ratings of 15 Vietnamese banks at Ba3 positive.
At the same time, Moody's also revised the outlook for the long-term local and foreign currency deposit and issuer ratings of  five banks to positive from negative, four banks to positive from stable and six banks to stable from negative.
The rating actions followed Moody's affirmation of Vietnam's Ba3 issuer rating and the change in the outlook to positive from negative. 
The 15 banks are An Binh Bank, ACB, HDBank, Vietcombank, BIDV, Lien Viet Post Bank, MB, OCB, SeABank, TPBank, Agribank, VIB, VietinBank, VPBank and Techcombank.
With the exception of An Binh Bank, the Baseline Credit Assessments (BCAs), adjusted BCAs, Counterparty Risk Assessments (CRA) and counterparty risk ratings (CRR) assigned to the banks stated above are unaffected by the rating actions.
It downgraded An Binh Bank's BCA and adjusted BCA to B2 from B1, while the long-term CRA and CRR have been downgraded to B1 and B1 from Ba3 and Ba3, respectively.
Vietnam's sovereign credit strength is a key input in Moody's assessment of the deposit and issuer ratings of Vietnamese banks, because the country's credit strength affects the government's capacity to provide support to the banks in times of stress.
Assuming all other factors remain constant, Moody's will likely upgrade the long-term ratings of the nine Vietnamese banks whose ratings are on a positive outlook if the Vietnamese government's rating is upgraded./.
Series of events to match woodworking businesses with foreign buyers
Business in the wood industry will have a chance to seek buyers and boost export during the Vietnam Furniture Matching Week 2021, scheduled to take place in Ho Chi Minh City from April 12 to 19.
The Handicraft and Wood Industry Association of HCM City (HAWA) said on March 17 that March and April are usually the peak order season, but the COVID-19 pandemic has forced cancellation of many face-to-face business matching activities since 2020.
To help domestic enterprises connect with international buyers, the association will organise the Vietnam Furniture Matching Week 2021 on the HAWA Online Platform for Exhibition (HOPE).
It noted that the week will feature a wide range of activities, a highlight of which is the Furniture Sourcing Day with the participation of more than 300 guests who are local manufacturers and representative offices of the world's major businesses to help form and enhance their long-term links.
The online exhibition and B2B matching event will introduce 100 Vietnamese producers with 10,000 products on the HOPE platform, via which HAWA will record buyers' demand and connect them with suitable manufacturers.
The organiser will also carry out a marketing campaign to access tens of thousands of global buyers via international communication partners like Furniture Today, Furniture News, Mobelmarkt, and Vietnam's overseas trade offices.
A series of webinars will also take place, providing in-depth analysis on Vietnam's main and potential markets such as the US, the UK, the Republic of Korea, Germany, and Canada, according to HAWA./.
Autotech & Accessories 2021 to be held both offline, online
The 17th Saigon International Autotech & Accessories Show (Autotech & Accessories 2021) is scheduled to take place in Ho Chi Minh City from May 20 to 23 with both offline and online activities.
The event, which will feature more than 300 booths, is organised by the Asia Trade Fair and Business Promotion JSC with the support of the Vietnam Chamber of Commerce and Industry (VCCI) and the Vietnam Association for Supporting Industry.
Organisers said as the COVID-19 pandemic has been affecting almost all aspects, including business matching and trade promotion activities, they decided to hold the Autotech & Accessories 2021 in both offline and online formats, which will concurrently help enhance cooperation among enterprises, prevent coronavirus transmission, and promote green practices towards sustainable development.
The online show will be held in three phases: from Mary 20 to 23 (at the same time with the offline one), from June 30 to July 2, and from October 27 to 31 at www.virtualautotech.com.vn and www.autotechonline.com.vn.
The virtual exhibition applies modern technologies to simulate businesses' factories, showrooms, and products and enable visitors to connect with exhibitors, according to organisers./.
Two more dairy firms licensed to export to China
The Chinese General Administration of Customs (GAC) has recently announced to grant transaction codes to two Vietnamese companies to ship dairy products to China, said the Ministry of Industry and Trade's Department of Asia-Africa Markets.
Accordingly, FrieslandCampina Hanam Company Limited was allowed to ship pasteurised and fermented milk to China, while FrieslandCampina Vietnam Company Limited could export pasteurised and fermented milk, sweetened condensed milk, and other dairy products to the Chinese market.
China has so far granted transaction codes to nine Vietnamese companies and plants. Others include TH True milk with sterilised and modified milk, Hanoimilk with fermented milk, Bel Vietnam with other cheeses, Nutifood with sterilised, modified and flavoured fermented milk, Vinamilk's three plants with condensed milk, flavoured fermented milk, sterilised and modified milk, sweetened condensed milk, and many other kinds of condensed milk products.
China is currently the biggest milk importer in the world./.
Vietnam ships 638,000 tonnes of rice abroad in Jan-Feb
Vietnam exported 638,000 tonnes of rice worth 352 million USD in the first two months of 2021, down 31.4 percent in volume and 18.3 percent in value year-on-year.
The average export price of rice in the period was 551.7 USD per tonne, up 13.5 percent compared to the same period last year.
The Philippines remains the largest importer of Vietnamese rice, with a 47.6 percent market share. Rice exports to this market reached nearly 170,000 tonnes valuing at 91.4 million USD in the period, increasing by 25.6 percent in volume and 48.9 percent in value.
Vietnam also witnessed significant export growths in others markets, including Ghana (up 3.13 times), China (up 2.8 times), and Australia (up 2.6 times).
The country exported 6.15 million tonnes of rice for 3.07 billion USD last year.
Amid the difficulties posed by the ongoing COVID-19 pandemic, rice exporters quickly made appropriate adjustments and actively sought new markets while fully tapping into the advantages brought about by free trade agreements (FTA) that Vietnam joined.
FTAs had created a major opportunity for Vietnamese rice to make inroads into choosy markets in the world./.
HCM City to focus on revival of businesses in 2021
Helping businesses revive production and trading is one of the important tasks that the Department of Industry and Trade of Ho Chi Minh City will focus on in 2021.
According to the Department of Industry and Trade, the city's index of industrial production (IIP) grew by 6 percent in the first two months of the year, despite a fall of 24.6 percent in February as business establishments closed for the Lunar New Year.
The recovery in industrial production, retail sales and import-export activities has been due to the Government's effective control of the COVID-19 pandemic and programmes to revive the economy, said Bui Ta Hoang Vu, the department's director.
The department has also implemented programmes to support enterprises, stimulate consumption, connect producers and distributors, stabilise the market, and ensure consumer demand is fully met, he said.
To ensure the revival continues, the department will organise more trade promotion programmes, make efforts to connect suppliers and distributors of goods and enhance supply chain linkages in supporting industries.
It will continue a programme that connects businesses with banks and enables them to get preferential loans.
It will recommend measures to support firms involved in the city's key industrial products in 2021-2025 and those whose products have won the HCM City Gold Brand Awards.
Implementing the annual market stabilisation programme and trade promotions to help businesses expand their share of the domestic market is also in the department's plans this year, as is working closely with business groups to promptly mitigate difficulties faced by their members.
This month the department organised a meeting between businesses and the city administration to discuss the former's problems and solutions.
It is implementing a programme to promote rapid growth of the city's key economic sectors that have high added-value, supporting industries and four key industrial sectors in 2021-2025.
The programme also seeks to help develop the city into the country and region's main shopping hub, and improve its services infrastructure to ensure it retains its position as the main centre for port operations, logistics and export services in the south.
It has urged the People's Committee to help expand a centre for displaying the city's major supporting industrial products so that small and medium-sized enterprises can introduce their products and production capacity to local and foreign partners.
It said the expansion of the centre would facilitate regular interaction between sellers and buyers of supporting industry products, making it easier for foreign investors to access the Vietnamese supply chain, helping promote the country's supporting industries.
It also urged the People's Committee to seek approval from the People's Council and pass regulations on loan interest support for the investment stimulus programme.
Businesses are very keen to participate in the city's investment stimulus programme, especially those in the supporting sectors, according to the department./.
Visa to expand digital platform for educating small business owners
Visa has announced plans to expand its global digital platform for delivering free education resources to small and micro businesses (SMBs).
Dang Tuyet Dung, the payment company's country manager for Vietnam and Laos, said: "SMBs are the backbone of our economy. It is crucial to empower SMB-owners with knowledge, skills, and access to services that support them in rebuilding or starting stronger, digitally enabled businesses."
The platform, Practical Business Skills, is available in English for Vietnamese SMBs to expand their global accessibility.
SMBs account for more than 90 percent of global businesses and 50-60 percent of jobs.
It is built on Visa's global expertise in financial education and offers growth-minded entrepreneurs tools to start, manage and expand a business.
With more than 50 online learning modules, it addresses the needs at various stages of a business' life cycle./.
Japan's food giant Meiji to establish subsidiary in Hanoi
Japanese food giant Meiji Co. will set up a wholly owned subsidiary in Hanoi on April 1 to ramp up sales in Vietnam of powdered infant formula milk imported from Japan.
Meiji Food Vietnam has a total capital of about 200 million JPY (1.8 million USD).
According to Meiji, Vietnam has about 1.5 million births a year, 70 percent more than in Japan, and the number is projected to keep growing.
However, the Japanese dairy and confectionery company will continue to ship formula from Japan for sale in Vietnam, with no plans to construct a local factory.
Southeast Asia is a potential market for Meiji. The food segment of parent Meiji Holdings posted sales of 6.4 billion JPY in the region in the 2019 fiscal year ended March 2020, up 12 percent from the previous year.
In Vietnam, Meiji's nutritionists have provided dietary advice to workers at Japanese-owned factories since 2018. The company also sells fortified milk for adults there. It aims to provide nutrition education to 650,000 people in Vietnam by 2030./.
Interest rates remain at lowest levels
Though some banks increased their deposit interest rates early this month, it is not a common trend and the rate currently is still at the lowest level it has been in many years.
With the liquidity of the banking system abundant and interest rates on the interbank market still at a low level, some banks unexpectedly increased their rates at the beginning of March.
Techcombank has applied higher savings interest rates of 0.5-0.6 percentage points for many terms since March 1. Specifically, the rates for six-month and 12-month deposits rose to 4.4-4.7 per cent and 5.1-5.4 per cent per year, respectively.
VPBank also listed new deposit rates for individual customers from March 2, with rises from 0.2 percentage points for terms less than six months.
At ACB, the two- and three-month deposit rates were also increased by 0.1 percentage point.
Despite these movies, in general, the deposit interest rates at most other banks haven't changed much compared to last month and remain at a low level.
The rates were kept unchanged from the previous month among State-owned commercial banks including Vietcombank, Vietinbank, BIDV and Agribank, and in the group of joint-stock commercial banks such as LienVietPostBank, SeABank and TPBank.
Several other banks even decreased their rates. At BacABank, for example, the rates for one-month to five-month deposits fell by 0.2 percentage points to 3.6 per cent per year while six-month to 12-month deposits also saw declining rates of 0.3 percentage points.
SCB also reduced the rate by 0.5 percentage points for 12-month deposits to 6.8 per cent per year.
According to experts, there is not much room to further reduce savings interest rates as banks must ensure real positive interest rates compared to inflation to attract depositors.
They explained while the inflation rate has been increasing since the first months of this year, demand for credit is also forecast to surge rapidly this year when the economy recovers. Interest rates will likely increase as a result.
KB Vietnam Securities Company said the interbank interest rate and Government bond yields are hitting the bottom while the deposit interest rate is also dropping to the lowest level in the past 15 years. The company forecast the interest rate level is likely to bottom out in the first half of 2021 and increase slightly again in the second half of 2021.
Vo Tri Thanh, a member of the National Financial and Monetary Policy Advisory Council, said it was very difficult to further lower interest rates because economic recovery will lead to an increase in demand for credit.
The management of monetary policy this year must be very flexible, Thanh noted, adding if the monetary policy was too tight, it could hamper the economic recovery; but vice versa, if the policy is too loose, the country would face financial risks and high inflation.
Financial risks have been seen in recent months when many investors spent on securities and real estate instead of depositing at banks due to low interest rates, Thanh said, adding it was best to maintain the interest rate level.
Though there were no signs of a bubble currently, Thanh warned it could occur if interest rates were cut further. 
Brokers seek way to borrow from investors with high interest rates
As banks are offering low interest rates, many securities companies are seeking way to mobilise capital from investors by offering higher interest rates.
Securities companies, via a new form of co-operation with their customers, will mobilise capital from customers if they do not use the capital to conduct transactions.
To supplement capital for business, securities companies often borrow from credit institutions. However, this takes time and is not always feasible.
By borrowing from investors while they do not use capital to conduct transactions, securities company can quickly ultilise idle money of investors to significantly improve profit margins. Meanwhile, investors can enjoy profits from the interest rates offered by the securities companies.
When investors need to conduct securities transactions, they can quickly perform transactions without transferring external money from the bank.
Some companies such as Tri Viet Asset Management Company (TVC), MB Securities (MBS) and VNDirect Securities Corporation (VND) have offered relatively attractive interest rates to customers.
Interest rates for a six-month term are usually 7-8.5 per cent per year. For some prioritised customers, the rates can even reach up to 10 per cent per year, much higher than the interest rates offered by banks at the moment.
Not only high interest rates, securities companies also offer many terms for investors to easily join, even 1-week terms with a relatively attractive interest rate of 2-3 per cent per year.
Banks usually offer interest rates of below 0.3 per cent per year for this term length.
For many budding investors, the idle time for money in their account is quite short, most of which last only one to two weeks. If they lend the money to a securities company, they can enjoy high interest rates of 2.5 per cent per year for a short term from one to two weeks.
However, this form of co-operation also poses a risk for both sides if the securities company cannot afford to pay interest to investors. So far, the market has not recorded any controversies.
Recently, there has been an explosion of new investors entering the stock market, also known as "F0" investors. Data from the depository center (VSD) shows that in 2020, there were nearly 394,000 securities accounts opened by domestic investors, doubling the previous year.
In the first month of 2020, the market received more than 86,000 newly opened securities accounts and this was also the month with the largest number of new accounts in history.
The entry of a new class of investors has led to a sharp increase in the demand for margin services in the market. By the end of 2020, outstanding loans at securities companies totaled about VND90 trillion, an increase of about VND30 trillion compared to the end of Q3 of 2019, most of which are margin loans. This is an all-time record number.
Outstanding loans of margin lending have increased dramatically, causing many securities companies to fall into a shortage of lending sources. 
Show's almost over for TV brands in popularity contest
Fierce competition in the market is seemingly destroying the prospects of well-known Japanese TV brands like Sharp and Toshiba, as their popularity plunges and availability in some showrooms becomes scarcer.
At a Dien May Xanh store in Hanoi's Cau Giay district, typical of most electronics stores focused on television sets, a batch of products are shown in cases of various types, sizes, and specifications. However, customers would now find it hard to locate any TV set from leading Japanese electronics brands like Panasonic, Sharp, and Toshiba.
In the Cau Giay store, Tran Son Tung wanted to buy a TV for his new house and shared his memory about his previous Toshiba TV set. "Four years ago I bought a Toshiba fridge, and amazingly I received a 55-inch TV for free after a lucky draw. Today I decided to look for a new Toshiba TV basically as a thank-you but I am failing, as I can't seem to find any."
Staff of the Dien May Xanh store said that they had stopped receiving Toshiba sets over the last two years. "We presented them in the showroom to try and sell just like the rest of the TVs that other manufacturers sent," said one staff member. "But recently, the number we receive is quite low and no-one asks for these brands anymore. So we leave any of the older-model TVs in the warehouse."
In fact, sales of large-screen TVs remained at two-digit growth (85, 58, and 29 per cent, respectively) in the periods of 2017-2018, 2018-2019, and 2019-2020. According to the German market research institute GfK, in the first three quarters of 2020, Samsung maintained the leading position with 44.7 per cent of market share, rising by 2 per cent on-year. That of Sony reduced by 6.7 per cent on-year to 25.9 per cent, followed by LG with 17.6 per cent of market share (up 3.8 per cent on-year).
"The three largest brands make up 88.2 per cent of the whole market share, while the 11.8 per cent left divides for all small players like TCL and Asanzo, brands that are being neglected such as Sharp, Toshiba, and new names like Casper and Mobell," said Le Van Tien, an expert working at a leading TV production facility.
"In the 10 per cent of market share, TCL is accounting for 5 per cent, while Asanzo is capturing 3 per cent, focusing on customers in rural areas. Quite simply, the space for Japanese brands which used to be popular is going to get much smaller and shrink away," added Tien.
In 2015, Toshiba Corporation stopped making and selling TVs in North America, licensing its brand to Taiwanese group Compal after deeming the US market too competitive. This company licensed its TV business in various other markets in an effort to cut costs and launch higher-end televisions, but price competition remains harsh, according to Reuters.
Nguyen Quang Huy, head of sales and marketing at Toshiba Vietnam, said that after decades of Toshiba TVs being manufactured in Vietnam, they were then imported from Indonesia. However, even imports eventually ceased.
Facing the same woes, Panasonic Corporation transferred its unprofitable Sanyo TV unit in the United States to another company, and decided to stop the production of panels for TVs in 2016. The manufacturer blamed the situation on the unprofitable production of TV displays and increased competition from Chinese, Taiwanese, and South Korean counterparts.
In 2019, Panasonic Corporation announced its decision to stop production of LCD panels. This activity is part of the group's restructuring plan for business operations. All resources of this company such as technology lines and human resources will be optimised to serve other key areas of the Panasonic Group.
In Vietnam, the number of TVs manufactured by Panasonic sharply decreased over the last couple of years, according to distributors. Despite still being showcased in some electronics marts, Dien May Xanh has halted display of the brand altogether.
Panasonic Vietnam declared its new business value proposition: changing from consumer electronics to wellness solutions providing company; and officially launched its total wellness solutions with a commitment of bringing a healthy, safe and convenient life for Vietnamese people.
Although Sharp is focusing on its LCD units, after also selling all its TV business and manufacturing facilities in the US in 2015, in Vietnam its TV sets, which used to be imported from Malaysia and Thailand in small quantities, are causing losses.
The disappearance of such formerly-popular TV brands is not a new phenomenon. People saw the death of traditional TVs along with such brands as National, Viettronic, and Hitachi in the 1980s and 1990s in Vietnam. "Success should be attributed to non-stop innovation and improvement," said Tien.
E-government sets up success for businesses
Domestic and international businesses are expected to benefit more from Vietnam's future e-government development, as the completion of the long-awaited legal framework on shared data could be a way to improve the business climate amid stiffening regional competition.
At the meeting to review the two-year development scheme of Vietnam's e-government on March 10, Prime Minister Nguyen Xuan Phuc stressed that the upcoming tasks will be the completion of the legal framework, acceleration of public e-services, creating and deploying an effective national database so that paperwork in administrative procedures can be eased.
Important tasks were set out for ministries, agencies, cities, and provinces. Specifically, the Ministry of Natural Resources and Environment has to fast-track the development of a national database on land by July. Meanwhile, the Ministry of Public Security develops a national database on the population in the same timeframe.
Regarding the e-government platforms, ministries, agencies, cities, and provinces must fully complete IT security measures and propose solutions to effectively use integrated platforms and promote database sharing. Moreover, they have to build and deploy schemes on their digital transformation in the new development period.
The Ministry of Information and Communications (MIC) is issuing decrees to complete the legal framework on electronic identification and authentication and personal data protection while also announcing the strategy on e-government development towards digital government development in 2021-2025 with a vision towards 2030.
The MIC will study the revision of the laws on e-transactions and the digital economy, build a decree on the management of digital platforms and the development of the digital economy, and submit a scheme on digital economy development by 2025 with a vision towards 2030, and on supporting and promoting digital transformation in key businesses and sectors.
Vietnam currently ranks 86th among 193 member states in the United Nations' E-Government Survey 2020, up two ranks from 2018. Singapore, Malaysia, Thailand, Brunei, and the Philippines scored higher and some regional countries even made great headways (Thailand ranked 57th, up from 73rd, and Indonesia climbed to 88th from 107th).
A country's higher e-government index also means a higher business environment, competitiveness, and innovation indexes, making it a strong rival to others in investment attraction, trade, and services, which prompts most Southeast Asian nations to take actions and improve.
With the future orientation, domestic and international businesses can expect several positive spillovers. According to the UN and World Bank reports, a good business environment attracts high-quality investors, facilitates technology transfer and exchange of management practices, and enhances transparency and reduces corruption.
The National Digital Transformation Programme aims to promote the development and widespread use of e-commerce platforms in enterprises and the community. It also aims to give greater incentives and support for startup development and encourages large companies to make use of new technologies and commercial activities. Therefore, further investment incentives for science and technology-related firms are expected in the coming years.
E-government development has also been attracting attention from the international business community in Vietnam. Virginia B. Foote, chairwoman of the American Chamber of Commerce in Vietnam, said that the digital economy in general, and e-commerce, e-banking, fintech, modern cloud computing, and e-government in particular, come out of the necessity to reduce face-to-face transactions, and can enhance Vietnam's goal to reduce the use of cash overall.
She attributed that, "We need accelerated use of e-government, e-commerce, e-banking, fintech, hyperscale cloud computing, and the overall reduction of paper and cash for all businesses. Replacing Vietnam's technical standards in clouds in state agencies with internationally recognised certifications and compliance mechanisms, as well as adopting cloud-first policies, will enable the government to choose the best technologies, strengthen digital resilience, and develop a robust e-government technology ecosystem."
"Accelerating the implementation of these objectives can permanently reduce administrative costs and burdens for both the government and all businesses, and will attract new investors looking for global standards and ease of doing business. It will provide the foundation for smart city infrastructure and services," she noted.
Similarly, Tetsu Funayama, a representative from the Japanese Chamber of Commerce and Industry in Vietnam said the implementation of digital transformation has been determining the rise and fall of companies and businesses.
"Although there is a trade-off with national and corporate security, digital transformation ahead of other countries will bring benefits to Vietnam. We would like to ask for support for foreign companies to contribute to Vietnam in these fields as well," he recommended.
Vietnam's e-government development has achieved results in technical infrastructure, database sharing, use and development of platforms, and network security in 2016-2020, especially in the last two years.
Mobile transactions in Vietnam to grow by three times by 2025
Mobile transactions in Vietnam are expected to increase by 300 per cent between 2021 and 2025, led by strong growth in mobile payments, as revealed in the second edition of the Fintech and Digital Banking 2025 (Asia-Pacific) IDC InfoBrief, commissioned by Backbase. 

Incumbents and new entrants alike will be jockeying for market share, and will look to compete on the basis of being digital-first. While the Asia-Pacific banking landscape saw the departure of some neo banks and fintechs due to COVID-19 challenges, incumbent banks in Vietnam benefited from the chance to build loyal customer bases and re-energise their businesses for the long-term.
However, we will still see 100 new challengers across the region by 2025, according to IDC. With new challengers presenting stronger post-pandemic propositions, there will be at least two digital banks in every Asia-Pacific market that will pose a significant challenge to incumbents. 30 per cent of the business of Vietnamese banks are predicted to be under threat from new digital challengers.
Some fintechs that had gained sufficient size by 2019 also found success, gaining more market share than expected. Fintech categories that have typically shown success include payments, wealth advisory, alternative data, lending platforms, and account origination.
Meanwhile, traditional banks are increasingly focused on responding to changing consumer behaviour. Digital banks across the Asia-Pacific saw three times the growth in their customer bases compared to traditional banks in 2020/2019.
One result of the economic downturn is a more humanistic type of customer centricity, as banks needed to communicate with customers in empathetic, trustworthy, and reliable ways that are complemented by digital innovations. There has been an increased integration of human agents into customer engagement strategies, as contact centres saw surges in usage.
The latest edition of Fintech and Digital Banking 2025 (APAC) found that 60 per cent of banks in the Asia-Pacific will leverage AI or machine learning technologies for data-driven decisions, compared to 48 per cent from the previous year. In Vietnam, core banking and payments system modernisation are the top 2 priorities among the top 8 banks in Vietnam in anticipation of rising consumer demands by 2025.
A back-to-basics trend has also overtaken the need for new revenue sources. Banks across the Asia-Pacific region will be focusing on digitalising their core business of lending with some focus, subsequently, on deposits. This is particularly evident in Vietnam, with 80 per cent of banks having re-invested in credit risk and asset-liability management, as well as building up capabilities in lending. Vietnam will see double-digit growth for lending every year from 2021. New capabilities will be acquired from fintech partners: IDC predicts by the middle of 2021, 50 per cent of lending decisions in retail banking across the Asia-Pacific will be supported by fintech propositions, underscoring accelerating bank-fintech collaboration.
Riddhi Dutta, regional director for ASEAN and South Asia at Backbase, said that, "COVID-19 has brought about significant changes in Vietnam and the Asia-Pacific's banking landscape, and banking and fintech players will need to quickly act on their digital strategies to capture market share. The report highlights key areas for Vietnamese banks, including massive growth in mobile as well as opportunities in lending. Backbase is committed to helping Vietnam's financial institutions stay ahead in the digital race and develop the innovative banking models and experiences that Vietnamese customers now expect."
Boosting green, sustainable development
Due to the impact of the COVID-19 pandemic, Vietnam's textile and garment exports saw negative growth of 10.5% in 2020 and a decrease in revenue of over US$35 billion compared to US$39 billion in 2019.
Although the country's textile and garment industry has implemented many flexible solutions to quickly adapt to the new normal situation in the world, difficulties are forecast to remain.
Businesses in the field need to focus on production andhave a strategy for sustainable development while increasing product value to enhance competitiveness in the market.
According to statistics from the Ministry of Industry and Trade, total textile and garment export turnover reached nearly US$5.96 billion in the first two months of 2021while import revenue was over US$3.16 billion, bringing about a trade surplus of about US$2.8 billion. In particular, added value in the industry was quite high at55.4%, demonstrating signs of prosperity in the market.
Statistics from the textile and garment industry also showthat most businesses have orders to fulfil until June this year while items with large levels of consumption such as knitwear and casual wear have orders until September.
This reflects the recovery of Vietnamese textiles and garments, especially as Vietnam is in a good position on aglobal supply chain restructured after the COVID-19 pandemic crisis.
However, due to the unpredictable development of the pandemic, if it is not controlled soon, enterprises will still face many risks. If the pandemic continues to rage acrossthe world, the supply chain will be interrupted, resulting in a decline in orders. On the contrary, if the pandemicoccurs at garment and textile factories, they must be isolated and will be unable to organise production to fulfil orders.
In addition to financial losses, in the long run, the position of Vietnamese textiles and garments in the global supply chain will also be shaky and may be supplanted by other competitors.
Therefore, disease prevention and control at business establishments needs to be implemented strictly. At the same time, enterprises should focus on promoting production, productivity and product quality in order to fulfil the target of reaching US$39 billion in export revenue this year.
In addition, businesses need to carefully researchinformation and markets to take advantage of new-generation free trade agreements such as the EU-Vietnam Free Trade Agreement (EVFTA), the Comprehensive and Progressive Agreement for Trans-Pacific Partnership (CPTPP), Regional Comprehensive Economic Partnership (RCEP), and others.
It is time to define a development strategy for the 2021-2025 period to effectively implement set goals. The strategy should clearly define technological solutions with a vision for the spinning and dyeing industry in order to create a foundation to adapt to the fast-changing trends of the market after the COVID-19 pandemic.
At the same time, we also need to promote the green trend in the textile and garment industry through the use ofrenewable energy, efficient use of water resources, and sustainable development of factories.
It is also important to focus on in-depth development, increasing the production of high-value products, improve governance, and restructure businesses while boosting the supply chains of raw materials and building a connection strategy to bring Vietnam's textile and garment brands to the world market.
Furthermore, the Government should soon approve the sector development strategy until 2030, with a vision to 2035 and direct the formation of large textile and garment industrial zones with concentrated wastewater treatmentsystems to attract more investment into weaving and dyeing in order to meet the origin requirements of new-generation free trade agreements.
The government also needs to maintain macroeconomic stability, exchange rates, and interest rates whilecontinuing to reduce interest rates for long-term loans in order to create a "platform" for business development.
Raw export should be prohibited to prevent white marble drain: Experts
White marble is classified as a rare resource of Vietnam, only available in Nghe An and Yen Bai provinces. For several years, Nghe An Province has exported raw white marble with an output of millions of tons. The export of raw white marble creates extremely low profits compared to its real value. 
White marble in Nghe An Province is mainly distributed in Quy Hop District with reserves of hundreds of thousands of tons. For many years, white marble products of Nghe An Province, such as white cobblestone, superfine white marble powder, and ashlar stone, have mainly been exported through the ports of Cua Lo, Hai Phong, and Nghi Son.
According to the Import-Export Management Department under the Department of Industry and Trade of Nghe An Province, in 2018, the province exported 1,210 million tons of raw white marble, bringing in more than US$24.18 million, while it exported 383,667 tons of superfine white marble powder, collecting $40.51 million in return. Only about 24 percent of white marble was processed for export, whereas the remaining 76 percent was for raw export.
In 2020, the export of raw white cobblestone was 1,246 million tons, earning nearly $24 million, while that of superfine white marble powder was nearly 590,000 tons, earning $47 million. It means that only about 32 percent of exported white marble had been through processing, the remaining nearly 68 percent was raw export.
According to the above data, on average, the value of one ton of raw white marble is about $20, while that of superfine white marble powder is equivalent to about $90-$100. If more than 1.2 million tons of raw white marble exported in 2020 had been processed into superfine white marble powder before exporting, about $100 million would have been collected. If the amount of raw white marble exported from 2017 to 2020 had been processed into powder before exporting, more than $400 million would have been earned.
According to many experts, this fact shows that the difference in value between the export of raw materials and processed products is too large. Facing the situation of white marble drain, experts recommended that authorities should limit or even prohibit the export of raw white marble to promote deep processing before exporting.
FDI firms enjoy 5.5 billion USD in trade surplus in two months
Foreign direct investment (FDI) firms' import-export value reached 68.52 billion USD in the first two months of 2021, a surge of 31.5 percent from the same period last year, according to the General Department of Vietnam Customs.
In January-February, the FDI sector enjoyed nearly 5.5 billion USD in trade surplus, with exports exceeding 37 billion USD, up 32 percent year on year, while imports totalling 31.51 billion USD, up 30.8 percent.
Among sub-sectors, the machinery, tools and parts posted the largest export growth 77 percent, increasing 2.44 billion USD. It was followed by phones and spare parts (2.2 billion USD, or 29 percent), and electronics and parts (1.85 billion USD, or 34 percent).
As of February 20, 5.46 billion USD worth of FDI was injected into Vietnam, equivalent to 84.4 percent of the figure recorded in the same time last year, according to the Ministry of Planning and Investment.
As many as 126 foreign projects were granted investment licences with total registered capital of 3.31 billion USD, a year-on-year fall of 33.9 percent.
Meanwhile, 115 existing projects adjusted their investment capital with a total additional sum of 1.61 billion USD, or 2.5 times higher than the same time last year.
Capital contributions and shares purchases by foreign investors stood at 543.1 million USD, down 34.4 percent.
Foreign investors pumped capital in 17 sectors, with processing and manufacturing holding the lead with over 3 billion USD or 55.7 percent, followed by power production and distribution with 1.44 billion USD (26.5 percent), real estate 485 million USD, and science-technology nearly 153 million USD./.
Vietnamese goods week in Hanoi features over 100 stalls
A trade fair spotlighting Vietnamese goods and featuring more than 100 stalls is in full swing at the Me Linh Plaza in Hanoi's Ha Dong district, offering opportunities for firms to stimulus trade, distribution, and consumption demand in the capital city.
On sales at the five-day event, kicked off on March 19, are consumer and industrial products, organic agro-forestry-fishery goods, and those from craft villages or produced under the One Commune, One Product programme.
Cooperatives from eight provinces facing difficulties selling their farm produce including Nghe An, Hai Duong, Ha Giang, and Son La are taking part in the fairs along those from districts of Hanoi.
Speaking at the opening ceremony, Tran Thi Phuong Lan, acting director of the municipal department of industry and trade, said participating enterprises have been assisted to conduct their trade promotion and communications activities.
They are also requested to strictly follow COVID-19 prevention and control measures at the fair, she added./.
PM wants Cai Mep – Thi Vai seaport complex to be developed to regional standard
Prime Minister Nguyen Xuan Phuc has asked relevant ministries, agencies and the southern province of Ba Ria – Vung Tau to develop the seaport and logistics system at Cai Mep – Thi Vai area to meet regional standards by 2030 towards becoming a world-class seaport hub in the world by 2045.
He made the request during a working session with provincial officials on March 20, while highlighting the province's advantage in seaports, which the PM said could contribute to the development of the country and the southeastern region.
Hailing the province for its achievements in socio-economy, national defence-security and Party building work, he noted that local seaports' growth of about 2 percent amid the pandemic is good news.
The PM mentioned the Party's guidelines and the 13th National Party Congress's Resolution on the upgrade of seaports nationwide, including building logistics and transportation infrastructure in the region and improving service quality. He said as Cai Mep – Thi Vai Port together with Lach Huyen Port in Hai Phong city are among the top deep-water seaports in the world, they create an advantage for the country in development.
At the same time, PM Phuc pointed out problems of the region, including incomplete transport infrastructure and a lack of modern logistics facilities, financial and banking system,  and a strong fleet of ships, which must be addressed promptly.  
He told relevant ministries and agencies to improve infrastructure at Cai Mep – Thi Vai Port, early start the construction of the Bien Hoa – Vung Tau expressway and Phuoc An bridge to facilitate the transportation of goods for import and export.
The Government leader directed enhancing logistics infrastructure, including establishing a goods distribution centre linking Long Thanh international airport and Cai Mep – Thi Vai seaport. He assigned the Finance Ministry to set up a centre to facilitate customs clearance at Cai Mep – Thi Vai seaport and attract more vessels and financial brokers to the port.
The leader also suggested building plans to form financial-banking-insurance hubs in Phu My town, Vung Tau city, while developing industrial and processing zones to shape a for-export processing centre in the province. He agreed with a proposal to open a free trade area at Cai Mep area to attract more foreign investors and a project on connecting Con Dao island district with the national grid.
Earlier in the morning, PM Phuc inspected the Cai Mep – Thi Vai deep-water seaport system, including Gemalink - the country's deepest and largest deep-water seaport.
The Cai Mep – Thi Vai port complex is a group of deep-water seaports with a combined length of over 20km, which account for over 30 percent of the country's exports by containers, which are expected to be a trade gateway in the south.
Gemalink is the biggest seaport in the Cai Mep-Thi Vai complex and one of the 19 big seaports in the world which is capable of receiving the world's biggest cruise liners. Built at a total investment of 520 million USD in two phases, the port is equipped with ship-to-shore cranes designed and manufactured in Vietnam. When the first phase of the port is inaugurated in May, it will run at at least 80 percent of its designed capacity this year and at full capacity from next year.
During the trip, the PM also visited Tan Cang – Cai Mep International Terminal – a joint-venture between Saigon New Port Corporation and three foreign partners with a total investment of 100 million USD. Operational in January 2011, the terminal is capable of serving super vessels up to 160,000 DWT.
Over the past years, Ba Ria – Vung Tau has always been one of the five biggest contributors to the State budget. It is home to 69 seaports./.
Ha Nam province facilitates operations of Korean firms
The northern province of Ha Nam has stepped up investment promotion in the Republic of Korea (RoK) and joined many Korean cultural activities in Vietnam, a local official has said.
Chairman of the provincial People's Committee Truong Quoc Huy told Korean Ambassador to Vietnam Park Noh-wan at a working session in Ha Nam on March 19 that the province attaches importance to its friendship and effective cooperation with the RoK Embassy as well as trade promotion organisations of the two countries.
Ha Nam has set up a Korean trade promotion centre, called Korea Desk. Meanwhile, Korean firms in Ha Nam have established an association, aiming to support each other in production and business.
As of March 2021, Ha Nam is home to 148 Korean enterprises, making up 45 percent of FDI firms in the locality, with total investment amounting to 1.6 billion USD, Huy said, adding that such firms have employed 30,000 labourers.
The province highly values the operation capacity of Korean businesses, and has drastically implemented solutions to remove their difficulties in labour shortages, according to the official.
He proposed the Korean Embassy in Vietnam help to promote Ha Nam's investment climate to Korean firms, organise Korean language traing courses, and train high-quality human resources for Korean enterprises.
Representatives from Korean investment promotion organisations and businesses spoke highly of the local investment environment, especially commitments of the provincial People's Committee to investors.
They suggested Ha Nam deal with the labour shortages, especially high-quality workforce, and provide housing assistance for Korean experts.
Park said the embassy has cooperated with Vietnamese agencies and organisations to advance the relationship between the two countries to a comprehensive strategic partnership.
The embassy will continue to promote the image of Ha Nam as a friendly and model locality to Korean businesses and groups, he pledged. 
HCM City, RoK's Jeollabuk province eye cooperation in startup, high-tech agriculture
Ho Chi Minh City and Jeollabuk province of the Republic of Korea (RoK) have optimal potential for cooperation in startup, high-tech agriculture, culture and tourism.
The view was shared by leaders of the two localities during their online working session on March 19.
Nguyen Thanh Phong, Chairman of the HCM City People's Committee, briefed the RoK side on the city's economic development in 2020, with a growth rate of 1.39 percent amidst the COVID-19 spread.
He highlighted the significance of international resources to HCM City's implementation of the dual goals of containing the pandemic and recovering the economy.
The RoK is one of the countries with the biggest number of localities (seven) that have set up cooperation with HCM City, Phong said, adding that the southern metropolis wishes to soon establish its friendship and cooperation with Jeollabuk.
The East Asian nation ranks third among 110 countries and territories investing in HCM City, according to the official. Nearly 80,000 Koreans and 2,000 Korean firms are living and operating in the city, with such major groups as Samsung, Lotte, Emart and CJ.
For his part, Song Ha-Jin, Governor of Jeollabuk, said a number of startups from Jeollabuk have begun studying investment opportunities in Vietnam.
Vietnam is a key destination of the RoK's New Southern Policy. Therefore, apart from startup and high-tech agriculture, Jeollabuk wants to join hands with the country and HCM City in particular in tourism and culture, he stressed.
Lauding Jeollabuk's cooperation proposals and support in the formation of the KORETOVIET exhibition centre, Phong said the centre is expected to create a joint playground for businesses of the two sides, thus promoting the development of startups. 
ADB – major partner of HCM City: official
Ho Chi Minh City always regards the Asian Development Bank (ADB) as a major partner that plays an important role in the city's development, a local official has said.
At a reception for ABD Country Director in Vietnam Andrew Jeffries in the city on March 19, Chairman of the municipal People's Committee Nguyen Thanh Phong said the projects using ADB loans have significantly contributed to local socio-economic development.
HCM City stands ready to cooperate the ADB Country Director as well as the bank's office to effectively roll out ADB projects in the southern metropolis, he affirmed.
Phong proposed ADB leaders help HCM City speed up the disbursement of loans and as well as the progress of ongoing projects, saying the two sides should continue realising the memorandum of understanding reached last June fruitfully.
He called for ADB support in four development projects in the southern economic hub for the 2020-2025 period with a vision towards 2030.
The bank will become not only a loan supplier of HCM City, but also a technical and policy consultant for the locality, especially in improving the capacity of local officials, Phong believed.
For his part, Jeffries said his visit forms part of the ADB's Country Programming Mission, aiming to work with Vietnamese ministries, agencies and localities on the bank's operation programme in the country in the time ahead.
Lauding HCM City's development potential and position, both regionally and nationally, Jeffries affirmed that the ADB always places importance on HCM City in its cooperation with Vietnam.
The ADB wishes and stands ready to foster collaboration with the city in its construction and development, firstly in activities to improve cooperation efficiency of projects using ADB loans in the locality, he said.
Earlier, the ADB delegation was received by Vice Chairman of the People's Committee Le Hoa Binh, during which the two sides sought ways to speed up the implementation of such projects./.
Quang Ninh announces 2020 department, district competitiveness index
The People's Committee of the northern province of Quang Ninh announced its 2020 Department and District Competitiveness Index (DDCI) on March 19.
Among localities, Cam Pha city secured top spot with 72.1 points, followed by Co To district with 71.17 points. Mong Cai city and Quang Yen township were again among the top localities. Tien Yen district moved up to third place from ninth while Co To island district ranked second, up from the sixth.
Van Don and Hai Ha districts were at the bottom, with 24.22 points and 45.74 points, respectively.
In the department category, the Management Board of Economic Zones, the Department of Information and Communications, the provincial branch of the State Bank of Vietnam, the Customs Department, and the Tourism Department topped the list.
The Department of Finance, the Department of Construction, and the Police Department of Fire Prevention, Fighting, and Rescue all underperformed.
The business community in Ha Long city adopted the best corporate governance, with a score of 5.69 points. In Dam Ha district it displayed the best social responsibility, with 6.71 points, and the best innovation management, with 8.14 points.
Vice Chairman of the provincial People's Committee Bui Van Khang described the DDCI as a lodestar to improve the local business environment and an independent information source to compare with the Provincial Competitiveness Index released annually by the Vietnam Chamber of Commerce and Industry (VCCI).
He said the DDCI 2020 saw certain improvements on issues of concern for enterprises.
VCCI President Vu Tien Loc said Quang Ninh has affirmed its top priority of improving administrative procedures and the business environment. He also hailed its tireless efforts to maintain its position as one of the top localities nationwide in terms of the PCI and a trustworthy business destination.
The Quang Ninh DDCI 2020 polled nearly 2,080 businesses, cooperatives, and individual business households out of the total of 6,500, with over 12,500 questionnaires sent out. The response rate was 36.2 percent, compared to just over 30 percent in 2018 and 34.65 percent in 2019./.
US popularises farm produce to Vietnam
Vietnam is one of the promising markets of the US's farm produce, especially high-quality, safe and healthy products, experts said.
They shared the view during a ceremony announcing the United Tastes – a trademark and marketing initiative designed for the Vietnamese market, which was co-organised by the US Consulate General in Ho Chi Minh City and the US Department of Agriculture on March 18.
US Consul General in Ho Chi Minh City Marie C. Damour said popularisation of food and cuisine culture is an excellent way to bring the two countries together.
She added that the United Tastes marketing campaign will serve as a bridge for the two nations to share cuisine culture, provide support for US farmers, fishermen and food companies, and introduce high-quality US farm produce to Vietnamese consumers.
Agricultural Counsellor at the US Consulate in Ho Chi Minh City Robert Hanson said over the past decade, Vietnam has always posted positive growth and been one of the fastest growing economies in Asia. The US's farm produce export to Vietnam has increased by 40 percent over the past five years, reaching 3.7 billion USD last year.
Vietnam is now the seven largest agriculture market of the US, with soybeans, corns, pork and beef being main imports. The US is also stepping up the export of apple, blueberry and baking ingredients, he said.
US Consul General in Ho Chi Minh City Marie C. Damour and chef Christan Ngo prepare salad from US's farm produce at the event (Photo: VNA)
According to him, with increasing income, the Vietnamese people increasingly pay attention to safe and healthy products with clear origin. They have also adopted the habit of using social media to follow consumption trend, frequently going shopping at supermarkets and dining at restaurants.
He stressed that apart from diversity, safety is a top priority of the US farm producers. Consumers will also be provided with information about the farming and processing of the US farm produce.
Quach Van Hoa, Business Deputy Director of The Alaska Guys Vietnam Co.Ltd, said domestic importers and distributors hope for more reasonable tax and licensing policies to facilitate bilateral trade, thus making it easier for Vietnamese consumers to access a diverse source of quality products./.
Vietnam calls for early establishment of new government in Lebanon
Vietnam called upon sides involved to soon reach agreement for the establishment of a new government in Lebanon at an UN Security Council (UNSC) briefing held on March 18 regarding Lebanon situation and the implementation of the UNSC's Resolution 1701.
Addressing the meeting, Nguyen Phuong Tra, Deputy Permanent Representative of Vietnam to the United Nations, spoke highly of and expressed her support for efforts made by the United Nations Interim Force in Lebanon (UNIFIL) in maintaining stability and preventing tensions from escalating in the Blue Line area.
She said Vietnam is concerned over current affairs in Lebanon, particularly regarding economic and humanitarian areas, and calls on the international community to sustain humanitarian aid commitments for Lebanese people.
Vietnam urges all parties involved in Lebanon to agree to establish a new government soon, comply with their obligations under Resolution 1701, restrain from and avoid provocative actions that could lead to an escalation of tension, respect UNIFIL's right to freedom of movement, and increase the use of relevant mechanisms to ease tension, Tra stated.
Concerned about activities that violated Lebanon's sovereignty and territorial integrity, Vietnam urges the sides involved to put an end to the activities and withdraw their troops from their occupied positions in the north of the Blue Line, she said.
At the event, briefings on the Lebanon situation, the operation of the UNIFIL and the implementation of Resolution 1701 were delivered by UN Deputy Special Coordinator for Lebanon Najat Rochdi and Under-Secretary-General for Peacekeeping Operations Jean-Pierre Lacroix.
Participating UNSC members expressed their concerns over challenges facing Lebanon and praised the works of the UNIFIL.
Adopted in 2006, Resolution 1701 called for a cessation of hostilities between Israel and the Shi'a militant group Hezbollah in South Lebanon./.
Source: VNA/VNS/VOV/VIR/SGT/Nhan Dan/Hanoitimes