Vietnam's freeze dried sugar-cane juice patented in US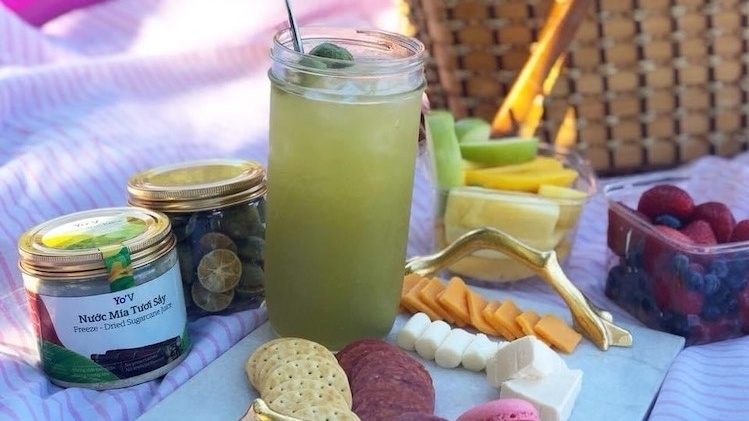 Vietnam's dried sugar-cane juice patented in US


Vietnam's Vinamit Joint Stock Company has announced that its sugar-cane juice and freeze dried sugarcane juice has just been patented by the United States Patent and Trademark Office (USPTO) in the US market.
Over the past two months, the patents were sent back to Vietnam, recognising Vinamit as the inventor of a series of lyophilized beverages made from domestic vegetables and fruits. Sugar-cane juice and freeze dried sugar-cane juice are the newest of these.
Previously, Vinamit's freeze-drying technology, converting liquid to powder but still keeping the originality and single substance composition, was also patented by the US (US No. 10.676.797 B1). Vinamit applies this technology to fruits, vegetables and fruits and has patents registered in the US and Vietnam.
The type of sugarcane used to make sugar-cane juice and freeze dried sugar-cane juice has a purple, soft, watery shell. The product has also been certified organic in terms of both its farming and processing.
According to Nguyen Lam Vien - General Director of the Vinamit Joint Stock Company, being granted a patent for its freeze-drying technology and freeze dried sugarcane juice in the US is the foundation for Vinamit to continue to exploit and develop in this market with a better-protected brand.
Vinamit is currently following procedures at the National Office of Intellectual Property of Vietnam for its protection in Vietnam. At the same time, the company will implement nutrition sharing and training programmes for people suffering from chronic non-communicable diseases to help improve awareness regarding eating and drinking properly.
Construction companies report lower profits due to COVID-19
Several construction firms have reported a drop in profits in the first quarter of this year due to the COVID-19 pandemic and rising material prices.
Since the beginning of this year, the prices of construction materials on the market have increased sharply amid worries over shortages of materials and rising demand for economic recovery after COVID-19.
Local brands have increased steel prices by 30-40 percent compared to the fourth quarter of 2020, putting great pressure on the construction industry, as steel currently accounts for 20 percent of inputs for construction work.
Not only steel, the price of cement has also skyrocketed. Since mid-April, many cement manufacturers have adjusted the price of products sold with an increase of 40,000 VND per tonne.
The prices of some other key materials such as sand and gravel are also increasing dramatically.
Facing the double pressure from the COVID-19 pandemic and rises in material prices, a series of contractors have decided to suspend construction progress to wait for market stabilisation.
Coteccons Construction Corporation (CTD)'s revenue fell from 3.5 trillion VND (151.5 million USD) in Q1 last year to 2.56 trillion VND in Q1 this year, down by nearly 28 percent.
Gross profit was 120 billion VND, down by more than 38 percent compared to 2020. The gross profit margin was 4.67 percent, significantly lower than 5.46 percent of the same period last year.
Its pre-tax profit dropped 55 percent to touch 69 billion VND. On the stock market, CTD prices have dropped and are currently being traded at 58,600 VND per share, down more than 27 percent since the beginning of the year.
The pre-tax profit of Hoa Binh Construction and Real Estate Corporation (HBC) in Q1 decreased by 12 billion VND, down 37 percent. In contrast, the gross profit margin improved from 7.7 percent in Q1, 2020 to 8.7 percent in Q1 this year.
This year, in addition to civil real estate construction, HBC has stepped up contracting for energy, industrial and infrastructure projects to increase market share.
Ricons Construction Investment JSC reported its Q1 profit decreased 28 percent to VNĐ31 billion.
Hung Thinh Incons Joint Stock Company (HTN) saw revenue in Q1 increased to 1.16 trillion VND but gross profit fell sharply to 103 billion VND.
In a new report, the Vietnam Steel Association (VSA) indicated that steel prices may continue to rise until the end of the third quarter.
On its side, the Vietnam Association of Construction Contractors (VACC) has issued a petition to the Government to soon direct ministries and branches to examine the cause of the sudden increase in steel prices./.
Vietravel Airlines to be equitised in 2nd year of operations
The Vietnam Travel and Marketing Transport JSC (Vietravel) plans to equitise its Vietnam Travel Airlines Co. Ltd. (Vietravel Airlines), to boost the subsidiary's development as the first travel airline in Vietnam.
In a report to be submitted to Vietravel's annual general meeting in late May, Vietravel Airlines is to be equitised in its second year of operations, with Vietravel holding the founding share and remaining the majority shareholder.
Amid the impact of the COVID-19 pandemic on the economy in Vietnam and around the world, businesses, including Vietravel, are working to evaluate and adjust their directions, plans, and operational scale to adapt to the fluctuating business environment.
The restructuring of the operational model aims to save resources, personnel, and costs for the reinforcement of its business strategy to overcome difficulties.
Earlier, Vietravel said that the actual day of the shareholders' meeting will be decided based on the Government's regulations on COVID-19 prevention and control.
Vietravel Airlines, the sixth carrier in Vietnam, debuted on December 26, 2020 after meeting all requirements and completing the necessary procedures for operating commercial flights.
Headquartered at Phu Bai International Airport in the central city of Hue, it aims to carry 1 million passengers in its first year of operations.
It is Vietnam's newest carrier, joining Vietnam Airlines, Vietjet Air, Pacific Airlines, Vasco, and Bamboo Airways. Total investment stands at 700 billion VND (30.2 million USD), its license is for 50 years, and it is set to provide both domestic and international air transport services./.
Ministry to actively build price management scenarios
The Ministry of Finance (MoF)'s Price Management Department will actively set up scenarios for managing prices of essential goods according to the market performance, but still ensuring inflation control as targeted, said director of the department Nguyen Anh Tuan.
Tuan said the National Assembly had set a target of consumer price index (CPI) growth at about 4 percent for this year.
"The most important thing is to control the prices on the domestic market according to the mandate from the central administration to the local level. Another important factor is providing information about the market performance as well as policies on controlling prices issued by the Government," Tuan said.
The state management of prices had gradually implemented and promptly adjusted prices of a number of important goods and services in the domestic economy or goods according to the market demand.
In addition, the role and duties of the State in management, administration and price stabilisation had also been clarified through macroeconomic mechanisms and solutions that are suitable to requirements in the economic development process.
Therefore, the representative of the department said that it would closely monitor price fluctuations on the domestic market, especially essential goods and services, to promptly propose solutions on ensuring the balance between supply and demand, especially goods with a shortage of supply due to natural disasters, pandemic and high demand of goods before, during and after Tet.
In addition, the Ministry of Finance had recommended that ministries and sectors continue to closely follow the market price situation for specific management. For instance, the Ministry of Industry and Trade needed to work closely with the MoF in managing the petroleum price based on the market factors and the Petroleum Price Stabilisation Fund.
For electricity, it was necessary to carefully evaluate factors affecting the electricity price, thereby having a suitable price management scenario.
Tuan said this year, the prices of essential goods were expected to be unchanged. Meanwhile, the prices of some goods were very unpredictable due to impacts from negative factors for prices, such as fuel products with complicated fluctuations.
He also forecast that storms and floods, as well as the COVID-19 pandemic, were affecting the supply and the market.
The business situation of some services such as accommodation, tourism, entertainment and aviation was forecast to face many difficulties.
According to the General Statistics Office (GSO), Vietnam's consumer price index (CPI) in the first four months grew 0.89 percent year-on-year, the lowest growth rate since 2016.
The index in April was down 0.04 percent against the previous month while up to 2.7 percent year on year.
Compared to the previous month, a downturn was seen in the prices of four out of 11 main groups of goods and services, with housing and construction materials taking the lead (0.43 percent), followed by post and telecommunication services; food and catering services, among others./.
Startups attracting funds with M&A
Vietnamese startups are still drawing in local investment capital as they emerge as the most sought-after targets for dealmakers.
In the first three months of 2021, there were 16 deals involving Vietnamese startups compared to 20 deals in 2020 and 30 deals in 2019. Although the number of deals decreased, the total value of the deals (excluding undisclosed funding amounts) reached $150 million, up 34 per cent against last year's period, according to the latest report by Nextrans Venture Capital Fund.
The report pointed out that seed and Series A remain dominant in the given period, accounting for 70 per cent of deal count. Fintech captured the most attention of investors with four deals.
Investors also focused on key sectors such as logistics, services, property, edtech, and medtech. Some notable deals include $2.6 million in pre-Series A funding for Dat Bike, and $6 million for Got It from VNG as well as $15 million for Duong Minh Logistics.
Commenting on the growing investment value into Vietnamese startups, Nguyen Kim Hoa, senior manager of financial advisory services at Deloitte Vietnam, said that over the past couple of years there have been more and more startup founders who have solid business and technology backgrounds through their time studying, researching, and working overseas. They had opportunities to learn from scalable business models elsewhere as well as gain easier access to foreign capital sources, which means more chances at fundraising.
"Pre-pandemic, it is encouraging to observe that Vietnamese startups are approaching later stages. The number of startups that raised Series C quadrupled in just two years from 2017 alone. The exits, however, are mostly to local acquirers in the range of $20 million."
"After the pandemic is over, the economic downturn will urge the market to rationalise," Hoa added. "Most startups are focusing on profitability and sustainability to survive through the pandemic. Business reorganisation, business model refinery, and cost-cutting exercises are among the initiatives that were taken by many startups to weather through the difficult economic downturn."
In addition, Vietnam also witnessed a sharp increase in investment activities, with nearly 180 Vietnamese-based capital firms in the country. Among the most active are Nextrans, VSV Capital-Vietnam Silicon Valley, Mekong Capital, 500 Startups Vietnam, Vietnam Investment Groups, and IDG Ventures Vietnam. In addition, Japanese and South Korean venture capital firms are also actively looking for potential startups.
Recently established funds have also been very active. Do Ventures was only founded last year but has already raised $50 million for Do Ventures Fund I and has invested in three deals.
Last month Touchstone Partners announced the first close of its inaugural $50 million venture capital fund backed by notable investors including Pavilion Capital, Vulcan Capital, and several other institutional investors and family offices. Its founders are Khanh Tran and serial entrepreneur Tu Ngo, co-founder and chairwoman of YOLA Education.
Lim Boon Chow, coordinator of NINJA Accelerator in Ho Chi Minh City, said that thanks to the government's timely support policies for small- and medium-sized enterprises, as well as the close support of the startup community, startups in Vietnam still have the opportunity to access appropriate resources during the global health crisis, though it is in terms of capital investment, networking, or capacity training.
Chow added that the field where startups develop ideas is extremely diverse, from the environment and e-commerce to entertainment, education, and media advertising. Shortly, sectors such as healthcare, e-payments, and online real estate are likely to create spikes in fundraising rounds.
"Series A and Series B will attract many investors, because with the economic situation after COVID-19, the sharks will pay more attention to actual data to see how the businesses allocate their capital and how they operate," Chow said. "They will not invest in vain, and each of their nods has to be carefully considered to ensure the startup in which they are investing can become a high-value business machine."
Energy security at risk after forced plant output cuts
Many privately-owned renewable power plants have been required to cut electricity output due to the overloaded transmission system, as regulations struggle to keep up with the fast-developing sector.
Put into operation in late 2019, Sinenergy Ninh Thuan 1 Solar Power Plant from Singapore's Sinenergy Holdings Pte., Ltd. has had to cut the capacity by 20 per cent over recent months, especially during the peak hours of 10am-2pm, due to the overloading of the power transmission lines and transformer stations.
Plant manager To Van Viet told VIR that cutting power outputs has caused millions of US dollars in loss every year. Located over 60 hectares in the south-central province of Ninh Thuan's Ninh Phuoc district and costing $57 million of investment, the 50MW solar power plant is estimated to gain around $7.4 million annually at full capacity. "Cutting power generation capacity could delay return on investment, as well as push some investors into much more difficulties if borrowing money from banks," Viet said.
It is a common situation for renewable energy farms not only in Ninh Thuan, but also across the nation. At a meeting last week, director of Electricity of Vietnam's (EVN) National Load Dispatch Centre Nguyen Duc Ninh confirmed that the capacity of renewable power plants like Sinenergy Ninh Thuan 1, which are connecting to the national grid, "will be cut down continuously".
He explained that due to the pandemic over the past year, electricity consumption fell by about 15 billion kWh, equivalent to 7-8 per cent, while numerous solar power projects have been put into commercial operation.
"Installed solar power is about 17,000MW now, making up 30 per cent of total capacity, and often increases to 40-60 per cent of the total at noon. This has put a lot of pressure on the national power transmission system," Ninh said. "In the first four months of 2021, about 470 million kWh of renewable energy has been cut down, and around 1.7 billion kWh of renewable energy (including wind and solar power) could be done so in the whole year."
Dao Du Duong, director of Bao Long Solar Energy, said that last year's issuance of Resolution No.55-NQ/TW on related policies have facilitated a lot for renewable energy businesses. However, overheated development of renewable energy – both solar and wind power – has caused challenges for both the business community and local authorities.
Specifically, Duong said, shrinking output capacity has caused both difficulties and losses for renewable energy businesses. Additionally, state-owned banks tend to stop providing loans for investment into renewable energy, while commercial banks have less attractive interest rates and offered less support for businesses.
"The market is developing too fast and the feed-in tariffs (FiT) are being adjusted significantly year by year, so the performance and profitability of the projects are reducing, while businesses have to suffer higher interest rates," said Duong.
Despite difficulties in connecting with the national power grid, some generators are still boosting cooperation with partners via mergers and acquisitions. For instance, two weeks ago one of the biggest players in renewable energy Trung Nam Group announced the successful sale of 49 per cent in the 204MW Trung Nam Thuan Bac solar power plant in Ninh Thuan to A Chau Industrial Technology JSC (ACIT).
After the deal, Trung Nam Group has handed over the general director position to Nguyen Dang Khoa, deputy general director of ACIT. The plant, with the total investment of over $217 million and annual capacity at 450 million kWh, is applied the FiT at 9.35 cent/kWh within 20 years. However, the plant has slashed capacity remarkably since last year. At the end of January more than a half of its capacity was shrunk by 118MW of a total of 204MW.
Previously, through the form of joint ventures and share transferring, foreign corporations have owned numerous solar and wind power projects in the country. For example, the two solar power plants TTC1 and TTC2 in the south-western province of Tay Ninh developed by Thanh Thanh Cong Group in collaboration with Thailand-based Gulf Energy Development Public Co., Ltd. has been in operation since mid-2019. However, one year later local ownership almost disappeared, while the share of the Thai investor rising sharply to 90 per cent (from 49 per cent) for the two power plants.
Explaining the movement, director general of the Ministry of Industry and Trade's Electricity and Renewable Energy Authority Hoang Tien Dung said that transferring/selling the whole or a part of renewable energy projects is normally in the market mechanism and in line with legal framework.
However, if the policies related to FiT and cutting down capacity are too tight, more projects will be stuck in difficulties and more big power projects will belong to foreign players. "As a result, energy security and other adjoining problems will be big concerns," Dung warned.
Focusing on increasing coffee's export value
According to the Ministry of Agriculture and Rural Development, Vietnam exported 428,000 tonnes of coffee worth US$771 million in the first quarter of 2021, a decrease of 17% in volume and 11.3% in value compared to the same period last year. 
However, the prices of exported coffee still increased. Generally in the first quarter, the average coffee export price reached US$1.801 trillion per tonne, up 6.8% over the same period in 2020.
In the early days of May, the domestic robusta coffee market has seen many flourishes with the sales price remaining in the range off VND32,000 (US$1.40) to VND34,000 (US$1.49) per kilogramme. Specifically, the coffee price in Di Linh, Bao Loc and Lam Ha Districts (in the Central Highland Province of Lam Dong) was VND33,200 (US$1.45) per kilogramme on May 6. Coffee was sold at the price of VND33,900 (US$1.48) per kilogramme in Cu M'gar District in Dak Lak Province and VND33,900 and VND33,800 (US$1.48) in Gia Nghia and Dak R'lap District in Dak Nong Province, respectively.
Over the years, selling prices have continuously plunged, so the signals of price increases in the past few days will serve as great motivation for coffee growers. Explaining the reason for the price increase, many economists say that the coffee market has gone through a cycle of price decline for four consecutive years. Therefore, in many countries, including Vietnam, people have used part of their coffee cultivation area for other crops, leading to a reduction in coffee output. In addition, the COVID-19 outbreak has made the export of robusta coffee in many Asian countries slow down.
It is a fact that coffee growers often suffer from insecurity in terms of sales prices. Low quality and low selling prices have been shortcomings of the coffee industry for many years. The country's coffee products have been exported to over 80 countries and territories around the world, accounting for 14.2% the global green coffee export market share, ranking second only to Brazil. Vietnam produced over 1.5 million tonnes of coffee on average, but this was mainly green coffee (accounting for around 90%). Therefore, added value was low and profit was not commensurate with the volume of exports. In fact, the prices of green coffee in the domestic market have increased recently mainly thanks to objective reasons, not necessarily a sharp improvement of the coffee's quality. 
In order to increase export value, firstly, it is crucial to improve product quality. The time has come for the coffee sector to make high-quality products right from the beginning. The rebound of coffee prices could act as a "lever" for coffee growers to pay more attention to caring for and re-investing in their crops. On this basis, authorities should develop a stricter standard from production to harvest, towards improving coffee yield and quality. Currently, the farmers' coffee harvests still have many shortcomings as they mainly use the method of plucking branches. When the coffee is about 40 to 50% ripe, people begin picking both ripe and green fruits, rendering the coffee's quality uneven. There are also many black beans that are easily broken during preliminary processing, so their value is reduced at sale. This problem needs to be fixed soon. In addition, it is essential to develop specific support mechanisms on capital, science and technology so that people can invest in technology for production as well as implement recultivation.
Vietnam Creative Advertisements Awards launched
The 2021 Vietnam Creative Advertisements Awards will honour creative, impressive and highly aesthetic advertisements imbued with Vietnamese culture.
The event aims to highlight the significance, important role and continuous growth of the advertising industry in the country's socio-economic development, creating favourable conditions to promote the development of creative advertisement activities across all types and means.
The MoCST will present outstanding advertising works from television, printed publications, outdoor panels and signs, and electronic newspapers.
Meanwhile, the Vietnam Advertising Association will grant one first, one second and one third prizes to the advertisements in each category covering radio advertising, advertising on electronic screens, creative advertising with information technology application, brand identity and brands with meaningful social activities.
In addition, the organising board will present awards voted on by the public for their favourite advertisements via television, radio, outdoor panels, electronic screen, printed publications and electronic newspapers.
Number of passengers at Noi Bai Airport plunges due to Covid-19
The number of passengers passing through the Hanoi-based Noi Bai International Airport has declined by two-thirds compared to the peak period of April, due to the new coronavirus wave.
Statistics from the airport indicated that over the past six days, the airport maintained an average of 210 flights each day, with some 22,000 passengers on board. On May 8, 160 flights took off and landed at the Noi Bai International Airport, transporting some 17,000 passengers, while the northern region's largest airport saw 22,000 passengers go through on May 9.
On the peak days of the April 30 holiday, the airport served some 420 flights and 64,000 passengers each day. Before the new wave of Covid-19, on normal days, some 50,000 passengers went through the airport each day.
The decline in the number of air passengers at the airport was attributed to flight cancellations over fears of the Covid-19 spread. The local airlines have reported a surge in flight cancellations, while some flights on the North-South air route have met 50%-60% of their seating occupancy.
Due to the complicated development of Covid-19, the Noi Bai International Airport asked employees and passengers to strictly follow Covid-19 safety protocols, the local media reported.
The Airports Corporation of Vietnam also told local airports to team up with the provincial and city centers for Disease Control, units and firms to conduct contact tracing if a Covid-19 case or suspected case is detected at the airports.
Just VND43 billion of VND16-trillion Covid-19 relief aid disbursed
The Vietnam Bank for Social Policies disbursed just some VND43 billion from the Government's VND16-trillion credit package to support Covid 19-hit employers, according to the State Bank of Vietnam (SBV).
SBV's Credit Department for Economic Sectors told Tuoi Tre Online that 245 businesses nationwide managed to borrow non-collateral loans with a 0% interest rate under this relief aid program.
The total amount of money that these businesses were disbursed by the Vietnam Bank for Social Policies reached almost VND43 billion to pay the salaries of their 11,276 employees who have been furloughed due to the public health crisis.
As of April 15 this year, 11 borrowers had paid off their debts. The relief aid program's outstanding balance remained at some VND39 billion with 234 current borrowers.
Overall, of the VND16 trillion of the package, the amount of loans disbursed accounted for a mere 0.27%.
Earlier, to cushion the negative impact of the pandemic, the Ministry of Labor-Invalids and Social Affairs had proposed the then prime minister issue Decision No.15 in late April, 2020, on implementing this relief aid program to support struggling employers with wage payments.
However, just one firm was determined as eligible for the zero-interest loan program during the five months of its deployment. Then, the firm canceled the loans as it managed to arrange financial sources to pay its employees, said SBV.
Commenting on the reasons hindering businesses from accessing the interest-free loans, the Vietnam Chamber of Commerce and Industry said that the program set out many tough requirements. For instance, one of the stringent requirements was that a firm had to prove its financial hardships and inability to pay wages due to Covid-19.
Then, to enable more affected businesses to approach the soft loans, the then prime minister in mid-October last year issued Decision No.32 adjusting Decision No.15 to relax the loan requirements.
Specifically, to get the loans, a firm has to prove that its turnover in the first quarter of 2020 declined 20% quarter-on-quarter, or its revenues in the previous quarter fell 20% versus the 2019 figure.
Due to the impact of the pandemic, 101,000 businesses in the country withdrew from the market last year. Of them, nearly 47,000 units registered to suspend operations, up over 62% against the 2019 figure, according to data from the Ministry of Planning and Investment.
State budget revenue in Jan-Apr meets 40.5% of full-year plan
The State budget revenue from January to April reached VND543.4 trillion (over US$23.7 billion), meeting 40.5% of the entire year's target and increasing 7.3% from the same period last year, according to the Ministry of Planning and Investment.
Of the figure, domestic revenue was VND456.3 trillion, representing 40.3% of the year's target and rising 7.6% year on year. The budget revenue in the year's first four months in 53 of the country's 63 cities and provinces met over 35% of their entire year's targets.
The country earned VND74.5 trillion from imports and exports in the first four months, representing 41.7% of the full-year target and increasing 16.5% compared with the same period last year.
Revenue from crude oil reached VND12 trillion, meeting 51.7% of the year's estimate and down 34.6% year on year.
The four-month State budget revenue indicated a recovery of the economy, the Ministry of Planning and Investment said.
State spending between January and April was VND463.7 trillion, equivalent to 27.5% of this year's projection. That included VND338.1 trillion of regular expenditure, equivalent to 32.6% of the year's estimate and rising 1.2% year on year.
The ministry said the State budget in the first four months was spent in line with plans and on schedule, meeting the demand for socioeconomic development, national defense, State management, debt repayment and social security.
PM wants to develop multiple traffic infrastructure projects in Mekong Delta
As traffic infrastructure is an important part of the development of the Mekong Delta region, expressway projects connecting HCMC and the Mekong Delta should be accelerated, while expressways from Can Tho to Ca Mau and An Giang, a ring road in the city and coastal roads in the region must be developed, said Prime Minister Pham Minh Chinh.
At a meeting with voters in Can Tho City on May 8, Chinh said the execution of expressway projects from HCMC to the Mekong Delta were slow and he had assigned the Ministry of Transport to accelerate them, the local media reported.
The region will receive an additional US$2 billion to develop its traffic infrastructure, including national highways, coastal roads and expressways. It should prioritize developing backbone routes and connecting routes, creating economic corridors to expand the development space and building land funds to develop urban areas, trade centers, industrial parks and residential areas.
In addition, it is essential to connect and improve the effectiveness of key projects, such as the My Thuan-Can Tho, Can Tho-Ca Mau, Chau Doc-Can Tho-Soc Trang and Ha Tien-Rach Gia-Bac Lieu expressways.
The capital of US$2 billion is small, so localities should propose policies to mobilize resources from residents and enterprises. The prime minister said good infrastructure would help attract investors.
Many voters agreed that traffic infrastructure would help attract investment and develop trade, culture and tourism, so it should be the top priority.
However, traffic infrastructure has yet to meet the region's development demand.
The region's roads account for only 10% of the country's total with over 2,000 kilometers of national highways, some 4,800 kilometers of provincial roads and 73,000 kilometers of roads in districts.
Vietnam becomes more attractive to foreign investors
Many investors said that Vietnam has been still strengthening its position as one of the more and more attractive investment destinations, being the first choice for foreign enterprises, especially those who are seeking to diversify their investment portfolios outside of China.
According to the latest survey data, the rate of foreign direct investment (FDI) enterprises reporting losses increased from 34.3 percent in 2019 to 47.1 percent in 2020 - the highest level in history. The median revenue of FDI enterprises declined from US$0.93 million in 2019 to only $0.67 million - the lowest level since 2012. The proportion of enterprises planning to expand production and business also decreased from 53 percent in 2019 to 41 percent in 2020.
The data on the FDI enterprise "thermometers" surveyed by the Vietnam Chamber of Commerce and Industry are clear evidence of the negative impacts of the Covid-19 pandemic on business performance and efficiency of enterprises. The FDI sector has mainly encountered difficulties involving access to international markets (50 percent), the decline in cash flow (42 percent), and the disruption of supply chains (42 percent).
Enterprises operating in the information, communication, and computer production, electronic devices, motor vehicles, leather goods, and garment industries were most affected in terms of revenue and labor.
However, it seems that the current difficulties are temporary. The political stability of Vietnam continues to have a strong attraction to them (over 90 percent). After the Land Law 2013 was enacted, the proportion of FDI enterprises that assess the risk of site acquisition as "low" increased from 64 percent to 80 percent. The proportion of FDI enterprises that believe that Vietnam has a lower risk of policy instability also rose from 60 percent in 2013 to 82 percent in 2020.
In the eyes of foreign investors, Vietnam also has some other important advantages, with nearly 40 percent of FDI enterprises considering anti-corruption as one of the strengths of Vietnam in 2020 from approximately 30 percent in 2014; the proportion of FDI enterprises having to pay unofficial fees while implementing land procedures, inspections, investigations, and import and export procedures all decreased over time; the proportion of FDI enterprises having to spend 10 percent or more of their revenue to pay the unofficial expenses decreased from more than 2 percent in the years of 2016 and 2017 to 1.2 percent in 2020; the quality of public services had also improved significantly, with satisfaction climbing from the 29 percent in 2014 to nearly 46 percent in 2020.
However, noticeably, in the field of system of procedures and regulations and infrastructure, there have not been significant improvements in recent years. According to FDI enterprises, Vietnam needs to continue to improve more drastically. The proportion of FDI enterprises encountering difficulties with administrative procedures in the fields of customs, taxation, fire safety, business establishment, and social insurance remained quite high, around 23-24 percent.
Besides, Vietnam needs to continue to simplify the process of business establishment, digitization, and administrative procedures in the fields of customs, taxation, and social insurance, thereby improving further the national competitiveness and comparative advantage with other countries in the region.
Banking sector faces risks as growing credit channeled to real state 
Credit pumping into real estate takes a large share in the total outstanding loans, following by corporate bonds and stock market.
High amount of credit channeled into real estate, stock market and corporate bonds continue to cause risks to the banking sector, requiring stronger measures to tighten outstanding loans into these fields.
The State Bank of Vietnam (SBV), the country's central bank, made the statement in its latest instruction to credit institutions and foreign bank branches on ensuring safety in banking operation.
"Banks should closely control their respective credit growth in line with growth quotas and current monetary-credit policies," noted the SBV.
Under the instruction, the SBV expressed concern that there had been growing bad debt ratio among banks and consumer finance companies in 2020, while receivables from credit activities had surged against late 2019.
Meanwhile, credit pumping into real estate took a large share in total outstanding loans, not to mention the credit growth into this sector was higher than the overall credit expansion rate.
The SBV also pointed out a large amount of credit flowing into corporate bonds, of which firms later use these proceeds for real estate- related investment, as well as in stock market.
Regarding specific measures, the SBV requested banks to prevent credit from being concentrated on certain group of large customers, large scale real estate projects or for such purpose.
"Banks are required to step up risk management measures and stay cautious about providing credit at firms in localities having a surge in land prices or high-risk projects," said the SBV.
The SBV called for banks to ensure greater efficiency in reviewing applications for consumer loans to reduce risks, while the same view is also applied for loans for investment in the stock market.
For customers being owners of build-transfer (BT), or build-operate-transfer (BOT) transportation projects, banks should balance their capital for mid- and long-term loans to maintain liquidity.
Credit institutions have the responsibility to supervise issuers of corporate bonds to ensure proceeds raised from this process being used for the right purpose.
The SBV expected banks to enhance credit quality and actively solve bad debts, saying these are key step for banking security.  
At present, Vietnam's ratio of M2 money supply (covering cash in circulation and all deposits) to GDP is at nearly 200% and the credit-to-GDP ratio 140%, the highest among five major economies in ASEAN.
Vietnam's credit growth as of April 16 reached 3.34% against late 2020 and a surge of over 15% compared to the same period of last year.
Vietnamese fruit and vegetable businesses seek to meet global demands
In order to achieve the export target and meet stringent requirements set by various markets worldwide, Vietnamese fruit and vegetable businesses must strive to improve quality and achieve the export goals of US$10 billion by 2030.
Despite the COVID-19 impact, Vietnamese fruit and vegetable exports increased by 6.1% in the first three months of the year compared to a year ago, reaching US$944 million. 
The boost was largely attributed to Viet Nam's successful containment efforts of the COVID-19 pandemic, accoriding to the Ministry of industry and Trade (MoIT).
The country mainly exported the items to China, its largest trade partner, during the initial two months of the year, raking in US$352.83 million, up 17.5% against the same period from last year.
China was followed by such markets as the United States, Thailand, Japan, and the Republic of Korea.
Similarly, Vietnamese fruit and vegetable exports to Chinese Taipei, Australia, and Malaysia have all skyrocketed, surging by 43.1%, 30.6%, and 32.5%, respectively compared to last year's correcsponding period.
Economic experts reveal Vietnamese fruit and vegetable businesses have also boosted their exports to many other large markets with great potential, including Egypt, Kuwait, Ukraine, and Senegal since the beginning of the year.
Vietnamese fruit and vegetable sector targets export revenue of $10 billion
The country expects to gain US$8-10 billion from shipping fruits and vegetables abroad, with revenue of processed products accounting for at least 30% of the total by 2030.
To achieve these goals, under a project to develop the fruit and vegetable process sector during 2021-2030 recently approved by the Prime Minister, Viet Nam targets to attract investment in 50-60 fruit and vegetable processing establisments, and build several modern groups and enterprises who have good competitive capacity.
With a view to achieving the goals, Viet Nam will invest heavily to improve processing ability, give priority to processing key fruits and vegetables which have high values, set up material zones, and develop markets for the products.
Additionally, the country will establish specialised fruit and vegetable cultivating areas which are able to provide some 5-6 million tons of high-quality products for processing by 2030./.
Viet Nam - An attractive destination for Northern European firms: ScandAsia
Viet Nam has become one of the most attractive investment destinations with high economic growth and strong investment in infrastructure being among the reasons for Northern European businessmen to consider.
An article recently published on the site ScandAsia, which covers Nordic news and business promotion in Asia said Swedish exports to Viet Nam have increased by almost 6 percent by 2020, despite the COVID-19 pandemic. 
Country analyst at the Swedish Export Credit Agency (EKN) Johan Fredriksson  noted Viet Nam was one of a handful of countries whose economies grew even during the pandemic year of 2020. And according to forecasts from the World Bank and IMF, continued growth is expected at around 6-7 percent per year, he noted.
According to him, the door is also open for small- and medium-sized companies. He highlighted opportunities for the groups to establish themselves in the country as subcontractors.
Business Sweden's acting country manager in Viet Nam Emil Akander, was cited as saying the growing export was thanks to several factors, particularly the rapid increase of the Vietnamese middle class's purchasing power. 
He explained that 30 million Vietnamese will belong to the country's middle class by 2025, which is almost a doubling since 2012. 
The official said at the same time, Viet Nam sees major investments being made in infrastructure and health care. 
Airports and the subway in Viet Nam's two biggest hubs Ha Noi and Ho Chi Minh City are being expanded, new hospitals built, and major investments made in new energy. These sectors are strengths of Swedish firms, he added. 
Today, several conglomerates and large industrial companies from Sweden, including H&M, ABB, Tetrapak, Sandvik, SKF,  and Ericsson, are operating in the country.
Webinar discusses way to promote Vietnam – Venezuela trade
The Vietnamese Embassy in Venezuela in collaboration with the country's foreign trade bank (Bancoex) on May 11 held a webinar on boosting trade promotion between Vietnam and Venezuela.
Speaking at the event, Bancoex Vice President for export promotion and investment Juan Freer said with its experience in export financing, Bancoex plans to step up the commercialisation of goods of Venezuela's strength like crude oil, coffee, cocoa, and green bean to reel in foreign currencies serving the development of domestic production.
According to Freer, turnover from Venezuela's exports to Vietnam grew from 1.2 million USD in 2017 to 4.8 million USD in 2019. The official said he is confident in its future growth.
Vietnamese Ambassador to Venezuela Le Viet Duyen took the occasion to introduce Vietnam's key exports including farm produce like rice, coffee, cashew, and spices; phones and electronic components; garment-textile; footwear; and aquatic products.
Duyen said the event aims to provide Bancoex and Venezuelan firms with an insight into the Vietnamese market, helping them set suitable import-export strategies to boost trade between the two nations.
At the webinar, the embassy released a business manual for Vietnamese companies in the Venezuelan market. The guide provides the group with market information and opportunities for investment and business./.
Khanh Hoa should develop strong sea-based economy: Party official
Given its huge development potential, Khanh Hoa should focus on the sea-based economy, a senior Party official said on May 11.
In its Conclusion No 53-KL/TW, issued on December 24, 2012, on Khanh Hoa's development until 2020 with a vision to 2030, the Politburo envisioned that the central coastal province will become a centrally-run city, and a centre of economy, tourism, science and technology, human resources training for maritime economic and tourism activities, and health care in the southern central coastal region, the Central Highlands, as well as Vietnam as a whole.
In particular, the Van Phong Economic Zone (EZ) was designated as not only the economic hub of Khanh Hoa but also an investment magnet and an economic development driver for neighbouring areas and the entire country.
Carrying out the conclusion, the province has obtained many significant achievements in socio-economic development, with economic growth sustained, budget revenue from domestic sources up 13.8 percent annually on average in the 2013 - 2019 period, and total exports topping 9.7 billion USD in 2013 - 2020.
Initial outcomes have been seen in the development of the Van Phong EZ, which has attracted over 150 investment projects worth 4.1 billion USD, with 94 projects already operational and about 1.39 billion USD of capital implemented, local officials reported.
However, certain problems have emerged, such as ineffective exploitation of local potential and advantages, infrastructure remaining limited, and the Van Phong EZ yet to meet expectations.
At the meeting with provincial leaders in Nha Trang city, Tran Tuan Anh, Politburo member and Chairman of the Party Central Committee's Economic Commission, suggested Khanh Hoa reform the growth model and restructure its economy towards higher quality, greater diversity with sea-based economic sector at the centre.
At present, authorities should pay attention to realising the concurrent targets of combating COVID-19, boosting economic development, and caring for people's living standards, according to him./.
Technology trading platform viewed as crucial for Hanoi's development
Hanoi is working on a plan to form a technology trading platform - a move considered critical for the development of the science-technology market in the capital and in Vietnam as a whole.
Identifying the market as a component of the economy with a key role to play in promoting technological invention and innovation, the municipal People's Committee devised a plan on developing the local market in the 2006-2010 period and it remains an issue to this day.
Deputy Director of the municipal Department of Science and Technology Nguyen Quoc Ha told the Ha Noi Moi newspaper that although many significant strides forward have been made, the science-technology market in the capital has yet to match the city's potential.
He pointed out that technology providers such as research institutes, universities, enterprises, and individuals still lack experience in marketing their scientific and technological products and also have little understanding about demand in society, while those with demand for such products lack information on suppliers.
Vu Anh Tuan, Deputy Director of the National Agency for Science and Technology Information under the Ministry of Science and Technology, said that setting up a network of technology trading platforms in Hanoi, central Da Nang city, and Ho Chi Minh City - one of the three objectives of the programme on developing the science-technology market to 2020 - has fallen short of expectations.
Therefore, in the time ahead, Hanoi needs to establish a platform of this kind to encourage technology trading and help fuel the science-technology market in both the capital and the country, he said.
Hoang Ba Tien, a representative from the Vietnam National Seed Group (VINASEED), said his company always has demand for new seedling technologies, but technology transactions have been conducted mainly via advisory units or introductions by scientists themselves.
The company doesn't have anywhere to connect with or proactively seek the products it needs, he noted, adding that it is indeed necessary to have a technology trading platform to access related information to serve production and business activities.
The resolution from the 17th Hanoi Party Congress pointed out the necessity of continuing to prioritise the development of the science-technology market.
Forming a technology trading platform for Hanoi and then a national technology exchange connected with the world's major tech hubs are also among the key tasks within the municipal Party Committee's Programme No 07-CTr/TU, dated March 17 this year, on stepping up the development of science, technology, and innovation in the city during the 2021-2025 period.
Ha said the Department of Science and Technology is completing a plan on the building and operation of Hanoi's technology exchange.
Accordingly, it will operate both physically and online. The physical platform will display technological products and provide a venue for suppliers and buyers to meet. The online version will act as an e-commerce platform for trading technologies and equipment, a platform for advisory and brokerage activities, and a database on scientific and technological advances.
Vice Chairman of the Hanoi People's Committee Chu Xuan Dung said a technology exchange will play an important role in local scientific and technological development.
However, he noted, as this is a completely new model and there is not much experience or knowledge on the matter, relevant agencies should be prudent when preparing plans so that, once implemented, they will prove effective in promoting the science-technology market and meet development demand.
The transaction value of Vietnam's science-technology market posted average annual growth of 22 percent during the 2011-2020 period.
Vietnam ranked 42nd among 131 economies in the 2020 Global Innovation Index (GII). Among those making the most significant progress in their GII innovation ranking over time, Vietnam led 29 lower middle-income countries and was third in Southeast Asia.
Last year, it moved up 13 places from the previous year to 59th in the rankings of 100 economies with the best start-up ecosystems./.
Source: VNA/VNS/VOV/VIR/SGT/Nhan Dan/Hanoitimes

Vietnam would continue to be world's second largest rice exporter: US department